Written for Edible Santa Barbara - Fall 2016 Issue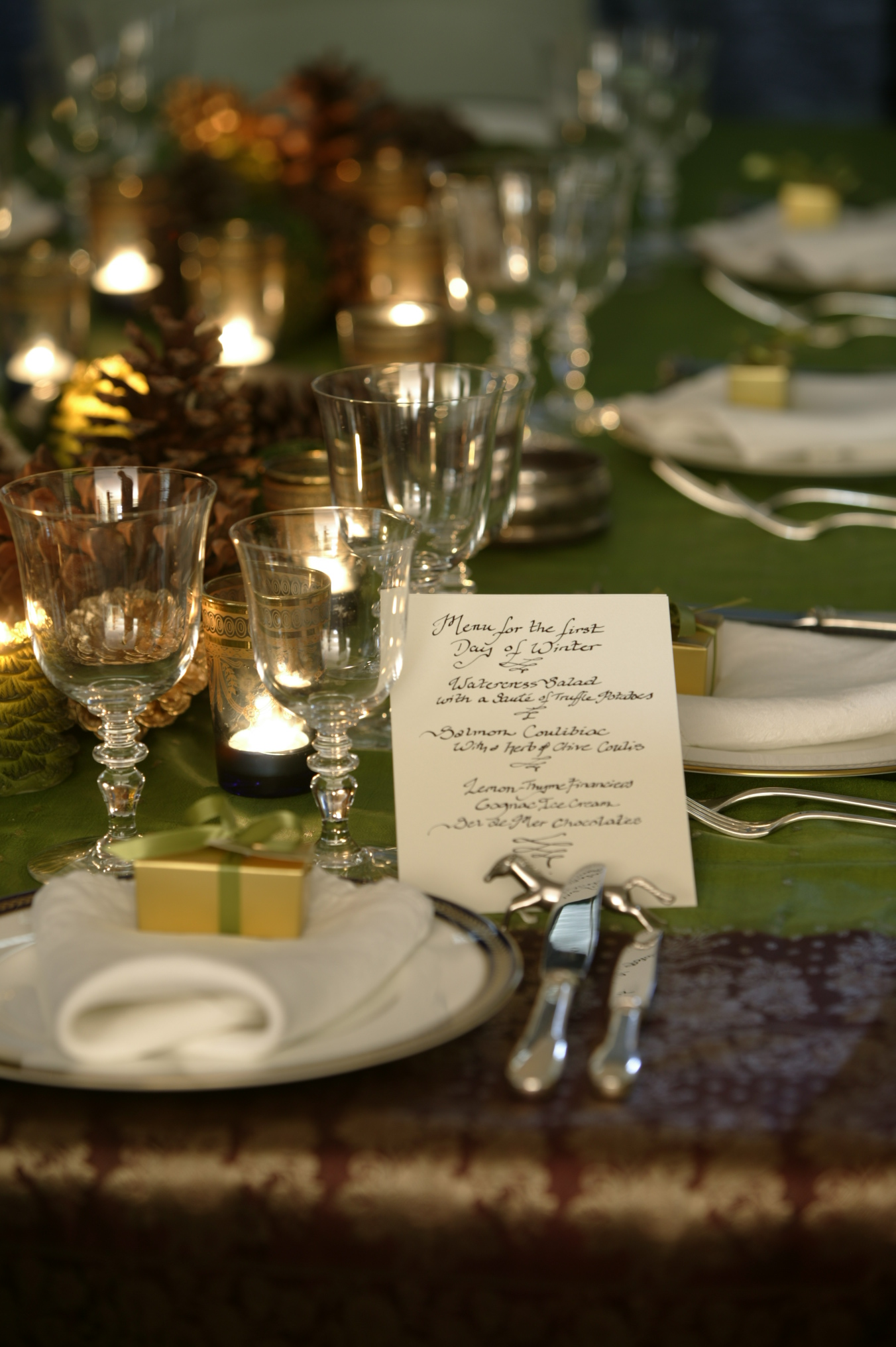 Every winter during my early childhood, as soon as the school holidays began, we piled into the family car, packed to the gills with winter coats wrapped around an assortment of delectable treats from our favorite English purveyors of fine food — namely whole stilton's, Christmas puddings and Brandy Butter from Fortnum & Mason — and made the very long, often-frigid trek from London, across the choppy English channel, the bleak landscape of northern France, through Paris, down the Route Nationale 6, turning east in Lyon to wind our way up the snow-covered mountain passes to my Grandparent's home in the French Alps.
My memories of that time consist of a series of gustatory tableaux, each more elaborate than the next. The dinner table set with bone china, delicate crystal that glittered in the candlelight on embroidered linens and a procession of delicate dishes carried from the kitchen. It became apparent to me at an early age that holiday meals meant days of careful preparations, multiple shopping expeditions and hours in the kitchen. My grandmother orchestrated all of this with an apparent ease that belied the considerable task of feeding the hoards that descended on their house for the end of year festivities. Le réveillon (Christmas Eve dinner) was serious business and I longed to be part of the preparations. As soon as I was old enough I was entrusted with setting the table, under my grandmother's careful supervision. I made decorations and wrote place cards. She was exacting and I strove to live up to her standards, not an easy task!
Every one of my grandparent's children upheld these traditions and when my aunt and uncle took over the relay of hosting Le réveillon we all made a beeline for their home in St.Etienne. My uncle Yves, a jovial bon-vivant, would make everyone welcome, glass of wine in hand, homemade saucisson and pate on the kitchen table. Serious business needed attention he would say as he opened the back door of the kitchen to reveal 4 or 5 crates of oysters from Arcachon that had to be shucked. Everyone would gather around the table, tea towel in one hand, oyster shucker in the other and get to work regaling each other with stories of Christmas's past. My aunt prepared the crushed ice for the platters and one by one the oysters would be laid out on their glistening beds. All their révillions began in this manner, followed by roasts with small potatoes cooked in duck fat, delicate green salads, platters of cheese and a grand Buche de Noel to cap it all off, each course paired with wines from their cellar. It was magical and I delighted in the rituals as much as the degustation.
Le réveillon finished in the early hours of the morning leaving precious little time for Christmas day preparations. We did not have Christmas stockings; instead each person placed a pair of shoes under or by the tree. You would have to wait until morning to see if your shoes had been filled with treats from Le Pere Noel (Father Christmas). One year I tiptoed down to the semi-dark living room after everyone had gone to sleep, to place my gifts in each person's shoes. I was almost there when I realized that I was not alone. There was someone peering at the shoes, large bag in hand! Who could that be? I think I scared my grandmother more than she scared me. We both jumped, and then realizing whom it was, laughed out loud, only to shoosh each other lest we wake anyone else up. We played le Pere Noel together and reminisced about all the celebrations we had at her house and how we would decorate the tree with my grandfather. We talked about favorite dishes and sweet treats. We filled shoes side by side, then whispered bonne nuit to each other as we tiptoed back to our rooms. From that night on I felt as though I had become part of the fabric of our Reveillons and entrusted with preserving the traditions for future generations. Little did I know that this would happen sooner that I thought!
Work brought me to California and the prospect of a balmy (read 80 degree) holiday season presented itself. What should we do? Do we serve the same meal? Can we find the same ingredients? 'We' were a bunch of French and ex-pat Brits (family and friends) living in Los Angeles. Shopping expeditions ensued, preparations made, tree trimmed, stockings replaced shoes by the tree, tables set, glasses polished, and wine chilled. We found smoked salmon and served it with toast and crème fraiche. We poached a whole salmon paired with steamed potatoes. We found a Christmas pudding for dessert. The wine was from California and France. The meal reflected the eclectic nature of the guests.
We started new traditions, an Anglo-French culinary mixology. English pudding for le reveillon, and French Buche de Noel for a more traditional Christmas day meal. Gone was the stuffed turkey, the heavy sauces and purees from my grandmother's table, replaced with duck confit served with a herb salad. There is however one constant: although the setting may be less formal, the continuing thread that ties all these celebrations together is the coming together of family and friends, to enjoy each other's company, to laugh about meals past, to share in the preparation and to relish the bounty before us.
Each year in the wee hours of Christmas day as I tiptoe down to prepare the breakfast table and fill stockings, I think about my grandmother and how she created a delicious sanctuary that enveloped the end of year celebrations. This past Christmas my daughter said "I know it's you Mum", I smiled and said "Would you like to be part of the transformation?", "No, not yet." she said, "I'd like it to be magical a little longer." Soon enough the baton will pass and new traditions will begin.
Meyer Lemon, Persimmon and Micro Green Salad
The fabulous thing about Meyer lemons is that you can eat the whole fruit, preferably in thin slices, including the rind. They're sweet and add a slightly piquant bite to any dish. In this vinaigrette, the zing in the lemons is balanced by the pomegranate molasses. It's not molasses exactly, rather a reduction of pomegranate juice and sugar. It's a sweet and tangy alternative to honey, which you could substitute in this recipe. Do try the molasses though as it's a treat.
Serves 8 people
8 Meyer lemons — very thinly sliced
4-5 Fuyu persimmons — very thinly sliced, horizontally, using a mandolin if possible
4 oz micro greens
1 large handful cilantro leaves
Juice of 1 large lemon
¼ cup olive oil
1 teaspoon pomegranate molasses
Large pinch of coarse sea salt
4-5 grinds of black pepper
Arrange the Meyer lemon and persimmon slices on a large platter or on individual plates in an attractive pattern. Work in concentric circles, alternating the fruit so that it looks like a giant flower.
Place the micro greens in the center of the platter or plates. Sprinkle with the cilantro leaves.
Whisk together the lemon juice, olive oil, pomegranate molasses, salt and pepper in a small bowl. When ready to serve, drizzle the salad with the vinaigrette.
Salmon Coulibiac
Coulibiac's were all the rage in the fifties and sixties. Unfortunately as with all fads they pass. What a huge shame in this case as it is a wonderful dish, particularly for a special occasion. I often make it on Christmas Eve as the presentation is beautiful and festive and as the pastry is filled with wild rice and spinach encasing the salmon, you do not need anything other than the herb sauce to serve alongside.
Serves 8-10 people
1 whole side salmon – approx. 4 lbs – cut crosswise into ½-inch wide strips
1 tablespoon Herbes de Poisson (a mix of mustard, coriander and fennel seeds and coarse salt
1 tablespoon lemon olive oil
Olive oil
1lb spinach
4-5 green onions – finely chopped
3 cups cooked wild rice or wild rice mix
Freshly ground pepper
2 batches of the dough recipe (see below)
2 extra eggs - beaten in a small bowl
Preheat the oven to 400 degrees.
Place all the salmon strips in a bowl with the Herbes de Poisson, and lemon oil. Coat the salmon well. Set aside.
Pour a little olive oil in a large skillet placed over medium-high heat. Add in the chopped green onions and cook for 5 minutes, then add in the spinach and cook for 2-3 minutes or until it has just wilted. Remove from the heat.
Put all the spinach in a large mixing bowl and add in the pre-cooked rice, a teaspoon of salt and 4-5 turns of peppermill. Mix all of these ingredients together well.
Lightly flour a clean work surface and roll out one piece of the dough into a rectangle that is 16 x 10 inches. Center this piece of dough on a parchment-lined baking sheet and brush with some of the beaten eggs.
Spread out half the rice mixture in the center of the dough leaving a 2-inch wide border. Lay all the salmon strips side by side over the rice mixture so that you recreate the shape of the whole side of salmon. Cover the salmon with the remaining rice/spinach mixture. Fold up the dough to cover the sides of the salmon. The dough will not reach over the top of the top layer of rice. Brush the outside edges of the dough with more of the beaten egg mixture.
Roll out the second piece of dough into a rectangle that is 16 x 8 inches. Place this strip of dough on top of the rice mixture so that it drapes and covers the sides of the dough. Your salmon and rice mixture should now be completely encased in dough. Brush all of the dough with the remaining egg mixture. Bake for 20-25 minutes. The dough will be golden brown.
Remove from the oven. Cut inch-wide slices and serve on warmed plates. Served with the herb and chive coulis.
For the pastry dough:
9 oz (2 cups) unbleached all-purpose flour
5 ½ oz (1 1/3 sticks) slightly softened butter – cut up into small pieces.
Zest of 1 lemon
1 large egg
Pinch of salt
1. Place all the ingredients in the bowl of the food processor fitted with a metal blade. Use repeated pulses until the mixture resembles coarse breadcrumbs. Use longer pulses until the dough has formed a ball. The texture is very smooth and slightly moist.
2. Wrap up the dough in plastic wrap and refrigerate for 20 minutes before using.
Herb And Chive Coulis
Serves 8 as an accompaniment
1 bunch dill – finely chopped
1 bunch chives – finely chopped
2 tablespoons flat Italian parsley – finely chopped
1 tablespoon cilantro – finely chopped
2 tablespoons olive oil
1 tablespoon lemon juice
Zest of 1 lemon
¼ cup vegetable stock
Salt
Pepper
Place all the ingredients in a food processor and blend until you have a fine sauce. If it is still a little thick, then add some additional vegetable stock, one tablespoon at a time. Check the seasoning and add some coarse sea salt and pepper if needed. The coulis should be bright green. You can make this up to 2 hours ahead of time.
Duck Confit
I love duck confit. It is one of my favorite things to eat and the wonderful thing about making it yourself is that any leftovers can be warmed up and put in to a salad the next day which is equally delicious.
Serves 8 people
8 duck legs – trimmed of any excess fat
6-8 tablespoons coarse salt
2 teaspoons peppercorns – slightly crushed
5-6 sprigs fresh thyme
4-5 bay leaves – broken into pieces
3 lbs duck fat – melted
In a small bowl combine the salt, peppercorns, thyme and bay leaves and mix together well. Rub each duck leg with some of the salt mixture, place in a shallow dish, cover and refrigerate for a minimum of 12 hours.
After 12 hours rinse the salt from the duck legs and dry on paper towels. Lay the duck legs, skin side down in a frying pan placed over low heat. Cook for 15 – 20 minutes until golden brown, turning them over once.
Heat the oven to 300 degrees. Transfer the legs to a small flame-proof casserole or oven-proof dish and add enough of the melted duck fat to cover the legs completely. Cover tightly with a lid and cook in the oven until the duck has rendered all of its fat and is so tender that it is almost falling off the bone – this will take approximately 2 ½ hours.
To preserve the duck, place some of the duck fat in the bottom of a preserving jar. Carefully place the legs on top and then cover the legs completely with more duck fat. Be sure there are no air bubbles. Cover and refrigerate for 1 week. The fat encasing the legs will preserve the meat.
To serve, remove the legs from the duck fat, scraping off as much fat as you can. Place the pieces in a roasting pan and roast in a 325 degree oven for 30 minutes.
Written for Edible Santa Barbara - June 2016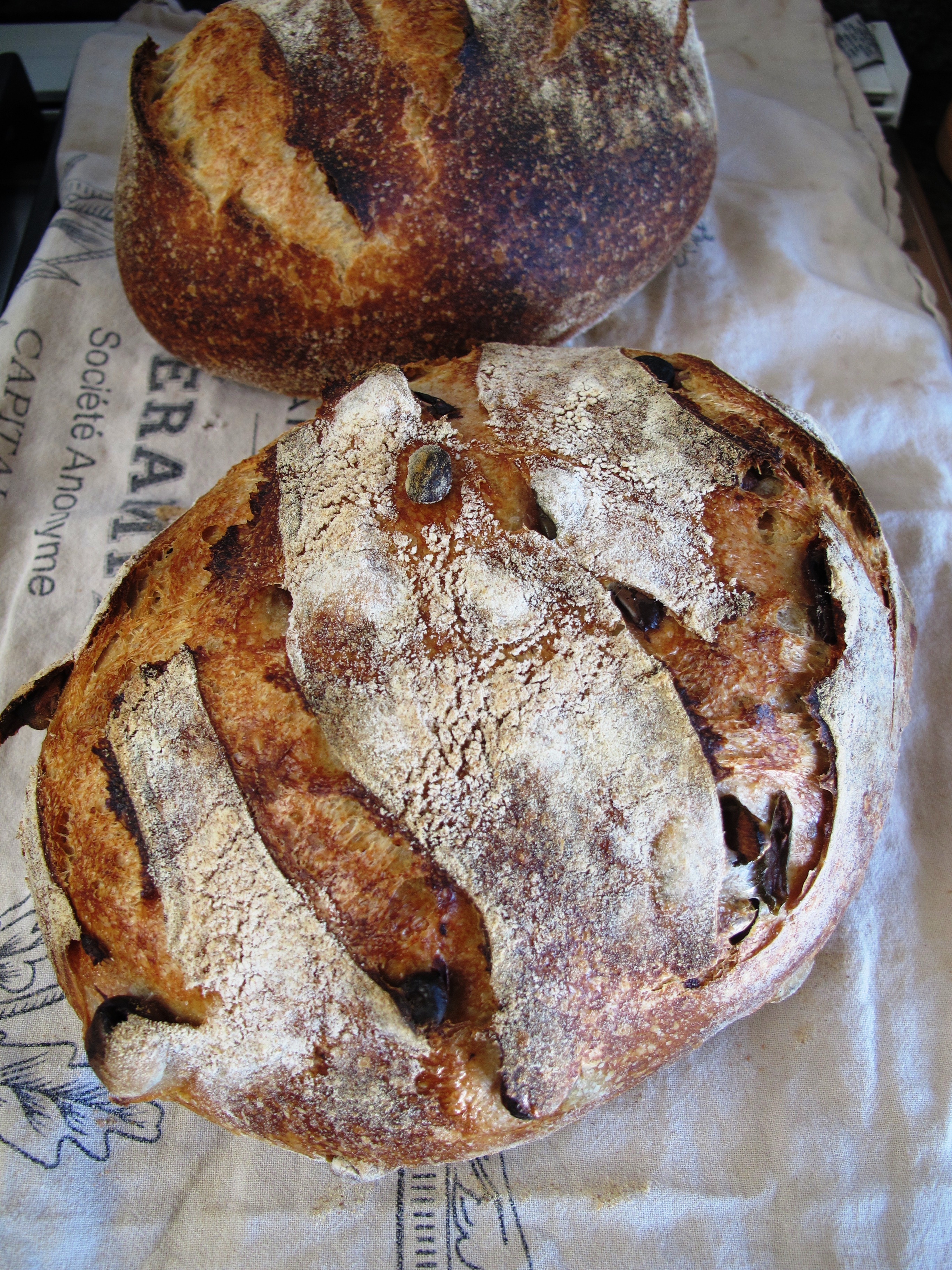 I spent part of my childhood living in a small hilltop village in Southern France. The village streets were narrow, cobbled and devoid of cars. Every morning my brother and I set off to collect baguettes and croissants for breakfast. The tantalizing aroma of freshly baked bread floated through the narrow alleyways tickling our olfactory senses and would bring us running. We would scamper through the twists and turns, up and down centuries-old worn steps until we arrived, panting, at the back door of the boulangerie. I don't know that we ever went into the shop itself. We always got our bread directly from the baker in the cavernous room that housed his ovens and wood.
The baker, a jovial man, dressed in his whites and dusted with a fine coating of flour, would always shout "Bonjour les enfants!" (Good morning children) as we tumbled into his kitchen. We would watch, mesmerized, as he took a huge wooden paddle off the brick-lined wall and opened the ovens to pull out the freshly baked loaves. We would stand transfixed as loaf after loaf would emerge from the massive ovens, and listen as the crusts crackled as they started to cool. The challenge was to try and make it back to the house without breaking off the end of the baguette or chewing an ear off a croissant. We failed every time.
So what is it about that aroma that is just so tantalizing? This one aroma that can make me think of home, that will always make me smile, and start a kaleidoscope of images in my mind, documenting past decades of travel highlighted by delicious morsels of bread. This yeasty scent populates some of my favorite memories: a bakery near my grandparents' house where the local specialty was a craquelin,a brioche-type of sugar-bread which—when toasted and slathered with butter and my grandmother's apricot jam—came as close to heavenly breakfast food as one could imagine; or a small bakery in Provence that made delicate fougasse, the perfect vehicle for the fresh goat cheese we found at the local market; or the olive laden and lardon packed baguettes that I covet and that can transform crostini into the hors d'oeuvres-to-end-all-hors d'oeuvres.
I realize now that I have always been on a quest for good bread. When I moved to California in the mid-Eighties, that bread was hard to come by. By then, even some of my favorite haunts in France had closed and new "modern" bakeries had taken their place. The bread never tasted the same, and I yearned for the bread from my childhood.
___
Years later, I found myself walking down another narrow street, in another Provencal village, this time with my own children in tow. We strolled past an old bakery early in the morning. The door to the little shop opened, a smartly dressed man stepped out with a baguette under his arm and in that moment that magical yeasty aroma drifted out through the door. I stopped in my tracks, doubled back, walked into the boulangerie holding one child in each hand, inhaled deeply, closed my eyes, and inhaled again as childhood memories came flooding back. I am sure that I smiled even as my children squirmed on the ends of my arms. The baker's wife cleared her throat to bring me out of my reverie. "Madame?" she inquired, as if to ask if I had not momentarily lost my mind as I stood there gulping the air in the middle of her neatly appointed establishment. Regaining my senses, I promptly bought a fougasse, pain au chocolat for the kids, and a delicate ficelle. The children happily chomped on their treats as we continued our stroll through the village. "Wasn't the smell of that bread incredible!?" I mused. They looked at me in a way only children can—Mum's gone mad. I waxed lyrical about the bread, the crust, the crunch, the delicate flavor of the crumb, the give in the bread as I squeezed it. They were spectacularly nonplussed.
Fast forward ten years. I was—through the-most-appropriate-auction-item-ever purchased by my Mum - given the opportunity to learn how to make bread in the style of Tartine, Chad Robertson's renowned bakery in San Francisco. On day two of this bread intensive, my good friend John turned up at a somewhat unearthly 4 am to show me how to shape and bake the bread.
I should add at this point that making bread this way is a labor of love and not something to be rushed. Starters are nourished, fed and nurtured with the same care and attention as is a newborn. Some bakers I know have travelled with their starters lest something should happen to them unattended. Using a bloomed starter, mixing it into the warm water, adding the bread flour and watching the ensuing transformation is absolutely magical – every time. The dough, once it has risen, is soft and pillow-like. The surface is smooth and delicate, and I find that I treat the dough with reverence as I caress it into shape.
I was apprehensive that morning as John, my mother and I placed the dough into the hot cast-iron bakers. Would the bread rise? Would it have that crust? Was it possible to recreate that type of bread at home? Forty minutes later came the moment of truth. The bread emerged from the oven golden brown; it made the tell-tale hollow sound as we knocked on the bottom of the loaf; and best of all, THAT aroma flooded the kitchen as we open the oven door. Oh my, oh my, oh my! It practically made me jump up and down – shades of that little girl running through the cobbled stone streets all those years ago.
As a result of that baking class, I launched into a four-month bread-making extravaganza, sometimes baking twice a day, testing all manner of fillings. One morning, my now teenage daughter emerged from her bedroom, rubbing the sleep from her eyes. "MUM, Mum!" she cried, "It's THAT smell!" "What are you talking about?'" I teased. "THAT smell of fresh bread – just like when we were in France. Remember when you dragged us into that bakery and just stood there! Don't you remember?' And I thought it hadn't registered. Yet ten years later she recalled with crystal clarity the day on the bakery steps. That is bread's magical power. It makes you smile. It makes you remember. It is simple, yet complex. It is good and nourishing. All of this in a loaf of freshly baked bread.
Note: Thankfully bread making has enjoyed a renaissance in the past decade and there are plenty of good places to get some really excellent bread. Bob's Well Bread in Los Alamos uses some of the same techniques as Tartine and his bread is excellent. If you find yourself in Los Angeles it's worth making a trip to Republique and Gjusta.
Pluot Bruschetta
There is a lovely French word, l'apéro (short for apéritif), which means an informal, relaxed get together for nibbles and a drink. An apéro can last thirty minutes or two hours. It precedes dinner and always involves light, tasty morsels to munch on, some wine or perhaps a kir, a pastis or other drink. The nibbles often consist of olives, tiny tomatoes, saucisson, a good paté, crackers and perhaps some small crostini or bruschetta. We are all apéro aficionados in my family. In the summer, we used to gather under the plane trees outside our old farmhouse, play boules and while away an hour or so as the sun dipped below the horizon. Friends would drop by, sit on the old stone well, watch the game at hand and catch up on the day's events before going on to supper. It is one of my favorite times of day. I made this whilst dreaming of my next apéro in Provence.
Serves eight people as an appetizer
8 pluots — halved, pitted and diced
4 green onions — ends trimmed and finely sliced
2 tablespoons chives — finely chopped
4 tablespoons olive oil
4 tablespoons basil — finely chopped
6 large or 16 small slices of olive bread — toasted
3 oz goat cheese
Black pepper
In a medium-sized bowl, combine the pluots, green onions, chives, olive oil and basil. Toss to coat well.
Place the toasts on a serving platter. Spread the toasts with the goat cheese. Spoon the pluot mixture on top and grind some fresh black pepper on each bruschetta. Serve immediately.
Fig Tapenade Crostini with a Watercress Salad
This is what you make when you have either too many figs or too many ripe figs. Olives and figs are oddly wonderful together — it's that whole salty-sweet thing that can work so well. You can also serve the crostini as an appetizer.
Serves 8 people
For the crostini:
1 cup black olives — pitted
1 teaspoon capers
1 clove garlic — chopped
Juice and zest of 1 lemon
8-10 fresh figs (depending on size)
Salt and pepper
Olive oil
½ bunch chives — finely chopped
Baguette or ciabatta — cut into thin slices and toasted
Place the olives, capers, garlic, lemon juice and zest and figs in a food processor and pulse until you have a coarse tapenade.
Drizzle a little olive oil onto each slice of toast and spoon some of the tapenade onto the toasts. Sprinkle the tops of each crostini with some of the chopped chives.
For the Salad:
3 tablespoons olive oil
Juice of 1 lemon
Salt and pepper
4-6 oz watercress (use some watercress micro greens too if you can find them)
24 small green figs — halved
Whisk the olive oil and lemon juice together in a small bowl. Season with a little salt and pepper.
Divide the watercress greens between 8 plates and arrange the figs on top of the greens. Drizzle with the vinaigrette. Place 2 or 3 crostini onto each plate and serve.
Written for Edible Santa Barbara - Spring 2016
Late last winter I found myself on a plane headed for the mountains in Idaho. The season had come to an end early due to a dearth of snow – good thing too lest I be tempted to go and play in the white stuff – I was there to work, so the fewer distractions the better. Some 700 aeronautical miles separated Santa Barbara from my final destination, and I was struck, as I looked down on the landscape 30,000 feet below, at how monochromatic everything looked. Close to 700 miles of a bland khaki-gray, drab-colored patchwork of fields, farms, and desert. It was bleak, as though someone had sucked the color out of the earth. It looked and felt parched. Indeed it was, and as we all know had been for far too many months.
The landscape also reminded me of the cold, damp British winters I had slogged through as a child, where everyone longed for a sunny day, some warmth and a sign of the end of the endless grey weather with omnipresent clouds weighting down the ever-paling population.
I walked daily in the cold mountains, looking at the dormant landscape, imagining the transformation that would hopefully take place as spring arrived. Like my fellow Londoners who emerged from their winter chrysalis on the first warm day of spring, rushing to the parks to expose their insipid-looking bodies to the sun's rays; so too, did the earth transform itself with the arrival of more temperate weather. Flower buds emerged, daffodils danced in the breeze trumpeting the new season, long dormant grasses grew, blossoms bloomed and the earth came alive.
Back on the central coast, the arrival of even a little rain set this metamorphosis into action. Tiny bright green shoots emerged from the hillsides, colorful flowers popped up along the roadside and the trees and the soil felt invigorated. Looking down from my bedroom window I watched as the apricot tree in my garden exploded with white-pink powder puff blossoms as though a winter storm had delicately placed snowflakes upon its branches. This was a harbinger of great gustatory things to come.
I am, by nature, a creature of habit. Most Saturday's will find me slowly meandering through the farmers market's aisles, chatting with friends, sampling fruits and vegetables and talking with farmers about their latest harvest. The market is a microcosm of the season and a reflection of nature's cycles. It is one of my greatest pleasures, one that I savor and the source of many a culinary inspiration. If there is a time of year at the market that I enjoy the most it has to be in springtime; finding the first cherries, relishing the idea of a rhubarb crumble, anticipating the short but sweet apricot season, delving into a plethora of peas, fava beans, pea sprouts, freshly picked asparagus, green garlic and discovering some hidden gem. This season unleashes a mad frenzy in my kitchen, making jams and preserves, testing recipes, savoring an apricot clafoutis, an apricot tart, a tagine filled with meyer lemons and almonds, roasted cherries, fava bean salads, chanterelle crostini if we're lucky enough to find them. I always feel as though the earth has woken up and decided to shower us with a multitude of delicacies, each one fresh, invigorating and tempting.
If a color could illustrate a season, then spring is bright green, the luminescent green of the inner part of a fava bean, the fresh green of just shelled English peas or the vibrant green, tinged with purple of new asparagus. Is there anything better than filling your market basket with these eye-popping vegetables, then coming home, preparing them, cooking them, drizzled with a fruity olive oil, some fresh herbs and a pinch of coarse sea salt?
During the colder months of the year, I hunger for these revitalizing vegetables with their crisp, herbaceous flavors and have a tendency to go a little overboard when they first arrive, a type of visceral spring fever that propagates salad upon salad and dish upon dish which in turn calls for impromptu meals with friends, the first al fresco lunch, or a picnic in the back country. Can walking through the farmers market generate all of this? Absolutely!
Cherry, Pea and Fava Bean Salad
(excerpt from Salade: Recipes from the Market Table)
The fava bean and cherry seasons overlap for about four weeks, which doesn't give you much time to make this salad. You see the cherries but not the fava beans, then the beans but not the cherries. However, when you do get both of them together, they are magical. This salad is the essence of spring.
Serves 8 people
Olive oil
4 shallots — peeled and sliced
1/2 lb English peas — shelled
1/2 lb snap peas — sliced on a bias
1 lb fava beans — shelled (you will need to remove the beans from the pods, and then the outer shell of the fava bean — it's easier if you blanch them first for 2 minutes)
Sea salt and black pepper
1 lb cherries — pitted and halved
Zest and juice of 1 lemon
1/2 cup basil leaves
1/2 cup mint leaves
Pour a little olive oil into a skillet placed over medium heat. Add the shallots and cook for 5 minutes. Add the peas, snap peas and fava beans, a pinch of salt and some pepper and cook for 3 minutes. Remove from the heat and set aside.

Pour 3 tablespoons olive oil into the bottom of a salad bowl and then whisk in the lemon zest and juice, a pinch of salt and some black pepper. Place salad utensils over the vinaigrette and then add the cherries to the bowl. Place the mint and basil leaves on top of the cherries and add the cooked peas and fava beans mixture to the bowl.

When you are ready to serve the salad, toss the ingredients well. You can make a different version using chives and cilantro leaves instead of the basil leaves.
Asparagus Trio Salad with Arugula and Basil
(excerpt from Salade: Recipes from the Market Table)
This is one of those dishes that was inspired by a walk through the farmers' market. It was in the middle of asparagus season with fresh green stalks piled up everywhere. When I came across some purple asparagus, they were so beautiful to look at, I couldn't resist them. The stalks are a deep burgundy with flashes of green peeking through. The same day, I found some white asparagus in another market. The trio of colors looked so appetizing on my kitchen counter that I decided to make a salad with all three. By a complete coincidence, I had three varieties of basil in my garden and used the small tender leaves from each in the salad. Thai basil is quite strong, so I wouldn't use too much of it, as it may overpower the delicate flavors of the asparagus.
Serves 8 people
Juice and zest of 1 large lemon
5 tablespoons olive oil
Sea salt and black pepper
4 oz arugula
1 small bunch of each green, purple and Thai basil — leaves removed from the stems and left whole
1/2 lb each green, white and purple asparagus — tips trimmed and left whole, the rest of the stalk cut on a bias into very thin slices
1/2 lb English peas — shelled (that is the shelled weight so you'll need about 2 lbs with the shells on)
Pour the lemon juice, 4 tablespoons of olive oil, a pinch of salt and 4–5 grinds of pepper into the bottom of a medium-sized salad bowl. Whisk together well. Place salad utensils over the top of the vinaigrette. Place the arugula and basil leaves on top of the utensils and set aside.

Pour the remaining 1 tablespoon of olive oil into a large skillet placed over medium-high heat. Add the sliced asparagus, the asparagus tips, peas and lemon zest and sauté for 3–4 minutes, stirring occasionally. Remove from the heat.

Add the asparagus-pea mixture to the salad bowl. Toss all the ingredients until well combined. Divide the salad equally between the plates, The salad is lovely when the asparagus are still warm.
Roasted Cornish Hens with Apricots
(excerpt from Les Fruits: Savory and Sweet Recipes from the Market Table)
In the garden of my home stands an apricot tree. The first spring we lived here, I watched, mesmerized, as the snow white blossoms bloomed and, a few short weeks later, tiny buds formed. Warmer days brought about a blush on the fruit, yet they were not quite ready. One morning, I heard a host of birds merrily chirping away, eating a delicious breakfast of fresh apricots. I rushed outside, arms flailing, scrambling to pick the ripe fruit. I needed help!
I made this dish to thank everyone who had descended upon the house to help with the harvest. It was quick and easy to prepare, scrumptious and satisfying, with the added bonus that it fed lots of people. We sat on the terrace as the sun set, pleased with our day's work, glass of wine in hand, and tucked into a dish made with the fruits of our labor. My favorite kind of day!
Serves 8 people
Olive oil
4 Cornish hens — split along the breast and pressed flat
3 lemons — quartered
12 apricots — halved and pitted
1 large bunch green onions — ends trimmed and sliced
12 shallots — peeled and halved
3 sprigs rosemary
10 sprigs lemon thyme
Salt and pepper
Preheat the oven to 400 degrees.

Pour a little olive oil into a large roasting pan. Turn the Cornish hens in the pan so that they are coated with the oil. Rest the hens skin side up.

Scatter the lemons, apricots, green onions and shallots around, under and on top of the hens. Add the rosemary and thyme sprigs and sprinkle with some salt and pepper.

Roast for 1 hour. Let the cooked hens rest on a cutting board for 5 minutes before slicing in half. Serve each piece with lots of the apricots, lemons and the lovely pan juices.
Apricot and Frangipane Tart
(excerpt from Les Fruits: Savory and Sweet Recipes from the Market Table)
This might sound odd, but when I make this tart, it makes me feel French. It's odd because I am actually half French. The thing is, the tart is just, well, so French! If I close my eyes, I see myself sitting at a café, a piece of apricot tart before me on a small round bistro table, with an espresso on the side. A vignette of sorts. It's a dessert that's guaranteed to make me smile. I hope you like it as much as I do.
Serves 8 people
For the tart shell:
9 oz (2 cups) unbleached all-purpose flour
5 1/2 oz (11 tablespoons)butter — cut into small pieces
Zest of 1 lemon
1 tablespoon powdered sugar
1 large egg
Pinch of salt
For the frangipane:
4 oz (1 1/4 cups) almond meal
3 oz (1/3 cup plus
1 tablespoon) sugar
4 oz (1 cup) butter —
cut into 1-inch pieces
1/2 teaspoon vanilla paste or pure vanilla extract
2 eggs
2 oz (1/3 cup) unbleached all-purpose flour

For the fruit:
4 lbs firm ripe apricots — halved and pitted
2 tablespoons apricot jam
Preheat the oven to 400 degrees.

Butter a 9 x 12-inch rectangular fluted tart pan and set aside.

Place all the ingredients for the tart shell in the bowl of a food processor fitted with the metal blade. Pulse until the mixture resembles coarse breadcrumbs. Use longer pulses until the dough forms a ball.

Wrap the dough in plastic wrap and refrigerate it for 20 minutes.

Place the almond meal and sugar in the bowl of a food processor. Pulse to combine. Add the butter and vanilla paste and pulse again to mix. Finally, add the eggs and the flour and mix until the frangipane is smooth and homogenous. It will be quite sticky.

Place the unwrapped tart dough on a lightly floured board. Roll out the dough to a 10 x 13-inch rectangle, 1/4-inch thick. Line the buttered tart pan with the dough. Trim the edges and then prick the dough with a fork.

Spread the frangipane mixture 1/4-inch over the tart base.

Starting at one end of the tart, stand the apricots upright in the frangipane. Alternate each row so that the apricots face in opposite directions. They should be tightly packed.

Bake the tart in the center of the oven for 45 minutes.

Remove the tart from the oven and brush the apricots with the apricot jam. Return the tart to the oven and bake for an additional 5–10 minutes. The shell and apricots should be a golden brown. Remove and let cool to room temperature.