Written for Edible Santa Barbara - Summer 2013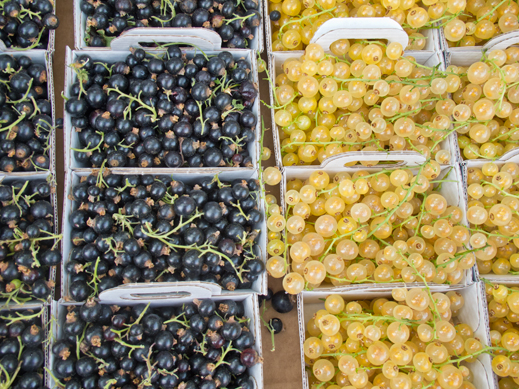 Cooking with Fresh Vegetable and Fruit Juices
Every day during the summer holidays we'd go to the same café in the harbor of the little fishing village near our farmhouse for breakfast. It had red tables, red chairs, red awnings and a magnificent zinc bar that stretched across the back wall of this well-known establishment. We'd always come in early and sit at the same table. It was a well-honed routine and we delighted in the camaraderie of the place. As we waited for the buttery croissants and toasted pain de mie to arrive we'd watch the mountain of fresh oranges that sat in crates on the bar being pressed – one by one – in a large chrome machine. The air would always be filled with a sweet tang of orange zest. The juice, served in tall narrow glasses, was pure, sweet and satisfying.
Over the years I have tasted different dishes in different countries that have captured the very essence of that ingredient just as that orange juice did: a cassis sorbet that sang of slightly tart, freshly-picked black currents, a gazpacho that fêted the tomatoes it was made from, an ethereal fava bean soup that felt as though you were drinking in a spring garden. I realized that this common thread – to be able to savor the main ingredient was nectar indeed. The common theme it seemed was the juice from which these magical dishes were made.
So I began to experiment. At first these were mostly fruit based concoctions. Purees of berries to be added to ice cream or as an accompaniment to a fruit tart for example. Some were weird. Many missed the mark; either too bland, too sweet or too tart. This is how the mango soup came about. I had made a smoothie with mangoes and oranges and liked the flavor combination but the balance was not quite right and a little acidic. At the next farmers market I found some incredibly sweet and juicy navel oranges. My taste buds pricked at the memory of those breakfast glasses of orange juice. Here was the answer to my smoothie. When I tried the blend that afternoon the chemistry between the two worked. I had used more orange juice than before and the mixture was more soup than smoothie so that's how I tried it: in a bowl, with a spoon, with some freshly picked berries. As the days grew warmer it became my favorite dessert of that summer and those since.
During the past year I have been juicing and making purees of everything in sight. It all started with the juice left in the bottom of a plate of heirloom tomatoes that had been drizzled with olive oil. It was so tasty you just had to mop it up with a chunk of bread. This led to making vibrant vinaigrettes with mashed up tomatoes and then to great mounds of herbs being turned into bright green elixirs that transformed everything it was poured into from a plate of pasta to mashed potatoes.
Up to this point I had been pulverizing everything in my food processor or blender. Everything changed after I borrowed a juicer from a good friend of mine. I may have juiced every vegetable in the house. There are some I probably shouldn't have – I thought leeks might be interesting addition to a green drink; they weren't, yet worked well in a poaching broth for fish. I drank juice morning, noon and night and felt energized. My favorite way to start the day is now a glass of apple-carrot-lemon-ginger juice.
One day I juiced beets. I can honestly say that I loathed beets as a child. They were served boiled to death in the school canteen. They were slimy and slightly pickled. We'd try to hide them so we didn't have to ingest them. It wasn't until I came to California and tried roasted beets that I became slightly infatuated with this vegetable. The juice is rich in flavor (it's also packed with antioxidants and nitrates that are good for you) and their intense color - from golden hues to deep plum - adds a beautiful touch to your culinary palate.
To those first cups of beet juice I added fresh orange and carrot juice and concentrated the mixture in a saucepan. The resulting sauce was a revelation to me. It was silky and gorgeous. Here was the essence of those vegetables in liquid form. Golden beets, yellow carrots and orange juice produced a sauce the color of Van Gogh's Sunflowers. Dark red carrots and purple beets created something akin to a ripe fig. The fun part was (and is) pairing these combinations with different foods. Grilled or roasted duck and salmon both worked well, creating a salty-sweet, opulent yet clean mélange. These experiments are fun and vibrant.
Perhaps I'll try making an orange-beet sorbet next: homage to that cassis sorbet and that orange juice.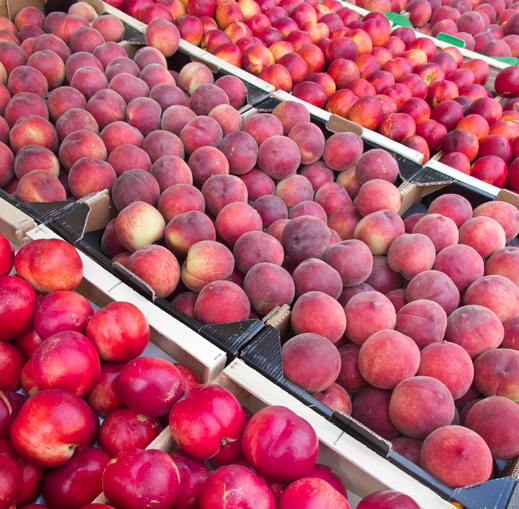 GRILLED PEACH, ARUGULA AND PROSCIUTTO SALAD WITH A TOMATO VINAIGRETTE
Serves 8 people
For the vinaigrette:
2 tablespoons olive oil
1 tablespoon vinegar
2 ripe heirloom tomatoes – stems removed and cut into quarters
Juice and zest of 1 lemon
Juice and zest of 1 lime
Salt and pepper
For the Salad:
4 large or 6-8 small firm-ripe peaches – cut into sixths
1 bunch basil – leaves left intact (if you can, try to find different varieties of basil)
1 bunch chives – finely chopped
8 oz arugula
8 slices prosciutto – pulled apart into small shreds
Place all of the vinaigrette ingredients into a blender and whizz together for 30 seconds so that you have a smooth emulsion. Pour the vinaigrette into the bottom of a large salad bowl. Place serving utensils over the vinaigrette.
Add the arugula leaves, basil leaves, chives and prosciutto on top of the serving utensils.
Place a griddle pan over a medium hot flame on the stove. Once it is hot, pour a little olive oil onto a paper towel and then rub the griddle pan with the paper towel. You want to get a thin film of olive oil on the griddle pan. Be careful when you do this so that you don't burn your fingers.
Place the peaches into a bowl and add a little bit of olive oil to the slices. Toss so that the peaches are coated with a little olive oil. Sprinkle a little salt and pepper over the peaches. Place the peaches on the griddle and cook for 90 seconds. Carefully turn the peaches onto the other open side and cook again for 1 minute.
Carefully remove the peaches from the griddle and add them to the salad. Gently toss the salad so that the peaches stay intact. Serve immediately so that the peaches are still warm.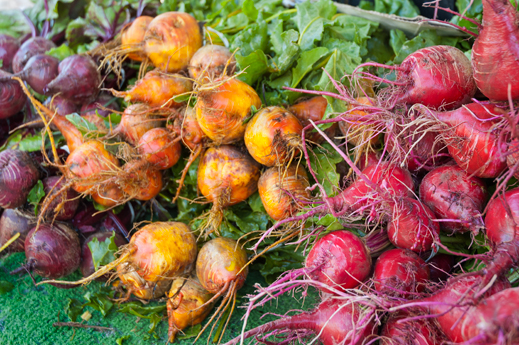 ROASTED GLAZED WILD SALMON WITH A BEET-CARROT JUICE SAUCE
ON A BED OF WILTED GREENS
Serves 8 people
For the salmon:
2 ½ lbs wild salmon filet – score the salmon into 8 equal parts but do not cut all the way through
1/3 cup honey
1 inch piece fresh ginger – peeled and finely chopped
Zest of 1 orange and 1 tablespoon orange juice
1 tablespoon Herbes de Poisson
Preheat oven to 325 degrees.
Place the salmon in an oven proof dish
Combine the honey, ginger, orange zest, juice and herbes de Poisson in a small saucepan and bring to a strong simmer. As soon as it bubbles remove from the heat and then pour the glaze over the salmon ensuring that it is well coated.
Place the salmon in the center of the oven and roast for 18-20 minutes.
For the wilted greens:
Olive oil
2 shallots – peeled and sliced
1/2 lb spinach
1 bunch either bok choy or Asian greens or broccolini – finely sliced
Lemon juice
Salt and pepper
Pour a little olive oil into a large skillet placed over medium heat. Add the shallots and cook for 3-4 minutes, then add in the chopped greens and cook until just wilted. Add some lemon juice to the pan, stir quickly and set aside.
For the beet-carrot juice sauce:
1 cup carrot juice
½ cup beet juice
1 cup orange juice
¼ cup sugar or 2 tablespoons honey
Pinch pepper
½ teaspoon coriander seeds
Place all on the ingredients into a medium sized saucepan placed over high heat. Bring to a boil and then reduce to a simmer. Cook until the liquid has reduced by half and the sauce has thickened. Set aside.
To assemble:
Divide the greens equally between the dinner plates. Place one piece of the salmon onto the center of the greens. Spoon the sauce around the greens. Serve immediately.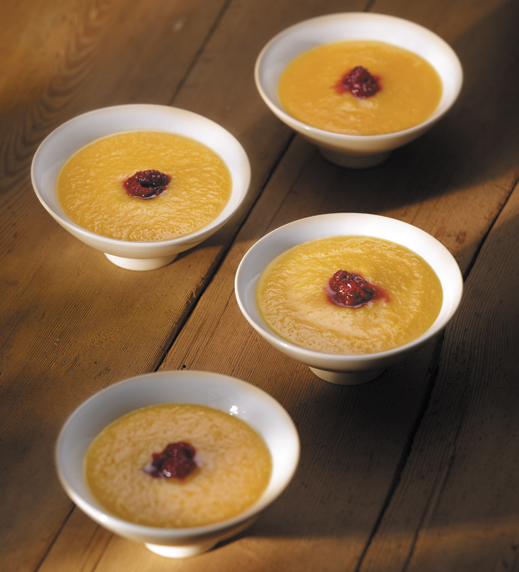 CHILLED MANGO-ORANGE 'SOUP' WITH CRYSTALIZED GINGER RASPBERRIES
From Pascale Beale's A Menu for all Seasons – Spring (1st Edition)
Serves 8 people – This will make enough for a small bowl per person
3 ripe mangoes – peeled and the flesh cut into pieces
Juice of 6- 8 navel oranges
2 oz butter (1/ 2 stick)
1 1/ 4 oz brown sugar (3 tablespoons)
1 tablespoon freshly grated ginger
2 oz chopped crystallized ginger (4 tablespoons)
Zest and juice of 1 1/ 2 lemons
2 baskets raspberries
Place all the mango pieces in a food processor and pulse until you have a thick puree. Then, with the motor running add the orange juice in a gradual stream. You will end up with a smooth soup that will be quite thick. Pour the soup into individual bowls and refrigerate until serving time.
Melt the butter in a skillet that is large enough to hold all the raspberries. When the butter is bubbling, add the brown sugar and cook for 2 minutes. Add in the fresh and crystallized ginger and the lemon juice and zest, and cook for a further 2 – 3 minutes. Set aside.
Just before serving the soup, reheat the sugar-ginger mixture, add the raspberries to the mixture and cook for 30 seconds over high heat, so the raspberries are coated with the ginger mixture and they just begin to release their juices. Remove from the heat and spoon one large spoonful into the center of each bowl of soup. Serve at once to keep the contrast between the cold soup and the warm raspberries.