Written for Edible Santa Barbara - Winter 2018
"Cookery means the knowledge of Medea and of Circe and of Helen and of the Queen of Sheba. It means the knowledge of all herbs and fruits and balms and spices, and all that is healing and sweet in the fields and groves and savory in meats. It means carefulness and inventiveness and willingness and readiness of appliances. It means the economy of your grandmothers and the science of the modern chemist; it means much testing and no wasting; it means English thoroughness and French art and Arabian hospiltality" - John Ruskind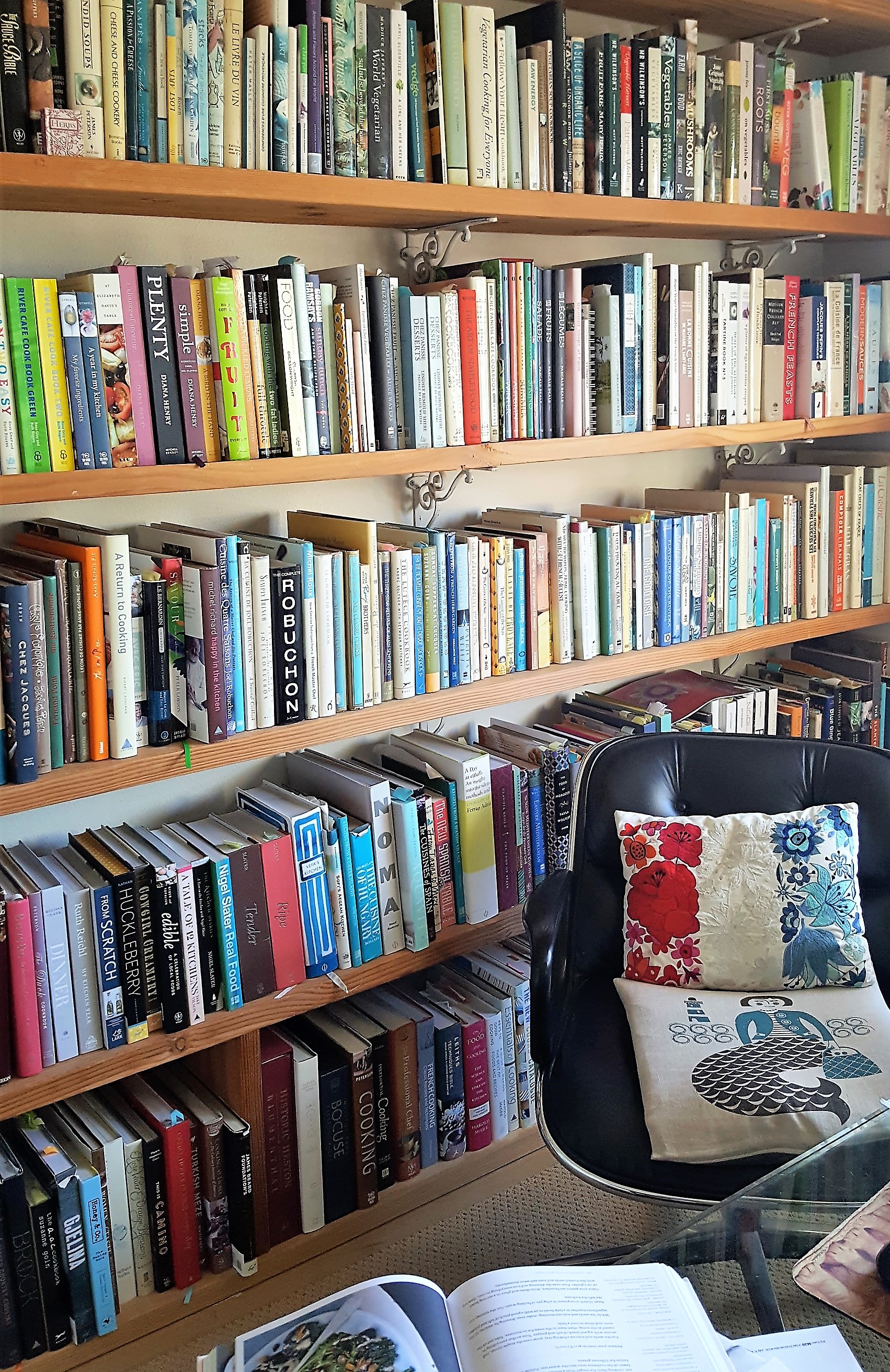 The wall behind my desk is lined with wooden shelves, crammed with a cornucopia of cookbooks from around the world. They feed my inspiration. I disappear into them and in an instant, am transported to the souks of Marrakesh, the dappled light filled markets of Provence, the fish markets of Marseille, the farmers markets of California, and beyond. Piled onto the shelves are also food memoires, technical cook books, restaurant cookbooks and massive culinary dictionaries. They come in all shapes and sizes, illustrated and not. Some are new, some rather old, a few are battered copies that I have carted half way around the world, filled with scraps of paper marking a recipe or story of note. Through them I travel the continents and explore the culinary treasures they encompass. It wasn't always thus.
I became aware of the act of cooking long before I was aware of cookbooks as a source for recipes. My mother and grandmother just cooked with nary a book in sight, creating dishes with seeming effortlessness. I assumed that I would acquire the same repertoire just with my proximity to the kitchen, and that seemed to be the case as I was put to work at a young age chopping vegetables and sorting salads, or learning to make béchamel with a guiding hand on mine. My grandmother, a refined cook of classical French dishes, produced multi-course meals at the drop of a hat. Little did I realize that she had not passed her culinary prowess and knowledge onto my mother, but rather, furnished her, soon after her marriage, with a book which should provide her with the answers to all matters related to the kitchen.
The book in question was the daunting, red leather bound La Cuisine by Raymond Oliver. Filled with thousands of recipes, it was a tour de force, a lexicon of classic French cooking. I soon discovered that my mother would consult it before any major dinner party and labored for hours over extravagant creations such as festooned pheasants. It was the source for the now infamous (in our house at least) canard à  l'orange, a 40-hour, never to be repeated, cooking odyssey. As I got older I poured over its pages, digesting recipes for everything from fantastic terrines to towering pièces montées, and returned to it annually to finally master what became my then signature dish, a Pâté en Croûte, filled with layers of marinated meats encased in a buttery, flaky crust. The book is filled with gallentines, aspics, gastriques, sauces that take two days and 38 ingredients to prepare, dishes that never see the light of day in a family kitchen and the assumption that all readers of the book had more than a modicum of cooking knowhow. It was imposing and challenging. It seemed to me, at the time, that either one cooked simple meals or great feasts with nothing in between. The next books I acquired did nothing to dispel this perspective.
I was born, fortuitously, into a family of self-avowed food fanatics where driving a few hundred kilometers for a good meal was not unheard of. Driving across any part of France meant an in-depth study of the famed Guide Michelin, a copy of which was always kept in the glovebox. Trips were planned accordingly, and, if the chef had by chance written a cookbook, I would sometimes be the lucky recipient, complete with a signed menu from the establishment to commemorate the occasion. I paged through these books reverently, salivating over the exquisitely produced dishes, never imaging that I would re-create them in my own kitchen. My cooking at this point was of a hearty country variety. These books fueled my curiosity, a guide if you will to the nec plus ultra.
Our passion, as a family, for all culinary matters was matched by our passion for books which were piled high in various corners of the house. When Time-Life Books started their subscription series my mother immediately signed us up. We eagerly anticipated the monthly shipments on geography, history, photography and cooking. I relished the latter, The Good Cook/Techniques and Recipes. From these technically precise books I learnt how to make, amongst other things, floating islands, buttery shortbread and marmalade. These books became my reference library.
In my early twenties I received an 1890 edition of Mrs. Beeton's Book of Household Management, complete with color plates of extravagant table settings, menus with 22 courses and details on how one should instruct a scullery maid and the duties of one's butler! It is a time capsule, a view into the world of Edwardian England, a Downton Abbeyesque portrayal of life, far removed from the internet driven, warp speed world we live in today. It was with this book that I became intrigued with older texts and the window they gave one into another era. When Claudia Roden was researching her book of Middle Eastern food she spent months studying historical cookbooks and testing 13th century Baghdadi court recipes. In an interview for The New Yorker, Roden said "I just got so interested in the history of food and I was making all those medieval dishes, and it blew my mind – the idea that through food you could describe and reconstruct the world!" [1]
It was only when I moved to Los Angeles that I discovered food writing of another genre. Here I found Alice Walters, Mollie Katzen and Gourmet Magazine. The writing was comforting and approachable. I felt at home with this food and it proved to be life-changing. A single recipe in Gourmet magazine transformed the way I cooked. The recipe – a scallop and shrimp poached 'sausage' with a beurre blanc sauce - was the catalyst that propelled me into the food business. Up to that point I had used recipes as guides to flavor combinations, and referred to books to learn a particular technique. I restyled all recipes to fit with my somewhat casual Provencal-French country cooking. That recipe challenged me to push boundaries and explore new dishes. Successfully executed I went back to my old French cookbooks and dove headfirst into their texts, cooking my way through chapters of Raymond Blanc, Michel Guerard's Cuisine Minceur and Cuisine Gourmande, the Roux Brother's and George Blanc's sumptuous chicken dishes. I started keeping notebooks filled with menus so that I didn't feed my friends and family the same dish twice. These cookbooks propelled me, fed me, nourished my curiosity and my taste buds. I devoured the Chez Panisse Menu Cookbook, basked in Mireille Johnson's Cuisine of the Sun, and plunged headfirst into the Silver Palate. I read these books cover to cover, gobbling up recipes, filled my head with flavors, swimming in glorious sauces flavored with spices from around the world. The more I read and cooked, the more curious I became. My culinary horizons now stretched well beyond France's borders and spilled into every country surrounding the Mediterranean, drawing on the multi-flavored palates of the Iberian Peninsula, North Africa, Persia, Israel, Turkey, Greece and Italy, and then further afield to the foods of India and Asia. I travelled vicariously through the pages to these countries and discovered I wasn't alone.
In speaking with many of my fellow cook book obsessed friends and food professionals, I found a similar trait. Evan Kleiman, (Host of KCRW's Good Food) a voracious reader of all things culinary from an early age, said this "voyeuristic exploration connected me to the fact that all people were not white Americans and food was not just meat, potatoes, and salad with dressing." She read ethnic cookbooks as novels, and the works of Elizabeth David and Claudia Roden that opened the door figuratively and literally to another world. With the proceeds from baking cookies she travelled to Italy to explore, eat and cook the food she had read about. There, she found older Italian cook books, some with no lists of ingredients, just evocative narratives with general directions, imbued with the essence of the region they represented. For this very reason, both Kleinman and James Beard Award winning author Clifford A. Wright, have a penchant for cook books written in Italian. Evan Kleinman carried the books back to California to add to her growing collection, amongst them, favorites such as La Cucina di Mia Casa by Zenone Benini and the works of Franco Muzzio and Slow Food founder Carlo Petrini.
I was struck, as I discussed the cookbook collections with their owners, that although they varied widely in scope and focus; Nancy Oster's (recipe editor for Edible Santa Barbara) has a strong baking bent; Jill Johnson (Food writer and social media maven) hunts down Junior League cookbooks; Harriet Eckstein's (Santa Barbara based graphic designer and cook book editor) collection is eclectic, a true reflection of her peripatetic journeys around the world; Tracey Ryder's (co-founder of Edible Communities) is filled with French and vegetarian books; Local favorite Chef Pinks' is inspired by many fellow restauranteurs; everyone spoke of a cookbooks' capacity to reveal a culture through the cuisine they explored.
I asked Anne Willan, founder of the prestigious cooking school La Varenne, rare cookbook collector, and award-winning author who also penned The Cookbook Library: Four Centuries of the cooks, Writers and Recipes that Made the Modern Cookbook, why she thought cookbooks still sell and what she liked about cookbooks in general? She replied "A successful cookbook is much more than just a collection of recipes, it adds up to a picture of a certain type of cuisine and the author's view of it. In a truly great cookbook, the voice of the author comes through loud and clear, creating a portrait of a character as well as their cooking. It reads like a novel, a new turn in the plot on every page!" A sentiment echoed by Evan Kleinman who, when asked the same question said, "in a cook book you are looking at a person with a point of view. Cookbook authors are characters I rely on."
When I asked my friends about the longevity of cookbooks as opposed to the mass availability of cooking information and recipes online, Anne replied "Nothing online replaces the character and feel of a book in the hand. And it is so much easier to assess a recipe in the context of the rest of the book when you can flip the pages to and fro instead of scrolling up and down a screen." Evan added 'the difference between browsing online for a recipe and browsing in a bookstore, is that your eye falls on a page and draws you in." Clifford felt that, "… cookbooks are far more substantial, provide context and story and engage the reader/cook with their soul." Local favorite Chef Pink told me, "I buy printed versions of a book (as opposed to a digital version) because I believe in holding something in my hands that someone has created, rather than a fleeting image or video which is soon forgotten."
It quickly became apparent to me that these physical books seemed very much tied to the physical act of cooking, of creating and of sharing food. The books, like the dishes one eats are tangible. Jill Johnson said, "There will always be a market for hardcover books. People like having pages to flip through and mark up, taking time to savor making a dish… the smell of the books is so comforting, even seeing the stains on certain pages, tell you your favorite recipes."
Finding marginalia, stained pages, faded letters and notes tucked into old books are all part of their charm and mystique. They represent a tactile historical record of the books life. Evan Kleinman told me that she had purchased a second copy of Marcella Hazan's book on Italian cooking as the first one had fallen apart from constant use. Tracey Ryder, told me that after having read her books cover-to-cover she puts sticky notes on all the recipes she wants to cook later. My dilapidated copy of the Silver Palate is decorated with drawings and comments on when I made a particular dish and who was there, the index annotated with tick marks against the recipes I completed, with shopping lists tucked into the now loosened pages. Looking back on these annotations and saved recipes I see how my cooking has evolved and how my tastes have changed!
Like music that echoes an epoch, so do vintage cookbooks. I spoke with Dianne Jacob, acclaimed author of Will Write for Food about her collection and which cookbooks she was particularly drawn to. She spoke reverently about the food of the Cochin Jews, in particular a book by Mavis Hyman entitled Indian-Jewish Cooking, and books related to her heritage.
So why are we are all drawn to all these cookbooks? I recently came across an article about Chef Jose Andreas in which he described part of the attraction. He likes books, he said, that create a sense of discovery. He referred to Brillat Savarin, author of the famed The Physiology of Taste, as the Jules Verne of Gastronomy. Andreas' inspiration, came not just from the spices on his shelves but also on what he has learned about food from his books, "Old cook books" he revealed in an article for the New York Times[2], "connect you to your past and explain the history of the world."
This palpable link to one's past is a common thread weaved through all the collections I explored, often with a poignant connection. We each have books that, though not often read, act as a touchstone. Anne Willan told me, "When I'm feeling nostalgic, I go back to my mother's handwritten book of recipes, first from her childhood and then as a young married woman before World War II. It is a picture of another era, and also a memory of my own childhood when I hung out all day in the kitchen every week on Thursday, baking day of treats for the next week. I was not allowed a taste until Friday -- freshly baked goods were bad for the digestion said our stout old cook." Krista Harris, editor of this magazine, told me recently "Quite a few years after I started collecting old cookbooks, my aunt gave me a book that had been my great-grandmother's. She died when I was a baby so I never knew her, but I heard stories about what a wonderful cook she was. I loved seeing the handwritten notes in her cookbook." Celia Sack, owner of Omnivore Books— where I always feel as though I have stepped into a well-appointed personal library rather than a gem of a cookbook shop—told me she "loved the aesthetic of old cookbooks, and the story they tell about a place and time." And amid much laughter (on my part) Evan Kleinman mentioned that she was drawn to reading vintage books because they recreated the dishes of home and said "I was drawn to them because I wanted to be my own grandma!"
Interesting books obout cookbooks:
The Cookbook Library by Anne Willan and Mark Cherniavsky
History of Food in 100 Recipes by William Sitwell
The Chef's Library: Favorite Cookbooks from the World's Great Kitchens by Jenny Linford
The American History Cookbook by Mark H. Zanger