Written for Edible Santa Barbara - Spring 2009 issue
The drizzle and sometimes grey sky of winter is fading behind us, mirroring an ebb tide, retreating into the distance. Left in the tide's wake are all sorts of ocean going creatures who take this twice daily break as an opportunity to hunt for food or doze in the pools. The turn of the season is similar to this. The first of the spring flowers peek their stems and heads above the ground as the weather warms up, only to retreat a little when a final winter blast streaks across the sky.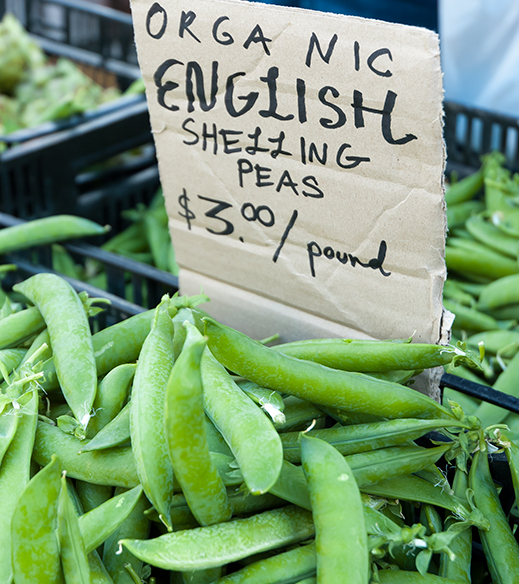 Then, as the days lengthen, the garden picks up steam. Shoots sprout; pea's spring; their tentacles curl on climbing frames. Pods grow and ripen. Spring showers nurture the soil where the raw materials for culinary marvels dwell. There are fronds of fresh fennel, sweet green garlic bulbs, a sudden bloom of morel mushrooms and the fruit trees fill with blossom. Meandering through an early spring garden one senses the New Year's crop emerging from the earth. Long dormant plants have pushed their way into the fresh air. Tulips dance in the wind. A pot of daffodils in the kitchen brings a ray of sunlight, that fresh clear sunlight that is an echo of the new season.
The spring garden yields some of the great treasures of the kitchen, amongst them white asparagus. There are a few passionate gardeners who will tend these fragile stems, carefully mounding the earth around their stalks as they grow, ensuring that they never see daylight, thus preserving their pale creamy colour. As much as I love growing fruits and vegetables I admit that I have never mastered this one. However, coming across them in a local farmer's field was a revelation – akin to discovering a hidden, precious gem.
Asparagus, a royal treat, has grown in Europe and Egypt for more than two thousand years. The green variety graced the tables of roman emperors and was a particular favorite of The Roi Soleil, King Louis XIV. White asparagus made its first appearance in France in the mid-1600's and has become a specialty of many European cuisines, particularly in France, Belgium, Germany and Austria, where it is served in myriad ways. I have always felt that the simpler the better – with vinaigrette perhaps, warm butter or a light herb sauce which compliments the delicate flavor of this vegetable.
Hanging above the delicate rows of asparagus in this nascent garden, a harvest of fava beans and spring peas waits to be plucked from their bright pods. These hidden, tiny orbs - a riot of vibrant greens - married in a zesty and crisp salad, are the perfect compliment to a dish that evokes the season: Spring Lamb. The latter is now a misnomer, as lamb is now available year round due to the advances (if one wishes to call it that) in animal husbandry and yet few dishes are as tied to a season as lamb.
Lamb dishes are steeped in centuries of culinary traditions, notably as a central part of Easter celebrations. However, predating Christian customs, lamb served at this time of year has its origins in the Jewish faith where it is one of the traditional foods served during the Passover Seder. My family has a penchant for lamb and it has always featured as the main course of our Easter repasts, usually in the form of a leg of lamb, often served with a dish of flageolet beans. This was and is a hearty dish that complimented the often freezing weather that occurred as we celebrated the spring holidays in France. Our milder Californian climate called for a lighter touch, hence the salad and the fava beans are a tender tribute to the flageolet.
If my savory taste buds are captivated by white asparagus and fava beans in this embryonic season, then the sweet ones are enthralled with a fruit whose season is, alas, far too short. The poet Rainer Maria Rilke once wrote "Spring has returned. The earth is like a child that knows poems". I like to think that earth's poetry is perfectly encapsulated in this fruit. Its pale pink and milky white blossoms are one of the first to emerge in our springtime gardens. It is a floral hint of the treats to come. It is the simple apricot. Yet these small golden-orange spheres offer a plethora of gustatory choices. Eaten freshly picked off the tree is a delight, particularly when perfectly ripe. They are juicy, succulent, tender and sweet. They can be poached, roasted, dried and made into preserves. My admiration for all things connected with apricots stems from my grandmother's garden in the French Alps. She had half a dozen apricot trees, which bore a staggering number of fruit, all dutifully turned into compotes and jams.
The children of the house hauled the laden baskets up from the garden and into her kitchen. Preparing the fruit for apricot jam was an all day project and we usually ended the day with sticky fingers, a smile on our faces and the promise of her apricot clafoutis for dessert. We would also ceremoniously carry back to London (where we lived at the time) two jars of this extraordinary jam – truly the essence of apricots, captured in a glistening amber-hued mélange that was her trademark. We made it last for as long as we could, for it would be months before we could get our hands on any more.
Years passed and I began making my own jams. Frustrated by my inability to recreate the flavor she had in her preserves, I scoured many a farmers market to find organically grown fruit that were similar in taste and fragrance to hers. I am delighted to say that our local markets have a wealth of apricot growers who will flood our tables with these precious gems and whose fruit make wonderful preserves. However don't wait too long - as implied by its name, Apricot, means early-ripening or precocious stemming from the Latin word praecoquus - or the season will be over!

WHITE ASPARAGUS WITH A HERBED MOUSSELINE SAUCE
Serves 8 people
2 lbs white asparagus - bottom half of the stems peeled and trimmed
4 egg yolks
2 tablespoons fresh lemon juice
Large pinch salt
10 oz butter - clarified
White pepper
1/2 bunch parsley - finely chopped
1/2 bunch dill - finely chopped
4 tablespoons crème fraiche
Place the asparagus in a shallow pan filled with boiling water and cook until tender – about 10 minutes. Note: Check the asparagus before removing them to make sure they are cooked correctly - the white variety takes a little longer to cook than the green ones, which unlike the white ones, can be eaten al dente.
When they are cooked remove them, drain and set aside on a platter.
Whilst the asparagus is cooking, prepare the sauce. Place the egg yolks, half the lemon juice and the salt in a medium sized stainless steel bowl and whisk until the mixture is thick and creamy.
Place the bowl over a saucepan of simmering water, making sure the bottom of the bowl does not touch the water. Whisk the egg mixture until the egg just begins to thicken being careful not to overcook the eggs - they will turn to scrambled eggs quickly otherwise.
Remove the bowl from the pan and very slowly whisk in the butter until it is all incorporated. Add the remaining lemon juice and the crème fraiche and whisk well so that the sauce is homogenous. Add the freshly chopped herbs and the pepper and stir again. Serve immediately.
Note: White asparagus need to have their stalks peeled. However, as the stalks break easily, the easiest way to do this is to place them on your work surface with the tips facing towards you. Then using a vegetable peeler, peel the stalks, starting about 2 inches from the tip, making sure you hold the asparagus flat on the surface as you work.
Sidebar: The Fairview Gardens is one of the few local places to find white asparagus. Visit their 12 ½ acre organic farm on Fairview Avenue in Goleta, walk amongst the scented rows of vegetables and admire the handiwork of their farmers as they tend these tender shoots. Open for self guided tours daily from 10am until sunset. For more information visit their website: www.fairviewgardens.org or Tel (805) 967 7369.
HERB CRUSTED, ROASTED RACKS OF LAMB
Serves 8 people
2 racks of lamb, Frenched if possible or trimmed of almost all the fat
4 cloves garlic - crushed
1½ tablespoons coarse salt
1 tablespoon freshly ground black pepper
¼ cup olive oil
¼ cup fresh rosemary – chopped
¼ cup thyme – chopped
½ glass red wine
2 tablespoons cold butter
With a sharp knife, score the back of the rack of lamb in a criss-cross pattern, cutting ¼ inch into the meat.
In a small bowl mix all the remaining ingredients so that they create a thick paste. Spoon the paste over the racks of lamb, rubbing it thoroughly into the skin and into the cuts. (leave for 30 minutes to 1 hour before cooking as the flavors will permeate the meat)
Preheat the oven to 400 degrees.
Pour a little olive oil in an oven proof skillet and heat over medium heat. Sauté the rack in the skillet for 5 minutes meat side down, then place the skillet in the oven and roast for a further 15-20 minutes for pink meat. Remove from the oven and place the racks on a wooden chopping board and cover them loosely with foil - let rest for 5-10 minutes before cutting.
Place the skillet back on the stove top and de-glaze the skillet with a little red wine, reducing the pan juices by half. Add the 2 tablespoons cold butter to the pan and let it melt slowly. Cut the racks and place two chops onto each plate and pour a little of the pan juices over the chops. Serve with the salad.
Sidebar: Although sheep have been bred for thousands of years, from their origins in Central Asia, their arrival in North America dates back only to the time of Cortez in 1519. Sheep later became a central part of many of the Californian Missions, raised not just for their meat, but also their wool. Over the last 2 decades small scale sheep farmers have had an increasingly difficult time running viable businesses due to the influx of less expensive New Zealand and Australian Lamb and combating predators.
However some smaller, organic, natural farms have managed to carve out a niche market, supplying a small but growing clientele of restaurateurs and gourmets eager to have naturally, locally-raised, hormone-free meat. Amongst those who have a particularly delicate product are Lance and Gay Columbel, owners of the 150 year old James Ranch in Penn Valley, California. Located on 200 acres of green rolling pastures north of Sacramento this family has dedicated itself to raising sheep in the most natural manner possible. The sheep graze on apples, pears, figs, blackberries and wild roses as well as summer and winter grasses and their herbaceous flavored lamb is coveted by many chefs. Information about the farm and their products can be found on their website at www.thejamesranch.com or by calling (530) 432 3306

SPRING PEA AND FAVA BEAN SALAD
Serves 8 people
olive oil
Zest of 1 lemon
1 lb spring peas – shelled
3 lbs Fava Beans (once shelled, this will yield about 2 – 2½ cups – see note)
4 stems green onions – thinly sliced
1 Granny Smith apple – cored and diced
1/3 cup fresh mint leaves – thinly sliced
¼ cup fresh dill – chopped
4 inch long piece Daikon radish – diced
Freshly ground pepper
Lemon juice of 1 lemon
2 tablespoons tarragon vinegar
Pour a little olive oil into a large pan placed over medium heat. Add in the lemon zest, a good pinch of salt, spring peas and fava beans and sauté for 2-3 minutes.
Place the green onions, apple, radish, mint and dill in a salad bowl. Add the lemon juice, a drizzle of olive oil and tarragon vinegar over the top. Add the cooked spring peas to the salad bowl and toss gently so that all the ingredients are evenly distributed.
Note: Fava beans need to be shelled twice. Do not let this put you off as the end result is worth the extra effort. First pop them out of their long pods by running your thumb down the length of the seam. Check the pods before hand to make sure that they are indeed filled with beans. They can sometimes be half full. The beans have a pale green membrane that also needs to be peeled. You can either do this with a small paring knife or plunge the beans into a large pot of boiling water 45 seconds, remove them from the water and then use your fingers to ease them out of the second shell.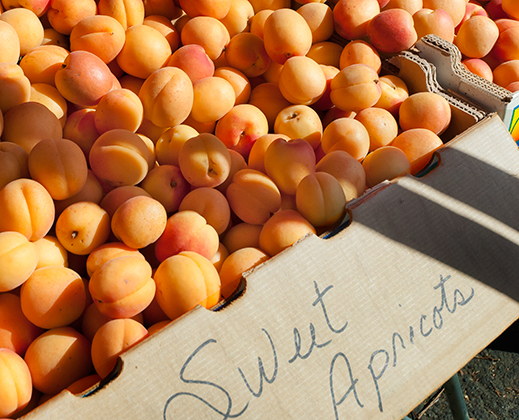 APRICOTS IN BAUMES DE VENISE
Serves 8 people
1 vanilla bean – split lengthwise and the beans scraped out with a knife
½ cup fresh orange juice
1 cup Baumes de Venise – or another sweet white wine
2 tablespoons sugar
2 tablespoons honey
1 teaspoon orange flower water
½ cinnamon stick
2 cloves
16-24 apricots – cut in half
Place all of the ingredients, except the apricots in a large saucepan and bring to a boil over medium-high heat. Once it has boiled, lower the heat and simmer for 5-7 minutes to reduce and thicken slightly.
Turn to low heat and place the apricots in the saucepan. Cook for 5 minutes. The apricots will begin to soften. Turn off the heat but leave the apricots in the syrup as they will continue to cook. They can remain in the saucepan until you are ready to plate the dessert.
When you are ready to serve, spoon the apricots and some of the syrup into small bowls, serving the cookies (see recipe below) alongside.
CITRUS COOKIES
Makes 30 cookies
6 oz (1 ½ sticks) butter
2 teaspoons lemon olive oil
4 oz (just under ½ cup) sugar
Zest of 1 large orange (you can use blood oranges when in season too)
½ teaspoon freshly ground pepper
10 oz (2 ¼ cups) flour
Preheat the oven to 300 degrees.
Place the butter in a standing mixer fitted with a paddle attachment. Beat, on medium speed until soft and fluffy. Add in the lemon olive oil and sugar, and beat again until well combined, scraping down the sides of the mixing bowl occasionally.
Add in the orange zest, pepper and half the flour and mix together at slow speed. Add in the remaining flour and mix again until the dough has just come together. Remove the dough from the bowl and combine into a ball.
Lightly flour a counter top or clean work surface and place the dough in the center. Gently roll out the dough until it is approximately ¼ inch thick. Using a round, fluted cookie cutter, cut out the cookies and then place them on a parchment lined baking sheet.
Cook the cookies for 45 minutes in the center of the oven. They should be a pale golden colour. Place them on a wire rack to cool. They will keep for several days in a sealed container.