Written for Edible Santa Barbara - Winter 2010 issue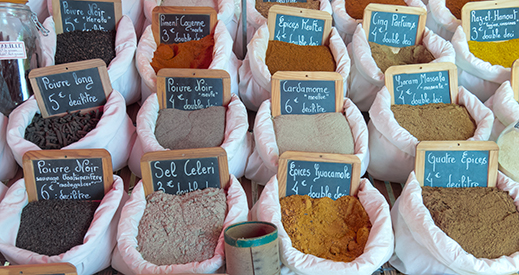 The fragrant gift was hand-delivered wrapped in a brown paper bag. A spicy aroma emanated from within. As I opened the package a multitude of small bags, each a different color, spilled out. They had been hand carried half way around the world, from the market in Luxor, Egypt where my mother had recently traveled. She told me she had found the perfect gift, and what a treasure trove it was, containing, amongst other things, a bag of fragrant cumin seeds, a sachet of beautiful fennel seeds and a small bag of pale looking four peppercorn mix that, when ground up, released this incredible piquant, spicy flavor.
The spices of North Africa spilled out onto the kitchen table evoking the culinary cultures of Tunisia, Algeria, the Sudan and Morocco. I started planning dishes based on these flavors. It was intoxicating. Little wonder that spices had so captured the imaginations of cooks centuries earlier as they were first introduced to various parts of Europe.
The spice trade has its roots buried in antiquity, emanating from India, Asia and the Middle East as the tentacles of the spice routes slowly wound their way across the globe. The first suggestion of spices being used in cooking date back 5,000 BC. Indian peppercorns were being sold in the Middle East prior to 2,000 BC. and it became the most important of the exotic spices in Medieval Europe. They could be easily transported, stored, then traded without any loss in flavor, a huge advantage as the journey could take over a year to reach the final destination. Peppercorns are the most important spice traded worldwide to this day.
In ancient Greece and in Roman times the plentiful use of spices - as recorded in the texts of the day - show their importance in local cuisines. Early Romans liked spicy, sweet foods. Cloves, cardamom, cinnamon, turmeric and ginger were all part of their diet, and Apicus's book, De Re Conqueria speaks of spices at almost every turn. He has a delicious recipe for spiced wine, 'Conditum Paradoxum' which includes honey, ground black pepper, saffron, a crushed bay leaf, cinnamon and dates all cooked slowly in white wine. A recipe which is still as fresh and current today as it was then.
As you delve into the food history of the countries that ring the Mediterranean you see the imprint of the spice trade reflected in their regional dishes, an echo to the merchants who criss-crossed that azure body of water selling their wares originating from the markets in Syria and Egypt to Venice, Genoa, Marseille and Lisbon.
But why was there such a passion for spices from the Middle-Ages to the Renaissance? Part of the reason was that the ample use of spices in food reflected ones wealth and prestige and even though only a small percentage of the population could afford spices, huge quantities were imported into Europe. The demand for spices grew to such an extent that great economic powers were created by those who monopolized the precious routes. Trade reached its zenith during the 14th and 15th centuries when the Republic of Venice and the city states of Florence and Genoa controlled much of the trade. Not to be outdone by their Mediterranean neighbors, and in an effort to gain direct access to the valuable spice markets, the Portuguese set about discovering new trade routes and capturing strategic hubs. In the 13 years that followed Portuguese navigator Vaso da Gama's journey to India around the Cape of Good (1497-1499), Portugal brazenly took control of the three crucial hubs – Goa, Ormuz and Malacca.
The British and Dutch soon followed suite, each vying for a piece of this very lucrative pie. The creation of the British East India Company (1600), and the search for new trade routes were one of the principal reasons behind the voyages that resulted in the discoveries of the America's. This is turn led to the discovery - by Europeans - of plants and spices native to these continents. Ironically as the new spice routes opened up, the demand and price for spices from the far east and Middle East went down, replaced by a new appetite for produce such as vanilla, chili's, chocolate and allspice. Vanilla is still one of the most prized spices, second only to saffron in terms of price.
Spices permeated all aspects of life, even literature. Little wonder that the great bard made liberal use of spicy expressions in his plays and writings: "Is not birth, beauty, good shape, discourse, Manhood, learning, gentleness, virtue, youth, liberality, and such like, the spice and salt that season a man" Characters in his plays refer to spices and herbs and the effect that they impart on one's physical well-being. During this period there was great belief in the theory of the four body humors (blood, phlegm, yellow bile and black bile) and the analogous moods (sanguine, phlegmatic, choleric and melancholic). The use of spices was thought to have an effect on them depending on which spice was used. For example, cinnamon and ginger were used to generate warmth in the stomach and to aid digestion; cinnamon and nutmeg were used to help relieve symptoms of colds and sore throats. There are spice remedies for ailments that are used to this day that reflect the same principals.
Many early cookbooks refer to the liberal use of spices. Taillevent in his treatise on cooking called Le Viandier (first published in 1395), wrote of 'poudre douces' and 'poudres fortes' , literally mild and strong and 'powders' or what we refer to as spices and spices blends. The term powders was used up to the 17th century. Many blends have become ubiquitous with their country of origin: Garam Masala and India, Ras al Hanout and Morocco, Five Spice Blend and China, Herbes de Provence and France, Harissa and North Africa are but a few examples.
However it is interesting to note that some spices that are deemed so characteristic of that country did not originate there. Coriander and mustard which are synonymous with many Asian ethnic cuisines were imported from Europe where they grew abundantly. Similarly the spicy chilies often associated with Chinese dishes and Indian curries only became part of their regional culinary makeup following the sixteenth century discovery and subsequent exploration of the New World. The migration of spices continues to influence how we eat. Now, more than ever we blend tastes from different countries and create our own styles. Call it fusion or Pacific-Rim the origins of these trends lie in the paths navigated by those ancient spice traders. America, with its multitude of immigrant cultures has now become the largest importer of spices in the world.
A thousand years ago spices may have been linked to the body humors and moods, but I like to think of spices as evoking seasons. If I spy a golden bowl of saffron infused aioli, a steaming pot of bouillabaisse, or a plate of Paella my thoughts drift off to hot summer languorous days, but should I happen upon a cup of steaming spiced apple cider, scented with cinnamon and cloves, I am transported to a blustery winters day, bundled up in a warm sweater, cupping the mug in my hands. The aroma of baking gingerbread has the same effect. Spices have an uncanny way of permeating memories even if we are not aware of it. As Erma Bombeck once said "Once you get a spice in your home, you have it forever. Women never throw out spices. The Egyptians were buried with their spices. I know which one I'm taking with me when I go."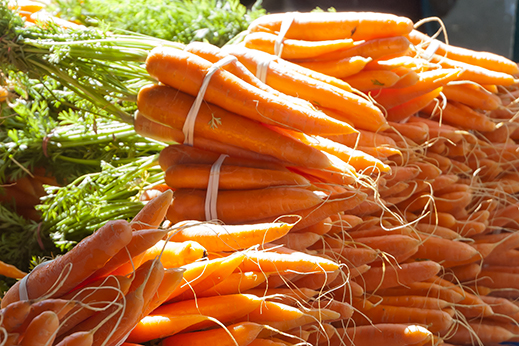 ROASTED CARROT AND CUMIN SOUP
Serves 8 people
2 ½ lbs carrots – peeled and chopped into 1 inch pieces
2 inch piece of fresh ginger – peeled and diced
1 tablespoon ground cumin
2 tablespoons olive oil
4 cups fresh vegetable stock
Salt and pepper
1 tablespoon butter
Preheat the oven to 400 degrees.
Place the carrots, ginger, cumin and olive oil in a large roasting pan and toss to coat the vegetables well. Sprinkle with a little salt and pepper. Place in the oven and cook for 15 minutes.
Pour all of the vegetable stock into the roasting pan and continue cooking (covered with a piece of foil) the carrots for another 30 minutes or until tender. Remove the roasting pan from the oven.
Carefully puree the carrots and stock in batches in a Cuisinart (you get the smoothest soup using this method) but you can also use a hand held blender.
Pour the pureed soup back into the roasting pan or another saucepan to keep warm until ready to serve. Just before serving stir the butter into the soup, check the seasoning, adding a little more salt and pepper if needed.
Note: A vegetable stock made with red onions, a couple of carrots and a leek makes a wonderful base for this soup.
BLACK COD WITH FRESH HERB AND ZA'ATAR RUB
Serves 8 people
1/3 cup olive oil
1 tablespoon sesame seeds – dry roasted in a pan for 2 minutes
½ tablespoon dried thyme
½ tablespoon dried oregano
1 tablespoon ground sumac
½ teaspoon coarse sea salt
1 tablespoon chives – finely chopped
1 tablespoon parsley – finely chopped
8 sprigs fresh thyme – leave removed and chopped
2 ½ - 3 lbs black cod filets
1 lemon - quartered
Preheat the oven to 375 degrees.
In a small bowl combine all the ingredients except the filets of black cod. Stir to combine well so that you have a thick herb/spice paste. Place the black cod filets on a roasting pan or sheet pan and then spoon the herb/spice mixture all over the fish. Make sure all the filets are well coated. Leave for 15 minutes before baking.
Roast the fish filets in the oven for 12-15 minutes. Remove from the oven and squeeze some fresh lemon juice over the cooked filets, and then serve with the couscous alongside on warmed plates.
HERB QUINOA SALAD WITH A CURRY VINAIGRETTE
Serves 8 people
2 cups red quinoa – rinsed and drained
1/3 cup olive oil
3 shallots – peeled and finely diced
½ tablespoon curry powder
1 inch piece fresh ginger – peeled and finely grated
1 small garlic clove – minced
Salt and pepper
Juice and zest of 1 lemon
1 tablespoon red wine vinegar or Jerez vinegar
1 bunch chives – finely chopped
½ bunch cilantro – finely chopped
½ bunch parsley – finely chopped
½ bunch dill – finely chopped
Place the quinoa in a saucepan with 2 cups of water and bring to a boil. Reduce to a simmer, cover and cook until the quinoa has absorbed all the water. You can also cook the quinoa in a rice cooker, using the same proportions.
Whilst the quinoa is cooking prepare the vinaigrette. Pour one tablespoon of the olive oil into a small saucepan or skillet placed over medium heat. Add in the shallots, curry powder, fresh ginger, garlic, a large pinch of salt and some black pepper and cook for 3-4 minutes so that the shallots are lightly golden and the aroma from the spices is released. Set aside.
In a medium-sized salad bowl combine the lemon juice, zest, vinegar and the remaining olive oil and whisk everything together so that it is well combined. Add in the spiced shallots and stir to combine well. Place utensils over the vinaigrette and add in all the chopped herbs.
Once the quinoa has cooked let it cool down a little, then add it to the salad bowl. 15 minutes before you are ready to serve the salad, toss and combine all the ingredients well.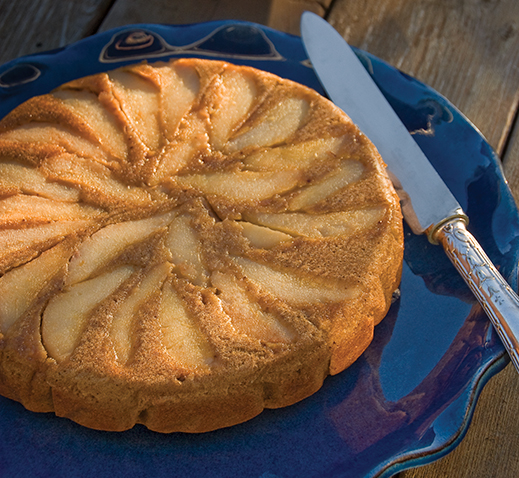 PEAR AND GINGER CAKE
Serves 10-12 people
For the pears:
3 firm ripe pears – peeled and cut in eighths
2 Tablespoons butter
1 Tablespoon light brown sugar
Melt the butter and sugar in a large pan, placed over medium-high heat until the sugar has dissolved. Add the pears and cook for 10 minutes turning them carefully once or twice. (You want the pear slices to retain their shape – if they are very ripe, reduce the cooking time by 5 minutes) Set aside.
For the cake:
10 oz butter (room temperature)
10 oz (2 cups) packed light brown sugar
8 oz (1 2/ 3 cups) unbleached flour
2 tablespoons ground ginger
1/ 2 teaspoon clove powder
1 teaspoon ground cinnamon
½ teaspoon baking powder
1 teaspoon salt
4 or 5 twists of freshly ground black pepper
2 inch piece fresh ginger - peeled and finely chopped
1 oz crystallized ginger – finely chopped
5 large eggs – separated, egg yolks lightly beaten in a small bowl.
Preheat oven to 350 degrees. Line a 10-inch cake tin with a removable bottom with parchment paper and set aside.
Place the butter and sugar in a large saucepan placed over medium heat. Stir until completely melted. Remove from the heat.
In a large bowl mix together the flour, ground ginger, clove powder, cinnamon, fresh and crystallized ginger, baking powder, salt and pepper. Carefully fold the flour mixture into the melted butter and sugar.
Stir the egg yolks into the batter, stirring until well incorporated.
In a separate bowl beat the egg whites to stiff peaks and then gently fold them into the batter.
Slide the pear slices into the prepared cake tin and arrange into a spiral pattern in the bottom of the tin. Carefully pour the gingerbread batter over the pears so that they are completely covered, smoothing the top of the batter.
Bake for 30 minutes. A skewer or knife inserted into the center of the cake should come out clean. Remove from the oven and let cool for 10 minutes before removing the outside of the cake tin. Carefully invert the cake onto a serving platter and slowly remove the parchment paper and the bottom of the cake tin.