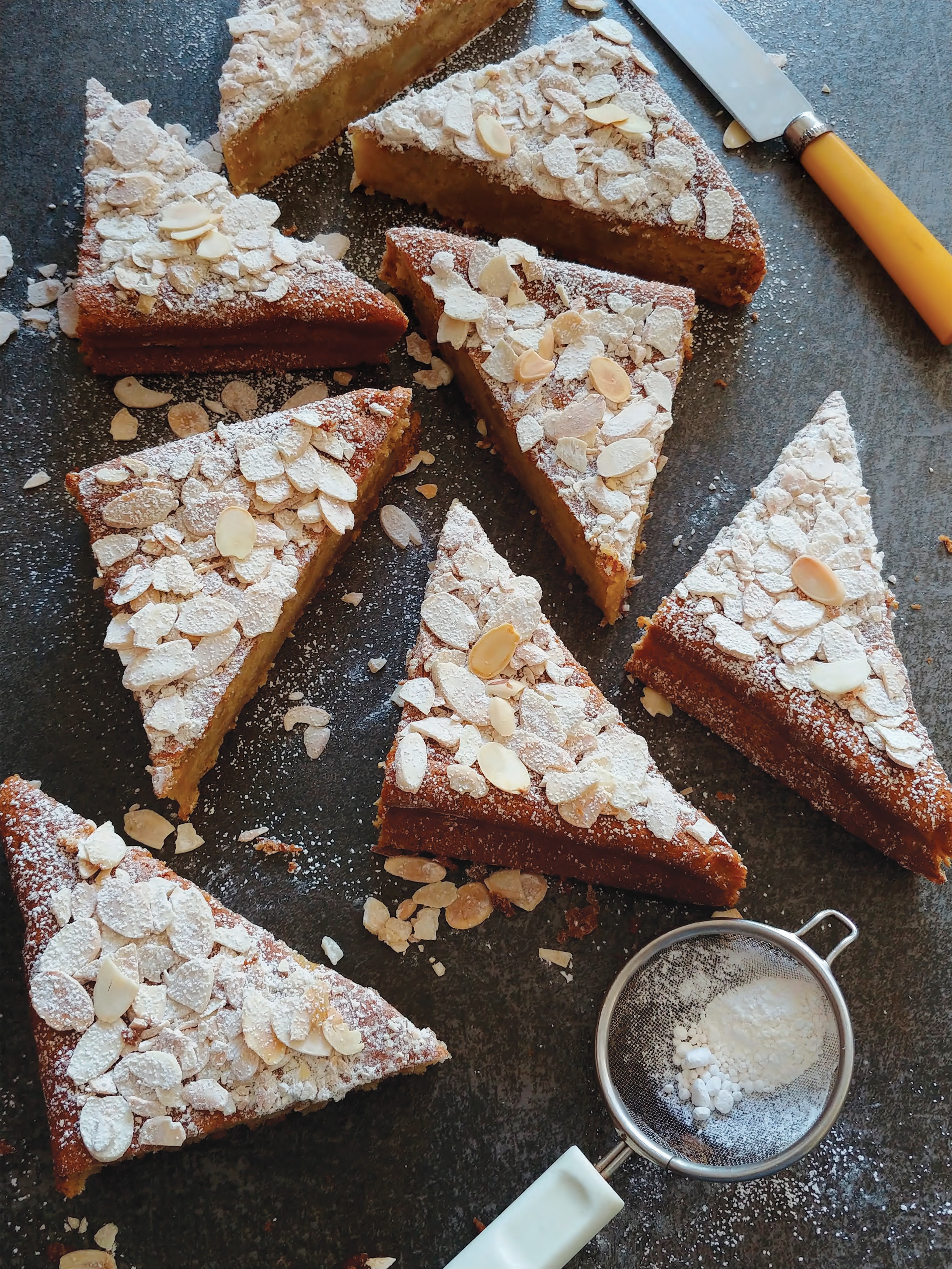 A few years ago, I was invited to my first ever cookie exchange. The host gave me a crash course on the etiquette behind such an event. Food gift exchanges date back to medieval times when the sharing of sweet meats and delicacies was a mark of hospitality and respect, and in the same vein, cookie exchanges have a long, revered tradition in the US. Evidently there was much to consider and careful planning went into which cookie to make and how many cookies I should bring. I poured over books debating trying something new, but decided to bake my favorite, tried and true, shortbread, making 3-D Christmas trees and reindeers using some nifty cookie molds I found in a local store. I had no idea what to expect and was stunned by the assortment of confections that covered every horizontal surface in the house. From gingerbread men to pecan tassies, from snickerdoodles to rugelach, from oatmeal raisin to chocolate chip, the tables fairly groaned under the weight of those beautiful hand crafter treats. My children and I were enchanted. This was a tradition we could whole heartedly sink our sweet teeth into.
There is a Norwegian proverb I adore. The saying, 'Cookies are made of butter and love', encapsulates everything a cookie should be, a mouthful of deliciousness, a sweet treat, all the more so when you are making them for someone you care about. There are few things that give more pleasure than a homemade delectable gift, and given that we are heading into the sweetest time of year, what better than to explore the seasons indulgent traditions.
In an unscientific survey of friends and family I posed the following question: 'From fruit cakes to ginger cookies, from brownies to blondies, what sweet treat makes your family holidays special? Do tell...' Traditional favorites topped many people's responses, Christmas pudding, fruits cakes – Irish, whiskey and classic versions – apple, pecan and pumpkin pies, holiday cookies and shortbread galore, plenty of Norwegian Krumcake, Yule logs and so on. Family recipes passed down through generations also proliferated such as a buckwheat honey cake to celebrate the Jewish New Year, a favorite tamale recipe to celebrate Christmas in California, and as my daughter reminded me, we always make a cranberry coulis to serve on Thanksgiving Day. There were also a few unusual flavor combinations and traditions that piqued my curiosity, from homemade cinnamon buns served with bloody Mary's on thanksgiving morning, or stuffed and baked orange shells filled with mashed sweet potatoes and topped with a marshmallow, to sending favorite cookie recipe ingredients packed in jar for instance. More on the latter later.
All these sweet musings made me think in earnest about some of the dishes I have planned for our family's gatherings in the upcoming season. We are, like many families, an amalgam of cultural origins whose culinary traditions have morphed over time into a Californian-pan European hybrid. Our multi-generational French-English family holds strong views on anything to do with food, particularly at this time of year, and my children hold fast to these gastronomic mores, especially the sugary ones. Apple tarts or crumbles and pecan pie at Thanksgiving; Panettone, Christmas Pudding and Buche de Noel at Christmas. Should I turn everything on its head and try all new dishes? At the mere mention of this, there were a few shrieks of disapproval similar to those voiced when I suggested we had an everything but the turkey Thanksgiving; 'what, no apple tart, no mince pies, no Buche de Noel, no pudding, are you kidding?!'
I decided to keep some (yes, the mince pies stay on the menu), and try a new twist to other favorites such as refashioning our family quart quart recipe (French pound cake) into a pear filled Thanksgiving treat, and creating a new winter pavlova. If the past eighteen, long, pandemic months have taught us anything, it's been about our ability to pivot and change with the times. There is something very appealing about adapting desserts to a new season, and given that the average Christmas Day is rarely below 65 degrees, I love the idea of some light(er) desserts. Let's hope the family agrees.
For those who cannot make it around the table, we have enthusiastically decided to adopt the tradition of sending cookie ingredients in a jar, complete with the recipe tucked into a card. We may not be able to have a cookie exchange but we can still share the seasons delights with our friends. My son and I worked on perfecting the recipe together, and, after a few test batches, have come up with a drop cookie we named the PCC, (Post Covid Cookie) in the hope that it will, eventually, bring us all back together again.
The PCC in a Jar
I particularly like oatmeal raisin cookies, but I also like cookies with a little crunch, and something that is not too sweet. In researching cookies in a jar, I came across a recipe with the terrific name of Cranberry Hootycreeks (named after the road the author, Susan O'Dell, lives on) which inspired the basis for this cookie. The mixture looks very pretty in a mason jar. Remember to add the recipe instructions along with the container so that the recipient can bake them!
Makes 24-30 cookies
Ingredients for the quart sized mason jar:
1 cup unbleached all-purpose flour
½ teaspoon salt
¾ teaspoon baking soda
½ teaspoon ground cardamom
½ teaspoon ground cinnamon
6 grinds black pepper
1 ¼ cups rolled oats
2/3 cup packed brown sugar
1/3 cup granulated sugar
¼ cup golden raisins
¼ cup dried cranberries
½ cup pistachios
¼ cup pecans
¼ cup sliced almonds
You will also need:
5 oz (1 ¼ sticks) softened butter
1 large whisked egg
1 teaspoon vanilla paste or pure vanilla extract
To pack the jar:
In a small bowl combine the flour, salt, baking soda, cardamom, cinnamon and pepper. Pour the flour mixture into a clean and dry quart size mason jar. Tap the jar on the counter to compact the flour a little.

Layer the remaining ingredients, the rolled oats, brown sugar, granulated sugar, golden raisins, cranberries, pistachios, pecans and almonds in the jar, packing each layer down. The jar will be completely full.
To make the cookies:
Preheat the oven to 350 degrees.

In a standing mixer fitted with a paddle attachment (or in a large mixing bowl using a sturdy wooden spoon) cream the butter until it is light and fluffy. Add the egg and vanilla and stir to combine. Don't worry of the egg is not completely absorbed by the butter. Add all the jar ingredients and mix together well.

Shape the cookie mixture into 1 inch size balls. Place them on a parchment lined sheet pan or cookie sheet at least 2 inches apart.

Bake for 12-14 minutes or until the edges of the cookies are lightly golden in color. Remove from the oven and let sit on the cookie sheet for at least 5 minutes, then transfer to a cookie rack to cool. Once completely cooled they can be kept in an airtight container.
Pear Almond Cake
I have been making quart quart (a French pound cake) since I was a little girl. The recipe is a family favorite and I have adapted it to incorporate many different fruits over the years. From apricots to apples, bananas to chocolate, it is versatile and oh so good. This version highlights pears. The result is a pretty, moist cake. The almonds give a nice crunch to the topping and balance the soft sweetness of the pears. If there are leftovers, it's pretty good with a cup of coffee for breakfast too!
Serves 8-10 people
8 oz butter
8 oz sugar
3-4 ripe pears – peeled and chopped
1 teaspoon pure vanilla extract or vanilla paste
8 oz flour
1 teaspoon baking powder
4 eggs – separated
½ cup sliced almonds
1 tablespoon powdered sugar
Preheat the oven to 400 degrees.

Melt the butter in a saucepan placed over medium heat. Once the butter has melted add the sugar and stir until melted. Add the pears and vanilla, stir to combine, and cook for 2-3 minutes. Add the flour and stir until completely absorbed by the mixture and then remove from the heat.

When the cake mix has cooled to the touch, add in the egg yolks and stir together.

Whisk the egg whites in a separate bowl, and then fold the whisked egg whites into the cake batter.

Line a 9-inch cake tin with parchment paper. Pour the cake mixture into the cake tin and cook for 30 minutes or until a knife inserted into the center of the cake comes out clean. Set on a cooling rack.

Combine the sliced almonds and powdered sugar in a small bowl so that the almonds are complexly coated in a fine layer of sugar. Place the cake onto a serving plate or cake stand. Sprinkle the almonds all over the top of the cake.
Note: The cake will keep for 2-3 days in a covered container. It is delicious served with a little crème fraiche, or vanilla ice cream, or both.
Winter Pavlova
Long thought of as a summertime treat pavlovas can be glorious at any time of year. It's hard to resist ethereal meringues and clouds of whipped cream, and what could be better that a pavlova cake, glistening with jewel like pomegranates, topped with infused berries and powdered with a dusting of sugar, a showstopping, fairytale confection if ever there was one which hopefully will have everyone dreaming of sugarplums, lords a leaping and ladies dancing.
Serves 8-10 people
4 egg whites at room temperature
Pinch of salt
8 oz (just under 1 cup) ultra-fine sugar (you can make your own by processing granulated sugar in a food processor for 1 minute)
2 teaspoon cornstarch
1 teaspoon white-wine vinegar
Few drops of good vanilla essence or vanilla paste
¾ pint of cream
1 tablespoon sugar
2 pints raspberries
2 pomegranates – seeded
1 tablespoon powdered sugar
Preheat the oven to 300 degrees and line two sheet pans or cookie sheets with parchment paper.

Beat the egg whites with a pinch of salt until satiny peaks form. Then beat in the sugar, a spoonful at a time, until the meringue is stiff and shiny. Sprinkle the cornstarch, vinegar and vanilla over the whipped egg whites and fold in lightly.

Using a large spoon, scoop one eighth of the meringue mixture onto the parchment paper creating a disk that is approximately 3 inches wide and 1 inch high. Use the spoon to create an indentation in the center of each disk, and use the back side of a knife smooth the sides of each disk. You can also score the sides with a palette knife if you want to create a pattern. Depending on the size you will have 8 to 10 disks. Bake only six disks on each baking sheet.

Place on the bottom rack of the oven and immediately reduce heat to 250 degrees and bake for 40-45 minutes. The sides of the meringue should be just crispy and you should be able to gently peel each disk off the parchment. Note: Do not overcook the meringues, the goal is to have a soft marshmallow interior and a light, crispy exterior. Turn off the oven and let it cool with the door closed. When the meringue has completely cooled, transfer it to a pretty serving plate or platter.

Whip the cream with the sugar until it holds soft peaks. Top each pavlova meringue with whipped cream. Scatter the raspberries and pomegranate seeds over the cream and then lightly dust the entire pavlova with powdered sugar.