Written for Edible Santa Barbara - Autumn 2019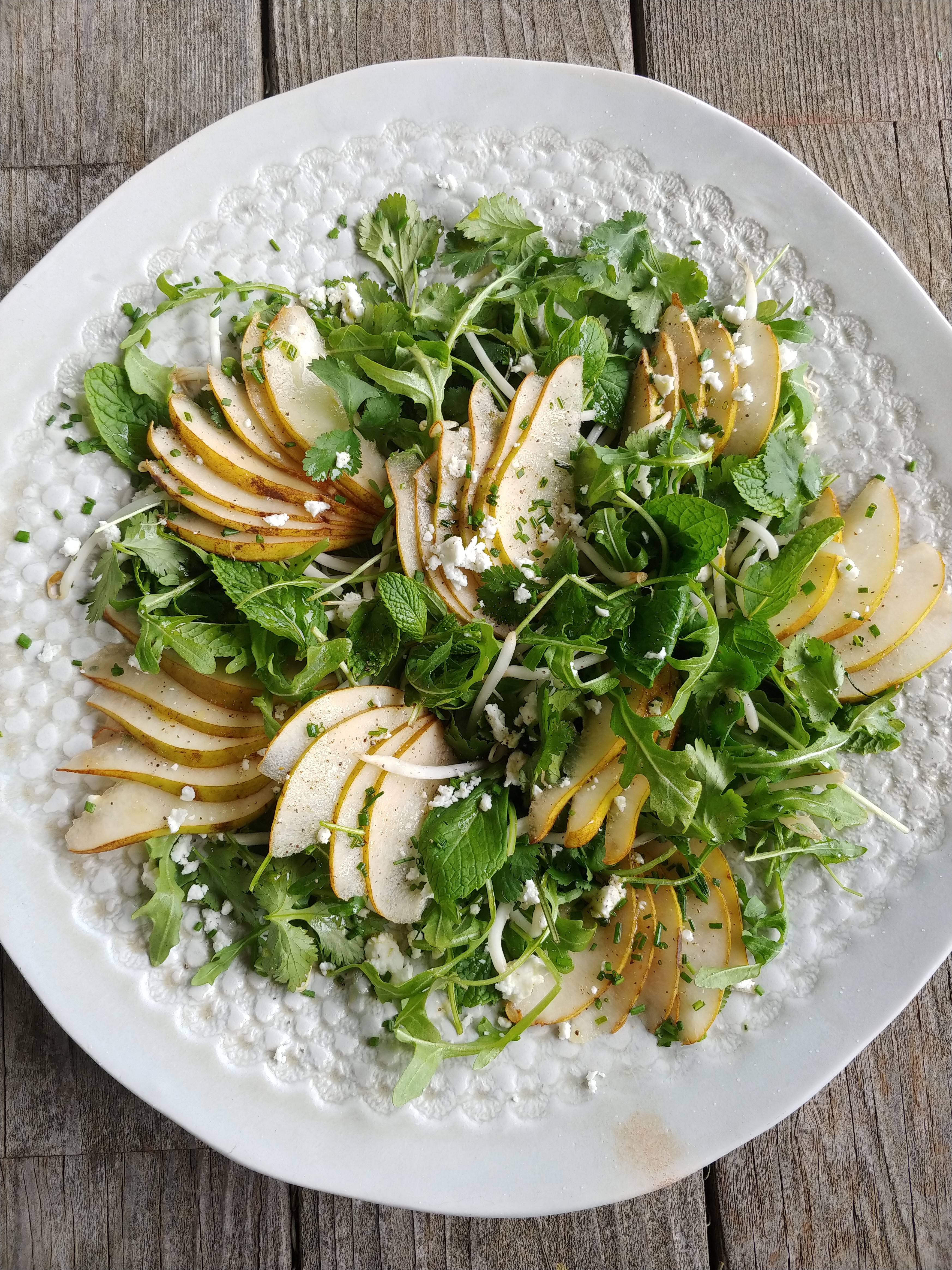 I celebrated my first Thanksgiving on a frigid day in Newport, Rhode Island in 1985. Having not grown up with this traditional gathering, nor being well versed in its culinary rituals, I watched with rapt attention as my good friend Brooke produced a gargantuan feast, complete with steaming bowls of squash soup, gigantic stuffed bird, mounds of butter and cream laced mashed potatoes, bowls of stuffing, vegetables and lots of pies. The inclement weather raged around the house while the pots and pans steamed in the kitchen. I chopped, she cooked, and cooked some more. Unfortunately, mother nature rendered travelling any distance hazardous, and one by one friends and family called to say they just couldn't get to us. Our guestlist dwindled from more than a dozen to just three. Undeterred, we feasted on the meal by candlelight, and ate endless leftovers with friends for the following week. Brooke set a high standard for Thanksgiving meals. I endeavored to follow suit as I took up the mantle of chief cook the following year.
One problem became immediately apparent. As I now lived in Los Angeles, it wasn't freezing cold outside, and the guest list comprised a motely crew of French and English expats left to their own devices as our American friends departed for home. We settled on a hybrid menu more suited to the eighty-degree weather, and to satisfy the culinary preferences of the transcontinental guestlist. Yes, we started with soup, a tradition I kept up for the better part of next three decades, but the rest of the meal resembled a peculiar Thanksgiving-cum-English Christmas-cum French New Year mash up. As I look back over the menus (yes, I confess to having them all written down), a distinct trend took hold. We always had a soup and a big, big bird. Stuffing usually comprised something with wild mushrooms, and we made a Grand Marnier cranberry coulis every year. Potatoes were also present, as were copious amounts of cheese, large green salads, braised vegetables and platters of desserts, enough to satisfy the most gourmand among us. I can feel my stomach groaning at some of these menus now.
Two years ago, I floated the idea to my family that we have a meal that comprised 'everything but the bird'. I noted, to all present, that the bird in question had significantly dwindled in size over the years, the last one barely weighing 10 pounds, and that we could dispense with it all together. This proposal was met with silent stares which quietly put an end to it. I think, however I will try again this year. As I peruse the menus from the last five years, they catalog a growing vegetarian feast. Gone are the rich dishes of the eighties and nineties, in their place a new trend has emerged, a veritable cornucopia of herbaceous salads, roasted vegetables and fruit-filled concoctions.
We have all been witness to this growing trend toward a more plant-based diet. This movement is showcased across most social media platforms, our Instagram feeds are filled with images of beautiful produce, new vegetable centric cookbooks abound, and grocery stores have hugely expanded their organic produce, and plant-based food selections, responding to demand from consumers who want to know, not just where their food comes from, but how it is grown and the impact it has on the environment. Plantbasedfoods.org, an organization that promotes the plant-based food industry, recently cited new data released by the Plant Based Foods Association and The Good Food Institute showing U.S. retail sales of plant-based foods have grown 11 percent in the past year, bringing the total plant-based market value to $4.5 billion. The total U.S. retail food market grew just 2 percent during this same period, emphasizing the fact that plant-based foods are one of the main drivers of growth for retailers nationwide. In the last two years, total plant-based food sales have increased an impressive 31 percent. Without getting bogged down in statistics, it is evident that many people are changing the way they eat, not just occasionally, but throughout the year.

Leaf through many recently published cookbooks and you will often see gorgeous, top down, two-page spreads of tables festooned with vegetable dishes, inspired by Middle-Eastern mezze, Iberian Peninsula tapas, and the small and shared plates trend that proliferate in many modern California-nouvelle-cuisine-esque establishments. These images are intentionally seductive, and their rich tapestry of aromatic plates shout EAT ME! with a subtle subtext that it's all good for you too. It's been nearly a decade since Michael Pollan urged us all to 'Eat food. Not too much. Mostly vegetables.' and that mantra has been taken up with gusto by eschewing the heavy consumption of meats and processed foods in everything from lunchtime packed lunches to celebratory feasts. This is true of the food I eat with my family at home, and in the cooking classes I now teach, in part because I love to eat this way, and partly as a result of demand.
So now, as we head into the holiday season, I once again ask myself and those with whom I will share those holiday tables, it is time to have a completely meatless Thanksgiving? I recognize that these gatherings hold significance for all in attendance, partly due to the very familiarity of the dishes prepared —everyone has a favorite dish, myself included— and partly due to the anticipation of that very food. Food in the context of holiday gatherings is quite an emotionally charged subject, and people have a resistance to change. However, if, as the Philosopher Jean-Antheleme Brillat-Savarin, suggested in The Physiology of Taste '...an intelligently planned feast is like a summing up of the whole world, where each part is represented by its envoys.' and, today's envoys are clamoring for a change, is it time to embrace it? I'll let you know!
Pear, Arugula and Mint Salad
Serves 8 people
8 oz baby arugula
½ cup packed mint leaves
¼ cup packed cilantro leaves
½ cup bean sprouts
4 Bosc pears — halved, cored and thinly sliced
2 oz crumbled feta
2 tablespoons finely chopped chives
Flake salt
Black pepper
For the vinaigrette:
¼ cup olive oil
Juice of 1 Meyer lemon
1 teaspoon white wine vinegar
1 teaspoon finely minced fresh ginger
Pinch of salt
Cover the center of a large platter with the arugula, mint, cilantro and bean sprouts.
Arrange the pear slices in small fans of 4-6 slices, tucking them into the mixed greens.
Scatter the feta and chives over the salad, adding a sprinkling of flake salt and 8-10 grinds of pepper over the top.
In a small bowl, whisk together the vinaigrette ingredients to form an emulsion. When ready to serve, pour the vinaigrette over the salad.
Rainbow Carrot Salad
Serves 8 people
2 lbs fresh, assorted multi-colored carrots – peeled and grated (use the largest holes on a box grater)
¼ cup olive oil
Juice and zest of 2-3 lemons
2 tablespoons finely chopped parsley –
1/3 cup toasted pine nuts
8 dates (Barhi or Medjool if possible) — pitted and chopped
Sea salt
Black pepper
Place the carrots in a large salad bowl. Drizzle the olive oil and lemon juice over the carrots. Sprinkle the lemon zest, parsley, pine nuts and dates over the carrots and add a generous pinch of salt and 7-8 grinds of pepper. Toss well to combine at least 10 minutes before serving.
Cauliflower, Quinoa and Herb Salad
Serves 8 people
For the salad:
1 cup red quinoa — thoroughly rinsed
1 cup vegetable stock
1 large cauliflower — florets separated and grated, either on a box grater or in a food processor
1 cup finely chopped parsley
1 cup finely chopped cilantro
½ cup finely chopped chives
½ cup finely chopped mint
½ cup sesame seeds
½ cup chopped pistachios
Salt
Pepper
For the vinaigrette:
¼ cup olive oil
Juice of 2 Meyer lemons
2 tablespoons sesame oil
Place the quinoa in a saucepan with the vegetable stock and bring to a boil. Reduce to a simmer, cover and cook until the quinoa has absorbed all the liquid. You can also cook the quinoa in a rice cooker, using the same proportions. Once cooked, fluff with a fork and let cool.
In a large salad bowl combine the cooled quinoa, cauliflower, parsley, cilantro, chives and mint. Be sure to mix well so that the ingredients are evenly distributed throughout the salad.
Place the sesame seeds and pistachios in a medium-sized skillet placed over medium heat. Dry roast in the pan about 1-2 minutes, until just fragrant. Add to the salad and stir to combine.
In a small bowl, whisk together the olive oil, lemon juice and sesame oil to form an emulsion. Pour over the cauliflower mixture. Season with a good pinch of salt and 10-12 grinds of pepper, and combine thoroughly. Serve at room temperature.
Roasted Kale and Sweet Potato Salad
Serves 8 people
For the salad:
1 lb curly kale — rinsed (but not dried), de-stemmed and chopped into1-inch wide strips
Olive oil
Sea salt
Black pepper
2 large sweet potatoes — peeled, halved lengthwise, then cut into ¼-inch thick slices
2 teaspoons Herbes de Poisson (or an equal mixture of fennel seeds, coriander seeds and brown mustard seeds)
1/3 cup roughly chopped pistachios
For the vinaigrette:
¼ cup olive oil
1 tablespoon white wine vinegar – or champagne vinegar
1 avocado – peeled and the meat scooped out
Juice of 1 lemon
Sea salt
Black pepper
Preheat the oven to 350 degrees.
Place the kale onto a large rimmed sheet pan or into a shallow baking dish. Drizzle with olive oil and sprinkle with 2-3 pinches of salt and 5-6 grinds of pepper. Roast in the center of the oven for 8 minutes. Place the lightly cooked kale into a large salad bowl.
Using the same pan, lay the sweet potato slices out in a single layer. Use a second sheet pan, if they appear overcrowded. Drizzle with a little olive oil and sprinkle the Herbes de Poisson over the top. Roast for 20-25 minutes, turning potatoes over once. They should be fork tender and lightly browned. Place the roasted sweet potato slices on top of the kale.
To make the vinaigrette, pour the olive oil into a small bowl and whisk in the vinegar. Add the avocado meat and mash together with a fork. Add the lemon juice, a good pinch of salt and 8-10 grinds of pepper and whisk with the fork, so that all the ingredients form a homogenous, though slightly chunky, vinaigrette. Spoon the vinaigrette, and sprinkle the pistachios over the salad. Serve warm.