Written for Edible Santa Barbara - Spring 2018
"If you really want to make a friend, go to someone's house and eat with him… the people who give you their food give you their heart." – Cesar Chavez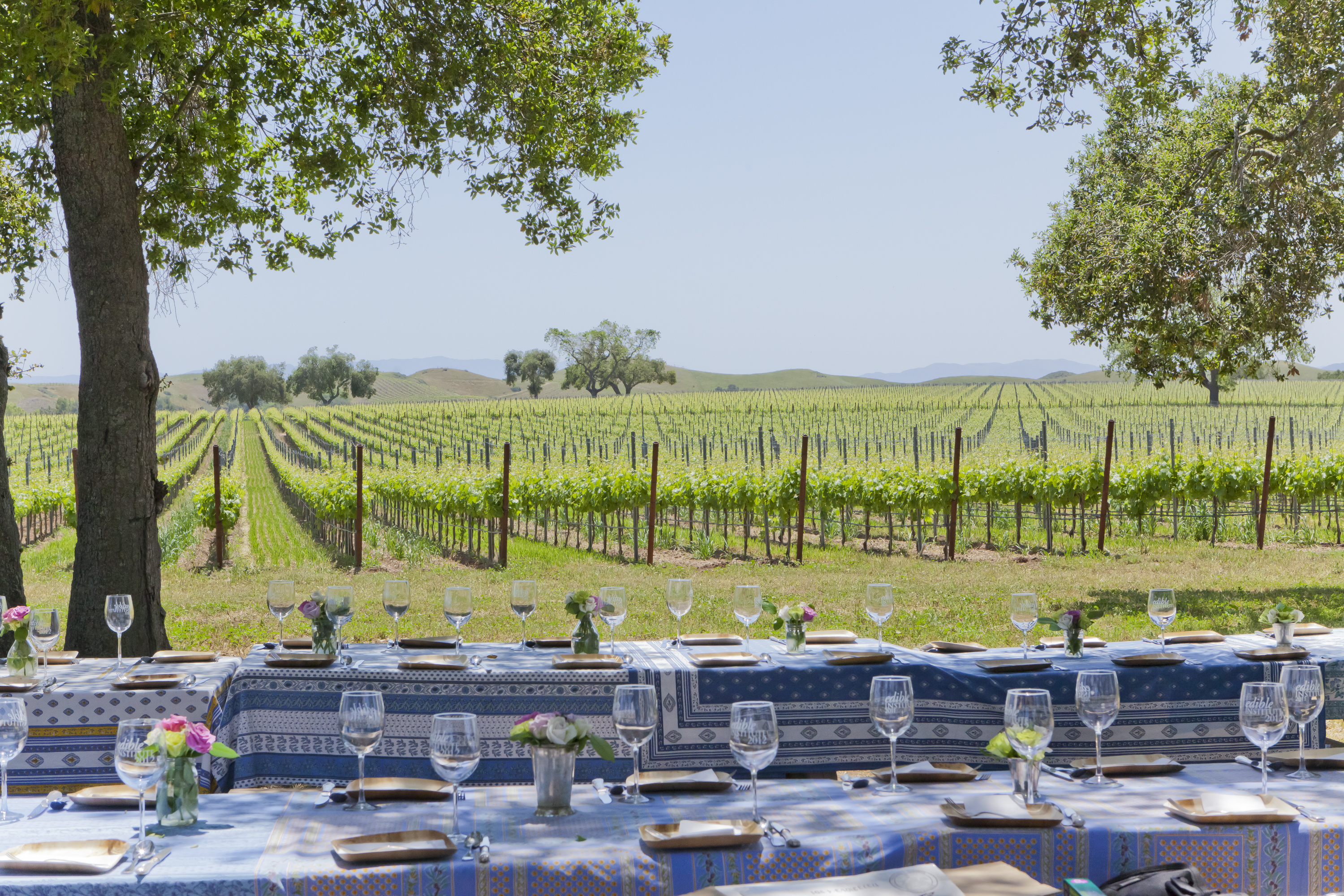 For the past sixteen odd years I have met almost every month with a group of friends to discuss books. At least that is the premise of our little 'book' club. We discuss a lot more. Over the years, as our lives have crisscrossed each other's, and as we have watched our children grow, we have giggled and laughed out loud, cried tears of joy and anguish, cheered on our kids from the sidelines and rejoiced in all the milestones as our families have evolved. We gather around each other's dinner tables, share a meal and talk. This past January was to be no different. Two days before our get together the usual string of emails flurried back and forth; 'I'm bringing a salad', 'I'll bring dessert', "Wednesday at 7pm – see you then', and so on.
Then came the deluge.
The New Year had bought clement weather to the Central Coast and a sense of peace had just begun to settle upon the town, so for everyone who lived through the long, ash-filled, weeks of the Thomas Fire, the very thought of the impending storm on January 9th was ominous. Everyone along the entire coastline held their collective breaths and hoped we would all survive the dire predictions from the weather forecasters. Our nerves had already been rattled by weeks of incessant safety alerts on our phones, and everyone was tired: tired of evacuations, tired of packing and unpacking, tired of masks, tired of coughs, tired of the ash that crept into every nook and cranny, just plain tired.
I woke up to the thunderous noise of the rain pounding on the roof in the middle of the night. No sooner had I got up to check outside, when the severe emergency alerts blared again on my phone, announcing flash flood warnings, and to take protective action to stay safe. I kept my fingers crossed for all my friends who lived beneath the burn areas. At daybreak I sent out a message to our little group. 'Everyone ok??'
"Our house has gone." was the shocking first reply.
"Well, I won't be hosting book club here anytime soon" came the second.
"we've evacuated"
"We can't get out…"
Over the course of the next few hours it quickly became apparent that mother nature had wrought its worst. The mudflows decimated Montecito and the surrounding hillsides. Everyone was in shock. Thousands of people were displaced. Everyone checking in on everyone else and wondering what on earth we could do to help. Helicopters flew incessantly overhead ferrying the wounded and evacuating those trapped. It sounded like footage out of a war zone. Everyone asking questions, who is missing? What happened to your home? When did you get out? How are you? Where are you going to go? Can you get to work? Can you get home?
That first night as my family gathered in the kitchen, displaced friends arrived with their harrowing tales. I did what many people did that night, I cooked for them. Comfort food, lashings of it. Over the next few weeks this became our evening ritual. I cooked more food, more friends arrived, a bottle (or two) of wine was opened, we would nibble on some cheese and then sit down, eat and review the day. As we communed together we found our collective strength.
I realized as the days wore on, that this catastrophe triggered a visceral reaction in me. Sudden memories popped up at the most unexpected times, reminding me of past natural and not-so-natural disasters that we had lived through, all of them, oddly, occurring in the middle of the night. From fires and earthquakes to intruders, these unsettling events prompted a desire to be with our friends and family, to see and hold each other, and to draw solace from our common experience. We gathered around the table then too.
Two plus weeks into this odyssey our motley book club crew got back together, all of us finally in town, straggling in from disparate parts. We cooked up a storm as the saying goes, huge bowls of salads, roast vegetables and lasagna. We toasted one and other, grateful that we were all in one-piece, shared stories and laughed, and laughed, and laughed. How good that laughter felt!
After everyone had gone home, I stood in the now quiet kitchen, putting away the last of the dishes, reflecting on the evening, the extraordinary survival stories, and the good fortune that meant we were all still alive. Others; friends and neighbors, fellow Santa Barbarians, had not been so lucky, swept away by a twist of fate and a wall of mud.
We mourned those lost, and turned to face the gargantuan task of rebuilding. In that process, a new sense of community and camaraderie emerged from the mudflows, not just in Montecito, but throughout the county. People offered strangers their guest rooms, guest houses and couches to sleep on, bucket brigades were formed to clear out the mountains of mud, and cash mobs organized to support local businesses that have been devastated, up and down the coast, by month-long closures. Social media was flooded with messages championing 'buy local, shop local, stay local'.
As I drove around town in the weeks and months that followed, picking up vegetables from the farmers market, fish from the harbor and cheese from my favorite fromagerie I was reminded time and again, that in times of crisis, the very act of sharing a meal with friends gives us comfort.
Now, as we head into spring I'm looking forward to more spontaneous lunches and dinners in the garden, grateful to be sharing our local bounty, and happy, just to be with friends gathered around the table.
This is a menu for such an occasion - Bon appetit!
SHAVED ASPARAGUS, BROCCOLINI AND FARRO SALAD
Serves 8 people
1 ½ cups farro — well rinsed
Olive oil
1/2 lb baby broccolini — sliced vertically
Salt
Pepper
Zest and juice of 1 lemon
1 lb asparagus (thick stalks) – shaved with a vegetable peeler into thin strips
1 bunch watercress — tough stems trimmed
½ cup almonds — finely chopped
3 oz Parmesan — shaved into thin slices
1. Bring a large saucepan of salted water to a boil. Add the farro and cook until al dente, and slightly chewy in texture, about 15-25 minutes. The best way to check for doneness is to taste! Drain the farro, fluff with a fork and let cool in a bowl or spread out on a rimmed sheet pan.
2. Pour a little olive oil into a medium skillet over medium heat. Add the broccolini, a pinch of salt and 4-5 grinds pepper, and cook for 2-3 minutes or until just softened.
3. In a large salad bowl, whisk together ¼-cup extra virgin olive oil, the lemon zest and juice, a good pinch of salt and 6-7 grinds fresh black pepper to form an emulsion. Place salad servers over the vinaigrette.
4. Add the cooked farro, broccolini, shaved asparagus, watercress and almonds to the bowl, placing everything on top of the utensils. When ready to serve, toss well to combine. Top with the shaved parmesan. Serve warm.
Note: A lovely, heartier variation of this salad is to add a poached egg onto each person's salad. The egg is delicious when mixed in with the vegetables and farro.
POACHED SALMON WITH A CITRUS-CARDAMOM BEURRE BLANC
I love poached salmon for festive occasions and large gatherings. The beurre blanc sauce is a luscious extravagance (not a sauce I eat every day of the week) but perfect for a special treat.
Serves 8 people
For the court bouillon:
2 carrots — peeled and cut into ½ inch slices
1 leek — cleaned and cut ½ inch slices
1 onion — coarsely chopped
1 small bouquet garni — tied with string
2 quarts water
1 cup white wine
1 large pinch salt
1. Put all the ingredients in a large pot and bring to a boil, then reduce the heat to a simmer, cover and cook for 20 minutes.
2. After 20 minutes, strain the court bouillon, discard the vegetables and let the liquid cool to room temperature.
For the salmon:
3 lb filet salmon
court bouillon — see recipe above
6 sprigs fresh dill or the fronds from 1 fennel
2 shallots — peeled and finely sliced
1. Place the salmon on the rack in a fish poacher (it is difficult to poach a fish of this size without one, or use a very large shallow pan) and carefully pour in enough cooled court bouillon to completely cover the fish. Add some fresh dill or fennel fronds and the shallot slices. Bring to a simmer over medium heat.
2. Simmer the fish gently until cooked through (count on 7 – 10 minutes per inch thickness of the fish in cooking time). Lift the rack out of the poacher and set it on top of the poacher at a slight angle to let the bouillon drain.
3. Gently turn the salmon over onto a serving platter and remove the skin. Serve with the beurre blanc sauce and roasted potatoes below.
For the beurre blanc sauce :
1 tablespoon olive oil
3 shallots – peeled and finely chopped
2 tablespoons white wine vinegar
¼ cup white wine
1 cup court bouillon or fish stock
3 cardamom pods – slightly crushed
2 tablespoons cream
1 cup unsalted butter — chilled and cut into small pieces
Zest and juice of 1 lemon
Zest and juice of 1 orange
salt and freshly ground black pepper
2 tablespoons chives – finely chopped
1. Pour the olive oil into a medium-sized saucepan placed over medium-high heat. Add the shallots and cook for 2-3 minutes until barely golden brown. Add the vinegar and white wine, and cook, stirring occasionally until almost completely evaporated.
2. Pour the court bouillon (or fish stock) into the pan, add the cardamom pods and bring to a strong simmer. Cook for 3 minutes. Add the cream and continue cooking until slightly thickened, about 2 minutes more. Reduce the heat to low and add the pieces of butter one at a time, whisking constantly. Do not let the sauce boil as this will cause it to separate. Add the lemon juice, lemon zest, orange juice and orange zest, and add the salt and pepper to taste. Finally add the chives and whisk again.
ROASTED FINGERLINGS STUFFED WITH PESTO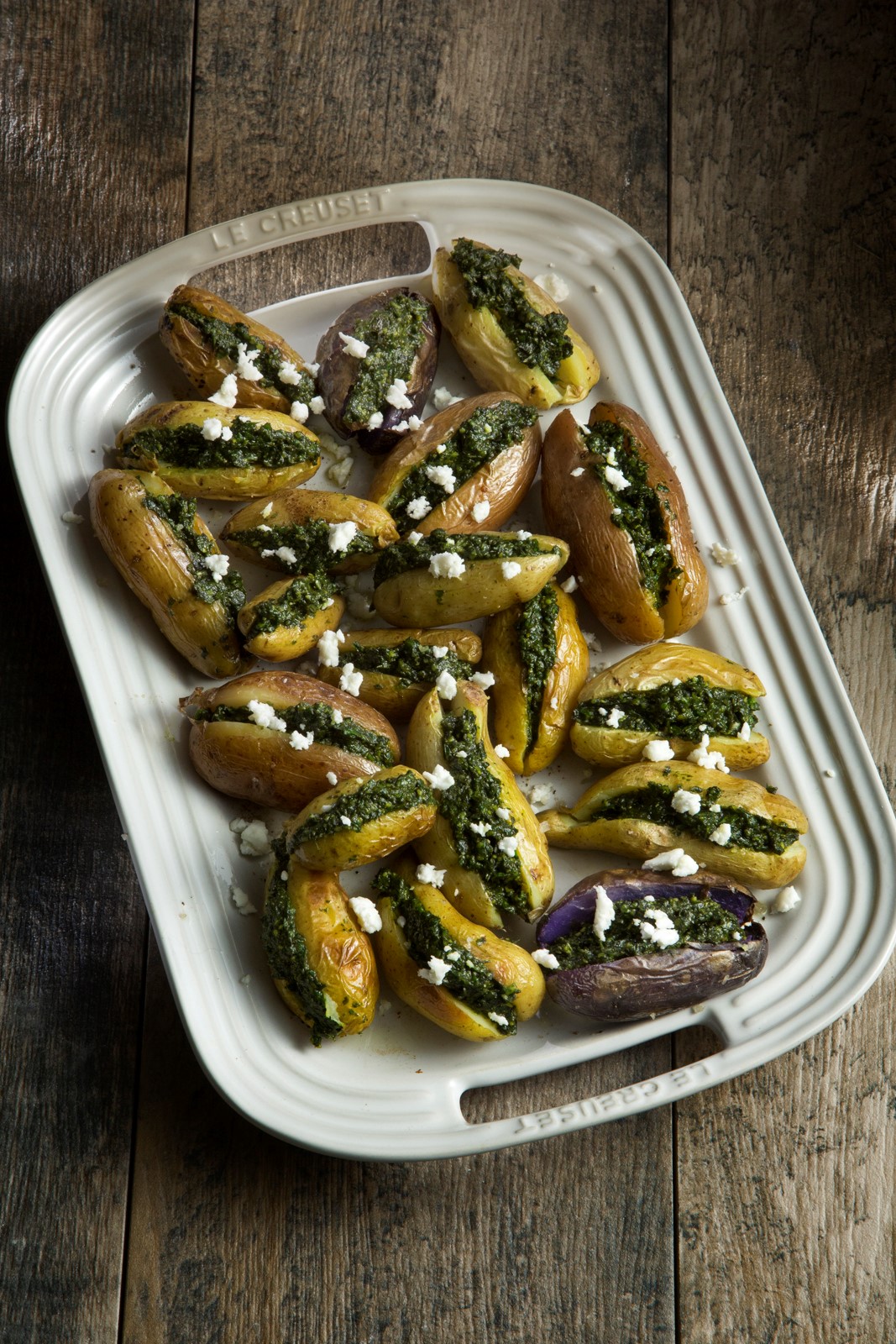 This dish combines two of my favorite foods — fingerling potatoes and pesto. I love to find the first spring potatoes at the market and experiment with different preparations. This one is quick and easy to make. The dish pairs well with green salads, haricots verts and roasted kale, all sorts of roasts and alongside poached salmon.
Serves 8 people as a side dish
2 lbs fingerling potatoes
Olive oil
Salt
Pepper
2 oz feta cheese — crumbled
For the pesto:
2 cups packed basil leaves
1 cup parsley leaves
1 cup cilantro leaves
1/3 cup grated parmesan
1/3 cup toasted pine nuts
½ cup olive oil
1. Preheat the oven to 375 degrees.
2. Place the potatoes on a shallow baking tray. Drizzle with a little olive oil, sprinkle with a little salt and add 6-7 grinds pepper. Roast the potatoes until they are golden and fork tender, about 30 minutes.
3. While the potatoes are roasting, prepare the pesto. Place the basil, parsley and cilantro leaves into a food processor. Pulse until the herbs are finely chopped. Add the parmesan and pine nuts. Pulse a few times more to combine the ingredients. With the machine running, pour in the olive oil and process until well blended but still moderately coarse.
4. Slice open each potato lengthwise. Do not slice all the way through. Spoon some pesto onto each potato and dot with the crumbled feta. Serve hot.
GENEVIEVE'S GATEAU
In the first century AD, Pliny the Elder wrote in his remarkable book Naturalis Historia, "The Muscat grape has been grown for a long time in Beaumes and its wine is remarkable." My grandmother obviously agreed with him as Muscat de Baumes de Venise was one of her favorite wines. She loved to have a glass of it as an aperitif. I distinctly remember the first time she allowed me to have a taste. It was light, not too sweet with the fragrance of orange blossoms and honey. I was therefore intrigued, whilst reading an old magazine on Provencal desserts, when I came across a cake using this wine and adapted the recipe to the cake we have here. Unfortunately my lovely "Mamie" had passed away before I could make it for her. This cake is a tribute to her and to all the "delices" she used to make for me as a child.
Serves 8 – 10 people
5 extra-large eggs — separated
4 oz sugar (½ cup plus 1 tablespoon)
5 oz butter (1 ¼ sticks)
Zest of 2 lemons and the juice of ½ lemon
Juice of 1 orange
8 oz all-purpose unbleached flour (1 ¾ cups)
½ teaspoon salt
1 1/3 cups Baumes de Venise or Muscat wine
1 lb grapes – you can use red or white seedless varieties
1 tablespoon light brown sugar
1 tablespoon sugar (mix with the light brown sugar above in a small bowl)
1 tablespoon slivered almonds
1. Preheat the oven to 400 degrees. Coat a 10-12 inch cake tin with a removable bottom with a little olive oil. Set aside.
2. Whisk the egg whites until they hold firm peaks. Set aside.
3. Place the butter in a large bowl. Using an electric mixer, beat until creamy. Add the sugar and beat 1 minute more. Add the orange juice and beat until smooth.
4. Whisk in the lemon zests and juice, and then add the egg yolks one at a time, whisking until you have a smooth mixture.
5. Add the flour, salt and wine to the egg yolk mixture and whisk until well combined. The batter may look a little granulated. Don't panic.
6. Gently fold the egg whites into the batter. Pour half of the batter into the prepared cake tin. Distribute half of the grapes over the batter. Cover with the remaining batter and then scatter the remaining grapes over the surface. They will sink a little.
7. Cook the cake for 30 minutes. Open the oven and carefully sprinkle the combined sugars and slivered almonds over the surface of the cake. Bake for a further 5-10 minutes or until a knife inserted into the center of the cake comes out clean. Remove from the oven and serve at room temperature.