Written for Edible Santa Barbara – Winter 2019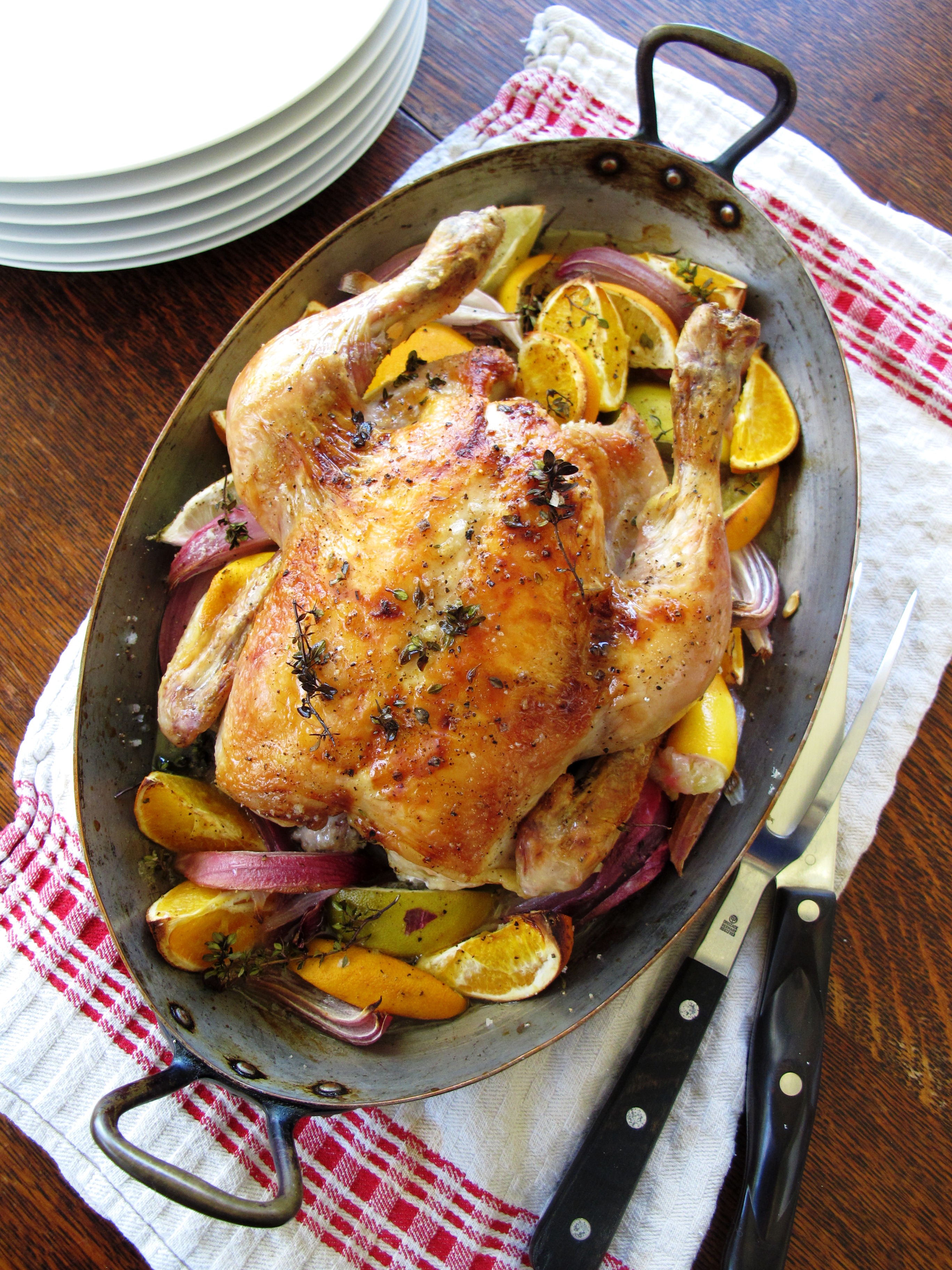 In David Tanis' book, A Platter of Figs and Other Recipes he prefaces the recipes in a chapter entitled North African Comfort Food with the following passage "What a strange idea: "comfort food." Isn't every food comforting in its own way! Why are certain foods disqualified? Can't fancy food be soothing in the same way as granny food?" Must it always be about loaded memories, like Proust's madeleine? Or can it be merely quirky, like M. F. K. Fisher's tangerine ritual: she dried them on a radiator, then cooled them on her Paris windowsill … Comfort food—food that reassures—is different things to different people."
His menu, which includes a carrot and coriander salad and chicken tagine, draws an unexpected savory parallel to the very foods I call 'comfort food', namely a carrot soup and roast chicken with assorted trimmings. The two sets of very similar ingredients produce two different flavor profiles, each conjuring up its own emotional response. I surmised, after reading this and conducting a little survey, that in fact all food is emotional, to a greater or lesser extent, eliciting comfort from one person but not necessarily from all.
My quick, un-scientific survey, more along the lines of an email with one question to assorted friends; "If I say 'comfort food', I wrote, 'what is the first thing that comes to mind?', produced replies that I had anticipated with something starchy, rib-sticking or sweet: soups were high on the list from Matzoh ball to chowder, mashed potatoes appeared to be the firm favorite, and stews and roast chicken were mentioned by many, but so too were porridge, French fries, toast crusts, perfectly ripe peaches, a basket of figs, cake and a cup of tea.
I decided to go for a walk to ponder this further. I often do this when I write, it helps me clarify my thoughts and pull the thread of my narrative together. It was a beautifully crisp, cool morning, one that necessitated a jacket (more on this in a moment) and light scarf. My dog jumped at the chance to romp around the bluffs as I meandered through the trees overlooking the ocean. Thin wisps of clouds drifted on the horizon, and a brave paddle boarder glided across the silken sea below us. I thought about comfort, the food related to it and what it meant to me.
A series of images came to mind, all linked, oddly, to walks and the meals that followed. As a child, growing up in London, my family had a penchant for taking long walks across Hampstead Heath, often in bitter, damp weather. After an hour or two we would adjourn to Louis' bakery where we'd slough off our steaming coats, rubbing our chapped hands together to get circulation going and order lashings of tea, cream filled meringues and cake. On other occasions we'd play, with two large teams of friends, an elaborate game of hide and seek in Highgate Cemetery between the Victorian monuments and the graves of Karl Marx and George Eliot in freezing fog. Afterwards we would pile in the cars, scurry home, pull off layer after layer of coats, sweaters, toe-off muddy boots and all sit down to a giant nosh-up of roast chicken, spuds and vegetables. My family in France was no different when it came to walks followed by food, in clement weather or foul. We hiked up mountains so that we could eat a picnic sitting on top with a baguette, fromage, jambon in hand; we'd tromp though the snow, freeze our toes only to rush back, thaw out and truly savor my grandmother's hachis parmentier (French Shephard's pie). We'd walk through alpine valleys, pink cheeked, our feet crunching on frost covered lanes, only to return, peel off our winter garments, and delight in the ooey-gooey running cheese that melted in golden puddles off the raclette machine.
An obvious theme emerged as I circumnavigated the path along the bluff. For me the notion of comfort food meant walks, weather cold enough that it required a jacket, followed by nourishing food. The mild climate in Southern California has made me wistful for those crisp mornings where a trace of your breath lingers in the air. I realized that I missed frosty days and pulling on warm sweaters, curling up by a fire to read a book, thawing out after running errands outdoors with a glass of spiced, mulled wine or warm apple cider. I mentioned my winter musings to a friend in London. "Are you completely bloody mad?" she said. "You really want to be constantly damp, bone chillingly cold, surrounded by a sniffling populous?" Well, when you look at it that way, perhaps not. All of which leads me back to the notion that comfort food is more about the people you shared that dish with, and the environment that enveloped you.
The comfort we find in these familiar dishes is like watching a sepia colored home movie. We may laugh out loud, reliving the antics on the flickering screen, whilst a bystander would be bemused. Comfort food is personal, so personal it can be a little like marmite (a yeast spread from Britain). If you grew up with it, marmite on toast is pretty fantastic. If you didn't, it can be repellent. Each of us has our own comfort foods that are uniquely satisfying. While I may not rush at a plate piled high with kidneys on toast, I know those who would. The common denominator is the visceral satisfaction and pleasure we all derive from our particular comfort food, and the ability to share it.
As acclaimed chef Heston Blumenthal said, "To me, food is as much about the moment, the occasion, the location and the company as it is about the taste."
Carrot and Leek Soup with Zesty Shallots
My lovely mum made fresh soup almost every day when I was a little girl. We delighted in those big batches of puréed vegetable soups and moped up the last remnants in our bowls with big chunks of bread. I have been a big fan of soups ever since. One of my favorites was, and is to this day, carrot soup. This version has leeks in it which add a silky texture and deepen the sweetness of the carrots. I like to make this if the weather is chilly or perhaps it's been gray outside for weeks. This soup brings a ray of sunshine and warmth into the kitchen, and warms your tummy.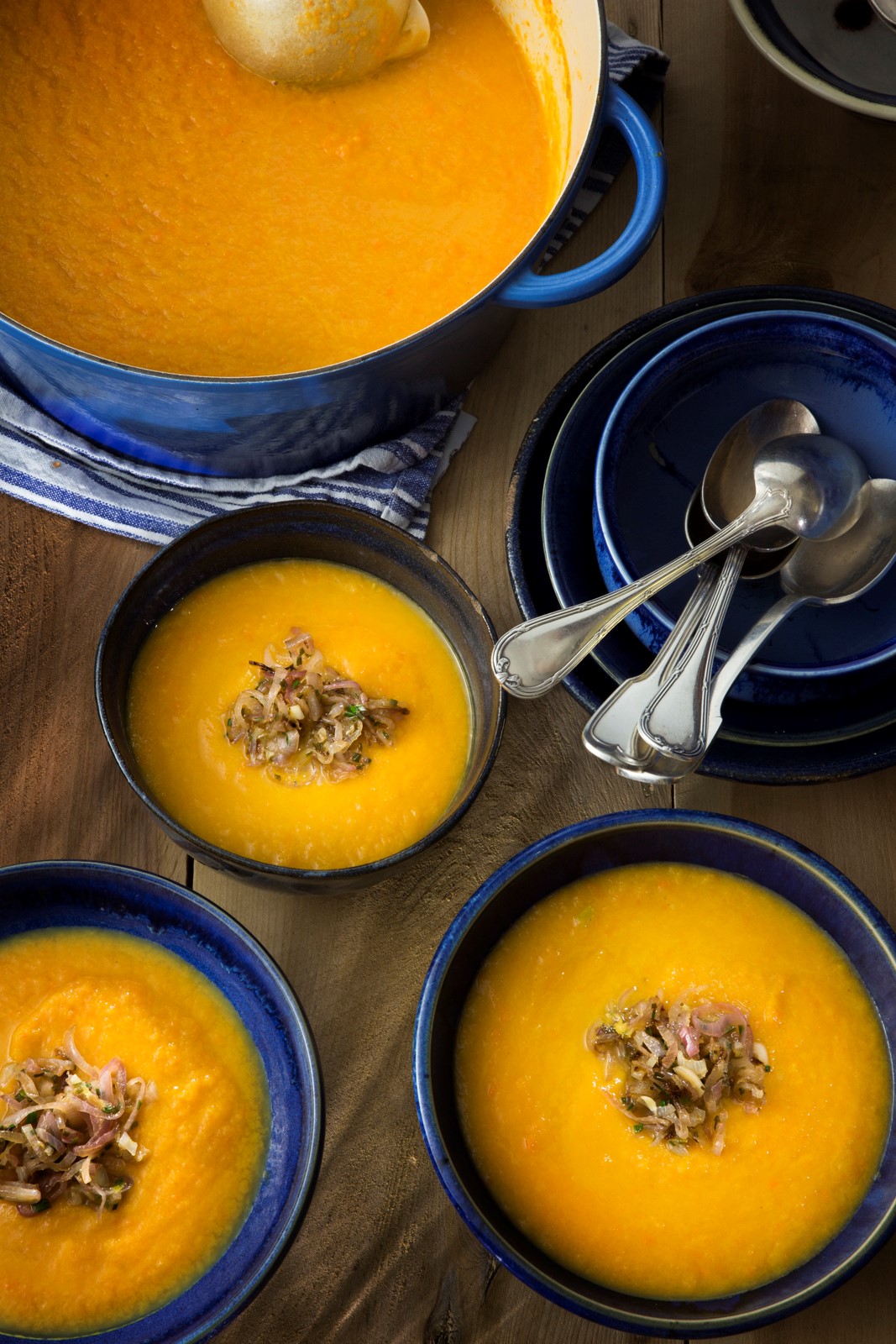 Serves 8 people
Olive oil
3-4 leeks — halved lengthwise, rinsed clean and finely sliced
1 large yellow onion — peeled, halved and thinly sliced
1 tablespoon fresh thyme leaves
2 ½ lbs carrots — peeled and sliced
½ teaspoon of salt
8-10 grinds fresh black pepper
8 cups vegetable stock
6 shallots — peeled and sliced
2 tablespoons chives — finely chopped
Zest and juice of 1 lemon
Heat olive oil in a large saucepan over medium heat. Add the leeks, onion and thyme and cook, stirring frequently, until the vegetables are soft and lightly browned. 8-10 minutes.
Add the carrots, salt and pepper and cook for 5 minutes. Stir occasionally to ensure that the vegetables do not stick.
Add the vegetable stock, reduce heat and simmer for 20 minutes or until the carrots are soft.
Remove from the heat and purée the soup in batches in a food processor or blender or with an immersion until smooth. Return the puréed soup to the saucepan and keep warm until ready to serve.
Just before serving, prepare the shallots. Warm a little olive oil in a small saucepan or skillet over medium heat. Add the shallots and sauté until golden brown. Add the chives, lemon zest and juice, and cook for 30 seconds more.
Top each bowl of soup with a spoonful of the shallot mixture.
Roast Chicken
There are few dishes that evoke comfort food like roast chicken and mashed potatoes. Is it something about the golden roast, the succulent aroma that permeates the kitchen as it sizzles in the oven? Or the cloud like, buttery, soft mounds of creamy spuds? My grandmother made mashed potatoes with obscene amounts of butter and crème fraiche. It was like diving into a decadent, edible, cozy blanket, the taste so good it enveloped you. I rarely make mashed potatoes now, when I do, and make this combination, it always puts a smile on my face and makes me think of her.
Serves 8 people
Olive oil
Leaves from 6 sprigs thyme – finely chopped
1 bunch chives – finely chopped
1 small bunch parsley – finely chopped
Leaves from 6 sprigs oregano — finely chopped
Zest of 2 lemons – then quarter the zested lemons and set aside
2 organic chickens (3.5-4lbs each)
2 large yellow onions — peeled and thinly sliced
Salt
Pepper
Preheat the oven to 400 degrees.
Pour 3 tablespoons olive oil into a small bowl. Add the thyme, chives, parsley, oregano and lemon zest. Combine well to form a thick herb mixture.
Using a small spoon which you slip under the skin of the chicken from the neck end, carefully spoon a little of the herb mixture under all of the skin (between and skin and the breast meat) Do this carefully so as not to break the skin.
Pour a little olive oil into a large roasting pan and scatter the sliced onions in the pan. Place the chickens on top of the onions and rub the outside of the chickens with a little olive oil. Salt the inside and outside of the chicken. Place 4 lemon quarters in each chicken cavity. Add 7-8 grinds of fresh black pepper over the birds.
Roast in the middle of the oven for 15 minutes and then lower the temperature to 375 degrees and roast for a further 1hr 15 minutes, turning the chickens once or twice so that all sides are evenly browned. When the chickens are cooked, remove them from the roasting pan and set aside to rest before carving, loosely covered with foil.
Cut the chickens and serve on hot plates with the onions from the roasting pan, the root vegetables and mashed potatoes.
Mashed Spuds with Crème Fraîche
Serves 8 people
2 lbs Yukon golds or russets — peeled and cubed
Coarse sea salt
7 oz butter — softened
1 cup milk
4 oz crème fraîche
Place the potatoes in a large saucepan of salted, cold water. Bring to a boil, then reduce to a strong simmer. Cook the potatoes until they are fork tender. Drain the potatoes, return them to the saucepan and let them release their steam for 1-2 minutes. Transfer them to a large bowl.
Pass the potatoes through a ricer and return them to the saucepan. Add the butter, milk and crème fraiche and stir until fully incorporated and the potatoes are fluffy and creamy. Season to taste. Serve immediately.
Roasted Root Vegetables
Winter is root vegetable season. I like to think of it as the time when the earth digs deep, searching for nourishment and as a result of all that hard work produces delicious vegetables, rich in minerals and with a wonderful array of flavors.
My current favorite, parsnips, are delicious when roasted as they tend to caramelize on the outside but remain tender on the inside. They are also versatile. They add an extra dimension pureed with potatoes, added in soups they bring an extra earthiness in flavor and texture to the mixture and in a ragout of vegetables they will enhance the complexity of the dish. Serve this alongside the roasted chicken and it is a scrumptious way to showcase one of the season's most delicious – if somewhat overlooked – vegetables.
Serves 8 people as a large side dish
3 large parsnips – peeled, quartered and then cut into 3 inch long strips
1 butternut squash – halved, peeled, seeded and cut into pieces the size of the parsnip strips
1 lb carrots – peeled, quartered and then and cut in half
2- 3 red onions – peeled and cut into eighths
10-12 shallots – peeled and cut into quarters
2 inch piece of ginger – peeled and roughly chopped
5-6 sprigs fresh thyme
Olive oil
1 tablespoon herbes de Provence
1 teaspoon coarse sea salt
Freshly ground black pepper
Preheat the oven to 400 degrees.
Place all the prepared vegetables on a baking sheet. Pour the olive oil over the vegetables and sprinkle them with the herbes de Provence, fresh thyme, the sea salt and some black pepper. Toss all the vegetables so that they are well coated.
Roast the vegetables for one hour turning the vegetables once or twice so that they do not stick to the pan.
Apple Crumble
I cannot think about winter without thinking about apple crumble. More particularly the apple crumbles my mother taught me to make as a child in London. The recipe was handed down to her by my father's mother, Ilse. If ever there was a dish to warm you up on a winter's day this is it. In those days we would go for great long walks across London's parks, returning home with chilled fingers and toes and everything else in between. A hot cup of tea and apple crumble would instantly thaw us out and we would delight in the crumbles' spices and buttery crust. Coastal California may not be as cold or damp, but the pleasure we derive from this dessert is undiminished.
Serves 8 people
For the apples:
6-8 large apples – peeled, cored and chopped into 1-inch pieces
Zest and juice of 1 lemon
1 teaspoon cinnamon
1/3 cup raisins
¼ cup sugar
1/3 cup water
For the crumble:
10 oz unbleached all-purpose flour
9 oz butter – cut into little pieces
1/3 cup sugar
Preheat the oven to 400 degrees.
Place all the apple ingredients in a deep baking dish (at least 1 ½ inches deep and 9-10 inches in diameter) and toss to combine them well.
To make the crumble, place the flour in a large bowl. Add 8oz of the butter and mix it with the flour, using the tips of your fingers, until it resembles coarse breadcrumbs. Don't worry if you have little lumps of butter left – it should look like that! Add the sugar and mix to combine. Cover the apples with the crumble mixture. Sprinkle a little extra cinnamon and sugar over the crumble. Dot the surface with the remaining butter. Bake in the center of the oven for 40 minutes or until golden brown. Serve with vanilla ice cream or a dollop of crème fraiche, or both!
Written for Edible Santa Barbara - Autumn 2019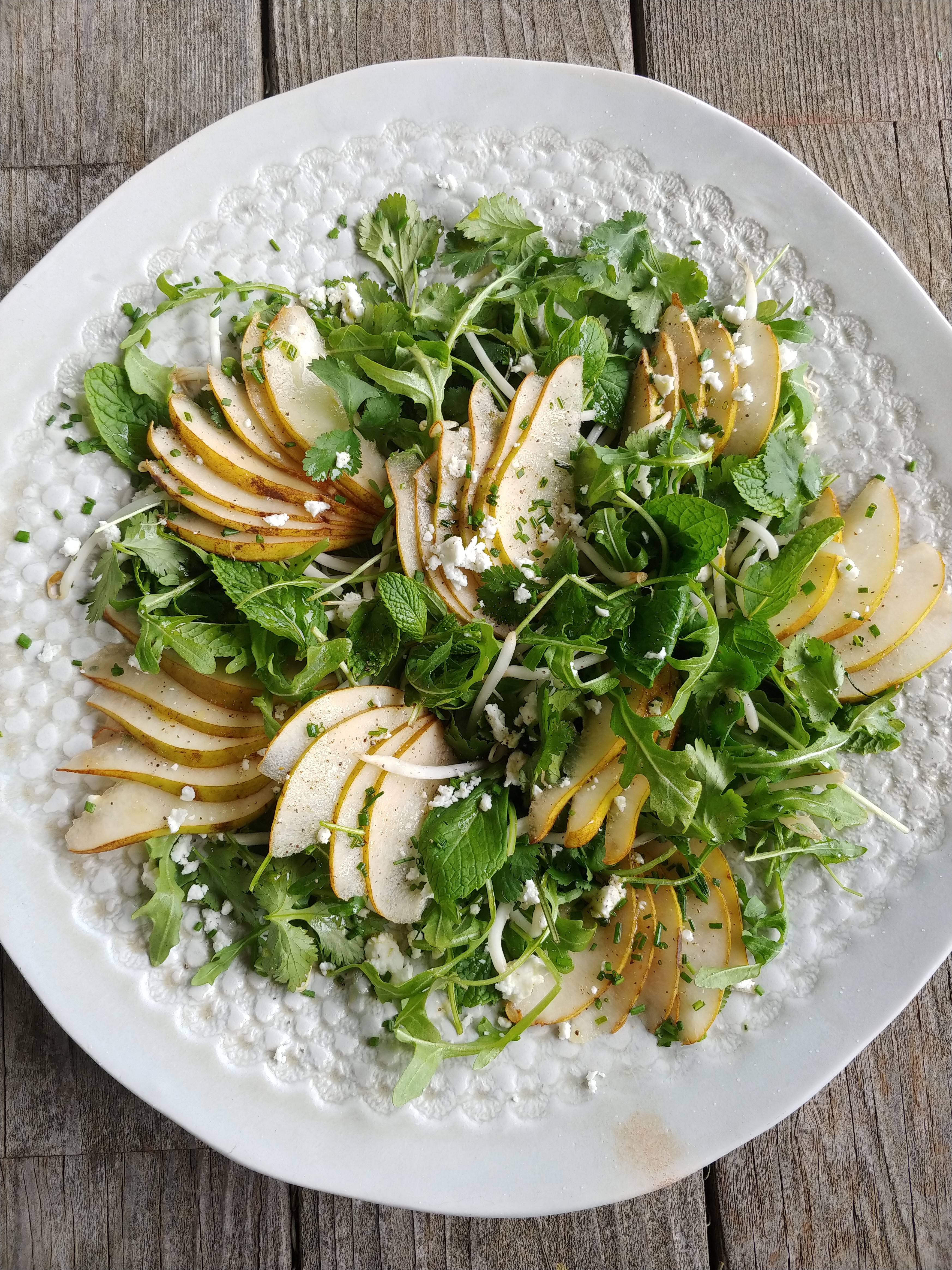 I celebrated my first Thanksgiving on a frigid day in Newport, Rhode Island in 1985. Having not grown up with this traditional gathering, nor being well versed in its culinary rituals, I watched with rapt attention as my good friend Brooke produced a gargantuan feast, complete with steaming bowls of squash soup, gigantic stuffed bird, mounds of butter and cream laced mashed potatoes, bowls of stuffing, vegetables and lots of pies. The inclement weather raged around the house while the pots and pans steamed in the kitchen. I chopped, she cooked, and cooked some more. Unfortunately, mother nature rendered travelling any distance hazardous, and one by one friends and family called to say they just couldn't get to us. Our guestlist dwindled from more than a dozen to just three. Undeterred, we feasted on the meal by candlelight, and ate endless leftovers with friends for the following week. Brooke set a high standard for Thanksgiving meals. I endeavored to follow suit as I took up the mantle of chief cook the following year.
One problem became immediately apparent. As I now lived in Los Angeles, it wasn't freezing cold outside, and the guest list comprised a motely crew of French and English expats left to their own devices as our American friends departed for home. We settled on a hybrid menu more suited to the eighty-degree weather, and to satisfy the culinary preferences of the transcontinental guestlist. Yes, we started with soup, a tradition I kept up for the better part of next three decades, but the rest of the meal resembled a peculiar Thanksgiving-cum-English Christmas-cum French New Year mash up. As I look back over the menus (yes, I confess to having them all written down), a distinct trend took hold. We always had a soup and a big, big bird. Stuffing usually comprised something with wild mushrooms, and we made a Grand Marnier cranberry coulis every year. Potatoes were also present, as were copious amounts of cheese, large green salads, braised vegetables and platters of desserts, enough to satisfy the most gourmand among us. I can feel my stomach groaning at some of these menus now.
Two years ago, I floated the idea to my family that we have a meal that comprised 'everything but the bird'. I noted, to all present, that the bird in question had significantly dwindled in size over the years, the last one barely weighing 10 pounds, and that we could dispense with it all together. This proposal was met with silent stares which quietly put an end to it. I think, however I will try again this year. As I peruse the menus from the last five years, they catalog a growing vegetarian feast. Gone are the rich dishes of the eighties and nineties, in their place a new trend has emerged, a veritable cornucopia of herbaceous salads, roasted vegetables and fruit-filled concoctions.
We have all been witness to this growing trend toward a more plant-based diet. This movement is showcased across most social media platforms, our Instagram feeds are filled with images of beautiful produce, new vegetable centric cookbooks abound, and grocery stores have hugely expanded their organic produce, and plant-based food selections, responding to demand from consumers who want to know, not just where their food comes from, but how it is grown and the impact it has on the environment. Plantbasedfoods.org, an organization that promotes the plant-based food industry, recently cited new data released by the Plant Based Foods Association and The Good Food Institute showing U.S. retail sales of plant-based foods have grown 11 percent in the past year, bringing the total plant-based market value to $4.5 billion. The total U.S. retail food market grew just 2 percent during this same period, emphasizing the fact that plant-based foods are one of the main drivers of growth for retailers nationwide. In the last two years, total plant-based food sales have increased an impressive 31 percent. Without getting bogged down in statistics, it is evident that many people are changing the way they eat, not just occasionally, but throughout the year.

Leaf through many recently published cookbooks and you will often see gorgeous, top down, two-page spreads of tables festooned with vegetable dishes, inspired by Middle-Eastern mezze, Iberian Peninsula tapas, and the small and shared plates trend that proliferate in many modern California-nouvelle-cuisine-esque establishments. These images are intentionally seductive, and their rich tapestry of aromatic plates shout EAT ME! with a subtle subtext that it's all good for you too. It's been nearly a decade since Michael Pollan urged us all to 'Eat food. Not too much. Mostly vegetables.' and that mantra has been taken up with gusto by eschewing the heavy consumption of meats and processed foods in everything from lunchtime packed lunches to celebratory feasts. This is true of the food I eat with my family at home, and in the cooking classes I now teach, in part because I love to eat this way, and partly as a result of demand.
So now, as we head into the holiday season, I once again ask myself and those with whom I will share those holiday tables, it is time to have a completely meatless Thanksgiving? I recognize that these gatherings hold significance for all in attendance, partly due to the very familiarity of the dishes prepared —everyone has a favorite dish, myself included— and partly due to the anticipation of that very food. Food in the context of holiday gatherings is quite an emotionally charged subject, and people have a resistance to change. However, if, as the Philosopher Jean-Antheleme Brillat-Savarin, suggested in The Physiology of Taste '...an intelligently planned feast is like a summing up of the whole world, where each part is represented by its envoys.' and, today's envoys are clamoring for a change, is it time to embrace it? I'll let you know!
Pear, Arugula and Mint Salad
Serves 8 people
8 oz baby arugula
½ cup packed mint leaves
¼ cup packed cilantro leaves
½ cup bean sprouts
4 Bosc pears — halved, cored and thinly sliced
2 oz crumbled feta
2 tablespoons finely chopped chives
Flake salt
Black pepper
For the vinaigrette:
¼ cup olive oil
Juice of 1 Meyer lemon
1 teaspoon white wine vinegar
1 teaspoon finely minced fresh ginger
Pinch of salt
Cover the center of a large platter with the arugula, mint, cilantro and bean sprouts.
Arrange the pear slices in small fans of 4-6 slices, tucking them into the mixed greens.
Scatter the feta and chives over the salad, adding a sprinkling of flake salt and 8-10 grinds of pepper over the top.
In a small bowl, whisk together the vinaigrette ingredients to form an emulsion. When ready to serve, pour the vinaigrette over the salad.
Rainbow Carrot Salad
Serves 8 people
2 lbs fresh, assorted multi-colored carrots – peeled and grated (use the largest holes on a box grater)
¼ cup olive oil
Juice and zest of 2-3 lemons
2 tablespoons finely chopped parsley –
1/3 cup toasted pine nuts
8 dates (Barhi or Medjool if possible) — pitted and chopped
Sea salt
Black pepper
Place the carrots in a large salad bowl. Drizzle the olive oil and lemon juice over the carrots. Sprinkle the lemon zest, parsley, pine nuts and dates over the carrots and add a generous pinch of salt and 7-8 grinds of pepper. Toss well to combine at least 10 minutes before serving.
Cauliflower, Quinoa and Herb Salad
Serves 8 people
For the salad:
1 cup red quinoa — thoroughly rinsed
1 cup vegetable stock
1 large cauliflower — florets separated and grated, either on a box grater or in a food processor
1 cup finely chopped parsley
1 cup finely chopped cilantro
½ cup finely chopped chives
½ cup finely chopped mint
½ cup sesame seeds
½ cup chopped pistachios
Salt
Pepper
For the vinaigrette:
¼ cup olive oil
Juice of 2 Meyer lemons
2 tablespoons sesame oil
Place the quinoa in a saucepan with the vegetable stock and bring to a boil. Reduce to a simmer, cover and cook until the quinoa has absorbed all the liquid. You can also cook the quinoa in a rice cooker, using the same proportions. Once cooked, fluff with a fork and let cool.
In a large salad bowl combine the cooled quinoa, cauliflower, parsley, cilantro, chives and mint. Be sure to mix well so that the ingredients are evenly distributed throughout the salad.
Place the sesame seeds and pistachios in a medium-sized skillet placed over medium heat. Dry roast in the pan about 1-2 minutes, until just fragrant. Add to the salad and stir to combine.
In a small bowl, whisk together the olive oil, lemon juice and sesame oil to form an emulsion. Pour over the cauliflower mixture. Season with a good pinch of salt and 10-12 grinds of pepper, and combine thoroughly. Serve at room temperature.
Roasted Kale and Sweet Potato Salad
Serves 8 people
For the salad:
1 lb curly kale — rinsed (but not dried), de-stemmed and chopped into1-inch wide strips
Olive oil
Sea salt
Black pepper
2 large sweet potatoes — peeled, halved lengthwise, then cut into ¼-inch thick slices
2 teaspoons Herbes de Poisson (or an equal mixture of fennel seeds, coriander seeds and brown mustard seeds)
1/3 cup roughly chopped pistachios
For the vinaigrette:
¼ cup olive oil
1 tablespoon white wine vinegar – or champagne vinegar
1 avocado – peeled and the meat scooped out
Juice of 1 lemon
Sea salt
Black pepper
Preheat the oven to 350 degrees.
Place the kale onto a large rimmed sheet pan or into a shallow baking dish. Drizzle with olive oil and sprinkle with 2-3 pinches of salt and 5-6 grinds of pepper. Roast in the center of the oven for 8 minutes. Place the lightly cooked kale into a large salad bowl.
Using the same pan, lay the sweet potato slices out in a single layer. Use a second sheet pan, if they appear overcrowded. Drizzle with a little olive oil and sprinkle the Herbes de Poisson over the top. Roast for 20-25 minutes, turning potatoes over once. They should be fork tender and lightly browned. Place the roasted sweet potato slices on top of the kale.
To make the vinaigrette, pour the olive oil into a small bowl and whisk in the vinegar. Add the avocado meat and mash together with a fork. Add the lemon juice, a good pinch of salt and 8-10 grinds of pepper and whisk with the fork, so that all the ingredients form a homogenous, though slightly chunky, vinaigrette. Spoon the vinaigrette, and sprinkle the pistachios over the salad. Serve warm.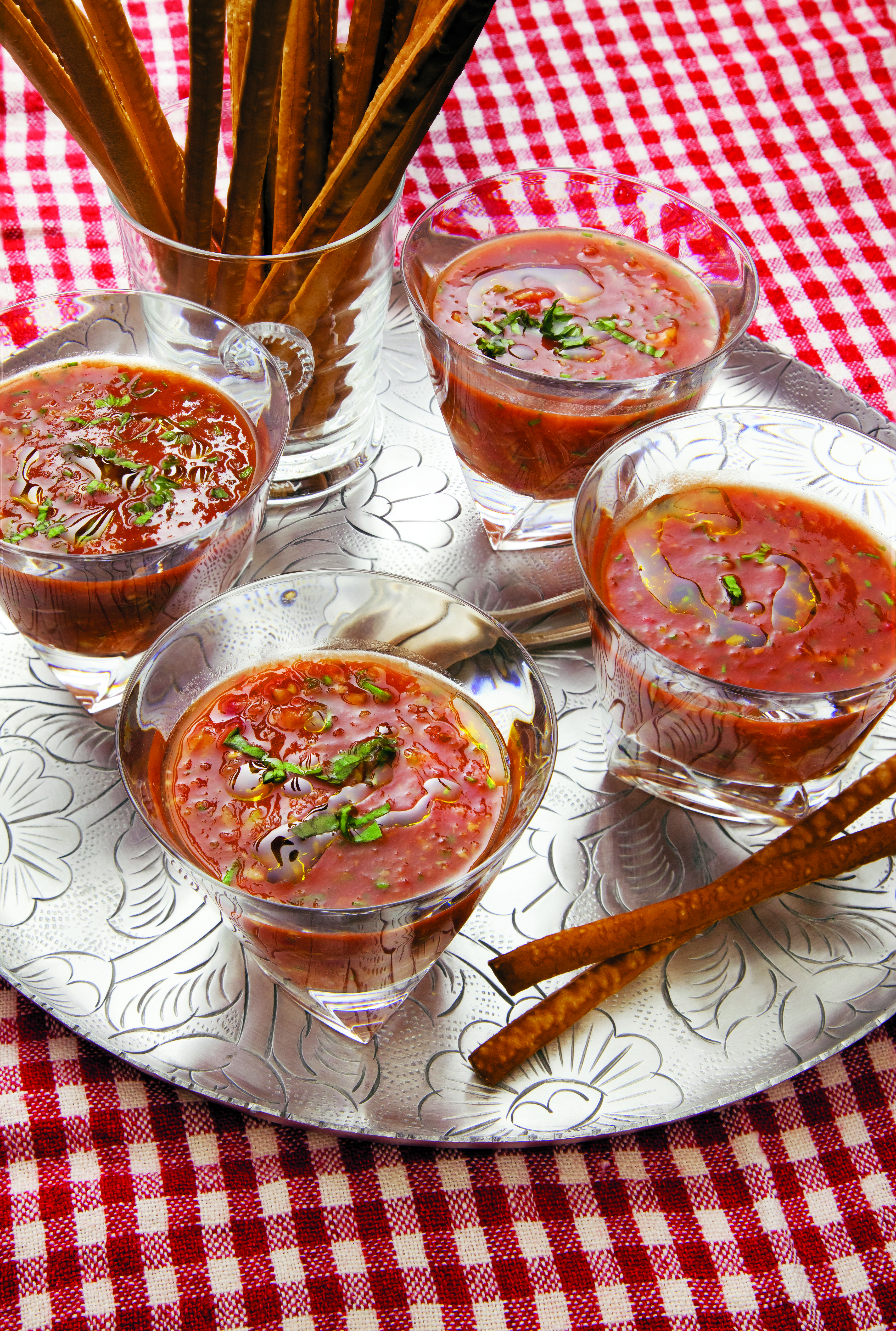 Nestled against the transparent playground wall of the Orfalea Family Children's Center lies a nascent garden. The rectangular, 12,000 square foot plot, is undergoing a metamorphosis: from flat, non-descript unused land, tucked into a corner on the west side of the UCSB campus, to a now burgeoning, vibrant, student-led farm with organic vegetables in some of its newly built beds.
The seeds for the UCSB Student Farm were first planted more than ten years ago as Katie Maynard, the Sustainability Coordinator and Advisor for the Edible Campus Program explained when we met on a recent sunny afternoon, on the grounds of the emerging farm. Katie, whose ebullient enthusiasm for the project inspires everyone who meets her, detailed the long road she, the students, and all the supporters of this project have had to travel to arrive at the ground breaking ceremony that finally took place last autumn.
The Edible Campus Program, a collaborative effort between the Associated Students Food Bank and UCSB Sustainability, was created (in part) to address the important issue of student food insecurity, by repurposing underutilized land on the UCSB campus for sustainable food production, creating productive gardens that have, and will continue to supplement the two, on-campus, student food banks with free, fresh, organic, vegetables and fruit.
Maynard recounted the staggering statistic that some 48%* of undergraduates and 31%* of graduate students have, at some point in their student life, struggled to have sufficient, nutritious food. (*Research from the National Policy Institute surveys completed in 2015/2016) The correlation between students' success rates, (completing courses on time, general well-being and positive mental health) and access to sustained healthy food has been well documented, effectively showing that those without access to proper nutrition struggle to regularly attend classes, have lower grades and higher drop-out rates, and report more illnesses, and mental health problems compared to their food-secure peers. In an effort to address this issue the California legislature approved the Hunger-Free Campus Bill AB 453, (providing funding to help public institutions address student hunger), in late 2017, the first legislation of its kind in the country. At UCSB, the Edible Campus program is central to the food security initiative.
Ten years ago, the marvelously named, Associated Student Department of Public Worms (yes worms), the core group within the Edible Campus Project, created a campus-wide composting program, the product of which eventually led to growing food that could be harvested for student consumption. The initial food growing project began in the summer of 2015, with the Urban Orchard; seven citrus trees planted in Storke Plaza. The Orchard was launched with the financial support and mentorship of the Johnson Ohana Foundation, an organization founded and directed by USCB Alumni, Jack and Kim Johnson, who have been devoted proponents of this program since its inception.

The Orchard was followed by the Hydroponic Vertical Garden Project launched in April 2017. The vertical gardens are managed, nurtured and fed by the nutrient rich worm tea, made by students from the Department of Public Worms (DPW) and produces everything from peppers to tomatoes to melons on its towering structures. The third, and key component to the Edible Campus program is the long-awaited Student Farm which members of DPW run on a day to day basis.
The new farm, now rapidly taking shape, was designed by Kim True from True Design Landscaping, incorporating students' ideas into the final working plan. When completed, the farm will have 37 raised beds surrounding a three-to-four-tiered permaculture forest of fruit trees, bushes and low-lying plants. The farm design also features a greenhouse, composting area, pergola, farm shed, and a dedicated, flexible space for pre-K-12 and college-level education.
On October 10th 2018, the beaming, hard-working volunteers, DPW's and Edible Campus' Staff, surrounded by UCSB Chancellor Henry T. Yang, the Johnson's and other sponsors, supporters, friends and family, took part in an enthusiastic ground-breaking ceremony, complete with silver-tipped shovels, hard hats and broad smiles all around. "For the last 12 years we've been running school gardens in Hawaii, so it seemed like a natural fit for us to help UCSB get their first student farm off the ground," Kim Johnson said during an interview with local reporters at the groundbreaking ceremony. "We were excited to hear about the UC Global Food Initiative when that launched four years ago, so we reached out to hear what UCSB is doing in that space. Then Edible Campus got started, first with the fruit trees and now the farm. We're hoping this will lead to a lot more." She added.
Itching to see the farm taking shape, the not-necessarily exciting, yet important ground work had to be laid first. Meetings with the county and health departments, contractors and design firms to finalize plans were necessary before the first plants could be nestled in the beds. That initial phase including permitting, grading, underground irrigation and electrical systems, and fencing which took another few months to complete, delayed at times by our unusually wet winter. Patience, as any farmer will tell you, is a virtue. With more clement weather and thousands more volunteer hours in hand, the farm is now about to bloom.

As you can imagine, 'Funding and developing this project has been, (and continues to be) a mammoth task' explained Katie Maynard, highlighting the student driven Fund for Santa Barbara, and introducing me to Alex Moon, the Student Coordinator for the Campus Program. Alex and other fellow students have been grant writing for years, resulting in grants from 14 different community foundations and sponsors in the area. 'Some of the students are no longer at UCSB having graduated before we broke ground on the farm' said Katie, but she told me they stay in touch to find out how the farm is progressing. It is evident that so many people have toiled long and hard to see this farm emerge from the dirt. It has been a community wide, student led effort. Alex, who spends a great deal of time reaching out to his fellow Gauchos, spoke about the upcoming summer workshop series for new gardeners, the "Greeks Go Green' program, recruiting volunteers from the Greek Life communities and launching the Saturday Morning Live program, which helps DPW staff to build, tend and cultivate the now 14 different Gardens that make up the Edible Campus. Alex spoke passionately about this project, as did all the people I met on the farm that day. Volunteering in the gardens he said, 'helps build community partnerships.'

Caroline Conrad, the feisty and energetic Operations Coordinator for DPW, whom I also met at the farm, shovel in hand, directing the USCB weight lifting team in the moving of hundreds of pounds of dirt, mulch and building blocks for parts of the new beds, took time to explain the growing program and the future hopes for the farms output. The first harvest, from the four initial raised beds, was designed to produce the maximum output for minimum input. The results, harvested in April, were gratifying. 40 lbs of spring onions, 30 lbs of radishes and 15lbs of beets, along with bunches and bunches of herbs. The next round of planting, which would make any gardener proud, included blossom festooned zucchini, towering tomatoes, running green beans and peppers, chives, green onions, vibrant eggplants and cucumbers, with dainty bunches of cilantro and garlic chives (good for pest reduction) nestled in between. It occurred to me that I should take one of their classes to seriously brush up on my gardening techniques. Caroline, Katie and Alex all spoke about the workshops, both for gardening and on food nutrition that they offer to the Isla Vista community.
As more of the raised beds are built (the goal is to have ten finished and planted by July) food production from the farm will increase fresh food deliveries to the UCSB Food Banks. Caroline and the DPW team have been planting vegetables that are 'culturally appropriate' to the diverse student population at UCSB, and that are easy to prepare. Once all the Edible Campus projects — the citrus trees, the vertical gardens and the farm — are in full production, the goal is to double the amount of fresh produce distributed annually by the A.S. Food Banks, adding 12-17,000 pounds of freshly picked, organic food to the student's tables. "Food pantries traditionally rely on leftover produce, often gathered from grocery stores right before food gets tossed out. This leaves students with limited options, since they have to quickly consume that produce. What we'll be able to do is provide freshly picked fruits and vegetables, where we can pick those items that same morning and bring them to the food bank the next day," explained Katie. The thousands of students that use the food banks will soon have more varied, fresh food choices. As Margot, a sophomore studying hydrology who was volunteering the day I visited and who uses the A.S. Food bank, told me, 'I like knowing where my food comes from. This is a great way to get fresh food!'
It was evident to me as the tools were put away at the end of the day, that growing, preparing and sharing food is a universal community builder. The look of satisfaction on everyone's faces was evident. As I walked towards my car, the sun setting in the west, I looked at the plants and imagined what I would make with them if I were harvesting that beautiful crop.
For additional questions or giving opportunities, please contact: Katie Maynard 805-448-5111 or visit https://giving.ucsb.edu/Funds/Give?id=312
http://www.sustainability.ucsb.edu/campus-farm/
https://foodbank.as.ucsb.edu/
Heirloom Tomato Gazpacho
Gazpacho, a chilled tomato soup that has its roots in Andalusian cuisine, is the perfect antidote to hot summer days. Big, juicy heirloom tomatoes make incredible gazpacho. This is a simple recipe made to showcase this sumptuous fruit. I like to use deep red tomatoes that give the soup an intense, beautiful color.
Serves 8 people
3 lbs heirloom tomatoes — cored, peeled and halved
1 cucumber — peeled and cut into large chunks
2 tablespoons tomato paste
2 tablespoons olive oil
2 tablespoons fig balsamic vinegar
A large pinch of coarse sea salt
8-10 grinds fresh black pepper
1/3 cup chives — finely chopped
4 green onions — sliced
Zest and juice of 2 lemons
1 handful lemon basil leaves — chopped
3 tablespoons basil olive oil
Place all the ingredients, except for the basil leaves and basil olive oil into the bowl of a food processor. Pulse all the ingredients. Pulse until the gazpacho is a little chunky. Be careful not to overmix.
Refrigerate the soup for at least 30 minutes before serving.
To serve, pour the gazpacho into soup bowls or glass jars. Drizzle with a little of the basil olive oil and garnish with the chopped basil leaves. I like to serve grissini (pencil thin Italian bread sticks) or some olive bread with this soup.
Tomato Basil Salad
Every November since 1998, the potters of Santa Barbara join forces with many of the city's best restaurants for an event called Empty Bowls, a benefit for the Santa Barbara Foodbank. For months prior to the event, potters make and then donate hundreds of bowls to the cause. On the day of the event, local chefs make a prodigious amount of splendid soups. Your ticket entitles you to choose a bowl — which is then yours to keep — and sample the soups. I have been fortunate enough to attend for the past several years. Every year I have found a beautiful lapis colored bowl, each one unique. I treasure my collection, some of which is pictured here. They are perfect for a bowl of soup and of course, this vibrant salad.
Serves 8 people
3 tablespoons lemon olive oil
1 tablespoon pear Champagne vinegar or white wine vinegar
Salt and pepper
2 lbs cherry tomatoes (different varieties) — large ones halved
1 handful Thai basil leaves — roughly chopped
1 handful basil leaves — roughly chopped
1 small handful of mint leaves — chopped
3 tablespoons chives — finely chopped
1 small handful cilantro leaves
Feta or goat cheese (optional)
In a large bowl, whisk together the olive oil and vinegar to form an emulsion. Add a good pinch of salt and 4-5 grinds of black pepper. Place serving utensils over the vinaigrette.
Add the tomatoes and all the herbs to the bowl. When ready to serve, toss to combine well and divide among eight bowls.
Serve with some toasted olive bread or baguette, to mop up all the lovely tomato-basil juice in the bottom of the bowls. You can also add some crumbled feta or goat cheese for a nice variation.

Roasted Branzino with Ratatouille
Ratatouille is a dish that is dear to my heart. My mother taught me to make this when I was a little girl. I'd sit on the kitchen counter and help chop zucchini and tomatoes while she would cut up the onions and eggplant. She showed me how to cook all the vegetables separately just as her aunt had showed her. I treasure the idea that at least four generations of my family have been making this dish, almost unchanged, for nearly the past hundred years. We often serve ratatouille with roasted chicken or grilled fish for dinner and if you have some left over the next day, it's marvelous in an omelet.
Serves 8 people
For the ratatouille:
Olive oil
4-5 medium yellow onions — peeled, halved and thinly sliced
1 large or 2 medium eggplant — diced into ½ inch cubes
4-6 zucchini — diced into ½ inch cubes
8 –10 medium tomatoes (Romas work well) — cut into small pieces
Salt and pepper
1 bay leaf
Pour a little olive oil into a large heavy-bottomed saucepan or Dutch oven over low-medium heat. Add the onions and cook until soft and lightly browned. About 8-10 minutes.
While the onions are browning, in a large skillet over medium heat, pour a little olive oil and sauté the eggplant until soft and browned. Approximately 8 – 10 minutes. You may need to do this in batches. Add the cooked eggplant to the onions. Add salt and pepper to taste.
In the same large skillet, pour a little more olive oil and add the zucchini. Cook until lightly browned, about 5 –7 minutes. Add the cooked zucchini to the eggplant-onion mixture.
To the same skillet add a touch more olive oil and cook the tomatoes over high heat for 2 –3 minutes, letting any juice evaporate. Add the tomatoes to the eggplant-zucchini-onion mixture.
Cook all the vegetables together with the bay leaf, a large pinch of salt and some pepper for 30-40 minutes, uncovered. Remove the bay leaf just before serving. Spoon the ratatouille onto a large serving platter.
For the fish:
3 tablespoons olive oil,
2 large handfuls flat leaf parsley — finely chopped
4 green onions — ends trimmed and finely sliced
2 tablespoons chives — finely chopped
1 large handful cilantro — finely chopped
3 tablespoons dill — finely chopped
Zest and juice of 2 lemons
3 whole Branzino (10 - 12 oz each) — cleaned and scaled
Salt and pepper
Combine all the ingredients, except the lemon juice and the fish in a medium sized bowl.
Make four parallel, ½-inch deep cuts into both sides of the Branzino. Insert some of the herb mixture into each of the cuts and into the cavity of the fish. Place the prepared fish onto a lightly oiled baking dish or sheet pan. Sprinkle with a good pinch of salt and 4-5 grinds of pepper. Roast in the center of the oven for 20 minutes.
Place the cooked fish on the ratatouille, pour a little lemon juice over the fish and serve immediately. Filet each fish and serve with a good helping of the ratatouille.
Written for Edible Santa Barbara - Spring 2019
Twenty years ago, not long after I moved to Santa Barbara, I toyed with, well actually seriously contemplated, wading into the turbulent waters of restaurant ownership. I blithely envisioned a chic bistro, complete with Chez Panissesque daily changing menus, yet the more I analyzed this potential venture and the enormous commitment it would take, the more I realized, sadly, that it was not to be. So, if not a restaurant, I chose to do, what was for me, the next best thing. Teaching people how to cook. Ideally, as though friends were coming over to dinner we would all cook together and the menu would change with every class. Little did I know what this would lead to! Now, after two decades, hundreds and hundreds of events and classes, and eight cookbooks later, I can see, in the catalogs of menus in my office, the evolution of my cooking, my tastes and what has become my food. What struck me the most as I leafed through the pages was the very real sense of terroir that the recipes reflected.
From the French word terre (earth), meaning 'from the earth' or 'a sense of place', terroir also imbues that which grows, and is cultivated in a particular region with distinctive characteristics. Like a wave rippling out from its epicenter, I saw that my culinary repertoire had expanded from the lush green fields of Normandie and the planes of Provence, to all the shores of the Mediterranean, lapping up the scented and earthy foods of the Maghreb and the fragrant, perfumed palettes of Levantine and Ottoman cooking, and to gastronomic forays into the spice infused foods of the Indian subcontinent, and herb filled delicacies of South East Asia. All this from seasonal explorations of farmer's markets across Europe to those I found here in California.
Nourished by these forays, I discovered foods I had never tasted before: daikon and watermelon radishes, Thai basil and fresh Za'atar, Chinese long beans and sprouted black eyed peas, microgreens and blistered almonds, Jerusalem artichokes and Romanesco broccoli, tomatillos and jicama, Meyer lemons, pluots and apriums to name but a few; vegetables, fruit, herbs and spices that reflected the myriad communities and migrant farmers that nurtured and cultivated the land around us.
The farmers I have come to know locally come from Ojai, Los Alamos and the Central Valley and as far away as Mexico, Laos and Thailand. Collectively they farm the rich soil in fields and valleys dotted throughout this county, and plant their heritage into the ground. From their roots, I now understand, the food I cook has literally changed to encompass my new terroir. I realized, with a deep sense of gratitude, that I had put down my own roots, tapping into their extraordinary bounty. If Brillat-Savarin, now said to me 'Tell me what you eat and I will tell you what you are,' he would find a French-Mediterranean-Californian hybrid, delighting in the cross-cultural mélange of produce that I pick up at the market every week. Over time this food has changed me and the way I cook.
The very first class I taught, in the Spring of 1999, was classic French cuisine, a combination of Provencal staples and dishes I grew up with. My French bistro ideal channeled into the food I showed people how to make. Individual onion tarts with a fresh garden herb salad, followed by stuffed filet mignons with Roquefort and rosemary, served with braised endives, and for dessert an apricot clafoutis. I felt at home in this cuisine and transplanted it to the American Riviera. In my first decade of teaching nearly every menu included beef or lamb or pork, salmon, trout or seabass, centered around regional French and Italian cooking, with the odd excursion into Spanish delicacies. In the Spring of 2009, I penned a story for the inaugural issue of Edible Santa Barbara about a different culinary journey, one taken through a spring garden, trumpeting the delights of (and providing the recipes for) asparagus, both green and white, fava beans and pastoral lamb. Re-reading this, a decade later, I can see that this was the turning point, the start of a more vegetable based cooking. I rarely taught a vegetarian class before then. Oh, how that has changed! Now, more often than not, the meals I prepare, teach and write about are often plant based, celebrating and reveling in the colorful, succulent array of produce found in our near-daily farmers markets.
Much to my chagrin I have tried and failed to grow vegetables. I can just about manage herbs. Every time I see farmers picking crops as I crisscross the countryside, I send out a silent prayer of gratitude for their skills and look forward to discovering new varieties of vegetables and fruit as I walk through their farm stands. They have nourished my imagination, and in turn my recipes. Who knew, for example, that cauliflower, tomatoes, beets, radishes and carrots come in a palette of rainbow-like colors with nuances in texture and flavor? I never saw them when I first came to California, now they are showcased in local restaurants up and down the coast, and splashed across food media. Lest I thought this was California foodie phenomenon, I was surprised, pleasantly so, when on my last trip back to Provence, to find some of the very same vegetables being grown there. Food trends it seems are quickly transcontinental. I decided to make what my French cousin referred to as 'Californian food' showcasing these fruits and vegetables. I had a distinct sensation that the ripple effect of my culinary migrations had come full circle, cooking Provencale-Mediterranean food, albeit with a new West Coast twist. I made them a donut peach salad with feta and lemon basil, slow roasted citrus salmon with heirloom tomatoes, and a salad of shaved asparagus with endives. The ingredients were familiar to them, the combinations new.
Some things never change though. My mantra has always been eat with the seasons and eat local. That Spring, in markets on both sides of the Atlantic, I found apricots, the one fruit that is for me the harbinger of the season. As soon as I saw them, I made, as I do every year, an apricot clafoutis. I await the first harvest this year with great anticipation, although who knows, perhaps I'll make a cherry-apricot-pluot version, a new twist on a classic.
Arugula, Radish, Date and Pistachio Salad
I had a little radish frenzy at the market recently. I found some long, tapered radishes and was captivated by their shapes and hues. One variety was called Cincinnati Red, another, pale cream in color, was a type of Japanese radish, akin to a thin daikon. There were also some stunning watermelon radishes and I piled some of them into my basket as well. Once home, I chopped and sliced and peeled them every which way, a delightful confetti of radish curls and 'petals' falling on my kitchen table. The 'roses' came about as I played with my food! They were so pretty that I had to make a salad with them, showcasing all their peppery delights.
Serves 8 people
For the salad:
8 oz baby arugula
4-5 long radishes, sometimes known as Japanese radishes, they can be white or red, peeled lengthwise to create long thin strips
3 medium-sized watermelon radishes — peeled and then very thinly sliced, on a mandolin if possible, creating thin 'petal-like' slices
8 medjool dates — cut into small piece
1/3 cup pistachios
For the vinaigrette:
¼ cup basil olive oil
1 ½ tablespoons balsamic vinegar (flavored with pomegranates if possible) otherwise a good aged balsamic will work too
Pinch of coarse sea salt
4-5 grinds black pepper
1. Place the arugula in a medium-sized salad bowl.
2. Roll up half the radish strips so they resemble rose buds that are just opening and nestle them into the arugula. Roll up the remaining radish strips in the same fashion and then wrap them with overlapping slices of watermelon radish 'petals'. Nestle each radish 'rose' in the arugula. (Nestling them helps them stay together.)
3. Sprinkle the date pieces and pistachios over the salad.
4. In a small bowl whisk together all the vinaigrette ingredients to form an emulsion. When ready to serve pour the vinaigrette over the salad and serve, taking care to keep the 'roses' whole.

Spring Pea, Fava Bean and Roasted Tomato Tart
When I re-read the recipes in my article for the Spring 2009 issue of Edible it included one for a spring pea and fava bean salad to be served alongside a rack of lamb. I am surprised to say that I cannot remember the last time I cooked lamb. Now, contemplating a spring dinner, I'd plum for a tart such as this one for the main course with its riot of spring peas that burst in your mouth.
Serves 8 people
For the tart shell:
9 oz (2 cups) unbleached all-purpose flour
5 ½ oz (11 tablespoons) butter — chilled, cut into small pieces
Zest of 1 lemon
1 large egg
Pinch of salt
For the filling:
Olive oil
Salt
Black Pepper
2 teaspoons Herbes de Provence
½ pint cherry tomatoes
2 shallots — peeled, halved and thinly sliced
½ lb snap peas — cut on a bias
1 lb fava beans
½ lb shelled English peas
½ cup Greek yogurt
2 oz feta cheese – crumbled
½ cup ricotta
Pinch of salt
4-5 grinds pepper
1 tablespoon finely chopped chives
½ cup small mint leaves
1. Preheat oven to 400 degrees and butter a 12-inch tart pan with a removable bottom.
2. Place all the ingredients in the bowl of the food processor fitted with the metal blade. Pulse until the mixture resembles coarse breadcrumbs. Use longer pulses until the dough forms a ball. Wrap the dough in plastic wrap and refrigerate for 20 minutes. (You can make the dough ahead of time and remove it from the fridge approximately 20 minutes before using.) On a lightly floured board, roll out the dough to a 14-inch circle. Line the tart pan with the dough. Trim the edges with a sharp knife and then prick the dough with a fork. Cut a hole in the center by running a sharp knife around the edge of a water glass. Remove the circle of dough and reserve for another use. (Note: I love the touch of whimsy, but you can just as easily make the tart without the cut out.
3. Line the dough with parchment paper and fill with pie weights or dried beans.
4. Bake the tart shell for 15 minutes until it is a pale golden color, then carefully remove the parchment paper and weights. Return the tart to the oven and bake for 10 minutes more until golden brown. Remove the tart shell from the oven and let cool on a wire rack.
5. Place the cherry tomatoes in a small oven proof dish. Drizzle with olive oil, add a pinch of salt, a little pepper and the Herbes de Provence. Shake the pan back and forth a few times to coat the tomatoes. Place in the same oven as the tart dough. Roast for 30 minutes. Remove from the oven and leave in the pan.
6. Shell the fava beans. Slit open the pods and remove the beans. Boil them in heavily salted water for 1 minute. Drain and immediately plunge the beans into a bowl of ice water to stop the cooking and set the bright color. Tear the tough skin at the rounded end and squeeze out the bean.
7. Heat a little oil in a medium skillet. Sauté the shallots for 3-4 minutes, stirring frequently. Add the snap peas, a pinch of salt and some pepper and cook for 2-3 minutes. Finally, add the fava beans and English peas and cook 2 minutes. Remove from the heat.
8. In a small bowl, using a fork, mix together the yogurt, feta, ricotta, pinch of salt, black pepper and chives.
9. Place the cooked tart shell on a platter. Spread the yogurt-feta mixture over the tart base. Layer the pea-fava bean mixture on top. Dot with the tomatoes and tuck the mint leaves in amongst the peas. Serve warm.
Stone Fruit Clafoutis
If there is one fruit that heralds Spring for me, it's an apricot. This is the first dish I make when I spy these beautiful golden orbs at the market. This dessert is like a rich, creamy pudding. If there's any left it's fantastic, served alongside a cup of coffee, for breakfast too!
Note: It's also scrumptious made with cherries or a mix of any stone fruit.
Serves 8 people
3 cups milk
8 oz sugar (1 and 1/8 cups)
1 vanilla bean split lengthwise or 1 teaspoon pure vanilla extract
3 oz unbleached all-purpose flour (2/3 cup)
5 large eggs
1 lb cherries or nectarines — cherries pitted and/or nectarines quartered and pitted
1 lb apricots — quartered and pitted
Zest of 2 lemons
Preheat oven to 400 degrees.
1. In a medium sized saucepan heat the milk with the sugar and the vanilla bean or vanilla extract. Stir until the sugar has completely dissolved. Remove from the heat.
2. Place the flour in a large bowl and then vigorously whisk in one egg at a time. You should have a completely smooth batter. Slowly whisk in the warm milk mixture. The batter will be very liquid and should be free of any lumps.
3. Place the fruit in a shallow (1-inch deep) 12-inch round or oval baking dish. Place the fruit-filled dishes on a baking sheet. Pour the batter over the fruit.
4. Place in the center of the oven and bake for 40-45 minutes. The clafoutis is done when you giggle the pan and it is set. The top should appear golden brown. Serve at room temperature.