Written for Edible Santa Barbara - Spring 201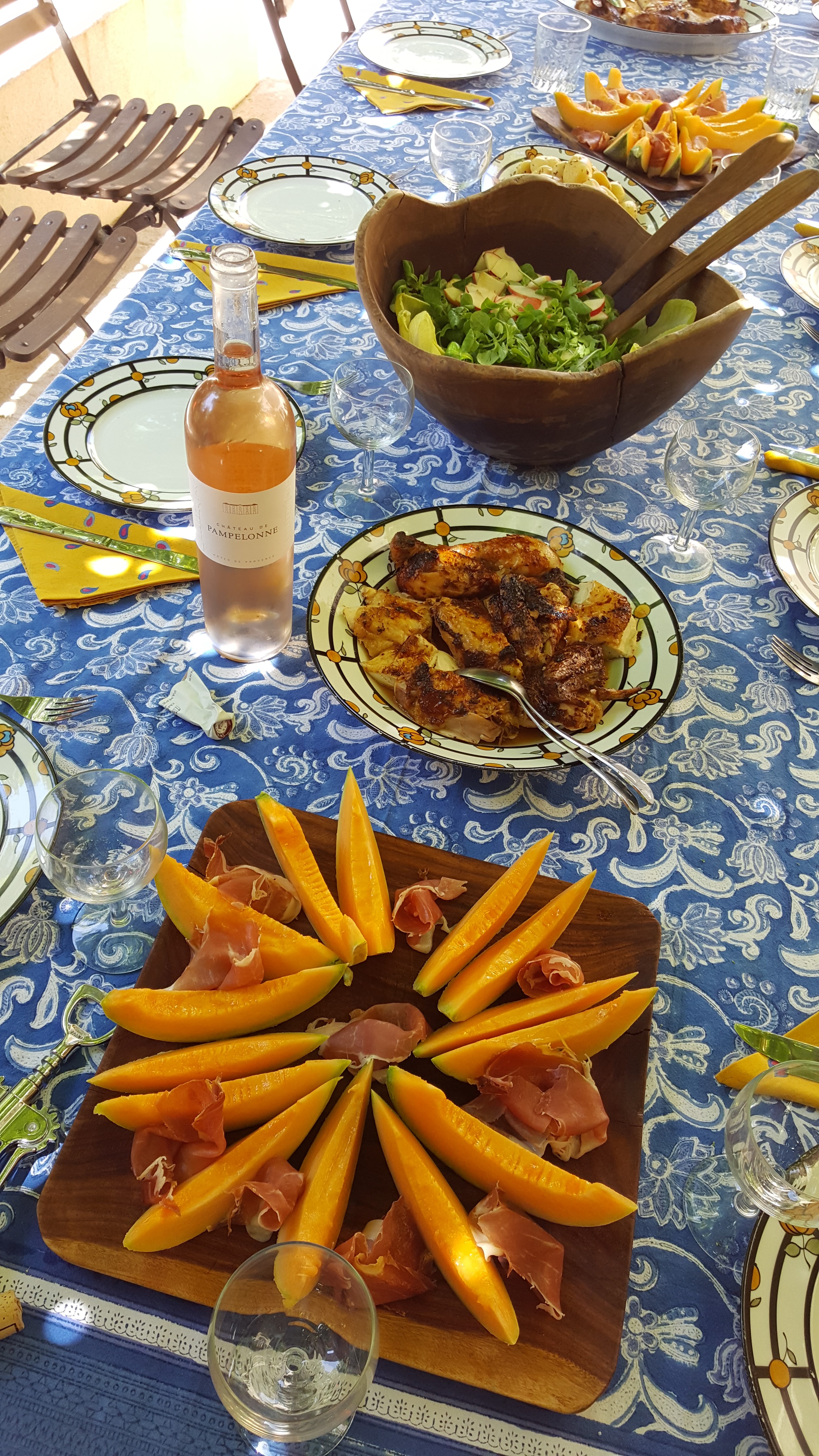 "Food without wine is a corpse; wine without food is a ghost; united and well matched they are as body and soul, living partners."
Andre Simon (1877-1970)
By the time I reached the grand age of eight, my grandmother finally deemed me old enough to prepare the table for a dinner party without constant supervision. I considered this a huge honor and set about the serious task determined not to make a mistake or have her correct the placement of a particular fork, plate or glass. My mother looked on indulgently. She knew, as I would soon learn, that my grandmother was incapable of inspecting the final table setting without making infinite little adjustments. She was a perfectionist in l'art de la table. For special occasions, she would bring out her hand-cut crystal glasses from the 1930s. Each would be polished until it glistened in the evening light and placed on large mother-of-pearl inlaid trays to be taken to the dining room where they would be aligned with regimental precision in front of each person's plate. Water glasses, white wine glasses, red wine glasses, glasses for dessert wines, glasses for port and glasses for digestifs. Each served a purpose. I was intrigued by the delicate balancing act of choosing the right wine to go in the appropriate glass, to compliment what was being served. She always planned her menus with the utmost care and the wines were chosen to enhance the dishes. I had to understand why!
The basic rules of wine pairing — red wines with meat, lighter reds with poultry, and white wine with fish — were quickly explained, but it seemed to me that there was a lot more to it than that. There were classic combinations, duck pate with Sauternes, port with stilton, a Bordeaux with red meat, but what should one pair with an endive salad, asparagus or fondue? A decade or so later I was hosting my own dinner parties and quickly learnt that not all red wines are created equal. I made some dreadful mistakes and often stood bemused in wine shops faced with daunting selections.
It was in fact only when I came to California that my understanding of wine and food pairing deepened as I tried to unravel a conundrum. Whereas in France and Italy many wines are blended, in California I discovered single varietals. This added a whole new dimension to food pairing. When going out for dinner I would hear someone ask for a glass of Chardonnay or Pinot, something I had never heard of as we asked for a Chianti, Burgundy or Bordeaux depending on what we were going to eat. So, what were the parallels? How was I going to navigate all of this? A quick review of old world regional specialties tied their equivalent (roughly speaking) Californian varietals: Burgundy and Pinot Noir, Bordeaux and Cabernet Sauvignon, Chianti and Sangiovese, Sancerre and Sauvignon blanc, Barolo and Nebiollo, Rhone valley wines like Chateuneuf-du-pape and Grenache, and so on. This general guideline helped for a while, but it required in-depth knowledge of the varietal make-up of different regions of Bordeaux for example (St.Emilion, Margaux, Pomerol to name a few) to find an equivalent here in California. One other important factor influenced these choices. Most 'old-world' wines were created to be enjoyed with food, which was not necessarily the case in California. I also found that wines had a much higher alcohol content here, wines that would knock your socks off, such as big cabs with 13.5 -14% alcohol, something rarely, if ever, seen in the Bordelais. They made for interesting and impressive wine tasting but hard to pair with all but the most robust red meat dishes.
At some point I realized that trying to match wines from Europe to a Californian counterpart was a disservice. Like many people I was wowed by these big wines, but I found that they overpowered a lot of the food I cooked. There had to be a way to break this down. My meanderings through different wine regions and their tasting rooms and through trial and error taught me that the flavor and structure of wine is influenced by, and comprised of, the fruit, sugar, acid, tannin and alcohol. Food also has similar flavor profiles — acid and sugar — with the addition of saltiness, fat, sourness and bitterness. The key to paring the two was finding a balance between those profiles. It was time to talk to the experts.
Once I moved to Santa Barbara and started teaching classes alongside winemakers and cheesemongers I discovered a consensus of opinion (in most cases) when pairing food with wine. I asked Karen Steinwachs, winemaker at Buttonwood Farm and Winery what process she goes through when paring wines for the classes we teach together for example? Her response "We release wines here seasonally, so it is almost a natural for food and wine pairing – for example, wild mushrooms are available right now and pair well with our Sta. Rita Hills Pinot Noir. I also tend to look at the richness of the dish and then think of texture, how acidic the wine needs to be to be a complement the dish, and to be complemented. So, a white Bordeaux blend (Sauvignon blanc, Semillon) would work well with seasonal spiny lobster for instance, whereas I would serve a crisper white or sparkling wine with oysters." Kathryn Graham, owner of C'est Cheese had similar comments "What grows together, goes together" as the old adage goes, "for example what could be more perfect than the triple crème Brillat-Savarin served with a glass of Champagne!"
Both Karen and Kathryn focused on the acidity in the wine to refresh the palate and complement the dish, in the same way that adding a burst of lemon juice will enliven and brighten flavors in ones' cooking. They both warned to avoid clashes, 'a light pinot or Beaujolais will get completely overpowered by a beef shank stew, conversely a hearty red with drown out a lemony filet of sole.'
I remembered some pretty dire pairings I had tried out with various salads and asked how they handled other notoriously difficult foods to pair wine with such as asparagus, anchovies, endives, fennel, curry, artichokes, sushi, miso and certain types of blue cheese. Karen replied 'Some really spicy foods (Curry), are great with Rosé, which is my go-to for a wine that gets along with so many foods. Like Thanksgiving, when you have a plethora of dishes including Aunt Martha's sweet potatoes with mini-marshmallows – there is no way to do a classic, this dish with that wine. I say bring out the Rosé!" A sentiment closely echoed by Kathryn who said 'It is easier to pair Rosés and white wines with food as you are not dealing with the heavy tannins in red wines. A rosé will complement a light roast chicken or a vegetarian dinner.' And added 'I also like to look for softer reds such as a Gamay, or crisp whites to pair with medium bodied and more delicate foods and cheeses, for example serving a bright, herbaceous Sauvignon blanc alongside goat cheese.'

I brought up those big reds and we discussed the issue of tannins and what effect they have on the palate. Karen provided a clear explanation 'Tannins are looking for protein, so they pair best with dishes with some fat. The drying sensation people get when having tannic wines without complementary food is because the tannins are attracted to the protein in our mouth(saliva), and therefore consume those, causing a drying sensation. So, big steaks, buttery dishes, even avocados work well with big, tannic red wines.' Kathryn and I also discussed the aging process of new world vs old world wines. She reminded me that the blended wines and longer aging process softened tannins, and was the reason why certain Bordeaux reds would pair well with a strong blue cheese whereas a young cabernet sauvignon would not.
In the end choosing a wine comes down to personal preference. I asked each of them if they had any absolute rules about pairings and both said no. They did add that there were things they didn't like together; neither one cared for chocolate with red wine for instance, which I do; although it very much depends on the wine and the type of chocolate: pair a sweet chocolate dessert with a dry red and the result is generally dreadful, conversely a dark, bitter chocolate with a sweeter red such as a Lambrusco or late harvest zinfandel can be marvelous. Karen suggested that people should try lots of different wines to find the ones that appeal to them. "People often get stuck in a rut and don't experiment," said Kathryn with a knowing look in my direction 'Remember how you wouldn't really try whites and Rosés Pascale?, "and now I am a convert," I willingly conceded. Thanks to Kathryn I have developed a penchant for champagne and triple crème cheeses, have embraced all manner of white wines paired with assorted salads and relished Karen's rosé which I discovered works incredibly well with truffles.
On a recent Friday evening we gathered for a special multi-course dinner party to celebrate my mother's birthday. My daughter Olivia helped me set the table. I took out our special wine glasses, polished them to a shine so they glistened in the evening candle light and placed them on the table. She asked why there were so many different types and I explained why we use different glasses for different wines and how the wines would complement the meal. As I walked around the table I straightened a knife here, a fork there and moved the candles…again. Olivia looked at me quizzically and said "Why do you do that? It looked fine!" My mother looked on indulgently and laughed. She knew, as Olivia would soon learn, that this habit, some would say fastidious one, was a genetic trait.
~~~~~~~~~~~~~~~~~~~~~~~~~~~
Karen Steinwachs and I are planning a seasonal vegetarian cooking class and wine pairing lunch in the garden at Buttonwood Farm and Winery on May 13th 2017. This is the menu:

Warm Salad with Sauté of Leeks and Snap Peas with Burrata
Buttonwood Winery 2016 Grenache Rosé
Serve 8 people
Olive oil
4 leeks – rinsed, end trimmed and cut into ½-inch wide disks
1 lb snap peas – cut into ½-inch wide pieces on a bias
1 bunch chives – finely chopped
Zest and juice of 1 lemon
1 fresh burrata
Lemon olive oil
Salt and black pepper
Pour a little olive oil into a large skillet placed over medium-high heat. Add the leeks and cook for 3-4 minutes, stirring frequently. Add the snap peas and cook for another 3-4 minutes. The snap peas should be al dente.
Whisk together the lemon zest, juice and ¼ cup olive oil in a large salad bowl. Add a pinch of salt and 4-5 turn of black pepper and whish again. Place salad utensils over the vinaigrette. Place all of the vegetables on top of the utensils and sprinkle with the chives.
Just before serving roughly tear the burrata and dot it over the salad. Toss to combine the ingredients and serve immediately.
Savory Puff Pastry Tart with Roasted Onions, Goat Cheese, Olives and Pesto
Buttonwood Winery 2016 Syrah Rosé
Serves 8 people
For the tart :
1 sheet frozen puff pastry — thawed
Olive oil
2 red onions — peeled and sliced into thin disks
2 yellow onions — peeled and sliced into thin disks
Coarse sea salt
Black pepper
1 bunch green onions — chopped
½ cup assorted pitted olives
2 oz feta cheese — crumbled
1. Preheat the oven to 400 degrees.
2. Pour a little olive oil onto a sheet pan or into a shallow baking dish. Arrange the onions in a single layer. Sprinkle a little salt and pepper over the top. Drizzle with just a little more olive oil. Roast the onions in the oven for 15-20 minutes. They should be golden brown. Remove and let cool slightly.
3. Unfold the puff pastry onto a lightly floured piece of parchment paper and lightly roll it out into a 9-by-12-inch rectangle. Place the pastry (on the parchment) onto a baking sheet. Bake until lightly golden brown, approximately 15 minutes. Remove from the oven and let cool slightly.
4. Carefully spoon enough of the pesto (see recipe below) over the partially cooked pastry. Leave a ½-inch border all around the tart. Cover the pesto with the roasted onions. Scatter the chopped green onions, olives and feta over the top.
5. Return the tart to the oven and bake for another 10-15 minutes. The tart should be golden brown. I like to serve this with a green salad.
For the pesto:
Zest and juice of 1 large or 2 small lemons
1/2 cup olive oil
1 large bunch basil leaves — roughly chopped
Salt and pepper
1. Pour the olive oil and lemon juice into a blender. Add the basil leaves to the blender and push them down into the olive oil. Place the lid on the blender and run the machine until you have a thick pesto mix. Add a pinch of salt and some pepper, scrape down the sides and blend again. Pour the pesto into a large serving bowl.

This recipe makes more than you will need for the tart. Reserve the remainder for pasta or as a lovely addition to risotto.
Strawberry and Lemon pots de crème
Buttonwood Winery 2014 Blanc de Noir
"A meal without wine is like a day without sunshine."
Jean-Anthelme Brillat-Savarin, 'The Physiology of Taste' (1825)