Written for Edible Santa Barbara - Autumn 2011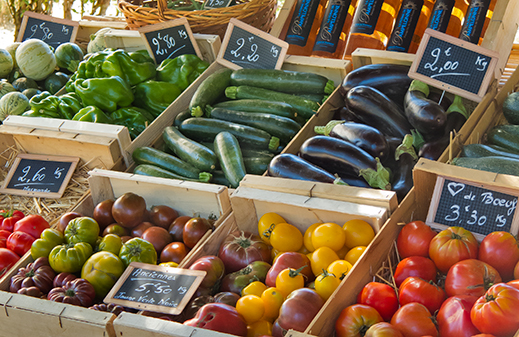 "What are we having for dinner Mum?" I get asked this question on a daily basis and I often answer, "I'll let you know when I get back from the market". I grew up shopping for food at the local markets on a daily basis and the habit has stayed with me. I feel inspired as I walk through rows of fragrant herbs, gorgeous vegetables, surrounded by the flowers and plants of the current season.
Autumn brings with it a cascade of wild mushrooms, piled higgledy-piggledy in great mounds on the farmers table crying out for a risotto filled with sautéed tubers; bulbous, sunset-hued squash sit plump and fat in hessian covered baskets asking to be transformed into fragrant soups; the arrival of autumnal fruits, flecked pears, crunchy apples with enticing names such as Honey Crisp beg to be transformed into pies and buttery crumbles and pomegranates bursting with luscious ruby red seeds are perfect for livening up a salad. The markets are filled with possibilities.
Sometimes coming across a special ingredient will trigger a culinary flashback. The same way an aroma will remind you of a place, a perfume of a person, so too can a dish transport you to a dining room half way around the world. Coming across farm-raised rabbit reminded me of a luscious dish my Grandmother Genevieve used to make. 'Lapin a la Moutarde'. It was a crème fraiche, mustard sauce laden masterpiece. I would pray she would make it each I time I was lucky enough to visit her. My uncle and I once battled over who would clear the platter away to the kitchen, containing the last of this succulent sauce, made even more delicious when you could mop it up surreptitiously with a piece of baguette in the kitchen. We got caught of course, my grandmother walked in on us just as we were about to pop that perfect morsel of fresh bread, dripping with this unctuous crème in our mouths. She raised a disapproving eyebrow at me, 'Pascale!' but it was that good.
That entire scene flashed through my mind as I stood in front of Marcie Jimenez's stand. At Jimenez Family 'beyond organic' farms, located in Santa Ynez on 35 acres, they have pasture fed lamb, farm-raised pigs, rabbits and goats, in addition to wide range of fruits and vegetables. Jumping at the chance to re-create this dish, I told Marcie the story as I purchased one for dinner. As it so happens she has one of her own. Stemming from a Greek-Scandinavian background, Marcie and her family often ate rabbit. Her family's dish was Stifado: A Greek specialty, this cinnamon and spice, wine-laced rabbit stew features pearl onions bathed in a tomato sauce that cooks slowly in a stove-top Dutch oven. Her stew sounded moist and fragrant, a perfect match for the lean rabbit meat. I made a note to try her stew in the near future.
Now that I had decided on rabbit, I needed mushrooms for the sauce and meandered over to the Peacock Farms stand that always has tasty oyster mushrooms to choose from. Having picked up two baskets, and a dozen of their incredible, almost orange colored yolk eggs, which come from the farms evidently happy - free to roam under the peach trees - well-fed chickens, I spied some persimmons. I have to say that I have not in the past been a fan of this fruit. I don't like its gelatinous texture. However I was persuaded to try one of the Fuyu variety and became an instant convert. I've been creating persimmon dishes ever since. They are wonderful in salads. I was intrigued by this fruit and spoke with Lynda Peacock, who along with her husband Scott, both 3rd generation farmers from Dinuba, planted persimmon trees on their farm at the insistence of their Japanese neighbor. Lynda makes cookies and breads with the 'squishy' Hichiya variety and mentioned that they dry very well, preserving their bright orange color.
Persimmons originated in the orient and widely cultivated for centuries in Japan and China. There are also species of American persimmon trees, that were well known to Native Americans. The name persimmon is derived phonetically from the Algonquin tribe's term for the fruit 'putchamin'. There are two types of fruit; astringent and non-astringent. The former can only be eaten when fully ripened, otherwise it will taste extremely bitter but the latter can be eaten when still hard. The Fuyu persimmon is one of the non-astringent varieties.
Lynda described a salad she makes with the Fuyu variety, combining the chopped fruit with walnuts, avocados and a vinaigrette. I'll have to try that too.
At this point my basket was almost overflowing and I had yet to plan the last course of our meal. My father's motto is 'always leave room for dessert'. Walking through the market I was spoiled for choice. Pears, pomegranates and citrus fruit beckon but my eyes are dawn to the myriad apples piled high at the Fair Hills Farm stand.
David Rydell and his family grow about twenty varieties of apples. Located in Paso Robles, the 35-acre organic farm benefits from the 60 degree summertime temperature swings that help concentrate the fruits flavors. Braeburns, Cameos, Fujis, Honey Crisps, Galas and Jonagolds tempt passersby. I love combining different varieties in tarts and salads. David, whose family originates from Minnesota, says he likes Baked Apples, a dish that reminds me of blustery autumnal days in London where I was born. We are a world away from the raw weather that can so frequently be dished out in England – or the Midwest - but just reminiscing about these apple filled dishes evoke images of coming in from the cold and eating warm apple crumbles, filled with spices. The apple dish I have in mind today may not be as hearty, but those flavors will all be there.
I call my daughter and tell her what we are eating for dinner.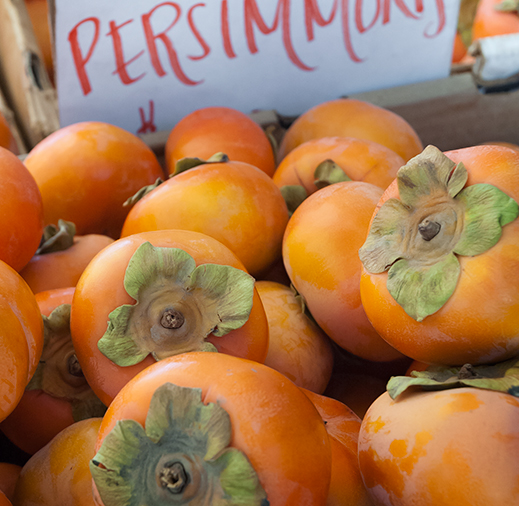 PERSIMMON SALAD
Serves 8 people
¼ cup olive oil
1 tablespoon fig balsamic vinegar
1 teaspoon red wine vinegar
1 shallot – peeled and finely diced
Salt and pepper
8 oz. herb salad mix or Mesclun salad mix
4 oz. Mache greens
2 oz. watercress
6 Fuyu persimmons – stem removed, halved and then thinly sliced
Whisk the olive oil and vinegars together in the bottom of a large salad bowl. Stir in the diced shallot and add a large pinch of salt and dome freshly ground pepper. Place salad utensils over the vinaigrette.

Place all the remaining ingredients on top of the salad utensils so that the greens are not sitting in the vinaigrette. Toss the salad just before serving.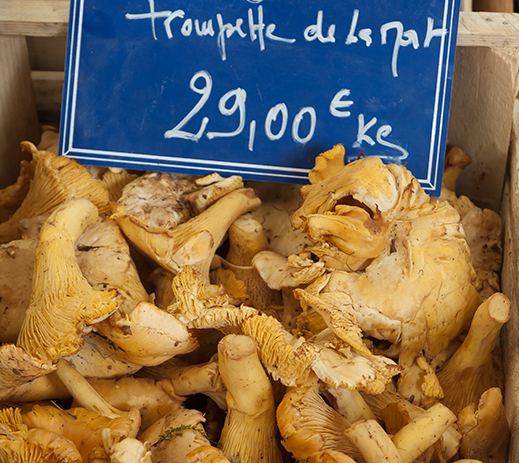 RABBIT IN A MUSHROOM AND MUSTARD SAUCE
Serves 8 people
2 or 3 whole rabbits, depending on the size, each cut into 6 pieces.
1 cup Dijon mustard
Salt and pepper
Olive oil
2 tablespoons butter
5 cups chicken stock
1 1/2lbs crimini, oyster or brown mushrooms (thinly sliced) – if you happen to spy some Chanterelle mushrooms, these are wonderful in this dish
8 shallots – peeled and quartered
1/3 cup crème fraiche
Place all the rabbit pieces in a large bowl. Spoon 2/3 cup mustard into the bowl and coat all of the rabbit pieces thoroughly with mustard. Add a little salt and pepper and toss the pieces again. Set aside for 30 minutes.

Pour a little olive oil and a tablespoon of butter into a large, heavy-bottomed sauté pan placed over medium heat. Stir until the butter foams and then sauté the rabbit pieces until they are browned and golden on all sides. This will take 8-10 minutes per side.

When all the pieces are browned, pour 4 cups of the chicken stock into the pan and bring to a gentle simmer. Cover and cook for a further 25 minutes turning the pieces once or twice during the process.

Place 2 tablespoons butter in a separate pan placed over medium heat. Add in the shallots and cook for 3-4 minutes. Add in the sliced mushrooms and cook for 4-5 minutes so that they are golden brown. Sprinkle with a little salt and pepper and set aside.

When the rabbit is cooked, remove the pieces from the pan and place them on a warm serving dish in the oven to keep warm whilst you finish the sauce. In a small bowl pour the remaining chicken stock, the remaining mustard and all the crème fraiche. Whisk vigorously so that it is well combined and smooth in consistency. Pour this mustard mixture into the sauté pan holding the cooking juices from the rabbit and bring it a simmer. Scrape down the sides and bottom of the pan getting all those good bits and pieces! The sauce will thicken as you cook it. Add the cooked mushroom slices to the sauce, stir well and then return the rabbit pieces to the pan and then turn them over once or twice to coat them in the sauce.

Check the seasonings, sprinkle with chives and parsley and serve immediately.
Note: You can serve this with basmati rice or plain noodles, but it equally delicious without.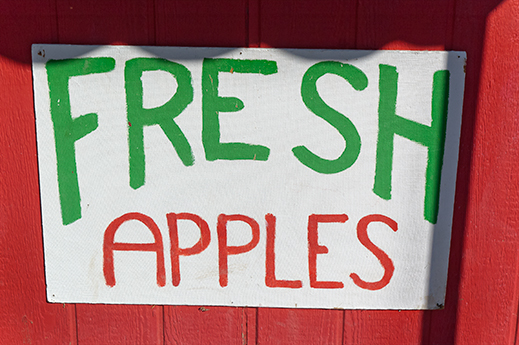 APPLE 'MILLEFEUILLES'
Serves 8 people
4 apples - Granny Smiths, Breaburn, Fuji or Pink Lady work well – halved and peeled
2 tablespoons butter
½ vanilla bean – seeds scraped out
1 tablespoon sugar
Pinch cinnamon
Pinch allspice
Preheat the oven to 350 degrees.

Line a baking sheet with parchment paper.

Slice each apple half into very fine slices. Keep all the slices for each half together. Place each sliced apple half onto the parchment paper.

Melt the butter in a small saucepan with the sugar, vanilla bean and spices and cook for 3 minutes. Using a pastry brush, coat each apple half with some of the apple-sugar mixture.

Bake for 20 minutes. Use a spatula to transfer each apple half onto a dessert plate. This is really good with a small spoon of good vanilla ice cream and the shortbread served alongside.

BROWN SUGAR SHORTBREAD
Makes 20 pieces
4 oz (1 stick) butter
3 tablespoons light brown sugar
½ tablespoon granulated sugar
6 oz flour
1 teaspoon pure vanilla extract
1 teaspoon coarse sea salt
Preheat the oven to 300 degrees.

Place the butter in a standing mixer fitted with a paddle attachment. Beat, on medium speed until soft and fluffy. Add in the sugars, and beat again until well combined, scraping down the sides of the mixing bowl occasionally.

Add in the flour, vanilla extract and salt, and mix until the dough has just come together. Remove the dough from the bowl and combine into a ball.

Break off a 1-inch piece of the dough and roll it gently in the palms of your hand to form a spherical shape and then place them on a parchment lined baking sheet.

Bake the shortbread for 35-40 minutes in the center of the oven. They should be a pale golden color. Place them on a wire rack to cool. They will keep for several days in a sealed container.