Or what to do when your garden goes bonkers!
Written for Edible Santa Barbara - Fall 2014 Issue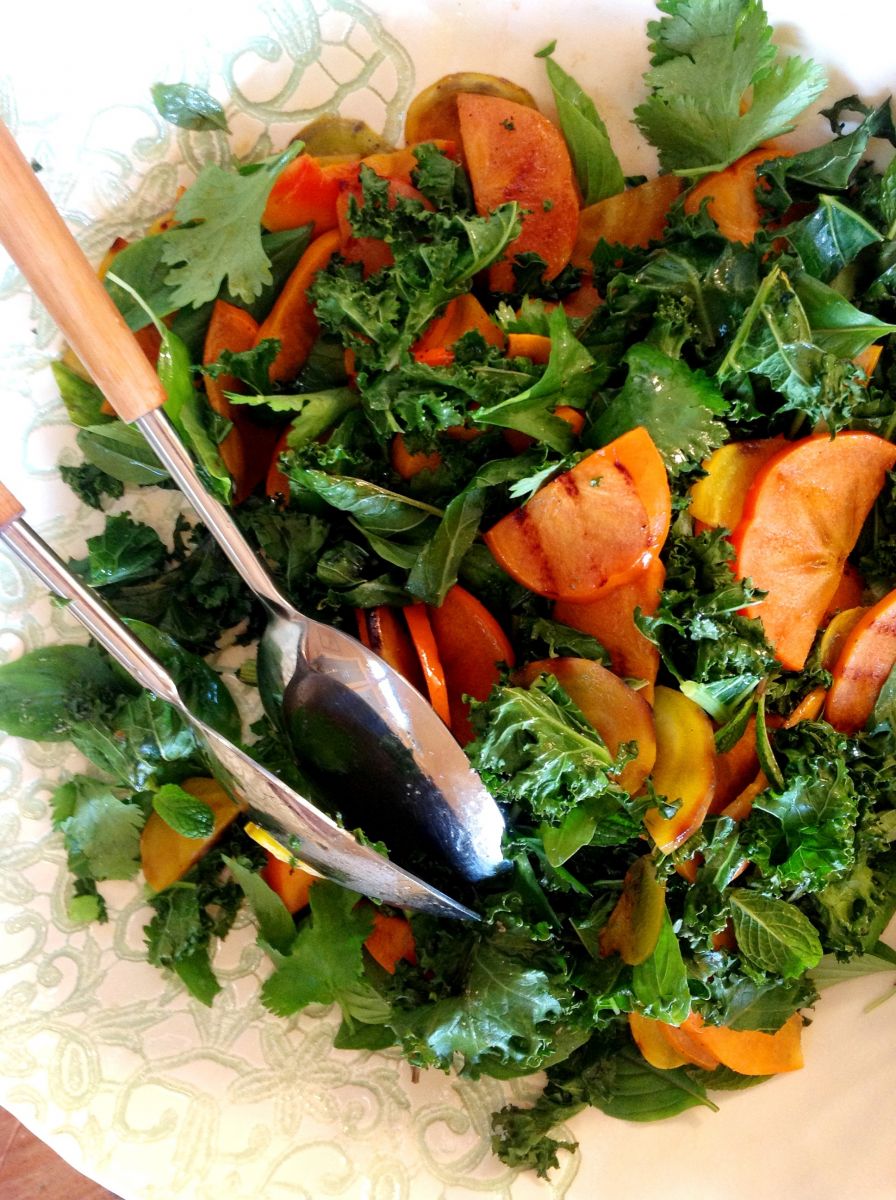 Many years ago I spent the late summer and early autumn months in the South of France in a little farmhouse situated not far from the sea. Every day I'd walk down to the sea for a swim, past the field that was overflowing with vast numbers of tomato plants and a quarter acre of melons. After my swim I would walk back past the same field, still filled with an abundance of ripe tomatoes and all those succulent fruit. On rare occasions I would see the owner filling a basket. There were hundreds and hundreds of tomatoes and an equal number of melons lying in the fields. Well, after masses of hand wringing, I couldn't help it; I just had to help that harvest along. If I didn't eat them, who would? I made tomato and melon salads for weeks. It was a guilty pleasure.
Friends know I love making jam and I often find unexpected gifts on my doorstep. A friend called me recently and said, "would you like some lemons? – I have lots of them." I said I would. A few hours later a 50 pound bucket of assorted lemons sat by my front door. I quickly learned that you need to qualify a lot. We made marmalade. Another friend offered a lot of figs—again I envisioned a large basket, enough to make jam. In this instance a lot meant about a dozen. No jam then, but a lovely tart. So what does one do when you have an overabundance of a single fruit or vegetable?
In the garden of my old house there was a prolific plum tree that annually produced well over 75 pounds of plums. We would check the tree daily and wait for the perfect moment to pick all the gorgeous fruit. The kids loved climbing the tree to pick those out of reach plums. Every year a good friend of mine, and her three daughters would come over for the annual plum jam making session. Sitting around a wooden table set up in the garden, we'd spend a couple of hours cleaning and chopping up all the fruit. It was always a convivial-fun-laughter-filled-fingers-tinted –purple afternoon. The reward for everyone taking part was jars of plum jam to take home.
We'd make jam, chutney and myriad desserts with the fruit, which of course all ripened at once. I gave away buckets full too. These are the pleasures of owning fruit trees or planting a garden. You can share your bounty.
I have now moved across town and have discovered the edible treasures of my new garden. I lost the plum tree but gained an apricot tree. This was a huge treat, for apricots are quite possibly one of my favorite fruit. When I first saw the tree I immediately envisioned bushels of apricots that could be turned into preserves. I didn't count on battling the birds that waited patiently every morning for their sweet breakfast, and the netting I put up was not up to the task of keeping away the merrily chirping birds. The apricots that remained however were incredible, reminiscent of those in my grandmother's garden. Dark gold in color, with the taste of liquid honey. Unfortunately there weren't quite enough to make the hoped for preserves. As luck would have it, a friend, who lives a few blocks away, had an abundance of apricots and generously offered up some of her fruit. We spent an hour together, in the afternoon sun, picking and discussing the merits of different types of canning, pectin or no pectin, varying methods of jam making and old family recipes, while her dogs scampered around our feet.
Once home, I combined all the fruit and made a batch of my grandmother's jam. I ate a spoonful and was transported back to her kitchen. A kaleidoscope of images flickered through my mind as I remembered our conversations with the family gathered in her garden picking and cutting up fruit, of learning to make jams and sealing jars with melted paraffin wax. All of these tastes and memories tied to an abundance of fruit!
Recently some good friends surprised me with a new raised vegetable bed. A flurry of planting, weeding and tending young shoots followed. My approach to gardening tends to be plant it and let it grow, without too much tending and nurturing which might explain why my garden produces haphazard results. The squash plants died in a matter of weeks. Some bug apparently. The arugula was and is fabulous, peppery but has a tendency to bolt. The tomatoes aren't getting enough sun (my mother will interject here "I told you so") resulting in a meager harvest. The kale on the other hand went bonkers. I made lots of roasted kale salads. I also discovered that it's easier to give away apricot jam that bags full of kale.
Then there is the apple tree. As of this moment it is producing gargantuan apples weighing in at close to 1 pound a piece. We are an apple crumble mad family, however I've discovered that there's only so much apple crumble one family can eat. I usually need 8-10 apples to make a crumble. I use three of these. I think it may be time for a new tradition – apple butter anyone?
Roasted Kale and Grilled Persimmon Salad
This is one of the kale recipes I made with the prolific plants from the garden. If you have access to a fuyu persimmon tree you are in for a treat. This is another fruit tree that I covert – maybe I can find a spot to squeeze on in!
Serves 8 people
6 fuyu persimmons – halved and sliced
4 golden beets – peeled, halved and sliced
Olive oil
Coarse salt
Black pepper
1 large bunch curly kale – stems trimmed and the leaves cut into thin strips
1 lemon – halved
1 tablespoon red wine vinegar
1/2 cup fresh basil leaves – left whole
1/4 cup fresh cilantro leaves – left whole
1/4 cup fresh mint leaves – left whole
1. Preheat the oven to 350 degrees.
2. Place the sliced persimmons and sliced golden beets into a salad bowl with a drizzle of olive oil, a pinch of salt and some black pepper. Toss to coat evenly.
3. Place a cast-iron griddle on a stovetop over high heat. Once hot, add the sliced persimmons and beets (you may need to do this in two batches) and cook for 2-3 minutes on each side. Once cooked place them on a plate.
4. Place the chopped kale onto a sheet pan/cookie sheet. Drizzle with a little olive oil, sprinkle a little salt over the top and add a little pepper. Place in the center of the oven and roast for 8 minutes. As soon as the kale is cooked, remove from the oven and squeeze the lemon all over the kale.
5. Combine 3 tablespoons olive oil and the vinegar in the bottom of a salad bowl and whisk together well. Place salad utensils over the vinaigrette. Place the grilled persimmons and beets, and roasted kale on top of the utensils. Add all the herbs to the salad bowl. When you are ready to serve, toss the salad well.
ROASTED ROOT VEGETABLES WITH HERB PESTO
My son and I planted carrots as they are one of the few vegetables that he really likes to eat. This is one of the dishes I made with the first carrots of the season. Now I just need to master the art of growing parsnips and squash and then I'll have everything I need at my fingertips. A good goal for next year.
Serves 8-10 people
For the vegetables:
3 yellow onions – peeled, halved and thinly sliced
1 butternut squash – peeled, halved, seeds removed and then cut into 1-inch pieces
5 - 6 carrots — peeled and sliced
6 small to medium parsnips — peeled, quartered and sliced
1 large red onion — peeled, halved and cut into thin slices
5-6 springs of thyme
Olive oil
Juice of 2 lemons
Salt and black pepper
For the herb pesto:
4 tablespoons fruity olive oil
Juice and zest of 2 lemons
1 large handful parsley — chopped
1 large handful cilantro — roughly chopped
1 large handful basil leaves
2 tablespoons chives — chopped
1 clove garlic
Preheat the oven to 375 degrees.
Place all the vegetables in a roasting pan and drizzle with olive oil. Squeeze the lemons over the vegetables and add the thyme, a dash or two of salt and 4-5 grinds of pepper. Roast the veggies in the oven for 30-40 minutes. The carrots can have a little crunch but the parsnips and squash do need to be cooked through, so check those in particular.
While the vegetables are roasting prepare the herb pesto. Place all the pesto ingredients into a blender or food processor (liquids first — it makes it easier to process the pesto) and run the blender until you have a relatively smooth pesto. Check the seasoning. Depending on the size of the lemons you use you may need a dash more. It should be bright green and very fresh tasting. Pour the pesto into a salad bowl and add the roasted vegetables to the bowl as soon as they are cooked. Toss while they are still warm.
APPLE AND ALMOND CRUMBLE
This is a lovely variation of classic apple crumble. Given the number of apples the one tree in my garden produces, I think I may have to create some many more versions.
Serves 8-10 people
6-7 large apples – peeled, cored and sliced
1/3 cup golden raisins
Zest and juice of 1 lemon
½ cup water
Honey
1 cup almond meal or almond flour
½ cup flour
1/3 cup almonds – roughly chopped
1 1/3 sticks butter – cut into small cubes
Preheat the oven to 400 degrees.
Place all the sliced apples into a large round oven-proof dish (it should be about 11-12 inches across). Sprinkle the golden raisins on top of the apples. Pour the water and lemon juice over the fruit. Drizzle 1 tablespoon of honey over the fruit.
Combine the almond flour, flour, chopped almonds and lemon zest in a medium-sized mixing bowl. Add the cubed butter and mix it together with the flour using your fingers. The finished mixture should resemble coarse breadcrumbs. (You may have a few larger pieces of butter and that is okay)
Cover the fruit with the crumble mixture, spreading it out evenly over the top. Drizzle 1 tablespoon honey in a lattice pattern over the crumble.
Bake in the center of the oven for 40 minutes, or until the crumble is golden brown. Serve warm. This is excellent with some vanilla ice cream or crème fraiche!