Written for Edible Santa Barbara - Winter 2014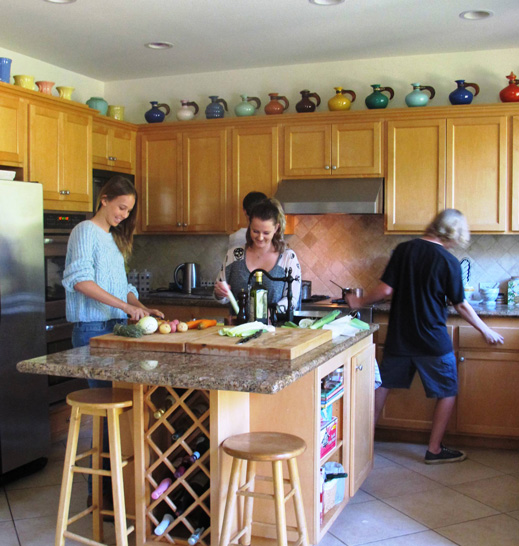 Michael Pollan, author of The Omnivore's Dilema and Cooked said 'We do find time for activities we value, like surfing the Internet or exercising... the problem is we're not valuing cooking enough. Who do you want cooking your food, a corporation or a human being? Cooking isn't like fixing your car or other things it makes sense to outsource. Cooking links us to nature, it links us to our bodies. It's too important to our well-being to outsource.'
Coming from a family that is PASSIONATE about food, where we all cook, all my uncles, aunts, cousins (male or female) brothers and parents, I admit that I find it odd that one wouldn't cook. When I started researching this article I did not anticipate the wide range of opinions that flowed in from friends and acquaintances on the subject of cooking for oneself, your family, and of kids in the kitchen. By kids, I don't mean those under 10 for whom baking cakes and cookies, making pancake breakfasts or pizzas from scratch hold some kind of magical appeal, and are always eager to help. No, the 'kids' I am referring to are those on the brink of venturing out into the world and those who are on the eve on reaching their third decade. My question — posted in various forms of social media and in the forms of emails — was simple: Do your teenage children cook? Can they make a meal for themselves? If they do, what do they like to cook?
The answers I received ranged from "can't cook, can't clean and has no interest', to 'my daughter decided to make an entire meal from Thomas Keller's cook book last week!' and all points in between. There were many, many, though who did not cook at all and saw no necessity in learning. I was surprised by this as I view cooking as an essential life skill. I quickly realized that many people do not hold this to be true—as I was told in a very energetic fashion by a non-cooking friend of mine—"I feed myself perfectly well without being able to cook!"
This simple question produced some pretty strong answers: "It's not an essential skill" or "Kids with no interest in cooking can survive without knowing how to cook" and, "My kids don't have time to cook, they're too busy with their school schedules and after school activities – they can learn later" and, "I think it's important but in today's environment it's not essential," on the other hand, "It's absolutely an essential skill, one you cannot live without," or "all my children know how to cook – I don't understand why you wouldn't". These passionate comments and some rather energetic discussions held around, what else, the dinner table, led me to do some more research.
There are multitudes of websites and books that tout the benefits of children and young adults knowing how to cook; everything from building one's self-esteem, encouraging you to try new foods, connecting with your family around a table with no intrusions from the outside world, saving you money, keeping you healthy and being creative.
However, it seemed that the very people this research was aimed at, were not asked what they thought themselves. When I posed the question of my two teenage children (aged 17 and 14) they answered 'Absolutely essential so that you can be independent. You won't always have someone there who can cook for you!' (the 17-year old) and 'not if I can help it, unless it's chocolate cake or shortbread!' (the 14 year old). Some teens I spoke to seemed to have an ambivalent attitude. They liked the idea of it, but not the effort. They know they should make better food choices but often grab what's easy and close to hand, pre-packaged and preferably salty or sweet. Asked about making salads or cooking vegetables, one young man said "I don't like green things, I hate broccoli but spinach is okay I guess. I usually close my eyes and hope for the best when I find it in a dish!' Many liked baking, but not the cleaning up part. I was feeling a little despondent – where were the future budding cooks? Are we destined to have a generation of non-cooking, micro-wave-food-zapping-eating-while-walking teens on our hands?
I think not. I came across a website all about cooking teens with engaging writing, enticing them to try – amongst other things – kale! In the mood for something salty and crunchy that's fresh and crispy too? How about kale chips … that you make at home. We hear you laughing from here. Kale? As a chip? Yes, ye of little faith. Turns out that if you prep it right, the curly green collection of cruciferousness crisps up after barely 10 minutes in the oven. And if you season it right, well, let's just say that our testers (a teenager who doesn't care for cruciferous veggies, particularly when they're cooked, and his mom, who really appreciates a nice chip) polished off what amounted to an entire bunch of kale, scarfing down the chips the way some people (not us, of course…) shovel in popcorn at the movies. www.cookingteens.com My daughter tried them. They were a hit. Perhaps getting my son to eat a green vegetable might not be so hard after all.
I think that Mark Bittman said it best in Cooking Solves Everything: "When people make food a priority in their lives, they actively contribute to society. Cooking can change our collective lives for the better. It can even change the planet for the better. And this is not hyperbole. In reality, being able to feed yourself (and your near and dear) is a simple and satisfying act at the core of our humanity. Spending time in the kitchen demonstrates our independence, self-reliance, and self-determination as a species. So it's hard to understand why we would willingly give all that up for a box of (insert name of instant dinner in a box here)."
When I was a kid at home we had a rule - cooks don't wash up – which was fantastic, as I couldn't stand doing the dishes. Perhaps that helped encourage me to be adventuresome in the kitchen. I know that some of my early creations were binned, tossed away as inedible (a rather hideous vinaigrette made with cottage cheese comes to mind), but I was always encouraged to try again, even when I used nearly all the pots and pans in the kitchen.
So after all this ruminating and questioning, when it came down to cooking basics and what they (the kids) would like to know how to cook, if they had to or preferably want to, these were some of the dishes they asked for. They all agreed that they should be simple and quick, with few pots, pans or utensils for easy clean up.
I think I'm going to encourage my kids to have fun in the kitchen … and yes I'll do the dishes!
Creamy Scrambled Eggs
Serves 2 people
4 eggs
½ tablespoon butter
Salt and pepper
Crack the eggs into a small bowl and whisk together well.

Place the butter in a small saucepan placed over low heat. Once the butter has melted, pour in the eggs. Whisk continuously until the eggs start to form soft curds. (This will take a few minutes and it's very important that you do not turn up the heat – your patience will be rewarded.) Keep whisking until the eggs are just cooked through, they should look wet when you remove the pan from the stove.

Season with salt and pepper to your liking at the end. Serve with buttered toast.

Penne Pasta and Cheese
Serves 4 people
1 lb penne pasta
2 ½ oz butter (5 tablespoons)
3 oz flour
2 cups milk (warmed)
6 oz grated Cheddar or Gruyere cheese
4 slices ham or prosciutto – cut into small pieces (optional)
Salt and pepper
Fill a large saucepan with water and bring to a boil. Add the penne pasta and cook until al dente – just done. Check the cooking time on the pasta package (usually 8-10 minutes) Drain the pasta and set it aside in a large bowl.

Return the saucepan to the stovetop, placed over medium heat and add the butter. Once it has melted, add the flour and stir vigorously to create a thick paste. Once the flour is fully incorporated into the butter (about 3 – 4 minutes) add a little of the milk, whisking continuously. The mixture will still be very thick. Gradually pour the rest of the milk into the saucepan, whisking vigorously all the time, until all the milk is incorporated, creating a creamy sauce.

Add the grated cheese to the sauce and stir until the cheese has melted – a minute or two. If you are using the ham or prosciutto, stir it into the sauce now. Season with salt and pepper to your liking.

Add the pasta back into the saucepan and mix together. Serve immediately.
Roasted Chicken, Vegetables and Potatoes
Serves 4 people
1 large yellow onion – peeled, halved and sliced
4 whole chicken legs
3 large carrots – peeled and thinly sliced
2 large zucchini – rinsed, halved and sliced
1 lb small potatoes – rinsed and halved
Olive oil
Salt and pepper
4-5 springs fresh thyme (optional)
Preheat the oven to 400 degrees.

Place the chopped onion into the bottom of a medium sized oven-proof dish (a Pyrex dish or small roasting pan works well). Place the chicken legs on top of the sliced onions. Place all the vegetables over and around the chicken legs. Add the thyme to the dish if using.

Drizzle a little olive oil over the top of the chicken legs and the vegetables. Sprinkle a good pinch of salt over the top and 4-5 grinds of black pepper.

Place in the center of the oven and roast for 1 hour, turning the chicken legs and vegetables over a couple of times during that time. Serve hot.
Simple Mixed Green Salad
Serves 4 people
2 teaspoons Dijon mustard
3 tablespoons olive oil
1 tablespoon cider vinegar or other light vinegar of your choice
Salt and pepper to taste
8 oz mixed salad greens
Place the mustard in a large salad bowl. Slowly drizzle in the olive oil and vinegar, and whisk until the vinaigrette resembles the consistency of a light mayonnaise. Add salt and pepper to taste. Place salad servers over the vinaigrette.

Add the mixed greens to the salad bowl, on top of the servers. When you are ready to serve the salad, toss the salad so that all the ingredients are well combined.
You can make all sorts of variations of this salad by adding feta cheese, sliced apples or sliced almonds to the salad for example.
One pan, flourless chocolate cake
Serves 8 people
8 oz dark chocolate – chopped into small pieces
8 oz unsalted butter
6 oz sugar
4 eggs – lightly beaten in a small bowl
Cocoa Powder
Preheat the oven to 325 degrees. Line a small square, or 8" round cake tin, with parchment paper.

Place a medium-sized saucepan over low heat. Add the chopped chocolate and butter, and cook, stirring frequently until completely melted and smooth. Add the sugar to the chocolate mixture and cook until incorporated and smooth once more.

Remove from the heat, let the mixture cool down for at least 5 minutes and stir in the beaten eggs. (If the chocolate is too hot the eggs will scramble)

Pour the cake mixture into the prepared cake tin. Place the cake in the center of the oven. Bake for 30 minutes or until the cake is firm to the touch.

Remove the cake form the oven, let cool for 5 minutes and then invert it onto a cake plate. Remove the cake tin and parchment paper. Let cool for 20 minutes before dusting with cocoa powder. Serve with crème fraiche or vanilla ice cream, or both.

Note: It will still be very moist so that a knife inserted will not come out completely clean.