Written for Edible Santa Barbara - Spring 2011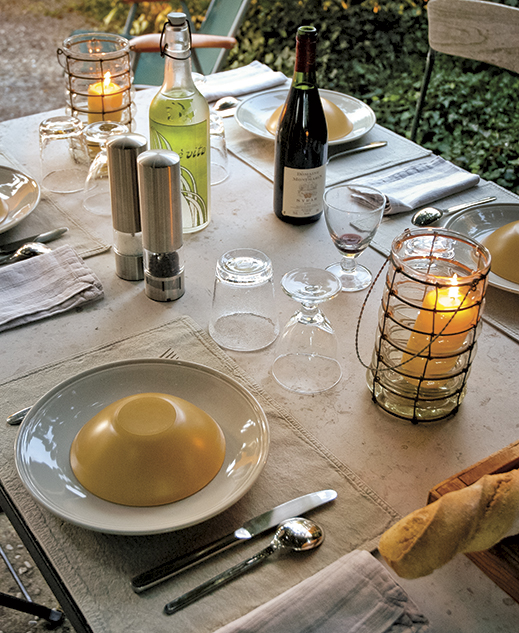 My French Grandmother, Geneviève Fay, kept a very formal household and meals there were – even on the simplest of days – fairly grand affairs. Each guest would use a minimum of three plates, two glasses, two knives, three forks and a spoon. More formal occasions necessitated a battalion of silverware to be lined up across her pristine tablecloths.
As a young child I was taught how to lay tables for different occasions, the placement of different pieces, calligraphy for place cards and the delicate art of how to seat ones guests. A very ridged hierarchy ruled when it came to whom sat next to whom. Seating arrangements in France and in many Latin countries dictate that to be seated in the middle of a rectangular table are the places of honor as opposed to the head of the table in the US and the UK. She orchestrated all of this with the elegant ease of someone who has dined in this manner for her entire life. I reveled in it, and in the grand tables, the cupboards full of etched porcelain and heavy linens. There was something enchanting, celebratory and imposing about this.
Even her picnics were majestic. We would drive around the countryside, find a suitable spot and in a relatively short period of time, a bucolic scene would unfold as the car would disgorge an inordinate amount of equipment, including tables, linens, folding chairs (for the adults), throws, baskets filled with pates, cheeses, wine, salads and fruit. Picnic silverware and linen napkins were de rigueur. I always felt as though I had stepped into a 20th century version of a Monet painting.
Life in London on the other hand, where I lived for most of the school year was less ceremonial, and although we did not use regiments of silverware; large dinner parties with friends and family were a regular part of our lives. Same idea, less formal, just as much fun.
So what is it about this gathering around a table that is so attractive and familial, and yet seems to have - in the space of one or two generations – almost disappeared from our daily landscape? Our schedules have certainly become more hectic. Children are often rushing from one after school activity to another and we all work. This daily gathering, so central to our lives twenty, thirty years ago, now occurs as little as once a week in many families, in some, not at all.
Much has been written about the effect of family dinners: that eating together more than four times a week has a direct correlation between better educational scores in children; a reduction in drug and alcohol abuse in kids; and the fact that people who dine together tend to have better nutrition than those who don't. But putting aside those facts, it appears that the very essence of dinner; this shared communion both in terms of food and ideas, has become, for many people, something of a relic. It's an occasion trotted out once or twice a year, for Thanksgiving, birthdays and the holidays perhaps. Why? It is too much work? Too complicated?
A meal in the traditional sense is akin to a good book. Its introduction entices you. As with a novel that makes you want to turn the page; the first course of a meal holds the promise of the culinary story that's about to unfold. The dish will stimulate your appetite and your curiosity.
As with a novel's core, where the central characters and plot are developed, the main course is the foundation upon which the entire meal was built. Flavors are layered and senses satisfied.
Dessert is the culmination of the gustatory journey. Where the novel's plot is revealed, the diners reward is something delectable and sweet.
Julia Child once wrote, "You don't have to cook fancy or complicated masterpieces - just good food from fresh ingredients." So do all meals have to hold to this traditional format to qualify as a dinner? I like to think that the food you share with friends need not be an elaborate production, nor, in some cases, necessitate a table.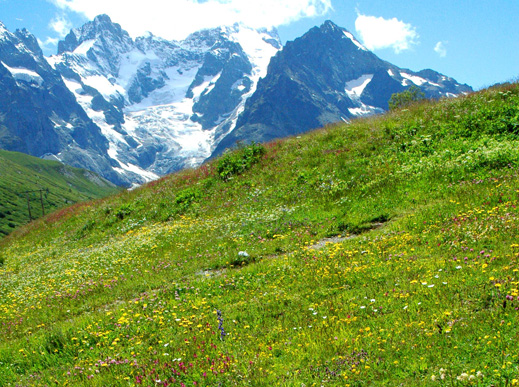 I spent many summers in France hiking in the Alps. We would often leave before dawn to arrive at the trail head at first light. We would walk in the crisp mountain air up to our favorite alpine lakes. After hours of rambling through mountain gorse and clambering over the steep summer goat tracks we would arrive at our destination and find a suitable spot to rest and have lunch before trekking back down. Propped up on a rock we'd unpack rucksacks. Lunch would consist of fresh baguettes (halved and slathered with butter earlier in the morning) filled with slices of ham. Tomatoes, hard boiled eggs and a good piece of gruyere were also on hand. Out would come a trusty Opinel mountain knife to cut the ingredients. Eggs were cracked against a convenient rock. We'd each find a suitable perch and eat together amidst the ancient silent splendor of those alpine valleys, retreating glaciers glistening above us.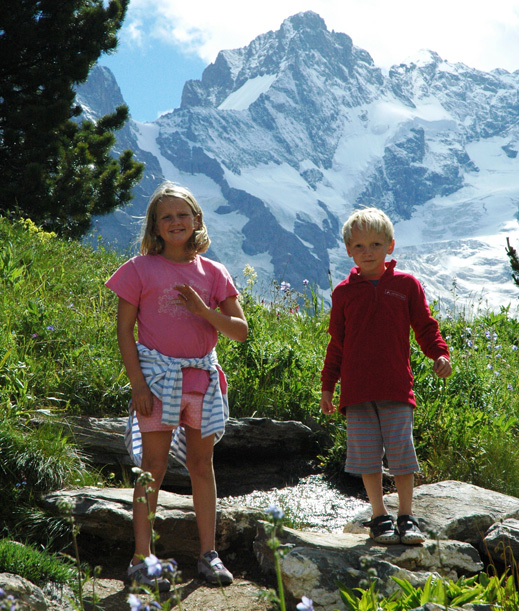 This was not a meal in the traditional sense, but one filled with rituals passed down through the generations. Dessert was always the promise of a tongue-staining blueberry tart available in the mountain chalet at the bottom of the valley. We'd arrive tired, take off our dusty boots, dip our feet in the freezing alpine waters of a nearby stream and revel in the day. A meal spread out over a few hours and a few thousand vertical feet, but a meal nonetheless.
From a mountain top to an elaborate dining room, meals and their accompanying rituals can vary greatly but they need not be overwhelming, nor do they need to be dinner. A friend of mine, frustrated by the myriad after- school commitments of her many children, decided that breakfast would become the family meal each day. This was their time to connect with each other around plates of scrambled eggs, glasses of orange juice and cups of coffee.
The French diplomat, Charles Maurice de Tallyrand said, "Show me a another pleasure, like dinner, which comes every day and lasts an hour." Whatever the time of day, or the place, even if it's just for thirty minutes, a meal shared, with its accompanying rituals, free of TVs, cell phones, text messages and iPods is surely a pleasure worth fighting for.
FRESH PEA SOUP
Serves 8 people
6 shallots – peeled and thinly sliced
3 spring onions – ends trimmed and finely chopped
1 bunch chives – very finely chopped
4 cups fresh peas
5 cups vegetable stock
1 teaspoon coarse sea salt
Fresh black pepper to taste
Place the olive oil, shallots, spring onions and chives in a large saucepan and cook over low heat until the onions are translucent.
Add in the vegetable stock, salt and some white pepper and bring to a strong simmer. Add in the peas and cook for 2-3 minutes or until the stock has returned to a strong simmer. Remove from the heat.
Let the soup cool a little before pureeing it with an immersion blender or in batches, in a blender or food processor. Be careful when you do this in a blender as the lid can sometimes pop off if you have overfilled the blender.
Once the soup is thoroughly blended, return it to the saucepan to keep warm until it is time to serve.
To serve the soup, place a cupful in warmed soup bowls, add a dollop of crème fraiche in the center of the soup and garnish with the tomato mixture below.
For the garnish:
¼ cup crème fraiche
2 tomatoes – seeded and chopped
1 tablespoon freshly chopped basil
1 teaspoon freshly chopped thyme
1 teaspoon freshly chopped oregano
1 teaspoon olive oil
In a small bowl place the diced tomatoes, basil, thyme, oregano and oil. Combine the ingredients and set aside until ready to serve. See item 4 above.

PROVENCAL LEG OF LAMB
Serves 8 – 10 people
1 whole leg of lamb, bone in and trimmed of almost all the fat.
7 – 8 cloves of garlic, cut in half and the green kernel removed
olive oil
Herbs de Provence
2 or 3 branches of fresh rosemary
salt and pepper
1 cup red wine
1 teaspoon Balsamic vinegar
1 tablespoon cold butter
Preheat the oven to 425 degrees.
Place the leg of lamb in a large oven-proof dish, rubbing olive oil all over it.
Using a sharp knife make small incisions all over the leg of lamb, approx. an inch deep and evenly spaced. Insert a sliver of garlic into each hole.
Sprinkle a large handful of the Herbs de Provence over the meat so that it evenly covers the roast. Add the fresh rosemary sprigs to the roasting pan around the lamb and add one or two sprigs on top of the lamb too. Sprinkle the lamb with some salt and pepper just before putting the roast in the oven.
Place the roast in the middle of the oven and cook for 15 minutes. Lower the temperature to 400 degrees and roast for another 1 hour and five minutes (for a total cooking time of 1hr 20mins.) This is the timing for red meat – if you would like your lamb a little less pink add 10 minutes or so. Once the roast is cooked, remove it from the roasting dish and let it rest for at least 10-15 minutes before carving it. When you are ready to serve the lamb, slice the roast thinly and evenly.
While the lamb is resting, pour off any excess fat from the roasting dish and then deglaze the pan with some red wine. Bring the liquid to a boil and scrape up any bits stuck to the bottom of the roasting dish and let the mixture reduce by half. Add the teaspoon of balsamic vinegar and then lower the temperature and let the mixture simmer. Just before serving add a tablespoon of cold butter to the sauce.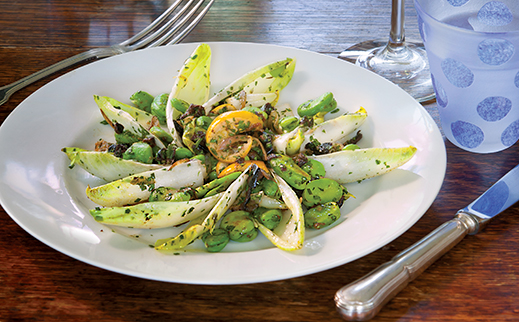 ENDIVES SALAD WITH FAVA BEANS AND HERBS
Serves 8 people
For the vinaigrette:
2 tablespoons olive oil
1 tablespoon lemon olive oil
Juice of 1 Meyer lemon
1 tablespoon crème fraiche
Salt and pepper
For the salad:
8 endives – leaves peeled away and left intact – roughly chop the core
4 shallots – peeled and thinly sliced
2 lbs fava beans – both layers peeled away. Once peeled, sauté the fava beans with the shallots in a little olive oil for 3 minutes and set aside
1 crunchy sweet apple – cored and thinly sliced
½ cup black Provencal olives - pitted and roughly chopped
½ bunch chives – finely chopped
2 tablespoons fresh parsley – finely chopped
1 tablespoon fresh cilantro – finely chopped
1 tablespoons fresh dill – finely chopped
1 Meyer lemon – ends trimmed away and then very thinly sliced
Place all the vinaigrette ingredients in a salad bowl and whisk together. Place serving utensils on top of the vinaigrette and then place all the salad ingredients on top of the utensils. When ready to serve, toss gently so that the endive leaves stay intact.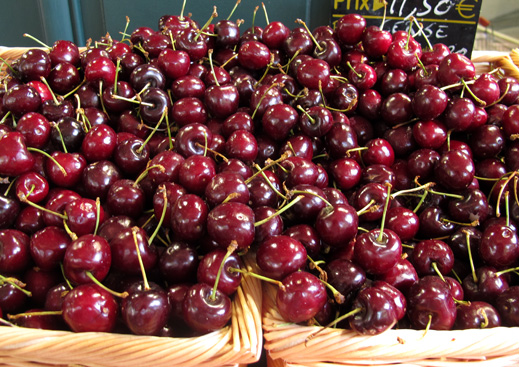 CLASSIC CHERRY CLAFOUTIS
Serves 8 – 10 people
3 cups milk
8 oz sugar (1¼ cups)
1 vanilla bean split lengthwise or 1 teaspoon pure vanilla extract
3 oz unbleached all-purpose flour (2/3 cup)
5 large eggs
2 lbs cherries - pitted
1 tablespoon Cognac – optional
Preheat oven to 400 degrees
In a medium sized saucepan heat the milk with the sugar and the vanilla bean or vanilla extract. Stir until the sugar has completely dissolved. Remove from the heat and set aside.
In a separate bowl place the flour and then whisk in one egg at a time. You should have a completely smooth batter. Slowly stir in the milk mixture. The batter should be very liquid but free of any lumps. Set aside.
Place the cherries in a shallow round baking dish and add the Cognac (if using). Toss with a spoon until all the pieces are coated.
Pour the batter over the fruit and fill the baking dish.
Place in the center of the oven and bake for 45 minutes. The Clafoutis is done when you giggle the pan and it is set. The top should appear golden brown. Serve at room temperature. This dessert is also great the next day.