Written for Edible Santa Barbara - Autumn 2017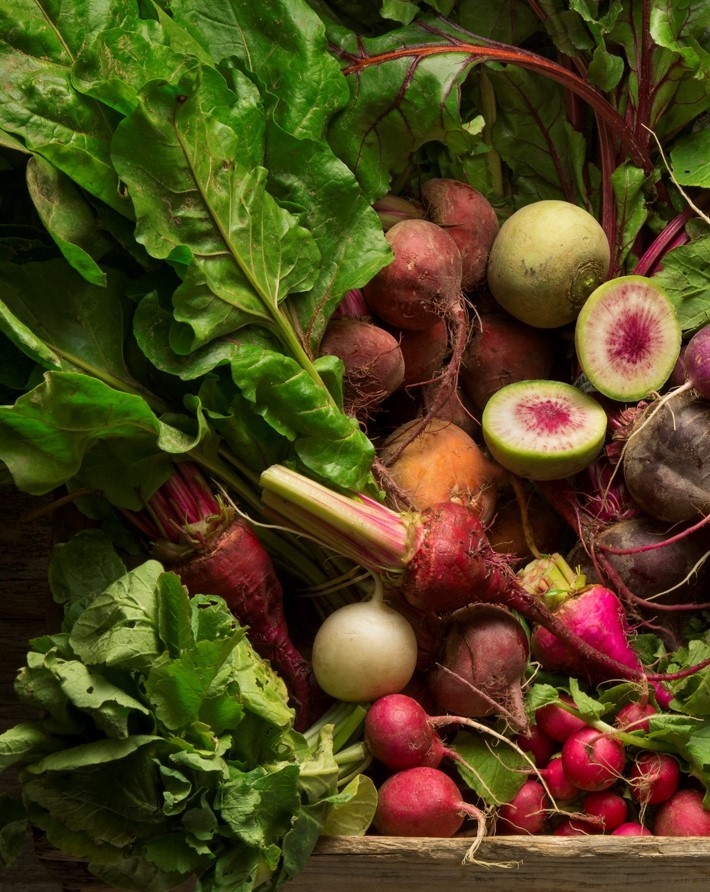 My favorite days, wherever I find myself in the world, be it California, London or Provence – the places I call home – are market days. I eagerly anticipate them. I love to meander from stall to stall, to linger, to smell, to taste, to soak up the atmosphere unique to each locale, to chat with friends, talk with farmers about their latest harvest and strike up conversations with passersby. Season after season, these farmers markets stir my creative juices and literally nourish me, body and soul. My rhythms of the seasons are punctuated by my visits to the farmers market.

For some, winter markets seem tedious, an uninteresting parade of little more than Brussels sprouts, potatoes and onions. While those vegetables are certainly abundant during this season, there are so many more fantastic choices, such as vibrant winter greens, watercress and rainbow-colored chard, and so many creative ways to transform even the stodgiest of dishes. I also love the fruits of the season – blood oranges, persimmons, pomegranates and Meyer lemons – and how they enhance the vibrant color and freshness of rich carrot purees, brighten a roasted acorn squash salad, or transform a simple cauliflower into a curried soup piled high with lemon scented crispy shaved Brussels sprouts. I like, too, how they perfume, enliven and complement winter vegetables and bring a tangy freshness to otherwise traditional winter comfort foods.
After a long cool winter, I often crave not only some warm sunshine – yes, even in California – but spring vegetables with their crisp, bright, herbaceous flavors. I have always felt as though, after months of hibernation, the earth has awakened and decided to shower us with a multitude of delicacies, each one fresh, invigorating and tempting, prompting a type of visceral spring fever.
I admit I tend to go a little overboard at the market when I spy the first of the season's small purple artichokes and freshly picked spring asparagus; that I will go plunging into a pyramid of peas, or lust after luminescent fava beans and pea sprouts; that I gather up baby zucchini with bright yellow flowers by the basketful; and pick an abundance of fresh herbs and bouquets of basil — lemon-scented, Thai and purple. Is there anything better than filling your market basket with these eye-popping vegetables, then coming home, preparing them, and cooking them in a multitude of ways or simply drizzling them with a fruity olive oil and a pinch of coarse sea salt?
Just when I think the markets cannot get any better, summer vegetables come bursting to life, and the farmers market tables groan under the weight of magnificent heirloom tomatoes, plump purple eggplants, colorful whimsical pattypan squash, multi-hued haricots verts and sundrenched corn. It's food that makes me want to dine outside, to have barbecues, picnics and languorous afternoons on the grass while eating bowls of bright salads and grilled vegetables accompanied by a cool tzatziki, some freshly baked bread and some cheese.
Then, as the days grow shorter, the leaves turn golden hues, and a chill creeps into the nighttime air, my thoughts turn naturally to the autumnal dishes that comfort me. It's time for big bowls of soup made from sculptural autumnal squashes and roasts with masses of the root vegetables I find piled higgledy-piggledy on market tables. It's a time for risottos with wild mushrooms and spiced tagines with parsnips, pumpkins, onions and multi-colored carrots. I always think of the autumn as a time of gathering – a bringing together of family and friends, a harvest of sorts, a reaping not only of autumnal crops, but of the year's hard work before we settle in for the winter months.
It is also the time of year for the feast-to-end-all-feasts: Thanksgiving. In the years since I have called California home I have embraced this tradition above all others. I adore this holiday. What could be better than a daylong celebration about food!?
I have to admit that in the thirty or so years since I have been preparing this meal, I have come to appreciate, dare I say it, all the side dishes more than the turkey. Last year I suggested that we have a feast entitled 'everything but the bird' only to be met with vigorous opposition. I notice however that all the accompanying dishes have taken on greater prominence and multiplied. Whereas in the past I may have made one salad, now we'll have two or three, perhaps a salad with golden, crunchy fuyu persimmons, one with roasted root vegetables such as parsnips, and one with roasted kale, dates, pecans and packed with herbs. Last year we made not one, but three different types of carrot puree whose colors reflected the carpet of leaves falling from the trees outside. I made grilled Brussels sprouts, mashed potatoes with celeriac and crème fraiche (a nod to my French roots) and stuffed acorn squash. The abundant meal fed everyone for days which was (and is) part of its pleasure. The weekend was filled with long walks, afternoons making puzzles, reading books and delving into the fridge for a tasty morsel. One night I made a large pasta dish using up all the remaining stuffing and vegetables as part of the sauce – delicious!
As we head into Autumn once more, I'm looking forward to ambling through the weekly markets in the months to come, to discover a hidden gem, possibly a new apple or squash variety, and to planning, testing, and tasting innovative dishes for this year's feast, with a new soup, salad or gratin perhaps. This is part of the fun, the enchantment that comes from foraging for ideas amongst the market tables. Happy hunting and bon appetit!
Silky Cauliflower Curry Soup with Crispy Shaved Brussels Sprouts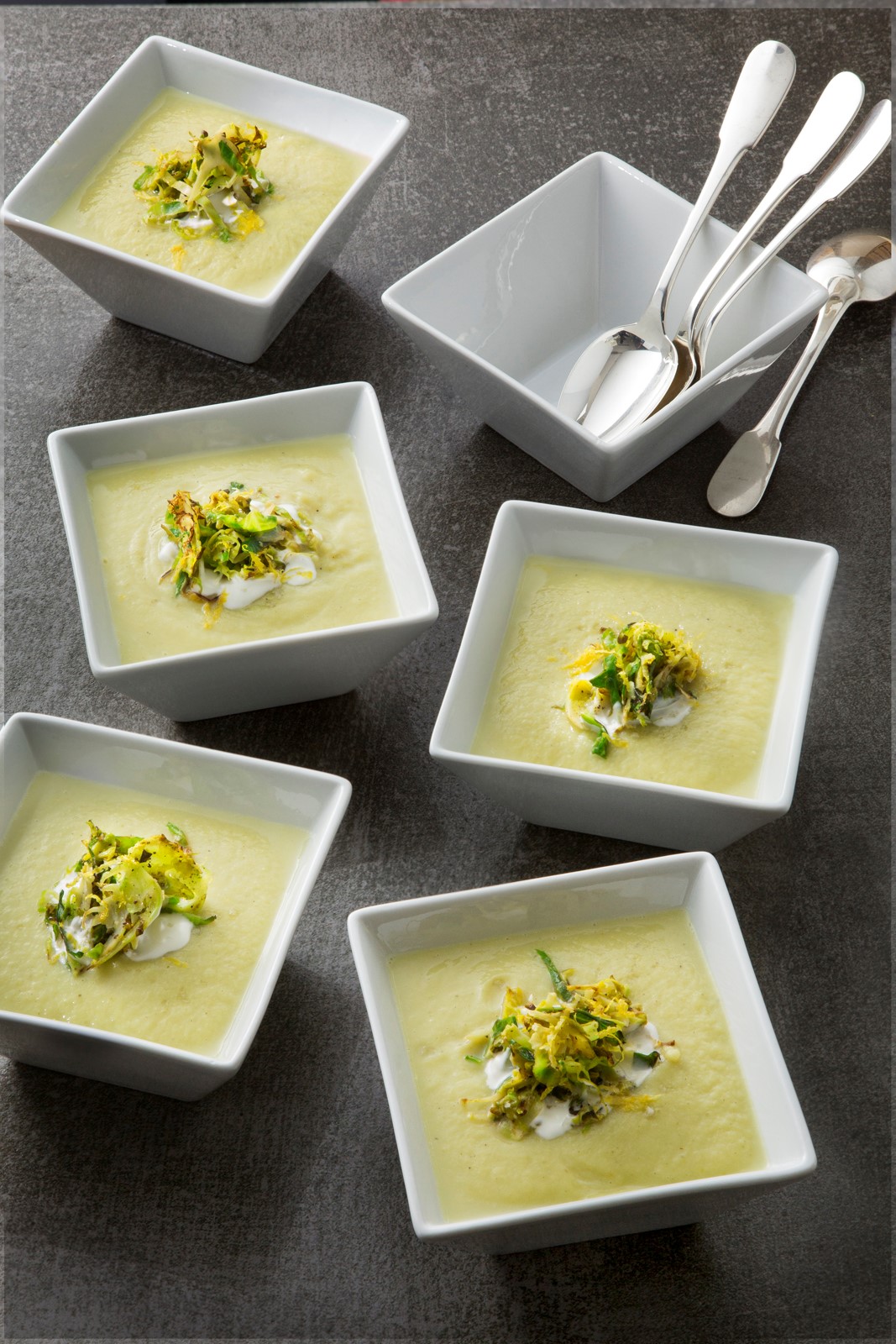 Cauliflower is a versatile vegetable that lends itself to all manner of preparations--everything from shaved raw or roasting whole, to being grated for "risotto" or blended for soups. It also absorbs flavors well, but one must be careful not to overpower it with too strong a spice or herb. Curry is a perfect complement to cauliflower, and in this soup, it creates a fragrant backdrop for the pureed vegetables. I like to serve puréed soups with a little garnish that provides texture. In this instance, it's the Brussels sprouts which add a little crunch and a lovely earthiness to the gentle, sweet flavor of the cauliflower.
Serves 8 people
For the soup:
2 tablespoons olive oil
1 large yellow onion — peeled and finely chopped
2 leeks — ends trimmed, cleaned, white and light green parts finely chopped
1 tablespoon curry powder
2 heads cauliflower (2 lbs each) — core removed, separated into florets
8 cups vegetable stock
Salt
Pepper
For the Brussels sprouts:
Olive oil
1 lb Brussels sprouts — finely sliced using a mandolin
2 tablespoons finely chopped chives
Zest of 1 lemon
Salt
Pepper
1/3 cup crème fraîche
Pour the olive oil in a large saucepan over medium heat. Add the onion, leeks and curry powder and cook for 4-5 minutes, stirring frequently until the onions are softened. Add the cauliflower, a good pinch of salt and 10-12 grinds pepper, and continue cooking for 2 minutes.
Add the vegetable stock to the saucepan and simmer until the vegetables are tender, about 20-25 minutes. Remove from the heat and purée the soup using an immersion blender. For a smoother texture, pass it through a fine mesh sieve. Cover and keep the soup warm until ready to serve.
Pour a little olive oil into a medium skillet over medium-high heat. Add the Brussels sprouts, a good pinch of salt and 4-5 grinds pepper. Cook, stirring frequently until the sprouts are golden brown. Add the chives and lemon zest and toss to combine.
Serve the soup in warmed soup bowls. Place a dollop of crème fraîche in the center of each bowl and top with a spoonful of the crispy Brussels sprouts.
Written for Edible Sanata Barbara - Summer 2017
My father's motto 'Always leave room for dessert'
I grew up in London. Damp, cold, wet London. The long-awaited arrival of summer and less inclement weather caused the local population to flood outdoors to local parks and expose their pale, vitamin D deprived bodies to the sun's rays. We were no exception. With the first hint of a blue sky and vaguely warm weather we would rush across Hampstead heath, have a picnic and cavort in the grass, rolling down hills, flying kites and sailing small boats on the local ponds. These activities were only interrupted by the clarion call of the ice cream van's jingle that summoned all the children in the park like the pied piper, all of us running full tilt to get there first, clutching pennies in our sticky hands to buy iced lollies with fantastic names such as Orange Kwench, Fab and Zoom; the last, a three tied, multi-flavored, rocket-shaped concoction that stained your tongue bright red. This was how we knew summer had nearly arrived.
British school holidays began in the third week in July. Then, for six glorious weeks, we would escape across the Channel to France and head south. My brother and I would be crammed in the back of my parent's convertible as we drove through the winding roads of Provence, top down, sun blazing, sunglasses on, as the Beach Boys were waxing lyrical, at full volume, about the joys of Surfin' USA on the car's eight track tape…
If everybody had an ocean
Across the U. S. A.
Then everybody'd be surfin'
Like Californi-a ….
This was the sound of summer; Nancy Sinatra sang about her boots, the Beatles took us on journey in a yellow submarine and Van Morrisan sang about his Brown Eyed Girl. These were the sounds that drifted through the warm breeze in the afternoon as we came in from the sun, sand still on our feet for an afternoon siesta, and these were the tunes that would accompany us as we drove to get the best of all summertime treats – magnificent ice cream. We discovered ice cream unlike any we had tasted before. Vanilla ice cream that was delicately scented and flecked with the telltale signs that real vanilla beans had been used and left a lingering sweet, creamy taste in one's mouth, pale pistachio ice cream that capture the essence of that nut, and lemon sorbet's so tangy they made your mouth pucker and your eyes to squeeze shut.
As years passed, the sound of summer included Petula Clark, The Rolling Stones and Mongo Jerry singing about what he did In the summertime, and we kept on a quest to find the best ice cream we had ever had. If chocolate and vanilla were the benchmarks by which we tested and compared each establishment, it was ice creams made with fresh fruit that reflected the mastery of the ice cream maker.
In a small village on the Mediterranean we finally found the acme of ice cream shops. It was a miniscule establishment tucked away down a narrow alleyway that led to the harbor. We'd actually have to stand in the alleyway so "shop" might be a bit of an exaggeration. The owner would roll up the metal shutters, maneuver the refrigerated display case to the front of the shop and edge behind it in order to serve his customers. He was a magician when it came to ice cream, particularly those made with fruit. They exuded the very essence of the ingredient. His cassis ice cream was nothing short of miraculous in its depth of flavor. Summer after summer, we would walk down the alleyway, with snippets of music floating on warm wisps of air from a Summer Breeze to Bob Marley who had us Jammin on our way to this teeny place to taste new creations filled with peaches, nectarines, raspberries and blackberries.
Many years later, I introduced my children to the ice cream man. Each had their favorites. My son, chocolate of course, my daughter strawberry, and I would delve into his slightly tangy ethereal blackcurrant gem. We would stroll along the harbor walls, ice cream melting as we looked out over the boats, to the sound of Pharrell Williams encouraging everyone to Be Happy blaring out from a local bistro.
It became our summer ritual. When oldies came on the radio, they would scream in embarrassment as I would sing Got to Give it Up a la Marvin Gaye perhaps, then all would be forgiven as we headed to the ice cream man. You can understand our dismay then, when on our last visit to this little village, thinking of nothing else than THAT ice cream, the little emporium had simply vanished, a gaudy jewelry shop in its place. This was tragic. We stood bemused, unsure where to go and what to do. Thankfully the old shop owner had imparted a soupçon of his technique during our many discussions over the years. Basically it came down to combining a purée made with the finest fruit available and wondrous cream. I returned home and vowed to make the best ice cream I could, keeping his principles in mind. The plum ice cream (below) is the result of those experiments.
If ice cream was one part of the taste of summer, fruit was the other. This was (and still is) the time of lush peaches, one bite of which would release a bracelet of sweet juice running down your arm, of fragrant strawberries, of luscious, fat, ripe figs, and of Cavaillon melons whose honey sweetened flesh tasted of the ripest apricots. Summer desserts tended to revolve around what we could pick, often, it was just a simple piece of fruit, or perhaps, on special occasions, fruit and ice cream, and, if you were at my grandmother's house, fruit and crème fraiche, or perhaps a clafoutis or tart. The essential ingredient was the berry or stone fruit at hand. We made jams, jellies, and canned fruit for the winter from everything we picked in her garden. After weeks soaking up the sun, my brother and I would return to London to start another school year, carefully bringing back a jar or two of our grandmother's favorite jams. For a month or so afterwards we would savor the essence of the season encapsulated in those canning jars, the jam would rarely last longer than that.
I recently ate a nectarine which transported me back to those childhood summers. It was a perfect pale white and pink sphere. As I took a bite, time compressed in an odd Harry Potter-like time-tuning way, and I was whisked back to my grandmother's tiled kitchen, pots bubbling on the stove as she crafted her preserves, then, in a kaleidoscope of images I was carried at warp speed to London and a series of classic desserts popped into my head, strawberries and cream, lemon possets, summer pudding and syllabubs. Funny how the taste of something can trigger such instant memories, and in this case a desire to recreate one of those dishes.
A syllabub. Don't you love that word? It sounds like something that came out of a novel by Dickens or Jane Austen. I found this historical tidbit whilst searching the term. Peek inside the Universal Cook: and City and Country Housekeeper, written in 1792 by John Francis Collingwood and John Woollams, cooks at The Crown and Anchor Pub in the Strand in London, and you will find three recipes for syllabub including this one, which is priceless: "A Syllabub Under a Cow. Having put a bottle of red or white wine, ale or cyder [sic], into a china bowl, sweeten it with sugar, and grate in some nutmeg. Then hold it under the cow, and milk into it until it has a fine froth on the top. Strew over it a handful of currants cleaned, washed, and picked, and plumbed before the fire." This whipped cream concoction has a touch of wine and sugar in it. It's pretty much the perfect match for any fruit, including nectarines. Most of all it's easy to make and utterly delicious.
If the taste of a piece of fruit can transport you, so can a song. One Sunday, not long ago, driving back to Santa Barbara, with a flat of rather extraordinary dark red, sweet strawberries from Ventura in the back of the car. I was listening to a 60s oldies station on the radio to much eye-rolling from my daughter, who immediately put in her ear buds to drown out all possible singing from me. As we rounded the long bay leading into Carpinteria watching the waves rolling on shore, the Beach Boys Surfin' Safari played. I cranked up the volume and belted out the song:
Let's go surfin' now
Everybody's learning how
Come on and safari with me
(Come on and safari with)
At huntington and malibu
They're shooting the pier
At rincon they're walking the nose
We're going on safari to the islands this year
So if you're coming get ready to go
and then it hit me…. MALIBU, RINCON… You mean to say that the song I sang as a child driving around France in the seventies is about the same beach I am driving by now! I was stunned. I stopped singing as the revelation struck me. I was living that sun-kissed Californian dream that I fantasized about when I looked out my rain-splattered windows in London, and my daughter was, is, well, a California Girl! I pondered this as we drove the rest of the way home. We were having friends over for a late lunch in the garden. I had planned to make a Pavlova for dessert, hence the strawberries. This dessert managed to combine my French and English childhood favorites into one, meringues, cream and fruit, a type of vacherin meets Eton Mess. It seemed oddly appropriate.
Plum Ice cream
Serves 8 people
1½ lbs plums
1 teaspoon rose water
4 egg yolks
5 oz sugar (2/3 cup)
1 pint (2 cups) heavy cream
Seeds from 1 vanilla bean, 1 teaspoon vanilla paste, or pure vanilla extract
1. Place a large bowl in the fridge to chill.
2. Blanch the plums for 1 minute in a saucepan of boiling water. Drain, peel and pit the plums. Purée the fruit with the rose water using a blender or food processor. Refrigerate the purée until cold.
3. In a medium-sized bowl, whisk together the egg yolks and the sugar until pale.
4. Pour the cream and vanilla into a medium-sized saucepan. Bring almost to a boil. Remove from the heat. Then whisk the cream, a little at a time, into the egg yolk mixture to make a custard.
5. Pour the custard mixture back into the saucepan and heat slowly, stirring continuously until the mixture coats the back of a spoon. The custard will be fairly thin at this point. Pour the custard into the chilled bowl and refrigerate until the mixture is cold.
6. When the custard is cold, combine it thoroughly with the plum purée. Using an ice cream machine, freeze according to the manufacturer's instructions.
Summer Berry Pavlova
Serves 8 people
4 egg whites at room temperature
Pinch of salt
8 oz (just under 1 cup) ultra-fine sugar ( you can make your own by proceeding the sugar in a food processor for 1 minute)
2 teaspoon cornstarch
1 teaspoon white-wine vinegar
Few drops of good vanilla essence or vanilla paste
¾ pint of cream
1 tablespoon sugar
2 pints strawberries, raspberries, blueberries and blackberries
1. Preheat the oven to 300 degrees and line a cookie sheet with parchment paper.
2. Beat the egg whites with a pinch of salt until satiny peaks form. Then beat in the sugar, a fourth at a time, until the meringue is stiff and shiny. Sprinkle the cornstarch, vinegar and vanilla over the whipped egg whites and fold in lightly.
3. Draw a 9-inch circle on a piece of parchment paper. Place the parchment paper on a baking sheet. Mound the meringue mixture onto the parchment paper, flatten the top and smooth the sides.
4. Place on the bottom rack of the oven and immediately reduce heat to 250 degrees and cook for 1 ¼ hours. Turn off the oven and let it cool with the door closed.
5. Whip the cream with the sugar until it holds soft peaks. Top the meringue with whipped cream and berries and serve.
Fun fact: On July 15, 1984, President Ronald Reagan signed a proclamation declaring July National Ice Cream Month, and called "upon the people of the United States to observe these events with appropriate ceremonies and activities."
Written for Edible Santa Barbara - Spring 201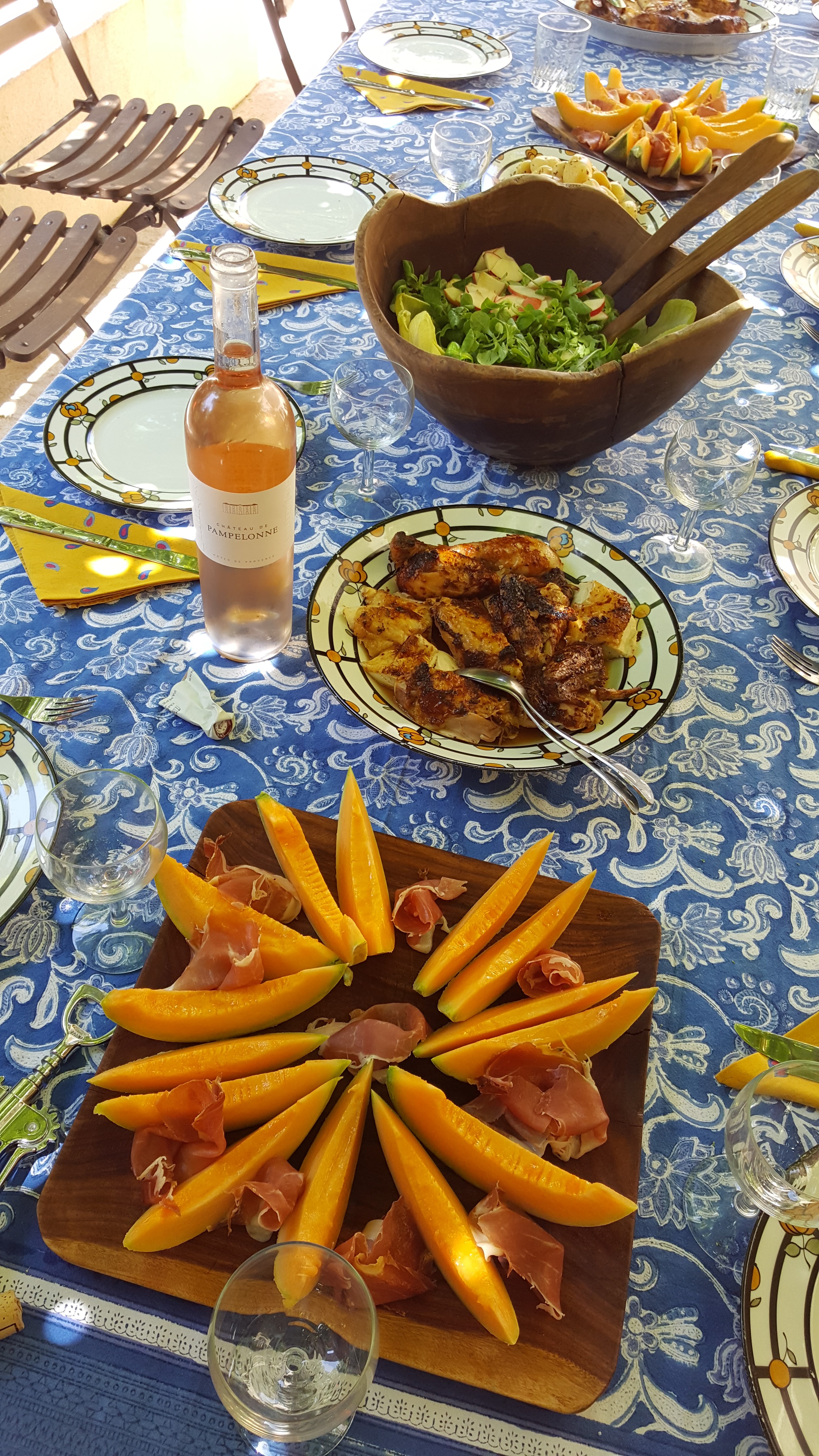 "Food without wine is a corpse; wine without food is a ghost; united and well matched they are as body and soul, living partners."
Andre Simon (1877-1970)
By the time I reached the grand age of eight, my grandmother finally deemed me old enough to prepare the table for a dinner party without constant supervision. I considered this a huge honor and set about the serious task determined not to make a mistake or have her correct the placement of a particular fork, plate or glass. My mother looked on indulgently. She knew, as I would soon learn, that my grandmother was incapable of inspecting the final table setting without making infinite little adjustments. She was a perfectionist in l'art de la table. For special occasions, she would bring out her hand-cut crystal glasses from the 1930s. Each would be polished until it glistened in the evening light and placed on large mother-of-pearl inlaid trays to be taken to the dining room where they would be aligned with regimental precision in front of each person's plate. Water glasses, white wine glasses, red wine glasses, glasses for dessert wines, glasses for port and glasses for digestifs. Each served a purpose. I was intrigued by the delicate balancing act of choosing the right wine to go in the appropriate glass, to compliment what was being served. She always planned her menus with the utmost care and the wines were chosen to enhance the dishes. I had to understand why!
The basic rules of wine pairing — red wines with meat, lighter reds with poultry, and white wine with fish — were quickly explained, but it seemed to me that there was a lot more to it than that. There were classic combinations, duck pate with Sauternes, port with stilton, a Bordeaux with red meat, but what should one pair with an endive salad, asparagus or fondue? A decade or so later I was hosting my own dinner parties and quickly learnt that not all red wines are created equal. I made some dreadful mistakes and often stood bemused in wine shops faced with daunting selections.
It was in fact only when I came to California that my understanding of wine and food pairing deepened as I tried to unravel a conundrum. Whereas in France and Italy many wines are blended, in California I discovered single varietals. This added a whole new dimension to food pairing. When going out for dinner I would hear someone ask for a glass of Chardonnay or Pinot, something I had never heard of as we asked for a Chianti, Burgundy or Bordeaux depending on what we were going to eat. So, what were the parallels? How was I going to navigate all of this? A quick review of old world regional specialties tied their equivalent (roughly speaking) Californian varietals: Burgundy and Pinot Noir, Bordeaux and Cabernet Sauvignon, Chianti and Sangiovese, Sancerre and Sauvignon blanc, Barolo and Nebiollo, Rhone valley wines like Chateuneuf-du-pape and Grenache, and so on. This general guideline helped for a while, but it required in-depth knowledge of the varietal make-up of different regions of Bordeaux for example (St.Emilion, Margaux, Pomerol to name a few) to find an equivalent here in California. One other important factor influenced these choices. Most 'old-world' wines were created to be enjoyed with food, which was not necessarily the case in California. I also found that wines had a much higher alcohol content here, wines that would knock your socks off, such as big cabs with 13.5 -14% alcohol, something rarely, if ever, seen in the Bordelais. They made for interesting and impressive wine tasting but hard to pair with all but the most robust red meat dishes.
At some point I realized that trying to match wines from Europe to a Californian counterpart was a disservice. Like many people I was wowed by these big wines, but I found that they overpowered a lot of the food I cooked. There had to be a way to break this down. My meanderings through different wine regions and their tasting rooms and through trial and error taught me that the flavor and structure of wine is influenced by, and comprised of, the fruit, sugar, acid, tannin and alcohol. Food also has similar flavor profiles — acid and sugar — with the addition of saltiness, fat, sourness and bitterness. The key to paring the two was finding a balance between those profiles. It was time to talk to the experts.
Once I moved to Santa Barbara and started teaching classes alongside winemakers and cheesemongers I discovered a consensus of opinion (in most cases) when pairing food with wine. I asked Karen Steinwachs, winemaker at Buttonwood Farm and Winery what process she goes through when paring wines for the classes we teach together for example? Her response "We release wines here seasonally, so it is almost a natural for food and wine pairing – for example, wild mushrooms are available right now and pair well with our Sta. Rita Hills Pinot Noir. I also tend to look at the richness of the dish and then think of texture, how acidic the wine needs to be to be a complement the dish, and to be complemented. So, a white Bordeaux blend (Sauvignon blanc, Semillon) would work well with seasonal spiny lobster for instance, whereas I would serve a crisper white or sparkling wine with oysters." Kathryn Graham, owner of C'est Cheese had similar comments "What grows together, goes together" as the old adage goes, "for example what could be more perfect than the triple crème Brillat-Savarin served with a glass of Champagne!"
Both Karen and Kathryn focused on the acidity in the wine to refresh the palate and complement the dish, in the same way that adding a burst of lemon juice will enliven and brighten flavors in ones' cooking. They both warned to avoid clashes, 'a light pinot or Beaujolais will get completely overpowered by a beef shank stew, conversely a hearty red with drown out a lemony filet of sole.'
I remembered some pretty dire pairings I had tried out with various salads and asked how they handled other notoriously difficult foods to pair wine with such as asparagus, anchovies, endives, fennel, curry, artichokes, sushi, miso and certain types of blue cheese. Karen replied 'Some really spicy foods (Curry), are great with Rosé, which is my go-to for a wine that gets along with so many foods. Like Thanksgiving, when you have a plethora of dishes including Aunt Martha's sweet potatoes with mini-marshmallows – there is no way to do a classic, this dish with that wine. I say bring out the Rosé!" A sentiment closely echoed by Kathryn who said 'It is easier to pair Rosés and white wines with food as you are not dealing with the heavy tannins in red wines. A rosé will complement a light roast chicken or a vegetarian dinner.' And added 'I also like to look for softer reds such as a Gamay, or crisp whites to pair with medium bodied and more delicate foods and cheeses, for example serving a bright, herbaceous Sauvignon blanc alongside goat cheese.'

I brought up those big reds and we discussed the issue of tannins and what effect they have on the palate. Karen provided a clear explanation 'Tannins are looking for protein, so they pair best with dishes with some fat. The drying sensation people get when having tannic wines without complementary food is because the tannins are attracted to the protein in our mouth(saliva), and therefore consume those, causing a drying sensation. So, big steaks, buttery dishes, even avocados work well with big, tannic red wines.' Kathryn and I also discussed the aging process of new world vs old world wines. She reminded me that the blended wines and longer aging process softened tannins, and was the reason why certain Bordeaux reds would pair well with a strong blue cheese whereas a young cabernet sauvignon would not.
In the end choosing a wine comes down to personal preference. I asked each of them if they had any absolute rules about pairings and both said no. They did add that there were things they didn't like together; neither one cared for chocolate with red wine for instance, which I do; although it very much depends on the wine and the type of chocolate: pair a sweet chocolate dessert with a dry red and the result is generally dreadful, conversely a dark, bitter chocolate with a sweeter red such as a Lambrusco or late harvest zinfandel can be marvelous. Karen suggested that people should try lots of different wines to find the ones that appeal to them. "People often get stuck in a rut and don't experiment," said Kathryn with a knowing look in my direction 'Remember how you wouldn't really try whites and Rosés Pascale?, "and now I am a convert," I willingly conceded. Thanks to Kathryn I have developed a penchant for champagne and triple crème cheeses, have embraced all manner of white wines paired with assorted salads and relished Karen's rosé which I discovered works incredibly well with truffles.
On a recent Friday evening we gathered for a special multi-course dinner party to celebrate my mother's birthday. My daughter Olivia helped me set the table. I took out our special wine glasses, polished them to a shine so they glistened in the evening candle light and placed them on the table. She asked why there were so many different types and I explained why we use different glasses for different wines and how the wines would complement the meal. As I walked around the table I straightened a knife here, a fork there and moved the candles…again. Olivia looked at me quizzically and said "Why do you do that? It looked fine!" My mother looked on indulgently and laughed. She knew, as Olivia would soon learn, that this habit, some would say fastidious one, was a genetic trait.
~~~~~~~~~~~~~~~~~~~~~~~~~~~
Karen Steinwachs and I are planning a seasonal vegetarian cooking class and wine pairing lunch in the garden at Buttonwood Farm and Winery on May 13th 2017. This is the menu:

Warm Salad with Sauté of Leeks and Snap Peas with Burrata
Buttonwood Winery 2016 Grenache Rosé
Serve 8 people
Olive oil
4 leeks – rinsed, end trimmed and cut into ½-inch wide disks
1 lb snap peas – cut into ½-inch wide pieces on a bias
1 bunch chives – finely chopped
Zest and juice of 1 lemon
1 fresh burrata
Lemon olive oil
Salt and black pepper
Pour a little olive oil into a large skillet placed over medium-high heat. Add the leeks and cook for 3-4 minutes, stirring frequently. Add the snap peas and cook for another 3-4 minutes. The snap peas should be al dente.
Whisk together the lemon zest, juice and ¼ cup olive oil in a large salad bowl. Add a pinch of salt and 4-5 turn of black pepper and whish again. Place salad utensils over the vinaigrette. Place all of the vegetables on top of the utensils and sprinkle with the chives.
Just before serving roughly tear the burrata and dot it over the salad. Toss to combine the ingredients and serve immediately.
Savory Puff Pastry Tart with Roasted Onions, Goat Cheese, Olives and Pesto
Buttonwood Winery 2016 Syrah Rosé
Serves 8 people
For the tart :
1 sheet frozen puff pastry — thawed
Olive oil
2 red onions — peeled and sliced into thin disks
2 yellow onions — peeled and sliced into thin disks
Coarse sea salt
Black pepper
1 bunch green onions — chopped
½ cup assorted pitted olives
2 oz feta cheese — crumbled
1. Preheat the oven to 400 degrees.
2. Pour a little olive oil onto a sheet pan or into a shallow baking dish. Arrange the onions in a single layer. Sprinkle a little salt and pepper over the top. Drizzle with just a little more olive oil. Roast the onions in the oven for 15-20 minutes. They should be golden brown. Remove and let cool slightly.
3. Unfold the puff pastry onto a lightly floured piece of parchment paper and lightly roll it out into a 9-by-12-inch rectangle. Place the pastry (on the parchment) onto a baking sheet. Bake until lightly golden brown, approximately 15 minutes. Remove from the oven and let cool slightly.
4. Carefully spoon enough of the pesto (see recipe below) over the partially cooked pastry. Leave a ½-inch border all around the tart. Cover the pesto with the roasted onions. Scatter the chopped green onions, olives and feta over the top.
5. Return the tart to the oven and bake for another 10-15 minutes. The tart should be golden brown. I like to serve this with a green salad.
For the pesto:
Zest and juice of 1 large or 2 small lemons
1/2 cup olive oil
1 large bunch basil leaves — roughly chopped
Salt and pepper
1. Pour the olive oil and lemon juice into a blender. Add the basil leaves to the blender and push them down into the olive oil. Place the lid on the blender and run the machine until you have a thick pesto mix. Add a pinch of salt and some pepper, scrape down the sides and blend again. Pour the pesto into a large serving bowl.

This recipe makes more than you will need for the tart. Reserve the remainder for pasta or as a lovely addition to risotto.
Strawberry and Lemon pots de crème
Buttonwood Winery 2014 Blanc de Noir
"A meal without wine is like a day without sunshine."
Jean-Anthelme Brillat-Savarin, 'The Physiology of Taste' (1825)
Written for Edible Santa Barbara - Winter 2017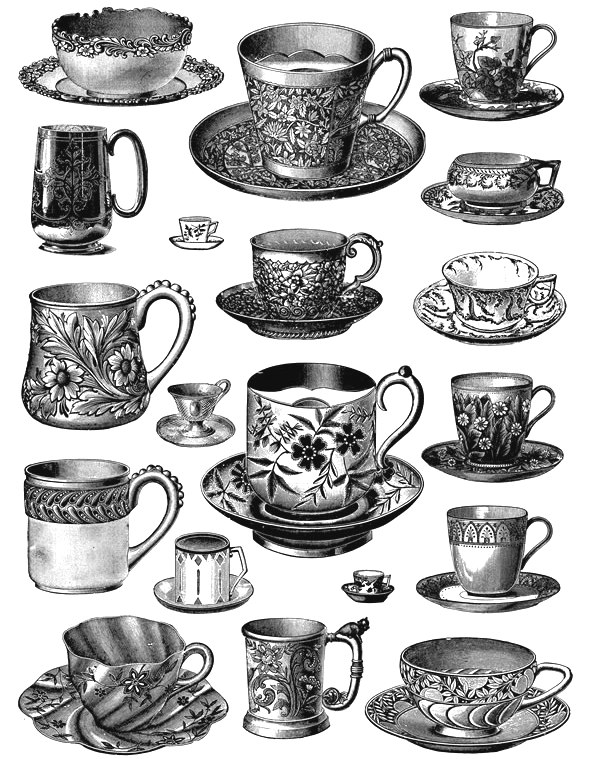 "Tea is the elixir of life."
Myoan Eisai, Kissa Yojoki How to Stay Healthy by Drinking Tea
It was a cold, frigid weekend morning. A low-hanging grey sky spat sleet out over London. I waited anxiously for my brother. He was running late and I was concerned about the driving conditions. This was long before the advent of cell phones, and I had no way to reach him. An hour later I heard him tromp up the stairs of our house. He walked into the kitchen and looked glum.
'What happened? Are you alright?' I asked. "No – I'm not. I smashed the car on an on-ramp near the M-1. There was black ice and it just slid out' Well, maybe he wasn't quite as polite as that. 'The police showed up and asked if I was okay? Then the copper said, 'be careful how you go mate and when you get home, have a strong cup of tea – you'll feel better'. My brother looked at me and added "I wanted to tell him what he could do with his bl***dy cup of tea!'
'Well at least you're in one piece, and the damage is not terrible'. I said as I put the kettle on. He was muttering away to himself about the cost of repairs. I made a strong cup of sweet tea and handed it to him. He took the mug with a resigned look on his face, sat down and drank. 'I don't believe it!' he said after a few minutes. 'What?" I said. 'The copper was right' he said looking at his now empty cup. 'I feel better!'
Ah, the restorative power of a good strong cup of char. Any Englishman or woman will tell you all about the wonders of a cup of tea. It is part and parcel of the very fabric of British society. For over three hundred and fifty hundred years the British have been one of the world's largest consumers of tea. If there is a national drink, tea is it. The Brits consume an average of 165,000,000 (yes, that's million) cups A DAY. I grew up on tea, more often than not a cup before school, a mug as soon as I got home, and more as I plowed through hours of homework. I was not alone. Tea fueled the country. It still does.
Napoleon famously said that 'an army marches on its stomach', in Britain, it would be true to say that the country functions on tea. At no time was this more evident than during WWII. In 1942, facing huge logistical supply issues, the British government took the extraordinary step of buying all the available tea in the world to keep its citizens fortified. But why? Tea, as that wise policeman who helped my brother knew only too well, is warm and comforting, it's restorative and gives you a pick-me-up.
"There are few hours in life more agreeable than the hour dedicated to the ceremony known as afternoon tea." Henry James, The Portrait of a Lady
Henry James knew a thing or two about the pleasure of tea. In fact, English and American literature is filled with drawing room scenes festooned with tea cups. You cannot read a Jane Austen novel without reading about tea, Dicken's characters partake of it on a regular basis and the marvelous Oscar Wilde sets much of his well-known play The Importance of being Ernest around the rituals of this warm beverage. And the rituals are nowhere more important than for afternoon tea.
My earliest memory of this ritual was not in England but in France at my grandmother's house. She regularly played bridge with a group of friends. When it was her turn to host the group, she would prepare light refreshments to be served during a pause in the serious game at hand. She kept her tea in an exotic looking black and red tea caddie, illustrated with Japanese ladies and tea plants. She made her tea in an elegant porcelain pot that had an insulated stainless-steel cover which kept the tea deliciously warm. Once brewed she served the tea in gossamer thin Japanese lithophane porcelain cups, so thin that when held up to the light, the delicately carved features of an elegant Japanese woman appeared in the bottom of the cup. Those cups were magical to me. They were refined and ladylike, a reflection of everything my grandmother epitomized. She served her tea with thinly cut slices of lemon and tiny cubed sugar. No milk; that was for those strange people across the English Channel!
The question of adding milk to one's tea can be a vexing one. I have discovered that people have very strong opinions when it comes to this. I believe the general rule of thumb to be that no milk should be added to pale and light leaves such as white, green and oolong teas which have delicate flavors. A little milk is fine with strong black teas such as Assams, however other black teas such as a Darjeeling (often called the Champagne of teas) should be drunk without. In the end, it comes down to a matter of personal preference, just beware of foisting that preference on anyone else.
Judging by my own family's divergent views on the art of brewing tea I thought a visit to the experts in the field might help clarify matters. Last summer my son (a self-proclaimed tea addict) and I were fortunate enough to visit the venerable Mariage Frères tea house in Paris. Founded in 1854 by two brothers, the company trades in the world's finest teas. They have several exquisite shops and tea rooms in Paris where their staff will instruct you on the 'correct' way to brew and consume your tea of choice. The shops are all lined with floor to ceiling wooden cases filled with sophisticated black, gold-stenciled tea caddies. It can be daunting walking into such a white-gloved emporium, facing a rather severe looking, be-spectacled, impeccably dressed, apron-clad tea master, but my son, after a moment's hesitation, strolled in and started asking questions and opening tins. Each tea came with a recommendation as to how long it should brew. Three minutes for this one, five for that. When you have tea in their tea rooms we were told, they brew the tea for you in one pot to precise timing charts, then strain it into another warmed pot from which they serve the tea, thereby preventing the tea from steeping too long and becoming bitter. It quickly became evident that for the most part, any milk added to their tea was frowned upon.
Perhaps we would glean more information on the addition of milk from the tea drinkers across the channel in London? There, on a sunny afternoon, we visited one of the capital's oldest tea houses, Fortnum and Mason's. After a lively discussion with the equally elegantly clad staff it became evident that in England at least, putting milk into one's tea is not a faux pas. There is even a video on their website showing you exactly what to do and offers a recipe for brewing the perfect pot of tea. Whether you add the milk to the cup before or after you pour the tea in is another matter altogether, one which I won't delve into here. At four o'clock we adjourned for sustenance; a cup of tea, some scones and tea biscuits. We were chatting away (my son and I) when I absent-mindedly dunked my digestive biscuit into my tea. My son was aghast. 'What are you doing?' he asked. 'That looks disgusting!' Apparently, there were still some matters of tea etiquette that we didn't see eye to eye on. I tried to explain that the biscuit tasted better as it soaked up a little tea. He was completely unmoved by my entreaties. I should have summoned up the writings of Marcel Proust to prove my point when he waxed lyrical in A Remembrance of Things Past about those famous madeleines "No sooner had the warm liquid mixed with the crumbs touched my palate than a shudder ran through me and I stopped, intent upon the extraordinary thing that was happening to me … The sight of the little madeleine had recalled nothing to my mind before I tasted it. And all from my cup of tea." Unfortunately, my son was and remains unconvinced.
We came back to California as the mercury edged past ninety degrees. Drinking hot tea in these circumstances did not sound appealing. Iced tea did. On a balmy Saturday morning, strolling through the farmers market, I spied some fresh lemon verbena. Of all the herbal teas I drank growing up, verbena was one of my favorites. I bought some home, took some leaves and placed them in a pot, poured hot water over them and let them steep for a few minutes, then strained and refrigerated it. Drinking the cooled fragrant herbal infusion was calming and soothing. I realized that other herbal teas achieved the same sensation and pondered over the fact that both the black and herbal teas gave me peace of mind. I found a beautiful quote in Kakuzō Okakura's , The Book of Tea, that encapsulated my feelings, "In the liquid amber within the ivory porcelain, the initiated may touch the sweet reticence of Confucius, the piquancy of Laotse, and the ethereal aroma of Sakyamuni himself."
I offered some of the cooled herb tea to my son. He declined, and put the kettle on. I smiled when I looked at him. He was sporting a T-Shirt which read "Money can't buy happiness, but it can buy you tea, which is basically the same thing!" Indeed, it is, herbal, iced, or not.
These are a few of my favorite tea time recipes.
Smoked Salmon Tea Sandwiches
Makes 16 triangular sandwiches
8 slices whole wheat bread
Lightly salted butter - softened
4 oz cream cheese
1 tablespoon dill — finely chopped
8 slices smoked salmon
1 lemon
Pepper
Lightly butter 4 slices of bread.
In a small bowl mix together the cream cheese and dill until you have a smooth paste. Spread a quarter of the mixture onto each of the remaining 4 slices of bread. Place 2 slices of smoked salmon on each slice of bread.
Squeeze a little lemon juice over the salmon and then add a little pepper.
Cover the salmon with the buttered slices of bread and then cut each sandwich diagonally, creating four small triangular sandwiches.
Egg and Cress Tea Sandwiches
Makes 16 triangular sandwiches
8 slices white bread
Butter — softened
4 eggs — hard boiled, peeled and quartered
1 tablespoon chives — finely chopped
2 tablespoons mayonnaise
1 bunch cress — chopped
Sea salt and pepper
Lightly butter all the slices of bread.
Place the hard-boiled eggs, chives and mayonnaise in a small bowl. Using a fork, mash the ingredients together adding a pinch of salt and a few grinds of pepper. Spoon the egg mixture over 4 of the 8 slices, and top with the chopped cress. Cover with the remaining bread slices and then cut on the diagonal. Trim the edges before serving.
Earl Grey Tea Infused Golden Raisin Scones
Makes 18 scones
½ cup golden raisins
1 cup brewed Earl Grey tea
4 cups all-purpose unbleached flour
4 teaspoons baking powder
1/3 cup sugar
2 teaspoons salt
6 oz butter (1 ½ sticks) — cut into small cubes
1 2/3 cups milk
Preheat the oven to 450 degrees.
Place the raisins in a small bowl and soak in the Earl Grey tea for 15 minutes.
Place the flour, baking powder, sugar and salt into the bowl of a food processor and pulse to combine. Add in the butter and pulse until the mixture resembles coarse breadcrumbs.
Strain the raisins and discard the tea.
Pour the milk and add the raisins into the food processor and pulse for about 4-6 seconds. The dough will have only just come together or be in clumps. It will also be slightly sticky. Remove the dough pieces from the food processor and place it on a lightly floured surface.
Gently gather the dough together and shape the dough into a 1-inch high disk. Use a round fluted cookie cutter to cut into 2½-inch rounds. Place on a parchment-lined baking sheet. Lightly brush the tops of the scones with a little milk.
Bake the scones in the oven for 15-17 minutes. The tops should be a golden brown. Let cool on a wire rack for at least 15 minutes before serving. This is scrumptious served with crème fraiche and apricot preserves or with butter and honey. Don't forget your favorite cup of tea.

Lemon Verbena infused Pots de Crème
Many years ago I came across a recipe by Philip Johnson in an Australian magazine for lemon creams that was so simple and quick to make. It resembled more of a lemon posset than a classic pot de crème, but I loved the fact that there were no eggs and no baking. Over the years I have made countless adaptations of this dessert by adding assorted fruit and flavors. In this one, the crème is perfumed with lemon verbena. It's fragrant, rich and sensuous.
Serves 8 people
2 ½ cups cream — do not use ultra-pasteurized which will cause the pots de crème to separate
5 oz (2/3 cup) sugar
5-6 lemon verbena leaves
1/3 cup lemon juice
Zest of 2 lemons
1. Pour the cream, sugar and lemon verbena leaves into a medium-sized saucepan over medium heat. Bring to a boil and then immediately remove from the heat. Add the lemon juice and zest and stir to combine well. The cream will begin to thicken. Remove the lemon verbena leaves from the cream.
2. Fill eight small glasses or ramekins with the cream and refrigerate for 2 hours. This is lovely served with shortbread or a tuile cookie.