Written for Edible Santa Barbara - Winter 2009 issue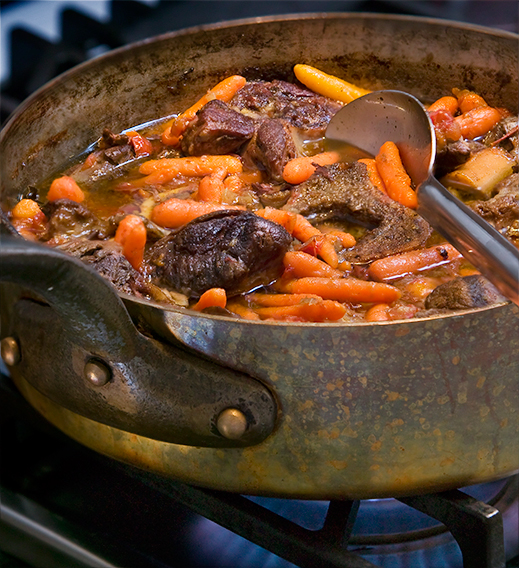 The renowned French chefs Jean & Pierre Troisgros once said "Cooking should be a carefully balanced reflection of all the good things of the earth." They may well have been describing stew which is essentially a great melting pot of flavors extracted over a period of time. If ever there was a dish that reflected 'all the good things of the earth' and of the season, this is it. Stews are to winter what salads are to summer. They are in essence rib-sticking, heart-warming and satisfying.
They have also been around for a very long time. There is evidence that these types of dishes have existed since the advent of clay pottery. Archeologists have found cooking vessels, called Ting, dating back 8,000 years in Hebei Province in China. These three legged, robust pots were used to cook stews and soups. The ancient Chinese stew, called Keng, was cooked in such vessels, which were also made of bronze. The cooking methods used at the time are recorded in texts surviving from the Zhou dynasty (1050-249 BC). Stews it seems are universal, for all cultures have records of them in their culinary pantheons in one form or another.
Literature, ancient cookbooks and historical texts are steaming with ragouts and stews. In Apicius's cook book 'De Re Coquinaria' written two thousand years ago, he describes a stew called 'Minutal Marinum' (a seafood ragout) in which the fish is cooked with wine, herbs, olive oil and vegetables. The recipe is remarkably similar to dishes found along the coast of France and Italy today. Taillevant has many recipes in his book Le Viandier printed in 1395 for all manner of ragouts and stews, from Crayfish to perch and Hare to Veal. The references are not limited to cookbooks. Cervantes wrote of the esteemed Spanish stew Olla Podrida in Don Quixote in 1605 where Sancho Panza salivates over a cauldron of the simmering ragout. Lord Byron wrote about Irish Stew in The Devils Drive in 1814 and Shakespeare speaks of pottages in his plays.
Mrs. Beeton, in her marvelous tomb on Household Management from 1890 wrote that this type of French cookery "is an essentially slow process by which the natural flavors of the substances are extracted by gentle means". A quote the founder of The Slow Food Movement, Carlo Petrini has obviously taken to heart. Frustrated by the proliferation of fast food restaurants in Italy in the mid 1980s, and in particular by the proposed opening of a MacDonalds near the Spanish Stems in Rome in 1989, he created a movement that champions the growth, use and enjoyment of local, sustainable and seasonal food. It enthusiastically promotes a slower pace of life, hence its snail logo, and embraces all manner of dishes that evolve over time. Stews are a prime example. His philosophy has attracted a great many followers. There are now over 100,000 members in over 132 countries, including a convivium in Santa Barbara.
There is something about stews that appear to make a lasting impression. As you circle the globe during winter months, the aromatic tendrils emanating from long- simmering pots will tantalize your olfactory senses. Saunter over France and some of the best known dishes of the country's culinary repertoire will no doubt tempt you, the aromatic Boeuf Bourginon is the prime example. But linger a little longer in the countryside and you may well be seduced by a Provencal Daube or a Pot au Feu, or even Bouillabaise, the great fish stew from Marseille.
Europe is awash in slow cooking, think of the robust Osso Buco from Italy or Hungarian goulash for example, which dates back to the ninth century and the Magyar shepherds of the region. Further east still as the frigid air settles over the Russian Steppe's you may well encounter Zharkoye, a beef and parsnip stew, topped with sour cream. Hover over the great cuisines of China and India and you will find simmering, aromatic dishes such as fragrant cumin laced curries or the anise flavored Chinese beef stew, thick with soy sauce and sugar. Cross the Pacific and the history of the America's is rich in ragouts. A Birria in Mexico, a Charquican in Chili, the Brunswick Stew in Virginia and Burgoo from Kentucky or the dish that brings us back to the cuisine of Provence, a Gumbo from Louisiana which was originally based on Bouillabaisse.

Whatever your culinary preferences the guiding principal is always the same. Take a best, freshest ingredients you can find - preferably local - prepare them with care and in the case of a stew, nurture them over the course of a few hours to capture their essence. If preparing a meat stew, do not let the stew boil as this will dry out the texture of the meat and it will get tough. Let it gently simmer and you will be rewarded with a moist, fragrant dish. Although she was writing about Provence, Elizabeth David could well have been speaking of the central coast and of Santa Barbara in particular as she penned "Here in London it is an effort of will to believe in the existence of such a place at all. But now and again the vision of golden tiles on a round southern roof or of some warm, stony, herb-scented hillside will arise out of my kitchen pots with the smell of a piece of orange peel scenting a beef stew". What could be more delicious on a winter's day?

MONIQUE FAY'S SUCCULENT 'SLOW FOOD' BEEF SHANK STEW
This winter stew epitomizes everything that I love about this season. The house fills with delicious smells as it simmers slowly on the stove. This is one of my mother's specialties; a recipe handed down by a family friend that she has crafted to her own over time. A perfect dish for a chilly, blustery day.
Serves 8 people
Olive Oil
1 red onion – finely chopped
6 cloves garlic – peeled and chopped
2 inch piece of garlic – peeled and chopped
6 pieces beef shank
Salt
Freshly ground pepper
3 cloves per beef shank
6 Roma tomatoes – chopped
2 pinches sugar
4-6 cups vegetable stock
1 lb organic carrots – peeled and chopped
Pour some olive oil into a large roasting pan( the pan should just hold the beef shanks in a single layer) and add in the onion, garlic and ginger. Cook over medium high heat until lightly browned – 5-6 minutes.
Using a slotted spoon, remove the onion mixture and set aside in a small bowl. Raise the temperature in the roasting pan and add in the shanks. Cook over high heat until well browned on all sides – this takes at least 5 minutes per side. Add salt and pepper during the browning process.
Reduce the heat and then add in the chopped tomatoes, cloves, the onion mixture that had been set aside, sugar and enough vegetable stock to barely cover the shanks. Bring the stock to a strong simmer.
As soon as the stock comes to a strong simmer, reduce the heat to low and cover, leaving a small gap for the steam to escape, and cook for 4 hours. During the cooking time you need to turn the pieces over – usually once an hour. At this point you should be able to cut the meat with a spoon.
Add in the carrots and cook for a further hour. After an hour turn off the heat and let the stew 'rest' for at least an hour more.
Before reheating the stew, skim the surface of any fats that have risen up. Reheat very slowly – this will take about 20 minutes.
Serve in warmed plates with steamed new potatoes and/or warm bread.
DUCK RAGOUT
This duck stew is a slowly braised red wine ragout. It is a delicious, fragrant dish that is prepared over a day or two. The pieces of duck marinate overnight, giving them time to absorb the acidity and fruit of the wine, the sweetness of the shallots and root vegetables, and the essence of the juniper berries. Afterwards, they are pan-seared to a deeply golden color and then, reunited with the marinade, slipped into the oven to braise until tender. This dish was inspired by a good friend of mine who is as passionate about food as I am. We have spent many hours concocting different dishes together, including one Christmas where we spent days making puddings. This dish is perfect for the holidays as there is something festive about marinating duck and the subsequent luscious result.
Serves 8 people
For the marinade:
8 Duck legs
Salt and freshly ground white pepper
6 shallots - peeled and quartered
½ bunch green onions – end trimmed and then cut into ½ inch pieces
1 medium onion – peeled and sliced
8 cloves garlic, peeled and cut in half
3 medium carrots, peeled, trimmed, and thinly sliced
3 stalks celery, peeled, trimmed, and cut into 1inch-thick slices
1 inch piece ginger – peeled and diced
20 black peppercorns, crushed
1 tablespoon Herbes de Provence
2 sprigs fresh thyme
2 bay leaves
10 juniper berries
Zest of 3 oranges – then quarter the whole oranges
2 bottles red wine – use a dry red, but don't stint on the wine. Use cheap wine and your dish will reflect it.
To marinate the ducks:
Cut off and discard as much of the fat as you can. Season the duck legs with salt and pepper and place them into a large oven-proof dish, or large pan with a lid. It needs to hold all the duck, vegetables and the wine.
Scatter the vegetables, herbs, and zest over the duck and pour over the red wine. Squeeze the juice out of the oranges quarters into the pan and then add in the orange pieces themselves. Cover the pan and marinate the duck overnight in the refrigerator. If you have a chance, turn the duck in the marinade once or twice.
To cook the ragout:
1 lb boiling onions – blanched in boiling water for 2 minutes, peeled and then set aside.
1 oz butter
1 lb small brown mushrooms or shitakes – ends trimmed off, then quarter the mushrooms
Salt and pepper
3 hours before dinner preheat the oven to 350°F.
Lift the duck meat out of the marinade and dry the pieces thoroughly between layers of paper towels.
Bring the marinade, along with its vegetables and spices to a simmer. Keep the marinade over low heat whilst you brown the duck.
Heat a large heavy-bottomed skillet or griddle over high heat. Place the duck, skin side down on the pan. Sear for 2-3 minutes so that the skin is nicely browned. Turn and cook for 2 minutes more and then place the seared duck legs back in the now warmed marinade.
Place the dish in the center for the oven and roast for 1 ½ hours. Add in the prepared boiling onions, stir the ragout, turning the duck and return to the oven for another hour.
When the duck is almost ready (after 2 ½ hours) prepare the mushrooms. Place a little butter into a heavy-bottomed skillet, placed over medium-high heat. Add in the mushrooms, a little salt and pepper and sauté them until they are just golden. This will only take a minute or two. Add the sautéed mushrooms to the duck ragout and stir to combine. Cook for a further 30 minutes, giving you a total cooking time of 3 hours.
Serve with steamed little potatoes or mashed potatoes or rice – something to soak up all the delicious sauce. Sprinkle with some finely chopped chives.
Note: This dish is even better the following day, so once cooked it can be refrigerated, then re-heated slowly in the same dish.


WINTER ROOT VEGETABLE TAJINE
Serves 8 people
3 red onions – peeled and sliced
Olive oil
1 tablespoon Ras al Hanout
1 lb yellow carrots – peeled and sliced lengthwise
1 lb red carrots – peeled and sliced lengthwise
1 lb parsnips – peeled and cut into slices
1 bunch beets – peeled and cut into slices
2-3 leeks – peeled, washed carefully and cut into 2 inch pieces
3 sprigs fresh thyme
Lemon zest and the same lemon quartered
Coarse sea salt
Preheat the oven to 350 degrees.
Pour a little olive oil into a medium sized saucepan and add the sliced red onion. Cook for 2-3 minutes and then add in the Ras al Hanout. Stir well and continue cooking over low heat for 15 minutes so that the onions are very soft and slightly caramelized.
Place all the onion mixture in the bottom of a Tajine. Place all the sliced vegetables on top of the onions. Drizzle with some olive oil, add the thyme, lemon zest and lemon quarters and sprinkle with some coarse sea salt. Cover with the Tajine lid and place in the middle of the oven.
Cook for 45 minutes.
Remove from the oven and place directly on the dinner table. Be careful when you remove the lid as some steam will be released. Serve onto warmed dinner plates – be sure to get some of each of the vegetables, especially the onions at the bottom of the dish.
Serve with the onion and chive yogurt. (see recipe below)
For the onion and chive yogurt:
8 oz Greek yogurt
3 green onions – finely chopped
1 bunch chives – finely chopped
Zest of 1 lemon
Place all of the ingredients in a small bowl and stir to combine. Serve alongside the vegetables. Marcona almonds and pieces of feta are also delicious with this dish.
Alphabet Stew
"The beautiful and the good are identical but the fleeting impressions created by the work of a cook or a musician disperse even as they are being experienced. Raphael's painting, The Transfiguration, is immortal, but Carême's 'Ragout de truffes à la parisienne' lasts while it is being eaten, just as roses that last as long as their fragrance can be enjoyed." So wrote, Lucien Tendret, the great-nephew of Brillat-Savarin 150 years ago. His thoughts could apply to all the dishes in the list below which show just how universal these aromatic creations can be.
A is for Atzem Pilafi – Greece
B is for Baeckeoffe – Alsace
C is for Charquican – Chili
D is for Dinuguan – Philippians
E is for Estoufade – France
F is for Fozelek – Hungary
G is for Ghormeh Sabzi – Iran
H is for Hasenpfeffer – Germany
I is for Irish Stew
J is for Jjigea - Korea
K is for Kikkinisto – Greece
L is for Locro – Andes
M if for Merchando – Philippians
N is for Nikujaga – Japan
O is for Olla Pedrida – Spain
P is for Potjiekos – South Africa
R is for Ragu d'Anitra con Castagne - Lombardy
S if for Sancocho – Caribbean
T is for Tharid – Arabia
W is for Waterzooi, Belgium
Y is for Yakhnat al-Bamiya, Lebanon
Z is for Zharkoye, Russia