Written for Edible Santa Barbara - Winter 2020-21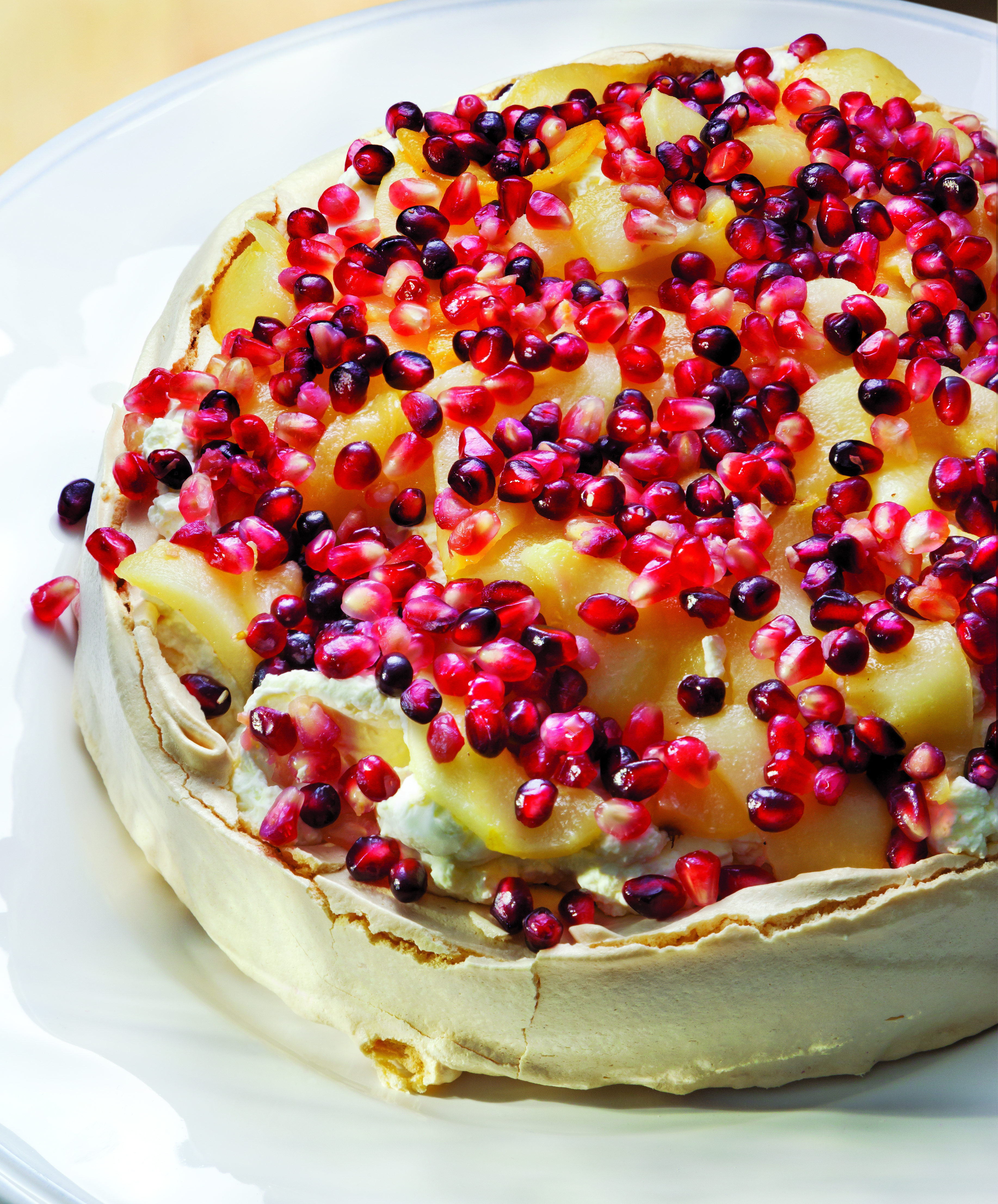 This is the power of gathering: it inspires us, delightfully, to be more hopeful, more joyful, more thoughtful: in a word, more alive. Alice Waters
I celebrated my third Thanksgiving in America by travelling to Napa Valley. With no family in town, and friends otherwise engaged, my then English boyfriend and I had left the hustle and bustle of a hot and dusty Los Angeles in search of autumnal weather and holiday fare. We arrived late on Wednesday afternoon just as the sun was setting over the crimson and ochre colored patchwork carpet of trees and almost dormant vineyards that blanketed the valley floor. Wisps of smoke curled up from chimneys, gossamer strands of mist drifted through the vines, and the air smelled woodsy, earthy and slightly sweet. We stopped by the roadside to take in the view as we crested a rise. It was picture perfect, down to the gratifying crunch of walking in mounds of dried russet hued leaves.
The hotel was equally charming. Our room had a fireplace where logs crackled and sighed satisfyingly in the hearth. I curled up in front of it with a good book, and relaxed with a glass of an excellent local red wine in hand. This, I thought to myself is what this holiday is all about.
On Thanksgiving Day we went for a long walk bundled up in warm jackets and scarves as the crisp air turned the tips of our ears red. We worked up a hearty appetite for the meal to come. At the appointed hour we walked up to the lavishly decorated dining room, festooned with vine leaves, gourds, horns of plenty, and bushels of apples and pears. The maître d' led the way, threading a meandering path around large tables where families had gathered en mass, to our lone table for two. I looked around as we took our seats, taking in the multi-generational cacophony that surrounded us. I sensed a pitying glance from an elderly matron seated at the head of a nearby table of sixteen, and felt a slight uneasiness, but couldn't quite put my finger on what was amiss.
The food arrived. It was excellent, as was the wine, yet that niggling disquiet that had emerged as we sat down grew throughout the meal. We both felt it and tried to ignore what became increasingly obvious, the clamor of laughing families and the familial banter echoing around the room made our two top seem rather lonely and forlorn. Although the setting was, in every sense, sublime, the one missing element, and the one which was most important, was sharing the occasion with those we cherished most. As we scuttled back to our cozy retreat, we mused on this. Our great escape had failed to provide the comfort we sought.
A brief review of the annals of seasonal gatherings throughout history quickly reveals that these occasions are more about those we share these events with, than the food itself. In archeological digs around the world researchers have found evidence of humans celebrating their harvests together for thousands of years. We gather today to give thanks in November, and each family may have its favorite holiday dishes, but are they as good if we cannot make and share them with those we love? I have been pondering this question as we head into the end of year festivities. From Thanksgiving to Hannukah, Kwanza and Christmas, to New Year's Eve and beyond. How do we celebrate if we cannot gather? Over the last seven months, with the arrival of all that is Covid, everyone has had to adapt to muted celebrations. We have gathered outdoors, had socially distanced picnics, and potlucks in the park. However, with the arrival of more inclement weather we will inevitably withdraw back into the nests that ore our homes, but without the ability to bring our friends with us. How then do we nurture each other?
Like many families, mine is scattered across different countries and many States, spanning a 12-hour time difference. It is unlikely that we will be together for the holidays. Faced with travel and quarantine restrictions we have been working on a solution, and also looking at the opportunity that cooking for fewer people presents.
Have you ever wanted to try a new dish but dismissed it because you were preparing food for sixteen? We are usually around that number for Thanksgiving and Christmas Eve. This year we may be four. This is the occasion to stretch one's culinary boundaries and delve into something new! Instead of turkey, why not try roasted duck or Cornish hens? What about an everything but the turkey feast, focusing on all the side dishes and making them the focal point? Have you wanted to try food from a different part of the world? Or maybe explore your family's culinary heritage? This is the one year where we will have the luxury of time.
Of course, there are certain dishes that always have pride of place on most family's festive dinner tables, usually accompanied by an amusing anecdote or family tale as to how that dish came to be. Much like those whose holiday traditions include a reading of The Night Before Christmas, the guests at my good friends Alan and Harriet's Thanksgiving gather round the host for a ritual known as "The Drilling of the Mashed Potatoes." I've not witnessed this firsthand, but understand that it is a melodramatic telling of Alan's first "Chosen Family" Thanksgiving in Isla Vista decades ago, and includes something about a missing potato masher, the ingenuity of friend Chuck Cail and a drill. How then do we share the yearly telling of 'that' story if we cannot be in the same room together? Enter modern technology and the now familiar live streaming platform of your choice.
In our house preparations for holiday meals begin early in the morning. We start by making stuffing and cranberry coulis. This year we plan on making them together via Zoom. The timing may have to change a little allowing for different time zones, but with the same ingredients in hand we will still be able to cook together. Our olfactory senses have long memories, and what better way to share a family tradition than by reawakening those tastebuds. Our respective kitchens will be filled with the perfume of grated orange zest, the woodsy sweet aroma of cinnamon, and simmering cranberries plop-popping little bursts of tart-citrusy sauce. By cooking the same dishes together, we will be able to share the day, the simultaneous experience of preparing food and even sampling the same dish. Although our connection will be virtual, our physical senses will still have a shared experience. We can laugh together, give advice about a pie crust, avoiding soggy bottoms, and how to make sure the mashed spuds are well and truly mashed. We will pop in and out of view through our screens, be they via computer, tablet or phone, offering a real time window of our steaming kitchens. The light filtering in will reflect an early morning and late afternoon, some may be in pajamas, others back from an afternoon walk, but most important of all is that we will be together.
Our festive season will be different this year. It is up to us to make the most of the opportunity. Bon Appetit!
Cauliflower Soup with Stilton and Caramelized Pear Relish
Serves 4 people
Olive oil
1 tablespoon butter
1 medium-sized onion – peeled and finely chopped
2 shallots – peeled and finely chopped
4 sprigs thyme
1 cauliflower – leaves trimmed away and florets separated
1 bay leaf
4 cups vegetable or chicken stock
4 oz stilton.
Salt and pepper
2 tablespoons crème fraiche
Pour a little olive oil and the butter into a large saucepan placed over medium heat. Once the butter has melted, add in the onions, shallots and the thyme and cook until the onions are soft and translucent – about 5-7 minutes.
Add in the cauliflower, bay leaf, stock and season with some salt and pepper. Simmer for 20 minutes or until the cauliflower is completely soft.
Remove the bay leaf from the soup, add in the stilton and then process the soup either in a blender or with an immersion blender until the soup is completely smooth. Whisk in the crème fraiche and keep the soup warm until you are ready to serve it.
Serve the soup in warm bowls with a spoonful of the pear relish (see recipe below) in the middle of each bowl.
For the pear relish:
1 pinch saffron
¼ cup dried golden raisins/ cranberries
1 tablespoon butter
2 pears – cored, peeled and chopped
3 tablespoons apple cider
1 tablespoon sugar
2 sprigs lemon thyme
Zest of 1 lemon
1 cinnamon stick
Coarse sea salt
Black pepper
Soak the saffron in a small bowl of hot water with the dried fruit for 10 minutes.
Melt the butter in a medium saucepan and add the pears, sugar, thyme and cinnamon stick. Cook for 5 minutes. Add in the dried fruit and saffron and cook for a further 10 minutes. You should have a soft golden mixture. Season with some coarse salt and pepper.
Roasted Cornish Hens with Mushrooms and a Riesling Sauce
Serves 4 people
1oz butter
Olive oil
8 shallots – peeled and quartered
2 Cornish hens
Salt and pepper
200 ml Riesling
3/4 lb crimini mushrooms – quartered
¼ cup lemon Juice
½ cup Crème fraiche
Preheat the oven to 375 degrees.
Put the butter and a little olive oil into a roasting pan that is large enough to hold the Cornish hens and the mushrooms. Place the pan on the stove top over medium high heat and add in the shallots and cook until just golden. Remove the shallots from the pan. Add the Cornish hens to the same pan and sprinkle them with salt and pepper and cook on all sides until they are golden brown. This will take about 10-15 minutes in all.
Add the wine to the pan along with the shallots. Turn the hens once or twice in the wine and then place the roasting pan in the oven and cook for another 45 - 50 minutes.
While the hens are cooking, place a little butter into a large frying pan placed over medium heat. Add in the mushrooms and sauté until just golden brown. Add the lemon juice and remove from the heat, leaving the mushrooms in the pan.
Once the hens are cooked remove the roasting pan from the oven. Set the hens aside on a plate and keep warm. Place the roasting pan over high heat and reduce the cooking liquid by half, scraping up all the delicious bits at the bottom of the pan. Reduce the heat and stir in the crème fraiche and mushrooms and simmer until heated through.
Cut the Cornish Hens in half and place each half on a warmed plate. Pour some of the Riesling sauce and mushrooms over the Cornish hens and serve at once.
Potato and Celeriac Gratin
Serves 4 people
4 oz crème fraîche
¾ cup cups cream
Salt
Pepper
1 lb potatoes (russets or Yukon golds) — peeled, very thinly sliced on a mandolin
1 lb celeriac (celery root) — peeled, very thinly sliced on a mandolin
2 tablespoons finely chopped chives
3 green onions — finely sliced
2 oz Gruyère cheese — grated

Preheat the oven to 375 degrees.
In a large bowl, whisk together the crème fraîche and cream. Add a good pinch of salt and 5-6 grinds black better and whisk once more.
Add the remaining ingredients to the bowl and mix well. The easiest way to do this is with your hands. It's a little messy, but fun!
Layer the well-coated potatoes and celeriac slices in a large gratin dish or individual gratins, slightly overlapping them.
Bake for 35-40 minutes or until the vegetables are tender and the top of the gratin is golden brown. Remove from the oven and let rest for 5 minutes before serving.
Roasted Kale, Brussels sprouts, Date and Pecan Salad
Serves 4 people
For the vinaigrette:
3 tablespoons olive oil
1 tablespoon Dijon or walnut mustard
1 tablespoon red wine vinegar
For the vegetables:
2/3 lb Brussels sprouts — sliced
Olive oil
Salt
Black pepper
1 small bunch kale —rinsed, and chopped into 1-inch slices
8 pitted dates — roughly chopped
½ cup pecans — dry roasted for 2 minutes
2 tablespoons finely chopped chives
In a large salad bowl, whisk together the vinaigrette ingredients to form an emulsion.
Preheat the oven to 350 degrees.
Place the Brussels sprouts onto a large rimmed sheet pan or into a large shallow baking dish. Drizzle with olive oil and sprinkle with a little salt and 5-6 grinds of pepper. Place in the center of the oven and roast for 10 minutes.
Remove the pan from the oven, add the kale and mix with the Brussels sprouts. Return the pan to the oven and continue roasting for 8 minutes.
Add the roasted vegetables, dates, pecans and chives to the salad bowl and toss well with the vinaigrette.
Pear and Pomegranate Pavlova
Serves 6-8 people
3 egg whites at room temperature
Pinch of salt
6 oz ultra-fine sugar (1 cup plus 2 tablespoons)
1 ½ teaspoons cornstarch
1 teaspoon white wine vinegar
1 teaspoon vanilla paste or pure vanilla extract
1 ¼ cups of cream
1 tablespoon sugar
1 tablespoon butter
3 pears — peeled, cored and sliced.
1 teaspoon sugar
Seeds of 1 pomegranate
Preheat the oven to 300 degrees.
Draw a 8-inch circle on parchment paper, using a compass or dinner plate. Place the parchment paper on a baking sheet with drawn circle side down.
Using a standing mixer fitted with the whisk attachment beat the egg whites with a pinch of salt until satiny peaks form. Then beat in the ultra-fine sugar, one tablespoon at a time, until the meringue is stiff and shiny. Sprinkle the cornstarch, vinegar and vanilla over the whipped egg whites. Fold in lightly using a rubber spatula.
Mound the meringue mixture onto the parchment paper and spread it to the edge of the circle. Flatten the top and smooth the sides.
Place the meringue on the bottom rack of the oven and immediately reduce the temperature to 250 degrees. Bake for 1¼ hours. Turn off the oven. Let the meringue cool with the door slightly ajar. Remove from oven when the meringue has cooled completely.
Whip the cream with the sugar until it forms soft peaks. Top the meringue with whipped cream.
Melt the butter in a large skillet over medium-high heat. Add the sugar and the pear slices. Cook until golden and caramelized. Let cool in the pan.
When the pear slices are cool, place them on top of the whipped cream. Top with pomegranate seeds.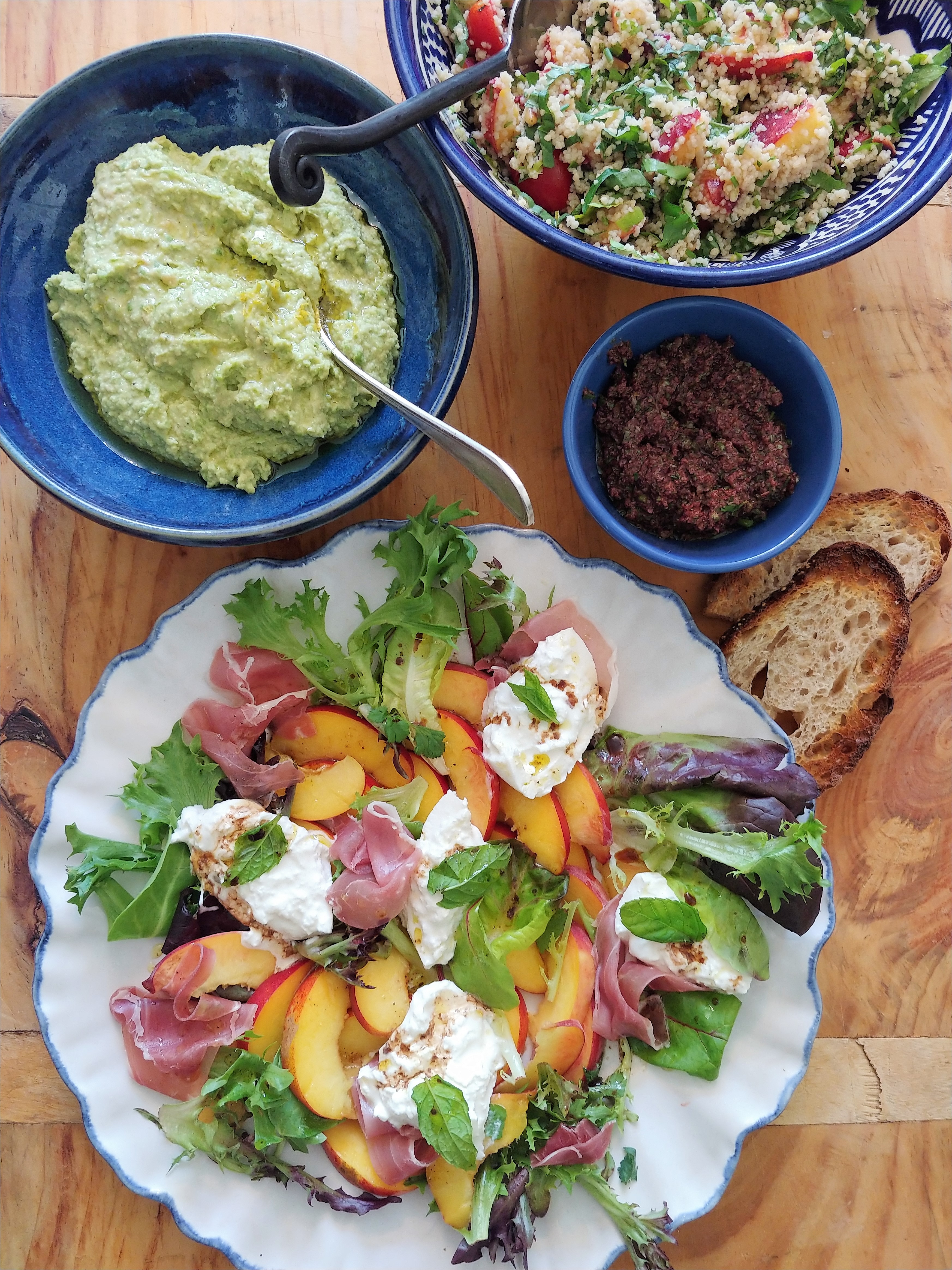 It was the best of times, it was the worst of times, it was the age of wisdom, it was the age of foolishness, it was the epoch of belief, it was the epoch of incredulity, it was the season of Light, it was the season of Darkness, it was the spring of hope, it was the winter of despair, we had everything before us, we had nothing before us, we were all going direct to Heaven, we were all going direct the other way… Charles Dickens
What a strange time this is. Dickens' opening sentences from A Tale of Two Cities, written 170 years ago, ring true today as we live through the tumult that is Covid. This unseen virus has touched all of our lives to one degree or another, and to a greater extent or another. In just a few short months we have modified our behavior, reevaluated that which is important to us, and retreated into the cocoons that are our homes. While essential workers worked stoically in the face of this disease, the rest of us sheltered at home, acknowledging their sacrifices in nightly choruses of ringing pots and pans, and hand clapping our appreciation. It has been a time of great stress and introspection, and the realization that our very livelihoods, our self-assuredness, and our dependence on the status quo are, in fact, quite tenuous.
Time itself seems to have morphed; from predictable and reliable, to indeterminate and vague. As daily schedules, choreographed by school bells, working hours, appointments, meetings, squeezing in of exercise classes, and, for many, ferrying kids to and fro evaporated into the never-ending staycation that wasn't, and, turning our once organized homes into a mishmash home-office-classroom-playground. Time, it seems, and the necessity to be governed by it, has lost its relevance. How often have you heard "What day is it? when speaking with a friend on the phone.
As the human race started to retreat from the world at large, it appears mother earth took a deep breath. By April global emissions fell by 17%, and if levels hold, we are on track for the sharpest reduction in emissions since WWII. (Source: Report by Nature Climate Change and Global Carbon Project) Air quality in cities around the world improved, skies were free of avian vapor trails, and as the mechanical impact, and man-made noise of our daily lives ebbed away, it was replaced, albeit temporarily, by melodious bird songs and sightings of unlikely creatures in urban environs. It was time for most people to take a deep breath.
As our movements were curtailed, so our habits were transformed. People sought sustenance and comfort, often in the form of food. People who had never baked took up sourdough bread making with gusto, kids baked cookies, everyone rushed to the stores not just for toilet paper but to buy flour in prodigious quantities. Questions bloomed on chat sites and google searches: how to make a …. Insert your favorite snack, treat, baguette, croissant, multigrain sourdough boule, and Instagram posts were, and are flooded with an abundance of baked goods.
I readily admit to being one of those ardent bakers, a little miffed to be honest, when my trusty sources of flour suddenly evaporated. Where did all these bakers come from? Who knew that sourdough bread was to become a 'thing'! I baked along with everyone else. There are few things more satisfying that the aroma of freshly baked bread in your kitchen. All my senses relaxed, it made, and still makes me happy. M.F.K. Fisher once wrote "No yoga exercise, no meditation in a chapel filled with music will rid you of your blues better than the humble task of making your own bread." No wonder there was no flour to be had.
Honestly, I baked as a way to deal with stress. The tsunami of event closures that rolled over the hospitality industry in the spring was breathtaking in its catastrophic magnitude. By the middle of March as lock down progressed things looked grim. From a personal standpoint not only were all cooking classes, demos and in-person events cancelled, so too was the book tour for my latest book Salade II. What to do?
After a week of shell-shocked inaction, I mulled over the most effective way to communicate with the world at large. One morning, sipping on hot espresso in my trusty 'keep calm and carry on' mug, I scrolled though Instagram posts, as one does, and came across a live feed from cook book author and chef, David Lebovitz. He was in lock down in Paris. His book tour had also been cancelled, so he decided to take to the airwaves and talk to his legions of fans about his latest book, Drinking French. As a side note, it says something about everyone's collective frame of mind when thousands of people around the world are tuning in, early in the morning, to watch him make and talk about cocktails! He was enchanting, his live posts filled with funny anecdotes. His quintessentially French partner joined him. They were terrific and entertaining. I watched every morning. I also tuned in to watch my friend Cat Cora's Corantine Cuisine show in the afternoons. What energy and positive messages they all had. An idea percolated, and so, armed with my phone strapped to a tripod by means of a strong elastic band I too, launched, with some trepidation, into live streaming cooking demos.
I write 'with trepidation' for a reason. Live streaming is an odd medium, a one-way window into someone else's world; these days, usually their homes. Our homes are our private space, and we control who can enter it. By going 'live' the ability to regulate who can open the door and step inside is gone. I was not sure what to expect, however within a few short days I had regular viewers from London to Melbourne, spanning a 17-hour window around the world. Friends joined in, peppering my live stream with banter, anecdotes and questions. Even though I could not 'see' them, I felt their presence. It was uplifting and the response I got was uniformly positive.
33 days later, after making everything from salads to clafoutis, I took a day off to take stock. In that time frame I had learnt a new expression, to pivot, otherwise known as restructuring your life and business in a ridiculously short period of time. Everyone has had to learn how to reinvent themselves and familiarize themselves with technologies they had, until then, no inkling of. How many of us had never heard of zoom, let alone hosted meetings, chats, birthday parties and multi-state conference calls on them?
I realized two weeks into the Instagram Live sessions that I could teach my cooking classes this way too. With a little apprehension, my trusty tripod with its low-tech attachments in hand, I launched into territories unknown, teaching virtual cooking classes. To my utter astonishment it worked! Although participants could not smell or taste the food as I prepared it, they could cook along with me. Not only that, this medium allowed people to join in from, not just from my home town, but from all over the States, and Europe and Australia as well. When asked, 'will you continue this after we get back to normal?' the answer was and is emphatically yes!
As I look back over the upheaval of everything that is covid; loved ones lost, the surreal experience of virtual funerals, cancelled graduations, commemorations and celebrations, and contemplate the uncertainty of the coming months; the future of our businesses and our collective health, it is comforting to know that there are things that offer solace. We may not be able to attend concerts, but choirs have sung, spliced together in harmonic convergence by maestros of digital technology; we may not be able to play sports together but take heart when watching two little girls playing tennis across the rooftops of Finale Ligura in Italy; we may not be able to travel, but can still pull up a virtual chair at a dinner table and share a common meal across hundreds of miles. As I read research reports on the effects of this pandemic on our collective psyches, one thread stands out. Growing and making something calms us. From container gardening to nourishing blooming sourdough starters, nurturing ourselves and our loved ones is helping us stay sane.
In an unscientific survey of friends and colleagues I asked what had changed for them during these past few months. Their responses ran the gamut from delight in discovering new foods and healthy choices:
"We have gone totally vegetarian and it's been fun adjusting our recipes…. but it's been even more fun since we are cooking the vegetables we are growing ourselves",
"I've been making bread because of you like a wee factory. One of the things we came up with was "Posh Beans on Toast" it's beans of any kind mashed a bit with sautéed onions, garlic or whatever you have around. I add a bit of hemp seed pesto as well, we always have that. Put it on toast, with or without tomatoes or avocado. My eldest who doesn't cook says this will be a staple for her going back to college. Best thing is cooking whatever I fancy and being able to have time."
"Yes! I've made a delicious salsa verde, homemade marinara and started making all manner of oddball smoothies. Most satisfying are naughty bready bakes."
to frustration about just how much cooking we have had to do:
"Yes! I love cooking when I'm not expected to do it every few hours, while working 10-12 hour days, and trying to be a good wife and a mom to wonderful but increasingly restless teenager. I dream about going to restaurants."
Everyone agreed though that there are just too many dishes to do!
My friends feedback echoed the experience of the people in my virtual cookery classes: cooking is a means of connection to people, even those separated by thousands of miles. During quarantine I have also taught some private classes; a retirement celebration, a father and daughter get-together, one a surprise birthday party linking eighteen households from Florida to California. I emailed the recipients the recipes a few days ahead of time. They shopped for the ingredients prior to the class, and then, at the appointed time, we cooked together. We laughed, they told familial stories, we chopped, they asked questions, we whisked vinaigrettes and tasted as we went along. Despite the physical separation they were connected through the dishes they prepared together, experienced the same aromas in their kitchens, and tasted the same food. Once all the recipes were completed, I handed over the controls of the zoom platform to the participants and stepped away. They sat down to eat together, laptops propped up on the dining table, sharing their homes and the same meal with each other. After every class I have received almost identical comments 'despite the miles that separate us we were able to have dinner together, sharing the same meal!' Such is the power of food. It nourishes us body and soul.
Summer salad with Peaches, Mint and Burrata
These are some of my favorite seasonal dishes, ones that make me smile and think of picnics, languorous lunches on the terrace and care-free days. May they soon return for all of us. Bon Appetit!
Serves 4 people
2 peaches — halved, pitted and sliced
2 nectarines — halved, pitted and sliced
1 oz mixed salad greens
8 thin slices prosciutto (optional)
1 handful of mint leaves
1 burrata cheese
3 tablespoons olive oil
1 tablespoon aged balsamic vinegar
Flake salt
Black pepper
1. Arrange the peach and nectarine slices on a large platter. Intersperse with the greens, prosciutto (if using) and mint leaves.
2. Gently tear apart the burrata and dot the salad with the cheese.
3. Whisk together the olive oil and vinegar in a small bowl. Drizzle over the salad. Sprinkle with some of the flake salt and 5-6 grinds black pepper.
Fig and Melon Salad
Food, like music, has the peculiar ability to transport you to another time and place. If I hear the first licks of 'California Girls' by the Beach Boys, I instantly see my young pre-teen self, sitting in the back of my parent's convertible, top down, belting out the lyrics to the music being played on a clunky eight track tape deck. It's the summertime, the air is warm, the light golden and I have few cares in the world. Ah, the joys of summer!
I have the same reaction when I come across Charentais or Cavaillon melons, whose heady violet, jasmine perfume permeates the air of any market stand. That aroma holds the promise of the taste of luscious honeyed apricots, and evokes, for me, the image of picnics in Provence. You can imagine me delight therefore, when, tasting a local Tuscan style cantaloupe melon in the farmers market in California, I felt I had just stepped into the South of France. Needless to say, I brought some home and made this salad, an ode to the sweet taste of summer.
Serves 8 people
For the salad:
2 Tuscan melons — halved, seeds removed and flesh scooped out with a spoon
16 assorted figs — quartered
1/3 cup raw pistachios
1/3 cup mint leaves
2 oz goat cheese — crumbled into small pieces
1 tablespoon finely chopped chives
For the vinaigrette:
3 tablespoons fruity olive oil
Zest and juice of 1 lemon
1 tablespoon balsamic vinegar
1 pinch of coarse sea salt
8-10 grinds black pepper
1. Place the melon scoops and figs in a salad bowl. Scatter the pistachios, mint leaves, goat cheese and chives over the top.
In a small bowl, whisk together all the vinaigrette ingredients to form an emulsion. Pour over the salad just before serving and toss to combine.
Olive Tapenade Toasts
Serves 4 as an appetizer:
12 oz pitted black or kalamata olives
Juice and zest of 1 lemon
1/3 cup olive oil
1 tablespoon capers
3 tablespoons finely chopped parsley
1 tablespoon finely chopped chives
8 turns of freshly ground black pepper
4 toasts
1. Place all the ingredients into a food processor, except the lemon juice. Run the processor so that the ingredients form a thick, smooth paste pouring the lemon juice through the feeder opening. You may not need to use all the lemon juice. The tapenade should not be too dry. Serve on toasts drizzled with olive oil.
Tomato, Peach, Herb and Nut Tabouleh
Serves 4 people
1/2 cup water
1/2 cup couscous
3 peaches — pitted and cut into ½ inch pieces
1 bunch flat leaf parsley leaves — finely chopped
3 tablespoons cilantro leaves — finely chopped
2 oz pine nuts — dry roasted
4 oz cherry tomatoes — quartered
3 tablespoons chives — finely chopped
2 tablespoons mint — finely chopped
1 tablespoon basil — finely chopped
Zest and juice of 2 lemons
Juice of 1 lime
1/3 cup olive oil
Salt and pepper
1. Bring 1/2 cup salted water to a boil in a small saucepan. Add the couscous, cover, remove from the heat and let sit for 10 minutes. Remove the lid and fluff the couscous with a fork. Let cool to room temperature.
2. In a large salad bowl, combine the peaches, parsley, cilantro, pine nuts, cherry tomatoes, chives, mint and basil. Add the cooked couscous and toss to combine.
3. In a small bowl, whisk the lime and lemon juices and zests together with the olive oil. Add a good pinch of salt and 5-6 grinds pepper. At least 15 minutes before serving, add the vinaigrette to the salad and toss to combine well
Roasted Eggplant with Summer Salad
Serves 4 people
2 medium eggplant – halved lengthwise
Olive oil
1 tablespoon Herbes de Provence or Za'atar
Salt
Pepper
1 cup Greek yogurt
Zest and juice of 1 small lemon
1 tablespoon finely chopped chives
1 ½ cups chopped cherry tomatoes
2 tablespoons finely sliced basil
1. Preheat the oven to 375 degrees.
2. Using a sharp knife cut a cross-hatch pattern across each of the eggplant halves. Do not cut all the way through the skin, but make the cuts at least ¾"deep. Place the eggplant halves on a baking sheet. Drizzle a good glug of olive oil over the eggplant, then sprinkle the herbs over the top. Add freshly ground pepper and a large pinch of salt. Roast for 40 minutes or until the eggplant are completely tender and easily pierced with a knife.
3. While the eggplant are roasting, prepare the topping. In a small bowl combine the yogurt, lemon zest and juice. Add 1 tablespoon olive oil, a pinch of salt and a little pepper and stir to combine.
4. In another small bowl combine the chopped tomatoes and the basil.
5. Once the eggplant are cooked place them on a serving plate. Spoon some of the yogurt mixture over the top of each half, then spoon the tomatoes over the yogurt. Serve immediately.

Written for Edible Santa Barbara - Winter 2020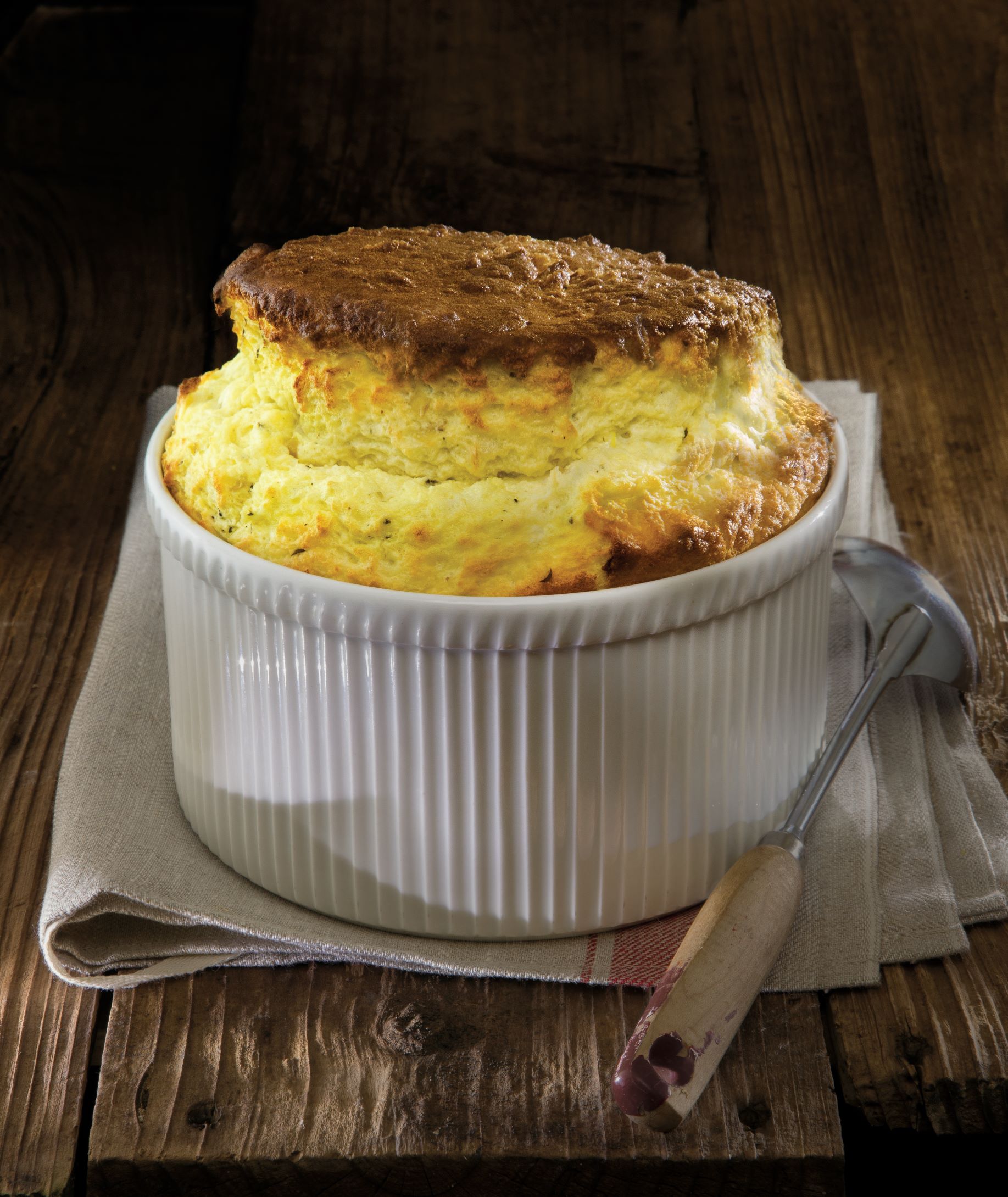 Bon Appetit!
"People who love to eat are always the best people."
Julia Child was being interviewed on television. When asked to what she owed her longevity she said, without missing a beat, in her trademark warbling, cooing voice, "Red meat and Gin!" I was captivated. Here was a woman who spoke her mind. She told the interviewer that we should eat all things, but in moderation, and that butter, cheese and crème fraiche were all good for you. This was language I understood. She was speaking about food the way my French grandmother had. I couldn't explain the instant connection I felt with her, but I did, and immediately set up about putting pen to paper, to write Julia a thank you note for just being, well, Julia. Deciding to write the note was the easy part, delivering it was more complicated.
I knew that she lived in Montecito, a few miles down the road from where I lived as it turned out. I had also read that she had built a house in Provence, called La Pitchoune, a house that was filled with friends, good food, laughter and conversation, a house in which she tested recipes, made jam from fruit picked in the garden and cured olives from the ancient, gnarled trees that dotted the property. By a complete coincidence, I had recently cured some olives, and decided to add a jar to the note propped up on my kitchen table. Two days later it was still there. My wise mum, nodding her head in the direction of the note and olives, stated the obvious. "They are not going to deliver themselves you know, Pascale. Let's drive them over to her place." "Um, yes I will" I remember replying, to which she promptly picked up the card, olives and my car keys, saying in her practical no-nonsense voice "Non, we are doing this now". I tried to reason that one could not just waltz over to Casa Dorinda and ask to see Julia Child. We didn't see her of course, but left the package for her at the reception desk.
I thought no more about the package until about four weeks later when a small, white, typed postcard arrived in the mail. It was from Julia. I was completely stunned, and touched that she had taken the time to send a few words detailing how she had taken the olives to a friends for dinner. I was so delighted that I sent her a thank you for her thank you, this time accompanied by a jar of apricot jam. One week later I received another card. She had eaten the entire jar with friends over breakfast one morning. Incredible! I pondered sending a third thank you, but decided that may be regarded as over enthusiastic on my part. I was still pondering contacting her again, when fate intervened.
I received an unexpected call from a friend. "Whatever you're doing, drop it. I'm coming to pick you up. Julia Child is giving a talk at my sister's house and you're coming with me to meet her!" Thirty minutes later I found myself in an enormous private kitchen with sixty other people, all devoted fans. I stood at the back of the room and watched their rapt attention, hanging on every sage word spoken by the often-witty Mrs. Child. It was at that moment that I fully understood the reverence and regard everyone held her in. Her television program and book had not made the transition to Britain, so I had not grown up hearing her voice, nor seeing her on The French Chef. I bought a copy of Mastering the Art of French Cooking after I had moved to California, and had delved into it, comparing her recipes with my grandmothers to see how closely they followed each other. They did in so many ways. Eerily so. Now, here she was, 40 feet away from me, with a sea of eager people itching to ask her questions. After the cooking demonstration she sat in an adjoining room signing books. I saw no opportunity to approach her, and was about to leave, when I was suddenly propelled toward her by the host of the event. "Now's your chance, introduce yourself" She said, and left me standing in front of her.
Julia was seated in a very low chair so one had to either bend down over her or basically get down on one knee, which is precisely what I did. Like a supplicant, I realized afterwards. I wasn't quite sure what to say, so introduced myself by telling her that I was the one who had sent the olives and the apricot jam. I didn't for an instant think she would remember, but was once again astonished that she did. We briefly discussed the source of the olives, France, my heritage, Provence and food writing. She then suggested that we should "get together" when she got back from her planned visit to the east coast. "I'll be back in six weeks, call me." She said, scribbling her phone number on a tiny piece of paper. I thanked her and said I would.
"The only real stumbling block is fear of failure.
In cooking you've got to have a what-the-hell attitude."

Six weeks later to the day, my lovely Mum called and asked, "have you called?" No. I had not. Nor did I the next day, or the next. What on earth was I going to say? Finally knowing that I would have to answer the inevitable question of why I hadn't called, I picked up the phone and dialed her number. I expected someone else to answer the phone. I did not expect her sonorous voice on the other end of the line. Ah…now what should I do? Perhaps I should have thought this through a little more carefully! "Ah, Hello Julia, It's Pascale." I explained. We chatted for a few minutes about her trip. Then I invited her to lunch, at home. "I don't drive you know" she said. "Not a problem." I replied. "I'll pick you up." A week later I did just that.
"One of the secrets, and pleasures, of cooking is to learn to correct something if it goes awry; and one of the lessons is to grin and bear it if it cannot be fixed."
? Julia Child, My Life in France
It was to be the first of many meals we shared together over the course of the next few years. She had a great appetite for the food she liked to eat. If she didn't like it, she usually, deftly ignored the dish. I tested recipes on her. Before you ask, had I lost my marbles in doing so, who better to tell me if the dish worked, or not! I once served her a lentil terrine. She took one bite, put her fork down and made a face. I took a bite. I made a face too. It was much too dry. We didn't eat it. I apologized. She held up her hand and said, "Never apologize for your food." Right. I took a deep breath. I went back to the kitchen and served something else. Lesson learned.
"You never forget a beautiful thing that you have made,' [Chef Bugnard] said.
'Even after you eat it, it stays with you - always."
? Julia Child, My Life in France
I have a penchant for Provence and its food. I cooked many of my favorite dishes for Julia, including a golden, buttery Tarte a l 'Onion, but as much as Julia loved Provence, the dishes she seemed to love the most were firmly ensconced in the pantheon of classic French cooking. She mopped up the crème fraîche sauces I made with gusto, and relished the canard a l 'orange. One day, I decided to make her a cheese souffle. It had risen beautifully and I placed it carefully on the table between us. I quickly stepped into the kitchen to get the salad, by the time I returned, less than two minutes later, Julia had spooned out half of the soufflé onto her plate and was tucking in. "I adore soufflés" she enthused. She was enjoying herself. I was too. Sitting on the terrace with her that day, eating that dish, is a memory I will always treasure.
cheese SOUFFLÉ
Serves 8 people
3 tablespoons butter plus 1 tablespoon for the soufflé mold
3 tablespoons unbleached flour
1 1/3 cups milk
2 tablespoons crème fraiche
8 oz grated Gruyere, Compté, Cheddar or Emmenthal or a mixture including some goat cheese
5 egg yolks
8 egg whites
Preheat the oven to 400 degrees.

Use the 2 tablespoons of butter to grease the inside of the large soufflé mold – you may need a little less if you a using one large mold.

Melt the butter in a large saucepan placed over medium heat. When the butter has completely melted, add in the flour and stir until it has completely absorbed the butter and thickens into a paste. Add in the milk and continue stirring until you a thick, creamy mixture. Remove from the heat.

Add in the crème fraiche and cheese, stirring well to combine all the ingredients. Making sure that the mixture is not too hot, whisk in the egg yolks so that you a smooth, homogenous mixture. Set aside.

Beat the egg whites until they are just firm. You don't want to over beat them as this will create a dry soufflé. Gently fold the egg whites into the soufflé base until they are completely incorporated – you should have no pockets of just egg white mixture. The texture should be quite firm. Spoon or pour the soufflé mixture prepared mold.

Bake for 40 minutes. Serve immediately.
This is very good served with some crème fraiche or yoghurt that has been mixed with finely chopped chives and parsley.
We feasted and feted together. We dined at home and in restaurants. We laughed and chuckled about the news, politics, and food. I loved cooking meals for her.
On one particular occasion, a special birthday celebration for my mother, we stopped to pick Julia up on the way back home. Jay, an old family friend was visiting from the East Coast. He was a grand gourmand and something of a gourmet cook. He and my mother used to cook up a storm together when he visited us in London. "Who are we picking up he asked?" "Julia" my mother answered. "Do I know her?" he asked as we pulled up outside her home. I should add at this point that Jay was a formidable business man, and not a person to be easily surprised. It was therefore a charming and priceless moment when Julia was helped into the car and seated next to him. He was momentarily speechless, but recovered to be a gallant dinner companion, and wonderful raconteur for the rest of the evening.
Thumbing through my copies of Julia's books, reflecting on the meals I shared with her, I found the menu from that evening, their place cards, and a photo showing Jay; pleased as punch, with Julia and Mum laughing on either side of him, tucked between the pages of the recipe for Pommes Anna. Time telescoped back to that dinner in true Proustian fashion, and found myself savoring each course in my taste buds, hearing the clinking of glasses, the children's laughter, and Happy Birthday being sung.
Smoked Salmon Millefeuille with Watercress and Arugula Salad
Rib Roast with Sauce Bordelaise
Petit Pois Genevieve and Pommes Anna
Plateau de Fromages
Gâteau au Chocolat
Poignantly, I realized how much I miss those conversations, dinners, her bon mots and no-nonsense views on life.
Julia encouraged me to write about food, and was one of the first people to pre-order my first cookbook. She insisted that my co-author and I cash the check that she had written for it, guessing, correctly, that we would rather have framed it. "I will know if you haven't" she said with a knowing look in her eye, adding practically, "This is business." I deposited the check.
She had high expectations of those around her. I strove to live up to them and her oft quoted adage, "You don't have to cook fancy or complicated masterpieces - just good food from fresh ingredients." Her maxim has become my raison d'être.
Merci Julia