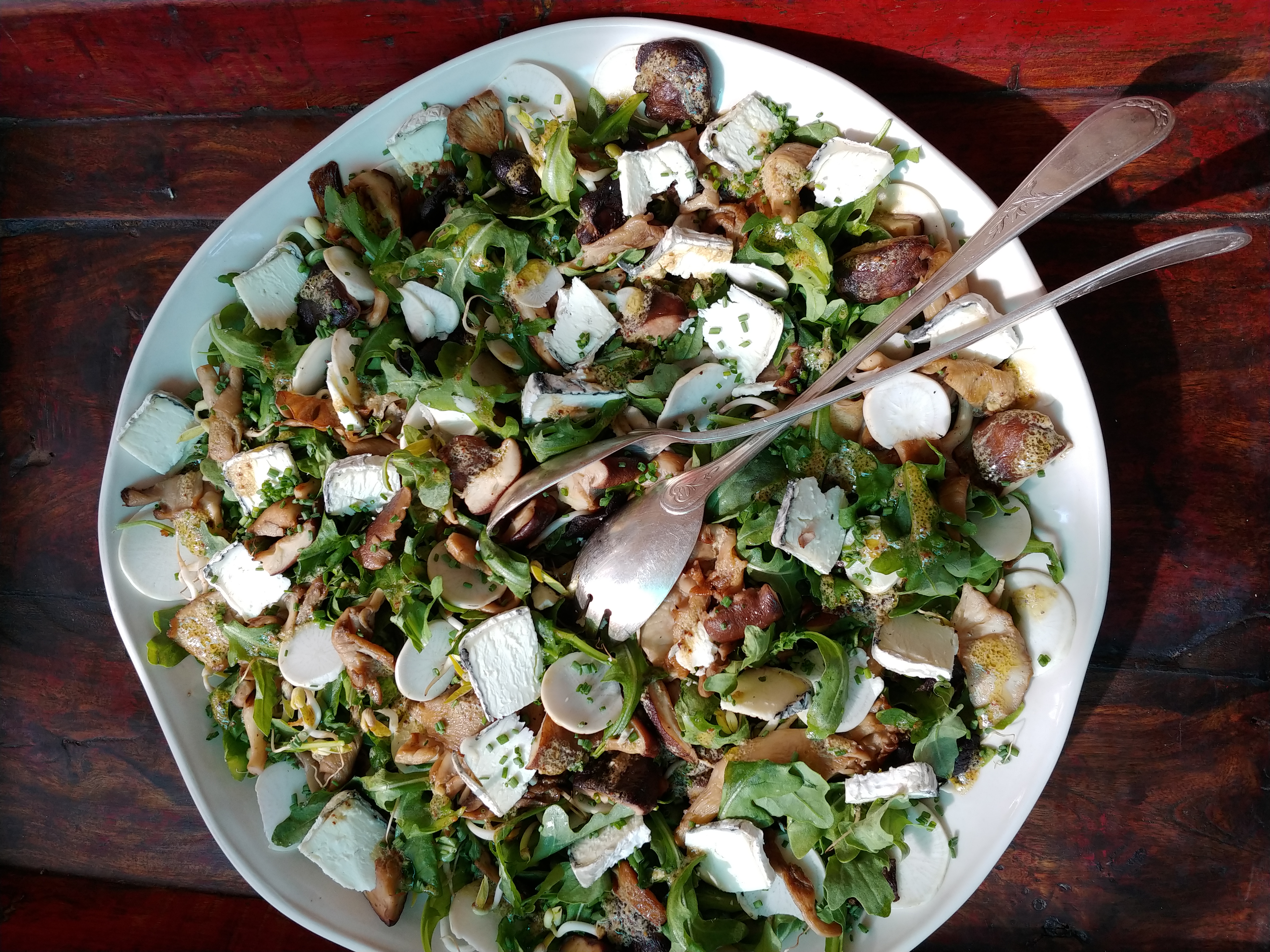 A vibrant approach to seasonal cooking
When I grew up in London we had a little greengrocer around the corner from our house, who in winter, sold mainly leeks, potatoes, cabbages and carrots, and some apples and pears. He would wrap each vegetable up in a small paper bag. My mother, brother and I would stand in the drizzle, it was always drizzling or raining, and as this was an open-air affair, the grocer and all the customers were bundled up in layers to try and keep out the pervasive damp that crept up our bones. Every few days we would walk the two blocks to look at his produce, in the hope we'd be inspired by something new, and every week we would walk home with the same ingredients, the paper bags getting soggy in the rain. We'd make soup, mum made spiced dahl and lentils, and terrific apple crumbles, foods designed to keep us warm.
I recently read these lines by poet Edith Sitwell, "Winter is the time for comfort, for good food and warmth, for the touch of a friendly hand and for a talk beside the fire: it is the time for home." which reminded me of those wet London days, and invoke images of hearty roasts, rich sauce mopped up with chunks of freshly baked bread, rib-sticking stews or a dish with a heart stopping amount of melted cheese. Hugely satisfying every now and then, but as the short damp days drag on some of us get the winter blues and get stuck in a rut cooking the same three dishes and a general throw-it-all-in-the-pot vegetable soup. At first these big warming bowls of hearty stews, bean chili's, gratins and soups are just what we need when the weather turns chilly and wet, and don't get me wrong, I do love a bowl of creamy vegetable soup, but it can get tedious, and tastebuds get tired. I long for food that offers a little pick-me-up, something with a little zest and piquancy. Enter winter greens, citrus, lots of herbs, and meals that don't require a spoon to eat them. It wasn't until I moved to California that I found (and still find) winter markets more inspiring, the obvious bonus being that the temperature isn't hovering just above freezing, and 'winter' as it is, is thankfully short.
Here the markets are filled with vibrant colors from dazzling chards, radicchio and purple chidori kale, to watermelon radishes, multihued beets and cauliflowers, and such a huge variety of citrus fruit, in particular fragrant Cara Cara oranges, stunning blood oranges and sweetly tangy Meyer lemons. This colorful bounty is stimulating to the senses, and as the old adage, attributed to the Roman epicurean Apicius, goes "we eat first with our eyes." Drawn in by these colorful winter vegetables, I walk through the market creating an array of dishes in my mind. I may well see a beautifully whorled creamy cauliflower and think of a curried cauliflower soup or of a gratin but will balance that rich dish with a crisp winter greens salad with thinly shaved candy cane colored radish slices or will see a mound of carrots piled high on a farmers table and think of a carrot puree to serve alongside a roast chicken and balance the hearty meal with a dessert salad of sliced winter citrus fruit.
So much of winter cooking is about creating food that is warming and sustaining, making comforting dishes, dishes that take time to simmer and develop flavor, to slowly percolate on the stove while you, hopefully, curl up on the sofa with a good book until it's time to eat. Sometimes these dishes can be monotone, a mac and cheese say, or a mushroom soup. This is when I like to think about texture. A change in texture enhances a dish. Crispy Brussel sprouts in the bowl of mushroom soup will give it a pop in much the same way crispy bacon will to the mac and cheese or adding al dente vegetable to bowl of lentil curry. The lentils are soft and tender, yet the vegetables add an uplifting note keeping each mouthful interesting.
Creating and cooking a lively winter menu is about balance between comfort food and dishes that open the appetite and keeps satisfying all one's senses; from the aroma of a roast filling the kitchen as it cooks, to the fresh taste of citrus zest shaved across a salad, from the texture and sensation of a sensually soft yet crunchy mushroom crostini, to the sight of a lemon souffle rising. As each of our senses is stimulated, our taste buds start salivating in anticipation; imagine a crunchy crisp pear and arugula salad followed by a luscious stew, a hearty vegetable soup with a zesty herb pesto followed by a mouth puckering lemon tart, or a radicchio and shaved parmesan salad, followed by a lentil curry with a tangy yogurt sauce. Adding that little extra touch—the crisp pears to the salad, the pesto to the soup, the yogurt to the curry—livens up each dish. Adding these extra touches to winter dishes has kept my tastebuds happy, is this something you do too?
Baby Arugula, Wild Mushroom, Mung Bean and Goat Cheese Salad

Robert Dautch, or BD, as he is known to everyone, has been farming for more than four decades in the Ojai Valley. I have heard him described as an 'organic alchemist' and having cooked with his exquisite array of herbs, greens, edible flowers, and vegetables for many of those years, I can attest that he and his hard-working crew, are masters of their craft. He is also a fountain of knowledge, and it was he, when he saw that I held a bunch of his Japanese globe turnips in my hand one market day, who said 'you know those are great eaten raw Pascale.' I had not, up to that point, tried raw turnips, but dutifully went home, and tried one. The texture and flavor were a revelation: sweet, delicate, with a hint of a mild radish on the palate, and the crunch of as Asian pear. They are terrific in salads. In this recipe they add a delicate yet crunchy contrast to the warmth of the sautéed mushrooms, the creaminess of the goat cheese and the pepperiness of the arugula.
Serves 8 people
For the vinaigrette:
1 tablespoon walnut mustard
¼ cup extra virgin olive oil
1 tablespoon Champagne or white wine vinegar
For the salad:
8 oz baby arugula
2 oz sprouted mung beans
4-5 baby Japanese globe turnips — washed (and peeled, if necessary,) then thinly sliced
2 tablespoons finely chopped chives
3 oz goat cheese
2 tablespoons olive oil
2 tablespoons butter
1 ½ lbs assorted mushrooms, including cremini, trumpet, shitake — sliced
Sea salt
Black pepper
In a large salad bowl whisk together the vinaigrette ingredients to form a thick emulsion. Place salad utensils over the vinaigrette.

Place the arugula, mung beans, sliced turnips, chives and goat cheese on top of the utensils.

Pour the olive oil into a large skillet over medium heat. When the oil is just sizzling, add the butter and melt until foaming. Add the mushrooms, a good pinch of salt and 8-10 grinds of pepper. Sauté, stirring frequently, until golden brown, about 5-6 minutes. Add the mushrooms to the salad. Toss to combine well. Serve while the mushrooms are still warm.
Lentils du Puy and Carrot Salad
I must admit I am a little obsessed with these lentils from Auvergne, France. Lentils du Puy are sometimes called the caviar of lentils, and for good reason. They are absolutely worth the premium one pays for them. There are other small French lentils out there, but please trust me when I tell you that these are absolutely the best. They have a slightly nutty, mineral-like quality to them. They can be prepared quickly and because of their unique characteristics, they retain their shape when cooked, unlike other varieties. Lentils served with a mustardy vinaigrette are classic bistro fare in France and are often served with crispy bacon (lardons)added or as an accompaniment to duck confit or roast chicken. I love to make variations of this dish by adding assorted vegetables and herbs to the mix. In this version, multi-colored carrots with green onions, parsley and chives are tossed with the lentils and vinaigrette.
Serves 8 people
2 cups Lentils du Puy
2 small red onions — peeled and quartered
1 bay leaf
4 cups vegetable stock
Coarse sea salt
3 large red carrots — halved lengthwise and cut on a bias into ½-inch slices
3 large orange carrots — halved lengthwise and cut on a bias into ½-inch slices
Olive oil
4 green onions — thinly sliced
3 tablespoons parsley — finely chopped
3 tablespoons chives — finely chopped
Juice of 1 lemon
Salt
Pepper
1 tablespoon Dijon or walnut mustard
1/4 cup olive oil
1 tablespoon red wine vinegar
Place the lentils, red onions, bay leaf and vegetable stock in a large saucepan. Add a good pinch of salt. Cook, covered over medium-low heat for 20-25 minutes or until the lentils are just al dente. Drain and remove the bay leaf. Place the lentils and onions in a medium salad bowl.

While the lentils are cooking, steam the carrots until they are just tender, 6-7 minutes. Remove from the steamer and let cool to room temperature.

Pour a little olive oil into a large skillet over medium heat. Sauté the green onions, parsley, chives and the cooked carrots. Add a pinch of salt and 4-5 grinds black pepper and cook for 4-5 minutes. Stir in the lemon juice and mix well. Add the carrot mixture to the lentils.

In a small bowl whisk together the mustard, ¼ cup olive oil and vinegar to form an emulsion. Add the vinaigrette to the lentils and carrots. Mix well. Let sit at least 30 minutes before serving.
Roasted Beets, Butternut Squash and Red Onions with Zesty Parsley Pesto
This is one of my favorite beet dishes. The vibrant pesto is terrific with the rich, roasted butternut squash, the meltingly soft onions, and the tender beets. I like to serve this dish with green salad filled with herbs, and for a hearty meal with a lentil dish alongside, as the earthiness of the legume's pairs wondrously with the voluptuousness of the roasted beets and butternut squash.
Serves 8 people
For the vegetables:
4 red beets — unpeeled
Olive oil
Salt
Black pepper
1 medium butternut squash — halved, seeded, peeled, cut into 1/3-inch slices
1 large red onion — peeled, thinly sliced
For the pesto:
1 cup of parsley leaves
1 tablespoon capers
4-5 cornichons
¼ cup extra virgin olive oil
Zest and juice of 1 small Meyer lemon
Place the beets in a small baking dish. Drizzle with olive oil, add a good pinch of salt and some pepper, and roast for 50-60 minutes, or until tender when pierced with a knife. When cool enough to handle, peel the beets and slice into 1/3-inch rounds.

Pour a little olive oil onto a rimmed sheet pan. Place the butternut squash and onion slices in the pan and turn to evenly coat with oil. Sprinkle with salt and pepper. Roast in the same oven as the beets for 40 minutes.

While the vegetables are roasting, make the pesto. Place all the pesto ingredients in a food processor or blender, and puree to a semi-smooth consistency.

Arrange the beets, squash, and onions on a large serving platter. Spoon the pesto over the vegetables. Serve warm.
Crêpes à l'Orange