In the little town in Provence my family calls home, the local farmers market takes place twice a week under dappled light in a large tree-lined square. It is one of my absolute favorites places. In fact, all farmers markets are, as they hold the promise of the unexpected...the first apricots or cherries of the season perhaps, or some plump, ripe figs, magnificent heirloom tomatoes or bouquets of basil and other fragrant herbs. Markets, anywhere in the world, tempt me, and I am drawn to them like bees to nectar for they feed my culinary inspiration.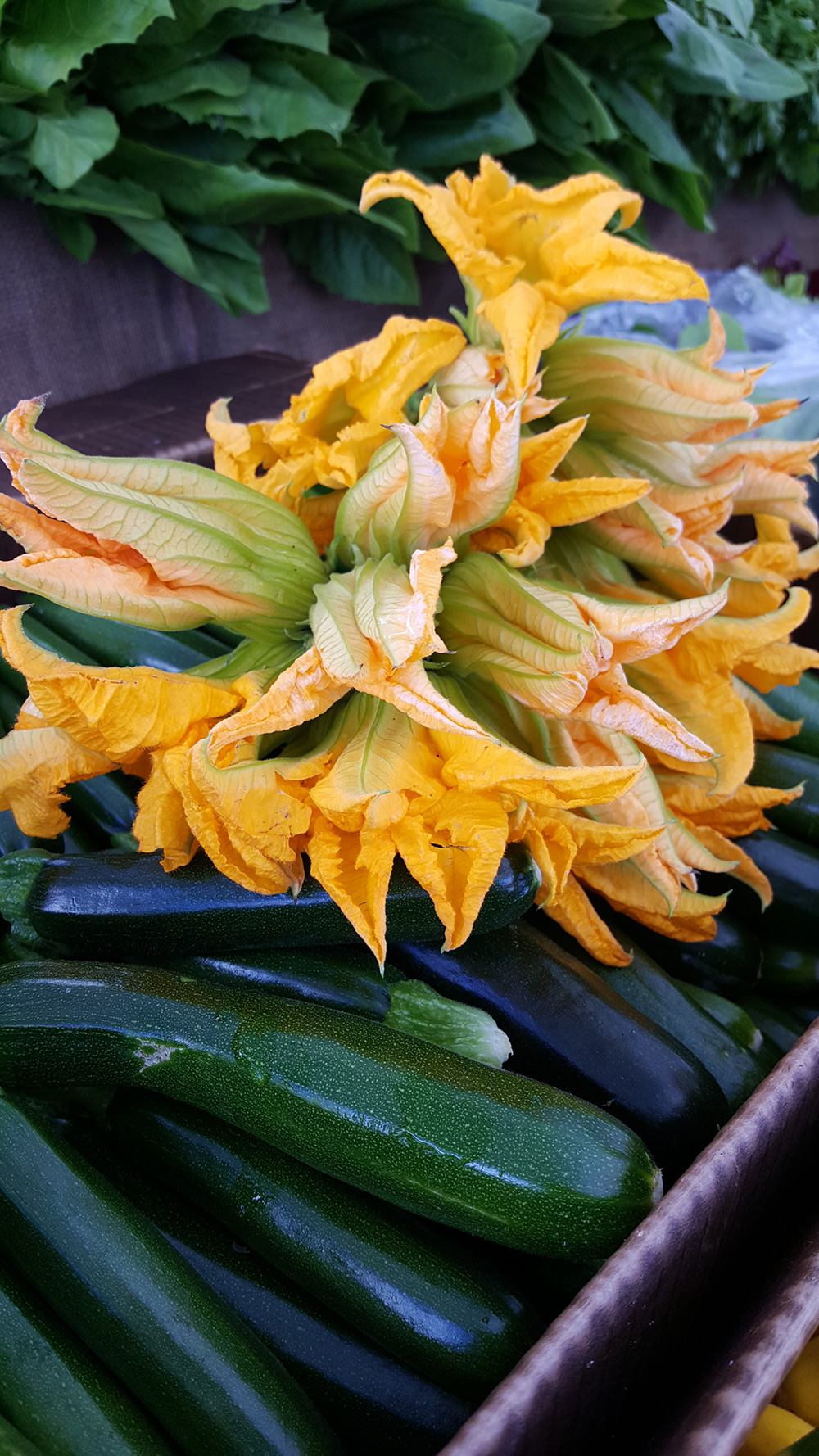 Luckily for us, six days a week in Santa Barbara County you will find, dotted along the main thoroughfares of our local towns, a ritual sprouting of market umbrellas that herald, much like the emergence of wild mushrooms, the bounty from local farmers. As they set up their trestle tables, the delights of each season are revealed, tempting us with their fragrance, beauty, and abundance.
Part of each market's charm comes from its locale and everyone has their favorite; from the quaint, timbered lined streets of Solvang; the beachy, ocean breeze-caressed, laid back feel of the Thursday afternoon market on Linden Avenue in Carpinteria; the hip, musical, bustling vibe of Tuesday evenings on State Street in Santa Barbara, the multi-cultural, student-filled, internationally flavored atmosphere of the Goleta Sunday Market, to the intimate flower and plant filled market that migrates up and down Coast Village Road on Friday mornings in Montecito. I too have my favorites but over the course of the past few months I have rediscovered the attractions of every market in the county and found plenty of inspiration along the way.
The Carpinteria market is perhaps the most relaxed of the them all, a true reflection of the beachside community it serves. Kids scamper about with the telltale signs of having sampled sweet summer strawberries and plump stone fruit with their juice stained fingers and sticky cheeks, people stroll up from the beach in sand filled sandals, past the eclectic selection of stands that frame the ocean end of the market and slowly meander past the abundantly filled tables.
On a recent Thursday I came across some exquisitely beautiful, sunflower yellow squash blossoms. I couldn't resist and cooked them that very evening, stuffed with a mixture of freshly sautéed zucchini, spinach, some leftover roasted chicken, all mixed with ricotta and mounds of fresh herbs that had perfumed the stalls. I served the cooked stuffed blossoms on a bed of wild greens. My daughter said it 'tastes like summer on a plate'. Her comment made me reflect how much I enjoy savoring each piece of fruit or each vegetable at its height of freshness. Surely that is one of the greatest pleasures when buying items directly from the farmers, with produce picked just hours before, bursting with flavor and packed with nutrients. It tastes so much better that way!
I always feel as though the weekend has truly begun once I'm at the Saturday morning market. I love running into friends and catching up on the week's news and chatting with farmers about what they have that's new. It's where I pick up my eggs, delicious goat cheese from Deb Neal at Drake Family Farms, baskets of berries, a bag or two of decadent dates and fill my baskets with great bunches of herbs which tantalize my olfactory senses. I tend to get carried away when faced with such a treasure trove, which often results in impromptu gettogethers in the garden or on the terrace at home. The meals are uncomplicated, sometimes starting with a simple aperitif, a glass of rose perhaps from local vineyards, and an appetizer of fresh radishes, a baguette, some salt, and butter. The dishes that follow are frequently a collection of salads and roasted vegetables capped off with a fruit tart, a clafoutis or a berry topped pavlova. These spontaneous gatherings are often my favorites, a great way to unwind with friends and truly savor the season.
The markets also feed my creative juices when planning special events. My daughter recently celebrated a milestone birthday. She had suggested a picnic in a vineyard with friends and family. I was happy to oblige and asked what dishes she would like, which triggered a remembrance of picnics past. Funny how so many of life's occasions are memorable because of what we ate. Our conversation took place on a sunny Saturday morning as we ambled past magnificent mounds of produce at the Cota Street market, which hummed with activity as people fillet their baskets with everything from asparagus to round, baby squash, and fragrant peaches to tangy lemons. We munched on raw snap peas as we planned the menu. Nearby colorful beets and spring peas were heaped chest high and the idea for a giant multi-hued salad came to mind. We found some raw black-eyed peas and decided to add those to the dish too.
In the end we made a giant salad for twenty people and dotted the top with burrata. We filled the car with prodigious supplies, a patchwork of Provençal tablecloths, some freshly baked bread, hot vegetable quiches and a grilled zucchini and tarragon roasted chicken salad. We gathered around a long table set in the vineyard, the warm air singing with crickets, and celebrated her 21st circumnavigation of the sun.
Laughter and conversation filled the car on the drive home through the undulating hills that connect the Santa Ynez valley to the coast, bathed in a golden glow from the setting sun. A kaleidoscope of images rushed through my mind as I recalled her previous al fresco birthday gatherings, from childhood tea parties to springtime feasts in the garden.
Birthdays and holidays, by their very cyclical nature mark the passage of time, and the food we prepare to celebrate them are a true reflection of the season, mirrored in the produce we find in our local farmers markets. Whether a special occasion or a spur-of-the-moment gathering, these crops are the palette with which we can create delectable memories. Bon Appetit!
STUFFED SQUASH BLOSSOMS
Serves 8 people
Olive oil
1 red onion — peeled and finely diced
4 spring onions — finely sliced
2 small yellow squash — ends trimmed, then chopped into small dice
2 small zucchini — ends trimmed, then chopped into small dice
Salt
Pepper
½ lb baby spinach
2 roasted chicken legs — deboned and all the meat chopped up in to small pieces (if using)
4 oz whole milk ricotta
2 tablespoons each finely chopped chives, parsley and cilantro
16-20 fresh squash blossoms
Pour a little olive oil into a large pan over medium-high heat. Add the red and spring onions and sauté until lightly golden brown. Stir frequently. 4-5 minutes.

Add the squash and zucchini, a good pinch of salt and 6-7 grinds fresh pepper and cook until golden brown. 5-6 minutes.

Add the spinach and chicken (if using) and cook until the spinach has just wilted. 1-2 minutes.

Place the squash-zucchini mixture in a large bowl. Add the ricotta and all the herbs. Stir to combine.

Carefully spoon the mixture into each of the squash blossoms. The petals are delicate so take care not to tear them. Gently twist the top of each blossom to encapsulate the filling.

Heat a little olive oil in a large shallow pan over medium heat. Once the oil is hot, carefully sauté the blossoms until lightly golden brown on all sides. As they cook quickly, no more than a minute or two, I like to do this just before serving so that they are still hot.

Note: The blossoms go particularly well with a salad of wild greens. You may also have some filling left over – it's delicious on toast!
ROASTED BEET AND SNAP PEA SALAD WITH BURRATA
Serves 8 people
2 lbs assorted small beets (red, yellow, chioggia) — washed clean, root end and leaves trimmed
Olive oil
Salt
1 lb sprouted black eyed peas — thoroughly rinsed
1 lb snap peas — sliced lengthwise on a bias
Pepper
Juice and zest of 1 lemon
1 tablespoon Dijon mustard
1 tablespoon red wine or champagne vinegar
2 tablespoons finely chopped chives
2 tablespoons finely chopped Italian parsley
1 large burrata — cut into eighths
Preheat the oven to 375 degrees.

Place the washed, but unpeeled, beets into a shallow baking dish. Drizzle with a little olive oil and a good pinch of salt. Cook for 35-40 minutes, or until tender when pierced with a sharp knife. They should not be overcooked though. Remove from the oven and let cool before peeling. Once peeled, cut each beet into eighths.

Steam the black-eyed peas for 15-20 minutes until just cooked. Drain and rinse thoroughly.

Pour a little olive oil into a large skillet placed over medium-high heat. When the oil is hot, sauté the sliced snap peas with a good pinch of salt and 5-6 grinds of black pepper. Cook for 2-3 minutes, until just slightly golden. Remove from the heat and add the lemon zest and juice. Stir to combine.

In a large salad bowl, whisk together the mustard, vinegar and 3 tablespoons olive oil until you have a thick emulsion. Place salad utensils over the vinaigrette.

Add the cooked black-eyed peas, sautéed snap peas and peeled beets to the bowl, on top of the utensils. Sprinkle the vegetables with the chives and parsley.

When ready to serve, toss gently to combine. Spoon some salad onto each plate and top with a piece of creamy burrata.
GRILLED ZUCCHINI AND TARRAGON ROASTED CHICKEN SALAD
Poulet a l'estragon (tarragon chicken) was — actually still is — one of the dishes that I always looked forward to when visiting France. It's classic bistro fare, or cuisine bourgeoise. In other words, good home cooking. Every time I find this herb at the farmers market, this is the dish I want to make. This salad pairs moist tarragon roasted chicken with grilled zucchini and a mustardy vinaigrette. To me it is the taste of summer in salad form.
Serves 8 people
1 3 ½ lb chicken
2 yellow onions — peeled and thinly sliced
Olive oil
4 sprigs tarragon to roast with the chicken plus the leaves from 1-2 more stems for the finished salad
Salt and pepper
5 zucchini — ends trimmed away and then sliced on a bias
1 tablespoon Dijon mustard
4 tablespoons olive oil
1 tablespoon tarragon vinegar or white wine vinegar
Preheat the oven to 400 degrees.

Cover the bottom of a roasting pan with the sliced onions. Place the chicken on top and drizzle with a little olive oil. Tuck the tarragon sprigs around the chicken. Sprinkle a little salt over the chicken and then grind some black pepper over the top. Roast for 90 minutes.

Spoon the mustard into the bottom of a large salad bowl. Pour in the olive oil and vinegar and whisk together well. It will look like mayonnaise. Place the serving utensils on top of the vinaigrette.

Pour a little olive oil into a large mixing bowl and add all the zucchini slices, a pinch of salt and some pepper. Toss to coat.

Place a griddle on top of a stove and heat so that it gets nice and hot. Grill the zucchini slices so that they are just cooked. Turn them after 2 minutes. You may have to do this in batches as all the slices may not fit on the griddle in one layer. Add the grilled zucchini to the salad bowl.

Place the cooked chicken on a cutting board and let rest for 10 minutes before carving. Carve the chicken, removing all the meat and chopping it up into bite-sized pieces. Add the chicken pieces, the sliced roasted onions and the fresh tarragon leaves to the bowl.

When you are ready to serve, toss the ingredients well so that everything gets nicely coated with the vinaigrette.



Note: Deft use of the herb is key, as the slightly anise flavored herb can be overpowering if used in large quantities.
GREEN TOMATO, MELON AND CUCUMBER SOUP
Last summer was boiling hot, as in too-hot-to-even-think-about-cooking hot. We ate gardens of salads and drank gallons of very cold drinks. One sweltering Saturday morning at the market, I sampled green melons that were so fresh and flavorful that I thought I would try making a chilled soup with them. This was the refreshing result -- perfect for a summer's day, boiling or otherwise.
Serves 8 people
For the soup:
1 lb (6-7) green tomatoes
1 green Honeydew or Bailan melon (3-3½ lbs) — halved, seeded, peeled and roughly chopped
3 Persian or 1 English cucumber — peeled and roughly chopped
4 tablespoons olive oil
Large pinch of sea salt
5-6 grinds black pepper
For the garnish:
16 yellow pear or small yellow blush tomatoes — quartered
2 tablespoons cilantro leaves — roughly chopped
2 tablespoons chopped Thai basil leaves
Zest and juice of 1 lemon
1 tablespoon olive oil
Pinch of coarse sea salt
6-7 grinds black pepper
Pink flake salt
Place all the soup ingredients in a blender and puree until smooth. Alternatively, place the ingredients in a deep bowl and puree with an emersion blender. Chill the soup for a minimum of 1 hour.

15 minutes before serving the soup, combine all the garnish ingredients in a medium bowl and toss well to combine.

Ladle the soup into eight bowls. Spoon some of the garnish into the center of each soup bowl and sprinkle with a little pink flake salt just before serving.

Market Days: The markets, which began in 1983, have proliferated throughout the county both in locations and numbers of farmers. In the height of summer, it is not unusual to have 110-120 different farm stands at the largest, Saturday morning market in the heart of Santa Barbara.
Tuesday: 4:00pm-7:30pm - 500 and 600 blocks of State Street, Santa Barbara
Wednesday: 2:30pm-6:30pm - Copenhagen Drive and First Street in Solvang
Thursday: 3:00pm-6:30pm - 800 block of Linden Ave in Carpinteria
Friday: 8:00am-11:15am - 1100 & 1200 blocks of Coast Village Road in Montecito
Saturday: 8:30am-1:00pm - Corner of Santa Barbara and Cota Streets, Santa Barbara
Sunday: 10am-2:00pm - corner of Storke and Hollister; 7004 Marketplace Dr in Goleta
Written for Edible Santa Barbara - Spring 2018
"If you really want to make a friend, go to someone's house and eat with him… the people who give you their food give you their heart." – Cesar Chavez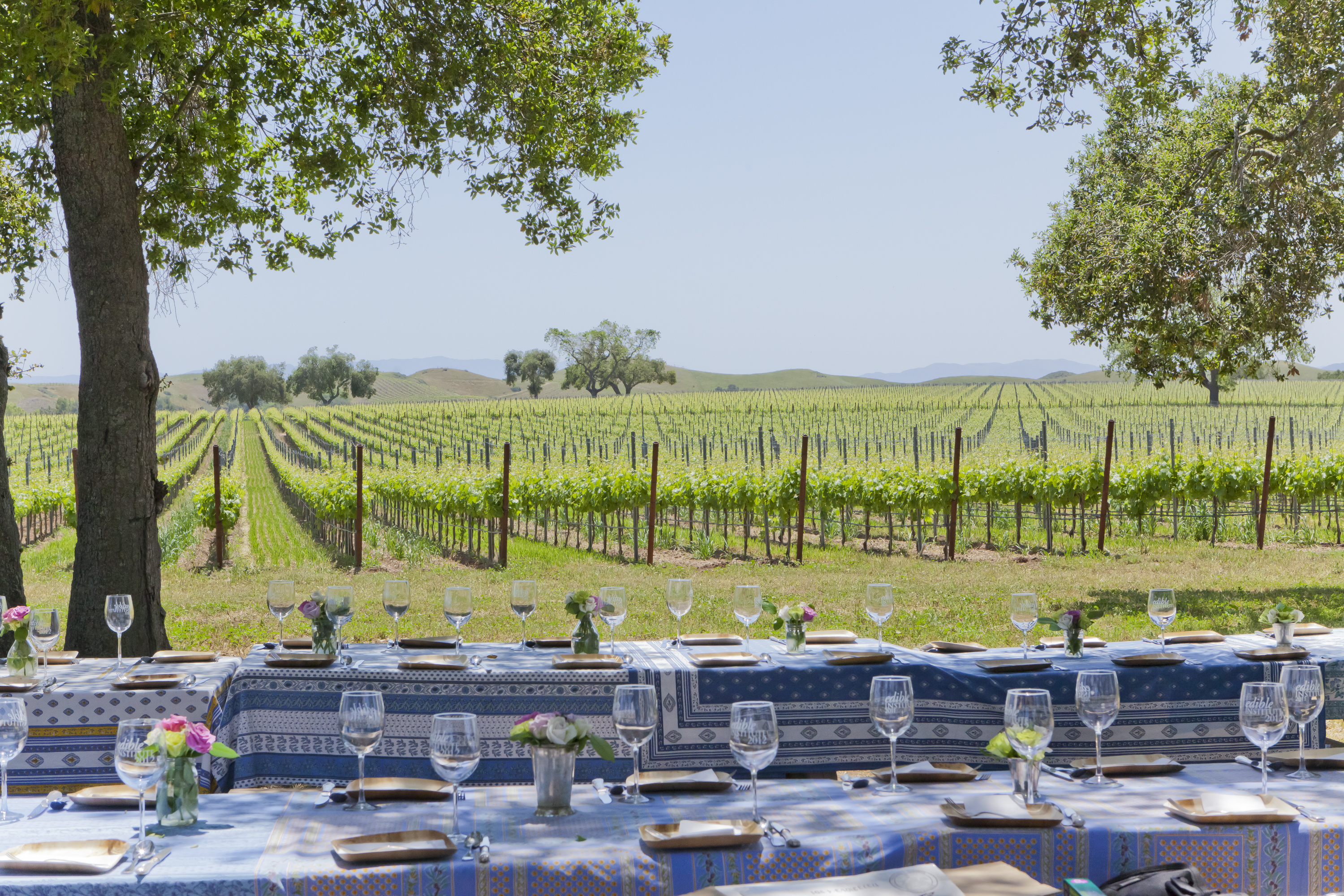 For the past sixteen odd years I have met almost every month with a group of friends to discuss books. At least that is the premise of our little 'book' club. We discuss a lot more. Over the years, as our lives have crisscrossed each other's, and as we have watched our children grow, we have giggled and laughed out loud, cried tears of joy and anguish, cheered on our kids from the sidelines and rejoiced in all the milestones as our families have evolved. We gather around each other's dinner tables, share a meal and talk. This past January was to be no different. Two days before our get together the usual string of emails flurried back and forth; 'I'm bringing a salad', 'I'll bring dessert', "Wednesday at 7pm – see you then', and so on.
Then came the deluge.
The New Year had bought clement weather to the Central Coast and a sense of peace had just begun to settle upon the town, so for everyone who lived through the long, ash-filled, weeks of the Thomas Fire, the very thought of the impending storm on January 9th was ominous. Everyone along the entire coastline held their collective breaths and hoped we would all survive the dire predictions from the weather forecasters. Our nerves had already been rattled by weeks of incessant safety alerts on our phones, and everyone was tired: tired of evacuations, tired of packing and unpacking, tired of masks, tired of coughs, tired of the ash that crept into every nook and cranny, just plain tired.
I woke up to the thunderous noise of the rain pounding on the roof in the middle of the night. No sooner had I got up to check outside, when the severe emergency alerts blared again on my phone, announcing flash flood warnings, and to take protective action to stay safe. I kept my fingers crossed for all my friends who lived beneath the burn areas. At daybreak I sent out a message to our little group. 'Everyone ok??'
"Our house has gone." was the shocking first reply.
"Well, I won't be hosting book club here anytime soon" came the second.
"we've evacuated"
"We can't get out…"
Over the course of the next few hours it quickly became apparent that mother nature had wrought its worst. The mudflows decimated Montecito and the surrounding hillsides. Everyone was in shock. Thousands of people were displaced. Everyone checking in on everyone else and wondering what on earth we could do to help. Helicopters flew incessantly overhead ferrying the wounded and evacuating those trapped. It sounded like footage out of a war zone. Everyone asking questions, who is missing? What happened to your home? When did you get out? How are you? Where are you going to go? Can you get to work? Can you get home?
That first night as my family gathered in the kitchen, displaced friends arrived with their harrowing tales. I did what many people did that night, I cooked for them. Comfort food, lashings of it. Over the next few weeks this became our evening ritual. I cooked more food, more friends arrived, a bottle (or two) of wine was opened, we would nibble on some cheese and then sit down, eat and review the day. As we communed together we found our collective strength.
I realized as the days wore on, that this catastrophe triggered a visceral reaction in me. Sudden memories popped up at the most unexpected times, reminding me of past natural and not-so-natural disasters that we had lived through, all of them, oddly, occurring in the middle of the night. From fires and earthquakes to intruders, these unsettling events prompted a desire to be with our friends and family, to see and hold each other, and to draw solace from our common experience. We gathered around the table then too.
Two plus weeks into this odyssey our motley book club crew got back together, all of us finally in town, straggling in from disparate parts. We cooked up a storm as the saying goes, huge bowls of salads, roast vegetables and lasagna. We toasted one and other, grateful that we were all in one-piece, shared stories and laughed, and laughed, and laughed. How good that laughter felt!
After everyone had gone home, I stood in the now quiet kitchen, putting away the last of the dishes, reflecting on the evening, the extraordinary survival stories, and the good fortune that meant we were all still alive. Others; friends and neighbors, fellow Santa Barbarians, had not been so lucky, swept away by a twist of fate and a wall of mud.
We mourned those lost, and turned to face the gargantuan task of rebuilding. In that process, a new sense of community and camaraderie emerged from the mudflows, not just in Montecito, but throughout the county. People offered strangers their guest rooms, guest houses and couches to sleep on, bucket brigades were formed to clear out the mountains of mud, and cash mobs organized to support local businesses that have been devastated, up and down the coast, by month-long closures. Social media was flooded with messages championing 'buy local, shop local, stay local'.
As I drove around town in the weeks and months that followed, picking up vegetables from the farmers market, fish from the harbor and cheese from my favorite fromagerie I was reminded time and again, that in times of crisis, the very act of sharing a meal with friends gives us comfort.
Now, as we head into spring I'm looking forward to more spontaneous lunches and dinners in the garden, grateful to be sharing our local bounty, and happy, just to be with friends gathered around the table.
This is a menu for such an occasion - Bon appetit!
SHAVED ASPARAGUS, BROCCOLINI AND FARRO SALAD
Serves 8 people
1 ½ cups farro — well rinsed
Olive oil
1/2 lb baby broccolini — sliced vertically
Salt
Pepper
Zest and juice of 1 lemon
1 lb asparagus (thick stalks) – shaved with a vegetable peeler into thin strips
1 bunch watercress — tough stems trimmed
½ cup almonds — finely chopped
3 oz Parmesan — shaved into thin slices
1. Bring a large saucepan of salted water to a boil. Add the farro and cook until al dente, and slightly chewy in texture, about 15-25 minutes. The best way to check for doneness is to taste! Drain the farro, fluff with a fork and let cool in a bowl or spread out on a rimmed sheet pan.
2. Pour a little olive oil into a medium skillet over medium heat. Add the broccolini, a pinch of salt and 4-5 grinds pepper, and cook for 2-3 minutes or until just softened.
3. In a large salad bowl, whisk together ¼-cup extra virgin olive oil, the lemon zest and juice, a good pinch of salt and 6-7 grinds fresh black pepper to form an emulsion. Place salad servers over the vinaigrette.
4. Add the cooked farro, broccolini, shaved asparagus, watercress and almonds to the bowl, placing everything on top of the utensils. When ready to serve, toss well to combine. Top with the shaved parmesan. Serve warm.
Note: A lovely, heartier variation of this salad is to add a poached egg onto each person's salad. The egg is delicious when mixed in with the vegetables and farro.
POACHED SALMON WITH A CITRUS-CARDAMOM BEURRE BLANC
I love poached salmon for festive occasions and large gatherings. The beurre blanc sauce is a luscious extravagance (not a sauce I eat every day of the week) but perfect for a special treat.
Serves 8 people
For the court bouillon:
2 carrots — peeled and cut into ½ inch slices
1 leek — cleaned and cut ½ inch slices
1 onion — coarsely chopped
1 small bouquet garni — tied with string
2 quarts water
1 cup white wine
1 large pinch salt
1. Put all the ingredients in a large pot and bring to a boil, then reduce the heat to a simmer, cover and cook for 20 minutes.
2. After 20 minutes, strain the court bouillon, discard the vegetables and let the liquid cool to room temperature.
For the salmon:
3 lb filet salmon
court bouillon — see recipe above
6 sprigs fresh dill or the fronds from 1 fennel
2 shallots — peeled and finely sliced
1. Place the salmon on the rack in a fish poacher (it is difficult to poach a fish of this size without one, or use a very large shallow pan) and carefully pour in enough cooled court bouillon to completely cover the fish. Add some fresh dill or fennel fronds and the shallot slices. Bring to a simmer over medium heat.
2. Simmer the fish gently until cooked through (count on 7 – 10 minutes per inch thickness of the fish in cooking time). Lift the rack out of the poacher and set it on top of the poacher at a slight angle to let the bouillon drain.
3. Gently turn the salmon over onto a serving platter and remove the skin. Serve with the beurre blanc sauce and roasted potatoes below.
For the beurre blanc sauce :
1 tablespoon olive oil
3 shallots – peeled and finely chopped
2 tablespoons white wine vinegar
¼ cup white wine
1 cup court bouillon or fish stock
3 cardamom pods – slightly crushed
2 tablespoons cream
1 cup unsalted butter — chilled and cut into small pieces
Zest and juice of 1 lemon
Zest and juice of 1 orange
salt and freshly ground black pepper
2 tablespoons chives – finely chopped
1. Pour the olive oil into a medium-sized saucepan placed over medium-high heat. Add the shallots and cook for 2-3 minutes until barely golden brown. Add the vinegar and white wine, and cook, stirring occasionally until almost completely evaporated.
2. Pour the court bouillon (or fish stock) into the pan, add the cardamom pods and bring to a strong simmer. Cook for 3 minutes. Add the cream and continue cooking until slightly thickened, about 2 minutes more. Reduce the heat to low and add the pieces of butter one at a time, whisking constantly. Do not let the sauce boil as this will cause it to separate. Add the lemon juice, lemon zest, orange juice and orange zest, and add the salt and pepper to taste. Finally add the chives and whisk again.
ROASTED FINGERLINGS STUFFED WITH PESTO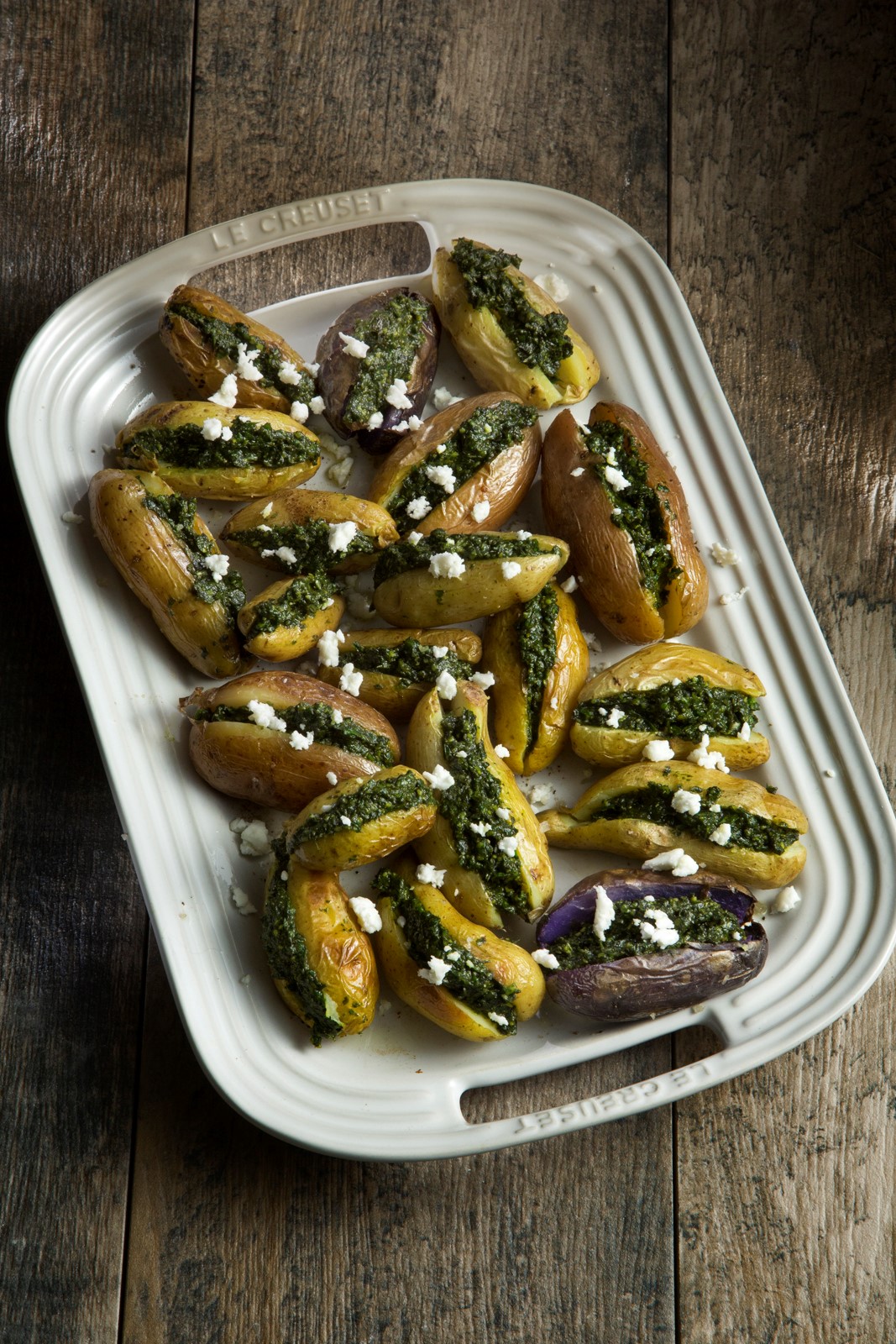 This dish combines two of my favorite foods — fingerling potatoes and pesto. I love to find the first spring potatoes at the market and experiment with different preparations. This one is quick and easy to make. The dish pairs well with green salads, haricots verts and roasted kale, all sorts of roasts and alongside poached salmon.
Serves 8 people as a side dish
2 lbs fingerling potatoes
Olive oil
Salt
Pepper
2 oz feta cheese — crumbled
For the pesto:
2 cups packed basil leaves
1 cup parsley leaves
1 cup cilantro leaves
1/3 cup grated parmesan
1/3 cup toasted pine nuts
½ cup olive oil
1. Preheat the oven to 375 degrees.
2. Place the potatoes on a shallow baking tray. Drizzle with a little olive oil, sprinkle with a little salt and add 6-7 grinds pepper. Roast the potatoes until they are golden and fork tender, about 30 minutes.
3. While the potatoes are roasting, prepare the pesto. Place the basil, parsley and cilantro leaves into a food processor. Pulse until the herbs are finely chopped. Add the parmesan and pine nuts. Pulse a few times more to combine the ingredients. With the machine running, pour in the olive oil and process until well blended but still moderately coarse.
4. Slice open each potato lengthwise. Do not slice all the way through. Spoon some pesto onto each potato and dot with the crumbled feta. Serve hot.
GENEVIEVE'S GATEAU
In the first century AD, Pliny the Elder wrote in his remarkable book Naturalis Historia, "The Muscat grape has been grown for a long time in Beaumes and its wine is remarkable." My grandmother obviously agreed with him as Muscat de Baumes de Venise was one of her favorite wines. She loved to have a glass of it as an aperitif. I distinctly remember the first time she allowed me to have a taste. It was light, not too sweet with the fragrance of orange blossoms and honey. I was therefore intrigued, whilst reading an old magazine on Provencal desserts, when I came across a cake using this wine and adapted the recipe to the cake we have here. Unfortunately my lovely "Mamie" had passed away before I could make it for her. This cake is a tribute to her and to all the "delices" she used to make for me as a child.
Serves 8 – 10 people
5 extra-large eggs — separated
4 oz sugar (½ cup plus 1 tablespoon)
5 oz butter (1 ¼ sticks)
Zest of 2 lemons and the juice of ½ lemon
Juice of 1 orange
8 oz all-purpose unbleached flour (1 ¾ cups)
½ teaspoon salt
1 1/3 cups Baumes de Venise or Muscat wine
1 lb grapes – you can use red or white seedless varieties
1 tablespoon light brown sugar
1 tablespoon sugar (mix with the light brown sugar above in a small bowl)
1 tablespoon slivered almonds
1. Preheat the oven to 400 degrees. Coat a 10-12 inch cake tin with a removable bottom with a little olive oil. Set aside.
2. Whisk the egg whites until they hold firm peaks. Set aside.
3. Place the butter in a large bowl. Using an electric mixer, beat until creamy. Add the sugar and beat 1 minute more. Add the orange juice and beat until smooth.
4. Whisk in the lemon zests and juice, and then add the egg yolks one at a time, whisking until you have a smooth mixture.
5. Add the flour, salt and wine to the egg yolk mixture and whisk until well combined. The batter may look a little granulated. Don't panic.
6. Gently fold the egg whites into the batter. Pour half of the batter into the prepared cake tin. Distribute half of the grapes over the batter. Cover with the remaining batter and then scatter the remaining grapes over the surface. They will sink a little.
7. Cook the cake for 30 minutes. Open the oven and carefully sprinkle the combined sugars and slivered almonds over the surface of the cake. Bake for a further 5-10 minutes or until a knife inserted into the center of the cake comes out clean. Remove from the oven and serve at room temperature.
Written for Edible Santa Barbara - Winter 2018
"Cookery means the knowledge of Medea and of Circe and of Helen and of the Queen of Sheba. It means the knowledge of all herbs and fruits and balms and spices, and all that is healing and sweet in the fields and groves and savory in meats. It means carefulness and inventiveness and willingness and readiness of appliances. It means the economy of your grandmothers and the science of the modern chemist; it means much testing and no wasting; it means English thoroughness and French art and Arabian hospiltality" - John Ruskind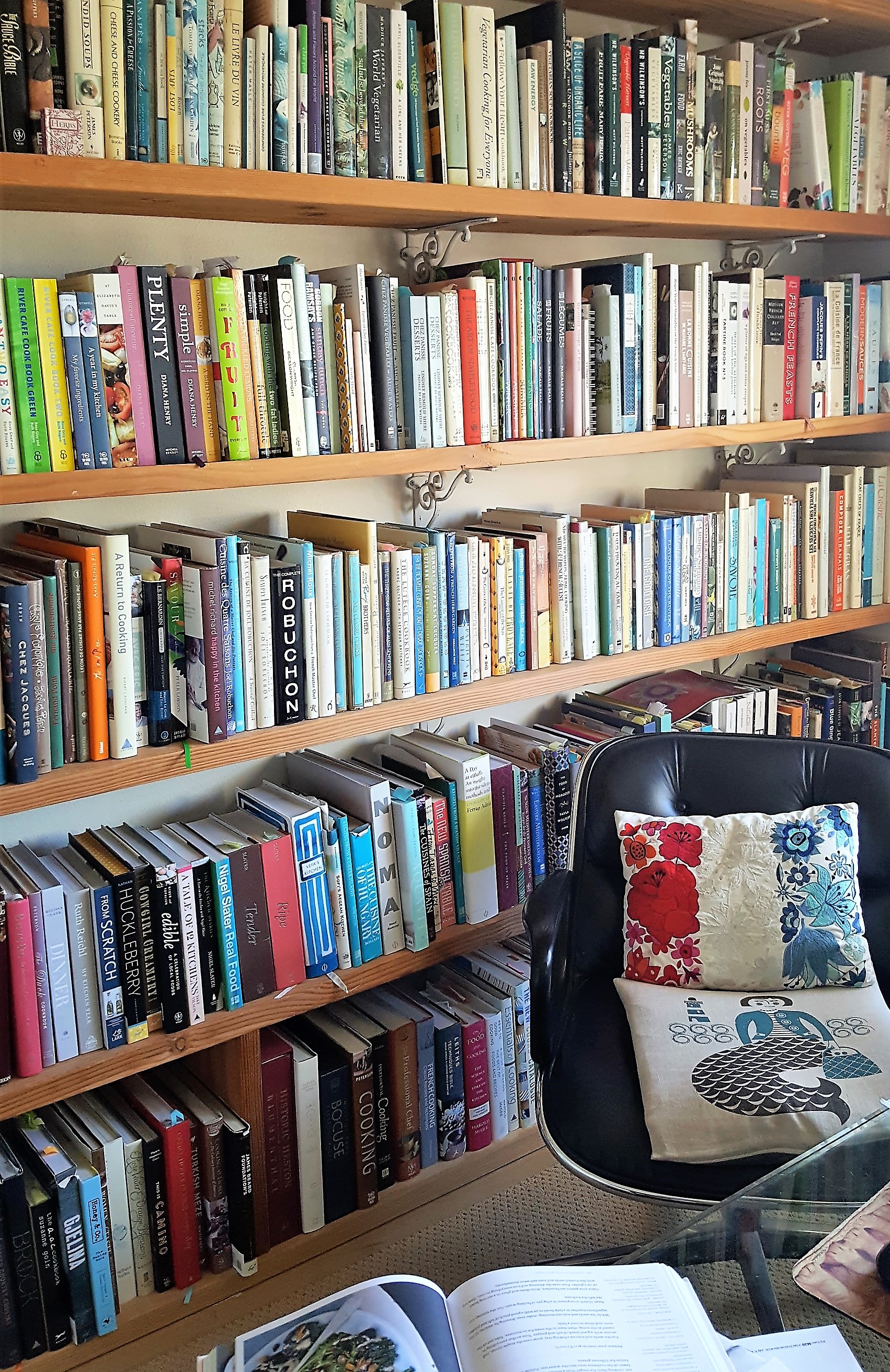 The wall behind my desk is lined with wooden shelves, crammed with a cornucopia of cookbooks from around the world. They feed my inspiration. I disappear into them and in an instant, am transported to the souks of Marrakesh, the dappled light filled markets of Provence, the fish markets of Marseille, the farmers markets of California, and beyond. Piled onto the shelves are also food memoires, technical cook books, restaurant cookbooks and massive culinary dictionaries. They come in all shapes and sizes, illustrated and not. Some are new, some rather old, a few are battered copies that I have carted half way around the world, filled with scraps of paper marking a recipe or story of note. Through them I travel the continents and explore the culinary treasures they encompass. It wasn't always thus.
I became aware of the act of cooking long before I was aware of cookbooks as a source for recipes. My mother and grandmother just cooked with nary a book in sight, creating dishes with seeming effortlessness. I assumed that I would acquire the same repertoire just with my proximity to the kitchen, and that seemed to be the case as I was put to work at a young age chopping vegetables and sorting salads, or learning to make béchamel with a guiding hand on mine. My grandmother, a refined cook of classical French dishes, produced multi-course meals at the drop of a hat. Little did I realize that she had not passed her culinary prowess and knowledge onto my mother, but rather, furnished her, soon after her marriage, with a book which should provide her with the answers to all matters related to the kitchen.
The book in question was the daunting, red leather bound La Cuisine by Raymond Oliver. Filled with thousands of recipes, it was a tour de force, a lexicon of classic French cooking. I soon discovered that my mother would consult it before any major dinner party and labored for hours over extravagant creations such as festooned pheasants. It was the source for the now infamous (in our house at least) canard à  l'orange, a 40-hour, never to be repeated, cooking odyssey. As I got older I poured over its pages, digesting recipes for everything from fantastic terrines to towering pièces montées, and returned to it annually to finally master what became my then signature dish, a Pâté en Croûte, filled with layers of marinated meats encased in a buttery, flaky crust. The book is filled with gallentines, aspics, gastriques, sauces that take two days and 38 ingredients to prepare, dishes that never see the light of day in a family kitchen and the assumption that all readers of the book had more than a modicum of cooking knowhow. It was imposing and challenging. It seemed to me, at the time, that either one cooked simple meals or great feasts with nothing in between. The next books I acquired did nothing to dispel this perspective.
I was born, fortuitously, into a family of self-avowed food fanatics where driving a few hundred kilometers for a good meal was not unheard of. Driving across any part of France meant an in-depth study of the famed Guide Michelin, a copy of which was always kept in the glovebox. Trips were planned accordingly, and, if the chef had by chance written a cookbook, I would sometimes be the lucky recipient, complete with a signed menu from the establishment to commemorate the occasion. I paged through these books reverently, salivating over the exquisitely produced dishes, never imaging that I would re-create them in my own kitchen. My cooking at this point was of a hearty country variety. These books fueled my curiosity, a guide if you will to the nec plus ultra.
Our passion, as a family, for all culinary matters was matched by our passion for books which were piled high in various corners of the house. When Time-Life Books started their subscription series my mother immediately signed us up. We eagerly anticipated the monthly shipments on geography, history, photography and cooking. I relished the latter, The Good Cook/Techniques and Recipes. From these technically precise books I learnt how to make, amongst other things, floating islands, buttery shortbread and marmalade. These books became my reference library.
In my early twenties I received an 1890 edition of Mrs. Beeton's Book of Household Management, complete with color plates of extravagant table settings, menus with 22 courses and details on how one should instruct a scullery maid and the duties of one's butler! It is a time capsule, a view into the world of Edwardian England, a Downton Abbeyesque portrayal of life, far removed from the internet driven, warp speed world we live in today. It was with this book that I became intrigued with older texts and the window they gave one into another era. When Claudia Roden was researching her book of Middle Eastern food she spent months studying historical cookbooks and testing 13th century Baghdadi court recipes. In an interview for The New Yorker, Roden said "I just got so interested in the history of food and I was making all those medieval dishes, and it blew my mind – the idea that through food you could describe and reconstruct the world!" [1]
It was only when I moved to Los Angeles that I discovered food writing of another genre. Here I found Alice Walters, Mollie Katzen and Gourmet Magazine. The writing was comforting and approachable. I felt at home with this food and it proved to be life-changing. A single recipe in Gourmet magazine transformed the way I cooked. The recipe – a scallop and shrimp poached 'sausage' with a beurre blanc sauce - was the catalyst that propelled me into the food business. Up to that point I had used recipes as guides to flavor combinations, and referred to books to learn a particular technique. I restyled all recipes to fit with my somewhat casual Provencal-French country cooking. That recipe challenged me to push boundaries and explore new dishes. Successfully executed I went back to my old French cookbooks and dove headfirst into their texts, cooking my way through chapters of Raymond Blanc, Michel Guerard's Cuisine Minceur and Cuisine Gourmande, the Roux Brother's and George Blanc's sumptuous chicken dishes. I started keeping notebooks filled with menus so that I didn't feed my friends and family the same dish twice. These cookbooks propelled me, fed me, nourished my curiosity and my taste buds. I devoured the Chez Panisse Menu Cookbook, basked in Mireille Johnson's Cuisine of the Sun, and plunged headfirst into the Silver Palate. I read these books cover to cover, gobbling up recipes, filled my head with flavors, swimming in glorious sauces flavored with spices from around the world. The more I read and cooked, the more curious I became. My culinary horizons now stretched well beyond France's borders and spilled into every country surrounding the Mediterranean, drawing on the multi-flavored palates of the Iberian Peninsula, North Africa, Persia, Israel, Turkey, Greece and Italy, and then further afield to the foods of India and Asia. I travelled vicariously through the pages to these countries and discovered I wasn't alone.
In speaking with many of my fellow cook book obsessed friends and food professionals, I found a similar trait. Evan Kleiman, (Host of KCRW's Good Food) a voracious reader of all things culinary from an early age, said this "voyeuristic exploration connected me to the fact that all people were not white Americans and food was not just meat, potatoes, and salad with dressing." She read ethnic cookbooks as novels, and the works of Elizabeth David and Claudia Roden that opened the door figuratively and literally to another world. With the proceeds from baking cookies she travelled to Italy to explore, eat and cook the food she had read about. There, she found older Italian cook books, some with no lists of ingredients, just evocative narratives with general directions, imbued with the essence of the region they represented. For this very reason, both Kleinman and James Beard Award winning author Clifford A. Wright, have a penchant for cook books written in Italian. Evan Kleinman carried the books back to California to add to her growing collection, amongst them, favorites such as La Cucina di Mia Casa by Zenone Benini and the works of Franco Muzzio and Slow Food founder Carlo Petrini.
I was struck, as I discussed the cookbook collections with their owners, that although they varied widely in scope and focus; Nancy Oster's (recipe editor for Edible Santa Barbara) has a strong baking bent; Jill Johnson (Food writer and social media maven) hunts down Junior League cookbooks; Harriet Eckstein's (Santa Barbara based graphic designer and cook book editor) collection is eclectic, a true reflection of her peripatetic journeys around the world; Tracey Ryder's (co-founder of Edible Communities) is filled with French and vegetarian books; Local favorite Chef Pinks' is inspired by many fellow restauranteurs; everyone spoke of a cookbooks' capacity to reveal a culture through the cuisine they explored.
I asked Anne Willan, founder of the prestigious cooking school La Varenne, rare cookbook collector, and award-winning author who also penned The Cookbook Library: Four Centuries of the cooks, Writers and Recipes that Made the Modern Cookbook, why she thought cookbooks still sell and what she liked about cookbooks in general? She replied "A successful cookbook is much more than just a collection of recipes, it adds up to a picture of a certain type of cuisine and the author's view of it. In a truly great cookbook, the voice of the author comes through loud and clear, creating a portrait of a character as well as their cooking. It reads like a novel, a new turn in the plot on every page!" A sentiment echoed by Evan Kleinman who, when asked the same question said, "in a cook book you are looking at a person with a point of view. Cookbook authors are characters I rely on."
When I asked my friends about the longevity of cookbooks as opposed to the mass availability of cooking information and recipes online, Anne replied "Nothing online replaces the character and feel of a book in the hand. And it is so much easier to assess a recipe in the context of the rest of the book when you can flip the pages to and fro instead of scrolling up and down a screen." Evan added 'the difference between browsing online for a recipe and browsing in a bookstore, is that your eye falls on a page and draws you in." Clifford felt that, "… cookbooks are far more substantial, provide context and story and engage the reader/cook with their soul." Local favorite Chef Pink told me, "I buy printed versions of a book (as opposed to a digital version) because I believe in holding something in my hands that someone has created, rather than a fleeting image or video which is soon forgotten."
It quickly became apparent to me that these physical books seemed very much tied to the physical act of cooking, of creating and of sharing food. The books, like the dishes one eats are tangible. Jill Johnson said, "There will always be a market for hardcover books. People like having pages to flip through and mark up, taking time to savor making a dish… the smell of the books is so comforting, even seeing the stains on certain pages, tell you your favorite recipes."
Finding marginalia, stained pages, faded letters and notes tucked into old books are all part of their charm and mystique. They represent a tactile historical record of the books life. Evan Kleinman told me that she had purchased a second copy of Marcella Hazan's book on Italian cooking as the first one had fallen apart from constant use. Tracey Ryder, told me that after having read her books cover-to-cover she puts sticky notes on all the recipes she wants to cook later. My dilapidated copy of the Silver Palate is decorated with drawings and comments on when I made a particular dish and who was there, the index annotated with tick marks against the recipes I completed, with shopping lists tucked into the now loosened pages. Looking back on these annotations and saved recipes I see how my cooking has evolved and how my tastes have changed!
Like music that echoes an epoch, so do vintage cookbooks. I spoke with Dianne Jacob, acclaimed author of Will Write for Food about her collection and which cookbooks she was particularly drawn to. She spoke reverently about the food of the Cochin Jews, in particular a book by Mavis Hyman entitled Indian-Jewish Cooking, and books related to her heritage.
So why are we are all drawn to all these cookbooks? I recently came across an article about Chef Jose Andreas in which he described part of the attraction. He likes books, he said, that create a sense of discovery. He referred to Brillat Savarin, author of the famed The Physiology of Taste, as the Jules Verne of Gastronomy. Andreas' inspiration, came not just from the spices on his shelves but also on what he has learned about food from his books, "Old cook books" he revealed in an article for the New York Times[2], "connect you to your past and explain the history of the world."
This palpable link to one's past is a common thread weaved through all the collections I explored, often with a poignant connection. We each have books that, though not often read, act as a touchstone. Anne Willan told me, "When I'm feeling nostalgic, I go back to my mother's handwritten book of recipes, first from her childhood and then as a young married woman before World War II. It is a picture of another era, and also a memory of my own childhood when I hung out all day in the kitchen every week on Thursday, baking day of treats for the next week. I was not allowed a taste until Friday -- freshly baked goods were bad for the digestion said our stout old cook." Krista Harris, editor of this magazine, told me recently "Quite a few years after I started collecting old cookbooks, my aunt gave me a book that had been my great-grandmother's. She died when I was a baby so I never knew her, but I heard stories about what a wonderful cook she was. I loved seeing the handwritten notes in her cookbook." Celia Sack, owner of Omnivore Books— where I always feel as though I have stepped into a well-appointed personal library rather than a gem of a cookbook shop—told me she "loved the aesthetic of old cookbooks, and the story they tell about a place and time." And amid much laughter (on my part) Evan Kleinman mentioned that she was drawn to reading vintage books because they recreated the dishes of home and said "I was drawn to them because I wanted to be my own grandma!"
Interesting books obout cookbooks:
The Cookbook Library by Anne Willan and Mark Cherniavsky
History of Food in 100 Recipes by William Sitwell
The Chef's Library: Favorite Cookbooks from the World's Great Kitchens by Jenny Linford
The American History Cookbook by Mark H. Zanger
Written For Edible Santa Barbara - Autumn 2018
The train left Paris precisely at nine o'clock in the evening, snaking its way out through the suburbs into the countryside, its swaying motion and rhythmic clickity-clack lulling its occupants to sleep. Lying on a bunkbed in the sleeper car, I would peer out into the darkness, counting the hours until we arrived. At each stop in the now somnolent towns, I would mentally trace the journey we were making, snaking our way across France, through Dijon, then Lyon to Valance, finally up towards the alps, past Gap, reaching Embrun at day break where they would change the locomotives for the final climb into the upper alpine valleys. As we neared our destination, we'd lower the windows to breath in the breath-taking mountain air; in winter, so cold it would catch it your lungs; in summer, the air was filled with a cornucopia of aromas of pine and wild grass and we'd hear the song of cicadas as we slowly trundled by. We crane our necks up to the mountain tops and familiar valleys to catch the first glimpse of Briançon, the last stop on the line.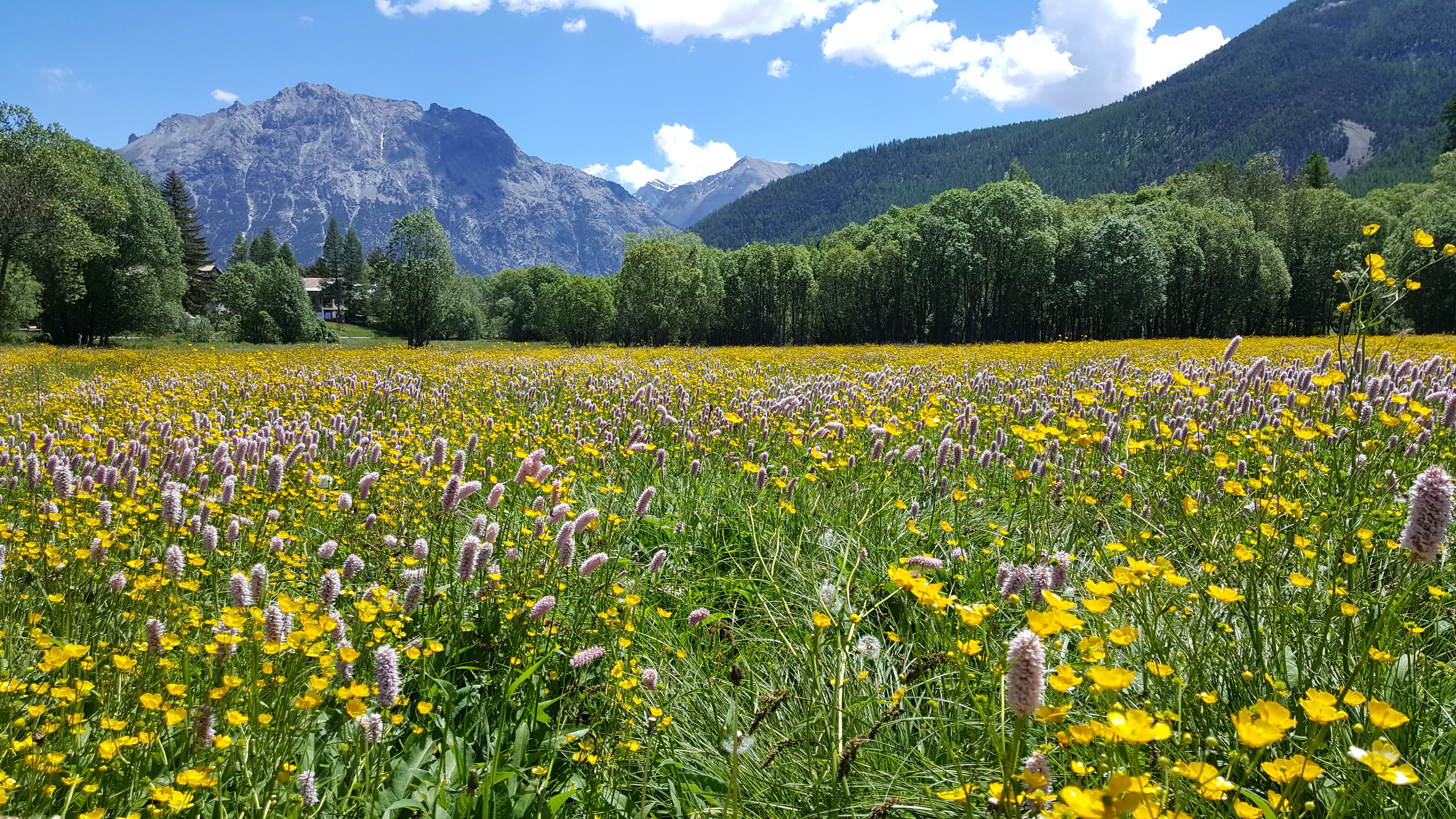 My grandmother always met the train which chugged into the station at 8 am. After the hugs and exclamations of delight at seeing each other, we'd drive home for breakfast where, waiting on the table, would always be a Craquelin, a pearl sugar coated brioche bread from Petit, our favorite baker. Next to it would be some butter and her home-made apricot jam. We'd lightly toast the slices, slather on the jam and then, there would always be a moments' pause. Would it taste the same? would the lightly sweetened dough melt in your mouth the same way? There was a tangible joy when it did, and we savored every morsel.
The highlights of the days that followed would be the parade of our favorite dishes, a simple grated carrot salad, a hachis parmentier (French Shepard's pie), escalopes a la crème, and her legendary lapin a la moutarde. Far away in London we longed for her food. The very idea of that succulent, mustard sauce would send us into rhapsodies. The anticipation was part of the magic. Don't we all have dishes that create that sense of longing? Perhaps it's a nostalgic, sepia-colored-tinged memory that makes a certain dish taste so special. For us, just describing her food set our taste buds tingling creating a satisfaction so deep it nourished us.
I miss my walks through the markets and visits to purveyors with my grandmother. By her side I learned how to pick vegetables and fruit, and to use and work with the food of each season. My love of farmers markets stems from those childhood days in France. I still have that eagerness each time I arrive at the market to see what new treasures I'll find, particularly as we head into the latter part of the year when our calendars are filled with one celebratory meal after another.
During the holiday season I sense that everyone is on high alert, wandering through the bustling aisles, long shopping lists in hand, seeking out just the right juicy item to enhance their festive tables. It is at these times that we want to please those around us even more. Surely, that is part of the pressure, and the excitement of preparing meals for special occasions. As the holiday markets take on a festive air with an abundance of flowers and seasonal specialties piled up on the farmer's tables, I often run into friends discussing their menu ideas, how they will prepare this year's turkey, exchanging recipes and jotting down cooking times on any scrap of paper that comes to hand. I've had conversations with complete strangers as they too offer their advice or ask questions about how to prepare a particular dish. Having not grown up with Thanksgiving I am constantly curious about what everyone is making, and I delight in this sharing of our collective culinary knowledge as it builds everyone's repertoire and nourishes our imagination.
Anticipation: what a delicious word! When used in the context of food, it conjures up savory and sweet sensations, a promising taste of things to come … the aroma of a freshly-baked, fruit-filled pie, the tang in the air as cranberries pop and release their fragrance, the sizzle in a pan as shallots sauté, the fresh fragrant burst of chopped herbs, the melting butter in pillowy mashed potatoes. All this anticipation starts with the raw ingredients. If you wind back the highlight reel that is the finished spread of a holiday feast for example, it begins with the shopping, the choosing of just the right vegetables, fruit, piece of fish or meat. It is in the very act of gathering that we fuel our imagination and get those gustatory juices flowing. Have you ever spied the first pomegranates or persimmons of the season and jumped at the chance to make something with them?
I do, I often get carried away at the market, seduced by the light filtering through the market umbrellas, entranced by the color and fragrance of sweet blood oranges, tempted by cascades of golden crunchy persimmons, bushels of Brussels sprouts, elegant long thin leeks, waterfalls of pale parsnips, sudden sproutings of wild mushrooms after the first rains of the season, and intrigued by knobbly mounds of Jerusalem artichokes and exquisitely beautiful Fibbonaci-esque Romanesco broccoli. These sights and aromas make me want to jump into the kitchen and get cooking.
Coming home with laden baskets the serious task of preparing these feasts begins in earnest. At home this usually means making stocks for soups and sauces and shaping dough for tarts and pies the day before the main event. Over a cup of coffee early on Thanksgiving morning I'll write out the prep list, haul out the ingredients from the packed fridge and get started. I begin with the stuffing whilst my daughter makes the cranberry coulis. As we chop and stir, the kitchen fills with the aroma of sautéed onions, the spritz of orange zest and the sound of sizzling spicy sausages. We always chat about past meals, our favorite part of the day, and of course constantly review the menu taking shape in our hands. Phone calls come in from around the country from friends and family. I am always struck by the connective thread that ties us all together as we all prepare this meal, even if we are thousands of miles apart. The flurry of activity builds to a crescendo as the dinner hour approaches, the turkey is roasting, succulent smells drift through the house, potatoes are mashed, vegetables are seasoned and salads arranged. The guests arrive, we gather around the table and the feast begins.
This annual ritual: the shopping, the laying of the table, the cooking, the gathering together and feasting is at the very essence of its appeal. There may be slight variations but the dependable tradition and the array of dishes is an anchor for many of us.
A few years ago I retraced my journey to the alps and Briançon with my son. He had heard stories about my grandparents, especially about the meals around their table. We even found Craquelin, which I toasted, slathered with butter and jam. It didn't quiet taste the same to me though. I pondered this as we munched on. We were not in my grandparents' home, nor was the jam made from the fruit in their garden, yet he now savors this sensory memory as part of the culinary traditions of our family. Does the memory of a dish make it taste better? Or does it just evolve with time?
The two Marcels, Proust and Pagnol, penned lyrical prose about the delights of gastronomic familial gatherings, Pagnol in his evocative descriptions of Mediterranean feasts in La Gloire de Mon Pere and Le Chateau de Ma Mere, and Proust, famously for, amongst other things, dipping madeleines in tea. I realized that the delight we take in those memories is not just in the taste of the food itself, but the context in which they were experienced. As Julian Barnes wrote in Flaubert's Parrot, 'Happiness lies in the imagination, not the act. Pleasure is found first in anticipation, later in memory.'

Wild Mushroom and Persimmon Ragout
As often happens, I will read about a dish or see a tempting photograph that makes me think, "I have to try this." About a year ago, I came across a recipe that called for mushrooms and persimmons. The flavor combination sounded intriguing, however persimmons were not in season. Months later, the market was filled with these lovely fruit and I thought, "Ooh, I know — I'll make that dish." But could I find that recipe? No! I searched high and low, but to no avail. Finally, I set about creating my own version. Thank you, whoever you are, for putting these two items together and inspiring me. The combination is terrific!
Serves 8 people
4 tablespoons butter
5 king trumpet mushrooms — halved lengthwise, then thinly sliced on the bias
4 oz shitake mushrooms — stems removed, caps sliced in half if small, or in strips if large
1 tablespoon olive oil
1 small red onion — thinly sliced
1 bunch small green onions — thinly sliced
1 large Fuyu persimmon — halved, then thinly sliced
1 tablespoon fresh oregano — chopped
1 tablespoon lemon thyme — chopped
Salt and black pepper
In a large skillet, heat half the butter until it begins to foam. Add half the mushrooms and cook, stirring frequently, until they are just browned. Remove from the skillet and place in a large serving bowl. Repeat with the remaining butter and mushrooms.

Heat the olive oil in the same skillet. Add the red and green onions, stirring frequently, about 3-4 minutes or until the onions are soft.

Add the persimmon slices, oregano and thyme, stirring gently, and continue to cook the mixture another 3 minutes.

Transfer the onion-persimmon mixture to the bowl of cooked mushrooms. Sprinkle with salt and pepper and combine gently. Serve warm.
Roasted Duck with Apples, Parsnips and Leeks
A lot of people tell me that they never cook duck because it's too difficult and too messy. Eat it, yes; cook it, never. There is an easy solution: duck legs. They are quick to prepare and the result is rich, succulent and buttery.
Duck pairs well with fruit. The sweetness of the fruit cuts the richness of the duck meat. Add to this the earthiness of the parsnips, the melting sweet onion flavor of the leeks, and you have the makings of a scrumptious autumnal meal. The dish multiplies easily in case you're having masses of people over for dinner and can be prepared well in advance, leaving you time to chat with your guests. I like to serve this with a little green or watercress salad.
Serves 8 people
8 duck legs — trimmed of excess fat
1 tablespoon Herbes de Provence
Coarse salt
Black pepper
4 medium apples — peeled, cored and cut into eighths
8-10 small parsnips — peeled and halved lengthwise, then thickly sliced
1 large or 2 medium leeks — rinsed clean, ends trimmed then cut into ½-inch thick slices
Olive oil
1 tablespoon Herbes de Provence or vegetable herb mix
Preheat the oven to 400 degrees.

Place the duck legs in a shallow roasting pan, skin side up. Sprinkle with Herbes de Provence, a pinch of salt and some freshly ground black pepper.

Roast the duck legs in the center of the oven for 1 hour.

Place the apples, parsnips and leeks in a separate roasting pan or on a rimmed baking sheet, and drizzle with a little olive oil. Sprinkle with the dried herbs and a pinch of salt. Toss to coat well.

Roast in the oven, on the lower rack, for 45 minutes.

To serve, divide the vegetable mixture between eight dinner plates and place a duck leg on top of the vegetables. Serve immediately.
Pear Clafoutis
When I hear the word clafoutis, I think of my grandmother and my aunt. Both made the classic version with cherries and also a version with apricots. I adore them both. I've tried many fruits, including peaches, nectarines, plums and berries, but my new favorite is made with pears. It's FANTASTIC. You know how some pears have that slightly grainy texture? Well, it's the perfect foil for the creaminess of a clafoutis batter. This is a dessert that will make you smile, and if there's any left in the morning, it's pretty good alongside a cup of coffee.
Serves 8 – 10 people
3 cups milk
8 oz sugar (1cup plus 2 tablespoons)
1 vanilla bean split lengthwise or 1 teaspoon pure vanilla extract
3 oz unbleached all-purpose flour (2/3 cup)
5 large eggs
5-6 pears — peeled, cored and chopped into ¾-inch chunks
Preheat oven to 400 degrees.

In a medium-sized saucepan, heat the milk, sugar and vanilla. Stir until the sugar has completely dissolved. Remove from the heat and set aside.

Place the flour in a separate bowl and whisk in one egg at a time. The batter should be completely smooth. Slowly stir in the milk mixture. The batter should be very liquid and free of any lumps.

Place the pears in a shallow12 inch round or oval baking dish. Pour the batter over the fruit.

Place on the center rack of the oven and bake for 45 minutes. The clafoutis is done when the custard jiggles slightly and is almost set. It will continue to cook after you remove it from the oven. The top should be golden brown. Serve at room temperature

.
"The idea of waiting for something makes it more exciting"
? Andy Warhol