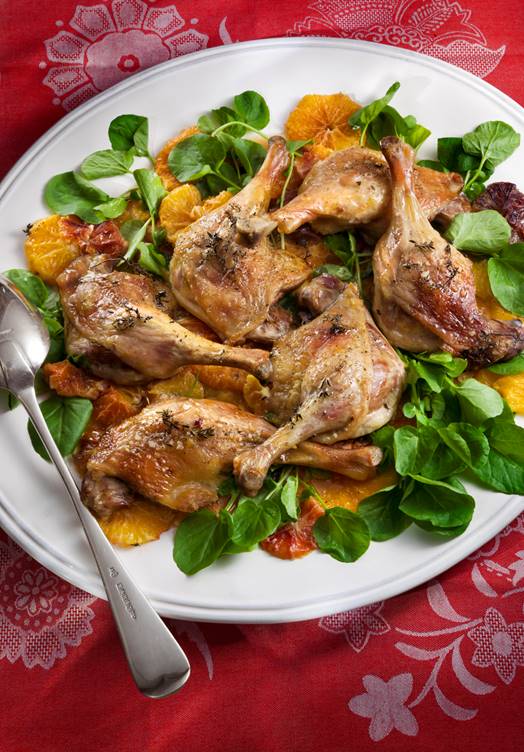 My brother and I loved Canard a l'Orange growing up. Our mother used to make an incredibly elaborate version of this dish, which at the time seemed to take days to prepare. This version is more rustic. It's quick to make and a tribute to that delicious extravagance I remember from my childhood. Merci Maman.
Serves 8 people
8 duck legs — trimmed of any excess fat
16 sprigs of thyme
Coarse sea salt and black pepper
4 oranges — peeled and sliced into disks
4 blood oranges — peeled and sliced into disks
Olive oil
2 bunches baby watercress
Preheat the oven to 400 degrees.
Place the orange slices on a baking pan, overlapping them slightly. Drizzle with a little olive oil and sprinkle with a little salt and pepper. Set aside.
Place the duck legs on a sheet pan and carefully score the skin, cutting slightly into the meat. Insert a sprig of thyme into each incision. Sprinkle with coarse sea salt and some black pepper. Roast on the middle rack of the oven for 30 minutes.
Reduce oven temperature to 350 degrees. Place the pan with the oranges in the oven on a rack below the duck. Continue roasting the duck and oranges for 30 minutes.
To serve, place the orange slices on a serving platter. Place the roasted duck on top of the oranges. Tuck the watercress between the duck legs.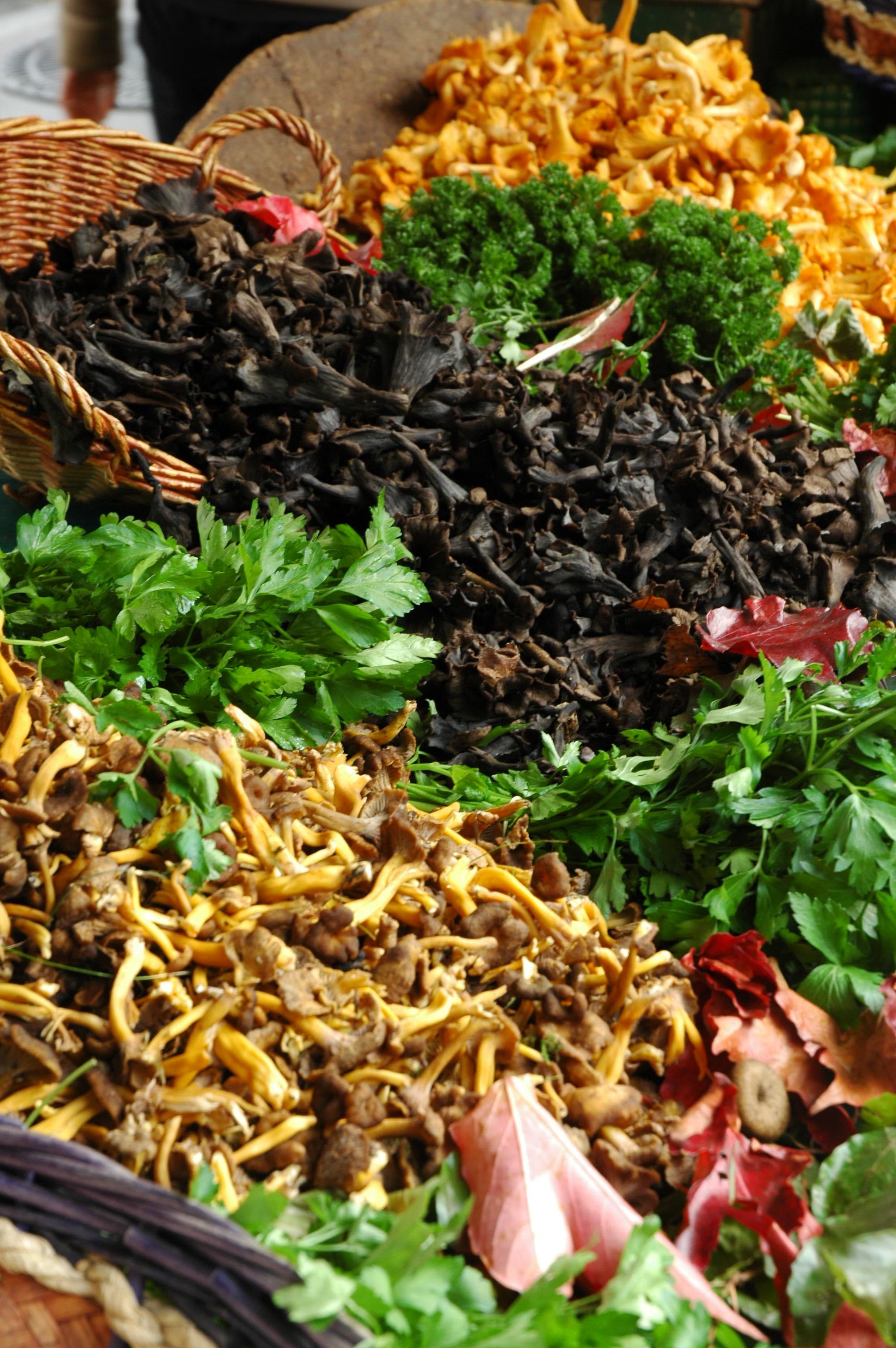 This salad contains two of my favorite ingredients—white asparagus and wild mushrooms. If the wild mushrooms happen to be chanterelles, even better. Honestly, there are few things that are more mouth-watering than the aroma of sizzling butter in a pan with sliced mushrooms cooking in it. Sometimes I'll cook a few mushrooms to add to a green salad or on some toast with a piece of goat cheese. I love their earthy flavors. White asparagus have an herbaceous quality to them. They balance the rustic qualities of the mushrooms in this salad. It's a dish I look forward to every spring as we emerge from winter.
Serves 8 people
2 lbs. white asparagus — carefully peeled, tips cut off, and stems cut on a bias in 1-inch pieces
2 shallots — peeled and finely sliced
1 ½ lbs. assorted wild mushrooms — cleaned and sliced
1 tablespoon butter
1 teaspoon mustard
3 tablespoons olive oil
1 tablespoon vinegar
1 bunch chives — finely chopped
Salt and pepper
Place the asparagus in a steamer or in a large pan of lightly salted boiling water and cook for 6-7 minutes until just al dente. Remove from the steamer (or pan), drain and set aside.
While the asparagus are cooking, pour a little olive oil into a large skillet placed over medium-high heat. Add the shallots and cook until just golden, about 3 minutes. Add a tablespoon of butter and then the sliced mushrooms. Cook until golden brown. You may have to cook the mushroom in batches, adding a little butter with each batch.
Combine the mustard, olive oil and vinegar in a large salad bowl and whisk until you have an emulsion. Add in a pinch of salt and some black pepper. Place serving utensils over the vinaigrette and then add the cooked asparagus, mushrooms and chives to the bowl, on top of the utensils. When you are ready to serve, toss the salad carefully and divide among 8 plates.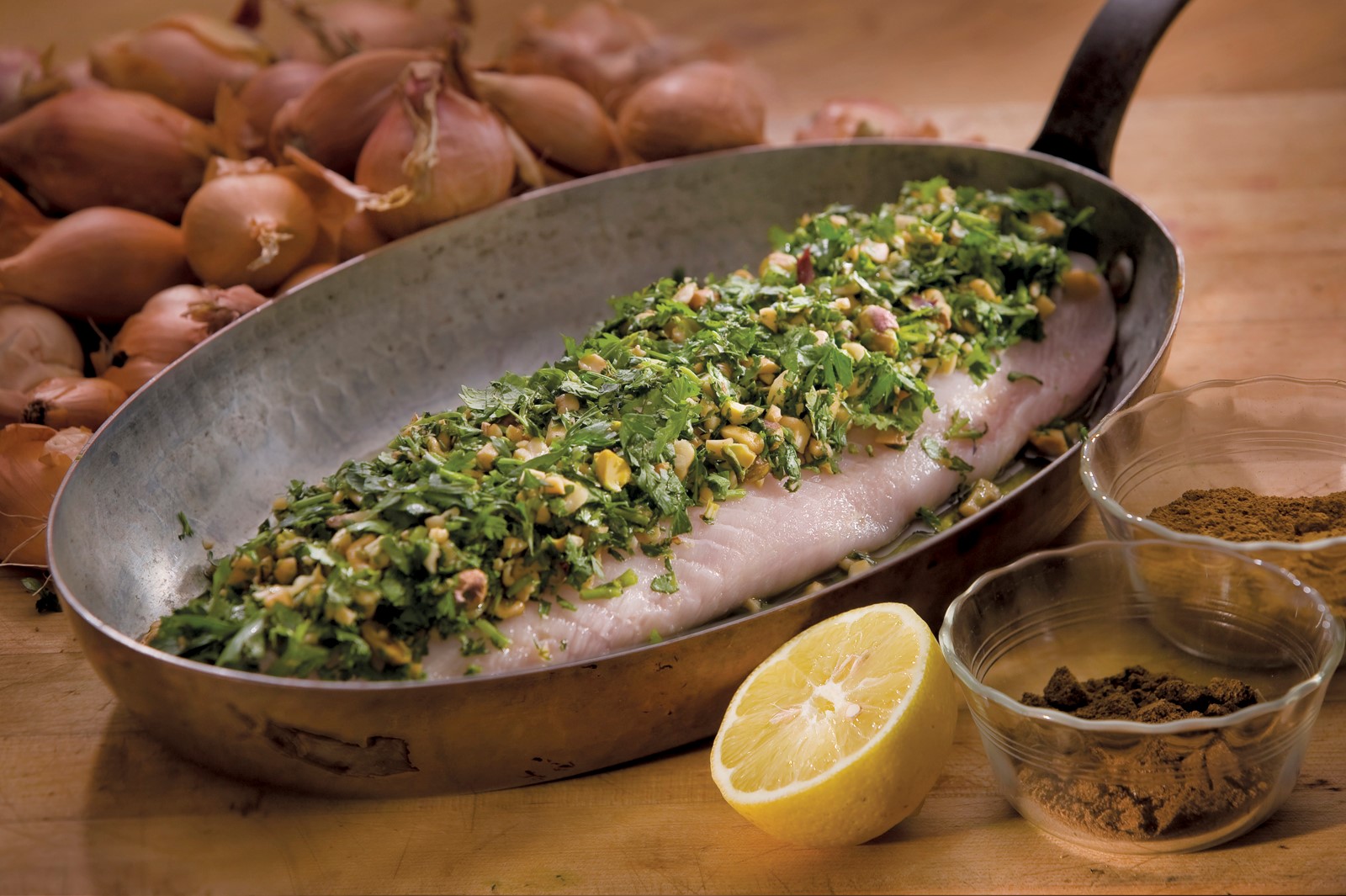 I am inspired by the spices, dishes and cuisine of all the countries surrounding the Mediterranean. Thousands of years of trade have influenced each country's gastronomic development and this dish pares many of the elements found in North African Cuisine with those of Provence – a dish that celebrates the fruits of the ocean, bound by the culinary threads that link both sides of that beautiful sea.
Serves 8 people
Olive oil
2 1/ 2 lbs black cod – If you cannot get black cod, use Escolar – allow approximately 6 ounces per person.
1/ 2 cup pistachios – finely chopped
1/ 2 cup cashew nuts – finely chopped
3 tablespoons chopped cilantro
3 tablespoons chopped parsley
Juice of 1 lemon
Salt
Pepper
1. Pre heat the oven to 325 degrees.
2. Pour a little olive oil into a baking pan that is large enough to hold the fish. Place the fish in the pan and turn it over once or twice to coat it.
3. In a small bowl combine all the remaining ingredients. Spoon the herb nut mixture all over the surface of the fish so that it is completely covered.
4. Bake in the center of the oven for 15-20 minutes, depending on the thickness of the filet. Serve with the yoghurt sauce.
SPICED YOGURT SAUCE
Serves 8 people
1/ 4 cup olive oil
1 inch piece of ginger – peeled and finely chopped
1 teaspoon ground cumin
1 teaspoon ground coriander
1 teaspoon curry powder or Ras al Hanout
8 oz Greek yogurt
Juice and zest of 1 lemon
1 small bunch cilantro – roughly chopped
1 small bunch parsley – roughly chopped
Salt
Pepper
1. Pour the oil into a small saucepan place over low heat. Add the ginger and spices and cook until the ginger is slightly golden. Set aside.
2. Spoon the yogurt into a small bowl and add in the spiced olive oil. Add in all the remaining ingredients and stir well to combine. Set aside until you are ready to serve the fish. You can make this up to 4 hours in advance.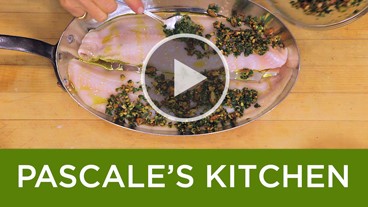 This recipe is featured on Pascale's Kitchen YouTube Channel.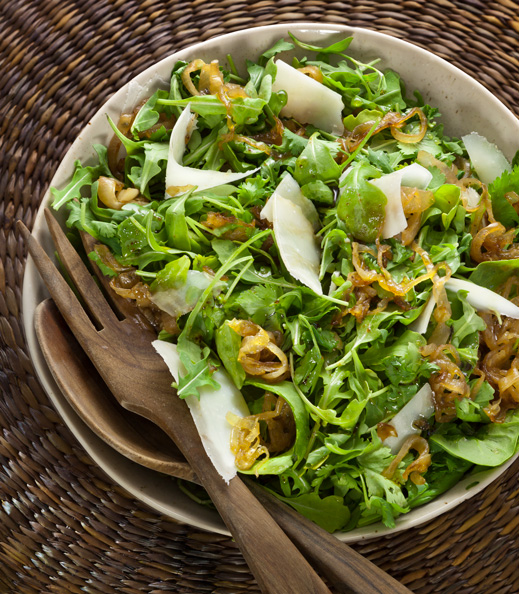 I absolutely love caramelized onions. Maybe that's why a Tarte a l'Onion is one of my favorite dishes. This salad is akin to an onion tart without the tart shell. The onions cook slowly, become golden brown, soft and sweet. The shaved Pecorino (you can use other hard cheeses such as Manchego or Parmesan) adds a salty-nutty element that plays well with the pepperiness of the arugula. Try to serve it whilst the onions are still warm — it's even better that way!
Serves 8 people
Olive oil (for cooking the onions)
2–3 large yellow onions — peeled, halved and thinly sliced
1 teaspoon honey
1 teaspoon fresh thyme leaves
Coarse sea salt and pepper
1/3 cup olive oil
2 tablespoons fig balsamic vinegar
8 oz fresh arugula
1/2 bunch cilantro — finely chopped
4 oz Pecorino — use a cheese slicer to make thin shavings
1 Pour a little olive oil into a medium-sized skillet placed over medium-high heat. Add the sliced onions, honey and thyme leaves. Cook, stirring frequently, for 8–10 minutes. Reduce the heat, add some coarse sea salt and pepper and let the onions soften until golden brown. Set aside.
2 Pour the olive oil and vinegar into the bottom of a large salad bowl and whisk together. Place salad utensils over the vinaigrette and place the arugula and cilantro over the utensils. When you are ready to serve the salad, toss it gently so that the ingredients are well combined.
3 Divide the salad equally between eight plates. Spoon an equal amount of the caramelized onions on top of the arugula and cilantro mixture. Place some of the shaved Pecorino on top of the onions.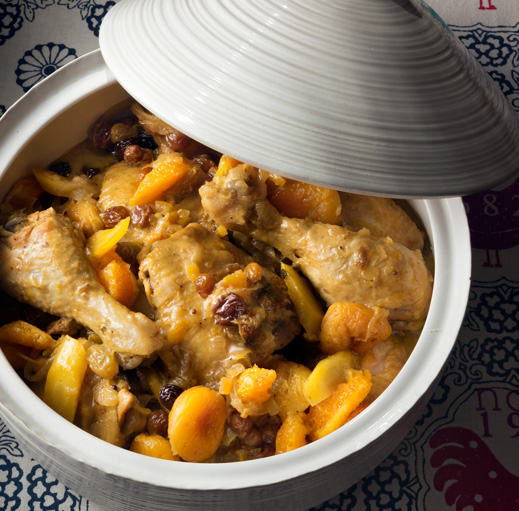 I have delved into the world of Moroccan and North African cuisine, reading about sumptuous dishes in books by Claudia Roden, Paula Wolfert, the Maloufs and Clifford A. Wright. I've been inspired by their culinary journeys and revel in the fragrance and spices of the African continent. After making a batch of Ras el Hanout, a spice mix that means "best of the house," I thought I'd try combining it with some curry powder to make a tajine with an African-Asian spice fusion. The aroma drifting across the kitchen as this simmered was mouth-watering. The end result produced a chicken that melted off the bone with plump, juicy, succulent fruit. This dish has become a family favorite.

Serves 8 people
1 heaped teaspoon curry powder
1/2 teaspoon Ras el Hanout
1 tablespoon olive oil
1/4 cup orange juice
8 chicken legs or thighs
Salt and black pepper
Olive oil
2 large onions — peeled, halved and sliced
25–30 dried apricots
2 small preserved lemons — roughly chopped
4 oranges — peeled and sectioned
1 cup golden raisins
1 In a large bowl, combine the curry powder, Ras el Hanout and olive oil to form a thick paste. Stir in the orange juice. The mixture should be quite thick. Add the chicken and coat all sides. Let the chicken marinate for at least 30 minutes. (This can be done up to 8 hours in advance.)
2 Pour 1–2 tablespoons olive oil into the base of a tajine with a cast-iron bottom (or Dutch oven) over medium-high heat. Add the onions and sauté until golden, about 6–7 minutes. Add the marinated chicken legs and brown on all sides, about 3–4 minutes per side. Pour enough water to come halfway up the sides of the chicken. Cover with the tajine lid. Reduce to a simmer and cook for 20 minutes.
3 Add the apricots, golden raisins, lemons and oranges to the tajine and stir, turning the chicken pieces once or twice. Replace the lid and cook for an additional 40 minutes or until the chicken is tender and meat is almost falling off the bone.
4 Serve with plenty of the pan juices, the fruit and onions. I like to serve this dish with couscous.