Written for Edible Santa Barbara - Autumn 2017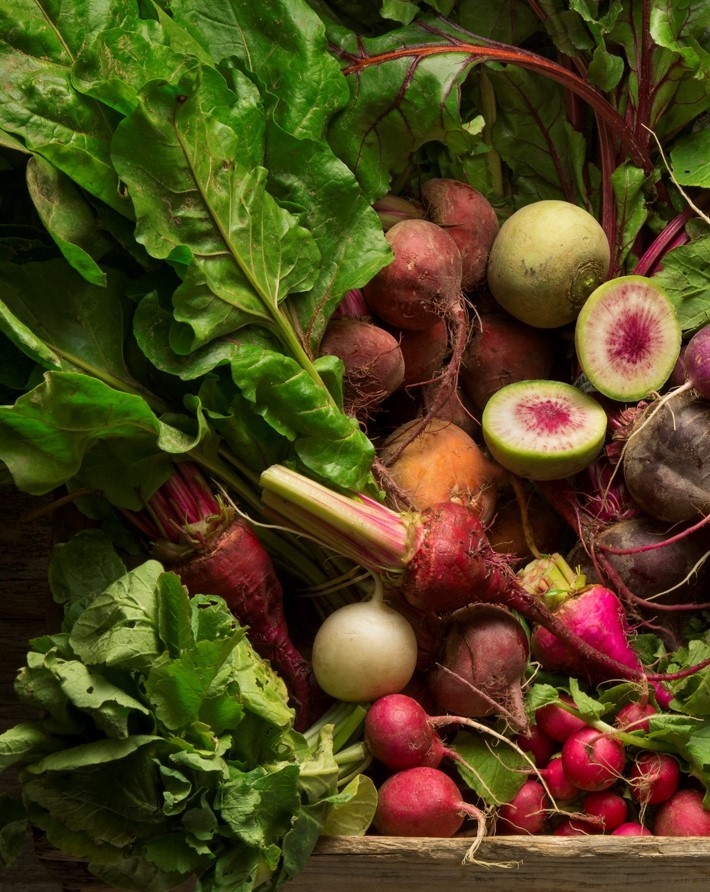 My favorite days, wherever I find myself in the world, be it California, London or Provence – the places I call home – are market days. I eagerly anticipate them. I love to meander from stall to stall, to linger, to smell, to taste, to soak up the atmosphere unique to each locale, to chat with friends, talk with farmers about their latest harvest and strike up conversations with passersby. Season after season, these farmers markets stir my creative juices and literally nourish me, body and soul. My rhythms of the seasons are punctuated by my visits to the farmers market.

For some, winter markets seem tedious, an uninteresting parade of little more than Brussels sprouts, potatoes and onions. While those vegetables are certainly abundant during this season, there are so many more fantastic choices, such as vibrant winter greens, watercress and rainbow-colored chard, and so many creative ways to transform even the stodgiest of dishes. I also love the fruits of the season – blood oranges, persimmons, pomegranates and Meyer lemons – and how they enhance the vibrant color and freshness of rich carrot purees, brighten a roasted acorn squash salad, or transform a simple cauliflower into a curried soup piled high with lemon scented crispy shaved Brussels sprouts. I like, too, how they perfume, enliven and complement winter vegetables and bring a tangy freshness to otherwise traditional winter comfort foods.
After a long cool winter, I often crave not only some warm sunshine – yes, even in California – but spring vegetables with their crisp, bright, herbaceous flavors. I have always felt as though, after months of hibernation, the earth has awakened and decided to shower us with a multitude of delicacies, each one fresh, invigorating and tempting, prompting a type of visceral spring fever.
I admit I tend to go a little overboard at the market when I spy the first of the season's small purple artichokes and freshly picked spring asparagus; that I will go plunging into a pyramid of peas, or lust after luminescent fava beans and pea sprouts; that I gather up baby zucchini with bright yellow flowers by the basketful; and pick an abundance of fresh herbs and bouquets of basil — lemon-scented, Thai and purple. Is there anything better than filling your market basket with these eye-popping vegetables, then coming home, preparing them, and cooking them in a multitude of ways or simply drizzling them with a fruity olive oil and a pinch of coarse sea salt?
Just when I think the markets cannot get any better, summer vegetables come bursting to life, and the farmers market tables groan under the weight of magnificent heirloom tomatoes, plump purple eggplants, colorful whimsical pattypan squash, multi-hued haricots verts and sundrenched corn. It's food that makes me want to dine outside, to have barbecues, picnics and languorous afternoons on the grass while eating bowls of bright salads and grilled vegetables accompanied by a cool tzatziki, some freshly baked bread and some cheese.
Then, as the days grow shorter, the leaves turn golden hues, and a chill creeps into the nighttime air, my thoughts turn naturally to the autumnal dishes that comfort me. It's time for big bowls of soup made from sculptural autumnal squashes and roasts with masses of the root vegetables I find piled higgledy-piggledy on market tables. It's a time for risottos with wild mushrooms and spiced tagines with parsnips, pumpkins, onions and multi-colored carrots. I always think of the autumn as a time of gathering – a bringing together of family and friends, a harvest of sorts, a reaping not only of autumnal crops, but of the year's hard work before we settle in for the winter months.
It is also the time of year for the feast-to-end-all-feasts: Thanksgiving. In the years since I have called California home I have embraced this tradition above all others. I adore this holiday. What could be better than a daylong celebration about food!?
I have to admit that in the thirty or so years since I have been preparing this meal, I have come to appreciate, dare I say it, all the side dishes more than the turkey. Last year I suggested that we have a feast entitled 'everything but the bird' only to be met with vigorous opposition. I notice however that all the accompanying dishes have taken on greater prominence and multiplied. Whereas in the past I may have made one salad, now we'll have two or three, perhaps a salad with golden, crunchy fuyu persimmons, one with roasted root vegetables such as parsnips, and one with roasted kale, dates, pecans and packed with herbs. Last year we made not one, but three different types of carrot puree whose colors reflected the carpet of leaves falling from the trees outside. I made grilled Brussels sprouts, mashed potatoes with celeriac and crème fraiche (a nod to my French roots) and stuffed acorn squash. The abundant meal fed everyone for days which was (and is) part of its pleasure. The weekend was filled with long walks, afternoons making puzzles, reading books and delving into the fridge for a tasty morsel. One night I made a large pasta dish using up all the remaining stuffing and vegetables as part of the sauce – delicious!
As we head into Autumn once more, I'm looking forward to ambling through the weekly markets in the months to come, to discover a hidden gem, possibly a new apple or squash variety, and to planning, testing, and tasting innovative dishes for this year's feast, with a new soup, salad or gratin perhaps. This is part of the fun, the enchantment that comes from foraging for ideas amongst the market tables. Happy hunting and bon appetit!
Silky Cauliflower Curry Soup with Crispy Shaved Brussels Sprouts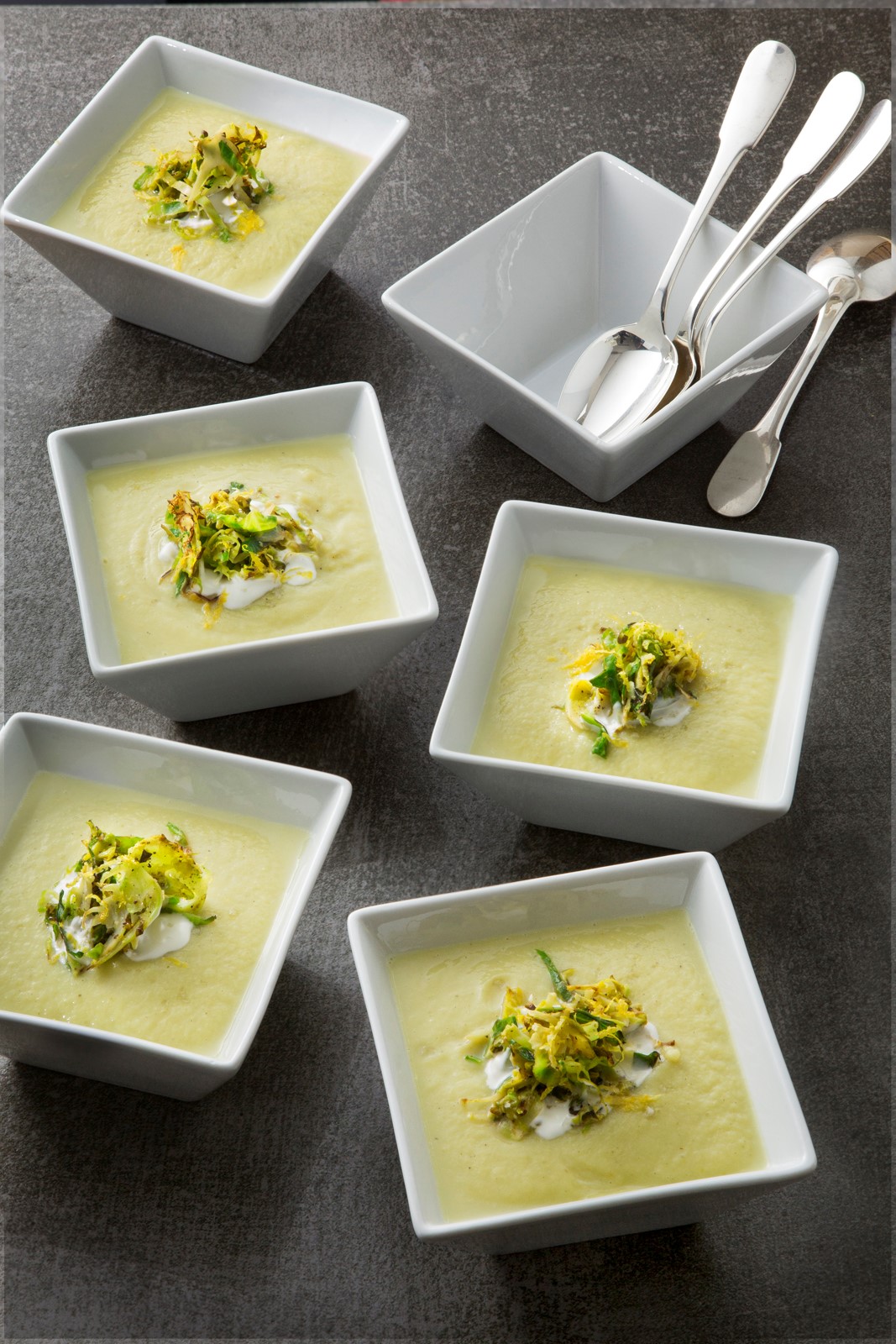 Cauliflower is a versatile vegetable that lends itself to all manner of preparations--everything from shaved raw or roasting whole, to being grated for "risotto" or blended for soups. It also absorbs flavors well, but one must be careful not to overpower it with too strong a spice or herb. Curry is a perfect complement to cauliflower, and in this soup, it creates a fragrant backdrop for the pureed vegetables. I like to serve puréed soups with a little garnish that provides texture. In this instance, it's the Brussels sprouts which add a little crunch and a lovely earthiness to the gentle, sweet flavor of the cauliflower.
Serves 8 people
For the soup:
2 tablespoons olive oil
1 large yellow onion — peeled and finely chopped
2 leeks — ends trimmed, cleaned, white and light green parts finely chopped
1 tablespoon curry powder
2 heads cauliflower (2 lbs each) — core removed, separated into florets
8 cups vegetable stock
Salt
Pepper
For the Brussels sprouts:
Olive oil
1 lb Brussels sprouts — finely sliced using a mandolin
2 tablespoons finely chopped chives
Zest of 1 lemon
Salt
Pepper
1/3 cup crème fraîche
Pour the olive oil in a large saucepan over medium heat. Add the onion, leeks and curry powder and cook for 4-5 minutes, stirring frequently until the onions are softened. Add the cauliflower, a good pinch of salt and 10-12 grinds pepper, and continue cooking for 2 minutes.
Add the vegetable stock to the saucepan and simmer until the vegetables are tender, about 20-25 minutes. Remove from the heat and purée the soup using an immersion blender. For a smoother texture, pass it through a fine mesh sieve. Cover and keep the soup warm until ready to serve.
Pour a little olive oil into a medium skillet over medium-high heat. Add the Brussels sprouts, a good pinch of salt and 4-5 grinds pepper. Cook, stirring frequently until the sprouts are golden brown. Add the chives and lemon zest and toss to combine.
Serve the soup in warmed soup bowls. Place a dollop of crème fraîche in the center of each bowl and top with a spoonful of the crispy Brussels sprouts.