Written for Edible Santa Barbara - March 2014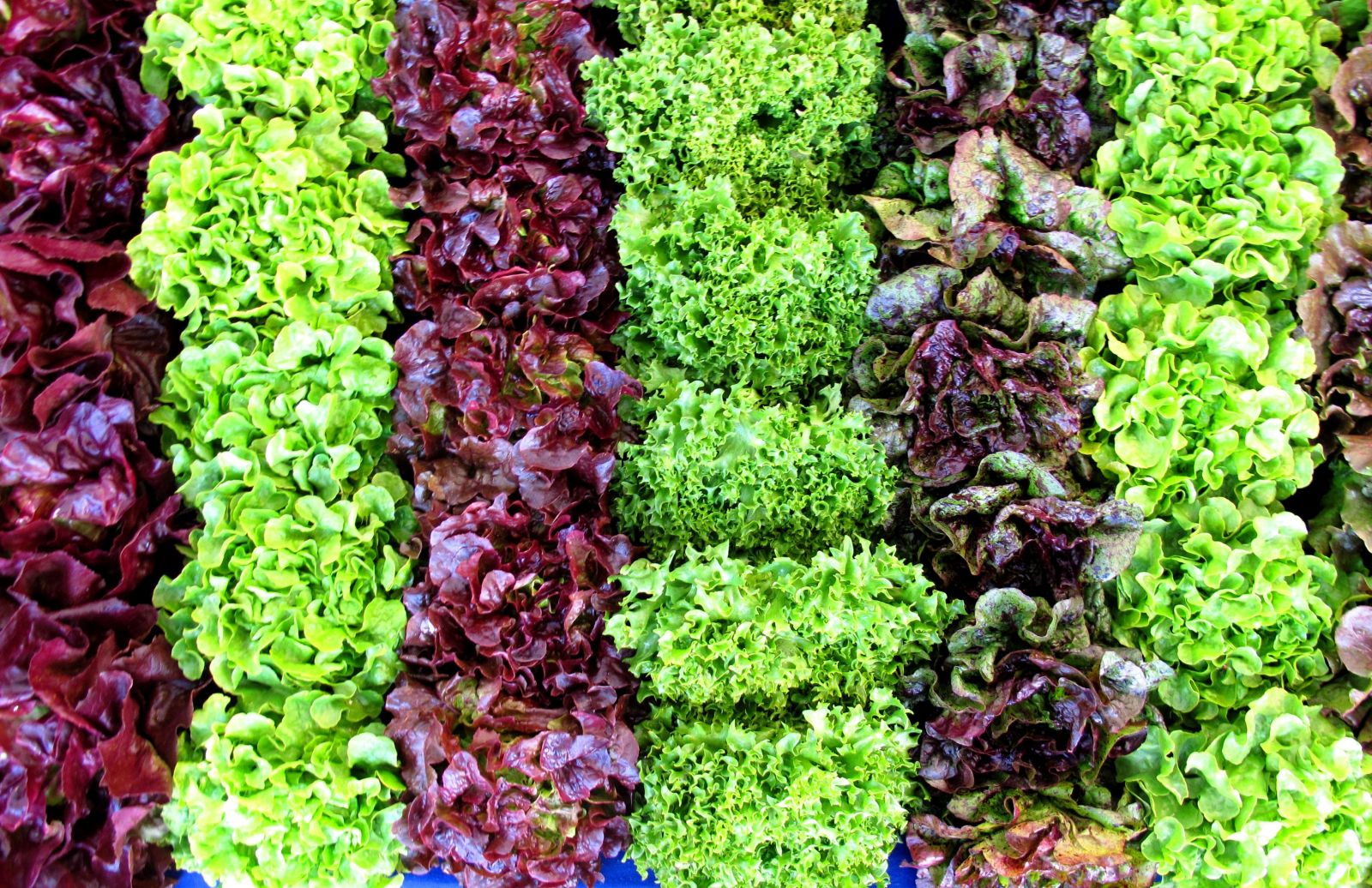 We were sitting upstairs in the café, close to the bar surrounded by posters of Marcel Pagnol's films with succulent aromas drifting across the dining room from the open grill. Pagnol celebrated convivial meals in his films and this Californian bistro captured that joie-de-vivre. They had a simple green salad with warm goat cheese on the menu and I started my lunch with that dish. The salad was crisp, fresh and filled with a variety of tender greens. The goat cheese was creamy and herbaceous. The flavors were clean and light. It was the first time I tasted Alice Waters' food. This was 1984 in Berkeley. I took one mouthful of that salad and I was transported back in time to my childhood in France.
My love of salads started at a very young age. My grandmother made a simple, sweet, juicy carrot salad. Every time I see grated carrots I think if her, of sitting her kitchen watching her as she cooked. Every child in France grows up eating this salad and I was no exception. I loved it. From there I graduated to a simple green salad with a little vinaigrette, then added herbs, and then salade mesclun, which had tasty lardons in it. As we travelled around France and other parts of Europe I tasted regional specialties: Arugula salad with bresaola, prosciutto-melone in Italy, Buffalo mozzarella with tomatoes and fruity olive oil in Venice, white asparagus in many guises in Austria, and what soon came to be a French bistro classic, a mixed green salad with warm goat cheese which I ate whenever I had the chance. For me this was the epitome of a great salad. It was the dish I could always count on.
One day—now a teenager in London—I went to this hip new American restaurant in the center of town. It was located in a basement, had bare brick walls, wooden floors and black and white photos of stars of stage and screen. It had food I had never seen before: buffalo chicken wings, ribs with black-eyed peas and corn bread, and Caesar salad. 'Try the salad' my father said, 'you'll like it'. I was a little reluctant but I wanted try this American food and be 'cool'. The salad was fabulously garlicky, had crunchy croutons and was assembled by the deft handed waiter tableside. I was hooked in an instant. A salad without a classic vinaigrette, this was so different! I laugh when I remember this but at the time it was a revelation. More were to come as I travelled to California and ate grilled vegetable salads with slightly-charred-freshly-shucked corn and tomatillos, Chinese chicken salads, chopped salads with creamy avocadoes the likes of which I had rarely tasted and peculiar salad dressings such as thousand island and green goddess.
I have viewed salads differently ever since then and I like to draw on dishes, spices and flavors from around the world to create new combinations and new dishes. Walking through the farmers market also provides ample inspiration. The spring is one of my favorite times of year for salads. This is a time when fava beans flourish, asparagus is abundant, peas pop and if we are lucky enough to finally get some rain we may get a burst of wild mushrooms. A salad filled with sautéed chanterelles is one of my favorites, although when I first come across those sensational-looking, sweet and juicy heirloom tomatoes I have trouble resisting them too. There are just so many choices and perhaps that is why I enjoy salads so much. They offer endless combinations, you feel so healthy when you eat them and they are good for you!
I was once asked 'if you were stuck on a desert island and could only have one thing to eat, what would it be?', 'Warm goat cheese salad' I replied without hesitating. You see I adore goat cheese and the cheese combined with almost any salad is one of the most perfect food combinations. If it's warm the cheese melts ever so slightly, and when you combine that with fresh greens, some chopped chives and a light mustardy vinaigrette you have a delectable mouthful every time.
In 1902, George Ellwanger—a prominent horticultural scientist—extolled in his book Pleasures of the Table, "To remember a successful salad is generally to remember a successful dinner; at all events, the perfect dinner necessarily includes the perfect salad." A quote I try to live up to, from the simplest meal to a more elaborate celebration or even on a desert island.
WATERCRESS AND SPRING PEA SALAD
One of my cousins in France told me she thought it was odd that I put fruit in my salads. I asked her to taste the peach and tomato salad I made for her and she has been a convert ever since. This salad has blueberries and mint, and a little zing in it. It's very refreshing!
Serves 8 people
Zest and juice of 1 lemon
3 tablespoons olive oil
Salt and pepper
1 lb fava beans — shelled (you will need to remove the beans from the pods, and then the outer shell of the fava bean — it's easier if you blanch them first for 2 minutes)
1 lb English peas — shelled
2 bunches watercress — stems removed
2 good handfuls mint leaves — left whole — try to use just small leaves
½ bunch cilantro — leaves left whole
2 baskets blueberries
4 oz feta cheese — crumbled
Combine the olive oil with the lemon zest and juice, a pinch of salt and 4-5 grinds of black pepper in the bottom of a salad bowl. Whisk together briskly. Place salad utensils over the vinaigrette.
Pour a little olive oil (really just a touch) into a medium sized skillet placed over medium heat. Add the peas and fava beans to the skillet and cook for just 2-3 minutes. Do not overcook them. Place the cooked peas and beans into the salad bowl, on top of the utensils. Place all the remaining ingredients in the bowl on top of the peas and fava beans.
When you are ready to serve the salad, toss gently so that everything is well combined.
GRILLED ZUCCHINI AND TARRAGON ROASTED CHICKEN SALAD
Poulet a l'estragon (tarragon chicken) was — actually still is — one of the dishes that I always looked forward to when visiting France. It's classic bistro fare, or cuisine bourgoise. In other words, good home cooking. Deft use of the herb is key, as the slightly anise flavored herb can be overpowering if used in large quantities. I always think of tarragon as the quintessential French herb. It's used in a number of classic sauces, Bernaise being the most well-known.
This salad pairs moist tarragon roasted chicken with grilled zucchini and a mustardy vinaigrette.
Serves 8 people
1 3 ½ lb chicken
2 yellow onions — peeled and thinly sliced
Olive oil
4 sprigs tarragon to roast with the chicken plus the leaves from 1-2 more stems for the finished salad
Salt and pepper
5 zucchini — ends trimmed away and then sliced on a bias.
1 tablespoon Dijon mustard
4 tablespoons olive oil
1 tablespoon tarragon vinegar or white wine vinegar
Preheat the oven to 400 degrees.
Cover the bottom of a roasting pan with the sliced onions. Place the chicken on top and drizzle with a little olive oil. Tuck the tarragon sprigs around the chicken. Sprinkle a little salt over the chicken and then grind some black pepper over the top. Roast for 90 minutes, turning the chicken once or twice during that time to ensure the chicken is golden on all sides.
Spoon the mustard into the bottom of a large salad bowl. Pour in the olive oil and vinegar and whisk together well. It will look like mayonnaise. Place the serving utensils on top of the vinaigrette.
Pour a little olive oil into a large mixing bowl and add all the zucchini slices, a pinch of salt and some pepper. Toss to coat.
Place a griddle on top of a stove and heat so that it gets nice and hot. Grill the zucchini slices so that they are just cooked. Turn them after 2 minutes. You may have to do this in batches as all the slices may not fit on the griddle in one layer. Add the grilled zucchini to the salad bowl.
Place the cooked chicken on a cutting board, and let rest for 10 minutes before carving. Carve the chicken, removing all the meat and chopping it up into bite-sized pieces. Add the chicken pieces, the sliced roasted onions and the fresh tarragon leaves to the bowl.
When you are ready to serve, toss the ingredients well so that everything gets nicely coated with the vinaigrette.
ROASTED TOMATO AND OLIVE SALAD
I love slowly roasted cherry tomatoes. I use them in lots of dishes from pasta to crostini. Their flavor is intensified and they become rich and juicy. Add them to any salad and it transforms the vinaigrette as the juices from the tomatoes melt in with the salad. The olives are tasty salty counterpoint.
Serves 8 people
1 lb small tomatoes
1 teaspoon vegetable herb mix or Herbes de Provence
¼ cup olive oil
1 tablespoon red wine vinegar
½ bunch basil
Zest of 1 lemon
1 tablespoon chives — finely chopped
½ lb baby arugula
6 oz black olives — pitted
1 bunch chives — finely chopped
Preheat the oven to 275 degrees.
Place the tomatoes in a small baking dish. Pour a little olive oil over the tomatoes, and then sprinkle the herbs over the top. Shake the pan to coat well. Roast the tomatoes for 2 hours.
Place the olive oil, vinegar, basil and lemon zest in a blender or food processor and blend until you have a thick vinaigrette. It should have consistency that is lighter than a pesto. Pour the vinaigrette into a salad bowl. Place utensils over the vinaigrette. Add the arugula on top of the utensils.
Add the cooked tomatoes and olives to the salad bowl. When you are ready to serve the salad, toss the ingredients so that everything is well combined. Divide equally between the salad plates and sprinkle the chives over the top.