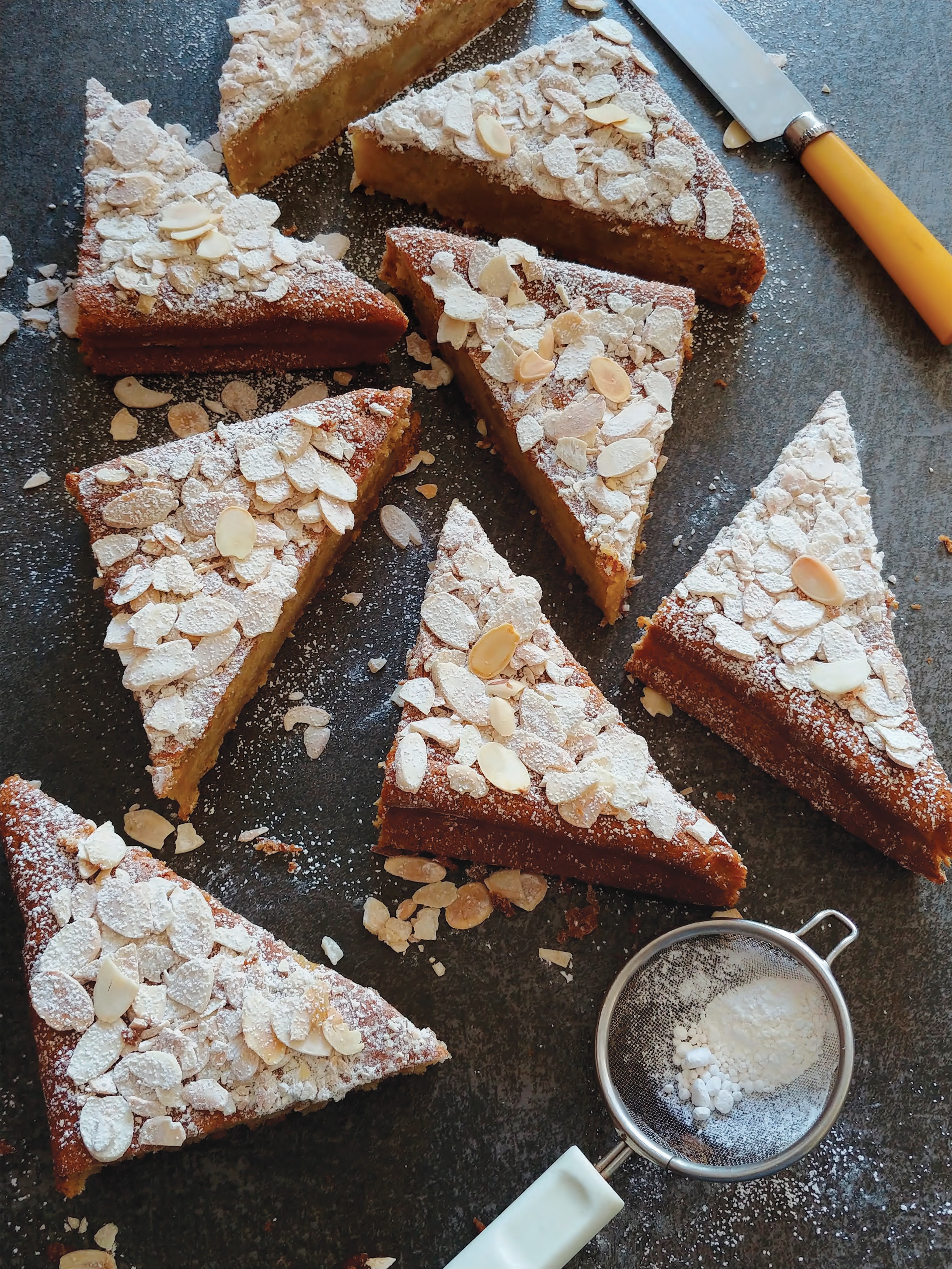 A few years ago, I was invited to my first ever cookie exchange. The host gave me a crash course on the etiquette behind such an event. Food gift exchanges date back to medieval times when the sharing of sweet meats and delicacies was a mark of hospitality and respect, and in the same vein, cookie exchanges have a long, revered tradition in the US. Evidently there was much to consider and careful planning went into which cookie to make and how many cookies I should bring. I poured over books debating trying something new, but decided to bake my favorite, tried and true, shortbread, making 3-D Christmas trees and reindeers using some nifty cookie molds I found in a local store. I had no idea what to expect and was stunned by the assortment of confections that covered every horizontal surface in the house. From gingerbread men to pecan tassies, from snickerdoodles to rugelach, from oatmeal raisin to chocolate chip, the tables fairly groaned under the weight of those beautiful hand crafter treats. My children and I were enchanted. This was a tradition we could whole heartedly sink our sweet teeth into.
There is a Norwegian proverb I adore. The saying, 'Cookies are made of butter and love', encapsulates everything a cookie should be, a mouthful of deliciousness, a sweet treat, all the more so when you are making them for someone you care about. There are few things that give more pleasure than a homemade delectable gift, and given that we are heading into the sweetest time of year, what better than to explore the seasons indulgent traditions.
In an unscientific survey of friends and family I posed the following question: 'From fruit cakes to ginger cookies, from brownies to blondies, what sweet treat makes your family holidays special? Do tell...' Traditional favorites topped many people's responses, Christmas pudding, fruits cakes – Irish, whiskey and classic versions – apple, pecan and pumpkin pies, holiday cookies and shortbread galore, plenty of Norwegian Krumcake, Yule logs and so on. Family recipes passed down through generations also proliferated such as a buckwheat honey cake to celebrate the Jewish New Year, a favorite tamale recipe to celebrate Christmas in California, and as my daughter reminded me, we always make a cranberry coulis to serve on Thanksgiving Day. There were also a few unusual flavor combinations and traditions that piqued my curiosity, from homemade cinnamon buns served with bloody Mary's on thanksgiving morning, or stuffed and baked orange shells filled with mashed sweet potatoes and topped with a marshmallow, to sending favorite cookie recipe ingredients packed in jar for instance. More on the latter later.
All these sweet musings made me think in earnest about some of the dishes I have planned for our family's gatherings in the upcoming season. We are, like many families, an amalgam of cultural origins whose culinary traditions have morphed over time into a Californian-pan European hybrid. Our multi-generational French-English family holds strong views on anything to do with food, particularly at this time of year, and my children hold fast to these gastronomic mores, especially the sugary ones. Apple tarts or crumbles and pecan pie at Thanksgiving; Panettone, Christmas Pudding and Buche de Noel at Christmas. Should I turn everything on its head and try all new dishes? At the mere mention of this, there were a few shrieks of disapproval similar to those voiced when I suggested we had an everything but the turkey Thanksgiving; 'what, no apple tart, no mince pies, no Buche de Noel, no pudding, are you kidding?!'
I decided to keep some (yes, the mince pies stay on the menu), and try a new twist to other favorites such as refashioning our family quart quart recipe (French pound cake) into a pear filled Thanksgiving treat, and creating a new winter pavlova. If the past eighteen, long, pandemic months have taught us anything, it's been about our ability to pivot and change with the times. There is something very appealing about adapting desserts to a new season, and given that the average Christmas Day is rarely below 65 degrees, I love the idea of some light(er) desserts. Let's hope the family agrees.
For those who cannot make it around the table, we have enthusiastically decided to adopt the tradition of sending cookie ingredients in a jar, complete with the recipe tucked into a card. We may not be able to have a cookie exchange but we can still share the seasons delights with our friends. My son and I worked on perfecting the recipe together, and, after a few test batches, have come up with a drop cookie we named the PCC, (Post Covid Cookie) in the hope that it will, eventually, bring us all back together again.
The PCC in a Jar
I particularly like oatmeal raisin cookies, but I also like cookies with a little crunch, and something that is not too sweet. In researching cookies in a jar, I came across a recipe with the terrific name of Cranberry Hootycreeks (named after the road the author, Susan O'Dell, lives on) which inspired the basis for this cookie. The mixture looks very pretty in a mason jar. Remember to add the recipe instructions along with the container so that the recipient can bake them!
Makes 24-30 cookies
Ingredients for the quart sized mason jar:
1 cup unbleached all-purpose flour
½ teaspoon salt
¾ teaspoon baking soda
½ teaspoon ground cardamom
½ teaspoon ground cinnamon
6 grinds black pepper
1 ¼ cups rolled oats
2/3 cup packed brown sugar
1/3 cup granulated sugar
¼ cup golden raisins
¼ cup dried cranberries
½ cup pistachios
¼ cup pecans
¼ cup sliced almonds
You will also need:
5 oz (1 ¼ sticks) softened butter
1 large whisked egg
1 teaspoon vanilla paste or pure vanilla extract
To pack the jar:
In a small bowl combine the flour, salt, baking soda, cardamom, cinnamon and pepper. Pour the flour mixture into a clean and dry quart size mason jar. Tap the jar on the counter to compact the flour a little.

Layer the remaining ingredients, the rolled oats, brown sugar, granulated sugar, golden raisins, cranberries, pistachios, pecans and almonds in the jar, packing each layer down. The jar will be completely full.
To make the cookies:
Preheat the oven to 350 degrees.

In a standing mixer fitted with a paddle attachment (or in a large mixing bowl using a sturdy wooden spoon) cream the butter until it is light and fluffy. Add the egg and vanilla and stir to combine. Don't worry of the egg is not completely absorbed by the butter. Add all the jar ingredients and mix together well.

Shape the cookie mixture into 1 inch size balls. Place them on a parchment lined sheet pan or cookie sheet at least 2 inches apart.

Bake for 12-14 minutes or until the edges of the cookies are lightly golden in color. Remove from the oven and let sit on the cookie sheet for at least 5 minutes, then transfer to a cookie rack to cool. Once completely cooled they can be kept in an airtight container.
Pear Almond Cake
I have been making quart quart (a French pound cake) since I was a little girl. The recipe is a family favorite and I have adapted it to incorporate many different fruits over the years. From apricots to apples, bananas to chocolate, it is versatile and oh so good. This version highlights pears. The result is a pretty, moist cake. The almonds give a nice crunch to the topping and balance the soft sweetness of the pears. If there are leftovers, it's pretty good with a cup of coffee for breakfast too!
Serves 8-10 people
8 oz butter
8 oz sugar
3-4 ripe pears – peeled and chopped
1 teaspoon pure vanilla extract or vanilla paste
8 oz flour
1 teaspoon baking powder
4 eggs – separated
½ cup sliced almonds
1 tablespoon powdered sugar
Preheat the oven to 400 degrees.

Melt the butter in a saucepan placed over medium heat. Once the butter has melted add the sugar and stir until melted. Add the pears and vanilla, stir to combine, and cook for 2-3 minutes. Add the flour and stir until completely absorbed by the mixture and then remove from the heat.

When the cake mix has cooled to the touch, add in the egg yolks and stir together.

Whisk the egg whites in a separate bowl, and then fold the whisked egg whites into the cake batter.

Line a 9-inch cake tin with parchment paper. Pour the cake mixture into the cake tin and cook for 30 minutes or until a knife inserted into the center of the cake comes out clean. Set on a cooling rack.

Combine the sliced almonds and powdered sugar in a small bowl so that the almonds are complexly coated in a fine layer of sugar. Place the cake onto a serving plate or cake stand. Sprinkle the almonds all over the top of the cake.
Note: The cake will keep for 2-3 days in a covered container. It is delicious served with a little crème fraiche, or vanilla ice cream, or both.
Winter Pavlova
Long thought of as a summertime treat pavlovas can be glorious at any time of year. It's hard to resist ethereal meringues and clouds of whipped cream, and what could be better that a pavlova cake, glistening with jewel like pomegranates, topped with infused berries and powdered with a dusting of sugar, a showstopping, fairytale confection if ever there was one which hopefully will have everyone dreaming of sugarplums, lords a leaping and ladies dancing.
Serves 8-10 people
4 egg whites at room temperature
Pinch of salt
8 oz (just under 1 cup) ultra-fine sugar (you can make your own by processing granulated sugar in a food processor for 1 minute)
2 teaspoon cornstarch
1 teaspoon white-wine vinegar
Few drops of good vanilla essence or vanilla paste
¾ pint of cream
1 tablespoon sugar
2 pints raspberries
2 pomegranates – seeded
1 tablespoon powdered sugar
Preheat the oven to 300 degrees and line two sheet pans or cookie sheets with parchment paper.

Beat the egg whites with a pinch of salt until satiny peaks form. Then beat in the sugar, a spoonful at a time, until the meringue is stiff and shiny. Sprinkle the cornstarch, vinegar and vanilla over the whipped egg whites and fold in lightly.

Using a large spoon, scoop one eighth of the meringue mixture onto the parchment paper creating a disk that is approximately 3 inches wide and 1 inch high. Use the spoon to create an indentation in the center of each disk, and use the back side of a knife smooth the sides of each disk. You can also score the sides with a palette knife if you want to create a pattern. Depending on the size you will have 8 to 10 disks. Bake only six disks on each baking sheet.

Place on the bottom rack of the oven and immediately reduce heat to 250 degrees and bake for 40-45 minutes. The sides of the meringue should be just crispy and you should be able to gently peel each disk off the parchment. Note: Do not overcook the meringues, the goal is to have a soft marshmallow interior and a light, crispy exterior. Turn off the oven and let it cool with the door closed. When the meringue has completely cooled, transfer it to a pretty serving plate or platter.

Whip the cream with the sugar until it holds soft peaks. Top each pavlova meringue with whipped cream. Scatter the raspberries and pomegranate seeds over the cream and then lightly dust the entire pavlova with powdered sugar.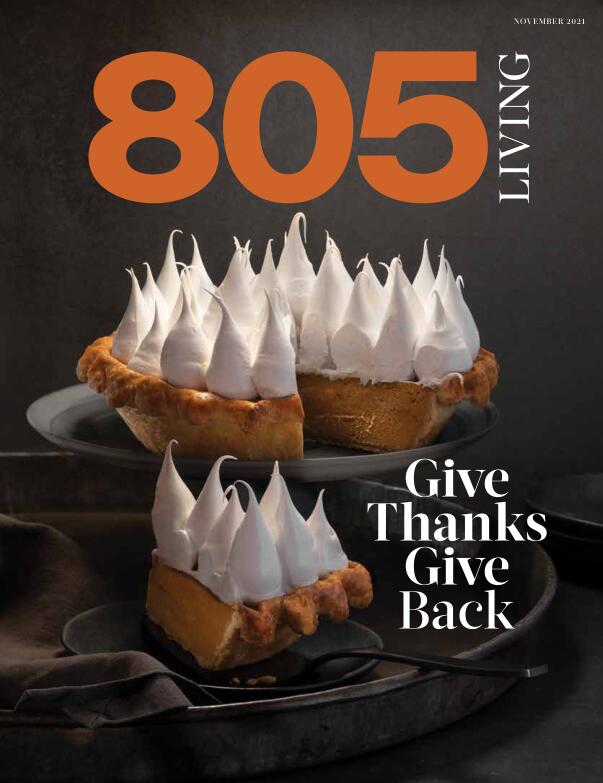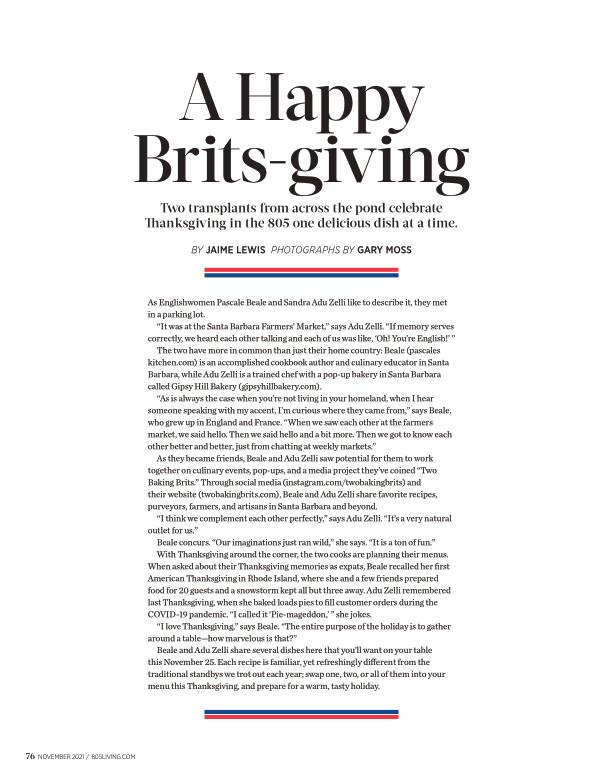 Delighted to be featured, along with my Two Baking Brits partner, Sandra Adu Zelli, in the Nov 2021 Issue of 805 Living Magazine with an 8-page spread on all the tasty things to eat during the Thanksgiving season. The rest of the article and recipes are available here (starts on page 76 of the magazine)
Written for Edible Santa Barbara - Autumn 2021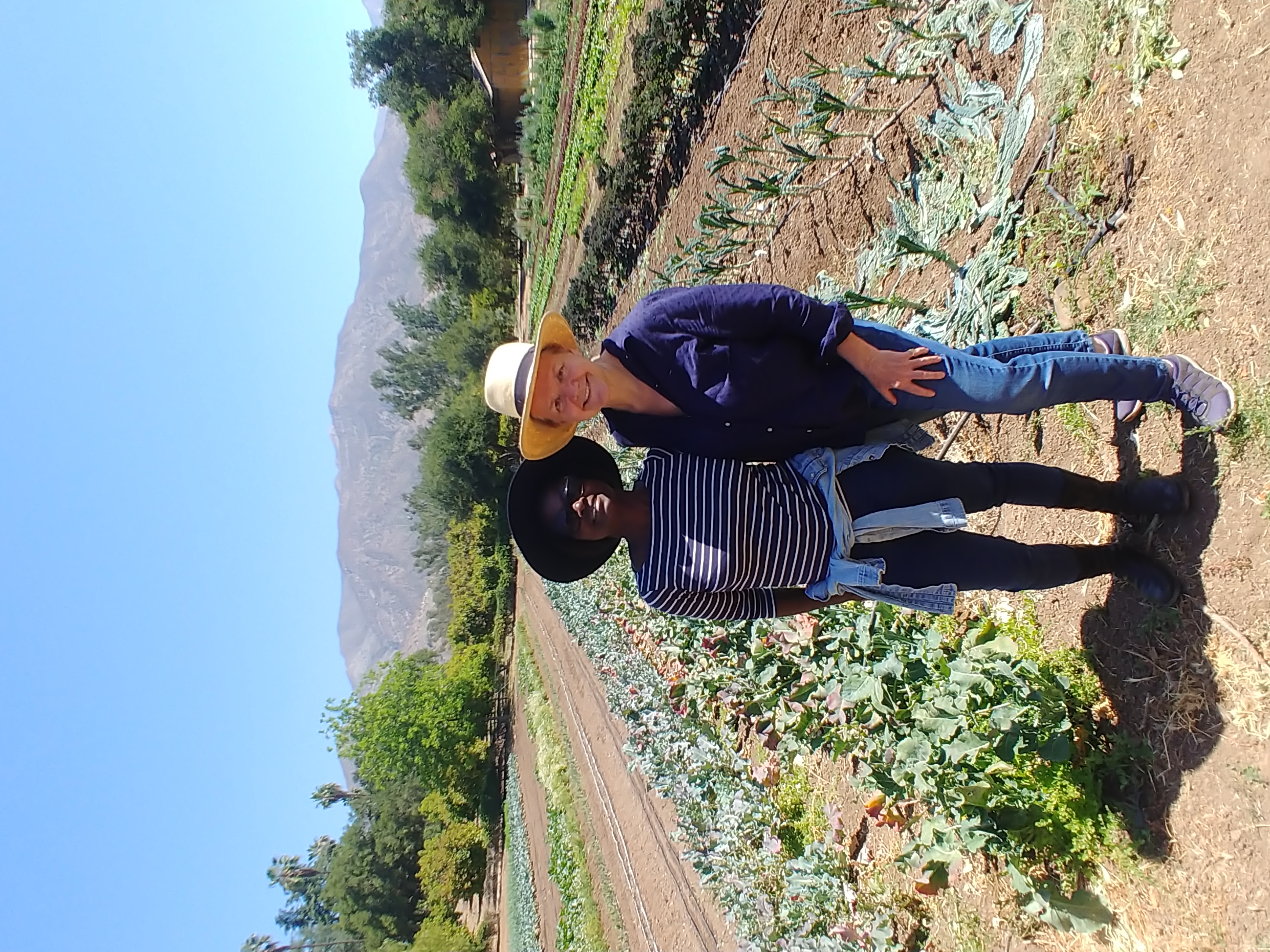 Live in each season as it passes; breathe the air, drink the drink, taste the fruit, and resign yourself to the influence of the earth. —Henry David Thoreau
A few weeks ago, I visited paradise. Meandering up and over the hills that take you from the Pacific coast down into the mountain ringed bowl that is the Ojai valley, and nestled in on a tree lined street is a farm unlike any I have visited before. As I stepped out of the car, one of the first things that struck me was the sense of complete tranquility and peace that enveloped me, like a lovely cozy shawl on a chilly day, or a warm breeze caressing your skin on a balmy evening. This enchanted oasis, a 10-acre farm, belongs to BD (Robert) and Liz Dautch. I was there with a fellow Brit, Sandra Adu Zelli, to video BD talking about his farm for a project she and I were working on. Neither one of us anticipated that we would be so spellbound.
We spent a few hours walking through the farm, up and down the alleys of burgeoning vegetables, and fruit laden trees, admiring the fragrant herbs sown between the rows, listening to BD as he talked about tending the land and the journey that had led him to this corner of California. We listened as he described the transformation of the soil into something rich and nourishing, producing a vast array of crops week after week, season after season, year in, and year out. We learnt about the challenges changing weather patterns have created, water shortages, and the ravages of fire on the community that surrounds the farm. It is evident that farming is not for the faint of heart, that it requires dedication and endurance, akin to the stamina needed for a slow-motion long-distance race.
It was also evident that BD and everyone who worked on this farm nurtured the land, working by hand, carefully planting, weeding, thinning, pruning, transplanting and picking, and that the land in turn nurtured them. I felt as though I was watching a dance, a symbiotic relationship between those who tended the fields, and the land that fed them, and in turn fed us. I wondered if this was not a good metaphor for life in general and for all of us. Is our need to nurture land and coax from it an abundance of life similar to the need of people to tend and nurture each other?
Albert Einstein once wrote "Look deep into nature, and then you will understand everything better." One cannot help but wonder what nature had in mind over the past 18 months as we have, for the most part, retreated into a form of forced hibernation. This is not our natural state. Where once we would have gathered together, we have, for more than year, in varying degrees, practiced the art of self-containment. Our work lives have experienced a profound upheaval, our homes having been converted to hybrid work-living spaces, and will remain that way as many companies migrate their work platforms to remote/part time in the office models. How then do we reconnect and feel comfortable in this new cycle of life?
At the time of writing this article, I have just returned from one of the first farmers markets that felt 'normal', or at least as close normal as we can get these days. The market tables have returned to their former configurations, people (not all) are walking around unmasked, friends are gathering in groups and chatting, shouting out "it's so lovely to 'see' you!" People seemed less harried, and less stressed with the prospect of being in a crowd, feeling out their level of comfort, akin to trying on a new set of clothes and seeing if you feel relaxed walking about it them. It's been an adjustment, but the underlying current was one of joy and the sentiment that 'we can now get back to the business of being in our community' was tangible. People are eager to commune with one and other, as demonstrated by the plethora of pop up al fresco dinners mushrooming all over the country, from simple farmyard gatherings and informal vineyard picnics to more elaborate multi course dinners with hundreds of guests in attendance.
If there is a hesitancy amongst some it's because in other parts of the country, and around the world, communities are experiencing the same paralysis we lived through months ago, all of which upsets our natural equilibrium. So how have people coped? Many, myself included, have turned to gardening. From the simplest potted herbs on a windowsill to digging up great patches of earth for victory style gardens with raised beds and veggies a plenty, gardening in all forms has exploded in the past year. There is a logical thread to this. In getting one's hands stuck in the dirt, planting and nurturing our seedlings, we are physically and tangibly tied to the passage of time, to the vagaries of weather and to the seasons. There is something inordinately satisfying about growing something, let alone eating your own produce. My efforts have produced a mixed bag of results. My peach tree produced exactly one peach, a beauty, but only one. The plumcot next to it is dripping with fruit. I have no idea why that is, well maybe an inkling. I think I need to nurture my plants a little more, realizing that my laisser faire attitude may not be conducive to an abundant harvest. I have friends with prodigious green thumbs who have fed their families from their fecund gardens. If there is one thing I have learnt, and appreciate all the more, is just how much work goes into a well-tended vegetable patch, let alone a full-sized working farm.
Little wonder then that every year, come harvest time, farmers and their farm hands have gathered together to celebrate the seasons crops. There have been harvest festivals for millennia with large family style gatherings, food laden trestle tables set up in barns, in courtyards, in fields and in the farmers homes. The festivities offer a small respite to the daily mountain of tasks that farmers face, knowing that the next day they'll be back up at the crack of dawn to tend the land once more. I am, all the more so since my visit to BD's extraordinary farm, filled with gratitude for their valiant efforts to bring this nourishment to the local population.
My small potted plants and minute herb garden will not feed the masses, let alone my family, but I too will have a small dinner of gratitude to fete this season and the fact that we are, hopefully, emerging from this crisis. Marcel Proust, known for waxing lyrical and at length about madeleines amongst other things, also wrote, "Let us be grateful to the people who make us happy; they are the charming gardeners who make our souls blossom." I cannot think of a more fitting tribute for the men and women who toil throughout the year bringing us sustenance, and reminding us how nature nurtured feeds us all.
Harvest Menu
Plateau de Crudités
A crudités platter is a large dish of raw vegetables which can be left whole or sliced, diced and cut for your guests. They can also be spectacular. I love these dishes as there is something very festive about them with everyone choosing their favorites morsels. This is a lovely way to start a meal for a crowd, plus you can ask the extra hands to help prepare all the ingredients. There's no right or wrong way to do this so have fun laying them out on a board or tray. I like to serve this with a good mustard vinaigrette and perhaps some hummus alongside.
Serves 8 people
The following is a suggestion. Please use the best vegetables that are seasonally available to you. This will change throughout the year. Here is a suggested list. All the vegetables are carefully cleaned, then each prepared in the following manner.
1 cauliflower — florets separated
3 Persian cucumbers — cut into thin sticks
Assorted radishes — some very thinly sliced, some quartered
1 head celery — cut into thin sticks
1 lb assorted multi colored carrots — peeled and thinly sliced in lengths
4 baby gem lettuces — quartered
1 lb cherry tomatoes
1 lb asparagus — stems trimmed
½ lb snap peas — ends trimmed, sliced on a bias
½ lb green beans — steamed to just barely cooked
1 large zucchini — peeled into strips, each trip rolled up to form a cylinder
2 Yellow/Baby Squash — peeled into strips, each trip rolled up to form a cylinder
Arrange the vegetables in in attractive pattern on a large platter or tray. I usually start with the largest vegetables first and form a diagonal line across the platter, tucking in the other vegetables around the central line and working out towards the edge of the plate. Serve with the mustard vinaigrette.
For the vinaigrette:
1 tablespoon nut mustard or Dijon mustard
¼ cup olive oil
Zest and juice of 1 lemon
1 tablespoon pear champagne vinegar or white wine vinegar
Pinch coarse sea salt
6 grinds of black pepper
In a small bowl, whisk together the vinaigrette ingredients to form a smooth emulsion.
Roast Chicken with Tarragon, Vegetables and Little potatoes
Serves 8 people
Olive oil
2 large yellow onions – peeled and finely sliced
2 pounds small yellow or red potatoes, or fingerling potatoes
1 pound carrots — peeled and thinly sliced on a bias into ½ inch thick pieces
1 pound squash, zucchini — peeled and sliced into ½ inch thick pieces
2 chickens (3.5-4lbs each) organic if possible
6-7 tarragon sprigs
2 lemons - quartered
Salt and pepper
Preheat the oven to 400 degrees.

Pour a little olive oil into a roasting pan that is large enough to hold the chickens and vegetables without crowding them too much. Add the sliced onions, potatoes, carrots and squash, and shake the pan backwards and forwards a few times to lightly coat the vegetables.

Nestle the chicken on top of the onions. Drizzle a little olive oil over the chicken. Sprinkle the tarragon over the chicken and the vegetables. Scatter a pinch of salt over the chicken and add 5-6 grinds of pepper. Squeeze the lemon quarters over the chicken, then insert the quarters into the chicken cavity.

Roast in the middle of the oven for 15 minutes and then lower the temperature to 375 degrees and roast for a further 1hr 15 minutes. When the chicken is cooked, let it rest for 5-10 minutes before carving, Serve the chicken with the vegetables and some of the lovely pan juices that will be in the bottom of the pan.
Stone Fruit Crumble

I cannot think about the harvest season without thinking about a tasty crumble. My mother taught me to make apple crumbles as a child in London. The recipe was handed down to her by my father's mother, Ilse. If ever there was a comforting dish, this is it. In those days we would go for great long walks across London's parks, returning home with chilled fingers and toes and everything else in between. A hot cup of tea and a spoonful of crumble would instantly thaw us out. We would delight in the crumbles' spices and buttery crust. Coastal California may not be as cold or damp, but the pleasure we derive from this dessert is undiminished. This version uses late season stone fruit, but can be made with apples and pears too.
Serves 8 people
For the fruit:
2 pounds stone fruit — pitted and chopped
Zest and juice of 1 lemon
1 teaspoon cinnamon
¼ cup sugar
1/3 cup water
For the crumble:
10 oz unbleached all-purpose flour
9 oz butter – cut into little pieces
1/3 cup sugar
Preheat the oven to 400 degrees.

Place all the fruit ingredients in a deep baking dish (at least 1 ½ inches deep and 9-10 inches in diameter) and toss to combine well.

To make the crumble, place the flour in a large bowl. Add 8 oz of the butter and mix it with the flour, using the tips of your fingers, until it resembles coarse breadcrumbs. Don't worry if you have little lumps of butter left – it should look like that! Add the sugar and mix to combine. Cover the fruit with the crumble mixture. Sprinkle a little extra cinnamon and sugar over the crumble. Dot the surface with the remaining butter. Bake in the center of the oven for 40 minutes or until golden brown. Serve with vanilla ice cream or a dollop of crème fraiche, or both!
Written for Edible Santa Barbara: Spring-Summer 2021
I come from a large French family who all have very strong opinions about wine. Red wine in particular, as that is what they have always favored, more specifically the wines from Bordeaux. To say that there is a cultural bias amongst them Is an understatement. Like many people, I also grew up with the view that rosé was not a very serious wine. It was trotted out on hot summer days, perfect for picnics and barbecues, or for quaffing down in large quantities at an outdoor party, a wine which was often a little too sweet, and one that few people had any qualms about adding ice cubes to. It was certainly not a wine that one would pair food with, let alone plan a meal, or an elaborate party around. Oh, how times have changed!
Rosé sales have exploded over the past decade, notably for pale, dry, more acidic Provencal styled rosés. Wine makers across the globe, and all over Santa Barbara county have taken note. Many have added a rosé to their wine portfolio where ten years ago they made none. This surge in the wine's popularity began in the early 2000s in France. Now, rosé outsells white wines in that country. Its lack of pretention and affordability have made it hugely attractive to millennials in particular, and some savvy marketing by some of Provence's biggest producers have driven its popularity to Instagram frenzied heights. The demand for the beautifully hued wines has made the US the second largest consumer of rosé, after France. Sine 2014, The United States even has a National Rosé Day (this year it's on 12th June). In 2017, rosé sales in the United States jumped a staggering 53% and the trend continues. So, what is all the fuss about and why did we all embrace this style of wine now?
Eight years ago, I was lucky enough to have lunch at a winery in Provence, that has since become synonymous with the epitome of rosé, Chateau D'Esclans. home of Whispering Angel. Located in undulating hills, inland from the Mediterranean, some 25 kilometers from the ancient city of Fréjus, the vineyard, and its charming and charismatic owner, Sacha Lichine, were turning the rosé world on its head. He believed that rosés could be subtly crafted wines, and set about transforming the market. "What differentiates today's rosés from the overly sugared blush bottles of the past, is finesse" he once said. His goal was, and is, to make "wines that are light yet floral, with a delicate richness, and the paler the wine, the better." This is the style of rosé that has become so prestigious, and has influenced winemakers around the world. As we toured the winery, he and his cellar master explained their wine making process: maceration. Rosés are made from many varietals of red grapes which, once harvested, are gently crushed to allow the juice to macerate (sit on their skins), anywhere from a few hours to a few days, in order to extract the desired amount of color and flavor. The juice's limited contact with the grape skins give rosés their much-vaunted pinkish hues. The grapes are then lightly squeezed in a press to extract the optimal amount of juice, which is in turn poured into a stainless steel tanks, or oak barrels, and vinified similarly to a white wine. I learnt more about rosés in those few hours than I had ever known before. The visit broadened my perspective.
A few years later, I returned to the Chateau, on what was then it's 10th anniversary celebration. As the sun set, the Italianate building was bathed in pink light, and the 300 guests were serenaded into a huge covered marquee, hung with elaborate chandeliers and festooned with gigantic floral arrangements. The appetizers and the multi-course dinner all featured prodigious quantities of truffles, paired with a vertical tasting of the chateau's finest wines. The evening was enchanting, and I could write paragraphs about the astonishing food and two-foot high pyramids of black tubers, but what struck me the most was just how far 'simple' rosés had come. This was now wine on an international, globetrotting, best seller list.
No sooner had I returned to the States, than I started reading about rosé festivals across the country. The press announced that guests in the Hamptons had a momentary panic attack when it appeared that they were going to run out of 'the pink stuff', it seemed Florida positively bathed in it, and New City launched an annual 'Pinknic', a two-day festival bringing together chefs, foodies, musicians, and more, dedicated to celebrating summer with a fresh glass of rosé in hand. At the 2016 event, banners read "Save water, drink rosé", and they did, en mass. California, now home to more than 4500 wineries, also joined in. From Napa Valley to Los Angeles, La Vie en Rosé themed festivals flourished, sprouting like the states spring poppies, in every wine growing region. Everyone got the message, rosé was refreshing, uncomplicated, easy to choose and fun! The advent of Covid-19 put stop to mass gatherings, but wineries quickly pivoted to online tastings to share their latest vintage. Now, after a one year hiatus, drink pink festivals and competitions are gearing back up for 2021.
I admit I have joined in the fun too. Whereas ten years ago, I would never have served a rosé at a cooking class, much less paired it with dishes at a wine makers dinner, now those very winemakers are extolling the virtues of their own rosés to pair with all types of food. Karen Steinwachs, the esteemed winemaker at Buttonwood Farm and Winery, often suggests rosés (she makes two: a very pale, very dry grenache rosé, and a Syrah rosé) to go with foods that are notoriously difficult to pair wines with, such as grilled artichokes and asparagus, or with an endives, herb and goat cheese salad for example. She has made a convert of me, and I now champion its versatility. For instance, I use a lot of herbs in my cooking, and have found that serving a crisp rosé with a herb pesto risotto, is just the ticket. It also works incredibly well with all types of grilled and roasted fish, white meats, vegetarian feasts, and provides a refreshing complement to spicy food, such as a hot Thai curry, an Indian Vindaloo, or a spicy chili.
A few years ago, I travelled in Europe with friends from California. During our peregrinations around the French countryside, we cooked and ate meals together in every pied-à-terre we stayed in. This nocturnal communal gathering always began with a platter of excellent gooey cheese procured from whatever local market we could find, a crunchy baguette or fougasse, a little pate or rillettes and some rosé. This was de rigueur. This lovely ritual followed us back across the Atlantic, and when our motley crew got together, everyone brought rosé. We laughed every time, reminisced about the trip, caught up on news about our kids, munched on a piece of cheese, and delighted in a glass of nostalgia, pink tinged of course. Hopefully we will be able to gather around the table, and do the same again soon!
Grilled Asparagus Salad
I have one of those cast-iron griddle pans that you can put on top of your stove. I never used it very much until a few years ago when I started to conquer my apprehension about grilling in general. I also had an aversion to schlepping and cleaning my underused barbecue that lived outside under a tree, so I thought I'd give this griddle thing a try. Why did I not do this before? It's fantastic, and so easy to use! Asparagus cooked this way somehow taste even better. The little charred bits on the stalks are earthy tasting, yet the stalks retain their herbaceous qualities. This is now one of my favorite ways to prepare asparagus.
If you have mastered your barbecue, you can, of course, grill them over hot coals too, but put them in a vegetable grill basket or pan, otherwise they have the annoying habit of falling through the grill and getting overly singed.
For the salad:
1 lb green asparagus — tips left whole; stems cut into 1½-inch pieces
1 lb white asparagus — tips left whole; stems peeled, then cut into 1½-inch pieces
Olive oil
Salt
Black pepper
20-30 small Thai basil leaves
2 burrata — cut into eighths

For the vinaigrette:
2 tablespoons olive oil
1 tablespoon lemon juice
1 teaspoon white wine vinegar or champagne vinegar
1 tablespoon finely chopped dill
1 teaspoon finely chopped chives
Place the asparagus in a shallow dish. Lightly drizzle with olive oil, and sprinkle with a generous pinch of salt and 8-10 grinds of black pepper. Shake the dish back and forth a few times to make sure the asparagus spears are coated.

Place a cast-iron griddle on the stove over medium high heat. Once it is hot, lay the asparagus stalks on the griddle and cook for 1 ½ minutes. Turn once and cook for another minute. The vegetables should still be bright green and al dente. Carefully remove the cooked asparagus and place them on a serving platter, arranged with tips pointing outwards like a giant flower. Dot the salad with basil leaves and burrata.

In a small bowl, whisk all the vinaigrette ingredients to form an emulsion. Pour over the warm asparagus and serve.
Herb-Crusted, Slow-Roasted Salmon Scaloppini
Serves 8 people
2 tablespoons extra virgin olive oil
1 tablespoon white wine
Zest and juice of 1 lemon
¼ cup finely chopped dill
¼ cup finely chopped chives
¼ cup finely chopped parsley
1 teaspoon sea salt
8-10 grinds black pepper
2 ½ lbs salmon fillet — sliced into ¼-inch thick scaloppini
Preheat oven to 400 degrees.

In a large bowl combine all the ingredients except the salmon and mix together well to form a herb paste. 10 minutes before baking the salmon, add the salmon slices to the mixture, and coat both sides with the herbs.

Arrange the salmon on an oven proof platter or shallow baking dish, covering the entire surface of the dish, except the rim, overlapping the fish as little as possible. Spoon any remaining herb mixture from the bowl over the salmon.

Bake just until the surface of the fish lightens in color, about 4-5 minutes. Check one piece to ensure that it is just cooked through, then remove from the oven. Serve with the salad alongside.
Shaved Fennel and Radish Salad
This is a simple, yet very elegant, crisp and refreshing salad. It's also quick and easy to prepare. I particularly like to serve this alongside grilled or roasted fish, or as part of a vegetarian feast.
Serves 8 people
4 medium sized fennel bulbs — very thinly sliced, lengthwise, on a mandolin if possible
10 radishes — ends trimmed then thinly sliced
4 oz crumbled feta
2 tablespoons finely chopped dill
Salt
Pepper
For the vinaigrette:
¼ cup olive oil
Zest and juice 1 lemon
2 teaspoons white wine vinegar or champagne vinegar
Place the fennel slices, side by side in a concentric pattern, on a large serving platter. You will not use all of the slices to cover the platter. Add any remaining fennel slices to the center of the platter. Arrange the radishes on top of the fennel. Scatter the feta and dill over the top.

In a small bowl, whisk the vinaigrette ingredients together to form a smooth emulsion. Pour the vinaigrette over the salad when ready to serve.
Raspberry Rose Panna Cotta
1 teaspoon vegetable oil
½ cup milk
¼ oz powdered gelatin
3 cups cream
1 tablespoon rose water
1 tablespoon honey
2 tablespoons sugar
¼ cup crème fraiche
Very lightly oil the inside of eight small bowls.

Place the milk in a large bowl and add the gelatin to it. Whisk together thoroughly so that the gelatin is fully dissolved in the milk.

Place the cream, rosewater, honey and sugar in a saucepan. Bring the mixture to a boil stirring frequently to ensure that the honey has dissolved. As soon as the mixture boils, remove from the heat and let it cool for 5 minutes.

Slowly incorporate the cream mixture into the milk, whisking constantly. Add the crème fraiche and whisk again.

Carefully pour the panna cotta mixture into the eight oiled bowls. Cover with plastic wrap and refrigerate for a minimum of 2 hours. This dessert can be made the day before.

To serve, carefully run a think knife around the edge of each bowl. Place a small dessert plate over the bowl and invert it so that the panna cotta is now on the plate. Spoon some of the berry mixture over the panna cotta and serve. Repeat with each bowl.
For the berries:
1 tablespoon butter
2 teaspoons sugar
1 teaspoon rose water
6 oz raspberries
Place the butter, sugar and rose water in a small sauté pan, placed over medium heat. Once the butter has melted, add in the raspberries and cook for 3 minutes shaking the pan once or twice. Be careful to not overcook the berries.