Written for Edible Santa Barbara - December 2013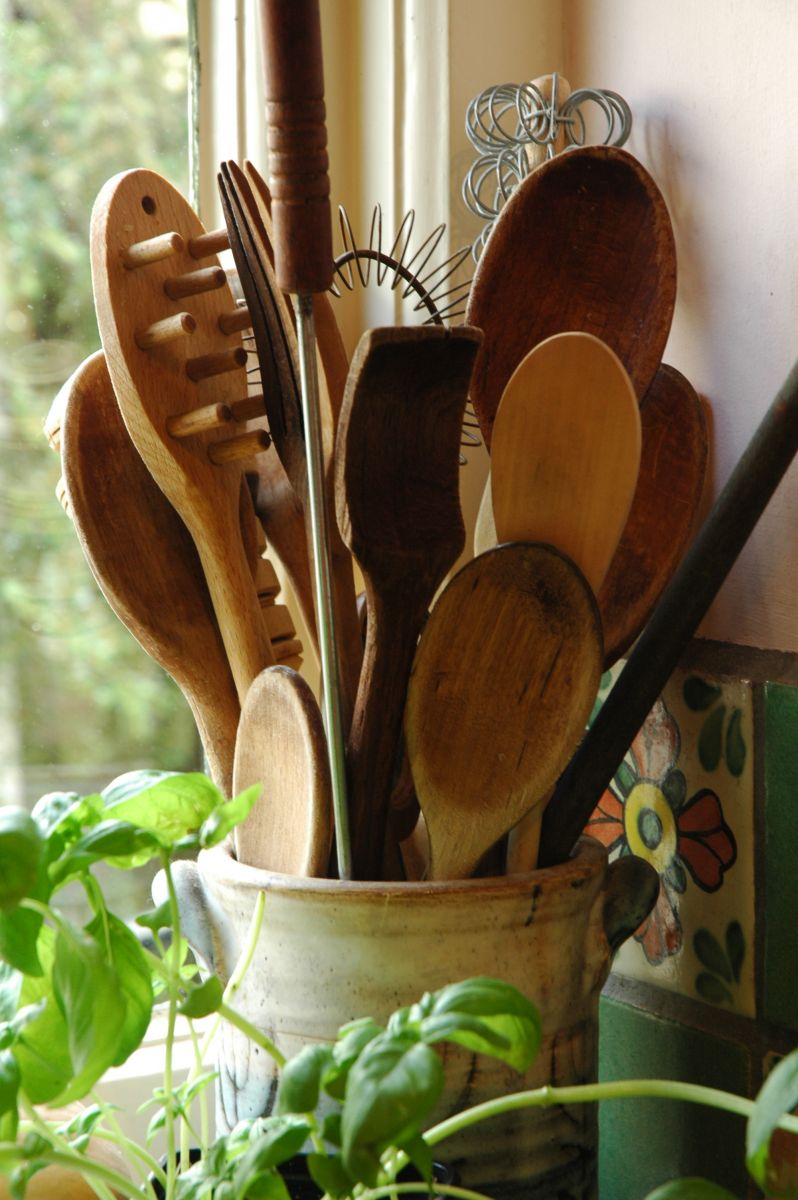 I have just moved. It was the herculean task that packing, relocating and unpacking in a very short space of time can only be. One of the very kind people who helped me pack commented on the plethora of kitchen gadgets, tools, spoons, bowls, plates, glasses, more bowls, more plates, more tools and more gadgets that we carefully wrapped into the dozens of boxes that contained my kitchen. "Do you really need all this stuff?" she asked as she held out one of the cutting boards. The answer, of course, was YES! There are cheese boards, boards for cutting roasts on, chopping boards, small boards that you can take on a picnic with you. There are the bowls I use to make my bread dough's in, salad bowls, mixing bowls in many different sizes, soup bowls and little bowls that I use for serving nuts and olives in. And then there are all the spoons, wire whisks, spatulas, slotted spoons, serving spoons and salad spoons. I thought about all of this 'stuff' as I unpacked each box a few days later and thought about the layout of my new kitchen. I admit that there are items I only use a couple of times a year—a raclette machine, a pudding mold for example—but there are many items that have become indispensable extensions of my hands in the kitchen. Can a gadget make you smile? The answer, as I unpacked my favorite items, was yes.

One large box contained all manner of baking things: cookie cutters, cake tins, tart pans, shortbread and springerle molds, and my 18" long tapered French rolling pin. Oddly (given that I usually have multiples of most items) it is the only rolling pin in my kitchen. It has a wonderful patina developed over the past 25 years of use. I roll out everything from gingerbread dough to short crust pastry with it. Its tapered ends allow for easy manipulation and even thickness of the dough. It is by far the best rolling pin I have ever used.

Rolling pins have been around for a very long time. The first traces of them go back to the Etruscans in 900 B.C. They also appear in medieval etchings, renaissance paintings, Chaucer's Canterbury Tales and Punch and Judy shows. Their shape and purpose (for cooking or otherwise) unchanged for nearly 3,000 years. I like the idea that you could step back in time and find some of the same kitchen tools used in the same manner we do today. There are of course many different types of rolling pins; those for rolling chapattis, tortillas, ridged ones for rolling out different types of pasta; with or without tapered ends; made of stone, marble, stainless steel, plastic and wood. In the end it comes down to the feel of the pin in your hand and I believe that comfort is what makes us like certain items more than others.

Comfort and ease of use is certainly what draws people to use a specific item, or that is has some familial importance. In my family it comes down to knives; small knives in particular. This fascination—a coveting of sorts—stems from the tiny Opinel knife my grandfather carried around in the pocket of his well-tailored suits. It was used for everything from taking the foil off wine bottles to slicing pears on picnics. At home our 'opinel' was a very small, very sharp paring knife that lived in the top drawer in my mother's kitchen. We fought over 'le petit couteau' because it was so easy to use. "I get the small knife" we'd cry. That knife has been whittled down over the last fifty years. It is now half its original size. Still sharp and still a favorite when slicing apples for an apple tart, taking the eyes out of potatoes or the stem end out of tomato or cutting out pastry. It makes us all smile when we use it in her kitchen for it has helped produce many memorable meals over the past half century.

A good meal or favorite dish can arouse a surfeit of emotions, usually pleasurable ones. A favorite chocolate cake made for birthdays, a pie made for Thanksgiving, a stew made only on cold winter days for example. For the person making the food, the ritual of that task, the use of a trusted and dependable tool makes creating that dish all the more enjoyable. Immersion blenders are one of those tools for me. My grandmother had one in her kitchen with which she made soups. My mother had one with a nifty attachment that made great mashed potatoes. This is one of those gadgets I would take even into the smallest kitchen. They can do everything from puree vegetables to making mayonnaise a doddle. You can whip cream with them, make pestos, grind nuts, make fruit coulis and smoothies too. I have started making vinaigrettes packed with herbs and tomatoes with the one in my kitchen. It is—for me—an essential utensil.

I have unpacked almost every box now and I am getting the feel of the new kitchen, the foibles of the new ovens, the layouts of cupboards, the trick with ice maker and a place to put the proofing baskets and bench scrapers. I seem to missing a couple of things though, a few bowls and ramekins. I am sure they will turn up soon and I will find a place for them too. There is always room for a dish that holds a crème brulée and the indispensable tool with which to finish it. As Julia child once said "I think every woman should have a blowtorch.".

FINGERLING POTATO AND BACON SALAD
From Pascale's new book 'Salade'

I like good homemade mayonnaise. I have spent many hours carefully whisking in one drop of oil at a time to try and create the perfect mayo. There were times when I thought I would just make a mustard vinaigrette instead because I did not want the hassle (there's no denying that it usually is) of making homemade mayo. No more! I came across a great trick on the internet. All you need is an immersion blender. (Sometimes they're called stick blenders). It is absolutely worth buying one of these, if only to make mayonnaise, but really because it makes blending soups so simple. I could not believe how easy it was to make mayo — 1 minute at the most — and it is really amazing.

Serves 8 people

2 ½ lbs fingerling potatoes — try to use different varieties
8 slices bacon
Place all the potatoes in a large saucepan of boiling water with a pinch of salt and cook until tender. They should not be falling apart. Drain, let cool, cut into ½-inch thick slices (if some of the fingerlings are small, leave them whole) and place them in a salad bowl.
Cook the bacon in a large skillet or under a broiler until crispy. Place on a paper towel to cool, and then chop the bacon into thin slices.
For the mayonnaise:
1 teaspoon Dijon mustard
1 egg yolk
2/3 cup olive oil
Juice of 1 lemon
1 tablespoon lemon basil leaves — chopped
1 teaspoon lemon thyme leaves
1 teaspoon chives — chopped
1 tablespoon parsley — chopped
Pinch of salt

Place the mustard and egg yolk into tall plastic cylinder or beaker — it should not be too wide. Next, add the olive oil and lemon juice. Finally, add all of the remaining ingredients to the beaker. Place the immersion blender in the beaker so that it touches the bottom. Run the immersion blender until you have a thick mayonnaise. You will have to tilt the blender a little to incorporate all the oil. Taste the finished mayonnaise. If it's very thick, add some lemon juice or a tablespoon water and blend again.
Spoon the herb mayonnaise over the potatoes, add the bacon and toss to combine. This is great for a picnic or with a barbecue, or even served with a simple green salad!

PEAR AND ALMOND TART

For the crust:
7oz unbleached all-purpose flour
2 oz almond flour
2 tablespoons pistachios – roughly chopped
1 large heaped tablespoon powdered sugar
5 ½ oz cold butter – cut up into small pieces.
Zest 2 lemons
Juice of 1 lemon
1 large egg
pinch of salt
Preheat oven to 400 degrees.
To prepare the pastry, place all the ingredients in the bowl of the food processor fitted with a metal blade. Use repeated pulses until the mixture resembles coarse breadcrumbs. Use longer pulses until the dough has formed a ball.
Wrap up the dough in plastic wrap and refrigerate it until ready to use. You can make the dough ahead of time and leave in the fridge. You will need to remove from the fridge approximately 20 minutes before using it.
For the tart:
2 tablespoons butter
2 pears – peeled and diced
Juice and zest of 1 lemon
1 tablespoon sugar
½-inch piece of ginger – peeled and grated
8-10 pears – halved and peeled
1 tablespoon sugar
1 oz butter
¼ cup whole almonds
Butter a 10-inch round tart pan.
Remove the pastry from the fridge. On a lightly floured board roll out the pastry dough into a circle, in an even manner so that the dough is no more than a ¼ inch thick. Roll the dough up on a rolling pin.
Transfer the dough to the prepared tart pan, ensuring that the dough comes up the sides. Trim the edges of any extra dough (you will have some left over) Then prick the surface of the dough with the tines of a fork.
Place the butter in a small saucepan placed over medium heat. Add in the chopped pears, ginger, sugar, lemon zest and lemon juice. Stir to combine and cook for 5-7 minutes. You should have a soft pear puree. If it's a little chunky, break it down with the tines of a fork. Spoon the pear mixture all over the tart dough.
Carefully slice each of the pear halves from almost the stem end down to the root end. You need to be able to fan each pear half out. Place the pears halves, fan side out against the edge of the tart shell working your way all around the tart. Place the remaining pear halves in the center of the tart forming a circular pattern. Sprinkle a little sugar over the top of the pears.
Place the tart in the center of the oven and bake for 25 – 30 minutes. The pastry should be a golden brown colour. Remove from the tart from the oven.
Place the almonds in a cast iron pan and dry roast them on the stove for 3-4 minutes. Dot the surface of the tart with the toasted almonds.
This is delicious with a little crème fraiche or a little vanilla ice cream … or both!
Written for Edible Santa Barbara - Autumn 2013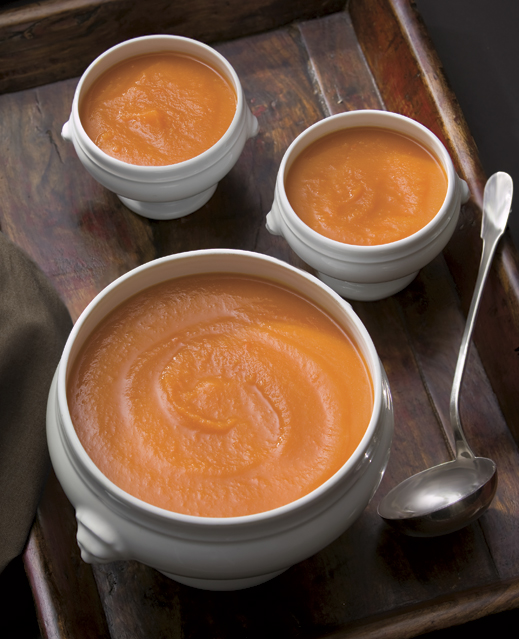 Soup puts the heart at ease, calms down the violence of hunger,
eliminates the tension of the day, and awakens and refines the appetite."
~Auguste Escoffier
The building was impossibly narrow, 10 feet wide at most. It stood on the corner of a short London street and looked as though someone had shaved three-quarters of the structure leaving only the decorated façade behind. All four floors housed a single restaurant. 40 seats tops. Just a few tables on each floor accessed by an impossibly narrow winding staircase that both tray carrying waiters and patrons nervously navigated. I preferred sitting at the bar on the ground floor. It felt very grown-up. I think I was 13 the first time I had lunch there with my father. He took me there to eat soup. We ate lobster bisque. It was heavenly. The epitome of sophistication in a bowl.
I have been thinking about soup a lot over the past few weeks as I've been writing this article and I realized that particular soups have played a starring role in many of the cities I called home over the past four decades. In each case linked to a restaurant where I would inevitably eat the same dish, that particular soup. One of my favorite haunts in Los Angeles had a sensational Soupe de Poisson complete with a rustic rouille and garlicky toasts to float on the surface and soak up all the fragrant juices; another in Golfe-Juan served a bouillabaisse that many drove across the country for; I remember a particularly chunky-creamy-yet-not-too-rich clam chowder in Newport, R.I. shared at communal tables in a casual deli, and an earthy mushroom soup in a tiny Paris Bistro which I would happily travel half-way around the world to get another taste of.
So what is it about soup that is so appealing? Ask anyone about soup and what sensations it conjures up for them and a reoccurring theme runs through their answers. It reminds them of home, their grandmother, their mother, their youth, being nurtured and comforted, it's easy to make, it has endless possibilities, it's easy to eat, and it's healthy. As one of the founders of Gourmet Magazine, Louis P. De Gouy wrote in his 'The Soup Book' (1949) "Good soup is one of the prime ingredients of good living. For soup can do more to lift the spirits and stimulate the appetite than any other one dish." No wonder that the age old remedy for a bad cold is a bowl of chicken soup!
I am no exception to the rule. I grew up eating soup almost every day as my mother had. Fresh vegetable soup, served pureed or in a clear broth. My grandmother made a wonderful vegetable 'potage', a creamy concoction with seasonal vegetables, leeks, shallots, potatoes and a few fresh herbs. She'd a dollop of crème fraiche in there sometimes for good measure. It was the perfect food after a day out in the snow. I liked dipping a piece of baguette in the soup so that it would soak it up which is perhaps just how soup got its name, as the word comes from 'suppa' and 'sop' which both mean "bread soaked in broth". Isn't that one of the best parts of eating a bowl of hearty soup?
There are few dishes that can nourish one as completely as soup does. This was the very comment that Anthony Carroccio (founder and President of the Organic Soup Kitchen) made when I spoke to him about why so much of the food they prepare is centered around a hearty bowl of soup. I agree completely – it is a dish that sustains you.
Everyone I have spoken to is nostalgic about this dish. It's evocative in a manner that is quite personal to each person. Perhaps that's why, when I unexpectedly found myself around the corner from that very narrow restaurant, on that short London street last year, I immediately rushed over to taste 'that' bowl of soup….. I stood aghast in front of the scaffolding that encased the building, the new building. The old one had been demolished, the restaurant, and a 130 plus years of culinary history with it, all in the name of progress. What a shame! However, the memory of that soup lingers with me, perhaps that makes it all the sweeter.

CARROT, ORANGE AND GINGER SOUP
Carrots and oranges are marvelous together. Quite apart from the same vibrant color, the sweetness and zest of orange juice marries so well with carrots, enhancing their flavor. This soup has verve and the ginger adds a little spiciness to it.
Serves 8 people
2 ½ lbs carrots – peeled and chopped into 1 inch pieces
1 inch piece of fresh ginger – peeled and diced
Zest and juice of 2 oranges
2 tablespoons olive oil
4 cups fresh vegetable stock
Salt and pepper
1 tablespoon butter
2 tablespoons cilantro - chopped
Pour some olive oil into a large saucepan placed over medium heat. Place the carrots, ginger, orange zest and toss to coat the vegetables well. Sprinkle with a little salt and pepper. Cook for 15 minutes, stirring frequently.
Pour all of the vegetable stock into the saucepan and continue cooking the carrots for another 30 minutes or until tender.
Stir in the orange juice and cook for a few minutes more.
Carefully purée the carrots and stock in batches in a food processor (you get the smoothest soup using this method) but you can also use a hand held blender. If you are using the latter, leave the soup in the saucepan.
Pour the puréed soup back into the sauce pan if you puréed it in the food processor. Just before serving stir the butter into the soup, check the seasoning, adding a little more salt and pepper if needed. Sprinkle the cilantro on top of each bowl.
ROASTED PARSNIP SOUP WITH A SAUTÉ OF WILD MUSHROOMS
Serves 8-10 people
2 large onions – peeled and diced
2 lbs parsnips – peeled and cut into 1 inch pieces
4 shallots – peeled and roughly diced
¼ cup olive oil
1 tablespoon cumin
8 cups vegetable stock
Salt and pepper
1 tablespoon butter
8 oz chanterelles (or other wild mushrooms–Shitakes work well) – cleaned and thinly sliced
Preheat the oven to 400 degrees.
Place all the onions, parsnips and shallots into a large roasting pan. Combine the olive oil and cumin in a small bowl and then pour over the vegetables and toss to coat well in the pan. Sprinkle with salt and pepper. Place in the oven and roast for 25 minutes.
Pour all of the vegetable stock (or chicken stock) into the roasting pan and continue cooking the parsnips (covered with a piece of foil) for another 35 minutes.
Once the parsnips are fully cooked carefully remove the pan from the oven. Puree the soup with either a hand held blender or in batches in a food processor until you have a very smooth soup. If you are using the later, be careful not to overfill the bowl of the processor. If the soup is very thick, add a little extra vegetable broth when you puree it.
Keep the soup warm in the pan until you are ready to serve it.
Just before serving, stir the chives into the soup so that they are well dispersed.
Melt the butter in a medium-sized skillet placed over medium-high heat. Sauté the chanterelles until they are golden brown and set aside.
Ladle the soup into small soup bowls (this soup is very hearty so a small bowl is the perfect size) and spoon some of the chanterelles and the juices from the pan the mushrooms cooked in, on top of the soup in each bowl.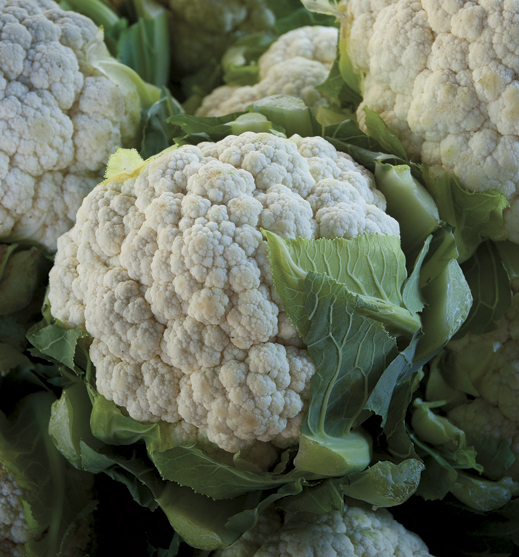 CAULIFLOWER SOUP WITH STILTON AND CARAMELIZED PEAR CHUTNEY
This recipe was inspired by Skye Gyngell and a Gorgonzola version she has in her book 'A Year in my Kitchen'. I love the mixture of cauliflower with blue cheese and the added pop of the pear chutney creates a tasty juxtaposition between salty and sweet.
Serves 8 people
Olive oil
1 tablespoon butter
2 medium-sized onions – peeled and finely chopped
4 shallots – peeled and finely chopped
4-6 sprigs thyme
2 cauliflowers – leaves trimmed away and florets separated
1 bay leaf
8 cups vegetable or chicken stock
6 oz stilton.
Salt and pepper
4 tablespoons crème fraiche
Pour a little olive oil and the butter into a large saucepan placed over medium heat. Once the butter has melted, add in the onions, shallots and the thyme and cook until the onions are soft and translucent – about 5-7 minutes.
Add in the cauliflower, bay leaf, stock and season with some salt and pepper. Simmer for 20 minutes or until the cauliflower is completely soft.
Remove the bay leaf from the soup, add in the stilton and then process the soup either in a blender or with an immersion blender until the soup is completely smooth. Whisk in the crème fraiche and keep the soup warm until you are ready to serve it.
Serve the soup in warm bowls with a spoonful of the pear chutney in the middle of each bowl.
For the pear chutney:
2 tablespoons butter
1/3 cup dried golden raisins/ cranberries
1 pinch saffron
3 pears – cored, peeled and chopped
¼ cup apple cider
2 tablespoons sugar
3 sprigs lemon thyme
Zest of 1 lemon
1 cinnamon stick
Coarse sea salt
Black pepper
Soak the saffron in a small bowl of hot water with the dried fruit for 10 minutes.
Melt the butter in a medium saucepan and add the pears, sugar, thyme and cinnamon stick. Cook for 5 minutes. Add in the dried fruit and saffron and cook for a further 10 minutes. You should have a soft golden mixture. Season with some coarse salt and pepper.
Written for Edible Santa Barbara - Summer 2013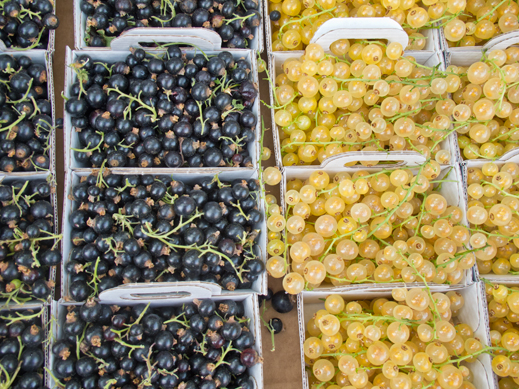 Cooking with Fresh Vegetable and Fruit Juices
Every day during the summer holidays we'd go to the same café in the harbor of the little fishing village near our farmhouse for breakfast. It had red tables, red chairs, red awnings and a magnificent zinc bar that stretched across the back wall of this well-known establishment. We'd always come in early and sit at the same table. It was a well-honed routine and we delighted in the camaraderie of the place. As we waited for the buttery croissants and toasted pain de mie to arrive we'd watch the mountain of fresh oranges that sat in crates on the bar being pressed – one by one – in a large chrome machine. The air would always be filled with a sweet tang of orange zest. The juice, served in tall narrow glasses, was pure, sweet and satisfying.
Over the years I have tasted different dishes in different countries that have captured the very essence of that ingredient just as that orange juice did: a cassis sorbet that sang of slightly tart, freshly-picked black currents, a gazpacho that fêted the tomatoes it was made from, an ethereal fava bean soup that felt as though you were drinking in a spring garden. I realized that this common thread – to be able to savor the main ingredient was nectar indeed. The common theme it seemed was the juice from which these magical dishes were made.
So I began to experiment. At first these were mostly fruit based concoctions. Purees of berries to be added to ice cream or as an accompaniment to a fruit tart for example. Some were weird. Many missed the mark; either too bland, too sweet or too tart. This is how the mango soup came about. I had made a smoothie with mangoes and oranges and liked the flavor combination but the balance was not quite right and a little acidic. At the next farmers market I found some incredibly sweet and juicy navel oranges. My taste buds pricked at the memory of those breakfast glasses of orange juice. Here was the answer to my smoothie. When I tried the blend that afternoon the chemistry between the two worked. I had used more orange juice than before and the mixture was more soup than smoothie so that's how I tried it: in a bowl, with a spoon, with some freshly picked berries. As the days grew warmer it became my favorite dessert of that summer and those since.
During the past year I have been juicing and making purees of everything in sight. It all started with the juice left in the bottom of a plate of heirloom tomatoes that had been drizzled with olive oil. It was so tasty you just had to mop it up with a chunk of bread. This led to making vibrant vinaigrettes with mashed up tomatoes and then to great mounds of herbs being turned into bright green elixirs that transformed everything it was poured into from a plate of pasta to mashed potatoes.
Up to this point I had been pulverizing everything in my food processor or blender. Everything changed after I borrowed a juicer from a good friend of mine. I may have juiced every vegetable in the house. There are some I probably shouldn't have – I thought leeks might be interesting addition to a green drink; they weren't, yet worked well in a poaching broth for fish. I drank juice morning, noon and night and felt energized. My favorite way to start the day is now a glass of apple-carrot-lemon-ginger juice.
One day I juiced beets. I can honestly say that I loathed beets as a child. They were served boiled to death in the school canteen. They were slimy and slightly pickled. We'd try to hide them so we didn't have to ingest them. It wasn't until I came to California and tried roasted beets that I became slightly infatuated with this vegetable. The juice is rich in flavor (it's also packed with antioxidants and nitrates that are good for you) and their intense color - from golden hues to deep plum - adds a beautiful touch to your culinary palate.
To those first cups of beet juice I added fresh orange and carrot juice and concentrated the mixture in a saucepan. The resulting sauce was a revelation to me. It was silky and gorgeous. Here was the essence of those vegetables in liquid form. Golden beets, yellow carrots and orange juice produced a sauce the color of Van Gogh's Sunflowers. Dark red carrots and purple beets created something akin to a ripe fig. The fun part was (and is) pairing these combinations with different foods. Grilled or roasted duck and salmon both worked well, creating a salty-sweet, opulent yet clean mélange. These experiments are fun and vibrant.
Perhaps I'll try making an orange-beet sorbet next: homage to that cassis sorbet and that orange juice.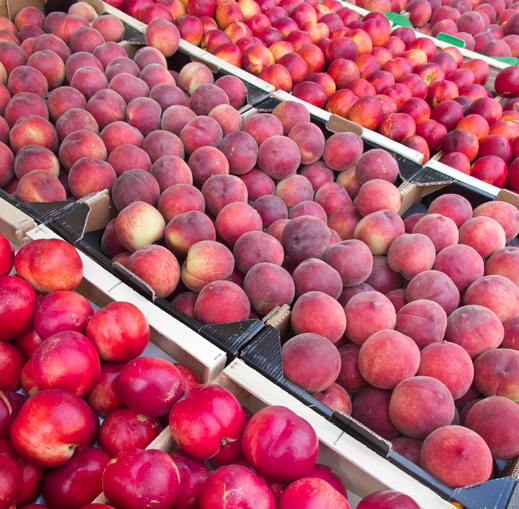 GRILLED PEACH, ARUGULA AND PROSCIUTTO SALAD WITH A TOMATO VINAIGRETTE
Serves 8 people
For the vinaigrette:
2 tablespoons olive oil
1 tablespoon vinegar
2 ripe heirloom tomatoes – stems removed and cut into quarters
Juice and zest of 1 lemon
Juice and zest of 1 lime
Salt and pepper
For the Salad:
4 large or 6-8 small firm-ripe peaches – cut into sixths
1 bunch basil – leaves left intact (if you can, try to find different varieties of basil)
1 bunch chives – finely chopped
8 oz arugula
8 slices prosciutto – pulled apart into small shreds
Place all of the vinaigrette ingredients into a blender and whizz together for 30 seconds so that you have a smooth emulsion. Pour the vinaigrette into the bottom of a large salad bowl. Place serving utensils over the vinaigrette.
Add the arugula leaves, basil leaves, chives and prosciutto on top of the serving utensils.
Place a griddle pan over a medium hot flame on the stove. Once it is hot, pour a little olive oil onto a paper towel and then rub the griddle pan with the paper towel. You want to get a thin film of olive oil on the griddle pan. Be careful when you do this so that you don't burn your fingers.
Place the peaches into a bowl and add a little bit of olive oil to the slices. Toss so that the peaches are coated with a little olive oil. Sprinkle a little salt and pepper over the peaches. Place the peaches on the griddle and cook for 90 seconds. Carefully turn the peaches onto the other open side and cook again for 1 minute.
Carefully remove the peaches from the griddle and add them to the salad. Gently toss the salad so that the peaches stay intact. Serve immediately so that the peaches are still warm.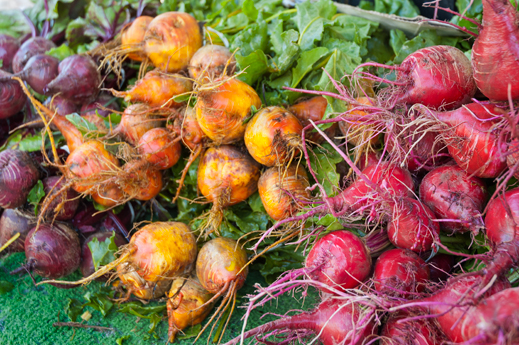 ROASTED GLAZED WILD SALMON WITH A BEET-CARROT JUICE SAUCE
ON A BED OF WILTED GREENS
Serves 8 people
For the salmon:
2 ½ lbs wild salmon filet – score the salmon into 8 equal parts but do not cut all the way through
1/3 cup honey
1 inch piece fresh ginger – peeled and finely chopped
Zest of 1 orange and 1 tablespoon orange juice
1 tablespoon Herbes de Poisson
Preheat oven to 325 degrees.
Place the salmon in an oven proof dish
Combine the honey, ginger, orange zest, juice and herbes de Poisson in a small saucepan and bring to a strong simmer. As soon as it bubbles remove from the heat and then pour the glaze over the salmon ensuring that it is well coated.
Place the salmon in the center of the oven and roast for 18-20 minutes.
For the wilted greens:
Olive oil
2 shallots – peeled and sliced
1/2 lb spinach
1 bunch either bok choy or Asian greens or broccolini – finely sliced
Lemon juice
Salt and pepper
Pour a little olive oil into a large skillet placed over medium heat. Add the shallots and cook for 3-4 minutes, then add in the chopped greens and cook until just wilted. Add some lemon juice to the pan, stir quickly and set aside.
For the beet-carrot juice sauce:
1 cup carrot juice
½ cup beet juice
1 cup orange juice
¼ cup sugar or 2 tablespoons honey
Pinch pepper
½ teaspoon coriander seeds
Place all on the ingredients into a medium sized saucepan placed over high heat. Bring to a boil and then reduce to a simmer. Cook until the liquid has reduced by half and the sauce has thickened. Set aside.
To assemble:
Divide the greens equally between the dinner plates. Place one piece of the salmon onto the center of the greens. Spoon the sauce around the greens. Serve immediately.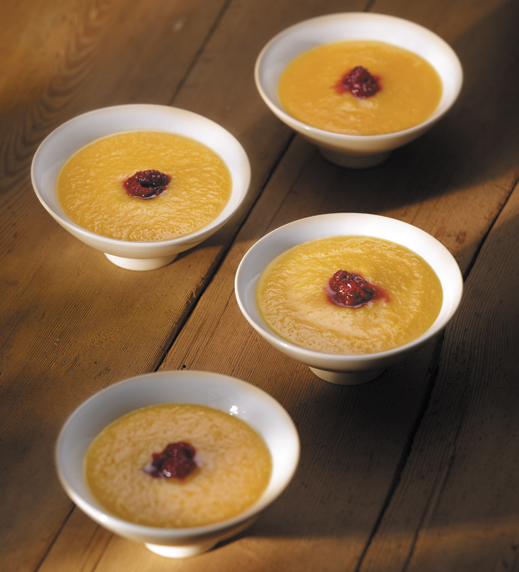 CHILLED MANGO-ORANGE 'SOUP' WITH CRYSTALIZED GINGER RASPBERRIES
From Pascale Beale's A Menu for all Seasons – Spring (1st Edition)
Serves 8 people – This will make enough for a small bowl per person
3 ripe mangoes – peeled and the flesh cut into pieces
Juice of 6- 8 navel oranges
2 oz butter (1/ 2 stick)
1 1/ 4 oz brown sugar (3 tablespoons)
1 tablespoon freshly grated ginger
2 oz chopped crystallized ginger (4 tablespoons)
Zest and juice of 1 1/ 2 lemons
2 baskets raspberries
Place all the mango pieces in a food processor and pulse until you have a thick puree. Then, with the motor running add the orange juice in a gradual stream. You will end up with a smooth soup that will be quite thick. Pour the soup into individual bowls and refrigerate until serving time.
Melt the butter in a skillet that is large enough to hold all the raspberries. When the butter is bubbling, add the brown sugar and cook for 2 minutes. Add in the fresh and crystallized ginger and the lemon juice and zest, and cook for a further 2 – 3 minutes. Set aside.
Just before serving the soup, reheat the sugar-ginger mixture, add the raspberries to the mixture and cook for 30 seconds over high heat, so the raspberries are coated with the ginger mixture and they just begin to release their juices. Remove from the heat and spoon one large spoonful into the center of each bowl of soup. Serve at once to keep the contrast between the cold soup and the warm raspberries.
Written for Edible Santa Barbara - Spring 2013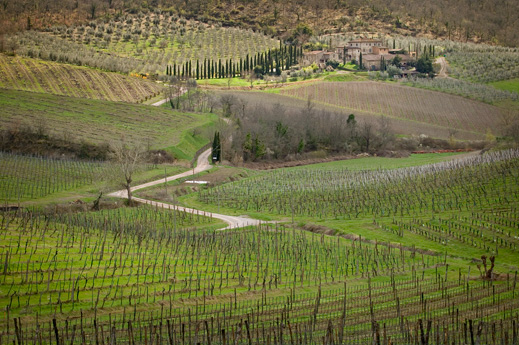 The house was nondescript. It stood squashed between its neighbors on a narrow street in a small, unpretentious village in a very remote part of the French countryside. I wondered why we were stopping here but was assured by our host, and my father, that this was a requisite stop of the utmost importance.
We were ushered into the salon – a slightly stale room at the front of the house. The owner's wife stood by during the introductions but was dismissed by her husband with a wave of his hand which I thought rude. As soon as she was gone he suddenly got down on his knees and rolled back the worn carpet that covered most of the wooden floorboards. He reached for a latch in the floor and opened up a huge trap door. "I'll be right back" he muttered and disappeared down an ancient ladder into the bowels of the house. Minutes passed. We heard the odd thud. He reappeared with cobwebs attached to his beret (yes he was wearing one) cradling a very dusty bottle which he reverently placed on a sideboard. He closed the trap door, rolled back the carpet, and summoned his wife to bring the glasses only to dismiss her once again.
Looks of anticipation were exchanged by the three men. The bottle was opened with great care, held up to the light and then poured into the waiting glasses. It looked like liquid gold. Its hue was the color of rich honey. It shone in the filtered sunlight. The man raised his glass and made a toast. My father tasted the wine and smiled knowingly. He looked at me and said, "Taste this – a sip – you'll remember this for the rest of your life". I took the glass and sipped the wine. This extraordinary, rich liquid startled me, as though it was filled with roasted fruit and flowers. It was a very rare sauternes. I was nine years old.
The owner's wife bought in a fine duck liver pâté which was served on plain toast as an accompaniment to the wine. The combination of the two was the perfect. Suddenly all the conversations I had heard about food and wine made sense. When paired together well they were wonderful.
I realize now that wine played a central part in many of the dishes and desserts we grew up with. Coq au vin, Boeuf Bourguignon, Boeuf en Daube, French Onion soup, Baba au Rhum, Bananes Flambé and Crepe Suzette to name a few. A few years into my cooking in earnest I started using wine to deglaze pans in which roasts had been cooked as I had seen my mother and grandmother do. This was a simple way to get a good sauce out of all those tasty brown bits that were in the bottom of the pan. I learned (the hard way) that using the right amount of wine and letting it cook out the alcohol were crucial to having a good sauce. Too much wine and it drowned the flavors and not cooking it enough left an unpleasant taste and bitterness in the dish. After drowning a few fish and overpowering a couple of roasted chickens I finally got the hang of it and picked up some useful tips about cooking with wine along the way.
One of the most important was not to use cheap wine (aka a wine you wouldn't think of drinking) in a sauce or dish. It will taste like cheap wine. That being said, nor do you need some ruinously expensive wine to make your dish successful. Cooking with wine enhances and compliments the food it's cooked with whether you're using it in a marinade (the acidic nature of wine and the tannins will tenderize tough cuts of meat), as part of a cooking liquid (as the wine evaporates its flavor will be concentrated and compliment the ingredients) or to flavor a finished dish (often a dessert that is set alight or has a fortified wine that soaks into it such as a Baba au Rhum).
The alcohol in the wine is not what imparts flavor, rather that it helps release flavors in the food you're cooking (extracts such as vanilla and almond use alcohol for that very reason). Because of this using the right wine for the right dish is important. White meats such as poultry and fish are enhanced by lighter reds or white wines, red meats are complemented by more robust red wines. Vegetables are wonderful braised with white wine such as a sauvignon blanc and mushrooms can be magnificent served with a reduction made from port or a fruity red. Pears, citrus fruit and vanilla pair well with dessert wines and reds compliment berries, oranges and chocolate.
Cooking with wine is not a new phenomenon. Ancient Roman texts are filled with recipes that used wines to enhance their dishes. Reductions and braises abounded in Medieval kitchens and fortified or spiced wines have even been used as rations for troops in multiple wars. The key in all the dishes is using a judicious hand to extract the wines essence.
Last spring I came across a particularly fragrant crop of apricots at the farmers market and got slightly carried away. After making an apricot tart, some jam and roasting Cornish hens with them there were still a few left. I had some late harvest Riesling at home and poached the fruit with some spices. I spooned the fruit and accompanying liquid into a small glass bowl. Something about the color looked familiar. As soon as I took the first bite I was transported back to that village in France. The apricots had an echo of that sauternes. I savored every morsel with a film running through my mind of all the dishes created with this wine that I had been fortunate to taste over the years. My father was right – I had never forgotten that wine.
Other useful tips for cooking with wine:
If you have any wine left over in a bottle, pour it into an ice cube tray and freeze it. You can then put the ice cubes into a zip lock bag and take one out when you need to deglaze a pan or a little wine for a particular dish.
Avoid bottles labeled 'cooking wine'. They contain a lot of salt and additives.
Cooking wine does reduce the alcohol content but not completely. Simmering wine for 30 minutes will reduce the alcohol content by about 50%, flambé a dish will reduce it by about 25%.
Use pans or skillets with non-reactive surfaces when cooking with wine. Its acidic nature will react and cause discoloration if used in aluminium pans.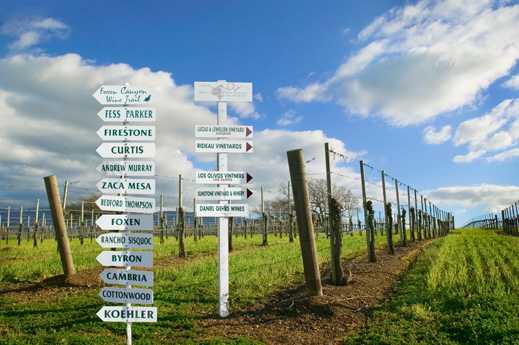 SPRING SALAD WITH GOAT CHEESE CROSTINI AND A RED WINE – BALSAMIC VINAIGRETTE
Serves 8 people
For the vinaigrette:
1/3 cup red wine (such as a merlot or zinfandel)
1/3 balsamic vinegar
2 tablespoons golden raisins
3 tablespoon olive oil
Pinch salt
Pepper
Place the red wine and balsamic vinegar in a small saucepan over low heat. Let the mixture reduce by 2/3rds – this will take about 15-20 minutes. At the half-way stage add in the golden raisins and make sure they are submerged. Stir the ingredients occasionally. Once the mixture has thickened, set it aside to cool.
Strain the reduce wine/vinegar mixture into a small bowl and set aside. Reserve the golden raisins.
In a small bowl whisk together 1 tablespoon of the red wine/vinegar reduction with 3 tablespoons olive oil (save the remaining reduction for the crostini). Add in a pinch of salt and a touch of pepper. Pour this vinaigrette into the bottom of a medium-sized salad bowl and place serving utensils over the vinaigrette.
For the salad and crostini:
6 oz mixed salad greens – try to add some leaves that are a little peppery (such as arugula, dandelion or watercress)
16 small thin slices baguette or olive bread – toasted
Goat cheese
Golden raisins (from the recipe above)
Red wine-balsamic vinegar reduction (from the recipe above)
Add the salad greens on top of the utensils and set aside.
Place a little goat cheese on top of each slice of toast. Add a few golden raisins on top of the goat cheese and drizzle a little of the reduction over each toast.
Toss the salad so that the ingredients are well combined and divide it equally amongst 8 plates. Place a couple of the crostini on each plate alongside the salad.
'POACHED' ROASTED WHITE FISH WITH MEYER LEMONS AND WHITE WINE
Serves 6-8 people
Olive oil
3 shallots – peeled and diced
4 green onions – very thinly sliced
2 cups white wine (such as a sauvignon blanc)
2 tablespoons chives – finely chopped
1 tablespoon dill – finely chopped
1 tablespoon butter
Pinch salt
Black pepper
Juice of 1 lemon
2 lbs white fish (halibut or sea bass work well) – the filets cut into ¼"-thick slices – you are creating petals of fish
3 Meyer lemons – very thinly sliced
Preheat the oven to 350 degrees.
Pour a little olive oil into a medium-sized saucepan placed over medium heat. Add in the shallots and green onions, the salt and pepper and cook, stirring frequently, for 5-6 minutes. The shallots should be soft and translucent. Add in the wine and simmer for 5-6 minutes. It should have reduced by 50-60%. Add in the butter and let it melt and then stir in the chives and dill. Remove from the heat and set aside.
Pour the lemon juice into a shallow baking dish. Place the fish slices into the dish. You will probably have two rows of the fish in the dish. Carefully insert slices of Meyer lemon between the fish slices (it does not have to go in-between every slice, every 3rd or 4th slice is fine). The slices should overlap slightly. Sprinkle a little salt over the fish. Pour the white wine/herb mixture over the fish. Cover the roasting dish with parchment and then with foil.
Place the dish in the center of the oven and roast-poach for 12 minutes.
Serve the fish (including the lemon slices) and juices on warmed plates. This is delicious served with wilted spinach or sautéed greens such as chard or kale.
POACHED APRICOTS IN LATE HARVEST RIESLING
Serves 8 people
2 tablespoons butter
1 tablespoon light brown sugar
3 cardamom pods – slightly crushed
Zest of 1 lemon
16-24 apricots – halved (if they are large then use 2 per person)
2 cups late harvest Riesling (or other dessert wine)
1 tablespoon honey
Place the butter in a saucepan that is large enough to hold all the apricots and melt it over medium heat. Add in the sugar and cardamom pods and cook for 1 minute. Add in the apricots and cook so that they get covered in the sugar and start to get a little browned – this only takes a couple of minutes.
Pour the wine and honey into the saucepan and let the apricots poach in the liquid for 10 minutes. If the apricots are very ripe 5 minutes will be sufficient. Remove the pan from the stove.
Using a slotted spoon remove the apricots from the wine and place them in individual bowls. Return the saucepan with the wine to the stove and simmer for a further 5 minutes to thicken. Spoon some of the wine over the apricots and serve with a dollop of crème fraiche.