Written for Edible Santa Barbara - Autumn 2015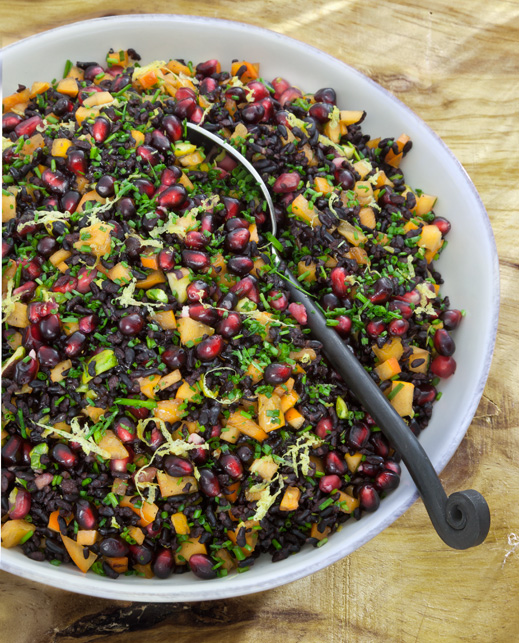 A few years ago I had a conversation with the illustrious editor of this very magazine, Krista Harris, on the eve of the very first Eat Local Challenge. We were discussing how and where we were going to get certain foods. "My kids drink a lot of milk" said I, "Where am I going to find a local dairy?", "What about coffee and butter?" I asked, suddenly envisioning breakfast without either one – a grim prospect if you ask me! We decided to quickly research solutions.
The first thing I did when I returned home (apart from googling local dairy farms) was to examine the contents of my pantry. Like many people I had accumulated an assortment of dried goods over the past year: different pastas (penne, spaghetti, orzo, fusilli); rice from different parts of the world (Arborio from Italy, Basmati from India for example) and legumes, beans, quinoa and couscous from various parts of California, France, North Africa and South America. There were also some really yummy Lentils de Puy from Auvergne sitting in the shelf. Was I not going to eat these items during the month of the challenge? They were already in my kitchen! I called Krista back, "I think I'm going to use up all the staples I have left in my kitchen during eat local," I said, "and add only the local fish, poultry, eggs, fruit and vegetables I get from the farmers market." If I ran out of something I would either have to find a local alternative or make something else entirely.
Next I turned my attention to the contents of my fridge, where an assortment of mustards, nut oils, fish sauce and jams congregated in its chilled recesses. I thought this would be an excellent occasion to do some fridge housekeeping. I opened the cheese drawer and found lots of little bits of cheese, a small piece of parmesan, a little blue cheese, a piece of goat cheese and some cheddar. Looking at the pieces made me think of my aunt, who, once a month, would go through her cheese drawer and make a rather spectacular pasta with a cheese sauce made up of all the bits of cheese that were left. The sauce changed every month depending on what she had there, but it was always a rather glorious concoction poured over the pasta at hand. I decided that this would be a perfect dish to start off the challenge, using up some of the pasta in the cupboard and clearing out the last of the cheese.
So it was with some enthusiasm and some lingering questions (about coffee in particular) that I (and by default my entire family) embarked on the challenge. We finished all the existing pasta within the first six days much to my son's consternation as this is one his main food groups. "Now what?" he said rather glumly. "We make our own!" I replied. We did so, twice. He enjoyed the experience, particularly rolling the pasta through the hand-cranked machine, however, I realized that we were not going to be doing this every day and more to the point, our flour supplies were getting low. I had not thought about a local flour source but did find some local almond flour for some of our baked goods. The dwindling flour supply produced some interesting conversations around the dinner table, particularly about early settlers and wartime cooks, who made do with what was at hand, and why commodities such as flour, sugar and salt were so precious. British cookery books from the early 1940s describe all sorts of apple dishes including apple crumble, made popular during WWII, created due to rationing of butter, instead of baking more traditional pies. People made do with what was at hand and in season. It seems so logical.
Half way through the month my once filled jars were starting to look decidedly empty, but in an odd way this made the challenge all the more appealing. As these taken-for-granted staples ran out, our food resembled more and more the seasonal bounty on show across the farmer's market tables. We ate more omelets, soufflés, roasted fish and vegetable risottos. I made a rice-less risotto by cutting all the vegetables in small pieces and served it with a kale and arugula pesto. The appeal of preserving fruit, tomatoes and late summer vegetables grew every day. If we knew that we would not see fresh tomatoes until next summer, would we use them in a different way? My grandmother's mammoth fruit harvest and jam making sessions made all the more sense to me now.
Over the years I have come to view the month long challenge as an annual 'spring' cleaning of sorts. It's time to make space for the new harvest. For if March and April mark the beginning of the sowing season, the nurturing and awakening of sometime dormant fields, then September and October showcase the fruits of the farmers labor (and our own for those avid gardeners amongst us). For me, it's a time to savor the short seasons of barhi dates and fuyu persimmons, delve into jewel-like pomegranates and hopefully partake in some much longed for, rain nourished, wild mushrooms; it's also time to bring in newly dried fruit, fresh nuts from the precious almond and pistachio growers and preserve some late season stone fruit, which can then be savored throughout the year. Most of all, it's a time to be grateful that we do have access to so many locally produced, incredible, tasty foods.
WARM DANDELION AND WATERCRESS SALAD WITH ROASTED ROOT VEGETABLES, BACON AND HERBS
This salad came about as a result of 'TDF' or Tour de Frigidaire, as my friend Michele would say. It's a great expression that means making something out of all the bits that are left in your fridge. The first time I made this, there were three of us having an impromptu lunch. Here's the recipe for 8. Feel free to add other bits and pieces (local goat cheese or feta would be great for example) from your own Frigidaire!
Serves 8 people
Olive oil
1 tablespoon fig balsamic vinegar
Salt and pepper
1 lb multi-colored carrots — peeled and cut into 2-inch pieces
1 large parsnip — peeled and chopped into long strips
2 lbs beets — golden, ruby or red — peeled and cut into quarters
4 slices of bacon — cut crosswise into thin strips
2 sprigs fresh rosemary — leaves removed
8 oz dandelion greens — cleaned and roughly chopped
8 oz watercress — cleaned and roughly chopped
½ bunch dill — finely chopped
½ bunch parsley — finely chopped
½ bunch basil leaves — rolled up and thinly sliced
Preheat the oven to 350 degrees.
Pour a little olive oil onto a baking sheet and add all the chopped root vegetables, the bacon strips, fresh rosemary and some salt and pepper. Toss to coat well. Roast in the oven for 45 minutes until tender. Stir the vegetables once or twice while they are cooking.
Pour a ¼-cup olive oil in a salad bowl. Whisk in the fig balsamic vinegar, add a pinch of salt and some pepper. Place salad utensils over the vinaigrette. Place the dandelion and watercress on top of the utensils. Set aside.
When you are ready to serve the salad, add all the roasted vegetables to the salad bowl and all of the chopped herbs. Toss until well combined.
SAFFRON RISOTTO WITH A SAUTE OF WILD MUSHROOMS
Risotto is a wonderfully versatile dish as almost all vegetables can be added to the base recipe. If wild mushrooms are not available you can use a sauté of assorted seasonable vegetables. If you do not have Arborio rice you can make a rice-less version by chopping lots of vegetables and a cauliflower into small pieces and cooking them in a similar fashion.

Serves 8 people
6 cups vegetable stock
6 tablespoons (¾) stick unsalted butter
2 ounces pancetta - sliced
½ cup minced shallots
1 ½ cup Arborio rice (10 ounces)
½ cup dry white wine
1 teaspoon saffron threads
Parmesan cheese - shaved
Really good coarse salt
Freshly ground pepper
Heat the chicken stock in a covered saucepan. Leave it on low heat to simmer.
In a heavy-bottomed pan, melt the butter and sauté the pancetta and shallots on medium-low heat for ten minutes, until the shallots are translucent but not browned.
Add in the rice and stir to coat the grains with butter. Add the wine and cook for 2 minutes, stirring occasionally. Add 2 full ladles of stock to the rice plus the saffron, 1 teaspoon of salt, and ½ teaspoon of pepper. Stir and simmer until the stock is absorbed, 5 to 10 minutes. Continue to add the stock, 2 ladles at a time, stirring every few minutes. Each time, cook until the mixture seems a little dry, and then add more stock. Continue until the rice is cooked through, but still al dente, about 30 minutes.
To serve, spoon some of the risotto into the center of warmed dinner plates. Divide the sauté of mushrooms equally between the plates and spoon on top of the risotto. Sprinkle a little parsley over the top and serve with some parmesan shavings.
For the sauté of mushrooms:
2 Tablespoons butter
1lb assorted wild mushrooms – cleaned, stems trimmed and thinly sliced
Coarse sea salt
Freshly ground black pepper
Place the butter in a large frying pan or heavy bottomed skillet, placed over medium high heat. Melt the butter and then add in the sliced mushrooms. Cook until just browed. Add the salt and pepper, stir once more and serve immediately.
POMEGRANATE AND PERSIMMON FORBIDDEN RICE
This is one of the dishes that came about using up some of the black rice I had left in my pantry and a plentiful gift basket of persimmons and pomegranates that arrived on my doorstep last Autumn. It became one of my favorite seasonal dishes, so much so that I made it at Thanksgiving to serve alongside the roasted turkey.
Serves 8 people
¾ cup uncooked black rice (sometimes called Forbidden rice) — rinsed
Seeds from 1 large pomegranate
1-2 Fuyu persimmons — diced (about the size of the pomegranate seeds)
1/3 cup pistachios — roughly chopped
6 tablespoons chives — finely chopped
Zest and juice of 1 small lemon
For the vinaigrette:
1½ teaspoons pomegranate molasses
1 tablespoon red wine vinegar or pear Champagne vinegar
¼ cup olive oil
Salt and black pepper
Place the well-rinsed rice in a small saucepan with 1½ cups of water and a pinch of salt. Bring to a boil. Reduce heat to low. Cover and cook for 20-25 minutes or until the rice is tender and the water has been absorbed. Transfer the cooked rice to a medium-sized serving bowl.
Add the pomegranate seeds, chopped persimmons, pistachios and chives. Stir to combine. Add the lemon juice and zest and stir once more.
Whisk the vinaigrette ingredients together in a small bowl. Stir into the rice mixture. Let rest at least 15 minutes before serving.