Written for Edible Santa Barbara - Winter 2012
Culinary inspirations and mentors come in all guises. Mine heralded from Normandy. Her name was Genevieve Fay. She stood 5'5" tall and was - until the last day of her life – always immaculate. With her jet black hair elegantly coiffed, she personified elegance in the very French manner of her dress and etiquette, yet her sapphire-colored eyes often had a mischievous twinkle in them. She marshaled all those around her with an apparent ease that I always marveled at. She was my grandmother and I adored her.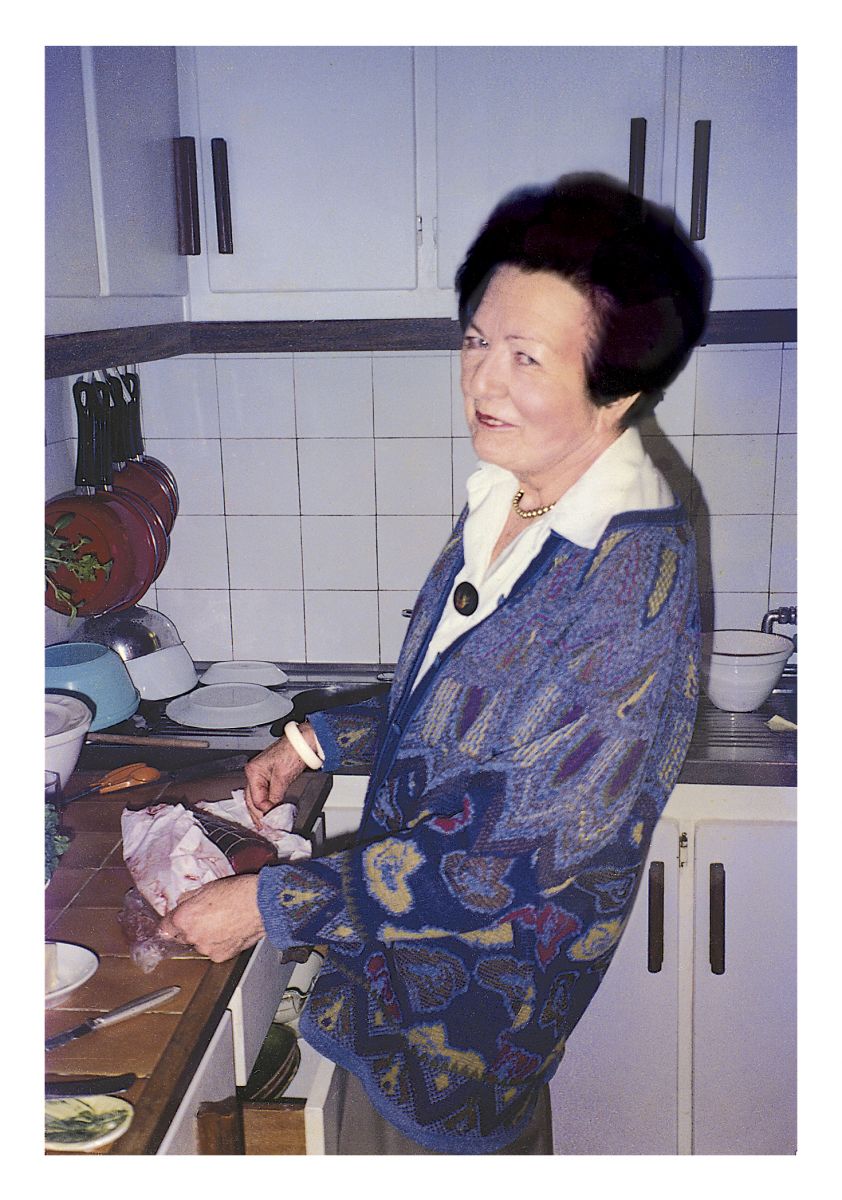 From her deft hands came the art of laying a beautiful table, an aperitif to tempt the palate, the ability to make guests feel at ease and fragrant, sauce-rich meals which epitomized fine home cooking (more about those later).
Meals seemed to suddenly come together in her kitchen. She would often announce that dinner would be ready in 45 minutes and I'd pop into her kitchen to see what she was making and nothing would be cooking, not a pot on the stove? Ten minutes later, Vivaldi's Four Seasons playing in the background, every single cupboard would be open ("so I can see everything I need", she'd say), a battalion of pots bubbling and steaming away. Where had they been? How did she do that in so little time? The answer I soon came to learn was careful preparation of her ingredients earlier in the day – a classic 'mise en place', although she would never refer to it that way.
Born in the heartland of France's luscious dairy farms, home to salty butter, crème fraiche and some decadent cheeses, her cuisine was classic French fare. My grandfather, on the other hand, came from Nice and the Cote d'Azur. His family's culinary ties were firmly planted in the Mediterranean. My mother inherited and passed on the flavors of both cuisines. As a result, at home in London we ate an eclectic mix of Provencal-Indian-Classic French-African dishes that ranged from dal, spiced plantain and onion tarts to Canard à l'Orange, gigot d'agneau and apple crumble; drawing upon the cultures that surrounded us there. It was in this spicy melting pot that I leant to cook. My mother preferred the flavors of Provence and this was (and is) the food I felt at ease with, yet we would all yearn for Geneviéve's classic dishes. Her 'Lapin a la Moutarde' (see Edible Autumn 2010 for the recipe) was legendary in the family.
The journey to my grandparents' home in the French Alps was a long one, some 1100 kilometers separated us. I loved taking the overnight train from Paris leaving from the imposing Gare de Lyon. You'd awaken the next morning to majestic alpine scenery unfolding before you as you listened to the clickety-clack of the train as it weaved its way up the vertiginous valleys to the end of the line: Briançon - the highest 'city' in Europe, situated at the confluence of four stunning valleys and just 11 kilometers from the Italian border.
My grandmother would always meet the train and on the drive home would describe what she was preparing for dinner. Our mouths would water. Could it be her Quenelles à la crème, her Roti de Porc, Escalopes à la crème or a Tuite aux Amandes? Reflecting back our favorites all seemed to have lashings of crème fraiche and cheese in them, but she also made simple, light dishes such as steamed leeks with a vinaigrette, steamed courgettes with olive oil and grated gruyere, a basket of crudités served with a plate of local charcuterie and a crisp green salad with chopped chives. If a meal necessitated a particular ingredient of Italian origin we would literally drive to Italy, up the stomach-churning mountain pass, to get it. The reward on the way back was the ultimate salty treat which consisted of skinny crissini, dotted with butter and wrapped with paper-thin slices of prosciutto. It was the only time we were allowed this tasty morsel.
My grandparents' home was very formal. Even the simplest meal, al-fresco on the terrace for instance, would require a multitude of plates, glasses, silverware and platters for each dish, yet I enjoyed the rituals which encompassed all her meals and the delicacy with which she orchestrated them. Even spending countless hours driving hither and yon for just such and such an ingredient was enjoyable, no doubt because it was just the two of us.
Once I was old enough she would let me set the table. She always checked the details and always tweaked the finished product. Seating at her table followed a strict protocol which – within the family hierarchy – depended on one's age and position in birth order. I only mention this because being strategically placed at the dinner table was sometimes to one's advantage. On one memorable occasion she had made the aforementioned Lapin à la Moutarde. You have to understand that this sauce begged for a piece of baguette to be drenched in it and placed reverently in one's mouth. However all drenching was strictly off limits. You may be permitted to discreetly impale a small piece of bread on the tines of your fork and delicately dab the sauce on you plate, but heaven forbid that you actually pick up a piece with your fingers, soak up that glorious sauce to then munch on that morsel. This proved the undoing of my uncle and I.
We were seated opposite each other. We had finished eating the main course, yet a pool of sauce remained in the platter. We both eyed the dish. I offered to help carry the plates to the kitchen. My uncle stood and grasped the platter. I glanced at him knowing exactly what he was planning to do. He allowed a small grin. No sooner in the kitchen we searched for the baguette and then ripped off a chunk. No delicate pieces here. With a triumphant we-got-away-with-this grin, we both mopped up a great dollop. The tantalizing piece of bread I held in my hand was half way between the platter and my mouth when the kitchen door quietly swung open and there stood Geneviéve. I froze. My uncle had no such compunction and ate his piece. I was caught red-handed.
Geneviéve had a tick. Whenever she disapproved of something her left eyebrow would twitch. She looked at me, her eyebrow doing a violent dance across her forehead. I felt about 2 years old (I think I was about 26 at the time) and slowly lowered that priceless morsel back on the platter. She only uttered one word –PASCALE! My uncle had perfected the art of being invisible or maybe by dint of being her only son was exempt from remonstrations. I, on the other hand, should have known better.
All of these memories weave a rich tapestry of family lore and have nourished and shaped my culinary journey. Her sensibilities have filtered their way into my daily life and I treasure them.
A few years after Geneviéve died I was fortunate, very fortunate, to become friends with Julia Child. If my grandmother influenced the early flavors of my cooking, Julia inspired my desire to write about food. Her love of life, her curiosity and her enthusiasm were infectious. I realized as I spoke with her that she and Geneviéve had the same twinkle in their blue eyes. Julia had once said 'if you're afraid of butter, use cream', words my grandmother lived by. Bon Appetit!
GRATIN OF LEEKS
Serves 8 people
Olive oil
8 leeks – outer leaves peeled away, root end trimmed and then then length of each leek cut into 1-inch pieces. Try to only use the white or light green part of each leek
Salt
Pepper
Pear champagne vinegar
Preheat the oven to 350 degrees.
Pour a little olive oil into a gratin or shallow baking dish. Stand all the leek pieces on end and pack them in so that they completely cover the bottom of the gratin dish. They should be tightly packed. Drizzle with a little olive oil, sprinkle with some salt and pepper and place in the center of the oven.
Bake for 20 minutes, then cover with foil and bake for another 20 minutes.
In a small bowl combine 3 tablespoons olive oil with 1 tablespoon vinegar. Whisk together and spoon over the hot leeks. Let stand for 5-10 minutes before serving.
STUFFED PROVENCAL LEG OF LAMB
Serves 10 – 14 people
1 whole leg of lamb – trimmed of all fat and butterflied but not tied.
1 lb. baby spinach
1 goat cheese log – approx. 6 oz. – cut up into small pieces
Olive oil
8 – 10 garlic cloves – peeled
Coarsely ground black pepper
Sea salt
Herbes de Provence
10-12 roma tomatoes – quartered
2 ½ cups water or chicken stock
Red wine for deglazing the roasting pan
Preheat the oven to 425 degrees.
In a large pan heat a tablespoon of olive oil. When hot add the baby spinach and cook briefly for 1 - 2 minutes – until spinach is just wilted.
Place spinach in a bowl with the goat cheese. Add a teaspoon of olive oil and 4 crushed cloves of garlic. Also add a good dose of ground black pepper. Mix all of the ingredients together to form a sort of paste. It will be sticky looking.
Place the lamb on a chopping board opening it up so that it lies flat. It will look like an elongated S. Spoon the spinach mixture onto the length of the lamb. Fold the lamb back to its original shape now containing the spinach mixture in the middle of the roast.
Using kitchen string tie the leg of lamb at evenly spaced intervals. Once tied, cover the outside of the roast with olive oil. Make small slits into the meat and push in the remaining garlic cloves. Cover the roast with Herbes de Provence and some black pepper and sea salt to taste. Place the lamb in a roasting dish. Surround the lamb with the roma tomatoes. Drizzle a little olive oil on the tomatoes.
Bake the lamb at 425 degrees for 15 minutes, then lower the temperature to 400 degrees. At this point add a little water or chicken stock to the baking dish – just half way up the sides of the tomatoes – approx. 1 ¼ cups.
Continue to roast the lamb for an additional 1hr 10 minutes – 1 hr 20 minutes depending on the size and how pink you like your meat.
Once cooked remove the lamb from the oven, place it on a chopping board, cover loosely with foil and let it rest for 10 to 15 minutes. While it is resting make the sauce.
Place the roasting dish on the stove top and deglaze the pan with some red wine scraping up all the bits as you go. Bring the wine to a rapid boil and let it reduce by ¾. Add the remaining chicken stock to the sauce and reduce it a little more. Taste for seasoning, adding salt and pepper to your liking. Add one or two knobs of butter to give the sauce a nice sheen.
To serve, cut thin slices of the gigot and place on warmed plates. Spoon some of the sauce from the pan over the slices and spoon some of the gratin alongside.
GENEVIEVE'S GRATIN DAUPHINOIS
This is her rather decadent version of this dish.
Serves 8
2 ½ lbs. waxy potatoes – peeled and thinly sliced (¼ inch thick or less)
1 cup heavy cream
1 cup crème fraiche
1 cup whole milk
2 cloves garlic
a pinch of ground nutmeg
Salt and pepper
Butter for dish
8 oz gruyere cheese - grated
Preheat oven to 325 degrees
In a large bowl, mix the cream, crème fraiche, milk, nutmeg, salt and pepper.
Cut the garlic in half and rub the inside of a large baking dish with the garlic. Butter the baking dish with some butter so that it is well coated.
Line the bottom of the dish with a layer of the potatoes and sprinkle with some of the gruyere. Dot the potatoes with a little butter. Repeat this – layer of potatoes covered with the gruyere and dots of butter until you use up all the potatoes. Pour cream mixture over the potatoes in the baking dish making sure that they are almost completely submerged.
Bake in the oven for 1 hour.
TEA INFUSED WINTER FRUIT
My Grandmother Genevieve Fay loved to play bridge. Her bridge partners would take turns hosting their afternoon games. Although I did not play with them, I was allowed to help prepare the 'gourmandise', the treats my grandmother set out when it was her turn to host. She invariably included a seasonal fruit salad on these occasions, served in a beautifully decorated glass bowl. I loved those salads and this version is a tribute to her.
Serves 8 people
1 teaspoon butter
1 teaspoon light brown sugar
2 apples – Pink Lady or Granny Smith – peeled, quartered and sliced
1 blood orange – zest set aside, then peel and slice the orange
12 dried prunes
12 dried apricots
1 stick cinnamon
2 cloves
2 pieces crystallized ginger
½ cups brewed black/ Earl Grey tea
Juice of ½ lemon
Melt the butter and sugar in a heavy bottomed saucepan over medium heat. Once completely melted add in the orange zest and the apples slices. Cook for 3 minutes turning occasionally so that the apples are slightly browned.
Add in all the remaining ingredients and stir to combine. Cook for 5 minutes over low heat. Then let the fruit infuse for at least 30 minutes – in the saucepan but off the heat - before serving.
Serve the fruit in small glass bowls as the colors are very appealing.
Written for Edible Santa Barbara - Autumn 2012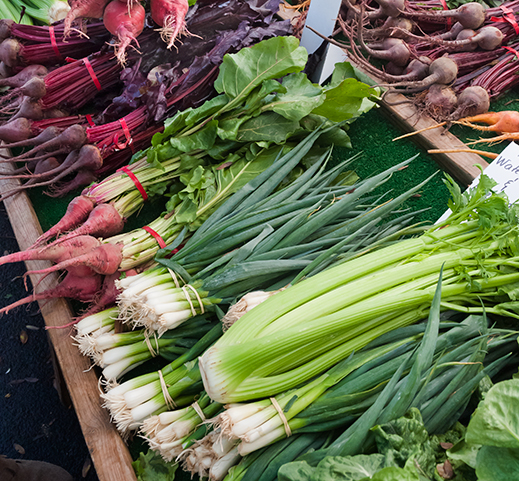 Albert Camus once wrote, "Autumn is a second spring when every leaf is a flower." I thought of this as I drove back to Santa Barbara through the picturesque rolling hills of the Santa Ynez Valley. I was struck by the beauty of our local landscape, captured in exquisite color on one of those pristine autumnal afternoons. The colors were beginning to change in the local vineyards and the evenings had started to have a little nip in the air.
I had picked up some local wine in preparation for a dinner with my antipodean cousins. They were here for exactly 18 hours and I was trying to decide on the best way to highlight the pleasures of living on the central coast. As they would not be able to wind their way through the local tasting rooms, I hoped that dinner accompanied by our local wines would be a good substitute, and what better way to showcase the delicious abundance of the local farms that to meet them at the farmers market.
It never ceases to amaze me how taken visitors are with our local markets. We – the local residents – have become used to them, but those who come from afar, even those who come from great culinary hubs, are struck by the variety, quality, flavor and depth of our local produce. It is a great pleasure to introduce friends to Santa Barbara whilst walking along State Street perusing the season's bounty.
A cellist serenaded passers-by as the sun started its slow descent towards the horizon. Children darted through the crowds, their hands sticky with the last of the late-summer peaches. We wandered past the laden tables of apples, pomegranates, dates and squash, picking up the items we needed for dinner. My family has scattered to the four corners of the earth but we all have one thing in common. We love good food and sharing it with others. Our conversation turned to meals shared in the past and our travels across France. I remembered spending a similar afternoon in a remote Provencal village during a chestnut festival and eating salads filled with roasted nuts. At that moment we found ourselves in front of La Nogalera's walnut stand. They make the most sensuous oil which has an essence of roasted walnuts. Our first course was created on the spot. A pear and walnut salad – what better way to showcase the season?
I had already picked up a local farm raised chicken and wanted to find some grapes to roast along with it. We munched of different varieties, finally choosing two different kinds to add to the already heavy baskets. Again my thoughts drifted across the ocean. Our old farmhouse in France has an ancient vine that covers the terrace that is adjacent to the kitchen. We eat most of our meals under the dappled light and grateful shade provided by this vine in the hot summer months. As autumn comes around the leaves turns marvelous shades of butternut squash and pomegranate red. You might have to sit outside with a sweater on but that terrace is just as welcoming. Despite its ancient age, this vine produces vast quantities of grapes which we harvest continuously lest they splat on those seated below. I am reminded of this each time I see great mounds of grapes at the market.
Food, I realized, is a delicious memory. We anticipate a taste because it was part of our childhood; a particular dish because a favorite grandmother or aunt prepared it, or a sip of golden wine because it was served on a special occasion. Santa Barbara, with its market, provides such memories. A culinary taste of our terroir.
Everyone stood in the kitchen as we prepared dinner, a glass of wine in hand with some fresh goat cheese from Drake Family farm in the shape of their delicate and floral 'Glacier'. We made dessert as the chicken was roasting, sending wafts of succulent aromas through the house. Our taste buds anticipated the meal to come. A collage of images from the afternoon drifted through our conversation. A moment for all to treasure, once again linked to the preparing and sharing of a meal. Few things I think give as much pleasure as this.
PEAR AND WALNUT SALAD
Serves 8 people
For the vinaigrette:
¼ cup olive oil
2 tablespoons walnut oil
2 tablespoons cider vinegar
1 tablespoon mustard
Salt and pepper
For the salad:
Olive oil
3 firm pears – cored and thinly sliced (you can use Asian pears for this salad as they add a nice crunch)
¾ lb mixed salad greens – make sure they are all green, greens
½ bunch chives – finely chopped
4 oz fresh goat cheese
2 tablespoons chopped walnuts
Place all the vinaigrette ingredients in the bottom of a large salad bowl and whisk thoroughly together. Place the salad servers over the vinaigrette and then place the salad greens on top of the utensils. Set aside.
Pour a little olive oil into a wide skillet placed over medium high heat. Add in the pear slices and cook, shaking the pan frequently for 1-2 minutes. The pear slices need to be warmed through, but not cooked to the point that they are falling apart. Place the warm pears on top of the salad greens.
Top with the goat cheese and walnuts.
When you are ready to serve, remove the utensils and let the salad fall into the vinaigrette and toss to coat well.
Note: This salad is delicious served with a walnut and raisin type bread.
CITRUS ROASTED CHICKEN WITH GRAPES
Serves 8 people
4 large sprigs rosemary – leaves removed
4 sprigs thyme – leaves removed
Zest and juice of 2 lemons – keep the squeezed out fruit
Zest and juice of 2 oranges - keep the squeezed out fruit
1 tablespoon olive oil
Salt and pepper
2 organic chickens
1 ½ lbs grapes – de-stemmed
Preheat the oven to 400 degrees.
Combine all the ingredients (except for the chickens) in a small bowl and mix well.
Place the chickens in a large roasting pan and rub the outside with the citrus/herb mixture. Place the grapes all around the chickens. Roast in the middle of the oven for 15 minutes and then lower the temperature to 350 degrees and roast for a further 1hr 15 minutes, turning the chickens once or twice so that all sides are evenly browned. When the chickens are cooked, remove them from the roasting pan and set aside to rest before carving, loosely covered with foil.
Cut the chickens and serve on hot plates with the grapes and carrots.
GLAZED CARROTS WITH WHITE WINE
Serves 8 people
3 lbs carrots – assorted varieties and colors if possible – peeled and halved lengthwise
1 tablespoon olive oil
2 tablespoons butter
Salt
Pepper
1/3 cup white wine
2 tablespoons chives – finely sliced
Place the carrots in a steamer and cook for 6-7 minutes. They should be just cooked.
Just before serving the carrots, pour the olive oil and add the butter to a large skillet placed over medium-high heat. When the butter is foaming add in the carrots, a large pinch of salt and some black pepper and sauté for 2-3 minutes. Add in the white wine and cook until it has completely evaporated. This will not take long. Sprinkle the chives over the carrots, toss to combine well and serve immediately.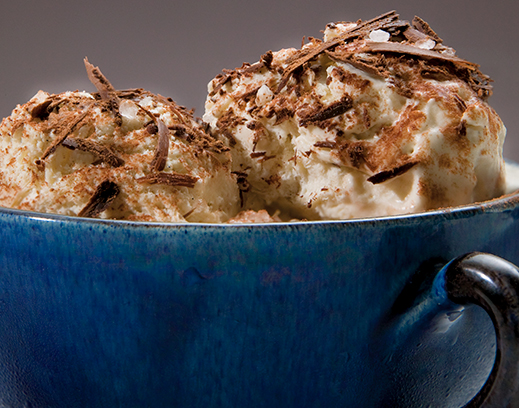 ESPRESSO SEMIFREDDO
Semifreddo; meaning half-frozen in Italian, is an unctuous dessert. It is creamy and similar to ice-cream in texture but not as cold. This version combines two of my favorite things: espresso and whipped cream.
Serves 8 people
1 espresso
1 vanilla bean
Freshly ground black pepper
5 large egg whites
2 cups heavy cream
1/ 3 cup sugar
2 oz chocolate (use dark chocolate) – grated
1 tablespoon cocoa powder
Coarse sea salt
Pour the espresso into a small bowl. Cut the vanilla bean in half lengthways and then scrape the seeds out of each half using the back edge of a knife. Add the vanilla seeds to the espresso. Add 2 or 3 twists of black pepper to the mixture stir and set aside.
In a second bowl whisk the cream until soft peaks form, being careful not to over whip them. Set aside.
In a third bowl whisk the egg whites until they form soft peaks. Gradually add in the sugar and beat until the egg whites are firm.
Using a large spatula carefully fold the espresso mixture into the whipped cream. Then carefully fold the beaten egg whites into the espresso cream mixture. Take care to have a light touch as you want to incorporate as much air as possible in your dessert. Spoon the semifreddo into a large shallow dish, Pyrex work well, cover and freeze for 2 hours.
Remove the dessert from the freezer 5 minutes before serving. Spoon some of the semifreddo into each bowl. Sprinkle a little of the grated dark chocolate over the semifreddo, dust with some cocoa powder and add a few grains of coarse sea salt.
Written for Edible Santa Barbara - Summer 2012
Standing above the harbor one recent chilly morning, watching the sunrise painting the local mountains in pastel hues, I spied two fishing boats heading out to sea. I could hear the throb of their engines reverberating across the tranquil water, their silhouettes crisply outlined against the rising sun.
That sound transported me half way around the world to the Mediterranean Sea - decades ago - as I stood on another harbor wall watching the local fisherman bring in their overnight catch. They'd slowly coast past the harbor master, throttle back their throaty engines and tie up alongside the quay. In the winter months you could buy the fish right off the boats, in the summer the fish would be unloaded, hauled a few dozen yards across to the fisherman's market housed in a converted passageway between two 19th century buildings. Inside the arched passage, the walls tiled with mosaics portraying fish, Poseidon and the sleepy fishing village, marble tables were covered with six inches of crushed ice awaiting the days catch. Local dealers handling fish from other markets had (they still do) the stands on the right, the local fisherman, the stands on the left. Passersby walked between them assailed on both sides with good humored cries to buy their particular fish. It is a very small market yet the fish of the Mediterranean were on dazzling display. All you would need to make a classic Bouillabaisse for example. There was no mistaking our locale.
I was enchanted therefore when I first came to Santa Barbara and found myself walking through the harbor, and coming across the local fisherman offering their fresh catch right off their boats; Spot prawns, rock crabs, white sea bass and halibut. Once again the ocean's 'terroir' laid out before our eyes. I bought a sea bass and had it cleaned at the Santa Barbara Fish Market, then owned and run by the Fisherman's Association. We roasted the fish with local lemons and fennel, some small potatoes and served it with a green salad. I felt instantly at home. We moved here within three months.
Some fifteen years later, I discovered in a conversation with long-time fisherman Gordon Cota and his wife Margaret (my children's pre-school teacher) that they had had a hand in bringing this to fruition. On a visit to Steveston, British Columbia they saw the local fisherman selling their catch on the docks. Gordon's photos of the trip found their way to the local harbor master in Santa Barbara. After some negotiations with the City, the fishermen were allowed to sell their fish to the local populous. Some thirty years later they still do.
Santa Barbara has had a long history as a fishing port, located in the middle of some of the richest fishing grounds in California due, in part, to the meeting of the warmer southern water and cooler northern water in the Southern California Bight. Some 550 species of fish inhabit or migrate through these waters. The ocean around Point Conception is a unique and rich habitat as the waters offshore serve as a point of convergence for species that inhabit the colder northern waters and those that live in the warmer southern ones. Because of this Point Conception and the Santa Barbara Channel serve as spawning and rearing grounds for approximately 64 species of commercial fish and shellfish throughout the year.
Commercial fishing which began locally in the 1870's , flourished with the sales of abalone, driven by a demand for abalone meat from the growing Chinese community in California and by a vibrant export market to China from the 1880's to 1915. Abalone was continuously harvested in local waters until the 1970's and is now solely farmed off our coastal waters. Santa Barbara harbor had a strong fishing fleet throughout the 20th century, however with the passage of Proposition 132, in 1990, a Marine Resources Protection Zone was established that banned the use of set gill nets (one of the main fishing methods used by local fisherman) within three miles of the mainland (1 mile of the shoreline of the Channel Islands) in waters with a depth of 420 feet or less. The ban, affecting southern California waters, went into effect in 1994. This ban had a significant impact on the local fishing fleet.
Despite this important change in how the local fleet could fish, Santa Barbara's fisheries are still very productive. Local fish can be found on a daily basis, much of it at Santa Barbara Fish Market which is situated in the harbor. Now run by Brian Colgate, the son of a Santa Barbara fisherman, who had worked as a cutter in the original location, he champions our local produce. 'Eating fish that is caught locally and sustainably is entirely possible', he told me. He carries a great selection of seasonal fish, shellfish and crustaceans. The local fisherman catch urchins, rock fish, halibut, white sea bass, black cod, spot prawns, rock crab and salmon to name a few.
There is something very satisfying about picking up a fish you know has traveled all of 30 yards off the boat to the cutting room table in Brian's market. After meandering through the Saturday farmer's market to pick up a basket full of fresh vegetables and herbs, I like to pop down to the harbor to see what the day's catch has brought in, perhaps they'll have some local king salmon as the season is just beginning. As Gordon Cota told me, 'the ocean is very much alive'. We are fortunate to have a place to savor it.
SMOKED TROUT SALAD
I love smoked fish. Smoked salmon in particular and the smoked trout salads I grew up with in France. They are classic Bistro fare – unfortunately no longer so popular on those menus – but it's delicious and makes a great lunch by itself with a good baguette and a glass of chilled white wine.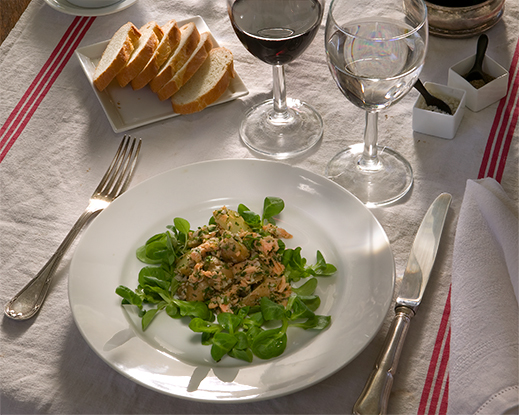 Serves 8 people
½ cup olive oil
1 tablespoon Dijon mustard
4 tablespoons shallots – peeled and finely diced
1 tablespoon white wine vinegar or white balsamic
Zest of 1 lemon
Juice of ½ lemon
Flake salt and freshly ground black pepper
1 tablespoons fennel seeds – pan roasted for 3-4 minutes
8 oz smoked trout – skin and any little bones carefully removed
1 lb fingerling potatoes – cooked with 1 teaspoon of 4 peppercorn mix, a bay leaf and 2 allspice berries
½ bunch chives – finely chopped (this equals about 3 tablespoons)
½ bunch dill – finely chopped (this equals about 3 tablespoons)
½ bunch parsley – finely chopped (this equals about 3 tablespoons)
8oz Mache
Pour the olive oil into the bottom of a medium sized salad bowl. Add in the mustard and vinegar and whisk so that you have a thick vinaigrette. Add in the shallots, toasted fennel seeds, juice and zest of the lemon, some salt and pepper and whisk again. Place salad utensils over the vinaigrette.
Cut the fingerling potatoes into small thin disks. Add the potatoes and all the remaining ingredients into the bowl placed on top of the serving utensils. 15 minutes before you are ready to serve the salad, toss all the ingredients together.
To serve, divide the mache salad equally amongst 8 dinner plates and drizzle with a little olive oil and a squeeze of lemon. Spoon the trout salad into the center of each plate on top of the mache greens. Serve with a fresh or toasted baguette.

ORIGINS: SMOKED FISH Smoking fish has existed as a preservation method for thousands of years. Remains of ancient smokehouses have been found in Ireland, Italy and Eastern Europe. The ancient Greeks were well known for their smoked black sea tuna which they packed in jars for transport and trade. From medieval Europe where it was prevalent to Native American tribes in the Pacific Northwest, whose smoked salmon was well regarded, each region has developed its smoked specialties. Thanks to the advent of refrigeration, smoking is now used for flavor rather than preservation, but techniques have changed little over time, using either hot smoking (up to 18) degrees for a shorter period of time) or cold smoking (from 60-110 degrees for more than 24 hours) to preserve the fish. Oily species such as salmon, trout, black cod and tuna are well suited to these methods.

POACHED SALMON WITH ORANGE AND OLIVE OIL, SERVED WITH CORIANDER PESTO
Serves 8 people
2 ½ lbs filet salmon – skin off
3-4 cups orange juice (this will depend on how deep your pan is)
1/3 cup olive oil
Salt
3 cardamom pods – slightly crushed
Pepper
1 bunch cilantro – leaves removed
Preheat the oven to 350 degrees.
Pour the orange juice and olive into a deep roasting pan and stir together so that the olive oil is completely dispersed in the juice. Add a large pinch of coarse salt, the cardamom pods and some black pepper.
Place the salmon in the orange juice mixture. The juice should just cover the fish. Add the cilantro leaves over the fish and bake for 15-18 minutes.
Serve on warm plates with the pan juices and the accompanying vegetables.
For the coriander pesto:
1 bunch fresh coriander (cilantro) - stems removed
½ bunch chives - chopped
1 tablespoon toasted almonds
1 medium clove of garlic – peeled and finely minced
¼ - 1/3 cup olive oil
Zest of 1 lemon and 1 tablespoon lemon juice
salt
freshly ground black pepper
Place all the ingredients in a food processor or blender and puree until quite smooth. Check seasoning, adding more lemon juice if needed. You can prepare this up to 45 minutes ahead of time. Serve alongside the poached salmon.
SAUTÉ OF SPRING VEGETABLES
Serves 8 people
Olive Oil
3-4 bunches mixed chard, bok choy, pea sprouts, brocolini – rinsed clean and chopped
Coarse salt
Pepper
Zest and Juice of 1 lemon
Pour a little olive oil into a large sauté pan placed over medium heat. When the oil is hot add in the chopped vegetables and sauté for 5-6 minutes. They should be just cooked. Add some salt and pepper and just before serving toss with the lemon juice and lemon zest.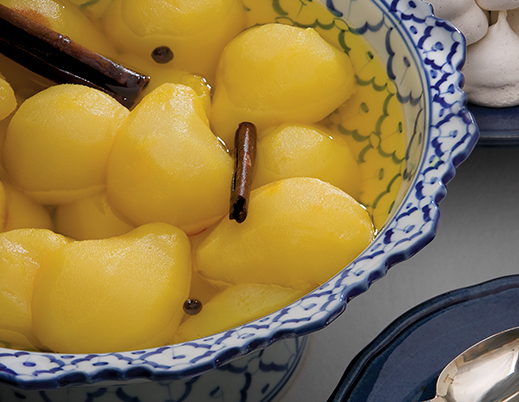 POACHED SAFFRON PEARS
WITH TOASTED PECAN CRÈME FRAICHE
Serves 8 people
8oz sugar (1 ¼ cups)
¼ cup honey
8 cups water
1 cinnamon stick
Large pinch of saffron
3 whole allspice
2 whole cloves
8 pears – peeled, halved and cored
Pour the water into a large saucepan (large enough to hold all the pears) and add in the honey, cinnamon, saffron, allspice and cloves. Bring to a strong simmer and cook for 5 minutes.
Reduce to a simmer and add the pear halves and the calvados and poach for 20 minutes, carefully turning the pears once or twice. Remove from the heat but leave the pears in the poaching liquid to cool.
Serve two pear halves per person along with some of the poaching liquid. This is very pretty served with glass bowls.

For the Crème Fraiche:
1 large container crème fraiche
4 oz pecans – roughly chopped
1 teaspoon sugar
½ teaspoon cinnamon
Place the pecans, sugar and cinnamon in a heavy-bottomed pan over medium heat. Cook the pecans until they release a nutty aroma. Remove from the heat and stir the nuts into the crème fraiche. Serve a dollop of the crème fraiche on top of the pears.
Written for Edible Santa Barbara - Spring 2012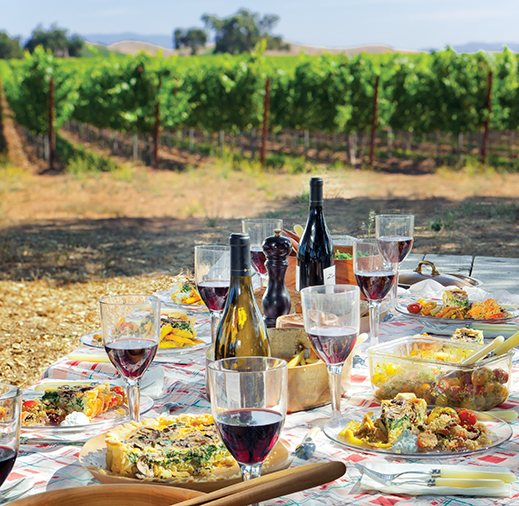 The day announced itself with one of those breath-taking sunrises awash with color and a touch of warmth carried on the breeze coming in off the ocean. It was a day to spend outside. It was the perfect day for a picnic. A few hours later I was driving the car down a pot-hole filled dirt path, which was—in theory—a road in the local national forest, but 'weather' had obviously taken its toll on the now non-existent tarmac. You might well ask why I was putting my fellow passengers and I through this very bumpy and dusty drive, but as we were going on a picnic, half the fun is finding an unusual place to eat al fresco. Although, perhaps I should have headed Mrs. M. W. Ellsworth's words of wisdom, penned in 1900 in Queen of the Household, [Ellsworth & Brey:Detroit MI] (p. 566-570)
"If the party is to drive or ride, let not the distance be too great. There should be a stream or spring of pure water, materials for a fire, shade intermingled with sunshine, and a reasonable freedom from tormenting insect life. Charming as is the prospect of picnicking in some grand dell, some lofty peak, or in some famous cave or legendary ruin, there are also other considerations which would not be forgotten. One does not feel too comfortable when banqueting in localities where Dame Nature has had her queer moods, and has left imprinted certain too observable evidences of her freakiness. Such places may be included within the excursion itself, but let the feast and the frolic take place where weird effects are not the prevailing characteristic of the locality."
I particularly like her comment about 'tormenting insect life' as many a good picnic can be ruined by a plethora of pesky ants of insistent bees but I digress. The road was horrendous and the dreaded words emerged from one of the children "are we there yet?" "Soon, soon" I answered cheerfully, inwardly praying that the idyllic spot would emerge around the next bend. The car lurched across a dried out stream crossing, dust flew. I caught furtive and slightly anxious looks in the rearview mirror. I slowed down to 10 miles an hour as we climbed over the rise in the next hill and there it was. A flower filled meadow overlooking the valley with an abandoned water trough adrift in a field of tall grass. Sunlight dappled through the trees as we all piled out of the car. The dog danced and chased butterflies. Smiles were in abundance.
After spending a few minutes surveying the landscape we found the perfect spot and proceeded to unload the car. I grew up in England and in France. I only mention this because these two countries have grand traditions when it comes to picnics and my family was no exception to the rule, on either side of the Channel. Hampers for rowing regattas and cricket matches in England, and elaborate picnic baskets with tables, chairs, linens, glasses and silverware in the French Alps. Close to 200 years of perfecting the art of eating outdoors had led to writers waxing lyrical about its merits (Dickens, Trollop, Chekov, Jane Austen's exceedingly proper affair in 'Emma', and D. H. Lawrence's rather more exotic and sultry versions in 'Women in Love' to name a few) and painters lauding its merits—Manet's 'Le Dejeuner Sur L'Herbe' is probably the most famous. Suffice it to say that I felt I had a certain customs to uphold.
We carried the two picnic baskets to the chosen spot, unpacked a tablecloth, plates, glasses, and other necessary items. Blankets and jackets were laid out on the ground and everyone helped unpack the food. The picnic was centered on a vegetable quiche with various salads, bread and cheese laid out alongside. Someone brought chocolates, another, a fruit salad and a rather delicious chilled wine. I realized that we epitomized the original meaning of the word 'picnic' which, taken in its pre-1860 definition meant a meal at which each guest brought a dish or contributed something to the event. A pot luck in other words. America, with its multi-ethnic population, has perfected the art of pot lucks, each person bringing a peace of their culinary history with them to the meal, and picnics are the perfect vehicle for this.
Unlike the elaborate Victorian picnics which required significant planning and a prodigious number of number of dishes to be deemed a success—according to Mrs. Beeton in her book "Household Management" no less than 35 would do—picnics today can be as simple as a couple of sandwiches enjoyed on the beach whilst wiggling your toes in the sand or dipping your feet into a cool stream after a walk to your picnic spot.
This is exactly what we did on that warm afternoon. There was a stream nearby (perfect for keeping the water and wine chilled) and the children were soon playing in it. The water burbled appealingly as in meandered downstream and we ate strawberries sitting on rocks dotted up and down the banks. One or two of us dozed in the afternoon sunlight. As James Beard wrote in his book James Beard's Treasury of Outdoor Cooking, [Ridge Press:New York] 1960 (p. 214-226) "Do not rush. Relax. Enjoy yourself. Take your time." The perfect recipe for a lovely picnic.


SUMMER PEA AND MINT SALAD
Serves 8 people
Zest of 1 lemon
Olive oil
4 shallots – peeled and sliced
2 lbs English peas – shelled
1 lb Snap peas – trimmed and sliced
Salt and pepper
1 Tablespoon wine vinegar – champagne or white wine
1 bunch chives – finely chopped
1 bunch mint – finely chopped
Pour a little olive oil into a large pan placed over medium heat. Add in the sliced shallots and lemon zest and cook for 3-4 minutes until lightly browned. Add in the shelled peas and snap peas, a large pinch of salt, some fresh pepper and cook for 3 minutes more. Set aside.
In the bottom of a large salad bowl pour ¼ cup olive oil. Whisk in the vinegar, a pinch of salt, some freshly ground black pepper and stir until well combined. Place salad utensils over the vinaigrette. Place all the remaining ingredients on top of the salad utensils.
When you are ready to serve, add the peas to the salad bowl and toss to combine well. This is excellent served with olive bread.
Note: If your picnic is more than an hour away, then reserve the vinaigrette and add it to the peas and other ingredients just before serving it.
PROSCIUTTO AND GOAT CHEESE QUICHE
Serves 8 people
For the short crust pastry:
9 oz unbleached all-purpose flour - sifted
5 oz slightly softened butter - cut up into small pieces.
1 large egg
1 tablespoon olive oil
Zest of one lemon
pinch of salt
Preheat oven to 400 degrees.
Butter either a 9-inch pan with a removable bottom. You can use a square or round tin for this. Set aside.
Prepare pastry:
a) Place all the ingredients in the bowl of the food processor fitted with a metal blade.
b) Use repeated pulses until the mixture resembles coarse breadcrumbs and then use longer pulses until the dough has formed a ball.
c) Wrap up the dough in plastic wrap and refrigerate it until ready to use. You can make the dough ahead of time and leave in the fridge. You will need to remove from the fridge approximately 20 minutes before using it.
Remove the pastry from the fridge. On a lightly floured board roll out the pastry dough in an even manner to the size of the mould.
Trim the edges of the dough with a sharp knife. Cover the dough with parchment paper or foil and then place pie weights on top.
Place in the oven and bake for 10 minutes or until the dough is a pale golden brown color. Remove and let cool for 5 minutes.
Fill the quiche tart shell with the vegetables and prosciutto/ goat cheese mixture (see below), pour the eggs over the vegetables and return to the oven for a further 20 minutes so that the quiche is completely cooked through.
To serve, cut the quiche into equal parts and serve with the salads.
For the vegetables and eggs:
Olive oil
6 shallots – peeled and sliced
8 oz spinach
1 tablespoon butter
4 oz mushrooms – thinly sliced
8 eggs
2 tablespoons crème fraiche
6 oz prosciutto
4 oz crumbled goat cheese
salt and pepper
In a large heavy bottomed saucepan pour a little olive oil and then add the chopped shallots. Cook until soft and lightly browned. About 4-5 minutes.
Whilst the shallots are browning, in a large frying pan or heavy skillet, pour a little olive oil and cook the spinach over high heat for 2 minutes. It should be just wilted. Remove from the pan and set aside.
Return the same pan to the heat, add 1 tablespoon butter and once melted add in the mushrooms. Sauté until lightly browned. Set aside.
Combine the eggs, goat cheese, crème fraiche, prosciutto, pinch of salt and some pepper in a medium bowl and whisk well together. Set aside.
Once the quiche base has cooked for 10 minutes and cooled slightly place all the shallots over the bottom of the quiche. Place the spinach over the shallots and then place all the mushrooms over the spinach. Pour the egg mixture over the vegetables and bake in the center of the oven for a further 20 minutes.
The quiche can be made a few hours ahead of time. Do not refrigerate before serving.

SAFFRON ROASTED GOLDEN BEET SALAD
Serves 8 people
6 oz golden raisins
Pinch saffron
Olive oil
4-6 golden beets – peeled and cut into slices
2 red onions – peeled and thinly sliced
Fig Balsamic vinegar
Salt and pepper
½ bunch cilantro – leaves removed from stems
Zest of 1 lemon
Preheat the oven to 350 degrees.
Place the golden raisins in a small bowl with the saffron. Pour a little hot water over the golden raisins, stirring them once or twice and let steep for 5 minutes.
Pour a little olive oil into an oven-proof dish. Place the golden beets, onions and the golden raisin mixture into the dish. Sprinkle with salt and pepper and then toss to coat all the ingredients well.
Roast the beets, covered, for 45 minutes to 1 hour.
Whilst the beets are roasting, prepare the remaining salad ingredients. Pour a little olive oil into the bottom of a salad bowl. Whisk in a tablespoon of the fig balsamic, the lemon zest and a pinch of salt and pepper. Place salad utensils on top of the vinaigrette.
When the beets are cooked, remove the dish from the oven, let cool for 10 minutes and then add the roasted beets to the salad bowl. Add the cilantro leaves to the bowl.
When you are ready to serve, toss all the ingredients together. Serve whilst the beets are still warm. You can also add feta to this salad, which melts a little with the warm beets.

LEMON-LIME QUATRE-QUART
Quatre-quart means four parts in French. It is a term that applies to most pound cakes.
Serves 8-10 people
8 oz butter
8 oz sugar
8 oz flour
4 eggs – separated
Zest of 2 lemons
Juice of 1 lemon
Zest and juice of 2 limes
Preheat the oven to 400 degrees.
Melt the butter in a saucepan placed over medium heat. Once the butter has melted add the sugar and stir until melted. Add in the lemon and lime zest and stir to combine. Add in the flour and stir until completely absorbed by the mixture and then remove from the heat. Add in the lemon and lime juice and stir to combine.
When the cake mixture has cooled to the touch, add in the egg yolks and stir together.
Whisk the egg whites in a separate bowl, and then fold the whisked egg whites into the cake batter.
Butter a loaf pan or you can use the paper loaf moulds – these are very useful for picnics.. Pour the cake mixture into the cake tin and cook for 30 minutes or until a knife inserted into the center of the cake comes out clean.
Serve with seasonal berries and some whipped cream, crème fraiche or ice cream.