Written for Edible Santa Barbara - Winter 2010 issue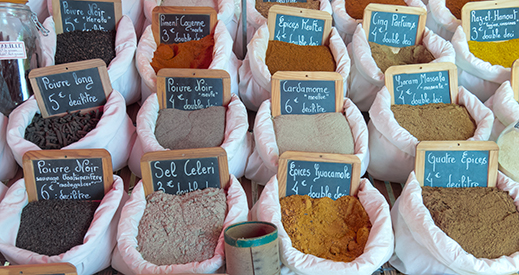 The fragrant gift was hand-delivered wrapped in a brown paper bag. A spicy aroma emanated from within. As I opened the package a multitude of small bags, each a different color, spilled out. They had been hand carried half way around the world, from the market in Luxor, Egypt where my mother had recently traveled. She told me she had found the perfect gift, and what a treasure trove it was, containing, amongst other things, a bag of fragrant cumin seeds, a sachet of beautiful fennel seeds and a small bag of pale looking four peppercorn mix that, when ground up, released this incredible piquant, spicy flavor.
The spices of North Africa spilled out onto the kitchen table evoking the culinary cultures of Tunisia, Algeria, the Sudan and Morocco. I started planning dishes based on these flavors. It was intoxicating. Little wonder that spices had so captured the imaginations of cooks centuries earlier as they were first introduced to various parts of Europe.
The spice trade has its roots buried in antiquity, emanating from India, Asia and the Middle East as the tentacles of the spice routes slowly wound their way across the globe. The first suggestion of spices being used in cooking date back 5,000 BC. Indian peppercorns were being sold in the Middle East prior to 2,000 BC. and it became the most important of the exotic spices in Medieval Europe. They could be easily transported, stored, then traded without any loss in flavor, a huge advantage as the journey could take over a year to reach the final destination. Peppercorns are the most important spice traded worldwide to this day.
In ancient Greece and in Roman times the plentiful use of spices - as recorded in the texts of the day - show their importance in local cuisines. Early Romans liked spicy, sweet foods. Cloves, cardamom, cinnamon, turmeric and ginger were all part of their diet, and Apicus's book, De Re Conqueria speaks of spices at almost every turn. He has a delicious recipe for spiced wine, 'Conditum Paradoxum' which includes honey, ground black pepper, saffron, a crushed bay leaf, cinnamon and dates all cooked slowly in white wine. A recipe which is still as fresh and current today as it was then.
As you delve into the food history of the countries that ring the Mediterranean you see the imprint of the spice trade reflected in their regional dishes, an echo to the merchants who criss-crossed that azure body of water selling their wares originating from the markets in Syria and Egypt to Venice, Genoa, Marseille and Lisbon.
But why was there such a passion for spices from the Middle-Ages to the Renaissance? Part of the reason was that the ample use of spices in food reflected ones wealth and prestige and even though only a small percentage of the population could afford spices, huge quantities were imported into Europe. The demand for spices grew to such an extent that great economic powers were created by those who monopolized the precious routes. Trade reached its zenith during the 14th and 15th centuries when the Republic of Venice and the city states of Florence and Genoa controlled much of the trade. Not to be outdone by their Mediterranean neighbors, and in an effort to gain direct access to the valuable spice markets, the Portuguese set about discovering new trade routes and capturing strategic hubs. In the 13 years that followed Portuguese navigator Vaso da Gama's journey to India around the Cape of Good (1497-1499), Portugal brazenly took control of the three crucial hubs – Goa, Ormuz and Malacca.
The British and Dutch soon followed suite, each vying for a piece of this very lucrative pie. The creation of the British East India Company (1600), and the search for new trade routes were one of the principal reasons behind the voyages that resulted in the discoveries of the America's. This is turn led to the discovery - by Europeans - of plants and spices native to these continents. Ironically as the new spice routes opened up, the demand and price for spices from the far east and Middle East went down, replaced by a new appetite for produce such as vanilla, chili's, chocolate and allspice. Vanilla is still one of the most prized spices, second only to saffron in terms of price.
Spices permeated all aspects of life, even literature. Little wonder that the great bard made liberal use of spicy expressions in his plays and writings: "Is not birth, beauty, good shape, discourse, Manhood, learning, gentleness, virtue, youth, liberality, and such like, the spice and salt that season a man" Characters in his plays refer to spices and herbs and the effect that they impart on one's physical well-being. During this period there was great belief in the theory of the four body humors (blood, phlegm, yellow bile and black bile) and the analogous moods (sanguine, phlegmatic, choleric and melancholic). The use of spices was thought to have an effect on them depending on which spice was used. For example, cinnamon and ginger were used to generate warmth in the stomach and to aid digestion; cinnamon and nutmeg were used to help relieve symptoms of colds and sore throats. There are spice remedies for ailments that are used to this day that reflect the same principals.
Many early cookbooks refer to the liberal use of spices. Taillevent in his treatise on cooking called Le Viandier (first published in 1395), wrote of 'poudre douces' and 'poudres fortes' , literally mild and strong and 'powders' or what we refer to as spices and spices blends. The term powders was used up to the 17th century. Many blends have become ubiquitous with their country of origin: Garam Masala and India, Ras al Hanout and Morocco, Five Spice Blend and China, Herbes de Provence and France, Harissa and North Africa are but a few examples.
However it is interesting to note that some spices that are deemed so characteristic of that country did not originate there. Coriander and mustard which are synonymous with many Asian ethnic cuisines were imported from Europe where they grew abundantly. Similarly the spicy chilies often associated with Chinese dishes and Indian curries only became part of their regional culinary makeup following the sixteenth century discovery and subsequent exploration of the New World. The migration of spices continues to influence how we eat. Now, more than ever we blend tastes from different countries and create our own styles. Call it fusion or Pacific-Rim the origins of these trends lie in the paths navigated by those ancient spice traders. America, with its multitude of immigrant cultures has now become the largest importer of spices in the world.
A thousand years ago spices may have been linked to the body humors and moods, but I like to think of spices as evoking seasons. If I spy a golden bowl of saffron infused aioli, a steaming pot of bouillabaisse, or a plate of Paella my thoughts drift off to hot summer languorous days, but should I happen upon a cup of steaming spiced apple cider, scented with cinnamon and cloves, I am transported to a blustery winters day, bundled up in a warm sweater, cupping the mug in my hands. The aroma of baking gingerbread has the same effect. Spices have an uncanny way of permeating memories even if we are not aware of it. As Erma Bombeck once said "Once you get a spice in your home, you have it forever. Women never throw out spices. The Egyptians were buried with their spices. I know which one I'm taking with me when I go."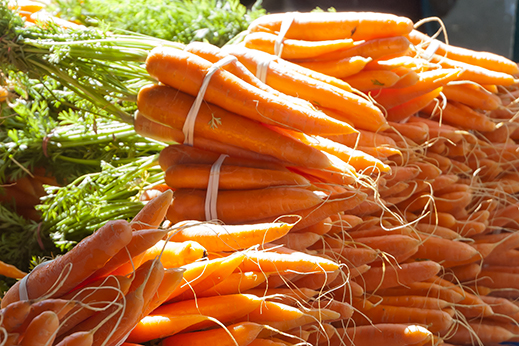 ROASTED CARROT AND CUMIN SOUP
Serves 8 people
2 ½ lbs carrots – peeled and chopped into 1 inch pieces
2 inch piece of fresh ginger – peeled and diced
1 tablespoon ground cumin
2 tablespoons olive oil
4 cups fresh vegetable stock
Salt and pepper
1 tablespoon butter
Preheat the oven to 400 degrees.
Place the carrots, ginger, cumin and olive oil in a large roasting pan and toss to coat the vegetables well. Sprinkle with a little salt and pepper. Place in the oven and cook for 15 minutes.
Pour all of the vegetable stock into the roasting pan and continue cooking (covered with a piece of foil) the carrots for another 30 minutes or until tender. Remove the roasting pan from the oven.
Carefully puree the carrots and stock in batches in a Cuisinart (you get the smoothest soup using this method) but you can also use a hand held blender.
Pour the pureed soup back into the roasting pan or another saucepan to keep warm until ready to serve. Just before serving stir the butter into the soup, check the seasoning, adding a little more salt and pepper if needed.
Note: A vegetable stock made with red onions, a couple of carrots and a leek makes a wonderful base for this soup.
BLACK COD WITH FRESH HERB AND ZA'ATAR RUB
Serves 8 people
1/3 cup olive oil
1 tablespoon sesame seeds – dry roasted in a pan for 2 minutes
½ tablespoon dried thyme
½ tablespoon dried oregano
1 tablespoon ground sumac
½ teaspoon coarse sea salt
1 tablespoon chives – finely chopped
1 tablespoon parsley – finely chopped
8 sprigs fresh thyme – leave removed and chopped
2 ½ - 3 lbs black cod filets
1 lemon - quartered
Preheat the oven to 375 degrees.
In a small bowl combine all the ingredients except the filets of black cod. Stir to combine well so that you have a thick herb/spice paste. Place the black cod filets on a roasting pan or sheet pan and then spoon the herb/spice mixture all over the fish. Make sure all the filets are well coated. Leave for 15 minutes before baking.
Roast the fish filets in the oven for 12-15 minutes. Remove from the oven and squeeze some fresh lemon juice over the cooked filets, and then serve with the couscous alongside on warmed plates.
HERB QUINOA SALAD WITH A CURRY VINAIGRETTE
Serves 8 people
2 cups red quinoa – rinsed and drained
1/3 cup olive oil
3 shallots – peeled and finely diced
½ tablespoon curry powder
1 inch piece fresh ginger – peeled and finely grated
1 small garlic clove – minced
Salt and pepper
Juice and zest of 1 lemon
1 tablespoon red wine vinegar or Jerez vinegar
1 bunch chives – finely chopped
½ bunch cilantro – finely chopped
½ bunch parsley – finely chopped
½ bunch dill – finely chopped
Place the quinoa in a saucepan with 2 cups of water and bring to a boil. Reduce to a simmer, cover and cook until the quinoa has absorbed all the water. You can also cook the quinoa in a rice cooker, using the same proportions.
Whilst the quinoa is cooking prepare the vinaigrette. Pour one tablespoon of the olive oil into a small saucepan or skillet placed over medium heat. Add in the shallots, curry powder, fresh ginger, garlic, a large pinch of salt and some black pepper and cook for 3-4 minutes so that the shallots are lightly golden and the aroma from the spices is released. Set aside.
In a medium-sized salad bowl combine the lemon juice, zest, vinegar and the remaining olive oil and whisk everything together so that it is well combined. Add in the spiced shallots and stir to combine well. Place utensils over the vinaigrette and add in all the chopped herbs.
Once the quinoa has cooked let it cool down a little, then add it to the salad bowl. 15 minutes before you are ready to serve the salad, toss and combine all the ingredients well.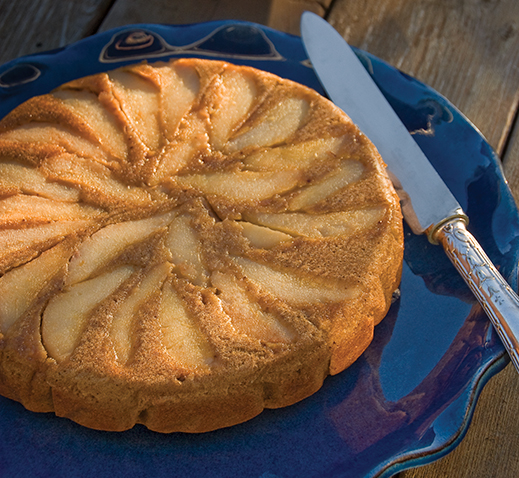 PEAR AND GINGER CAKE
Serves 10-12 people
For the pears:
3 firm ripe pears – peeled and cut in eighths
2 Tablespoons butter
1 Tablespoon light brown sugar
Melt the butter and sugar in a large pan, placed over medium-high heat until the sugar has dissolved. Add the pears and cook for 10 minutes turning them carefully once or twice. (You want the pear slices to retain their shape – if they are very ripe, reduce the cooking time by 5 minutes) Set aside.
For the cake:
10 oz butter (room temperature)
10 oz (2 cups) packed light brown sugar
8 oz (1 2/ 3 cups) unbleached flour
2 tablespoons ground ginger
1/ 2 teaspoon clove powder
1 teaspoon ground cinnamon
½ teaspoon baking powder
1 teaspoon salt
4 or 5 twists of freshly ground black pepper
2 inch piece fresh ginger - peeled and finely chopped
1 oz crystallized ginger – finely chopped
5 large eggs – separated, egg yolks lightly beaten in a small bowl.
Preheat oven to 350 degrees. Line a 10-inch cake tin with a removable bottom with parchment paper and set aside.
Place the butter and sugar in a large saucepan placed over medium heat. Stir until completely melted. Remove from the heat.
In a large bowl mix together the flour, ground ginger, clove powder, cinnamon, fresh and crystallized ginger, baking powder, salt and pepper. Carefully fold the flour mixture into the melted butter and sugar.
Stir the egg yolks into the batter, stirring until well incorporated.
In a separate bowl beat the egg whites to stiff peaks and then gently fold them into the batter.
Slide the pear slices into the prepared cake tin and arrange into a spiral pattern in the bottom of the tin. Carefully pour the gingerbread batter over the pears so that they are completely covered, smoothing the top of the batter.
Bake for 30 minutes. A skewer or knife inserted into the center of the cake should come out clean. Remove from the oven and let cool for 10 minutes before removing the outside of the cake tin. Carefully invert the cake onto a serving platter and slowly remove the parchment paper and the bottom of the cake tin.
Written for Edible Santa Barbara - Autumn 2010 issue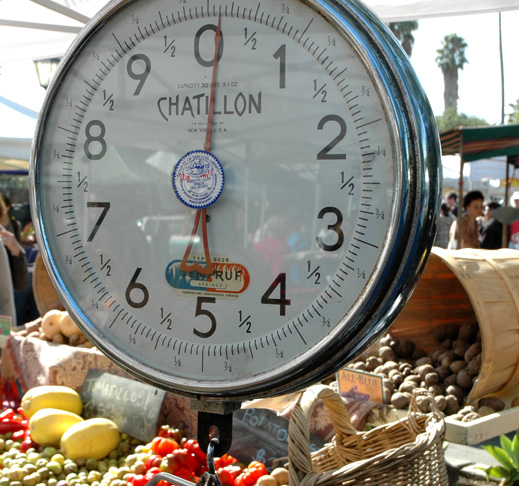 One of my greatest pleasures is discovering a new farmers market wherever I happen to be in the world. Having long meandered through the markets of Provence, savoring local delicacies in sun-dappled squares, it is wonderful to experience the aromas and peculiarities of a new locale. In Venice for example some of the daily markets are set up on floating barges tied up alongside the various canals. You jostle with the locals and chat with the vendors to find the choicest bunch of grapes, fresh figs or local lagoon fish. It is unusual (for us) chaotic, charming and delicious.
Our local markets are no different. If you arrive early in the morning as the fruits, vegetables, flowers and myriad other products are being unloaded you will be witness to a pastoral scene that in some respects has remained unchanged over millennia - Local farmers bringing their seasonal wares to market. Granted the 'local' farmers travel further than there horse-driven centuries-old brethren, but the tradition is the same. Over the course of the year, we see the season's cornucopia of produce as it is unveiled on the market stalls. What better way to mark the passage of time than to anticipate the six weeks of luscious apricots or savor the last of the season's peaches?
In Europe this is a weekly if not daily ritual, repeated throughout ancient small villages and large cities alike. Many are known for their abundant markets: Aix-en-Provence has daily markets on the Place Richelem, Nice has its Marche aux Fleurs, London's Borough Street Market is a veritable treasure trove of epicurean delights, and Paris has its sumptuous daily markets dotted throughout its various arrondissements. They provide a common meeting ground where the dishes of the day are discussed with farmers, and purveyors of all the produce are always offering a tip on how best to prepare any given food.
Farmers markets have also been a part of US history but after WWII and the advent of large commercial supermarkets, outdoor farmers markets dwindled. There are a few that have survived. The market in Richmond, VA for instance, opened in 1779, and has remained in operation in one guise or another ever since. The Farmer's Market in Portland, OR has been in operation since 1768, has moved location at least six times in its 242-year history and survived, but these are the exceptions.
Indeed in California it was illegal (for a period of time) to sell produce outside of a commercial market. The law – that controlled amongst other things, how food was sorted, packed and transported for sale - remained in place until the late 1970's. In 1977 farmers faced with a huge surplus of peaches forced the hand of this legislation by dumping rotting fruit on the lawn of the state capitol. Then Governor, Jerry Brown compromised, and the law was modified to allow the sale of produce in farmers markets.
Although there have been a handful of long running farmers markets in California, notably the market at Fairfax and 3rd in Los Angeles, which has been in operation since 1934, long standing open farmer's markets have been limited in this state.
This has radically changed over the last three decades. In 1979 there were only 12 certified farmer's markets in California. There are 540 today – more than in any other state in the nation - and over six thousand in the US. There has also been a 16 % increase in farmers markets since last year alone, interestingly, mostly in the central, farm-belt part of the country.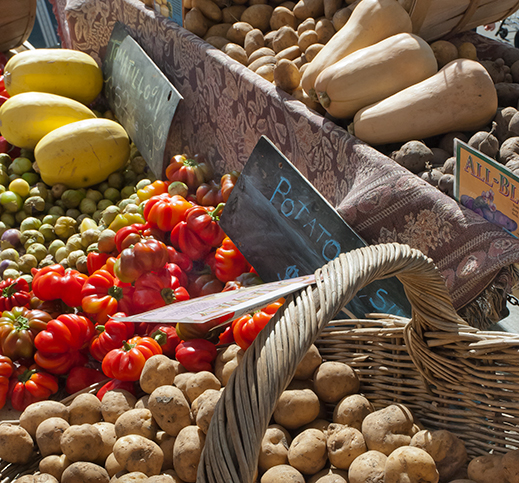 As Michael Pollan, author of The Omnivores Dilemma said "Going to the farmer's market, meeting farmers and learning what to do with an unfamiliar vegetable, is one of the most pleasurable things I do every week—infinitely more stimulating than going to the supermarket."
As consumers become more aware of their food sources and question the practices of large commercial farms, the demand for locally grown, healthy, organic produce has risen steadily over the past decade.
A fact that is born out here in Santa Barbara, as our own Farmers Markets have steadily grown over the past 27 years. The Santa Barbara Certified Farmers Market was formed in 1983 and now has venues every day of the week but Monday. There were open markets before in Santa Barbara, notably during WWII. In 1943 local Victory gardeners and local farmers argued with the Santa Barbara Home Food Production Committee that their surplus produce would be plowed under unless they were given the opportunity to sell it to the local population. A month of negotiations followed when the local city council announced that the first farmers market would take place on Wednesday July 7th 1943 in the 700 block of Anacapa Street. Although the first market was not a success, local support was enthusiastic and so the market was given a second try. A newspaper article from July 10th 1943 reported "Not since the days of the famed Old Spanish Days Fiesta has Santa Barbara seen the equal of the festive gaiety that attended the Farmers' Market here today. That was the opinion of hundreds of shoppers who came to buy and returned with shopping bags and baskets heaped with dewy-fresh vegetables and fruit right out of the gardens and groves of the area" A comment that would be apt today.
Despite the fact that the population of the United States now spends less of their disposable income on food than at any other time in its history and less than any other people on earth – less than ten percent – it is heartening and encouraging to see that farmers markets are flourishing.
Wendell Berry once wrote "Eating is an agricultural act". As you walk down State Street on a Tuesday afternoon, serenaded by the sounds of the market, entertained with the voices of street musicians and caressed with ocean breezes as they drift up the white tented thoroughfare, you are an active participant in that very special act.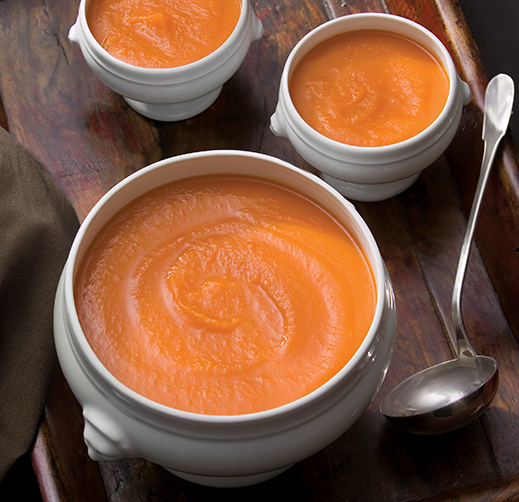 ROASTED BUTTERNUT SQUASH AND PUMPKIN SOUP
I adore this soup. The aroma when the butternut squash and pumpkin are roasting is sweet and tantalizing. The color is beautiful and the taste is rich, unctuous and evocative of everything to do with the flavors of the season.
Serves 6 – 8 people
1 medium butternut squash - halved and seeded
1 small pumpkin – halved and seeded
3 tablespoons unsalted butter
1 large onion - thinly sliced
5 cups vegetable stock
Salt and pepper
Preheat oven to 425 degrees.

Brush a little olive oil on a baking sheet and place the squash and pumpkin cut-side down. Bake until tender, about 45 minutes. When cool enough to handle, scoop the pulp out of the shell. You should have about 6-7 cups of pulp. Set aside.

Melt the butter in a large saucepan over low heat. Add the sliced onions and cook until soft and translucent, about 8 – 10 minutes.

Add the squash and pumpkin pulp and vegetable stock and simmer for 30 minutes.

Use an immersion blender to puree the soup or puree it in a blender or food processor and then strain through a medium strainer into a warmed soup tureen. Season with salt and pepper to taste.
Origins: Butternut squash is a type of winter squash. Sweet and nutty in flavor it is similar to a pumpkin. Its orange colored pulp becomes more pronounced as it ripens. It originated in Mexico. The ancient Indians called it 'The apple of God' as the seeds were believed to increase fertility. It was one of the first foods cultivated by Native Americans and the Inca. It was only introduced to Europe during the 16th century.

ROASTED HEALTHY FAMILY FARMS CHICKEN
Serves 8 people
4 large sprigs rosemary – leaves removed
4 sprigs thyme – leaves removed
1 bunch chives – finely chopped
1 small bunch parsley – finely chopped
4 spring onions – finely chopped
Zest of 1 lemon – quarter the zested lemon and set aside
3 cloves garlic – peeled and minced
1 tablespoon olive oil
Salt and pepper
2 organic chickens
Preheat the oven to 400 degrees.

Combine all the ingredients (except for the chickens) in a small bowl and mix well to form a thick herb mixture.

Using a small spoon which you slip under the skin of the chicken, carefully spoon a little of the herb mixture under all the skin (between and skin and the breast meat) Do this carefully so as not to break the skin. Salt the inside and outside of the chicken and then add in the lemon quarters.

Place the chickens in a large roasting pan and rub the outside with a little olive oil. Roast in the middle of the oven for 15 minutes and then lower the temperature to 350 degrees and roast for a further 1hr 15 minutes, turning the chickens once or twice so that all sides a re evenly browned. When the chickens are cooked, remove them from the roasting pan and set aside to rest before carving, loosely covered with foil.

Cut the chickens and serve on hot plates with the vegetables – see recipe below.
TOMATO CRUMBLE
Serves 8 people
16 medium sized tomatoes – cut in half cross-wise
olive oil
fresh thyme and rosemary – a few sprigs of each, stems removed and coarsely chopped
salt and pepper
4 oz flour
3 oz bread crumbs
3 oz grated parmesan
4 oz butter – cut into small pieces
2 oz pine nuts
6 oz soft goat cheese
2 Tablespoons yogurt
2 tablespoons crème fraiche
Preheat the oven to 300 degrees.

Place the tomatoes cut side up in an oven proof dish that is large enough to hold all the tomatoes in one layer. Drizzle some olive oil all over the tomatoes and then add the chopped thyme and rosemary over the top of them. Place the dish in the oven and bake for 2 hours.

To prepare the crumble, place the flour, bread crumbs and half the parmesan in a medium sized bowl, mixing them together. Add the butter and using the tips of your fingers slowly incorporate it into the flour mixture. Add 1 – 2 tablespoons of olive oil as necessary and continue to mix the flour mixture. The flour mixture should resemble a traditional crumble.

Remove the tomatoes from the oven (there should be no liquid around the bottom of the tomatoes) and then turn the oven up to 425 degrees. Spread the crumble mixture all over the tomatoes. Sprinkle the pine nuts and the remaining parmesan over the crumble and drizzle a little olive oil over the whole dish. Bake in the oven for 25-30 minutes or until the crumble is golden brown.

Whilst the crumble is in the oven whisk together the crème fraiche, yogurt and goat cheese in a small bowl. Serve with the hot tomato crumble.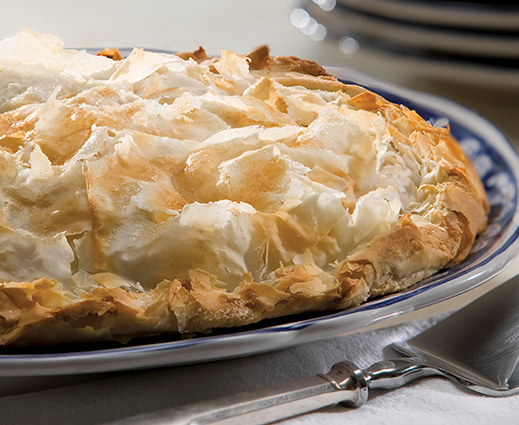 GOLDEN PHYLLO APPLE AND PEAR PIE
I delight in dishes with phyllo dough and have long been inspired by Greek food. When I lived in Los Angeles, I spent many a Sunday lunch at a Greek restaurant owned by my lovely friend Sofi, savoring the dishes of the Aegean. She made heavenly puddings such as 'glactoboureko' and 'bougatsa'. I was hooked and as I started to explore the dishes of the islands I came across an apple pie called 'milopita'. From the traditional base I made this version that has three or four varieties of apples in it – the addition of pears is also delicious, and true my Gallic origins I also added in some Grand Marnier. It is an ideal dessert to end up sitting in front of a log fire with and then perhaps an afternoon snooze.
Serves 8 people
8-10 apples of at least 3 or 4 different varieties – peeled, cored and thinly sliced (If you are using pears as well then reduce the number of apples accordingly)
1 teaspoon ground cinnamon
½ teaspoon allspice
¼ teaspoon clove powder
1 package phyllo dough – thawed
4 oz butter
1 cup sugar
Grand Marnier
Preheat oven to 400 degrees

In a small saucepan, melt the butter and set aside.

Roll out the phyllo dough and cover with a slightly damp cloth (the dough dries out very quickly) Place one sheet of phyllo dough onto a large baking sheet and brush lightly with the melted butter. Sprinkle one tablespoon of sugar evenly over the dough and then drizzle a little of the Grand Marnier over that. Repeat this four more times giving you a total of 5 layers of phyllo dough.

In a large bowl toss the apples, cinnamon, allspice, clove and two tablespoons of sugar and a good drizzle of Grand Marnier and mix well. Place all the fruit in the middle of the dough and form the fruit into a large round dome.

Cover the fruit with one layer of phyllo dough and brush lightly with some of the melted butter. Sprinkle one tablespoon of sugar over the dough and then drizzle a little Grand Marnier over that. Repeat another 6 times, giving you a total of 7 layers of phyllo dough. Roll up the edges of the dough towards the fruit all the way around the dome. The finished cake will look like a domed hat with a thick rolled rim. Brush the top layer of the dough with a little of the melted butter and sprinkle with a little sugar. Bake in the oven for 40 – 45 minutes. Serve Hot.
Note: This is very good served with vanilla ice cream!
Written for Edible Santa Barbara - Summer 2010 issue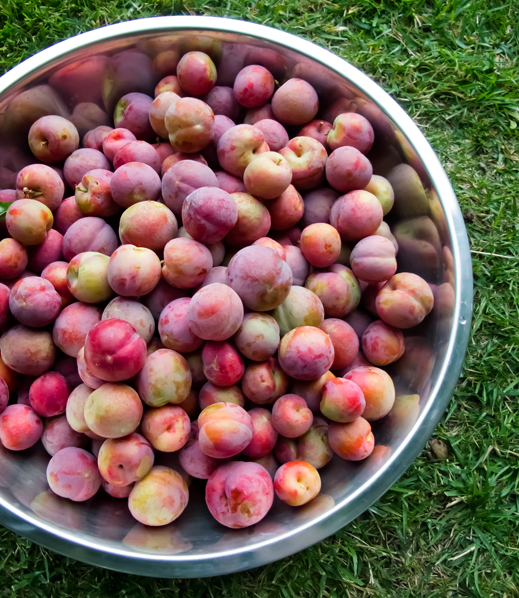 "Talking of pleasure, this moment I was writing with one hand, and with the other holding to my Mouth a Nectarine -- how good how fine. It went down all pulpy, slushy, oozy, all its delicious embonpoint melted down my throat like a large, beatified Strawberry." John Keats
The great poet could well have been standing in my garden when he wrote those words. Two years ago I moved across town, into a charming cottage of a house, complete with white picket fence and a smattering of fruit trees. I had been most reluctant to part with my previous garden, where ten years worth of planting, seeding, pruning and care had produce an orchard filled with plums, apricots, citrus and myriad other delicious offerings. The new house – complete with a micro climate that all my potted plants had to adapt to – had exactly one plum and one nectarine tree.
We moved in May. The nectarine tree was already dripping buds of golf-ball sized fruit. They looked amazing. I eagerly anticipated the day when they could be harvested, thereby unleashing a great treasure of nectarine filled delicacies. A few weeks passed, the fruit plumped, they tempted you – 'eat me' – Alice (in wonderland) would have readily complied. So did I. I spat out that first bite. It was quite frankly revolting. It was mealy, sour and dry. I decided that I had succumbed to temptation too early and waited another week. Now they looked luscious and moist. I took another bite. It is quite hard to express my utter disappointment. They were, if that is possible, worse than before. I looked up at the tree filled with beautiful fruit and thought of the waste. Everyday I would hear a few of them splat on the ground below and pondered what – if anything – I could do.
The answer, of course, was nothing. Nature, in its own marvelous rhythm, has a way of dealing such things. Despite the fact that less than six miles separate the two houses, the cooler climate at the new one – being so much closer to the sea – greatly affected the manner in which the fruit matured.
A week of much warmer weather arrived. I was getting a little frustrated with the tree, raining down fruit onto the grass below. One morning I stepped into the garden. The sky was an incredible deep blue, the air was warm at ten o'clock and I decided that I would try again. I reached up and plucked a large nectarine off the tree. It had a sweet juicy aroma. I took a bite and was instantly transported back to my childhood, eating freshly picked fruit with abandon, juice running down in between my fingers and onto my chin, the sweetness of the flesh melting in my mouth. I polished off the entire thing, standing under the tree with a contented smile. It was perfection. Keats was right.
At that point it dawned on me that I now had about five hundred nectarines to deal with that were nearly all ripe at the same time. The anticipated flurry of dishes ensued. Crumbles, salsas, grilled, in tarts, in salads, with duck – succulent by the way, and in great cauldrons of jam. The scent was intoxicating.
The plum tree duly followed suit and the summer was filled with scrumptious treats directly from the garden. I was inspired and hunted down a variety of Apricot that will hopefully deal with the temperate climbs by the sea. It will be another year or two I think before it produces any fruit. But my stone fruit collection is growing.
When choosing the apricot tree I came across some pluots. I have to admit that until last year I had avoided all hybrid fruit. To my mind there was something very bizarre about a cross between a plum and an apricot. Different versions of what I viewed (incorrectly) as genetically modified fruit seemed to be spreading through the summer markets. Plumcots, Pluots, Apriums; what ever their names, I avoided them. A plum should be a plum. An apricot should be an apricot. Then I tasted one. A local farmer from whom I often purchased peaches suggested I try one. I resisted – sighting my pure fruit ideal – and he looked at me with bewilderment. "Just try it". He coaxed a piece into my hand and I have been a convert ever since. Each variety has a multitude of flavors. They are sweet and juicy, with the definitive traits of their parental root stocks. They make sensational preserves.
The farmer's peaches were equally excellent but this is one tree I have not planted here. When I lived in Los Angeles I had an old peach tree, tucked into a warm corner of the garden. It was gnarled and contorted as though the successive summers had weighed it down with the effort of producing grapefruit-sized peaches. They were sumptuous, down-covered orbs, the colour of the setting sun. Little wonder that so much has been written about peaches over the centuries.
They came to America from Spanish explorers but their origins lie further east in China where they have been cultivated for more than three thousand years. They, as with their other stone fruit brethren; plums, apricots, cherries and nectarines – are all species of the genus Prunus and members of the large rose family. Its English name Persicum Malum comes from the Latin, meaning Persian Apple, a reflection of its physical journey across Europe as Persians introduced peaches to the Romans.
Their blossoms feature in Chinese art history and are part of folklore in much of the far-east. A Chinese legend speaks of the divinity Yu Huang, also known as the Jade Emperor, who had a garden of "immortal peaches." Everlasting life was said to be conferred on those who ate them. Xi Wangmu, the Emperor's mother is said to have guaranteed the gods' eternal presence in her palace by feeding them the peaches of immortality. Fortunately for us, we do not have to wait the legendary three thousand years for the fruit to ripen, as was the case with the 'immortal' variety.
Today's peaches ripen during summer months and are generally available from early June to September, although there are some late summer varieties that make it through October in this part of the world. They ripen from the stem end and along the seam. However peaches can often be mealy, usually caused when they are stored below 45 degrees Fahrenheit as is often the case in many supermarkets, another reason to buy them from the farmers at the local markets.
From their heady almond-laced scent and marvelous texture, peaches have inspired poets and philosophers who have dwelled on their sensuous characteristics. In ancient Chinese vernacular, the word peach – meaning delicious and soft - was used to represent a young bride; in the time of Louis XIV a variety was know as 'Teton de Venus' or Venus's breasts; in England today, an attractive woman is described as a peach.
Emile Zola, often given to writing lyrical passages, described them thus in his book 'The Belly of Paris' - In front was an array of choice fruits, carefully arranged in baskets, and showing like smooth round cheeks seeking to hide themselves, or glimpses of sweet childish faces, half veiled by leaves. Especially was this the case with the peaches, the blushing peaches of Montreuil, with skin as delicate and clear as that of northern maidens, and the yellow, sun burnt peaches from the south, brown like the damsels of Provence.
Which ever variety you choose, savor them over the course of the summer. Try them grilled with a sprinkling of brown sugar and a dollop of fresh vanilla ice cream or just pure and simple, complete with juices running down your fingers.
Mache and Pluot Salad with Lemon and Mint Vinaigrette
Serves 8 people
For the salad:
8 oz Mache (lamb's lettuce)
8-10 Pluots – use different varieties - sliced
2 oz Marcona almonds
1 small bunch chives – finely chopped
4 oz goat cheese - crumbled
For the vinaigrette:
2 cloves garlic – peeled and finely chopped or crushed
Juice of 2 large lemons (or 3 small ones)
Coarse sea salt
½ tablespoon honey
1/3 cup olive oil
4-5 stems fresh mint – leaves removed and finely chopped
½ tablespoon fennel seeds – dry roasted for 1 minute
Freshly ground pepper
Combine the garlic, lemon juice, a large pinch sea salt, honey and olive oil in the bottom of a large salad bowl and whisk together vigorously. Add in the chopped mint, fennel seeds and 4 or 5 twists of pepper and whisk together again.
Place salad servers over the vinaigrette. Place the mache greens, pluots, Marcona almonds and chopped chives on top of the servers, ensuring that the greens stay out of the vinaigrette until you are ready to serve the salad.
Toss the salad well just before serving. Distribute evenly between eight salad plates. Put a little of the crumbled goat cheese on top of the salad on each plate. This is delicious served with warm olive bread.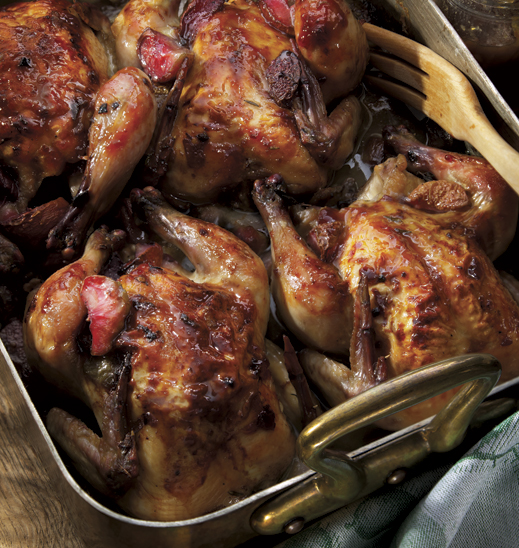 roasted cornish hens WITH plums and a plUm glaze
Serves 8
16 firm ripe plums – cut in half
1/ 2 cup cognac or brandy
1/ 2 cup shallots, chopped
3 tablespoons butter
4 oz pistachios, chopped (1 cup)
Salt and pepper to taste
4 Cornish Hens
2 cups plum jam
Preheat the oven to 400 degrees.
Place the plums and cognac in a bowl and let stand for 10 minutes. Drain the plums, reserving the liquid.
In a sauté pan, sauté the shallots in the butter until translucent. Stir in the salt, pepper, pistachios and plums and combine well. Cook for a further 3 minutes. Remove from the heat.
Place the Cornish hens in a roasting pan and spoon the plum/shallot mixture around them and then coat each hen with the plum jam. Place in the center of the oven and bake for 1 hour.
Remove the game hens from the oven and place them on a carving board. Let them rest for ten minutes before carving. Warm 8 dinner plates in the oven.
Spoon some of the plum pieces onto each of the warmed dinner plates.
Stir the reserved plum liquid (from step 2) into the roasting pan and reduce the pan juices over a medium hot stove, until lightly thickened. Cut the game hens in half, place one half on each plate alongside the plums and pour a little of the pan juices over the top. Serve with the peach salsa.
PEACH SALSA
Serves 8 as a side dish
Coarse sea salt
Freshly ground pepper
Olive Oil
Juice of ½ lemon
6 peaches – cut into slices – try mixing varieties
2 spring onions – finely chopped
1 Granny Smith apple – cored and thinly sliced
1 small bunch chives – finely chopped
½ bunch cilantro – finely chopped
10 mint leaves – finely chopped
½ English cucumber – peeled and diced
Pour ¼ cup olive oil into the bottom of a medium sized mixing bowl. Add in the lemon juice, a little coarse sea salt and some freshly ground pepper. Whisk vigorously. Place salad servers over the olive oil mixture.
Add in all the remaining ingredients on top of the salad servers. Just before serving, toss everything together to coat well.
Note: This pairs well with grilled or roasted fish and most barbequed or roasted meats and grilled vegetables.
Nectarine Crumble with Lemon Double Devon cream
Serves 8 people
For the nectarines:
10-12 medium sized nectarines – if they are huge 8-10 fruit should do
zest and juice of 1 lemon
2 tablespoons sugar
For the crumble:
10 oz unbleached all-purpose flour
2 ½ sticks butter – cut into little pieces
1/3 cup sugar
Cinnamon
For the Devon Cream:
6 oz Devon cream
Zest of 1 lemon
Pinch allspice
Preheat the oven to 400 degrees.
Combine the nectarines, lemon zest, sugar and lemon juice in a large bowl and toss lightly to combine the ingredients. Place all the fruit in the bottom of an ovenproof dish, such as a Pyrex dish.
To make the crumble, place all the flour in a large bowl. Add three-quarters of the butter and mix it with the flour, using the tips of your fingers, until it resembles coarse breadcrumbs. Don't worry if you have little lumps of butter left – it should look like that! Add in the sugar and mix to combine. Cover the nectarines with the crumble mixture. Sprinkle a little extra cinnamon and sugar over the crumble. Dot the surface with the remaining butter. Bake in the center of the oven for 30-35 minutes or until golden brown.
Combine all the ingredients for the Devon cream until smooth and well incorporated. Serve the lemon double Devon cream with the hot crumble.
Written for Edible Santa Barbara - Spring 2010 issue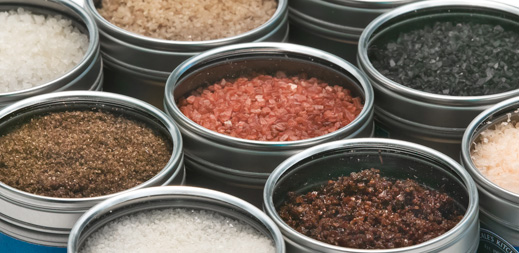 "Where would we be without salt" – so wrote James Beard. Where indeed? What is it about this small piece of sodium chloride, the size of a grain of sand, that so effects what and how we eat?
It is a basic seasoning in food and is elemental in food preservation as it inhibits bacterial growth. It is also one of the basic electrolytes in the human body. We cannot live without it. Like all living beings, we need salt (actually the sodium and chloride ions) in our system to regulate the water content in our bodies. Too much salt, for example, can lead to high blood-pressure.
It has been harvested for millennia. Some of the earliest salt works ever found date back to 6000BC in Xiechi Lake in Yuncheng, Shanxi, China and in Lunca, Romania.
From the Roman Empire to Native Americans, from the nomadic traders of the Sahara to the Ancient Egyptians, all cultures around the world have depended on the salt trade at one point in their economic development. There are a number of cities whose names stem from their links to the salt trade - Salzburg (literally salt city) which sits upon the Salzach (salt water) River; Salisbury in England; Tuzla in Bosnia-Herzegovina – Tuz is salt in Turkish, are but a few.
Long before the advent of refrigeration – a technique that has only existed for 200 years – salt was one of the primary tools used in preserving food. Food, once preserved was then able to be traded as a commodity. The Egyptians, for example, began exporting salt fish in 2800BC. It has also been used as forms of currency, (and still is by the Tuareg nomads who ply their trade in salt caravans in the northern Sahara) and it allowed those who controlled the manufacturing of salt a great deal of economic and political power. The Republic of Venice rose to economic dominance in the 11th - 13th centuries in large part because of its salt monopoly.
It has also led to bloody upheavals and contributed to revolutions in India and France. Mahatma Gandhi led more than 100,000 people on the salt Satyagraha as a protest against the salt tax laws during British rule in India. He inspired people to make their own salt, illegal at the time, to avoid paying salt taxes to the British. This action inspired millions of his fellow countrymen in their struggle for independence.
In France, during the 17th and 18th centuries a number of excise taxes were imposed on the population, covering commodities such as tobacco and wine. One of the most oppressive tax burdens was the salt tax, or gabelle as it was known, that was levied by the French Monarchy. The effect of this tax on the population was one of the contributing causes of the French Revolution. Amazingly, the tax was reintroduced by Napoleon to pay for his invasion of Italy. It remained a part of French Law until it was abolished in 1949. Ironically, Napoleon lost thousands of soldiers on their retreat from Russia because their wounds failed to heal due to the lack of salt.
Salt has also featured heavily in US history as these examples show:
~ One of the first patents issued by the British crown was to an American settler, Samuel Winslow of the Massachusetts Bay Colony which gave him the exclusive right for ten years to make salt. By 1778, a treaty written between the state of New York and the Iroquois' Onondaga tribe contained a proviso for salt reservations, intended to prevent monopolies, as did The Land Act of 1795.
~ Salt played a vital role during the American Revolution where an element of the British strategy was to deny the American rebels access to salt.
~ During the American Civil War the South's armies fought a 36-hour battle with Union forces as they tried to capture Saltville, Virginia, the site of a strategic salt processing mine.
~ America is now the world's largest producer of Sodium Chloride. However, only a small percentage of that production is for table salt; about 3%. There are about 14,000 uses for salt ranging from uses in textiles to set dies, in pharmaceuticals to make soaps, to salting roads in winter to melt ice and for use in refrigeration units.
Salt effects our food supply to this day, particularly in Southern California as a significant percentage of our water supply comes from the Colorado River. There has been approximately 9 million tons of salt seeping into the Colorado River annually. Roughly half can be attributed to natural sources such as erosion of lands and saline springs. The balance is human-induced, stemming from irrigation practices and municipal and industrial sources. The river is now so salty in its lower reaches that large desalination projects are now required to render the water useable for human consumption and for further agricultural use.
Beyond its practical uses, our language is replete with references to this tiny grain. The expression, "A man is worth his salt", stems from the time when Greek slave traders bartered slaves for salt. Roman soldiers received part of their pay as an allowance – their salarium argentum - to pay for salt. Hence the word salary, which stems from the Latin Sal – meaning salt.
Religious texts also have there fair share of salty comments, most notably Lot's wife who is turned into a pillar of salt when she took a forbidden look at the city of Sodam as she escaped. It is auspicious in Hindu mythology and used in religious ceremonies around the world; as part of the Tridentine Mass; as ritual purification of people and places in Shinto ceremonies - Sumo wrestlers throw salt in the ring to chase away evil spirits; in Jewish temples, offerings include salt and on the Sabbath, Jews dip their bread in salt water in remembrances of sacrifices made by their ancestors.
Salt permeates all aspects of our lives. Traditions and superstitions that we adhere to today have their roots in our saline history. We throw salt over our left shoulder if we spill it for example, as this is supposed to ward off the devil that may be hiding there. This comes from the story of Judas at the last supper, where he is purported to have spilled salt – an augury of evil and bad luck. An image that is immortally captured in Leonardo DaVinci's vast canvas, The Last Supper.
Buddhists similarly believe that salt wards off evil spirits. It is customary to throw salt over your shoulder before returning home after a funeral, to repel any devils that may be clinging behind you.
All these traditions and sayings are not even linked to the preparation of food, but this is where salt is at its most noticeable. In cooking, salt enhances the natural flavor of food and suppresses bitterness. A salad made with bitter greens will be tempered with the addition of salt in the greens. Vegetables, when cooked in salty water, will cook faster than in just plain water or when steamed. Potatoes on the other hand, cook more evenly if salt is not added at the beginning. In bread baking, salt strengthens the gluten in the dough by allowing it to contain more water and carbon dioxide, allowing the dough to expand and not tear. It also enhances the golden colour in bread crusts. Pasta cooked in salted water will taste better. Salt also enhances the sweet tastes in food.
Margaret Visser, the award-winning author of The Rituals of Dinner, wrote "Salt is the policeman of taste: it keeps the various flavors of a dish in order and restrains the stronger from tyrannizing over the weaker." The key in cooking with salt is to achieve the right balance. Too much salt and food is inedible, too little, and it is bland.
SPRING GREENS SALAD WITH ARRUGULA, SPINACH AND DANDELIONS
WITH A WARM ZESTY VINAIGRETTE
Serves 8 people
Olive Oil
3 shallots
A good aged red wine or sherry vinegar of your choice
Salt & pepper to taste
Zest of 1 orange or other sweet citrus fruit such as Tangerines or Mandarins
1 lb fresh arrugula, dandelion and spinach – cleaned and de-stemmed
2 apples - sweet crunchy ones – cored and thinly sliced
4 oz pistachio nuts – roughly chopped
4 oz dried cranberries or cherries
6 oz Goat's Feta
fresh parsley – finely chopped
fresh chives – finely chopped
Pour a little olive oil (about 1 tablespoon) into a small saucepan or skillet placed over medium heat. Add in the shallots and cook for 5 minutes, stirring frequently. They should be a light golden brown colour. Remove from the heat and add in ¼ cup olive oil, 1 tablespoon vinegar, orange zest and some coarse salt and pepper and whisk vigorously. Return to the stove and warm through.
Pour the warm vinaigrette into the bottom of a large salad bowl. Place the serving utensils in the bowl over the vinaigrette, then place on top of the utensils all the chopped herbs, apples, nuts, cranberries, feta and cover this with the arrugula, dandelion and spinach. When you are ready to serve the salad, remove the serving utensils and toss the salad.
WHOLE BAKED FISH IN A SALT CRUST
Pythagoras wrote in 550BC "Salt is born of the purest of parents: the sun and the sea". This dish is the perfect compliment to that thought.
Serves 6-8 people (depending on the size of the fish)
1 whole fish (scaled and gutted) You can use pretty much any fish. Whole stripped bass, salmon, snapper, mullet, trout etc.
coarse sea salt – you will need a lot of this but the amount depends on how big your fish is – usually about 3-4lbs
Zest and juice of 2 lemons
1 bunch parsley
1 bunch dill
1 bunch fennel tops (i.e. the tops cut off 2 or 3 fennel bulbs)
2 lemons cut into thin slices
Preheat your oven to 475 degrees.
Combine the lemon zest, lemon juice and all the salt in a large bowl. Set aside.
Rinse the fish and pat dry. Stuff the belly of the fish with all the herbs and lemon slices. The herbs should be bulging out of the cavity to stop the salt getting in.
Mound ¾ inch of sea salt on the bottom of a large baking pan or baking tray. Place the fish on top of the salt. Cover the fish entirely with a layer of salt about ¾ inch thick.
Drizzle a little water over the top of the salt. This will help form the crust. Bake in the middle of the oven for 10 minutes per pound of fish.
After baking, allow the fish to rest for 10 minutes (the fish will cook a little more) then gently break and remove the salt – be careful not to pierce the skin of the fish as you do this as this will make the fish too salty. You can serve the fish in its baking dish on the table as the presentation is pretty and unusual.

WARM SPRING VEGETABLE SALSA WITH A BASIL SAUCE
For the vegetables:
Olive oil
8 spring onions – quartered
½ lb baby yellow chard leaves – roughly chopped
1 lb asparagus – cut into 1 inch pieces
1 round zucchini – sliced and chopped
Salt
Place a little olive oil into a large sauté pan placed over medium heat. Add in the onions, zucchini and asparagus and cook for 3-4 minutes. Add in the chard and cook until wilted through – about 3 more minutes. Serve with the fish.
For the Basil Sauce:
Large bunch basil – leaves removed from stems
1 small bunch parsley
1 bunch chives – roughly chopped
½ cup water
¼ cup olive oil
Coarse salt
Black Pepper
Juice of 1 lemon
½ lb organic cherry tomatoes
Place the basil leaves, parsley and chives into the bowl of a food processor and run until you have a dry paste. Add in the water, olive oil, a large pinch of salt, the pepper and the lemon juice and run the machine again until the paste is smooth. You may have to stop it once in a while to scrape down the sides. Add in the cherry tomatoes and puree until smooth. Set aside until ready to serve.
To assemble the dish:
Place a large spoonful of the vegetable salsa in the center of a warmed plate. Place a piece of the baked fish on top of the vegetables and the spoon some of the sauce around the vegetables.
Serve with a slice of lemon as it adds an extra zing to the fish when squeezed over it last the last minute.
ESPRESSO SALT MERINGUES
I came across this incredible espresso salt and immediately wondered what I could make with it. Its paring with chocolate is a natural one, but I wanted to try other things. I love salty/sweet combinations, a small caramel perhaps with a piece of fleur de sel. I also love meringues. This was too good an opportunity to miss and so I tried meringues with this salt. It's heavenly.
Serves 8 – 10 people
3 egg whites
7 1/ 2 oz sugar – (1 cup less 2 level tablespoons)
1 teaspoon Espresso Salt
Preheat the oven to 225 degrees.
Place the egg whites in a mixing bowl and beat until they hold soft peaks. Gradually add the sugar, a tablespoon at a time and whisk until the whites are stiff and very glossy. Add in the espresso salt and beat a few seconds more so that it is evenly distributed in the meringue mixture.
Drop a very large tablespoonful of the mixture onto a parchment lined baking sheet. Bake in the oven for 1 ¼ hours or until they are dry and crisp. They should not turn golden, but rather should be a pale cream colour when finished. You can also pipe the meringue mixture using a normal round nozzle attachment to create evenly shaped meringues. If they are smaller in size, they will need less time to cook. Check the oven frequently to ensure that they are not overcooked.