Written for Edible Santa Barbara - Autumn 2021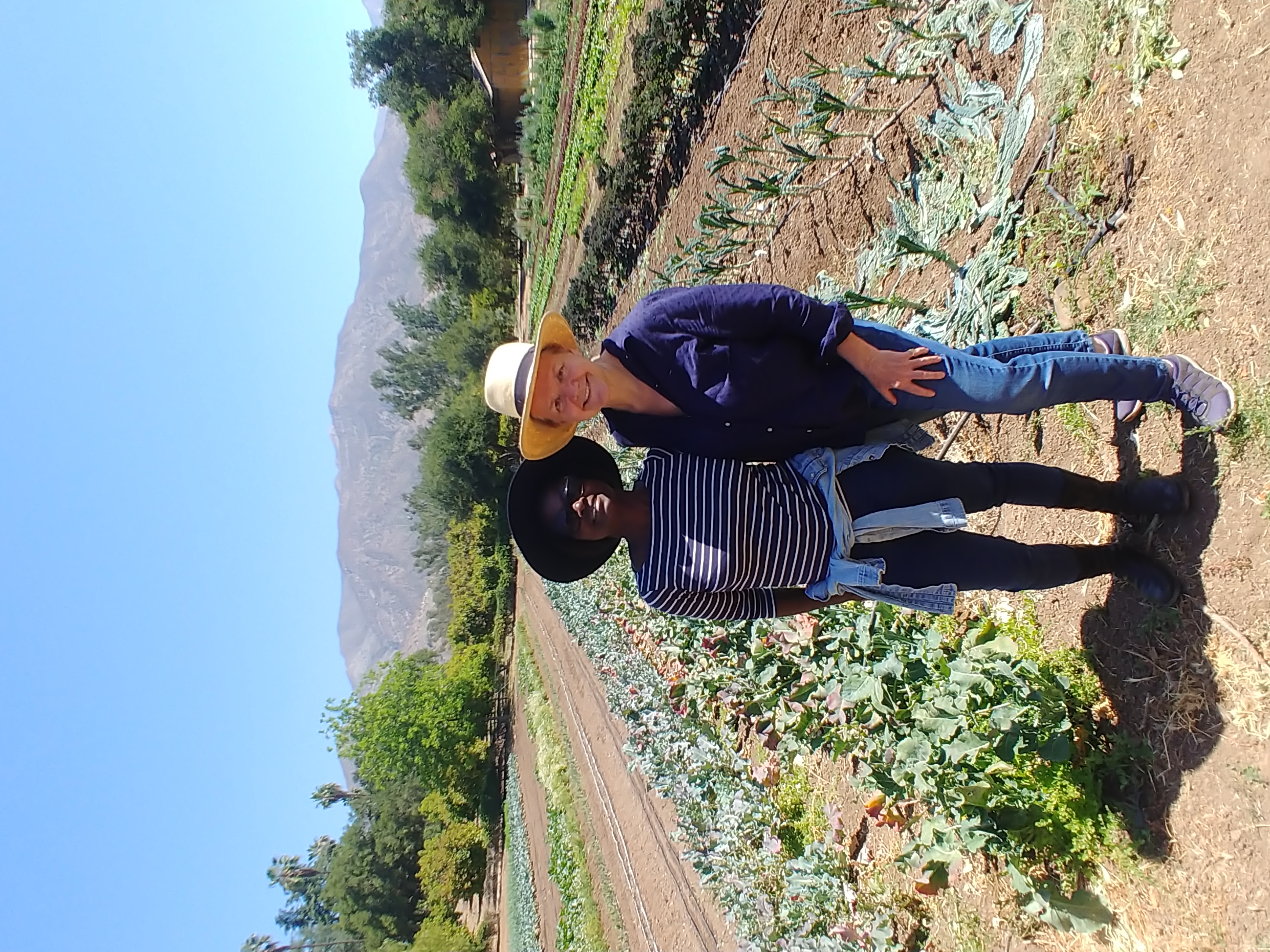 Live in each season as it passes; breathe the air, drink the drink, taste the fruit, and resign yourself to the influence of the earth. —Henry David Thoreau
A few weeks ago, I visited paradise. Meandering up and over the hills that take you from the Pacific coast down into the mountain ringed bowl that is the Ojai valley, and nestled in on a tree lined street is a farm unlike any I have visited before. As I stepped out of the car, one of the first things that struck me was the sense of complete tranquility and peace that enveloped me, like a lovely cozy shawl on a chilly day, or a warm breeze caressing your skin on a balmy evening. This enchanted oasis, a 10-acre farm, belongs to BD (Robert) and Liz Dautch. I was there with a fellow Brit, Sandra Adu Zelli, to video BD talking about his farm for a project she and I were working on. Neither one of us anticipated that we would be so spellbound.
We spent a few hours walking through the farm, up and down the alleys of burgeoning vegetables, and fruit laden trees, admiring the fragrant herbs sown between the rows, listening to BD as he talked about tending the land and the journey that had led him to this corner of California. We listened as he described the transformation of the soil into something rich and nourishing, producing a vast array of crops week after week, season after season, year in, and year out. We learnt about the challenges changing weather patterns have created, water shortages, and the ravages of fire on the community that surrounds the farm. It is evident that farming is not for the faint of heart, that it requires dedication and endurance, akin to the stamina needed for a slow-motion long-distance race.
It was also evident that BD and everyone who worked on this farm nurtured the land, working by hand, carefully planting, weeding, thinning, pruning, transplanting and picking, and that the land in turn nurtured them. I felt as though I was watching a dance, a symbiotic relationship between those who tended the fields, and the land that fed them, and in turn fed us. I wondered if this was not a good metaphor for life in general and for all of us. Is our need to nurture land and coax from it an abundance of life similar to the need of people to tend and nurture each other?
Albert Einstein once wrote "Look deep into nature, and then you will understand everything better." One cannot help but wonder what nature had in mind over the past 18 months as we have, for the most part, retreated into a form of forced hibernation. This is not our natural state. Where once we would have gathered together, we have, for more than year, in varying degrees, practiced the art of self-containment. Our work lives have experienced a profound upheaval, our homes having been converted to hybrid work-living spaces, and will remain that way as many companies migrate their work platforms to remote/part time in the office models. How then do we reconnect and feel comfortable in this new cycle of life?
At the time of writing this article, I have just returned from one of the first farmers markets that felt 'normal', or at least as close normal as we can get these days. The market tables have returned to their former configurations, people (not all) are walking around unmasked, friends are gathering in groups and chatting, shouting out "it's so lovely to 'see' you!" People seemed less harried, and less stressed with the prospect of being in a crowd, feeling out their level of comfort, akin to trying on a new set of clothes and seeing if you feel relaxed walking about it them. It's been an adjustment, but the underlying current was one of joy and the sentiment that 'we can now get back to the business of being in our community' was tangible. People are eager to commune with one and other, as demonstrated by the plethora of pop up al fresco dinners mushrooming all over the country, from simple farmyard gatherings and informal vineyard picnics to more elaborate multi course dinners with hundreds of guests in attendance.
If there is a hesitancy amongst some it's because in other parts of the country, and around the world, communities are experiencing the same paralysis we lived through months ago, all of which upsets our natural equilibrium. So how have people coped? Many, myself included, have turned to gardening. From the simplest potted herbs on a windowsill to digging up great patches of earth for victory style gardens with raised beds and veggies a plenty, gardening in all forms has exploded in the past year. There is a logical thread to this. In getting one's hands stuck in the dirt, planting and nurturing our seedlings, we are physically and tangibly tied to the passage of time, to the vagaries of weather and to the seasons. There is something inordinately satisfying about growing something, let alone eating your own produce. My efforts have produced a mixed bag of results. My peach tree produced exactly one peach, a beauty, but only one. The plumcot next to it is dripping with fruit. I have no idea why that is, well maybe an inkling. I think I need to nurture my plants a little more, realizing that my laisser faire attitude may not be conducive to an abundant harvest. I have friends with prodigious green thumbs who have fed their families from their fecund gardens. If there is one thing I have learnt, and appreciate all the more, is just how much work goes into a well-tended vegetable patch, let alone a full-sized working farm.
Little wonder then that every year, come harvest time, farmers and their farm hands have gathered together to celebrate the seasons crops. There have been harvest festivals for millennia with large family style gatherings, food laden trestle tables set up in barns, in courtyards, in fields and in the farmers homes. The festivities offer a small respite to the daily mountain of tasks that farmers face, knowing that the next day they'll be back up at the crack of dawn to tend the land once more. I am, all the more so since my visit to BD's extraordinary farm, filled with gratitude for their valiant efforts to bring this nourishment to the local population.
My small potted plants and minute herb garden will not feed the masses, let alone my family, but I too will have a small dinner of gratitude to fete this season and the fact that we are, hopefully, emerging from this crisis. Marcel Proust, known for waxing lyrical and at length about madeleines amongst other things, also wrote, "Let us be grateful to the people who make us happy; they are the charming gardeners who make our souls blossom." I cannot think of a more fitting tribute for the men and women who toil throughout the year bringing us sustenance, and reminding us how nature nurtured feeds us all.
Harvest Menu
Plateau de Crudités
A crudités platter is a large dish of raw vegetables which can be left whole or sliced, diced and cut for your guests. They can also be spectacular. I love these dishes as there is something very festive about them with everyone choosing their favorites morsels. This is a lovely way to start a meal for a crowd, plus you can ask the extra hands to help prepare all the ingredients. There's no right or wrong way to do this so have fun laying them out on a board or tray. I like to serve this with a good mustard vinaigrette and perhaps some hummus alongside.
Serves 8 people
The following is a suggestion. Please use the best vegetables that are seasonally available to you. This will change throughout the year. Here is a suggested list. All the vegetables are carefully cleaned, then each prepared in the following manner.
1 cauliflower — florets separated
3 Persian cucumbers — cut into thin sticks
Assorted radishes — some very thinly sliced, some quartered
1 head celery — cut into thin sticks
1 lb assorted multi colored carrots — peeled and thinly sliced in lengths
4 baby gem lettuces — quartered
1 lb cherry tomatoes
1 lb asparagus — stems trimmed
½ lb snap peas — ends trimmed, sliced on a bias
½ lb green beans — steamed to just barely cooked
1 large zucchini — peeled into strips, each trip rolled up to form a cylinder
2 Yellow/Baby Squash — peeled into strips, each trip rolled up to form a cylinder
Arrange the vegetables in in attractive pattern on a large platter or tray. I usually start with the largest vegetables first and form a diagonal line across the platter, tucking in the other vegetables around the central line and working out towards the edge of the plate. Serve with the mustard vinaigrette.
For the vinaigrette:
1 tablespoon nut mustard or Dijon mustard
¼ cup olive oil
Zest and juice of 1 lemon
1 tablespoon pear champagne vinegar or white wine vinegar
Pinch coarse sea salt
6 grinds of black pepper
In a small bowl, whisk together the vinaigrette ingredients to form a smooth emulsion.
Roast Chicken with Tarragon, Vegetables and Little potatoes
Serves 8 people
Olive oil
2 large yellow onions – peeled and finely sliced
2 pounds small yellow or red potatoes, or fingerling potatoes
1 pound carrots — peeled and thinly sliced on a bias into ½ inch thick pieces
1 pound squash, zucchini — peeled and sliced into ½ inch thick pieces
2 chickens (3.5-4lbs each) organic if possible
6-7 tarragon sprigs
2 lemons - quartered
Salt and pepper
Preheat the oven to 400 degrees.

Pour a little olive oil into a roasting pan that is large enough to hold the chickens and vegetables without crowding them too much. Add the sliced onions, potatoes, carrots and squash, and shake the pan backwards and forwards a few times to lightly coat the vegetables.

Nestle the chicken on top of the onions. Drizzle a little olive oil over the chicken. Sprinkle the tarragon over the chicken and the vegetables. Scatter a pinch of salt over the chicken and add 5-6 grinds of pepper. Squeeze the lemon quarters over the chicken, then insert the quarters into the chicken cavity.

Roast in the middle of the oven for 15 minutes and then lower the temperature to 375 degrees and roast for a further 1hr 15 minutes. When the chicken is cooked, let it rest for 5-10 minutes before carving, Serve the chicken with the vegetables and some of the lovely pan juices that will be in the bottom of the pan.
Stone Fruit Crumble

I cannot think about the harvest season without thinking about a tasty crumble. My mother taught me to make apple crumbles as a child in London. The recipe was handed down to her by my father's mother, Ilse. If ever there was a comforting dish, this is it. In those days we would go for great long walks across London's parks, returning home with chilled fingers and toes and everything else in between. A hot cup of tea and a spoonful of crumble would instantly thaw us out. We would delight in the crumbles' spices and buttery crust. Coastal California may not be as cold or damp, but the pleasure we derive from this dessert is undiminished. This version uses late season stone fruit, but can be made with apples and pears too.
Serves 8 people
For the fruit:
2 pounds stone fruit — pitted and chopped
Zest and juice of 1 lemon
1 teaspoon cinnamon
¼ cup sugar
1/3 cup water
For the crumble:
10 oz unbleached all-purpose flour
9 oz butter – cut into little pieces
1/3 cup sugar
Preheat the oven to 400 degrees.

Place all the fruit ingredients in a deep baking dish (at least 1 ½ inches deep and 9-10 inches in diameter) and toss to combine well.

To make the crumble, place the flour in a large bowl. Add 8 oz of the butter and mix it with the flour, using the tips of your fingers, until it resembles coarse breadcrumbs. Don't worry if you have little lumps of butter left – it should look like that! Add the sugar and mix to combine. Cover the fruit with the crumble mixture. Sprinkle a little extra cinnamon and sugar over the crumble. Dot the surface with the remaining butter. Bake in the center of the oven for 40 minutes or until golden brown. Serve with vanilla ice cream or a dollop of crème fraiche, or both!