Written for Edible Santa Barbara - Fall 2016 Issue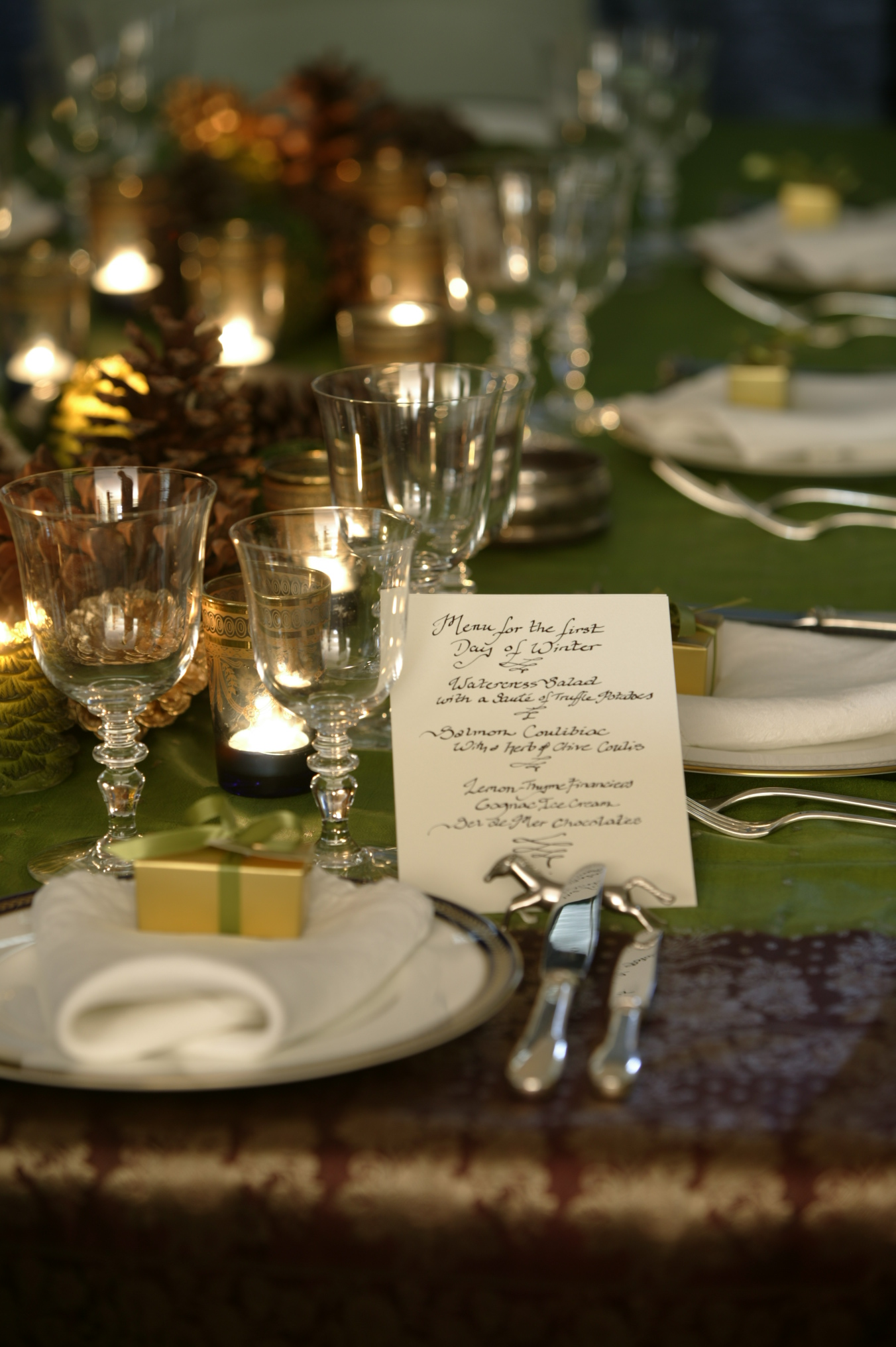 Every winter during my early childhood, as soon as the school holidays began, we piled into the family car, packed to the gills with winter coats wrapped around an assortment of delectable treats from our favorite English purveyors of fine food — namely whole stilton's, Christmas puddings and Brandy Butter from Fortnum & Mason — and made the very long, often-frigid trek from London, across the choppy English channel, the bleak landscape of northern France, through Paris, down the Route Nationale 6, turning east in Lyon to wind our way up the snow-covered mountain passes to my Grandparent's home in the French Alps.
My memories of that time consist of a series of gustatory tableaux, each more elaborate than the next. The dinner table set with bone china, delicate crystal that glittered in the candlelight on embroidered linens and a procession of delicate dishes carried from the kitchen. It became apparent to me at an early age that holiday meals meant days of careful preparations, multiple shopping expeditions and hours in the kitchen. My grandmother orchestrated all of this with an apparent ease that belied the considerable task of feeding the hoards that descended on their house for the end of year festivities. Le réveillon (Christmas Eve dinner) was serious business and I longed to be part of the preparations. As soon as I was old enough I was entrusted with setting the table, under my grandmother's careful supervision. I made decorations and wrote place cards. She was exacting and I strove to live up to her standards, not an easy task!
Every one of my grandparent's children upheld these traditions and when my aunt and uncle took over the relay of hosting Le réveillon we all made a beeline for their home in St.Etienne. My uncle Yves, a jovial bon-vivant, would make everyone welcome, glass of wine in hand, homemade saucisson and pate on the kitchen table. Serious business needed attention he would say as he opened the back door of the kitchen to reveal 4 or 5 crates of oysters from Arcachon that had to be shucked. Everyone would gather around the table, tea towel in one hand, oyster shucker in the other and get to work regaling each other with stories of Christmas's past. My aunt prepared the crushed ice for the platters and one by one the oysters would be laid out on their glistening beds. All their révillions began in this manner, followed by roasts with small potatoes cooked in duck fat, delicate green salads, platters of cheese and a grand Buche de Noel to cap it all off, each course paired with wines from their cellar. It was magical and I delighted in the rituals as much as the degustation.
Le réveillon finished in the early hours of the morning leaving precious little time for Christmas day preparations. We did not have Christmas stockings; instead each person placed a pair of shoes under or by the tree. You would have to wait until morning to see if your shoes had been filled with treats from Le Pere Noel (Father Christmas). One year I tiptoed down to the semi-dark living room after everyone had gone to sleep, to place my gifts in each person's shoes. I was almost there when I realized that I was not alone. There was someone peering at the shoes, large bag in hand! Who could that be? I think I scared my grandmother more than she scared me. We both jumped, and then realizing whom it was, laughed out loud, only to shoosh each other lest we wake anyone else up. We played le Pere Noel together and reminisced about all the celebrations we had at her house and how we would decorate the tree with my grandfather. We talked about favorite dishes and sweet treats. We filled shoes side by side, then whispered bonne nuit to each other as we tiptoed back to our rooms. From that night on I felt as though I had become part of the fabric of our Reveillons and entrusted with preserving the traditions for future generations. Little did I know that this would happen sooner that I thought!
Work brought me to California and the prospect of a balmy (read 80 degree) holiday season presented itself. What should we do? Do we serve the same meal? Can we find the same ingredients? 'We' were a bunch of French and ex-pat Brits (family and friends) living in Los Angeles. Shopping expeditions ensued, preparations made, tree trimmed, stockings replaced shoes by the tree, tables set, glasses polished, and wine chilled. We found smoked salmon and served it with toast and crème fraiche. We poached a whole salmon paired with steamed potatoes. We found a Christmas pudding for dessert. The wine was from California and France. The meal reflected the eclectic nature of the guests.
We started new traditions, an Anglo-French culinary mixology. English pudding for le reveillon, and French Buche de Noel for a more traditional Christmas day meal. Gone was the stuffed turkey, the heavy sauces and purees from my grandmother's table, replaced with duck confit served with a herb salad. There is however one constant: although the setting may be less formal, the continuing thread that ties all these celebrations together is the coming together of family and friends, to enjoy each other's company, to laugh about meals past, to share in the preparation and to relish the bounty before us.
Each year in the wee hours of Christmas day as I tiptoe down to prepare the breakfast table and fill stockings, I think about my grandmother and how she created a delicious sanctuary that enveloped the end of year celebrations. This past Christmas my daughter said "I know it's you Mum", I smiled and said "Would you like to be part of the transformation?", "No, not yet." she said, "I'd like it to be magical a little longer." Soon enough the baton will pass and new traditions will begin.
Meyer Lemon, Persimmon and Micro Green Salad
The fabulous thing about Meyer lemons is that you can eat the whole fruit, preferably in thin slices, including the rind. They're sweet and add a slightly piquant bite to any dish. In this vinaigrette, the zing in the lemons is balanced by the pomegranate molasses. It's not molasses exactly, rather a reduction of pomegranate juice and sugar. It's a sweet and tangy alternative to honey, which you could substitute in this recipe. Do try the molasses though as it's a treat.
Serves 8 people
8 Meyer lemons — very thinly sliced
4-5 Fuyu persimmons — very thinly sliced, horizontally, using a mandolin if possible
4 oz micro greens
1 large handful cilantro leaves
Juice of 1 large lemon
¼ cup olive oil
1 teaspoon pomegranate molasses
Large pinch of coarse sea salt
4-5 grinds of black pepper
Arrange the Meyer lemon and persimmon slices on a large platter or on individual plates in an attractive pattern. Work in concentric circles, alternating the fruit so that it looks like a giant flower.
Place the micro greens in the center of the platter or plates. Sprinkle with the cilantro leaves.
Whisk together the lemon juice, olive oil, pomegranate molasses, salt and pepper in a small bowl. When ready to serve, drizzle the salad with the vinaigrette.
Salmon Coulibiac
Coulibiac's were all the rage in the fifties and sixties. Unfortunately as with all fads they pass. What a huge shame in this case as it is a wonderful dish, particularly for a special occasion. I often make it on Christmas Eve as the presentation is beautiful and festive and as the pastry is filled with wild rice and spinach encasing the salmon, you do not need anything other than the herb sauce to serve alongside.
Serves 8-10 people
1 whole side salmon – approx. 4 lbs – cut crosswise into ½-inch wide strips
1 tablespoon Herbes de Poisson (a mix of mustard, coriander and fennel seeds and coarse salt
1 tablespoon lemon olive oil
Olive oil
1lb spinach
4-5 green onions – finely chopped
3 cups cooked wild rice or wild rice mix
Freshly ground pepper
2 batches of the dough recipe (see below)
2 extra eggs - beaten in a small bowl
Preheat the oven to 400 degrees.
Place all the salmon strips in a bowl with the Herbes de Poisson, and lemon oil. Coat the salmon well. Set aside.
Pour a little olive oil in a large skillet placed over medium-high heat. Add in the chopped green onions and cook for 5 minutes, then add in the spinach and cook for 2-3 minutes or until it has just wilted. Remove from the heat.
Put all the spinach in a large mixing bowl and add in the pre-cooked rice, a teaspoon of salt and 4-5 turns of peppermill. Mix all of these ingredients together well.
Lightly flour a clean work surface and roll out one piece of the dough into a rectangle that is 16 x 10 inches. Center this piece of dough on a parchment-lined baking sheet and brush with some of the beaten eggs.
Spread out half the rice mixture in the center of the dough leaving a 2-inch wide border. Lay all the salmon strips side by side over the rice mixture so that you recreate the shape of the whole side of salmon. Cover the salmon with the remaining rice/spinach mixture. Fold up the dough to cover the sides of the salmon. The dough will not reach over the top of the top layer of rice. Brush the outside edges of the dough with more of the beaten egg mixture.
Roll out the second piece of dough into a rectangle that is 16 x 8 inches. Place this strip of dough on top of the rice mixture so that it drapes and covers the sides of the dough. Your salmon and rice mixture should now be completely encased in dough. Brush all of the dough with the remaining egg mixture. Bake for 20-25 minutes. The dough will be golden brown.
Remove from the oven. Cut inch-wide slices and serve on warmed plates. Served with the herb and chive coulis.
For the pastry dough:
9 oz (2 cups) unbleached all-purpose flour
5 ½ oz (1 1/3 sticks) slightly softened butter – cut up into small pieces.
Zest of 1 lemon
1 large egg
Pinch of salt
1. Place all the ingredients in the bowl of the food processor fitted with a metal blade. Use repeated pulses until the mixture resembles coarse breadcrumbs. Use longer pulses until the dough has formed a ball. The texture is very smooth and slightly moist.
2. Wrap up the dough in plastic wrap and refrigerate for 20 minutes before using.
Herb And Chive Coulis
Serves 8 as an accompaniment
1 bunch dill – finely chopped
1 bunch chives – finely chopped
2 tablespoons flat Italian parsley – finely chopped
1 tablespoon cilantro – finely chopped
2 tablespoons olive oil
1 tablespoon lemon juice
Zest of 1 lemon
¼ cup vegetable stock
Salt
Pepper
Place all the ingredients in a food processor and blend until you have a fine sauce. If it is still a little thick, then add some additional vegetable stock, one tablespoon at a time. Check the seasoning and add some coarse sea salt and pepper if needed. The coulis should be bright green. You can make this up to 2 hours ahead of time.
Duck Confit
I love duck confit. It is one of my favorite things to eat and the wonderful thing about making it yourself is that any leftovers can be warmed up and put in to a salad the next day which is equally delicious.
Serves 8 people
8 duck legs – trimmed of any excess fat
6-8 tablespoons coarse salt
2 teaspoons peppercorns – slightly crushed
5-6 sprigs fresh thyme
4-5 bay leaves – broken into pieces
3 lbs duck fat – melted
In a small bowl combine the salt, peppercorns, thyme and bay leaves and mix together well. Rub each duck leg with some of the salt mixture, place in a shallow dish, cover and refrigerate for a minimum of 12 hours.
After 12 hours rinse the salt from the duck legs and dry on paper towels. Lay the duck legs, skin side down in a frying pan placed over low heat. Cook for 15 – 20 minutes until golden brown, turning them over once.
Heat the oven to 300 degrees. Transfer the legs to a small flame-proof casserole or oven-proof dish and add enough of the melted duck fat to cover the legs completely. Cover tightly with a lid and cook in the oven until the duck has rendered all of its fat and is so tender that it is almost falling off the bone – this will take approximately 2 ½ hours.
To preserve the duck, place some of the duck fat in the bottom of a preserving jar. Carefully place the legs on top and then cover the legs completely with more duck fat. Be sure there are no air bubbles. Cover and refrigerate for 1 week. The fat encasing the legs will preserve the meat.
To serve, remove the legs from the duck fat, scraping off as much fat as you can. Place the pieces in a roasting pan and roast in a 325 degree oven for 30 minutes.