In the little town in Provence my family calls home, the local farmers market takes place twice a week under dappled light in a large tree-lined square. It is one of my absolute favorites places. In fact, all farmers markets are, as they hold the promise of the unexpected...the first apricots or cherries of the season perhaps, or some plump, ripe figs, magnificent heirloom tomatoes or bouquets of basil and other fragrant herbs. Markets, anywhere in the world, tempt me, and I am drawn to them like bees to nectar for they feed my culinary inspiration.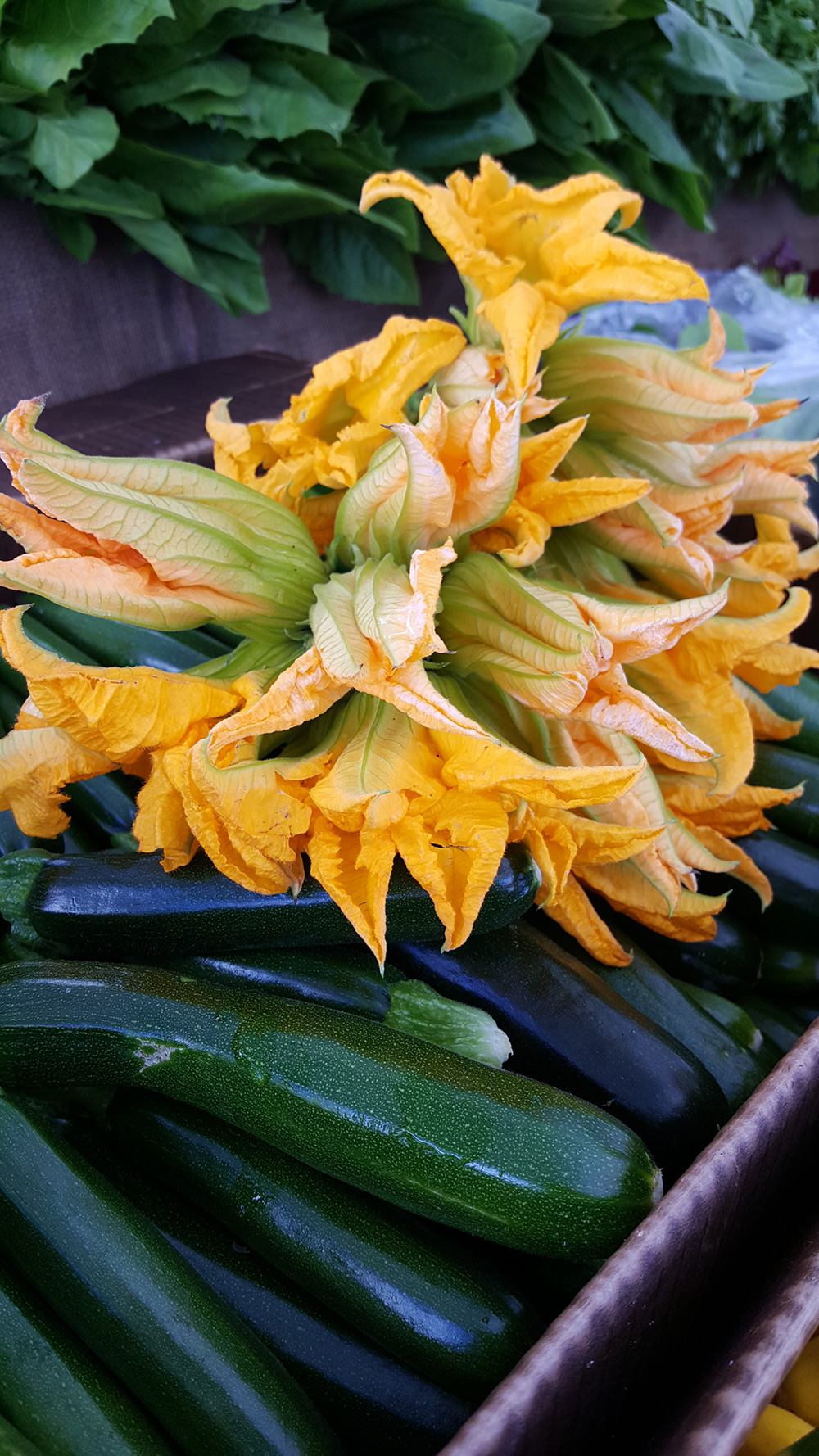 Luckily for us, six days a week in Santa Barbara County you will find, dotted along the main thoroughfares of our local towns, a ritual sprouting of market umbrellas that herald, much like the emergence of wild mushrooms, the bounty from local farmers. As they set up their trestle tables, the delights of each season are revealed, tempting us with their fragrance, beauty, and abundance.
Part of each market's charm comes from its locale and everyone has their favorite; from the quaint, timbered lined streets of Solvang; the beachy, ocean breeze-caressed, laid back feel of the Thursday afternoon market on Linden Avenue in Carpinteria; the hip, musical, bustling vibe of Tuesday evenings on State Street in Santa Barbara, the multi-cultural, student-filled, internationally flavored atmosphere of the Goleta Sunday Market, to the intimate flower and plant filled market that migrates up and down Coast Village Road on Friday mornings in Montecito. I too have my favorites but over the course of the past few months I have rediscovered the attractions of every market in the county and found plenty of inspiration along the way.
The Carpinteria market is perhaps the most relaxed of the them all, a true reflection of the beachside community it serves. Kids scamper about with the telltale signs of having sampled sweet summer strawberries and plump stone fruit with their juice stained fingers and sticky cheeks, people stroll up from the beach in sand filled sandals, past the eclectic selection of stands that frame the ocean end of the market and slowly meander past the abundantly filled tables.
On a recent Thursday I came across some exquisitely beautiful, sunflower yellow squash blossoms. I couldn't resist and cooked them that very evening, stuffed with a mixture of freshly sautéed zucchini, spinach, some leftover roasted chicken, all mixed with ricotta and mounds of fresh herbs that had perfumed the stalls. I served the cooked stuffed blossoms on a bed of wild greens. My daughter said it 'tastes like summer on a plate'. Her comment made me reflect how much I enjoy savoring each piece of fruit or each vegetable at its height of freshness. Surely that is one of the greatest pleasures when buying items directly from the farmers, with produce picked just hours before, bursting with flavor and packed with nutrients. It tastes so much better that way!
I always feel as though the weekend has truly begun once I'm at the Saturday morning market. I love running into friends and catching up on the week's news and chatting with farmers about what they have that's new. It's where I pick up my eggs, delicious goat cheese from Deb Neal at Drake Family Farms, baskets of berries, a bag or two of decadent dates and fill my baskets with great bunches of herbs which tantalize my olfactory senses. I tend to get carried away when faced with such a treasure trove, which often results in impromptu gettogethers in the garden or on the terrace at home. The meals are uncomplicated, sometimes starting with a simple aperitif, a glass of rose perhaps from local vineyards, and an appetizer of fresh radishes, a baguette, some salt, and butter. The dishes that follow are frequently a collection of salads and roasted vegetables capped off with a fruit tart, a clafoutis or a berry topped pavlova. These spontaneous gatherings are often my favorites, a great way to unwind with friends and truly savor the season.
The markets also feed my creative juices when planning special events. My daughter recently celebrated a milestone birthday. She had suggested a picnic in a vineyard with friends and family. I was happy to oblige and asked what dishes she would like, which triggered a remembrance of picnics past. Funny how so many of life's occasions are memorable because of what we ate. Our conversation took place on a sunny Saturday morning as we ambled past magnificent mounds of produce at the Cota Street market, which hummed with activity as people fillet their baskets with everything from asparagus to round, baby squash, and fragrant peaches to tangy lemons. We munched on raw snap peas as we planned the menu. Nearby colorful beets and spring peas were heaped chest high and the idea for a giant multi-hued salad came to mind. We found some raw black-eyed peas and decided to add those to the dish too.
In the end we made a giant salad for twenty people and dotted the top with burrata. We filled the car with prodigious supplies, a patchwork of Provençal tablecloths, some freshly baked bread, hot vegetable quiches and a grilled zucchini and tarragon roasted chicken salad. We gathered around a long table set in the vineyard, the warm air singing with crickets, and celebrated her 21st circumnavigation of the sun.
Laughter and conversation filled the car on the drive home through the undulating hills that connect the Santa Ynez valley to the coast, bathed in a golden glow from the setting sun. A kaleidoscope of images rushed through my mind as I recalled her previous al fresco birthday gatherings, from childhood tea parties to springtime feasts in the garden.
Birthdays and holidays, by their very cyclical nature mark the passage of time, and the food we prepare to celebrate them are a true reflection of the season, mirrored in the produce we find in our local farmers markets. Whether a special occasion or a spur-of-the-moment gathering, these crops are the palette with which we can create delectable memories. Bon Appetit!
STUFFED SQUASH BLOSSOMS
Serves 8 people
Olive oil
1 red onion — peeled and finely diced
4 spring onions — finely sliced
2 small yellow squash — ends trimmed, then chopped into small dice
2 small zucchini — ends trimmed, then chopped into small dice
Salt
Pepper
½ lb baby spinach
2 roasted chicken legs — deboned and all the meat chopped up in to small pieces (if using)
4 oz whole milk ricotta
2 tablespoons each finely chopped chives, parsley and cilantro
16-20 fresh squash blossoms
Pour a little olive oil into a large pan over medium-high heat. Add the red and spring onions and sauté until lightly golden brown. Stir frequently. 4-5 minutes.

Add the squash and zucchini, a good pinch of salt and 6-7 grinds fresh pepper and cook until golden brown. 5-6 minutes.

Add the spinach and chicken (if using) and cook until the spinach has just wilted. 1-2 minutes.

Place the squash-zucchini mixture in a large bowl. Add the ricotta and all the herbs. Stir to combine.

Carefully spoon the mixture into each of the squash blossoms. The petals are delicate so take care not to tear them. Gently twist the top of each blossom to encapsulate the filling.

Heat a little olive oil in a large shallow pan over medium heat. Once the oil is hot, carefully sauté the blossoms until lightly golden brown on all sides. As they cook quickly, no more than a minute or two, I like to do this just before serving so that they are still hot.

Note: The blossoms go particularly well with a salad of wild greens. You may also have some filling left over – it's delicious on toast!
ROASTED BEET AND SNAP PEA SALAD WITH BURRATA
Serves 8 people
2 lbs assorted small beets (red, yellow, chioggia) — washed clean, root end and leaves trimmed
Olive oil
Salt
1 lb sprouted black eyed peas — thoroughly rinsed
1 lb snap peas — sliced lengthwise on a bias
Pepper
Juice and zest of 1 lemon
1 tablespoon Dijon mustard
1 tablespoon red wine or champagne vinegar
2 tablespoons finely chopped chives
2 tablespoons finely chopped Italian parsley
1 large burrata — cut into eighths
Preheat the oven to 375 degrees.

Place the washed, but unpeeled, beets into a shallow baking dish. Drizzle with a little olive oil and a good pinch of salt. Cook for 35-40 minutes, or until tender when pierced with a sharp knife. They should not be overcooked though. Remove from the oven and let cool before peeling. Once peeled, cut each beet into eighths.

Steam the black-eyed peas for 15-20 minutes until just cooked. Drain and rinse thoroughly.

Pour a little olive oil into a large skillet placed over medium-high heat. When the oil is hot, sauté the sliced snap peas with a good pinch of salt and 5-6 grinds of black pepper. Cook for 2-3 minutes, until just slightly golden. Remove from the heat and add the lemon zest and juice. Stir to combine.

In a large salad bowl, whisk together the mustard, vinegar and 3 tablespoons olive oil until you have a thick emulsion. Place salad utensils over the vinaigrette.

Add the cooked black-eyed peas, sautéed snap peas and peeled beets to the bowl, on top of the utensils. Sprinkle the vegetables with the chives and parsley.

When ready to serve, toss gently to combine. Spoon some salad onto each plate and top with a piece of creamy burrata.
GRILLED ZUCCHINI AND TARRAGON ROASTED CHICKEN SALAD
Poulet a l'estragon (tarragon chicken) was — actually still is — one of the dishes that I always looked forward to when visiting France. It's classic bistro fare, or cuisine bourgeoise. In other words, good home cooking. Every time I find this herb at the farmers market, this is the dish I want to make. This salad pairs moist tarragon roasted chicken with grilled zucchini and a mustardy vinaigrette. To me it is the taste of summer in salad form.
Serves 8 people
1 3 ½ lb chicken
2 yellow onions — peeled and thinly sliced
Olive oil
4 sprigs tarragon to roast with the chicken plus the leaves from 1-2 more stems for the finished salad
Salt and pepper
5 zucchini — ends trimmed away and then sliced on a bias
1 tablespoon Dijon mustard
4 tablespoons olive oil
1 tablespoon tarragon vinegar or white wine vinegar
Preheat the oven to 400 degrees.

Cover the bottom of a roasting pan with the sliced onions. Place the chicken on top and drizzle with a little olive oil. Tuck the tarragon sprigs around the chicken. Sprinkle a little salt over the chicken and then grind some black pepper over the top. Roast for 90 minutes.

Spoon the mustard into the bottom of a large salad bowl. Pour in the olive oil and vinegar and whisk together well. It will look like mayonnaise. Place the serving utensils on top of the vinaigrette.

Pour a little olive oil into a large mixing bowl and add all the zucchini slices, a pinch of salt and some pepper. Toss to coat.

Place a griddle on top of a stove and heat so that it gets nice and hot. Grill the zucchini slices so that they are just cooked. Turn them after 2 minutes. You may have to do this in batches as all the slices may not fit on the griddle in one layer. Add the grilled zucchini to the salad bowl.

Place the cooked chicken on a cutting board and let rest for 10 minutes before carving. Carve the chicken, removing all the meat and chopping it up into bite-sized pieces. Add the chicken pieces, the sliced roasted onions and the fresh tarragon leaves to the bowl.

When you are ready to serve, toss the ingredients well so that everything gets nicely coated with the vinaigrette.



Note: Deft use of the herb is key, as the slightly anise flavored herb can be overpowering if used in large quantities.
GREEN TOMATO, MELON AND CUCUMBER SOUP
Last summer was boiling hot, as in too-hot-to-even-think-about-cooking hot. We ate gardens of salads and drank gallons of very cold drinks. One sweltering Saturday morning at the market, I sampled green melons that were so fresh and flavorful that I thought I would try making a chilled soup with them. This was the refreshing result -- perfect for a summer's day, boiling or otherwise.
Serves 8 people
For the soup:
1 lb (6-7) green tomatoes
1 green Honeydew or Bailan melon (3-3½ lbs) — halved, seeded, peeled and roughly chopped
3 Persian or 1 English cucumber — peeled and roughly chopped
4 tablespoons olive oil
Large pinch of sea salt
5-6 grinds black pepper
For the garnish:
16 yellow pear or small yellow blush tomatoes — quartered
2 tablespoons cilantro leaves — roughly chopped
2 tablespoons chopped Thai basil leaves
Zest and juice of 1 lemon
1 tablespoon olive oil
Pinch of coarse sea salt
6-7 grinds black pepper
Pink flake salt
Place all the soup ingredients in a blender and puree until smooth. Alternatively, place the ingredients in a deep bowl and puree with an emersion blender. Chill the soup for a minimum of 1 hour.

15 minutes before serving the soup, combine all the garnish ingredients in a medium bowl and toss well to combine.

Ladle the soup into eight bowls. Spoon some of the garnish into the center of each soup bowl and sprinkle with a little pink flake salt just before serving.

Market Days: The markets, which began in 1983, have proliferated throughout the county both in locations and numbers of farmers. In the height of summer, it is not unusual to have 110-120 different farm stands at the largest, Saturday morning market in the heart of Santa Barbara.
Tuesday: 4:00pm-7:30pm - 500 and 600 blocks of State Street, Santa Barbara
Wednesday: 2:30pm-6:30pm - Copenhagen Drive and First Street in Solvang
Thursday: 3:00pm-6:30pm - 800 block of Linden Ave in Carpinteria
Friday: 8:00am-11:15am - 1100 & 1200 blocks of Coast Village Road in Montecito
Saturday: 8:30am-1:00pm - Corner of Santa Barbara and Cota Streets, Santa Barbara
Sunday: 10am-2:00pm - corner of Storke and Hollister; 7004 Marketplace Dr in Goleta