Written for Edible Santa Barbara - Spring 2015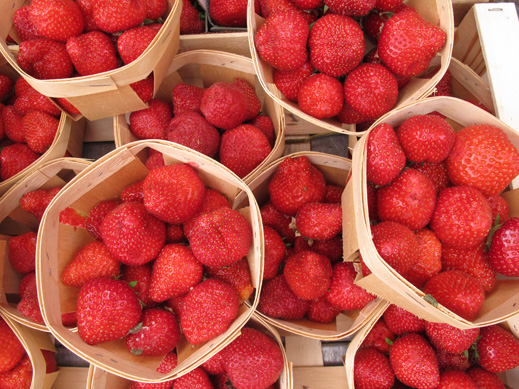 Strawberries dot the memories of my childhood like fragrant gems, part of a delicious backdrop to memorable events.
My appreciation of these delectable fruit started at a young age in the shape of tiny wild strawberries in my grandparent's garden in alpine France. "Fraises des Bois' have an unusual earthy, intense flavor and heady perfume. They could sometimes be found in small tarts, glazed with currant jam, glistening like jeweled box tops in the village patisserie's display case. I coveted them. My grandmother liked to combine these wild berries with red currants from her garden and raspberries to make a delicate salade de fruits rouges (a red fruit salad). She would often serve this with pale, scented madeleines and lady fingers, paired with a light oolong tea that was poured into impossibly thin porcelain cups. This elaborate treat was prepared for her bridge group. They would pause to take light refreshments before getting back to the serious game at hand. I considered it a rite of passage when I was deemed old enough to help serve these delicacies being presented to her guests in her sitting room. Afterwards, back in the kitchen, I would surreptitiously dip a madeleine in the sweet berry syrup, a clandestine treat that made it taste all the better. This was THE taste of early summer.
Picture summer 1976. These berries are the ubiquitous summertime treat in England and nowhere more prevalent than at Wimbledon. It was an unusually hot July in London. My father took me to the Gentlemen's Final at those most hallowed of hallowed grounds. To say that I was obsessed with tennis is an understatement. He and I were both avid fans. The tickets were a huge surprise, and for the final no less! We found our seats on Center Court and sat behind a lady with an impossibly large hat, which prompted a bobbing dance of heads in order to see Bjorn Borg beat Ilie Nastase. The English, lovers of tradition, have a penchant for afternoon tea. You could be watching the most riveting match, but four o'clock in the afternoon rolls around and they will take a break for tea. Anyone who has ever watched a cricket match can attest to this – even the players break for a quick cuppa and some cucumber sandwiches. Thankfully Borg won in straight sets and the match had just ended by the appointed hour. The Center Court throngs left en masse and a made a beeline for the tea tents arrayed on the grounds. We dutifully stood in line to get a bowl of strawberries and cream. It was de rigeur. Oddly I don't remember how they tasted, my memory of that distant Saturday is caught up in the pomp and circumstance of the occasion. However I do remember that the enticing aroma of the mounds of strawberries wafted across the Wimbledon lawns. Hardly surprising given the vast quantities of berries consumed there each year.
The strawberries served at Wimbledon still come from Kentish farms and are delivered on a daily basis at the crack of dawn. They serve some 62,000 pounds (yes pounds) of berries during the fortnight. The tradition goes back to 1953, although the paring of cream with berries can be traced back some 500 years prior, to the reign of Henry VIII. Berries and cream, in all guises, have ever since enchanted the sweet tooth of the British populous, from scones with clotted cream and strawberry jam to trifles and Eton Mess.
1986 – Los Angeles. I moved to Tinsel Town in the middle of winter leaving behind the omnipresent grey skies of London and emerged blinking, in the bright Californian sunshine. I was surrounded by tanned people with impossibly white teeth, who worked frantically during the day, and exercised morning, noon and night. They wore athletic shoes with suits and I felt as though I had been transported into a Jane Fonda exercise video. For recreation people met in bars and drank ridiculously frothy drinks called strawberry daiquiri's – in March - made with fresh strawberries! This was about as far from an English pub with a warm pint of beer as you could be. We had parties at home where the cocktail du jour was known as 'pink stuff' – an innocuous looking mixture made of pureed strawberries, ice and a lethal amount of vodka, all served up from a large punch bowl. People danced to a sound track of Dire Straights, Annie Lennox and Robert Palmer's 'Addicted to Love' as we whizzed up flats of strawberries. Heady days indeed!
Santa Barbara – a dozen years later. I stood in my new home surrounded by a mountain of unpacked boxes on a late Spring afternoon. My infant daughter crying in my arms after the hectic drive up the coast, I decided to explore the garden in an effort to sooth her. To my utter amazement I stumbled across a couple of patches of wild strawberries peeking out from behind the rocks on the edge of a flowerbed. Their fragrance and taste instantly transporting me back to my grandmother's garden all those years before. It was as though I had come full circle.
These little plants never produced an abundant crop, but rather a small juicy treat to pop in your mouth as you passed by, or a little delicacy to top a mixed berry tart. My daughter liked to eat them on the way to school and I introduced her to the delights of scones with clotted cream and strawberry jam; an afternoon treat that we still share with a cup of tea.
SPICED STRAWBERRY-POMEGRANATE JAM
2 pints strawberries — rinsed clean if necessary, hulled and halved
2/3 cup sugar
2 teaspoons pomegranate molasses
8-10 grinds black pepper
Juice of 1 Meyer lemon — keep the lemon as you will add it to the jam as it's cooking
Place all of the ingredients (including the squeezed out lemon rinds) in a large saucepan placed over medium heat. As the strawberries begin to render some juice, mash the strawberries using a large fork or a potato masher. It's okay if there are some larger pieces – the jam is not supposed to be completely smooth.
Cook for 10-13 minutes, skimming off any foam that forms on the surface of the jam. The jam is ready when it thickens enough to coat the back of a spoon.
Serve warm over Greek yogurt, with fresh berries and cream, as part of a trifle, with scones and clotted cream or an Eton Mess.
Note: This jam will keep refrigerated, for 2 days.
STRAWBERRY-CITRUS SALAD
Serves 8 people
¼ cup olive oil
2 tablespoons Meyer lemon juice
Large pinch coarse sea salt
5-6 grinds fresh black pepper
1 pint fresh strawberries­ — rinsed if necessary, hulled and quartered
1 small fennel bulb — very finely sliced (you need 1 cup of sliced fennel)
1 small Meyer lemon — finely diced
2 blood oranges — peeled and diced
8 oz baby arugula — if you cannot find baby arugula try and find the smallest leaves possible
Pour the olive oil and lemon juice into a medium-sized salad bowl. Whisk together to form an emulsion, add the salt and pepper and whisk again. Place serving utensils over the vinaigrette.
Place all of the remaining ingredients over the utensils ensuring that they do not fall into the vinaigrette.
When ready to serve, toss the salad gently so that it is well combined.
STRAWBERRY AND RED LEAF LETTUCE SALAD
Serves 8 people
¼ cup olive oil
1 tablespoon fig balsamic vinegar
Salt
Black pepper
1/3 cup pistachios
2-3 small heads of red leaf lettuce — leaves rinsed clean, dried and left whole
1-2 small heads of red frisee lettuce — leaves rinsed clean, dried and left whole
1 pint fresh strawberries — rinsed if necessary, dried, hulled and thinly sliced horizontally
½ bunch cilantro — stems removed, leaves left whole
Whisk the olive oil and balsamic vinegar together in a large salad bowl. Add the salt and pepper and whisk again. Place serving utensils over the vinaigrette.
Dry roast the pistachios in a small pan placed over medium heat until they are just golden. Place the pistachios in the salad bowl. Add the remaining ingredients to the bowl, placing the greens on top of the utensils so that they do not fall into the vinaigrette.
When ready to serve, toss the salad gently so that it is well combined.
STRAWBERRY TARTE WITH LEMON MASCARPONE
Serves 8
For the pastry:
9 oz unbleached all-purpose flour
6 oz slightly softened butter — cut up into small pieces.
1 large egg
Zest of 1 lemon
Pinch of salt
Preheat oven to 400 degrees.
Butter 8 individual tart pans with removable bottoms.
Place all the ingredients into a food processor and use repeated pulses until the mixture resembles coarse breadcrumbs, then use longer pulses until the dough forms a ball in the bowl of the food processor.
Wrap the dough in plastic wrap and refrigerate for 20 minutes before rolling out.
Place the unwrapped dough on a lightly floured work surface. Roll the dough out to a 1/4 inch thickness. Line each tart pan with the dough, trimming any excess from the edges. Place some parchment paper over the dough in each pan and place some pie weights or rice on top.
Bake in the oven for 20-25 minutes so that the dough is golden brown. Remove from the oven and set aside to cool.
For the mascarpone:
3/4 cup mascarpone
1 teaspoon vanilla bean paste
Zest of 2 lemons
½ tablespoon light brown sugar
Combine all the ingredients in a small bowl and then spoon an equal amount of the mascarpone mixture into each the prepared tart shells. Smooth the mixture out so that it covers the bottom of each shell.
For the strawberries:
3 baskets strawberries (with some wild berries if possible) — cleaned, hulled and cut in half
Honey
Starting from the outside edge of the tart, place the strawberries standing up cut side towards the middle of the tart. Work in concentric circles so that the strawberries create a flower pattern in the tartlettes. Drizzle a little honey over the strawberries.