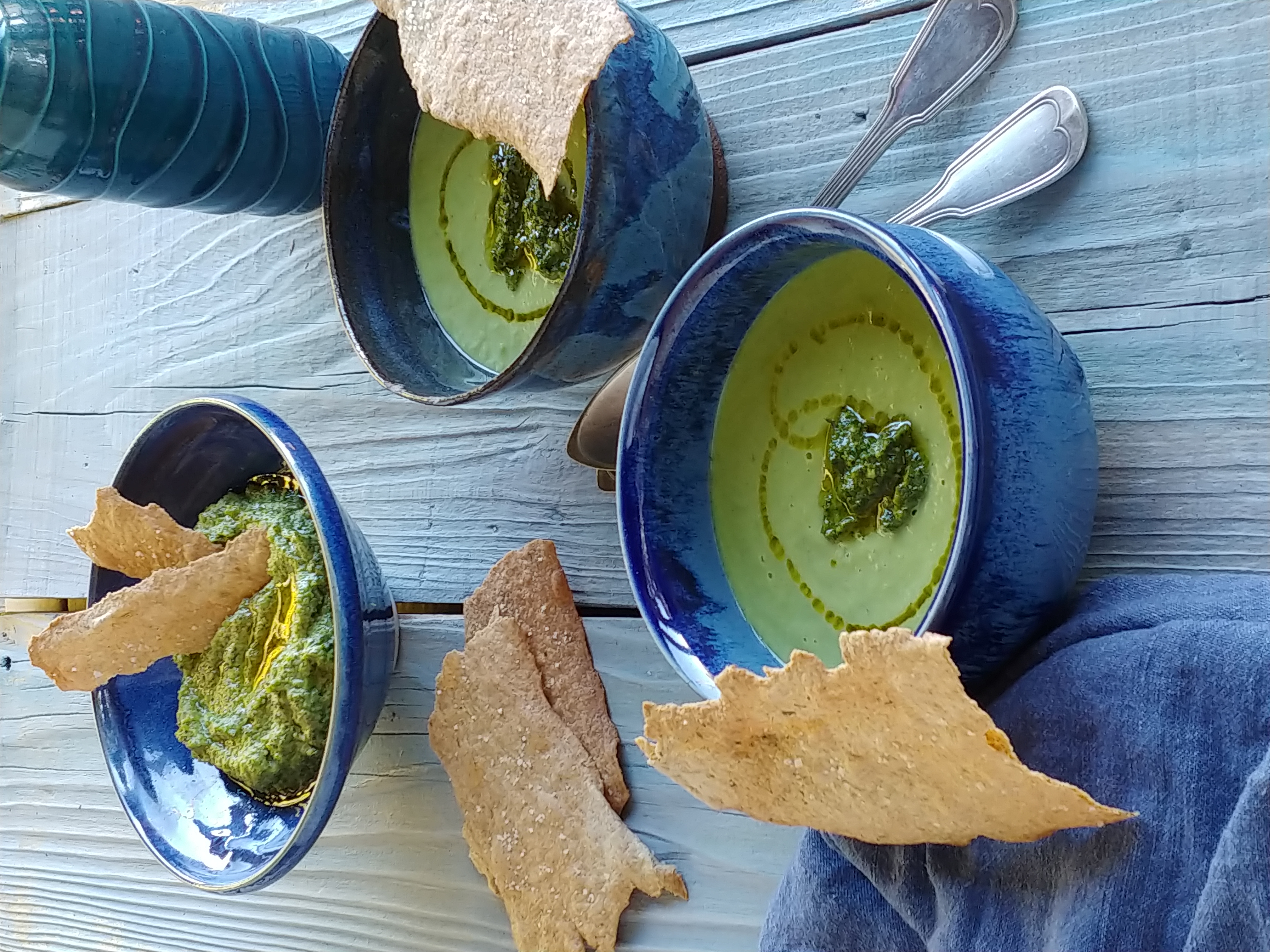 "Pounding fragrant things – particularly garlic, basil, parsley – is a tremendous antidote to depression. But it applies also to juniper berries, coriander seeds and the grilled fruits of the chilli pepper. Pounding these things produces an alteration in one's being – from sighing with fatigue to inhaling with pleasure. The cheering effects of herbs and alliums cannot be too often reiterated." ~ Patience Gray
Have you ever caught the fragrance of basil in the air and thought of pesto, or brushed by lavender and thought of Herbes de Provence? Have you noticed how specific aromas conjure up favorite dishes, one's olfactory memory making a Proustian leap into the past, a remembrance of all things delicious? Herbs, great mounds of them at the spring farmers markets have that effect of me. I see tarragon, rub the leaves between my fingers releasing its anise and peppery scent, and think of the Poulet a l'estragon my grandmother used to make; I see the willowy branches of lemon verbena, swooning slightly at its floral perfume and think of afternoon tisanes and scented madeleines; I see basil and think of pistou, the rich basil sauce swirled into the vegetable soup of the same name. I am drawn to their fragrance and the promise they hold within their leaves.
Herbs are a culinary paintbox, each adding hues and depth to a dish that brighten and invigorate our palettes, complementing and intensifying the flavors of a recipe's main ingredients. Mint added to a bowl of spring peas pop with more flavor; puree parsley, add some olive oil, capers, and anchovies and you have a piquant salsa verde that will add verve and depth to a platter of roasted vegetables; anise scented, feathery dill complements salmon; finely chop handfuls of parsley and mint, add a little bulgur and you have the basis for classic tabouleh. Herbs can be transformative.
Cuisines where herbs are more than a garnish are not a modern concept. Dive into the culinary lexicon of most middle eastern countries and you find a rich treasury of dishes that celebrate all things herb. From Egyptian herbalist schools in 1500BC to medieval monastery gardens, from a liberal sprinkling of culinary references in Shakespeare's plays to recipes in some of the earliest known cookbooks, the use of wild and cultivated herbs in medicine and cooking has been documented through millennia. Herbs proliferate in the oldest known cookery book, De Re Coquinaria dating from the 1st century AD with recipes such as Artichokes with Hot Herb Dressing, Braised Mushrooms with Coriander, or Baked Trout with Honey Mint Sauce; seven centuries later, in 1699, John Evelyn wrote Acetaria: A Discourse on Sallets in which he champions the copious use of herbs and greens in healthy cooking, yet making herbs the focal point of dishes, and using them in abundance is a relatively new concept in American cuisine. Many cookbooks from the 1950s call for the parsimonious use of dried herbs with few, if any, fresh herbs in sight except for the odd parsley sprig, used as ornamentation rather than for flavor. The explosion of ethnic foods over the past 15-20 years has changed all of that. The interest in Levantine cooking, fueled in part by the success of books by Yotam Ottolenghi, Claudia Roden, Sabrina Gayour and Naomi Duguid has pushed the demand for fresh herbs to all-time highs. When I first came to California in the mid-80s you would be hard pushed to find an array of fresh herbs at the market, now we find 5 different kinds of basil, 3 varieties of thyme, edible flowers and a cornucopia of herbs rarely found outside a keen gardener's patch until not that long ago.
My love affair with herbs began in my grandmother's garden, kitchen and at her dining table. She lived high in the French Alps where the growing season was not long. Her summer garden had chives, tarragon, parsley and chervil. The occasional basil plant sat in her kitchen. She kept a pair of scissors on a hook under one of the kitchen cabinets whose sole purpose was to snip chives. I felt privileged when I was finally old enough to use them. At her side I learnt to choose vegetables and lettuces with care, to prepare the leaves and makes simple fresh salads. Hers were not complicated salade compose, but ones filled with perfect greens and fragrant herbs, dressed with a simple, light vinaigrette. They were crisp and fresh, ideal palette cleansers served after the main course. She had a deft hand with her cooking, classic cuisine bourgeoise, creating nuanced flavors in her dishes. She used herbs judiciously; finely chopped parsley brought freshness to her Hachis Parmentier (French shepherd's pie) and fines herbes infused her omelets for example. These were the steppingstones upon which I built my herbal repertoire.
The more I cooked and explored the cuisines of the Mediterranean basin the more herbs I used, the more herbs I used, the more I came to appreciate their ability to be the focal point of a dish, their floral, bright notes the arias in an opera of vegetables. I went from teaspoons to tablespoons to handfuls of herbs in recipes.
I have tried them nipped, crushed, striped, rubbed, tossed, mixed, and pureed, relishing in the fact that these different preparations enhance a different element of each herb. Crushed basil leaves morph into glorious pesto, thinly sliced into a chiffonade they provide peppery ribbons of flavor sprinkled over any dish, and small leaves left whole in a salad provide big bursts of flavor for example.
As a rule of thumb when cooking with herbs, handle soft herbs, such as basil, dill, cilantro, chervil, and marjoram, gently, their leaves are tender and damage easily and are better used with little cooking, or used uncooked when their flavor, color and vibrancy are retained, for example cooking purple basil will turn the leaves black and mute its heady clove-pepper taste. So called hard herbs, such as rosemary, bay leaves, thyme and oregano with their woody stems enhance dishes through longer cooking times. Add them to roasts, use them to baste, and let their aromas infuse the dish as heat extracts, then releases their oils into the ingredients.
Discover new herbs at the local farmers markets. BD of Earthtrine farms has tables filled with an apothecary of aromatic plants. Pick up a bunch of fresh za'atar to roast with Romanesco broccoli, try fresh sorrel leaves in a delicate soup, use lemon verbena to infuse cream to make panna cotta, float chamomile flowers on top of the poached stone fruit. Explore new varieties of your favorite herb too, try Thai, lemon and purple basil for instance, reveling in their unique essence. Above all have fun and be bold in your use of herbs. Bon Appetit!

Roasted Beets, Heirloom Carrots and Salsa Verde
Serves 4 people
4 golden beets with their greens — greens washed, trimmed and reserved; beets carefully washed
4 heirloom carrots — use the yellow or white ones if you can find them, washed and sliced on a bias
Olive oil
Coarse sea salt
Pepper
Preheat the oven to 400 degrees.

Place the unpeeled beets in a small oven proof dish, drizzle them with a little olive oil, and sprinkle with a pinch of salt and pepper. Roast for 45 minutes, or until a knife easily pierces the beets. Once cooked, let cool, then carefully peel, and thinly slice the beets.

Place the sliced carrots in a separate ovenproof skillet. Drizzle a little olive oil over the top and toss to coat. Add a pinch of salt and pepper and roast them alongside the beets. Remove from the oven after 20 minutes. Spoon the carrots and any pan juices into a serving platter.

Pour ½ tablespoon olive oil into the skillet the carrots roasted in placed over medium heat. Add the beet greens and sauté for 1 minute, or until just wilted. Add the beet greens to the carrots.

Add the sliced beets to the dish and spoon the salsa verde over the vegetables.
For the salsa verde:
4 anchovies — drained of oil
10 basil leaves
10 mint leaves
¾ cup finely chopped parsley leaves
2 tablespoons capers
1 small shallot — peeled and minced
½ tablespoon Dijon mustard
Zest and juice of 1 lemon
Large pinch salt
5 grinds Black pepper
1/3 – ½ cup olive oil
Place the salsa ingredients into a food processor fitted with a metal blade. Pulse until the mixture resembles a thick paste, then, with the motor running, pour in the olive oil. Use only enough olive oil to blend the salsa. The mixture should have a chunky consistency and not be too loose.
Grilled Zucchini with Avocado-Tarragon Crema
Serves 4 people
For the crema:
1 avocado — pitted and flesh scooped out
1/3 cup Greek yogurt
Zest and juice of 1 lemon
Pinch sea salt
5 grinds black pepper
1 tablespoon finely chopped tarragon leaves, plus a few small tarragon leaves for decoration
Place all the crema ingredients into a food processor fitted with a metal blade. Run until you have a smooth cream mixture.

Using a spatula or a spoon, smear the crema over the surface of a shallow platter.
For the zucchini:
2 large zucchini — ends trimmed, cut on a bias into ¼-inch thick slices
Olive oil
Salt
Black pepper
1 tablespoon toasted pepitas
In a medium bowl, toss the sliced zucchini with ½ tablespoon olive oil, a pinch of salt and 6-7 grinds pepper.

Cover the hot griddle with the zucchini slices taking care not to overlap them. Grill for 3 minutes on each side.

You may have to do this in two batches. Place the cooked zucchini on top of the avocado crema, then scatter the toasted pepitas over the top. Finish the dish with a few fresh tarragon leaves.
Steamed Spring Potatoes with Dill-Chive Vinaigrette

Serves 4 people as a side dish
1 lb small new potatoes
For the Vinaigrette:
1 tablespoon Dijon mustard
3 tablespoons olive oil
1 tablespoon white wine vinegar (or champagne vinegar)
1 tablespoon finely chopped dill
1 tablespoon finely chopped chives
Pinch of sea salt
Black pepper
Steam the potatoes until just knife tender, about 8-10 minutes depending on size. Place the cooked potatoes into a serving bowl.

For the vinaigrette, combine the mustard, olive oil and whisk together well to form an emulsion. Add the chopped dill, chives, salt and pepper and whisk to combine. Spoon the vinaigrette over the potatoes and gently combine. Serve at room temperature.
Grilled Asparagus with Spring Peas, Burrata and a Lemon-Mint Vinaigrette
Serves 4
For the vinaigrette:
3 tablespoons olive oil
Zest and juice of 1 lemon (Meyer if possible)
1 tablespoon finely chopped mint
Pinch sea salt
4-5 grinds black pepper
For the vegetables:
1 tablespoon finely chopped mint
1 tablespoon finely chopped chives
2/3 cup shelled English peas
1 lb asparagus — ends trimmed
Olive oil
Salt
Black pepper
1 burrata — cut into 8 pieces
Place all the vinaigrette ingredients into a small bowl and whisk together well.

Heat a griddle pan over high heat.

Combine the mint and chives in a small bowl, yet large enough to contain the peas.

Bring a small saucepan filled with 1½ cups water to a boil. Add the peas and cook for 2 minutes. Drain and immediately add the peas to the bowl with the mint and chives. Toss gently to combine.

Place the asparagus on a plate or shallow dish, pour ½ tablespoon olive oil over the spears and roll them in the dish to coat lightly. Season with a pinch of salt and 6-7 grinds pepper.

Lay the spears on the hot griddle taking care not to overlap them. Grill for 3 minutes, then turn them over to grill a few minutes more. Remove from the griddle and lay them on a serving dish. Spoon the peas over the asparagus. Arrange the burrata over the vegetables and drizzle the mint vinaigrette over the top. Serve while the asparagus are still warm.
Spring Pea and Leek Soup with Pesto
For the Soup:
2 large leeks — cleaned and chopped (yield 2 ½ cups)
1 tablespoon olive oil
1 ½ lbs shelled English peas
5 cups vegetable stock
Salt
Black pepper
Pour the olive oil into a large saucepan placed over medium heat. Add the leeks and cook until very tender, stirring frequently. This will take 8-10 minutes. Be patient and resist the temptation to turn up the heat.

Add the peas and cook for 2 minutes. Add the vegetable stock and bring to a strong simmer. Season with 2 large pinches salt and 8-10 grinds black pepper.

Puree the soup in a blender or use an emersion blender to make the soup as smooth as possible.

Serve hot with a large spoonful of pesto (recipe follows) added to each bowl. Serve the pea hummus with crackers alongside as an added treat.
For the pesto:
2 cups packed basil leaves — roughly chopped
Large pinch of salt
8-10 grinds black pepper
1 shallot — peeled and finely chopped
2 tablespoons pine nuts
½ cup olive oil
Juice of 1 large lemon
Place all of the ingredients except the olive oil and lemon juice into a food processor fitted with a metal blade. Run until you have a thick paste. With the motor running gradually add the olive oil and lemon juice. The pesto can be made ahead of time and stored, refrigerated for up to 3 days. If keeping for more than 24 hours pour a little olive oil over the surface of the pesto to prevent discoloration.
Pea and Mint Hummus
Serves 4 as an appetizer
1 ½ cups shelled English peas — blanched for 2 minutes in boiling water then drained
1 avocado
¼ cup finely chopped fresh mint leaves
Juice of 1 ½ lemons
1/3 cup olive oil
Large pinch of salt
5-6 grinds black pepper
Place all of the ingredients into a food processor fitted with a metal blade. Puree until smooth. Taste, adding more lemon juice and salt if necessary. Serve with crackers or toasted sourdough.