Written for Edible Santa Barbara - Summer 2010 issue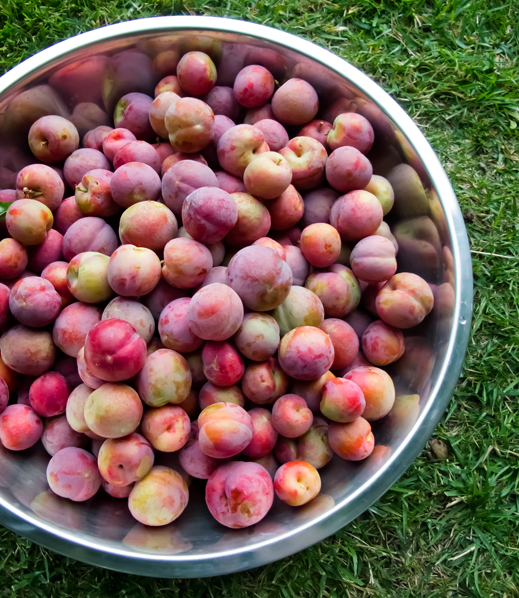 "Talking of pleasure, this moment I was writing with one hand, and with the other holding to my Mouth a Nectarine -- how good how fine. It went down all pulpy, slushy, oozy, all its delicious embonpoint melted down my throat like a large, beatified Strawberry." John Keats
The great poet could well have been standing in my garden when he wrote those words. Two years ago I moved across town, into a charming cottage of a house, complete with white picket fence and a smattering of fruit trees. I had been most reluctant to part with my previous garden, where ten years worth of planting, seeding, pruning and care had produce an orchard filled with plums, apricots, citrus and myriad other delicious offerings. The new house – complete with a micro climate that all my potted plants had to adapt to – had exactly one plum and one nectarine tree.
We moved in May. The nectarine tree was already dripping buds of golf-ball sized fruit. They looked amazing. I eagerly anticipated the day when they could be harvested, thereby unleashing a great treasure of nectarine filled delicacies. A few weeks passed, the fruit plumped, they tempted you – 'eat me' – Alice (in wonderland) would have readily complied. So did I. I spat out that first bite. It was quite frankly revolting. It was mealy, sour and dry. I decided that I had succumbed to temptation too early and waited another week. Now they looked luscious and moist. I took another bite. It is quite hard to express my utter disappointment. They were, if that is possible, worse than before. I looked up at the tree filled with beautiful fruit and thought of the waste. Everyday I would hear a few of them splat on the ground below and pondered what – if anything – I could do.
The answer, of course, was nothing. Nature, in its own marvelous rhythm, has a way of dealing such things. Despite the fact that less than six miles separate the two houses, the cooler climate at the new one – being so much closer to the sea – greatly affected the manner in which the fruit matured.
A week of much warmer weather arrived. I was getting a little frustrated with the tree, raining down fruit onto the grass below. One morning I stepped into the garden. The sky was an incredible deep blue, the air was warm at ten o'clock and I decided that I would try again. I reached up and plucked a large nectarine off the tree. It had a sweet juicy aroma. I took a bite and was instantly transported back to my childhood, eating freshly picked fruit with abandon, juice running down in between my fingers and onto my chin, the sweetness of the flesh melting in my mouth. I polished off the entire thing, standing under the tree with a contented smile. It was perfection. Keats was right.
At that point it dawned on me that I now had about five hundred nectarines to deal with that were nearly all ripe at the same time. The anticipated flurry of dishes ensued. Crumbles, salsas, grilled, in tarts, in salads, with duck – succulent by the way, and in great cauldrons of jam. The scent was intoxicating.
The plum tree duly followed suit and the summer was filled with scrumptious treats directly from the garden. I was inspired and hunted down a variety of Apricot that will hopefully deal with the temperate climbs by the sea. It will be another year or two I think before it produces any fruit. But my stone fruit collection is growing.
When choosing the apricot tree I came across some pluots. I have to admit that until last year I had avoided all hybrid fruit. To my mind there was something very bizarre about a cross between a plum and an apricot. Different versions of what I viewed (incorrectly) as genetically modified fruit seemed to be spreading through the summer markets. Plumcots, Pluots, Apriums; what ever their names, I avoided them. A plum should be a plum. An apricot should be an apricot. Then I tasted one. A local farmer from whom I often purchased peaches suggested I try one. I resisted – sighting my pure fruit ideal – and he looked at me with bewilderment. "Just try it". He coaxed a piece into my hand and I have been a convert ever since. Each variety has a multitude of flavors. They are sweet and juicy, with the definitive traits of their parental root stocks. They make sensational preserves.
The farmer's peaches were equally excellent but this is one tree I have not planted here. When I lived in Los Angeles I had an old peach tree, tucked into a warm corner of the garden. It was gnarled and contorted as though the successive summers had weighed it down with the effort of producing grapefruit-sized peaches. They were sumptuous, down-covered orbs, the colour of the setting sun. Little wonder that so much has been written about peaches over the centuries.
They came to America from Spanish explorers but their origins lie further east in China where they have been cultivated for more than three thousand years. They, as with their other stone fruit brethren; plums, apricots, cherries and nectarines – are all species of the genus Prunus and members of the large rose family. Its English name Persicum Malum comes from the Latin, meaning Persian Apple, a reflection of its physical journey across Europe as Persians introduced peaches to the Romans.
Their blossoms feature in Chinese art history and are part of folklore in much of the far-east. A Chinese legend speaks of the divinity Yu Huang, also known as the Jade Emperor, who had a garden of "immortal peaches." Everlasting life was said to be conferred on those who ate them. Xi Wangmu, the Emperor's mother is said to have guaranteed the gods' eternal presence in her palace by feeding them the peaches of immortality. Fortunately for us, we do not have to wait the legendary three thousand years for the fruit to ripen, as was the case with the 'immortal' variety.
Today's peaches ripen during summer months and are generally available from early June to September, although there are some late summer varieties that make it through October in this part of the world. They ripen from the stem end and along the seam. However peaches can often be mealy, usually caused when they are stored below 45 degrees Fahrenheit as is often the case in many supermarkets, another reason to buy them from the farmers at the local markets.
From their heady almond-laced scent and marvelous texture, peaches have inspired poets and philosophers who have dwelled on their sensuous characteristics. In ancient Chinese vernacular, the word peach – meaning delicious and soft - was used to represent a young bride; in the time of Louis XIV a variety was know as 'Teton de Venus' or Venus's breasts; in England today, an attractive woman is described as a peach.
Emile Zola, often given to writing lyrical passages, described them thus in his book 'The Belly of Paris' - In front was an array of choice fruits, carefully arranged in baskets, and showing like smooth round cheeks seeking to hide themselves, or glimpses of sweet childish faces, half veiled by leaves. Especially was this the case with the peaches, the blushing peaches of Montreuil, with skin as delicate and clear as that of northern maidens, and the yellow, sun burnt peaches from the south, brown like the damsels of Provence.
Which ever variety you choose, savor them over the course of the summer. Try them grilled with a sprinkling of brown sugar and a dollop of fresh vanilla ice cream or just pure and simple, complete with juices running down your fingers.
Mache and Pluot Salad with Lemon and Mint Vinaigrette
Serves 8 people
For the salad:
8 oz Mache (lamb's lettuce)
8-10 Pluots – use different varieties - sliced
2 oz Marcona almonds
1 small bunch chives – finely chopped
4 oz goat cheese - crumbled
For the vinaigrette:
2 cloves garlic – peeled and finely chopped or crushed
Juice of 2 large lemons (or 3 small ones)
Coarse sea salt
½ tablespoon honey
1/3 cup olive oil
4-5 stems fresh mint – leaves removed and finely chopped
½ tablespoon fennel seeds – dry roasted for 1 minute
Freshly ground pepper
Combine the garlic, lemon juice, a large pinch sea salt, honey and olive oil in the bottom of a large salad bowl and whisk together vigorously. Add in the chopped mint, fennel seeds and 4 or 5 twists of pepper and whisk together again.
Place salad servers over the vinaigrette. Place the mache greens, pluots, Marcona almonds and chopped chives on top of the servers, ensuring that the greens stay out of the vinaigrette until you are ready to serve the salad.
Toss the salad well just before serving. Distribute evenly between eight salad plates. Put a little of the crumbled goat cheese on top of the salad on each plate. This is delicious served with warm olive bread.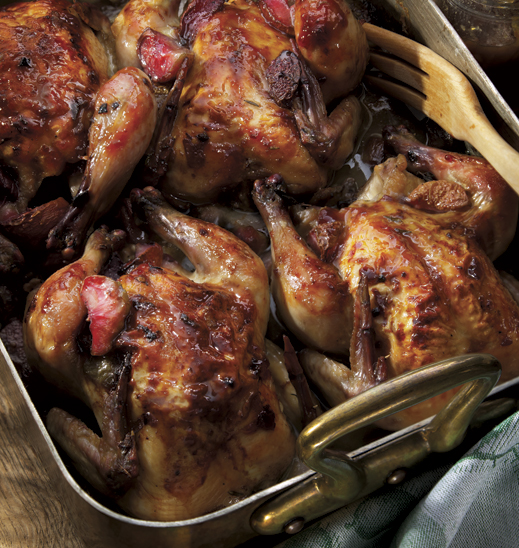 roasted cornish hens WITH plums and a plUm glaze
Serves 8
16 firm ripe plums – cut in half
1/ 2 cup cognac or brandy
1/ 2 cup shallots, chopped
3 tablespoons butter
4 oz pistachios, chopped (1 cup)
Salt and pepper to taste
4 Cornish Hens
2 cups plum jam
Preheat the oven to 400 degrees.
Place the plums and cognac in a bowl and let stand for 10 minutes. Drain the plums, reserving the liquid.
In a sauté pan, sauté the shallots in the butter until translucent. Stir in the salt, pepper, pistachios and plums and combine well. Cook for a further 3 minutes. Remove from the heat.
Place the Cornish hens in a roasting pan and spoon the plum/shallot mixture around them and then coat each hen with the plum jam. Place in the center of the oven and bake for 1 hour.
Remove the game hens from the oven and place them on a carving board. Let them rest for ten minutes before carving. Warm 8 dinner plates in the oven.
Spoon some of the plum pieces onto each of the warmed dinner plates.
Stir the reserved plum liquid (from step 2) into the roasting pan and reduce the pan juices over a medium hot stove, until lightly thickened. Cut the game hens in half, place one half on each plate alongside the plums and pour a little of the pan juices over the top. Serve with the peach salsa.
PEACH SALSA
Serves 8 as a side dish
Coarse sea salt
Freshly ground pepper
Olive Oil
Juice of ½ lemon
6 peaches – cut into slices – try mixing varieties
2 spring onions – finely chopped
1 Granny Smith apple – cored and thinly sliced
1 small bunch chives – finely chopped
½ bunch cilantro – finely chopped
10 mint leaves – finely chopped
½ English cucumber – peeled and diced
Pour ¼ cup olive oil into the bottom of a medium sized mixing bowl. Add in the lemon juice, a little coarse sea salt and some freshly ground pepper. Whisk vigorously. Place salad servers over the olive oil mixture.
Add in all the remaining ingredients on top of the salad servers. Just before serving, toss everything together to coat well.
Note: This pairs well with grilled or roasted fish and most barbequed or roasted meats and grilled vegetables.
Nectarine Crumble with Lemon Double Devon cream
Serves 8 people
For the nectarines:
10-12 medium sized nectarines – if they are huge 8-10 fruit should do
zest and juice of 1 lemon
2 tablespoons sugar
For the crumble:
10 oz unbleached all-purpose flour
2 ½ sticks butter – cut into little pieces
1/3 cup sugar
Cinnamon
For the Devon Cream:
6 oz Devon cream
Zest of 1 lemon
Pinch allspice
Preheat the oven to 400 degrees.
Combine the nectarines, lemon zest, sugar and lemon juice in a large bowl and toss lightly to combine the ingredients. Place all the fruit in the bottom of an ovenproof dish, such as a Pyrex dish.
To make the crumble, place all the flour in a large bowl. Add three-quarters of the butter and mix it with the flour, using the tips of your fingers, until it resembles coarse breadcrumbs. Don't worry if you have little lumps of butter left – it should look like that! Add in the sugar and mix to combine. Cover the nectarines with the crumble mixture. Sprinkle a little extra cinnamon and sugar over the crumble. Dot the surface with the remaining butter. Bake in the center of the oven for 30-35 minutes or until golden brown.
Combine all the ingredients for the Devon cream until smooth and well incorporated. Serve the lemon double Devon cream with the hot crumble.