Written for Edible Santa Barbara - Winter 2012
Culinary inspirations and mentors come in all guises. Mine heralded from Normandy. Her name was Genevieve Fay. She stood 5'5" tall and was - until the last day of her life – always immaculate. With her jet black hair elegantly coiffed, she personified elegance in the very French manner of her dress and etiquette, yet her sapphire-colored eyes often had a mischievous twinkle in them. She marshaled all those around her with an apparent ease that I always marveled at. She was my grandmother and I adored her.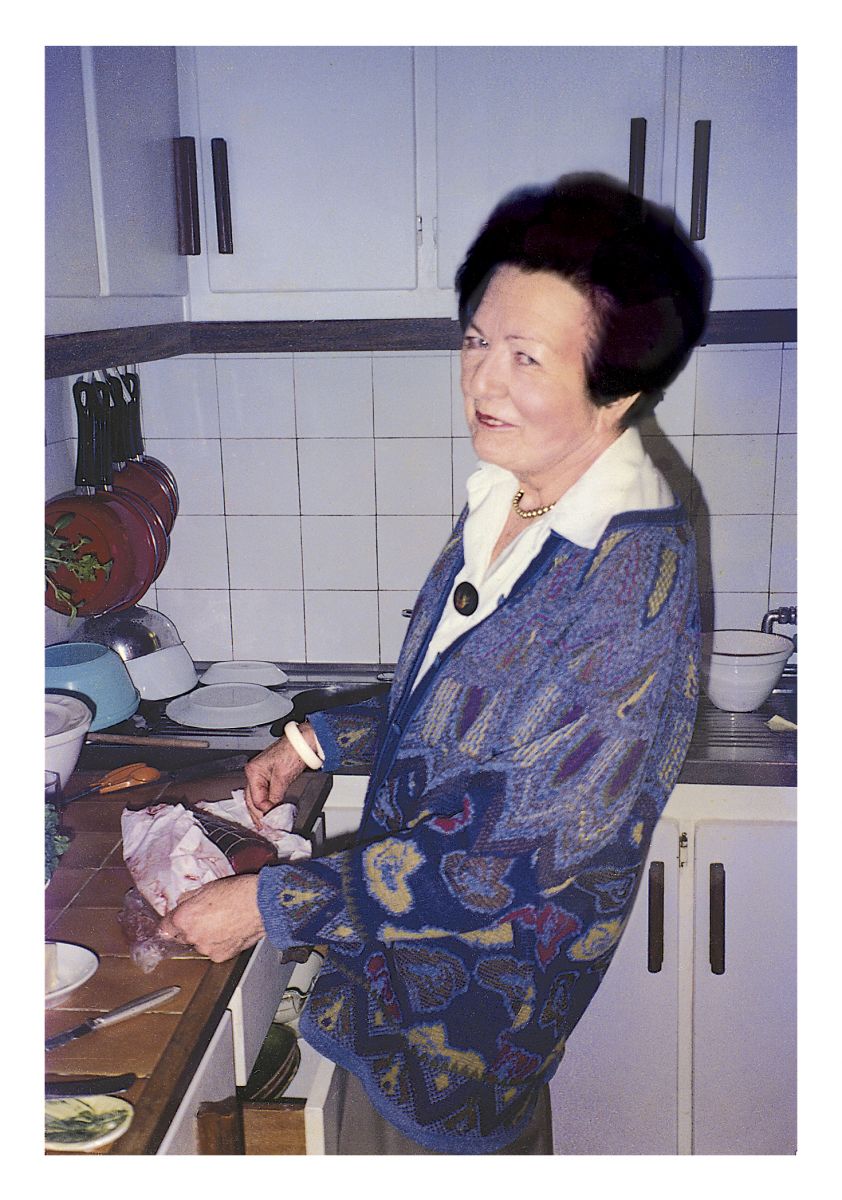 From her deft hands came the art of laying a beautiful table, an aperitif to tempt the palate, the ability to make guests feel at ease and fragrant, sauce-rich meals which epitomized fine home cooking (more about those later).
Meals seemed to suddenly come together in her kitchen. She would often announce that dinner would be ready in 45 minutes and I'd pop into her kitchen to see what she was making and nothing would be cooking, not a pot on the stove? Ten minutes later, Vivaldi's Four Seasons playing in the background, every single cupboard would be open ("so I can see everything I need", she'd say), a battalion of pots bubbling and steaming away. Where had they been? How did she do that in so little time? The answer I soon came to learn was careful preparation of her ingredients earlier in the day – a classic 'mise en place', although she would never refer to it that way.
Born in the heartland of France's luscious dairy farms, home to salty butter, crème fraiche and some decadent cheeses, her cuisine was classic French fare. My grandfather, on the other hand, came from Nice and the Cote d'Azur. His family's culinary ties were firmly planted in the Mediterranean. My mother inherited and passed on the flavors of both cuisines. As a result, at home in London we ate an eclectic mix of Provencal-Indian-Classic French-African dishes that ranged from dal, spiced plantain and onion tarts to Canard à l'Orange, gigot d'agneau and apple crumble; drawing upon the cultures that surrounded us there. It was in this spicy melting pot that I leant to cook. My mother preferred the flavors of Provence and this was (and is) the food I felt at ease with, yet we would all yearn for Geneviéve's classic dishes. Her 'Lapin a la Moutarde' (see Edible Autumn 2010 for the recipe) was legendary in the family.
The journey to my grandparents' home in the French Alps was a long one, some 1100 kilometers separated us. I loved taking the overnight train from Paris leaving from the imposing Gare de Lyon. You'd awaken the next morning to majestic alpine scenery unfolding before you as you listened to the clickety-clack of the train as it weaved its way up the vertiginous valleys to the end of the line: Briançon - the highest 'city' in Europe, situated at the confluence of four stunning valleys and just 11 kilometers from the Italian border.
My grandmother would always meet the train and on the drive home would describe what she was preparing for dinner. Our mouths would water. Could it be her Quenelles à la crème, her Roti de Porc, Escalopes à la crème or a Tuite aux Amandes? Reflecting back our favorites all seemed to have lashings of crème fraiche and cheese in them, but she also made simple, light dishes such as steamed leeks with a vinaigrette, steamed courgettes with olive oil and grated gruyere, a basket of crudités served with a plate of local charcuterie and a crisp green salad with chopped chives. If a meal necessitated a particular ingredient of Italian origin we would literally drive to Italy, up the stomach-churning mountain pass, to get it. The reward on the way back was the ultimate salty treat which consisted of skinny crissini, dotted with butter and wrapped with paper-thin slices of prosciutto. It was the only time we were allowed this tasty morsel.
My grandparents' home was very formal. Even the simplest meal, al-fresco on the terrace for instance, would require a multitude of plates, glasses, silverware and platters for each dish, yet I enjoyed the rituals which encompassed all her meals and the delicacy with which she orchestrated them. Even spending countless hours driving hither and yon for just such and such an ingredient was enjoyable, no doubt because it was just the two of us.
Once I was old enough she would let me set the table. She always checked the details and always tweaked the finished product. Seating at her table followed a strict protocol which – within the family hierarchy – depended on one's age and position in birth order. I only mention this because being strategically placed at the dinner table was sometimes to one's advantage. On one memorable occasion she had made the aforementioned Lapin à la Moutarde. You have to understand that this sauce begged for a piece of baguette to be drenched in it and placed reverently in one's mouth. However all drenching was strictly off limits. You may be permitted to discreetly impale a small piece of bread on the tines of your fork and delicately dab the sauce on you plate, but heaven forbid that you actually pick up a piece with your fingers, soak up that glorious sauce to then munch on that morsel. This proved the undoing of my uncle and I.
We were seated opposite each other. We had finished eating the main course, yet a pool of sauce remained in the platter. We both eyed the dish. I offered to help carry the plates to the kitchen. My uncle stood and grasped the platter. I glanced at him knowing exactly what he was planning to do. He allowed a small grin. No sooner in the kitchen we searched for the baguette and then ripped off a chunk. No delicate pieces here. With a triumphant we-got-away-with-this grin, we both mopped up a great dollop. The tantalizing piece of bread I held in my hand was half way between the platter and my mouth when the kitchen door quietly swung open and there stood Geneviéve. I froze. My uncle had no such compunction and ate his piece. I was caught red-handed.
Geneviéve had a tick. Whenever she disapproved of something her left eyebrow would twitch. She looked at me, her eyebrow doing a violent dance across her forehead. I felt about 2 years old (I think I was about 26 at the time) and slowly lowered that priceless morsel back on the platter. She only uttered one word –PASCALE! My uncle had perfected the art of being invisible or maybe by dint of being her only son was exempt from remonstrations. I, on the other hand, should have known better.
All of these memories weave a rich tapestry of family lore and have nourished and shaped my culinary journey. Her sensibilities have filtered their way into my daily life and I treasure them.
A few years after Geneviéve died I was fortunate, very fortunate, to become friends with Julia Child. If my grandmother influenced the early flavors of my cooking, Julia inspired my desire to write about food. Her love of life, her curiosity and her enthusiasm were infectious. I realized as I spoke with her that she and Geneviéve had the same twinkle in their blue eyes. Julia had once said 'if you're afraid of butter, use cream', words my grandmother lived by. Bon Appetit!
GRATIN OF LEEKS
Serves 8 people
Olive oil
8 leeks – outer leaves peeled away, root end trimmed and then then length of each leek cut into 1-inch pieces. Try to only use the white or light green part of each leek
Salt
Pepper
Pear champagne vinegar
Preheat the oven to 350 degrees.
Pour a little olive oil into a gratin or shallow baking dish. Stand all the leek pieces on end and pack them in so that they completely cover the bottom of the gratin dish. They should be tightly packed. Drizzle with a little olive oil, sprinkle with some salt and pepper and place in the center of the oven.
Bake for 20 minutes, then cover with foil and bake for another 20 minutes.
In a small bowl combine 3 tablespoons olive oil with 1 tablespoon vinegar. Whisk together and spoon over the hot leeks. Let stand for 5-10 minutes before serving.
STUFFED PROVENCAL LEG OF LAMB
Serves 10 – 14 people
1 whole leg of lamb – trimmed of all fat and butterflied but not tied.
1 lb. baby spinach
1 goat cheese log – approx. 6 oz. – cut up into small pieces
Olive oil
8 – 10 garlic cloves – peeled
Coarsely ground black pepper
Sea salt
Herbes de Provence
10-12 roma tomatoes – quartered
2 ½ cups water or chicken stock
Red wine for deglazing the roasting pan
Preheat the oven to 425 degrees.
In a large pan heat a tablespoon of olive oil. When hot add the baby spinach and cook briefly for 1 - 2 minutes – until spinach is just wilted.
Place spinach in a bowl with the goat cheese. Add a teaspoon of olive oil and 4 crushed cloves of garlic. Also add a good dose of ground black pepper. Mix all of the ingredients together to form a sort of paste. It will be sticky looking.
Place the lamb on a chopping board opening it up so that it lies flat. It will look like an elongated S. Spoon the spinach mixture onto the length of the lamb. Fold the lamb back to its original shape now containing the spinach mixture in the middle of the roast.
Using kitchen string tie the leg of lamb at evenly spaced intervals. Once tied, cover the outside of the roast with olive oil. Make small slits into the meat and push in the remaining garlic cloves. Cover the roast with Herbes de Provence and some black pepper and sea salt to taste. Place the lamb in a roasting dish. Surround the lamb with the roma tomatoes. Drizzle a little olive oil on the tomatoes.
Bake the lamb at 425 degrees for 15 minutes, then lower the temperature to 400 degrees. At this point add a little water or chicken stock to the baking dish – just half way up the sides of the tomatoes – approx. 1 ¼ cups.
Continue to roast the lamb for an additional 1hr 10 minutes – 1 hr 20 minutes depending on the size and how pink you like your meat.
Once cooked remove the lamb from the oven, place it on a chopping board, cover loosely with foil and let it rest for 10 to 15 minutes. While it is resting make the sauce.
Place the roasting dish on the stove top and deglaze the pan with some red wine scraping up all the bits as you go. Bring the wine to a rapid boil and let it reduce by ¾. Add the remaining chicken stock to the sauce and reduce it a little more. Taste for seasoning, adding salt and pepper to your liking. Add one or two knobs of butter to give the sauce a nice sheen.
To serve, cut thin slices of the gigot and place on warmed plates. Spoon some of the sauce from the pan over the slices and spoon some of the gratin alongside.
GENEVIEVE'S GRATIN DAUPHINOIS
This is her rather decadent version of this dish.
Serves 8
2 ½ lbs. waxy potatoes – peeled and thinly sliced (¼ inch thick or less)
1 cup heavy cream
1 cup crème fraiche
1 cup whole milk
2 cloves garlic
a pinch of ground nutmeg
Salt and pepper
Butter for dish
8 oz gruyere cheese - grated
Preheat oven to 325 degrees
In a large bowl, mix the cream, crème fraiche, milk, nutmeg, salt and pepper.
Cut the garlic in half and rub the inside of a large baking dish with the garlic. Butter the baking dish with some butter so that it is well coated.
Line the bottom of the dish with a layer of the potatoes and sprinkle with some of the gruyere. Dot the potatoes with a little butter. Repeat this – layer of potatoes covered with the gruyere and dots of butter until you use up all the potatoes. Pour cream mixture over the potatoes in the baking dish making sure that they are almost completely submerged.
Bake in the oven for 1 hour.
TEA INFUSED WINTER FRUIT
My Grandmother Genevieve Fay loved to play bridge. Her bridge partners would take turns hosting their afternoon games. Although I did not play with them, I was allowed to help prepare the 'gourmandise', the treats my grandmother set out when it was her turn to host. She invariably included a seasonal fruit salad on these occasions, served in a beautifully decorated glass bowl. I loved those salads and this version is a tribute to her.
Serves 8 people
1 teaspoon butter
1 teaspoon light brown sugar
2 apples – Pink Lady or Granny Smith – peeled, quartered and sliced
1 blood orange – zest set aside, then peel and slice the orange
12 dried prunes
12 dried apricots
1 stick cinnamon
2 cloves
2 pieces crystallized ginger
½ cups brewed black/ Earl Grey tea
Juice of ½ lemon
Melt the butter and sugar in a heavy bottomed saucepan over medium heat. Once completely melted add in the orange zest and the apples slices. Cook for 3 minutes turning occasionally so that the apples are slightly browned.
Add in all the remaining ingredients and stir to combine. Cook for 5 minutes over low heat. Then let the fruit infuse for at least 30 minutes – in the saucepan but off the heat - before serving.
Serve the fruit in small glass bowls as the colors are very appealing.