Written for Edible Santa Barbara - Autumn 2012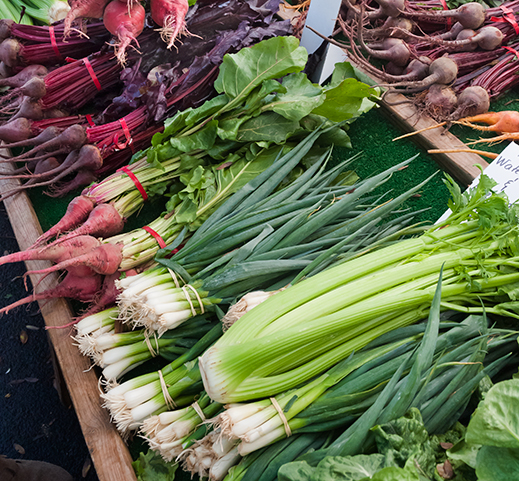 Albert Camus once wrote, "Autumn is a second spring when every leaf is a flower." I thought of this as I drove back to Santa Barbara through the picturesque rolling hills of the Santa Ynez Valley. I was struck by the beauty of our local landscape, captured in exquisite color on one of those pristine autumnal afternoons. The colors were beginning to change in the local vineyards and the evenings had started to have a little nip in the air.
I had picked up some local wine in preparation for a dinner with my antipodean cousins. They were here for exactly 18 hours and I was trying to decide on the best way to highlight the pleasures of living on the central coast. As they would not be able to wind their way through the local tasting rooms, I hoped that dinner accompanied by our local wines would be a good substitute, and what better way to showcase the delicious abundance of the local farms that to meet them at the farmers market.
It never ceases to amaze me how taken visitors are with our local markets. We – the local residents – have become used to them, but those who come from afar, even those who come from great culinary hubs, are struck by the variety, quality, flavor and depth of our local produce. It is a great pleasure to introduce friends to Santa Barbara whilst walking along State Street perusing the season's bounty.
A cellist serenaded passers-by as the sun started its slow descent towards the horizon. Children darted through the crowds, their hands sticky with the last of the late-summer peaches. We wandered past the laden tables of apples, pomegranates, dates and squash, picking up the items we needed for dinner. My family has scattered to the four corners of the earth but we all have one thing in common. We love good food and sharing it with others. Our conversation turned to meals shared in the past and our travels across France. I remembered spending a similar afternoon in a remote Provencal village during a chestnut festival and eating salads filled with roasted nuts. At that moment we found ourselves in front of La Nogalera's walnut stand. They make the most sensuous oil which has an essence of roasted walnuts. Our first course was created on the spot. A pear and walnut salad – what better way to showcase the season?
I had already picked up a local farm raised chicken and wanted to find some grapes to roast along with it. We munched of different varieties, finally choosing two different kinds to add to the already heavy baskets. Again my thoughts drifted across the ocean. Our old farmhouse in France has an ancient vine that covers the terrace that is adjacent to the kitchen. We eat most of our meals under the dappled light and grateful shade provided by this vine in the hot summer months. As autumn comes around the leaves turns marvelous shades of butternut squash and pomegranate red. You might have to sit outside with a sweater on but that terrace is just as welcoming. Despite its ancient age, this vine produces vast quantities of grapes which we harvest continuously lest they splat on those seated below. I am reminded of this each time I see great mounds of grapes at the market.
Food, I realized, is a delicious memory. We anticipate a taste because it was part of our childhood; a particular dish because a favorite grandmother or aunt prepared it, or a sip of golden wine because it was served on a special occasion. Santa Barbara, with its market, provides such memories. A culinary taste of our terroir.
Everyone stood in the kitchen as we prepared dinner, a glass of wine in hand with some fresh goat cheese from Drake Family farm in the shape of their delicate and floral 'Glacier'. We made dessert as the chicken was roasting, sending wafts of succulent aromas through the house. Our taste buds anticipated the meal to come. A collage of images from the afternoon drifted through our conversation. A moment for all to treasure, once again linked to the preparing and sharing of a meal. Few things I think give as much pleasure as this.
PEAR AND WALNUT SALAD
Serves 8 people
For the vinaigrette:
¼ cup olive oil
2 tablespoons walnut oil
2 tablespoons cider vinegar
1 tablespoon mustard
Salt and pepper
For the salad:
Olive oil
3 firm pears – cored and thinly sliced (you can use Asian pears for this salad as they add a nice crunch)
¾ lb mixed salad greens – make sure they are all green, greens
½ bunch chives – finely chopped
4 oz fresh goat cheese
2 tablespoons chopped walnuts
Place all the vinaigrette ingredients in the bottom of a large salad bowl and whisk thoroughly together. Place the salad servers over the vinaigrette and then place the salad greens on top of the utensils. Set aside.
Pour a little olive oil into a wide skillet placed over medium high heat. Add in the pear slices and cook, shaking the pan frequently for 1-2 minutes. The pear slices need to be warmed through, but not cooked to the point that they are falling apart. Place the warm pears on top of the salad greens.
Top with the goat cheese and walnuts.
When you are ready to serve, remove the utensils and let the salad fall into the vinaigrette and toss to coat well.
Note: This salad is delicious served with a walnut and raisin type bread.
CITRUS ROASTED CHICKEN WITH GRAPES
Serves 8 people
4 large sprigs rosemary – leaves removed
4 sprigs thyme – leaves removed
Zest and juice of 2 lemons – keep the squeezed out fruit
Zest and juice of 2 oranges - keep the squeezed out fruit
1 tablespoon olive oil
Salt and pepper
2 organic chickens
1 ½ lbs grapes – de-stemmed
Preheat the oven to 400 degrees.
Combine all the ingredients (except for the chickens) in a small bowl and mix well.
Place the chickens in a large roasting pan and rub the outside with the citrus/herb mixture. Place the grapes all around the chickens. Roast in the middle of the oven for 15 minutes and then lower the temperature to 350 degrees and roast for a further 1hr 15 minutes, turning the chickens once or twice so that all sides are evenly browned. When the chickens are cooked, remove them from the roasting pan and set aside to rest before carving, loosely covered with foil.
Cut the chickens and serve on hot plates with the grapes and carrots.
GLAZED CARROTS WITH WHITE WINE
Serves 8 people
3 lbs carrots – assorted varieties and colors if possible – peeled and halved lengthwise
1 tablespoon olive oil
2 tablespoons butter
Salt
Pepper
1/3 cup white wine
2 tablespoons chives – finely sliced
Place the carrots in a steamer and cook for 6-7 minutes. They should be just cooked.
Just before serving the carrots, pour the olive oil and add the butter to a large skillet placed over medium-high heat. When the butter is foaming add in the carrots, a large pinch of salt and some black pepper and sauté for 2-3 minutes. Add in the white wine and cook until it has completely evaporated. This will not take long. Sprinkle the chives over the carrots, toss to combine well and serve immediately.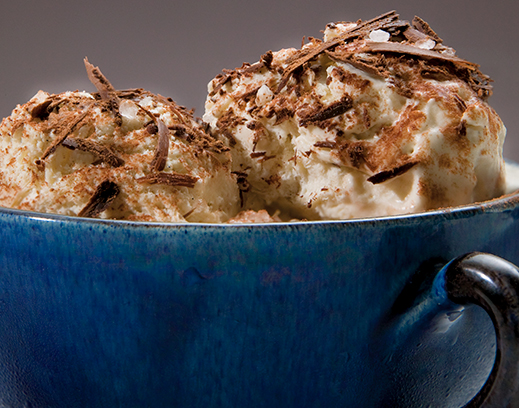 ESPRESSO SEMIFREDDO
Semifreddo; meaning half-frozen in Italian, is an unctuous dessert. It is creamy and similar to ice-cream in texture but not as cold. This version combines two of my favorite things: espresso and whipped cream.
Serves 8 people
1 espresso
1 vanilla bean
Freshly ground black pepper
5 large egg whites
2 cups heavy cream
1/ 3 cup sugar
2 oz chocolate (use dark chocolate) – grated
1 tablespoon cocoa powder
Coarse sea salt
Pour the espresso into a small bowl. Cut the vanilla bean in half lengthways and then scrape the seeds out of each half using the back edge of a knife. Add the vanilla seeds to the espresso. Add 2 or 3 twists of black pepper to the mixture stir and set aside.
In a second bowl whisk the cream until soft peaks form, being careful not to over whip them. Set aside.
In a third bowl whisk the egg whites until they form soft peaks. Gradually add in the sugar and beat until the egg whites are firm.
Using a large spatula carefully fold the espresso mixture into the whipped cream. Then carefully fold the beaten egg whites into the espresso cream mixture. Take care to have a light touch as you want to incorporate as much air as possible in your dessert. Spoon the semifreddo into a large shallow dish, Pyrex work well, cover and freeze for 2 hours.
Remove the dessert from the freezer 5 minutes before serving. Spoon some of the semifreddo into each bowl. Sprinkle a little of the grated dark chocolate over the semifreddo, dust with some cocoa powder and add a few grains of coarse sea salt.