Written for Edible Santa Barbara - Winter 2015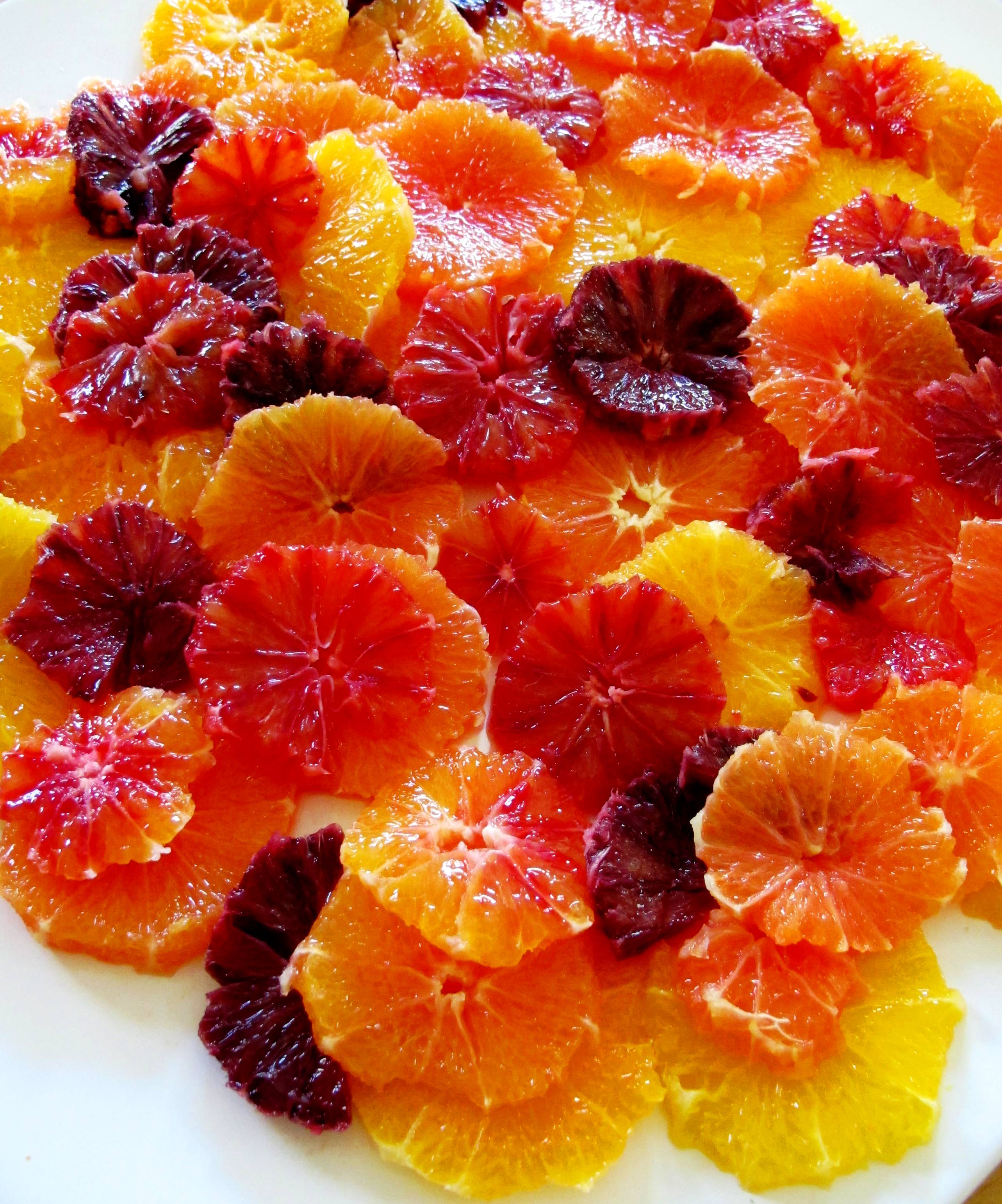 I grew up in a rather eclectic household in England, cooking and eating a kaleidoscope of foods from around the world. The combination of fruit with savory foods was not all that unusual: prosciutto and melon from Italy, roasted pork with apples and prunes from Denmark, game with berries, and all manner of sweet condiments and wine accompanying cheese from England and France.
Eating savory dishes with fruit was not restricted to our kitchen as the vibrant ethnic food scene in London provided a multitude of opportunities to delve into the foods of North Africa and the Mediterranean basin such as Moroccan lamb tajines strewn with the sweet tang of apricots; Indian curries scented with mangoes and spices; myriad Thai dishes of meat, poultry and fish in coconut milk; and countless Turkish, Armenian, Greek, Lebanese and Syrian dishes that were festooned with pomegranates, dates and preserved lemons. It was a riot of flavors, and I thought I had discovered something new. Of course I did nothing of the sort as this type of sweet and savory cooking has been cultivated for millennia in all parts of the globe.
Centuries ago, cooking fruit in savory dishes was also common practice in Northern Europe. Elizabethan cookery books are full of recipes that pair heavily spiced poultry, game and even fish dishes with fresh and dried fruit. Some of those dishes and pairings have survived the passage of time to become part of a country's culinary lexicon, such as English mince pies, Italian mostarda di frutta, and French canard à  l'orange. The latter, the crisp roasted duck with a silky buttery sauce, became an iconic dish epitomizing the essence of gastronomic French cooking. The famed chef Marie-Antoine Carème prepared it for illustrious heads of state such as the Czar in Russia and the Prince Regent in England. It was a fixture on most traditional French restaurant menu's and home cooks slaved over this dish as the showpiece of many a dinner party. My family was no exception.
That dish - canard a l'orange - featured prominently throughout my childhood. My brother and I loved it. On one memorable occasion my mother and a visiting friend (a passionate foodie) from Massachusetts toiled for 72 hours to create a duck a l'orange to end all duck a l'orange. Little did we know that it would be the last roasted duck with oranges that my mother would ever make! Perhaps it was the three types of liqueurs the recipe called for, or the liters of Sauce Espagnole made from reduced brown poultry stock, the required duck trimmings, the special liaisons, the caramel or the zested-juiced-sectioned-julienned-blanched oranges that put the kybosh on her ever wanting to make it again. The elaborate dish was served with much pomp, ceremony and applause the night of the dinner party. People talked about it for months.
The memory of that dish lingered. Unfortunately (or fortunately for my mother) dishes that become culinary fads fall out of favor – this one was no exception, tumbling so far down the cooks need-to-know repertoire as to be considered old fashioned or as Gordon Ramsey put it on Kitchen Nightmares, 'it's the culinary equivalent of flared trousers'. Ouch.
Here's the thing though – I LIKE canard a l'orange. For my brother and I, this dish holds the sweet kind of food memory that people have for a favorite pie at Thanksgiving.
When I started working on my new book, which delves into cooking with fruit in both sweet and savory recipes, it occurred to me that I could resurrect this old family favorite. Oddly, as I started tinkering with the dish, I realized just how much my cooking and tastes had changed over the intervening years living in California. It's much leaner, lighter fare, reflective of our Mediterranean climate and draws from the bounty of the farmers market, with simple preparations and no heavy sauces – so would it work? The result is an homage to the past with freshly roasted citrus and crispy duck. Same flavors – different technique and you won't need to spend three days in the kitchen!
My mother came over for dinner and tasted the new dish and smiled. We reminisced about cooking in the old kitchen in London and that whenever she sees our friend from Massachusetts somebody will say 'Remember the day we made that incredible duck!'

Grilled Pear and Roasted Kale Salad (Recipe from my new book Les Fruits: Savory and Sweet Recipes from the Market Table)
This dish combines one of my favorite dark green leafy vegetables with scrumptious pears. The kale cooks in just a few minutes and whilst it's in the oven, you can grill the pears. It's easy, hearty and filled with all those vitamins, nutrients and fiber that everyone says you should eat. But, the best reason to eat this salad is because it's good and the grilled pears are a treat!
Makes 8 servings
2 large bunches curly leaf kale, rinsed and sliced into 1/2-inch wide strips, very thick
1 bunch green onions, ends trimmed and then thinly sliced
Olive oil
Salt and black pepper
3 firm ripe pears (Anjou work well), peeled and sliced vertically into eighths
Zest and juice of 1 lemon
Crumbled blue cheese or feta (optional)
1. Preheat the oven to 350°.
2. Place the kale and green onions onto a large sheet pan or into a large shallow baking dish. Drizzle with olive oil. Sprinkle a little salt and 5–6 grinds of pepper on top. Place in the center of the oven and roast for 8 minutes.
3. While the kale is cooking, toss the pear slices with just enough olive oil to coat them. Add a large pinch of salt and 3–4 grinds of pepper. Toss gently.
4. Heat a grill pan or cast-iron skillet over medium-high heat. When the pan is hot, grill the pear slices for 2 minutes on each side, taking care to keep them intact.
5. As soon as the kale is cooked, place it in a large salad bowl and pour the lemon juice on top. Add the pear slices and sprinkle the entire dish with the lemon zest. Serve while still warm.

Herbed Lemon Rice with Romanesco Broccoli
his dish came about because of a photographic assignment given by my son's sixth grade teacher, Cyd, my passion for mathematics, and our mutual interest in Leonardo Fibonacci, whose mathematical number sequence is reflected in nature, particularly in plants, flowers and vegetables. My son set about looking for patterns in nature and found all sorts—from pine cones to tree rings and in Romanesco broccoli. I was thrilled with the broccoli as it is stunning to look at. My son was less thrilled. He photographed the tree rings. I got the broccoli and was delighted to make a salad that kept its shape and the integrity of Fibonacci's sequence intact.
Makes 8 servings as an accompaniment
Olive oil
Zest and juice of 1 lemon
2 shallots, peeled and chopped
6 green onions, sliced
1 preserved lemon, finely chopped
1 small head Romanesco broccoli, broken into very small florets
Salt and black pepper
2 cups basmati rice, cooked
3 tablespoons chives, finely chopped
2 tablespoons cilantro, finely chopped
2 tablespoons dill, finely chopped
1/2 cup pistachios
1. Combine the lemon zest and juice with 2 tablespoons olive oil in a small bowl. Set aside.
2. Pour 1 tablespoon olive oil into a large skillet over medium heat. Add the shallots and green onions and cook until the shallots are lightly browned, about 3 minutes. Stir frequently. Add the preserved lemon and cook for 1 more minute.
3. Add the broccoli florets and the lemon-olive oil mixture. Cook for 5–6 minutes. Stir frequently. The florets should be just slightly golden. Season with salt and pepper.
4. Combine the cooked rice, chives, cilantro and dill in a medium-sized serving bowl. Add the cooked broccoli mixture and stir. Top with pistachios just before serving.
Duck à  l'Orange with Watercress (Recipe from my new book Les Fruits: Savory and Sweet Recipes from the Market Table)
This is a more rustic version of the classic duck a l'orange.
Makes 8 servings
8 duck legs, trimmed of any excess fat
16 sprigs thyme
Coarse sea salt and black pepper
4 oranges, peeled and sliced into disks
4 blood oranges, peeled and sliced into disks
Olive oil
2 bunches baby watercress
1. Preheat the oven to 400°.
2. Place the orange slices on a baking pan, overlapping them slightly. Drizzle with a little olive oil and sprinkle with a little salt and pepper. Set aside.
3. Place the duck legs on a sheet pan and carefully score the skin, cutting slightly into the meat. Insert a sprig of thyme into each incision. Sprinkle with coarse sea salt and some black pepper. Roast on the middle rack of the oven for 30 minutes.
4. Reduce oven temperature to 350°. Place the pan with the oranges in the oven on a rack below the duck. Continue roasting the duck and oranges for 30 minutes.
5. To serve, place the orange slices on a serving platter. Place the roasted duck on top of the oranges. Tuck the watercress between the duck legs.
Citrus Salad with Lemon-Lavender Syrup (Recipe from my new book Les Fruits: Savory and Sweet Recipes from the Market Table)
This is a delightfully refreshing salad to serve at the end of a warm winter meal.
Makes 8 servings
6 oranges, different varieties if possible, peeled and sliced into disks
6 blood oranges, peeled and sliced into disks (if blood oranges are not available, you can substitute other varieties)
Juice of 1 Meyer lemon
Juice of 1 lemon
1/2 cup water
1 teaspoon fresh lavender flowers
1 tablespoon sugar
1. Arrange the orange slices on a large platter, alternating the different varieties.
2. Combine the lemon juices, water, lavender flowers and sugar in a small saucepan over medium heat. Bring to a boil, then reduce to a simmer and cook until syrupy, about 3–4 minutes.
3. Pour the syrup through a strainer over the fruit.
Written for Edible Santa Barbara - Autumn 2015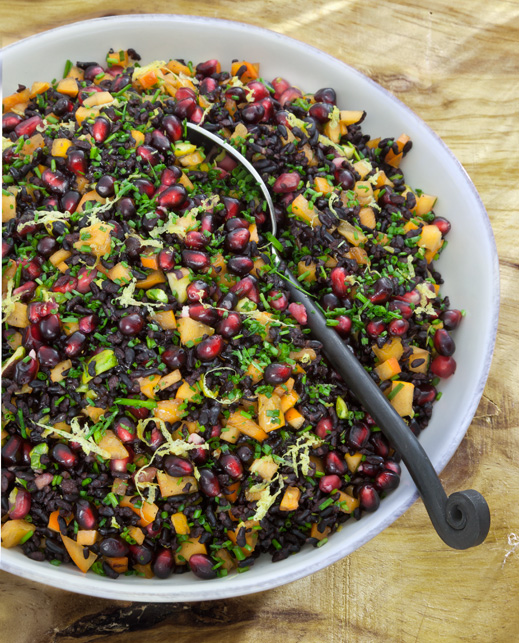 A few years ago I had a conversation with the illustrious editor of this very magazine, Krista Harris, on the eve of the very first Eat Local Challenge. We were discussing how and where we were going to get certain foods. "My kids drink a lot of milk" said I, "Where am I going to find a local dairy?", "What about coffee and butter?" I asked, suddenly envisioning breakfast without either one – a grim prospect if you ask me! We decided to quickly research solutions.
The first thing I did when I returned home (apart from googling local dairy farms) was to examine the contents of my pantry. Like many people I had accumulated an assortment of dried goods over the past year: different pastas (penne, spaghetti, orzo, fusilli); rice from different parts of the world (Arborio from Italy, Basmati from India for example) and legumes, beans, quinoa and couscous from various parts of California, France, North Africa and South America. There were also some really yummy Lentils de Puy from Auvergne sitting in the shelf. Was I not going to eat these items during the month of the challenge? They were already in my kitchen! I called Krista back, "I think I'm going to use up all the staples I have left in my kitchen during eat local," I said, "and add only the local fish, poultry, eggs, fruit and vegetables I get from the farmers market." If I ran out of something I would either have to find a local alternative or make something else entirely.
Next I turned my attention to the contents of my fridge, where an assortment of mustards, nut oils, fish sauce and jams congregated in its chilled recesses. I thought this would be an excellent occasion to do some fridge housekeeping. I opened the cheese drawer and found lots of little bits of cheese, a small piece of parmesan, a little blue cheese, a piece of goat cheese and some cheddar. Looking at the pieces made me think of my aunt, who, once a month, would go through her cheese drawer and make a rather spectacular pasta with a cheese sauce made up of all the bits of cheese that were left. The sauce changed every month depending on what she had there, but it was always a rather glorious concoction poured over the pasta at hand. I decided that this would be a perfect dish to start off the challenge, using up some of the pasta in the cupboard and clearing out the last of the cheese.
So it was with some enthusiasm and some lingering questions (about coffee in particular) that I (and by default my entire family) embarked on the challenge. We finished all the existing pasta within the first six days much to my son's consternation as this is one his main food groups. "Now what?" he said rather glumly. "We make our own!" I replied. We did so, twice. He enjoyed the experience, particularly rolling the pasta through the hand-cranked machine, however, I realized that we were not going to be doing this every day and more to the point, our flour supplies were getting low. I had not thought about a local flour source but did find some local almond flour for some of our baked goods. The dwindling flour supply produced some interesting conversations around the dinner table, particularly about early settlers and wartime cooks, who made do with what was at hand, and why commodities such as flour, sugar and salt were so precious. British cookery books from the early 1940s describe all sorts of apple dishes including apple crumble, made popular during WWII, created due to rationing of butter, instead of baking more traditional pies. People made do with what was at hand and in season. It seems so logical.
Half way through the month my once filled jars were starting to look decidedly empty, but in an odd way this made the challenge all the more appealing. As these taken-for-granted staples ran out, our food resembled more and more the seasonal bounty on show across the farmer's market tables. We ate more omelets, soufflés, roasted fish and vegetable risottos. I made a rice-less risotto by cutting all the vegetables in small pieces and served it with a kale and arugula pesto. The appeal of preserving fruit, tomatoes and late summer vegetables grew every day. If we knew that we would not see fresh tomatoes until next summer, would we use them in a different way? My grandmother's mammoth fruit harvest and jam making sessions made all the more sense to me now.
Over the years I have come to view the month long challenge as an annual 'spring' cleaning of sorts. It's time to make space for the new harvest. For if March and April mark the beginning of the sowing season, the nurturing and awakening of sometime dormant fields, then September and October showcase the fruits of the farmers labor (and our own for those avid gardeners amongst us). For me, it's a time to savor the short seasons of barhi dates and fuyu persimmons, delve into jewel-like pomegranates and hopefully partake in some much longed for, rain nourished, wild mushrooms; it's also time to bring in newly dried fruit, fresh nuts from the precious almond and pistachio growers and preserve some late season stone fruit, which can then be savored throughout the year. Most of all, it's a time to be grateful that we do have access to so many locally produced, incredible, tasty foods.
WARM DANDELION AND WATERCRESS SALAD WITH ROASTED ROOT VEGETABLES, BACON AND HERBS
This salad came about as a result of 'TDF' or Tour de Frigidaire, as my friend Michele would say. It's a great expression that means making something out of all the bits that are left in your fridge. The first time I made this, there were three of us having an impromptu lunch. Here's the recipe for 8. Feel free to add other bits and pieces (local goat cheese or feta would be great for example) from your own Frigidaire!
Serves 8 people
Olive oil
1 tablespoon fig balsamic vinegar
Salt and pepper
1 lb multi-colored carrots — peeled and cut into 2-inch pieces
1 large parsnip — peeled and chopped into long strips
2 lbs beets — golden, ruby or red — peeled and cut into quarters
4 slices of bacon — cut crosswise into thin strips
2 sprigs fresh rosemary — leaves removed
8 oz dandelion greens — cleaned and roughly chopped
8 oz watercress — cleaned and roughly chopped
½ bunch dill — finely chopped
½ bunch parsley — finely chopped
½ bunch basil leaves — rolled up and thinly sliced
Preheat the oven to 350 degrees.
Pour a little olive oil onto a baking sheet and add all the chopped root vegetables, the bacon strips, fresh rosemary and some salt and pepper. Toss to coat well. Roast in the oven for 45 minutes until tender. Stir the vegetables once or twice while they are cooking.
Pour a ¼-cup olive oil in a salad bowl. Whisk in the fig balsamic vinegar, add a pinch of salt and some pepper. Place salad utensils over the vinaigrette. Place the dandelion and watercress on top of the utensils. Set aside.
When you are ready to serve the salad, add all the roasted vegetables to the salad bowl and all of the chopped herbs. Toss until well combined.
SAFFRON RISOTTO WITH A SAUTE OF WILD MUSHROOMS
Risotto is a wonderfully versatile dish as almost all vegetables can be added to the base recipe. If wild mushrooms are not available you can use a sauté of assorted seasonable vegetables. If you do not have Arborio rice you can make a rice-less version by chopping lots of vegetables and a cauliflower into small pieces and cooking them in a similar fashion.

Serves 8 people
6 cups vegetable stock
6 tablespoons (¾) stick unsalted butter
2 ounces pancetta - sliced
½ cup minced shallots
1 ½ cup Arborio rice (10 ounces)
½ cup dry white wine
1 teaspoon saffron threads
Parmesan cheese - shaved
Really good coarse salt
Freshly ground pepper
Heat the chicken stock in a covered saucepan. Leave it on low heat to simmer.
In a heavy-bottomed pan, melt the butter and sauté the pancetta and shallots on medium-low heat for ten minutes, until the shallots are translucent but not browned.
Add in the rice and stir to coat the grains with butter. Add the wine and cook for 2 minutes, stirring occasionally. Add 2 full ladles of stock to the rice plus the saffron, 1 teaspoon of salt, and ½ teaspoon of pepper. Stir and simmer until the stock is absorbed, 5 to 10 minutes. Continue to add the stock, 2 ladles at a time, stirring every few minutes. Each time, cook until the mixture seems a little dry, and then add more stock. Continue until the rice is cooked through, but still al dente, about 30 minutes.
To serve, spoon some of the risotto into the center of warmed dinner plates. Divide the sauté of mushrooms equally between the plates and spoon on top of the risotto. Sprinkle a little parsley over the top and serve with some parmesan shavings.
For the sauté of mushrooms:
2 Tablespoons butter
1lb assorted wild mushrooms – cleaned, stems trimmed and thinly sliced
Coarse sea salt
Freshly ground black pepper
Place the butter in a large frying pan or heavy bottomed skillet, placed over medium high heat. Melt the butter and then add in the sliced mushrooms. Cook until just browed. Add the salt and pepper, stir once more and serve immediately.
POMEGRANATE AND PERSIMMON FORBIDDEN RICE
This is one of the dishes that came about using up some of the black rice I had left in my pantry and a plentiful gift basket of persimmons and pomegranates that arrived on my doorstep last Autumn. It became one of my favorite seasonal dishes, so much so that I made it at Thanksgiving to serve alongside the roasted turkey.
Serves 8 people
¾ cup uncooked black rice (sometimes called Forbidden rice) — rinsed
Seeds from 1 large pomegranate
1-2 Fuyu persimmons — diced (about the size of the pomegranate seeds)
1/3 cup pistachios — roughly chopped
6 tablespoons chives — finely chopped
Zest and juice of 1 small lemon
For the vinaigrette:
1½ teaspoons pomegranate molasses
1 tablespoon red wine vinegar or pear Champagne vinegar
¼ cup olive oil
Salt and black pepper
Place the well-rinsed rice in a small saucepan with 1½ cups of water and a pinch of salt. Bring to a boil. Reduce heat to low. Cover and cook for 20-25 minutes or until the rice is tender and the water has been absorbed. Transfer the cooked rice to a medium-sized serving bowl.
Add the pomegranate seeds, chopped persimmons, pistachios and chives. Stir to combine. Add the lemon juice and zest and stir once more.
Whisk the vinaigrette ingredients together in a small bowl. Stir into the rice mixture. Let rest at least 15 minutes before serving.
Written for Edible Santa Barbara - Summer 2015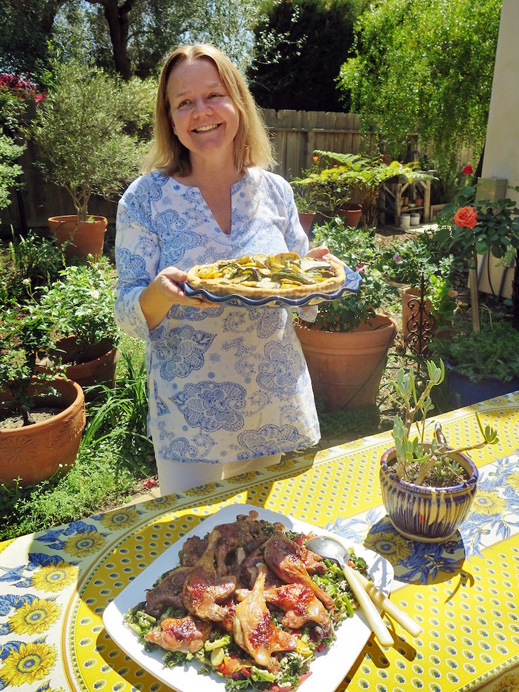 For as long as I can remember my family has had a penchant to get together at least once a week, preferably over a long Sunday lunch with friends gathering around the dinner table.
My English childhood was dotted with epic walks - where we would traipse across the Heath in London – only to return home to huge, warming Sunday lunches complete with a roast leg of lamb, spuds, a large green salad followed by apple crumble topped with luscious cream. All sorts of friends would turn up during the course of the afternoon, pull up a chair and partake in whatever stage of the meal we happened to be in at that moment in time, a revolving meal that lasted hours where people occasionally sloped off to have a little snooze, to re-join the meal later on. This tradition has percolated down over the years in different towns and countries, but the essence remains the same. Gather friends together, eat good food, laugh a lot, relax.
These meals have evolved over time. The food served was a reflection of the climate and locale. In France the meals took on a decidedly Mediterranean bent. In the summer we'd sit under the trailing vine that covered the terrace outside the kitchen of our old farmhouse. On the table you'd find plates of melon with prosciutto, local goat cheese, pates from the market and fresh tomatoes with basil and a drizzle of olive oil. Simple food infused with sunshine.
Once a year we would have a giant meal in the garden to celebrate my brother's birthday. The morning always began with decorations, particularly the hanging of a large canopy over a swathe of the garden and over the old, tile-covered well that stood center stage and served as a vast tabletop. Next would come the preparation of all the dishes that usually included salads, Pâté en croûte, ratatouille and Tarte a l'Onion. Everyone would help themselves, find a spot on the blanket and rug covered lawn and eat al fresco amongst the pillows. A modern Dejeuner Sur l'Herbe (without the naked people!). This meal was one of our summer highlights and whenever I subsequently ate tarte a l'onion I'd be transported back to the dappled sunlight of those festive afternoons.
Perhaps this is why, over time, it became a favorite dish of mine. Many times I made it to feed my fellow students whilst at university in London while we crammed for exams, over – what else – lunch. I still have the old oak table we sat at. It's hard to believe now that six or seven of us could fit around this small table, but we did, discussing all the topics of the day; to take part in the 'ban the bomb' marches that swept the British capitol, strikes, elections, where to go during the long summer break and how on earth were we going to get through all the work we had piled up in front of us? We felt that we were in the midst of 'everything important happening in the world' and would convene weekly, if not more, to debate, and to eat. There were meals made memorable by heated differences of opinion; some touching, by announcements of betrothals and others melancholy; by the loss of one of our own. To this day, when we gather together again, those meals shared around that table always come up in conversation and inevitably someone will mention that tarte.
Like a treasured talisman, this dish has accompanied me on my travels around the planet. When I arrived in Los Angeles it was my 'go to' dish. On Sundays, after an energetic game of beach volleyball with a gaggle of ex-pat friends, we'd drive back to the house and cook together, barefoot from the sandy beach. We'd make this, roast chickens, ratatouille and a large green salad. Provence in California. I felt at home.
As with many food-obsessed immigrants I soon discovered the local treasures of the farmers markets filled with bok choy, daikon, pomegranates, persimmons, pluots, watermelon radish, curly kale and golden beets; vegetables that I had not known, let alone savored in Europe, and I delved into them with gusto making new salads and other lunchtime treats for our friends and family's weekend repast. My 'go to' dish was – for a long time - put aside… until recently, when I taught a class at Buttonwood Farm and Winery in the Santa Ynez Valley. The event took place in a private garden, steps from the tasting room. Tables had been set under trees adorned with produce from their farm in the form of zucchini, large onions and grape vines. A warm, scented breeze drifted across the bucolic setting as guests sampled the wine and tasted the salads. It was a picturesque and enchanting afternoon. It made me think of Provence and our old farmhouse and of all the Sunday lunches shared on the terrace by the kitchen.
I had the added treat of taking home the freshly picked zucchini and onions from Buttonwood after the event. As I unpacked the vegetables in the kitchen it occurred to me that I could make an onion tart – a nostalgic nod to summer's past – but this time with a twist. There were LOTS of zucchini, so what about grilling them and adding that to the tart? Of course, if I was about to make a large onion tart I'd need lots of people to share it with. The next day the house filled up with friends bringing wine, cheese, fruit and other delicacies to share. We set up tables in the garden. I made the new version of the onion tart and a big dish of Ratatouille. We sat in dappled sunlight, ate good food, discussed local politics, the drought, and upcoming summer plans. We laughed a lot. Some of us had a snooze in the shade. I felt as though I had come full circle: a Provencal afternoon on the American Riviera.
ONION AND ZUCCHINI TART WITH AN OLIVE CRUST
The tart is made in two parts: preparing and cooking the vegetables and preparing and cooking the dough. You can also make a classic Tarte a l'onion and not add any zucchini to the tart. The choice is yours.
For the Vegetables:
Olive oil
6-7 large yellow onions – peeled, halved and finely sliced
Salt and pepper
6 large zucchini – ends trimmed then cut on a bias in thin slices (you can also use different varieties of zucchini and squash for this)
Pour a little olive oil into a large skillet or saucepan placed over medium heat. Add the onions, a large pinch of salt and 5-6 grinds of black pepper, stir frequently and cook until the onions are completely soft and slightly golden. This will take at least 15 minutes. Be patient with the onions as you do not want them to burn, which they tend to do if you turn the heat up too much. Once cooked you can leave the onions in the pan until you are ready to finish the tart.
Place all the zucchini slices in a large bowl. Drizzle some olive oil over the top, add a sprinkling of salt and some pepper. Toss so that the slices are lightly coated.
Heat a grill pan over high heat. Once hot, add the zucchini slices and cook for 1-2 minutes on each side. The zucchini should be just cooked through. Be careful not to burn the slices. You will probably have to do this in 2-3 batches. Place the cooked slices on a platter.
For the pastry:
9 oz unbleached all-purpose flour
5 ½ oz slightly softened butter – cut up into small pieces.
1 large egg
Zest of 1 lemon
Pinch of salt
½ cup olives – pitted and chopped
Preheat oven to 400 degrees.
Butter an 11 or 12-inch tart pan with a removable bottom.
Place all the ingredients into a food processor and use repeated pulses until the mixture resembles coarse breadcrumbs, then use longer pulses until the dough forms a ball in the bowl of the food processor.
Wrap the dough in plastic wrap and refrigerate for 20 minutes before rolling out.
Place the unwrapped dough on a lightly floured work surface. Roll the dough out to a 1/4 inch thickness and to a circle that is larger than the tart pan. Line the tart pan with the dough letting any excess drape over the edge of the tart pan.
Place the chopped olives all around the perimeter of the tart. Fold the excess dough over the olives so that they are completely encased.
Prick the dough in the bottom of the tart using the tines of a fork.
Cover the dough with the caramelized onions, smoothing them out so they form an even layer. Bake in the center of the oven for 30 minutes. The crust should be golden brown.
Heap all the zucchini slices on top of the onions and then return the tart to the oven for 3-4 minutes more. Serve while still warm.
RATATOUILLE
Ratatouille, like the tarte, is the epitome of Provencal fare. The dish originated in Nice. My grandfather's family comes from the same part of the world and our family recipe has been passed down through generations. My mother taught me to make this dish.
Ratatouille is traditionally made with the addition of red and green peppers. They are thinly sliced and also cooked separately before adding to the onion mixture – usually after the zucchini but before the tomatoes. I prefer to make it without the peppers. There are many recipes for cooking Ratatouille, each varying in the order that one cooks the vegetables. Purists insist (as my great Aunt did) that each vegetable is cooked separately before being mixed in with the onions as this seals in the taste of each vegetable. I absolutely agree and believe that it's worth the extra effort to prepare it this way. One last note – do not cover your Ratatouille as this will cause too much moisture in the dish.
Serves 8-10 people
4-5 medium yellow onions – cut in half and then thinly sliced
1 large or 2 medium aubergines (eggplant)- thinly sliced and cut into small cubes.
4-6 courgettes (zucchini) – cut into quarters lengthwise and then into small cubes
8 – 10 medium tomatoes – Romas work well – quartered and diced
3 cloves garlic – either finely chopped or crushed
Olive oil
Salt and pepper
1 bay leaf
In a large heavy bottomed saucepan pour a little olive oil and then add the chopped onions. Cook until soft and lightly browned. About 10 minutes.
Whilst the onions are browning, in a large frying pan or heavy skillet, pour a little olive oil and sauté the chopped aubergines (eggplant) until lightly browned. Approx 8 – 10 minutes. Once cooked add the aubergines to the onions. Add salt and pepper to taste.
In the same frying pan/ skillet pour a little more olive oil and add the courgettes (zucchini). Cook until lightly browned – approx. 5 –7 minutes. Once cooked add these to the onion mixture.
In the same frying pan / skillet add a touch more olive oil and cook the tomatoes over high heat with the garlic for 2 –3 minutes – letting any excess water from the tomatoes evaporate. Add the tomatoes to the onion mixture.
Cook all the vegetable together for a further 30- 45 minutes, adding salt and pepper to your liking and adding the bay leaf, which should be removed just before serving. It is also excellent served cold the next day.
LEMON AND CRÈME FRAICHE MOUSSE
This mousse is very light and pairs well with fresh berries or grilled peaches, apricots or pluots. I like to serve it with a little shortbread too.
Serves 8 people
12 fl oz whipping cream
3 oz sugar
Zest and juice of 2 lemons
6 oz crème fraiche
½ teaspoon vanilla paste
The whites of 3 large eggs
Pour the whipping cream into the bowl of a standing mixer. Whisk until the cream starts to thicken a little. Add the sugar, lemon zest and juice a little at a time, whisking continuously, so that the cream is nice and thick. Gently fold in the crème fraiche and the vanilla paste.
In a separate bowl whisk the egg whites until they hold soft peaks. Gently fold the egg whites into the cream base. Spoon the mixture into eight glasses or glass bowls and refrigerate for 3 hours.
Written for Edible Santa Barbara - Spring 2015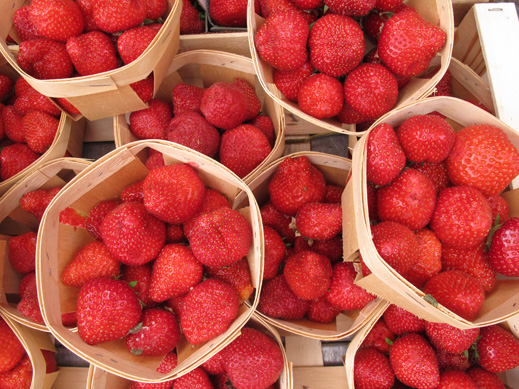 Strawberries dot the memories of my childhood like fragrant gems, part of a delicious backdrop to memorable events.
My appreciation of these delectable fruit started at a young age in the shape of tiny wild strawberries in my grandparent's garden in alpine France. "Fraises des Bois' have an unusual earthy, intense flavor and heady perfume. They could sometimes be found in small tarts, glazed with currant jam, glistening like jeweled box tops in the village patisserie's display case. I coveted them. My grandmother liked to combine these wild berries with red currants from her garden and raspberries to make a delicate salade de fruits rouges (a red fruit salad). She would often serve this with pale, scented madeleines and lady fingers, paired with a light oolong tea that was poured into impossibly thin porcelain cups. This elaborate treat was prepared for her bridge group. They would pause to take light refreshments before getting back to the serious game at hand. I considered it a rite of passage when I was deemed old enough to help serve these delicacies being presented to her guests in her sitting room. Afterwards, back in the kitchen, I would surreptitiously dip a madeleine in the sweet berry syrup, a clandestine treat that made it taste all the better. This was THE taste of early summer.
Picture summer 1976. These berries are the ubiquitous summertime treat in England and nowhere more prevalent than at Wimbledon. It was an unusually hot July in London. My father took me to the Gentlemen's Final at those most hallowed of hallowed grounds. To say that I was obsessed with tennis is an understatement. He and I were both avid fans. The tickets were a huge surprise, and for the final no less! We found our seats on Center Court and sat behind a lady with an impossibly large hat, which prompted a bobbing dance of heads in order to see Bjorn Borg beat Ilie Nastase. The English, lovers of tradition, have a penchant for afternoon tea. You could be watching the most riveting match, but four o'clock in the afternoon rolls around and they will take a break for tea. Anyone who has ever watched a cricket match can attest to this – even the players break for a quick cuppa and some cucumber sandwiches. Thankfully Borg won in straight sets and the match had just ended by the appointed hour. The Center Court throngs left en masse and a made a beeline for the tea tents arrayed on the grounds. We dutifully stood in line to get a bowl of strawberries and cream. It was de rigeur. Oddly I don't remember how they tasted, my memory of that distant Saturday is caught up in the pomp and circumstance of the occasion. However I do remember that the enticing aroma of the mounds of strawberries wafted across the Wimbledon lawns. Hardly surprising given the vast quantities of berries consumed there each year.
The strawberries served at Wimbledon still come from Kentish farms and are delivered on a daily basis at the crack of dawn. They serve some 62,000 pounds (yes pounds) of berries during the fortnight. The tradition goes back to 1953, although the paring of cream with berries can be traced back some 500 years prior, to the reign of Henry VIII. Berries and cream, in all guises, have ever since enchanted the sweet tooth of the British populous, from scones with clotted cream and strawberry jam to trifles and Eton Mess.
1986 – Los Angeles. I moved to Tinsel Town in the middle of winter leaving behind the omnipresent grey skies of London and emerged blinking, in the bright Californian sunshine. I was surrounded by tanned people with impossibly white teeth, who worked frantically during the day, and exercised morning, noon and night. They wore athletic shoes with suits and I felt as though I had been transported into a Jane Fonda exercise video. For recreation people met in bars and drank ridiculously frothy drinks called strawberry daiquiri's – in March - made with fresh strawberries! This was about as far from an English pub with a warm pint of beer as you could be. We had parties at home where the cocktail du jour was known as 'pink stuff' – an innocuous looking mixture made of pureed strawberries, ice and a lethal amount of vodka, all served up from a large punch bowl. People danced to a sound track of Dire Straights, Annie Lennox and Robert Palmer's 'Addicted to Love' as we whizzed up flats of strawberries. Heady days indeed!
Santa Barbara – a dozen years later. I stood in my new home surrounded by a mountain of unpacked boxes on a late Spring afternoon. My infant daughter crying in my arms after the hectic drive up the coast, I decided to explore the garden in an effort to sooth her. To my utter amazement I stumbled across a couple of patches of wild strawberries peeking out from behind the rocks on the edge of a flowerbed. Their fragrance and taste instantly transporting me back to my grandmother's garden all those years before. It was as though I had come full circle.
These little plants never produced an abundant crop, but rather a small juicy treat to pop in your mouth as you passed by, or a little delicacy to top a mixed berry tart. My daughter liked to eat them on the way to school and I introduced her to the delights of scones with clotted cream and strawberry jam; an afternoon treat that we still share with a cup of tea.
SPICED STRAWBERRY-POMEGRANATE JAM
2 pints strawberries — rinsed clean if necessary, hulled and halved
2/3 cup sugar
2 teaspoons pomegranate molasses
8-10 grinds black pepper
Juice of 1 Meyer lemon — keep the lemon as you will add it to the jam as it's cooking
Place all of the ingredients (including the squeezed out lemon rinds) in a large saucepan placed over medium heat. As the strawberries begin to render some juice, mash the strawberries using a large fork or a potato masher. It's okay if there are some larger pieces – the jam is not supposed to be completely smooth.
Cook for 10-13 minutes, skimming off any foam that forms on the surface of the jam. The jam is ready when it thickens enough to coat the back of a spoon.
Serve warm over Greek yogurt, with fresh berries and cream, as part of a trifle, with scones and clotted cream or an Eton Mess.
Note: This jam will keep refrigerated, for 2 days.
STRAWBERRY-CITRUS SALAD
Serves 8 people
¼ cup olive oil
2 tablespoons Meyer lemon juice
Large pinch coarse sea salt
5-6 grinds fresh black pepper
1 pint fresh strawberries­ — rinsed if necessary, hulled and quartered
1 small fennel bulb — very finely sliced (you need 1 cup of sliced fennel)
1 small Meyer lemon — finely diced
2 blood oranges — peeled and diced
8 oz baby arugula — if you cannot find baby arugula try and find the smallest leaves possible
Pour the olive oil and lemon juice into a medium-sized salad bowl. Whisk together to form an emulsion, add the salt and pepper and whisk again. Place serving utensils over the vinaigrette.
Place all of the remaining ingredients over the utensils ensuring that they do not fall into the vinaigrette.
When ready to serve, toss the salad gently so that it is well combined.
STRAWBERRY AND RED LEAF LETTUCE SALAD
Serves 8 people
¼ cup olive oil
1 tablespoon fig balsamic vinegar
Salt
Black pepper
1/3 cup pistachios
2-3 small heads of red leaf lettuce — leaves rinsed clean, dried and left whole
1-2 small heads of red frisee lettuce — leaves rinsed clean, dried and left whole
1 pint fresh strawberries — rinsed if necessary, dried, hulled and thinly sliced horizontally
½ bunch cilantro — stems removed, leaves left whole
Whisk the olive oil and balsamic vinegar together in a large salad bowl. Add the salt and pepper and whisk again. Place serving utensils over the vinaigrette.
Dry roast the pistachios in a small pan placed over medium heat until they are just golden. Place the pistachios in the salad bowl. Add the remaining ingredients to the bowl, placing the greens on top of the utensils so that they do not fall into the vinaigrette.
When ready to serve, toss the salad gently so that it is well combined.
STRAWBERRY TARTE WITH LEMON MASCARPONE
Serves 8
For the pastry:
9 oz unbleached all-purpose flour
6 oz slightly softened butter — cut up into small pieces.
1 large egg
Zest of 1 lemon
Pinch of salt
Preheat oven to 400 degrees.
Butter 8 individual tart pans with removable bottoms.
Place all the ingredients into a food processor and use repeated pulses until the mixture resembles coarse breadcrumbs, then use longer pulses until the dough forms a ball in the bowl of the food processor.
Wrap the dough in plastic wrap and refrigerate for 20 minutes before rolling out.
Place the unwrapped dough on a lightly floured work surface. Roll the dough out to a 1/4 inch thickness. Line each tart pan with the dough, trimming any excess from the edges. Place some parchment paper over the dough in each pan and place some pie weights or rice on top.
Bake in the oven for 20-25 minutes so that the dough is golden brown. Remove from the oven and set aside to cool.
For the mascarpone:
3/4 cup mascarpone
1 teaspoon vanilla bean paste
Zest of 2 lemons
½ tablespoon light brown sugar
Combine all the ingredients in a small bowl and then spoon an equal amount of the mascarpone mixture into each the prepared tart shells. Smooth the mixture out so that it covers the bottom of each shell.
For the strawberries:
3 baskets strawberries (with some wild berries if possible) — cleaned, hulled and cut in half
Honey
Starting from the outside edge of the tart, place the strawberries standing up cut side towards the middle of the tart. Work in concentric circles so that the strawberries create a flower pattern in the tartlettes. Drizzle a little honey over the strawberries.