Written for Edible Santa Barbara - Autumn 2013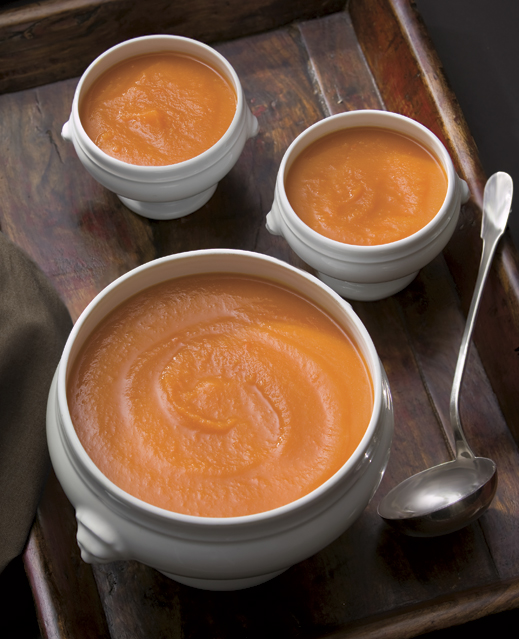 Soup puts the heart at ease, calms down the violence of hunger,
eliminates the tension of the day, and awakens and refines the appetite."
~Auguste Escoffier
The building was impossibly narrow, 10 feet wide at most. It stood on the corner of a short London street and looked as though someone had shaved three-quarters of the structure leaving only the decorated façade behind. All four floors housed a single restaurant. 40 seats tops. Just a few tables on each floor accessed by an impossibly narrow winding staircase that both tray carrying waiters and patrons nervously navigated. I preferred sitting at the bar on the ground floor. It felt very grown-up. I think I was 13 the first time I had lunch there with my father. He took me there to eat soup. We ate lobster bisque. It was heavenly. The epitome of sophistication in a bowl.
I have been thinking about soup a lot over the past few weeks as I've been writing this article and I realized that particular soups have played a starring role in many of the cities I called home over the past four decades. In each case linked to a restaurant where I would inevitably eat the same dish, that particular soup. One of my favorite haunts in Los Angeles had a sensational Soupe de Poisson complete with a rustic rouille and garlicky toasts to float on the surface and soak up all the fragrant juices; another in Golfe-Juan served a bouillabaisse that many drove across the country for; I remember a particularly chunky-creamy-yet-not-too-rich clam chowder in Newport, R.I. shared at communal tables in a casual deli, and an earthy mushroom soup in a tiny Paris Bistro which I would happily travel half-way around the world to get another taste of.
So what is it about soup that is so appealing? Ask anyone about soup and what sensations it conjures up for them and a reoccurring theme runs through their answers. It reminds them of home, their grandmother, their mother, their youth, being nurtured and comforted, it's easy to make, it has endless possibilities, it's easy to eat, and it's healthy. As one of the founders of Gourmet Magazine, Louis P. De Gouy wrote in his 'The Soup Book' (1949) "Good soup is one of the prime ingredients of good living. For soup can do more to lift the spirits and stimulate the appetite than any other one dish." No wonder that the age old remedy for a bad cold is a bowl of chicken soup!
I am no exception to the rule. I grew up eating soup almost every day as my mother had. Fresh vegetable soup, served pureed or in a clear broth. My grandmother made a wonderful vegetable 'potage', a creamy concoction with seasonal vegetables, leeks, shallots, potatoes and a few fresh herbs. She'd a dollop of crème fraiche in there sometimes for good measure. It was the perfect food after a day out in the snow. I liked dipping a piece of baguette in the soup so that it would soak it up which is perhaps just how soup got its name, as the word comes from 'suppa' and 'sop' which both mean "bread soaked in broth". Isn't that one of the best parts of eating a bowl of hearty soup?
There are few dishes that can nourish one as completely as soup does. This was the very comment that Anthony Carroccio (founder and President of the Organic Soup Kitchen) made when I spoke to him about why so much of the food they prepare is centered around a hearty bowl of soup. I agree completely – it is a dish that sustains you.
Everyone I have spoken to is nostalgic about this dish. It's evocative in a manner that is quite personal to each person. Perhaps that's why, when I unexpectedly found myself around the corner from that very narrow restaurant, on that short London street last year, I immediately rushed over to taste 'that' bowl of soup….. I stood aghast in front of the scaffolding that encased the building, the new building. The old one had been demolished, the restaurant, and a 130 plus years of culinary history with it, all in the name of progress. What a shame! However, the memory of that soup lingers with me, perhaps that makes it all the sweeter.

CARROT, ORANGE AND GINGER SOUP
Carrots and oranges are marvelous together. Quite apart from the same vibrant color, the sweetness and zest of orange juice marries so well with carrots, enhancing their flavor. This soup has verve and the ginger adds a little spiciness to it.
Serves 8 people
2 ½ lbs carrots – peeled and chopped into 1 inch pieces
1 inch piece of fresh ginger – peeled and diced
Zest and juice of 2 oranges
2 tablespoons olive oil
4 cups fresh vegetable stock
Salt and pepper
1 tablespoon butter
2 tablespoons cilantro - chopped
Pour some olive oil into a large saucepan placed over medium heat. Place the carrots, ginger, orange zest and toss to coat the vegetables well. Sprinkle with a little salt and pepper. Cook for 15 minutes, stirring frequently.
Pour all of the vegetable stock into the saucepan and continue cooking the carrots for another 30 minutes or until tender.
Stir in the orange juice and cook for a few minutes more.
Carefully purée the carrots and stock in batches in a food processor (you get the smoothest soup using this method) but you can also use a hand held blender. If you are using the latter, leave the soup in the saucepan.
Pour the puréed soup back into the sauce pan if you puréed it in the food processor. Just before serving stir the butter into the soup, check the seasoning, adding a little more salt and pepper if needed. Sprinkle the cilantro on top of each bowl.
ROASTED PARSNIP SOUP WITH A SAUTÉ OF WILD MUSHROOMS
Serves 8-10 people
2 large onions – peeled and diced
2 lbs parsnips – peeled and cut into 1 inch pieces
4 shallots – peeled and roughly diced
¼ cup olive oil
1 tablespoon cumin
8 cups vegetable stock
Salt and pepper
1 tablespoon butter
8 oz chanterelles (or other wild mushrooms–Shitakes work well) – cleaned and thinly sliced
Preheat the oven to 400 degrees.
Place all the onions, parsnips and shallots into a large roasting pan. Combine the olive oil and cumin in a small bowl and then pour over the vegetables and toss to coat well in the pan. Sprinkle with salt and pepper. Place in the oven and roast for 25 minutes.
Pour all of the vegetable stock (or chicken stock) into the roasting pan and continue cooking the parsnips (covered with a piece of foil) for another 35 minutes.
Once the parsnips are fully cooked carefully remove the pan from the oven. Puree the soup with either a hand held blender or in batches in a food processor until you have a very smooth soup. If you are using the later, be careful not to overfill the bowl of the processor. If the soup is very thick, add a little extra vegetable broth when you puree it.
Keep the soup warm in the pan until you are ready to serve it.
Just before serving, stir the chives into the soup so that they are well dispersed.
Melt the butter in a medium-sized skillet placed over medium-high heat. Sauté the chanterelles until they are golden brown and set aside.
Ladle the soup into small soup bowls (this soup is very hearty so a small bowl is the perfect size) and spoon some of the chanterelles and the juices from the pan the mushrooms cooked in, on top of the soup in each bowl.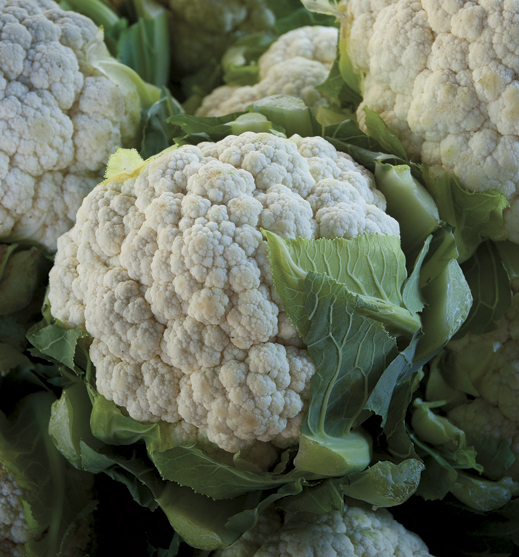 CAULIFLOWER SOUP WITH STILTON AND CARAMELIZED PEAR CHUTNEY
This recipe was inspired by Skye Gyngell and a Gorgonzola version she has in her book 'A Year in my Kitchen'. I love the mixture of cauliflower with blue cheese and the added pop of the pear chutney creates a tasty juxtaposition between salty and sweet.
Serves 8 people
Olive oil
1 tablespoon butter
2 medium-sized onions – peeled and finely chopped
4 shallots – peeled and finely chopped
4-6 sprigs thyme
2 cauliflowers – leaves trimmed away and florets separated
1 bay leaf
8 cups vegetable or chicken stock
6 oz stilton.
Salt and pepper
4 tablespoons crème fraiche
Pour a little olive oil and the butter into a large saucepan placed over medium heat. Once the butter has melted, add in the onions, shallots and the thyme and cook until the onions are soft and translucent – about 5-7 minutes.
Add in the cauliflower, bay leaf, stock and season with some salt and pepper. Simmer for 20 minutes or until the cauliflower is completely soft.
Remove the bay leaf from the soup, add in the stilton and then process the soup either in a blender or with an immersion blender until the soup is completely smooth. Whisk in the crème fraiche and keep the soup warm until you are ready to serve it.
Serve the soup in warm bowls with a spoonful of the pear chutney in the middle of each bowl.
For the pear chutney:
2 tablespoons butter
1/3 cup dried golden raisins/ cranberries
1 pinch saffron
3 pears – cored, peeled and chopped
¼ cup apple cider
2 tablespoons sugar
3 sprigs lemon thyme
Zest of 1 lemon
1 cinnamon stick
Coarse sea salt
Black pepper
Soak the saffron in a small bowl of hot water with the dried fruit for 10 minutes.
Melt the butter in a medium saucepan and add the pears, sugar, thyme and cinnamon stick. Cook for 5 minutes. Add in the dried fruit and saffron and cook for a further 10 minutes. You should have a soft golden mixture. Season with some coarse salt and pepper.