Written for Edible Santa Barbara - Winter 2011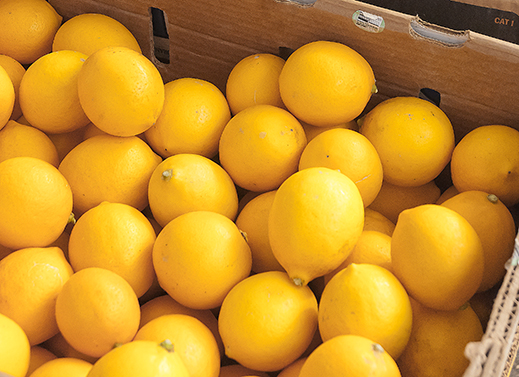 In 1520, as Ferdinand Magellan struggled to find the passage around South America, his crews slowly perished from scurvy. 208 souls were lost, out of 230, mostly to this disease. Twenty years earlier as Vasco de Gama opened up the spice routes to India, sixty percent of his crew also died from scurvy and yet herbal and dietary cures had been known for millennia. As Jonathan Lamb describes in his book 'Preserving the Self in the South Seas 1680-1840', more than two million sailors lost their lives to this debilitating illness between 1500-1800 AD. How ironic is it then, that as they opened up trade routes and explored new territories to the west, they carried within their ships holds the very substance that could cure them: The saplings of lemons, limes and oranges.
It was not until 1747, when James Lind, a Scottish physician in the service of the Royal Navy, proved that scurvy could be treated with daily doses of citrus fruit. The vitamin C was the antidote to the disease. Why it took the Navy another hundred plus years to adopt this regimen is somewhat mysterious, but so essential to survival at sea, it became part of English ordinances on all trade and war vessels. British ships were commonly known as 'limejuicers' and their sailors 'Limeys,' a nickname for all British people that remains to this day.
Although the precise origin of lemons remains unknown, there is evidence to suggest that they initially grew in India and parts of South-East Asia. Indeed India is the world's largest grower of lemons and limes.
They were introduced to Europe by the Arabs and by the fourth century were farmed in Northern Africa, Sicily and Spain. Lemons became widespread in Medieval Europe but were often used as an ornamental plant, rather than a fruit. It was only as trades routes were developed that the culinary uses of the fruit that originated in India (in the form of pickles and condiments) and North Africa (in the form of preserved fruit) made their way into the cuisines of France, England and Spain.
From there they migrated westward and were introduced to the Americas by Christopher Columbus in 1493 who brought them, on his second sea voyage, to Haiti. Subsequent Spanish conquests throughout those territories furthered the spread of the fruit, but it wasn't until the arrival of Spanish missionaries on the Californian coast in 1757, that lemons and oranges were established here. Nearly one hundred years later as California's population grew with the advent of the Gold Rush so too did the cultivation of the citrus groves. California is now the largest producer of America's lemon industry with more than fifty percent of the crop growing in Ventura County.
As the lemon migrated westward, so too have I. My travels and upbringing I realize, were oddly enough, flavored with lemons. One of my earliest childhood memories is that of standing in a very small, old and quaint sweet shop. Large bottles, glass containers that looked like apothecary jars and vast bowls were all lined up on wooden shelves and in ornate glass cases. They held jewel-toned sweets of every possible description and color. Sherberts, berwick cockles, barley sugar and Liquorice Allsorts lay in tempting mounds, lollipops in all shapes and sizes lined the tops of the cases but best of all were the lemon bonbons. Covered in confections sugar, these pale golden orbs - the size of a small grape – were deceptive. You'd pop one in your mouth and once past the sugar that powdered your lips, an intense lemon flavored sweet would slowly dissolve in your mouth. Your lips would pucker, you'd squeeze your eyes shut and suck in the sides of your cheeks. It was intense and fantastic all at once.
Lemons have been imprinted on my taste buds ever since. My childhood in London it seemed was filled with lemon flavored dishes; a luscious lemon chicken in our favorite Chinese restaurant; an unbelievably hot lemon relish in the local Indian restaurant that brought tears to your eyes, but somehow always left you wanting more; a delicately flavored Avgolemono soup from the Greek delicatessen around the corner and ethereal lemon tarts that came from my favorite French patisserie.
These were classics, but it was only as I arrived in California that I really discovered the pleasures and versatility of cooking with lemons, influenced by the multi-ethnic cuisines that are part of the states immigrant tapestry. It was here that I first tasted Meyer lemons. They were a revelation. Their thin, delicate skin and sweeter flavor made them perfect for salads, and vinaigrettes made with these lemons had a distinctive flavor. Being able to eat the skin - akin to the preserved lemons of Morocco - they transformed dishes that I had previously made with regular lemons. The halibut recipe below is such a dish.
Lemons are a natural flavor enhancer. They are also filled with natural pectin making them indispensable in making preserves and act as the curing agent in ceviche, gravlax and other fish preparations. I think I have been on a lemon craze ever since. Everywhere I turned there were lemon and orange trees. People had citrus fruit falling all over their gardens. Whereas I grew up observing citrus trees confined to the, albeit beautiful surroundings of an orangery, here they were en masse on street corners literally raining fruit on the pavement. It's hard to describe how fabulous that was to someone who lived in a climate where the temperature was rarely above 50 degrees for six months of the year. It was akin to having permanent sunshine in your kitchen.
I started making marmalade year round. Myriad varieties; classic tart orange, but also lemon-orange or four citrus which included limes and then I discovered blood-oranges. I remember having blood-orange juice in Italy when I was small, but again it wasn't until I lived in Southern California that they became regular fixtures in my farmer's market basket. Orange salads using this variety are visually dramatic and have an added floral note. Their sensational purple-orange color comes from anthocyanins which are enhanced by the cool nights and warm days that are a feature of our winter Mediterranean climate. They are also rich in antioxidants and vitamin C. There are three main varieties, Moro, Sanguinello and Tarroco. The latter is the sweetest variety. All three can be found in Southern California during their November to May season.
It always seemed odd to me that what is thought of as the ubiquitous summer fruit is in fact in season during winter. The great pleasure however is that even on the coldest, wettest winter day you can have an invigorating dash of sunshine in the form of a Meyer lemon or a blood-orange. Both will enliven your food and bring a certain zest to the season.


WINTER CITRUS SALAD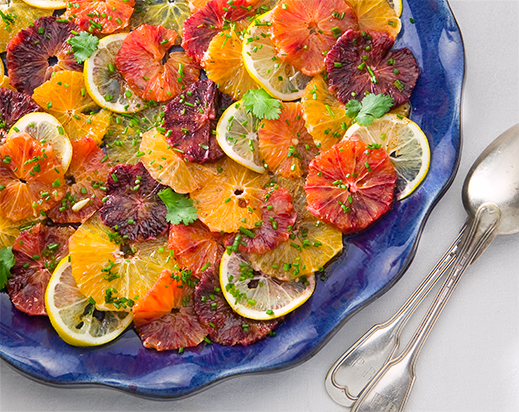 Winter is often seen, in food terms, as a time for warm hearty dishes and yet it is prime time for lots of citrus fruit, Meyer lemons and blood oranges in particular. Inspired by the classic orange and red onion salad of Spain and the North African tradition of preserved lemons, this salad is a nod to both. Meyer lemons which are so delicately skinned lend themselves marvelously to this dish.
Serves 8 people
4 oranges – peeled and thinly sliced
4 blood oranges – peeled and thinly sliced
1 Meyer lemon – very thinly sliced with the skin on
¼ cup olive oil
Juice of ½ lemon
1 teaspoon orange flower water
1 pinch cumin
1 pinch sumac
1 pinch cinnamon
Coarse sea salt
Black pepper
2 Tablespoons chives – finely chopped
2 Tablespoons cilantro leaves – left whole
Place the sliced oranges, blood oranges and Meyer lemons on a platter and arrange them in an appealing pattern.
In a separate bowl mix together all the remaining ingredients except for the cilantro and chives. Whisk the mixture together well to form an emulsion.
Pour the vinaigrette over the oranges and then dot with the chives and cilantro.
PARCHMENT BAKED HALIBUT WITH MEYER LEMONS AND SHALLOTS
Serves 8 people
4 Meyer lemons – thinly sliced
Olive oil
Coarse sea salt
8-10 large shallots – peeled and thinly sliced
4-5 sprigs lemon thyme
2 ½ lbs. halibut – cut into eight equal parts
Pre heat the oven to 300 degrees.
Place the lemons onto a parchment lined baking sheet. Drizzle with olive oil and sprinkle with the coarse sea salt. Bake for 20 minutes.
Pour a little olive oil into a heavy-bottomed pan placed over medium heat. Add in the shallot slices and lemon thyme and cook until soft and translucent, about 5-8 minutes.
Place the one eighths of the shallots onto a separate 12 x 10 inch piece of parchment paper. Place one of the halibut slices on top of the shallots and then cover the surface of the fish with some of the baked lemon slices. Drizzle with a little more olive oil. Fold the parchment over the fish and seal the parchment. Repeat with the remaining pieces. Place the eight packages on to a baking sheet.
Bake the fish for 20 minutes.
Remove from the oven, taking care when you open the parchment as this will release some steam. Serve with the juices from the parchment package.
This is excellent served with sautéed bok choy, spinach or some steamed green beans.
LEMON TART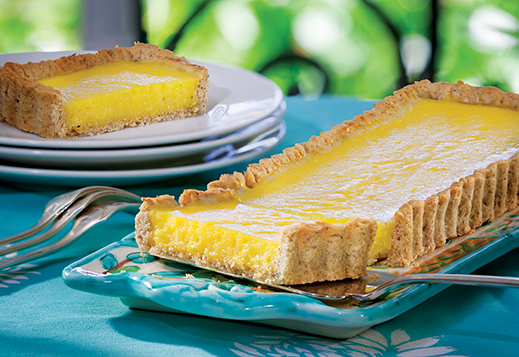 [From A Menu For All Seasons: Spring, New Edition – reproduced with permissions Media 27 Editions, Publisher]
Serves 8-10 people
For the dough:
(enough to line a 10" round tart pan (with a little left over) or to make 2 rectangular tarts)
7 oz flour (1 1/3 cups)
4 oz almond meal (3/4 cup)
5 oz unsalted butter (1 stick plus 2 tablespoons
1 teaspoon olive oil
1 egg
1 Tablespoon confectioner's sugar
1 Tablespoon pine nuts
Zest of 1 lemon
Pinch of coarse sea salt
Preheat oven to 400 degrees.
Place all the ingredients in the bowl of a food processor and pulse until just combined. Remove the dough from the bowl and place onto a large piece of seran wrap and flatten out a little – the dough will be slightly sticky. Refrigerate for 30 minutes.
Lightly flour a clean work surface. Remove the dough from the fridge and place in in the center of the work surface. Using a lightly floured rolling pin, gently roll out the dough so that it is ¼ inch thick. Carefully transfer the dough to a pre-buttered tart pan. It can be any shape you like as long as the tart pan has a removable bottom. Trim the edges of the dough with a sharp knife and then prick the dough with the tines of a fork. Cover the dough with some parchment paper and place pie weights or some dried beans on top to prevent the dough from rising whilst baking. Bake the tart in the oven for 10 minutes, remove the parchment and weights and bake for 5 minutes more. Remove from the oven and let cool.
For the filling:
Grated zest and juice of 4 lemons
4 whole eggs (beaten together in a small bowl)
3 egg yolks (beaten together in a small bowl)
6 oz sugar (3/ 4 cup plus 1 tablespoon)
3 oz butter- melted (3/ 4 stick)
Place the lemon juice and zests in a large bowl. Place the bowl over a saucepan of simmering water and heat up the lemon juice until warm to the touch.
Whisk in the whole eggs and then the egg yolks, being careful not to let the mixture boil as this will cause the eggs to curdle. Add in the sugar and melted butter, stirring until the mixture thickens enough to coat the back of a spoon. This will take a little time, so be patient and do not turn the heat up.
Pour the lemon mixture into the partially baked tart and cook a further 7-8 minutes or until the tart dough is golden brown. The lemon curd should not move if you jiggle the pan. Let the tart cool to room temperature before serving.