Many years ago I came across a recipe by Philip Johnson in an Australian magazine for lemon creams that was so simple and quick to make. It resembled more of a lemon posset than a classic pot de crème, but I loved the fact that there were no eggs and no baking. Over the years I have made countless adaptations of this dessert by adding assorted fruit and flavors. In this one, the crème is perfumed with lemon verbena and filled with fresh figs. It's fragrant, rich and sensuous.
Serves 8 people
2 ½ cups cream — do not use ultra-pasteurized which will cause the pots de crème to separate
5 oz (2/3 cup) sugar
5-6 lemon verbena leaves
1/3 cup lemon juice
Zest of 2 lemons
16 figs — chopped
3 tablespoons lemon juice
1 tablespoon mild honey
8 figs — split in half to the stem
Pour the cream, sugar and lemon verbena leaves into a medium-sized saucepan over medium heat. Bring to a boil and then remove from the heat. Add the 1/3 cup lemon juice and zest and stir to combine well. The cream will begin to thicken.

Divide the chopped figs among 8 ramekins or small glasses. Fill with the cream and refrigerate for 2 hours.

In a small saucepan, warm the 3 tablespoons of lemon juice and the honey. Mix well. Place the 8 remaining split figs into a small bowl and drizzle with the lemon-honey mixture. Make sure each fig is well coated.

When the pots de crème have set, carefully place one of the syrup-covered split figs on top of each ramekin.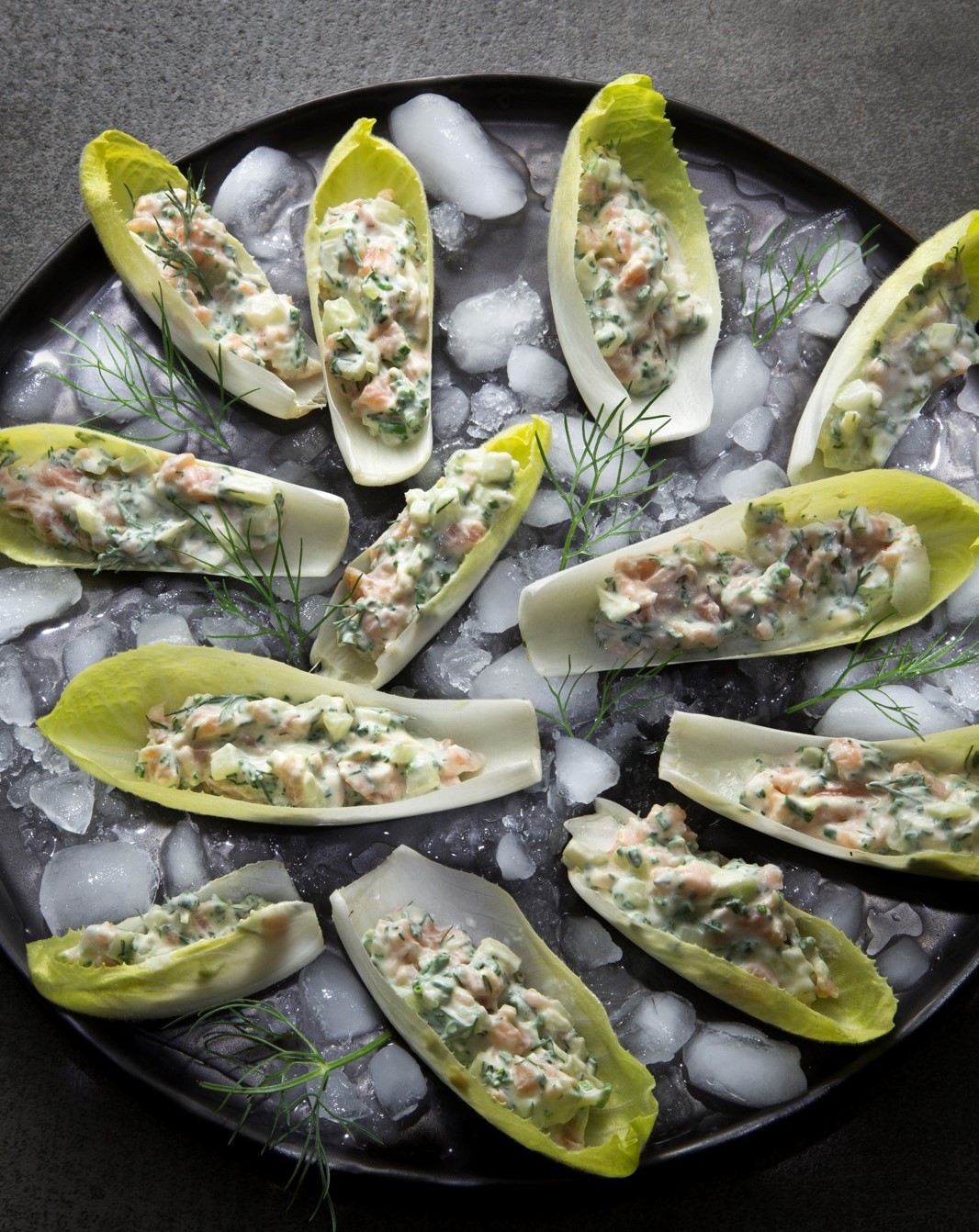 Radishes with Salt, Butter and Baguettes
Serves 8 people
1 or 2 bunches breakfast radishes — thoroughly rinsed, ends trimmed
Butter
1 baguette — sliced
Coarse sea salt
To serve this as an appetizer, place the radishes in a small bowl or arrange on a serving board with the sliced baguette, fresh butter and a small bowl of salt for dipping the radishes.
Smoked Salmon Wrapped Asparagus
Serves 8 people
2 ½ lbs asparagus (choose stalks that are not too thick, about 9 spears per person —ends trimmed
½ lb smoked salmon — thinly sliced
1 tablespoon Dijon mustard
¼ cup olive oil
1 tablespoon white wine or Champagne vinegar
1 tablespoon chives — finely chopped
Large pinch of flake salt (Murray River or Malden work well)
Black pepper
1. Cook the asparagus in a steamer until they are al dente. This should take about 5 minutes. Remove from the steamer and place them in a shallow dish filled with iced water to stop the cooking and keep the asparagus bright green.
2. Remove the asparagus from the ice water and pat dry.
3. Assemble bundles of asparagus by wrapping ½ slice of smoked salmon around 3 spears. Arrange 3 bundles on each salad plate.
4. To make the vinaigrette, combine the mustard, olive oil and vinegar in a small bowl and whisk together to create a homogenous sauce. Drizzle the vinaigrette over the salmon-wrapped asparagus and then sprinkle some chives over each serving. Add a pinch of salt and some black pepper.
Endives and Salmon "Boats"
Serves 8 -10 people
1 tablespoon olive oil
2 oz crème fraiche
1 heaped tablespoon Greek yogurt
2 tablespoons lemon juice
4 oz smoked salmon — cut into ¼-inch pieces
4 tablespoons finely diced fennel
2 tablespoons chopped dill
2 tablespoons finely chopped chives
2 large Belgian endive — ends trimmed
1. Chill a large serving platter for 30 minutes.
2. In a small bowl, whisk together the crème fraîche, yogurt, olive oil and lemon juice. Add the salmon, fennel, dill and chives, and mix well.
3. Fill the platter with ice.
4. Spoon the mixture into the endive leaves and arrange on the platter.
The salmon mixture can be made 2 hours in advance. Keep refrigerated.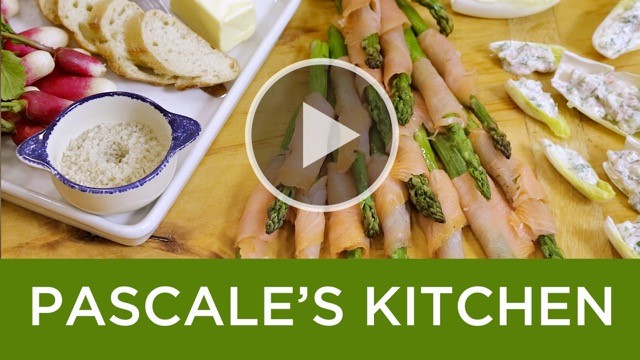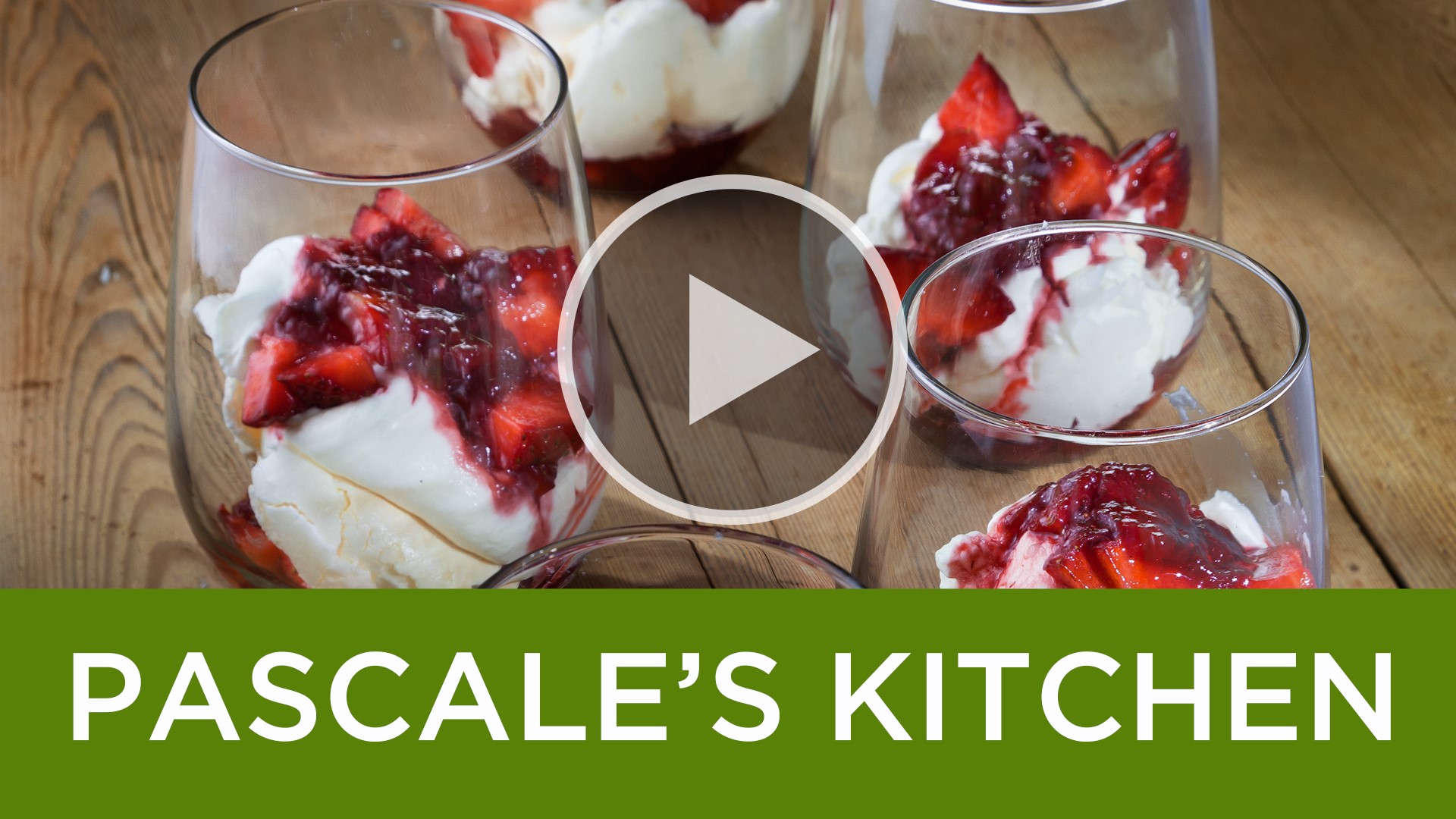 This is my version of the old English school pudding. It originated at Eton College. It's called a mess because there is no perfect way to assemble this and, well frankly, it can look a mess. However, as it is oh so delicious, no one will mind!
Serves 8 people
For the meringues:
Makes 15–18 large meringues
3 egg whites
7 oz (1 cup) sugar
For the simple strawberry-pomegranate jam:
2 pints strawberries — hulled and halved
5 oz (3/4 cup) sugar
2 teaspoons pomegranate molasses
8–10 grinds black pepper
1 Meyer lemon — halved and juiced, rinds reserved
To assemble an Eton Mess:
2 pints strawberries — hulled and halved
1 pint (2 cups) heavy cream
2 tablespoons sugar
1 teaspoon vanilla paste or pure vanilla extract
Preheat the oven to 250 degrees.
To make the meringues, whisk the egg whites in the bowl of an electric mixer until they form soft peaks. Gradually add the sugar, a tablespoon at a time and continue whisking until the whites are stiff and glossy.
Drop large tablespoonfuls of the mixture onto a parchment lined baking sheet. Bake for 30–40 minutes or until dry and just crisp. The meringues should be a pale cream color when finished. Do not overcook. Start checking them after 30 minutes. They are ready as soon as you can peel them off the parchment paper.
Place all of the ingredients for the jam, including the lemon rinds, in a large saucepan over medium heat. As the strawberries begin to render some juice, mash them using a large fork or potato masher. It's okay if there are some larger pieces. The jam is supposed to be chunky.
Cook for 10–13 minutes, skimming off any foam that forms. The jam is ready when it thickens enough to coat the back of a wooden spoon.
Whip the cream with the sugar and vanilla until it forms soft peaks. Do not overwhip the cream.
Spoon a little of the strawberry jam into eight glass dessert bowls or pretty glasses. Cover the jam with a few berries and a meringue. Spoon some of the whipped cream on top of the meringue. Top this with more strawberries, a spoonful of the jam and another meringue.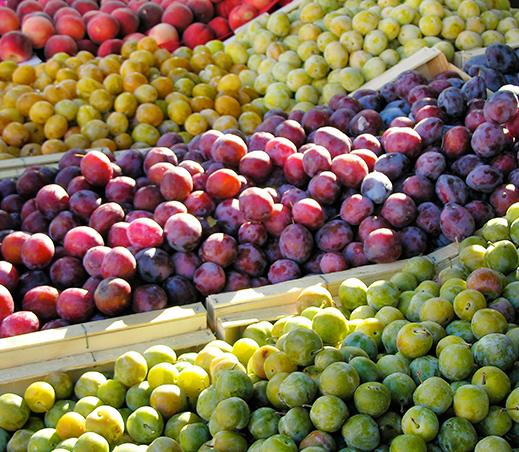 SAUTÉED PLUOTS
Pluots are also wonderful sautéed in a pan with a little butter, a pinch of cinnamon and a little brown sugar. The juice from the fruit caramelizes in the pan. Served warm with some vanilla ice cream this makes a quick and easy summertime dessert.
Serves 8 people
1oz butter
¼ teaspoon cinnamon
1 tablespoon light brown sugar
16–20 pluots—quartered
Fresh mint—chopped
Place the butter in a large skillet over medium-high heat. When the butter is foaming add in the cinnamon and sugar and stir for 1 minute. Add in the pluot quarters and cook for 5-6 minutes – they should be slightly caramelized. Serve warm with the chopped mint on top and some vanilla ice cream or fresh cream alongside.
Since the truly bumper harvest of nectarines from my garden a few weeks ago I have been keeping an eye on the plum tree, which I believe has been inspired by its fruity neighbor. It too has produced prodigious, beautiful sweet fruit. Great mounds of them in fact: 20 lbs ripening at a time, and still more to come. So much so that the nectarine frenzy of last month has been surpassed with an abundance of plum filled dishes, jams, ice creams, tarts and cakes. Thankfully we are all plum aficionados here.
Plums which were first cultivated in China are now grown commercially in many parts of the world. California is the United States largest producer of this fruit with much of the crop coming from the San Joaquin Valley. Many of our local farmers grow plums which the almost daily farmers markets showcase in great abundance. Santa Rosa plums are one of the most popular varieties in California. They are sweet and slightly tangy in taste, have a beautiful red/purple color, with an amber flesh and are perfect for the tart set out below.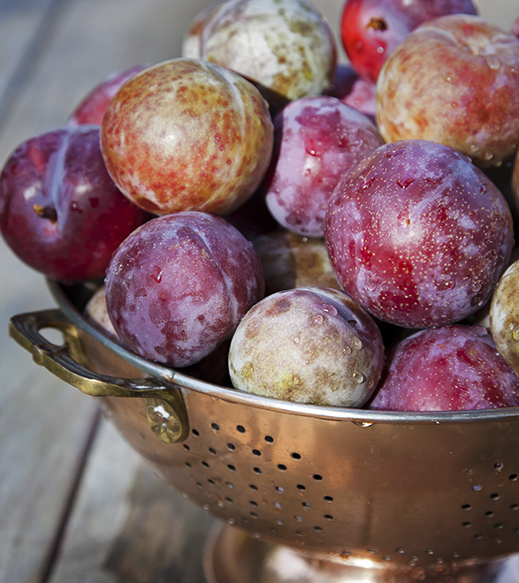 PLUM TART
For the crust:
24 gingersnaps
1 tablespoon melted butter
1 tablespoon sugar
1 pinch ground cinnamon
1 pinch allspice powder
Place all the gingersnaps in a food processor and pulverize to fine crumbs. Transfer them to a large bowl and add the melted butter and 1 tablespoon of sugar and mix together.
Transfer the mixture to a 12" spring form pan and press down with your fingers to make an even layer. Place the pan in the freezer and chill for about 15 minutes. If you are making this earlier in the day, place the tart base in the refrigerator until you are ready to serve the tart.
For the filling:
1 tablespoon butter
2 tablespoons sugar
16 plums – stone removed and thinly sliced
16oz goat cheese at room temperature
Zest of 1 lemon
4 tablespoons cream
6 tablespoons plum jam
Melt the butter in a large skillet placed over medium heat. Add the sugar and cook for 2 minutes and then add the plum slices. Cook for 2 minutes more. Remove from the heat and set aside until you are ready to assemble the tart.
Just before serving remove the tart base from the refrigerator. In a bowl combine the goat cheese, cream and lemon zest to form a smooth paste and spread this mixture carefully over the ginger crust.
Spoon the jam over the goat cheese so that it forms a smooth layer.
Arrange the plum slices by slightly overlapping each slice and placing them on top of the plum jam. Start from the outer edge of the tart and work towards the center in concentric circles. The tart looks like an open flower when it is finished. As with many summer tarts, this one is delicious served with crème fraiche or a dollop of vanilla ice cream.