I like this time of year, being bundled up in a warm sweater, a scarf wrapped around my neck and feeling a cool breeze in the air. Thankfully we do not have brutal winters here but it is nice to feel and see the change in the seasons. This is the time of year for soups and stews and dishes that warm you up from the inside.
The markets are filled with root vegetables – fantastic for roasting with olive oil and some herbs, or to make a scrumptious soup. I found some beautiful multicolored carrots at the market that were just too tempting. This carrot soup is one of my favorites. Lunch with a bowl of this and some fresh olive bread to dip into it is perfect.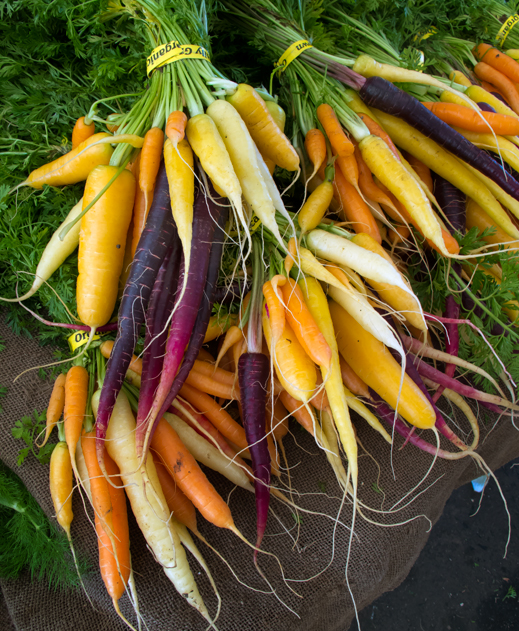 CURRIED CARROT SOUP WITH CILANTRO CREME FRAICHE
Serves 8 people
2 tablespoons olive oil
1 ½ teaspoons curry powder
1 large yellow onion – peeled and finely chopped
2 ½ lbs carrots – peeled and chopped into 1 inch pieces
1 inch piece of fresh ginger – peeled and diced
6 cups fresh vegetable stock
Salt and pepper
1 tablespoon butter
Pour some olive oil into a large saucepan placed over medium heat. Add in the onions and curry powder and cook for 3-4 minutes so that the onions are just tender. Stir in the carrots and ginger and toss to combine the vegetables well. Sprinkle with a little salt and pepper. Cook for 15 minutes, stirring frequently.
Pour all of the vegetable stock into the saucepan and continue cooking the carrots for another 30 minutes or until tender.
Carefully purée the carrots and stock in batches in a food processor (you get the smoothest soup using this method) but you can also use a hand held blender. If you are using the latter, leave the soup in the saucepan.
Pour the puréed soup back into the sauce pan if you puréed it in the food processor. Just before serving stir the butter into the soup, check the seasoning, adding a little more salt and pepper if needed. Spoon a little of the cilantro crème fraiche on top of each bowl. (see recipe below)
For the cilantro crème fraiche:
½ bunch cilantro – chopped
¼ cup crème fraiche
1 tablespoon olive oil
Juice of 1 lemon
Place all the ingredients into a blender and purée until you have a smooth mixture. You may need to add a teaspoon or two of warm water if the mixture seems a little thick. You can make this ahead of time and keep refrigerated until ready to serve the soup.