In the first century AD, Pliny the Elder wrote in his remarkable book Naturalis Historia, "The Muscat grape has been grown for a long time in Beaumes and its wine is remarkable." My grandmother obviously agreed with him as Muscat de Beaumes de Venise was one of her favorite wines. She loved to have a glass of it as an aperitif. I distinctly remember the first time she allowed me to have a taste. It was light, not too sweet with the fragrance of orange blossoms and honey. I was therefore intrigued, whilst reading an old magazine on Provencal desserts, when I came across a cake using this wine and adapted the recipe to the cake we have here. Unfortunately my lovely "Mamie" had passed away before I could make it for her. This cake is a tribute to her and to all the "delices" she used to make for me as a child.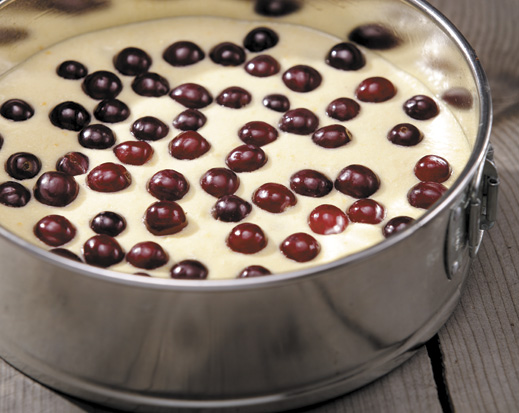 GENEVIÈVE'S GATEAU
Serves 8 – 10 people
5 extra-large eggs - separated
4 oz sugar ( ½ cup plus 1 ½ tablespoons)
5 oz butter (1 ¼ sticks)
Zest of 2 lemons and the juice of ½ lemon
Juice of 1 orange
8 oz all-purpose unbleached flour (1 ¾ cups)
½ teaspoon salt
1 1/3 cups Beaumes de Venise or Muscat
1 lb grapes – you can use red or white seedless varieties
1 tablespoon light brown sugar
1 tablespoon sugar (mix with the light brown sugar above in a small bowl)
1 tablespoon slivered almonds
Preheat the oven to 400 degrees. Coat a 10-12 inch cake tin with a removable bottom with a little olive oil. Set aside.
Whisk the egg whites until they hold firm peaks. Set aside.
Place the butter in a large bowl. Using an electric mixer, beat until creamy. Add the sugar and beat 1 minute more. Add in the orange juice and beat until smooth.
Whisk in the lemon zests and juice, and then add in the egg yolks one at a time and beat until you have a smooth mixture.
Add the flour, salt and wine to the egg yolk mixture and whisk until well combined. The batter may look a little granulated.
Gently fold the egg whites into the batter. Pour half of the batter into the prepared cake tin. Distribute half of the grapes over the batter. Cover with the remaining batter and then drop the remaining grapes over the surface.
Cook the cake for 30 minutes. Open the oven and carefully sprinkle the combined sugars and slivered almonds over the surface of the cake. Bake for a further 5-10 minutes or until a knife inserted into the center of the cake comes out clean. Remove from the oven and serve at room temperature.