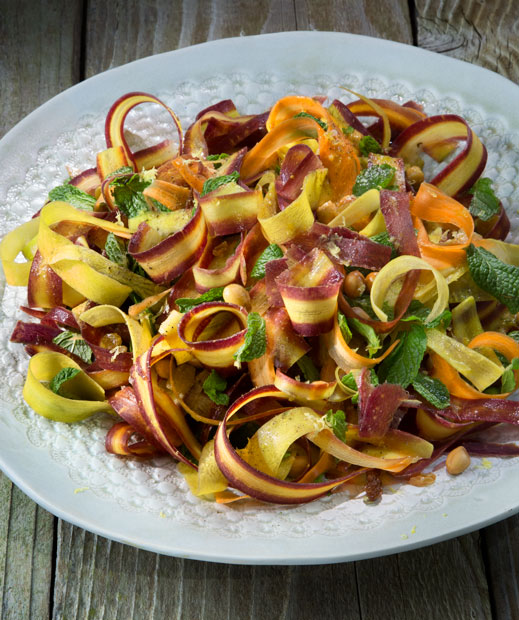 In recent years, rainbow hued carrots have proliferated at our local markets. From the palest white to sunshine yellow, from dark purple to ruby red, and of course, the classic orange carrot, they are hard to resist. Each has its own flavor and some varieties are noticeably sweeter than others. The carrot shavings transform salads into colorful edible sculptures of crunchy curlicues.
Serves 8 people
3 tablespoons olive oil
Zest and juice of 1 lemon
Pinch of coarse sea salt
4-5 grinds black pepper
½ lb (about 4 or 5 medium) multi-colored carrots — peeled
2/3 cup sprouted peanuts
½ cup golden raisins 1 cup loosely packed fresh mint leaves
1. In a medium salad bowl, whisk together the olive oil, lemon juice, lemon zest, salt and pepper to form an emulsion. Place salad utensils over the vinaigrette.
2. Using a vegetable peeler, shave the carrots into long, thin ribbons. Place the carrots, peanuts, raisins and mint on top of the salad utensils.
3. When ready to serve, toss the salad well to coat with the vinaigrette.