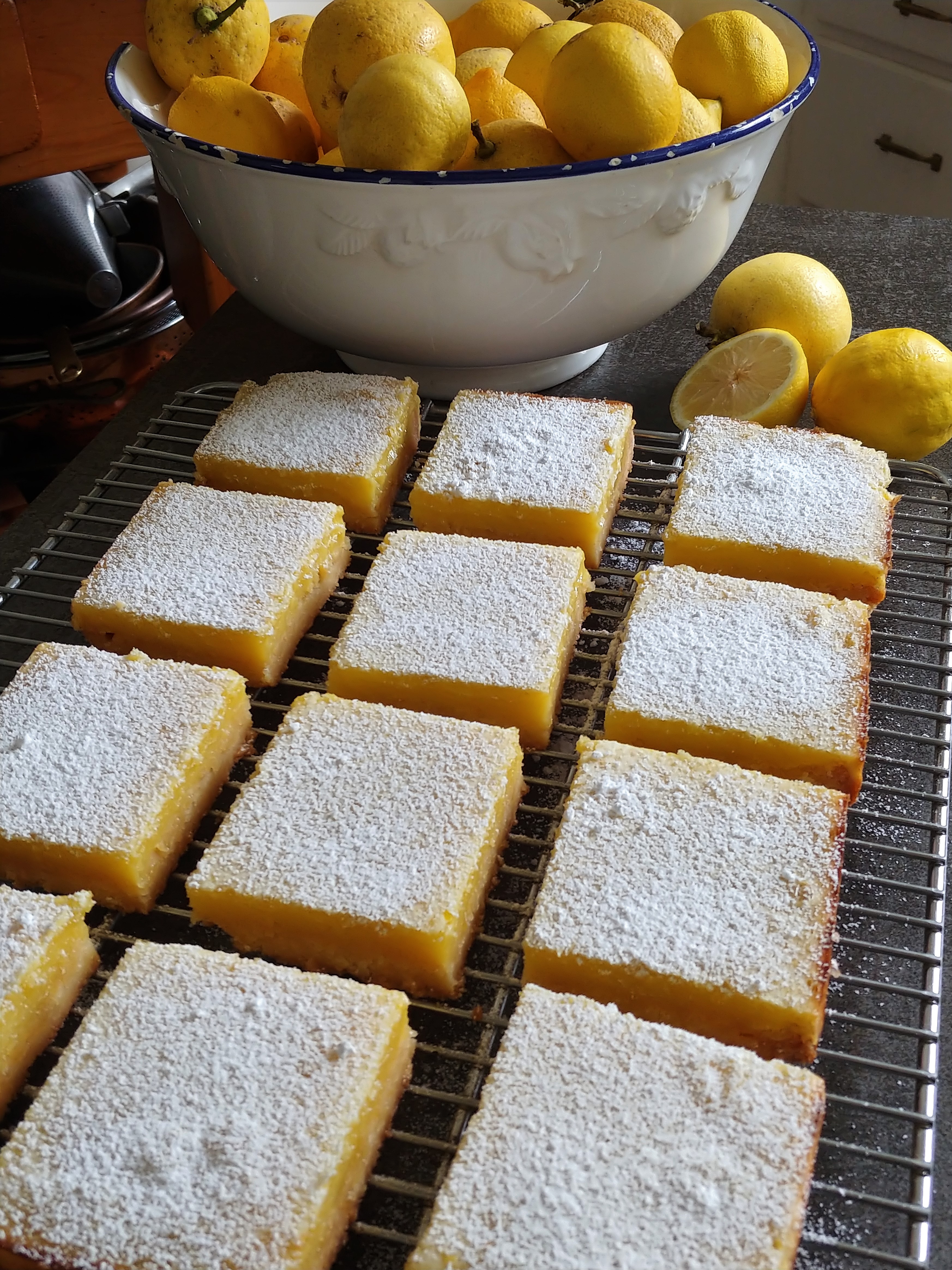 Adapted from an Ina Garten Recipe in The Barefoot Contessa
I adore lemon desserts. Lemon tarts, lemon mousse, lemon scented shortbread, well, you get the idea. My daughter asked me if I had even made lemon bars. I had but the recipe was too long and complicated and I wanted something simpler. These are just scrumptious. I came across an easy, quick recipe in one of Ina Garten's books and adapted it slightly. The principal difference is that I have used less sugar in both the crust and filling, less flour in the filling, and added lemon zest and pistachios to the crust. They keep really well, and are just about perfect with an afternoon cup of tea, or a morning coffee says my daughter! I hope you enjoy them as much as we do.
For the crust:
8 oz unsalted butter, at room temperature
2.5 oz (1/3 cup) granulated sugar
8 ½ oz (2 cups) unbleached all-purpose flour
2 tablespoons chopped pistachios
Zest of 1 lemon
1/8 teaspoon kosher salt

For the filling:
6 large (or 7 medium) eggs at room temperature
2 1/3 cups granulated sugar
Zest and juice of 5-6 lemons to yield ¾ cup freshly squeezed lemon juice
3/4 cup flour
Confectioners' sugar, for dusting.

Preheat the oven to 350 degrees.

For the crust, cream the butter and sugar until light in the bowl of an electric mixer fitted with the paddle attachment. Add the flour, chopped pistachios and salt and, with the mixer on low, mix until just combined. Place the dough into a parchment lined 9 by 13 by 2-inch baking pan. Flatten the dough with floured hands and press it, building up a 1/2-inch edge on all sides. Chill for 10 minutes.

Bake the crust for 15 to 20 minutes, until very lightly browned. Let cool on a wire rack. Leave the oven on.

For the filling, whisk together the eggs, sugar, lemon zest, lemon juice, and flour. Pour over the crust and bake for 30 to 35 minutes, until the filling is just set. Let cool to room temperature.

Cut into squares and dust with confectioners' sugar.