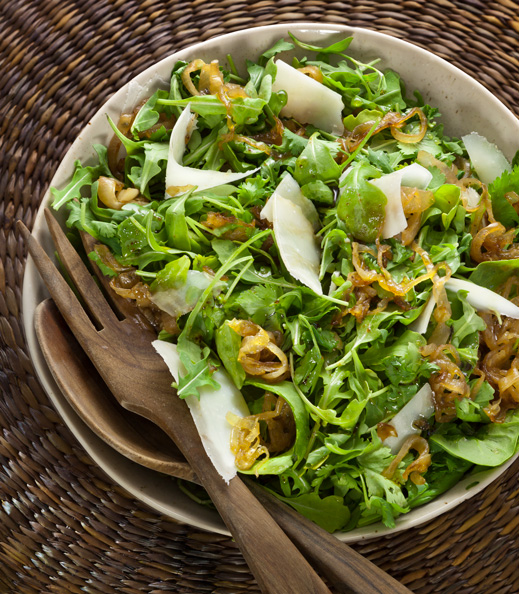 I absolutely love caramelized onions. Maybe that's why a Tarte a l'Onion is one of my favorite dishes. This salad is akin to an onion tart without the tart shell. The onions cook slowly, become golden brown, soft and sweet. The shaved Pecorino (you can use other hard cheeses such as Manchego or Parmesan) adds a salty-nutty element that plays well with the pepperiness of the arugula. Try to serve it whilst the onions are still warm — it's even better that way!
Serves 8 people
Olive oil (for cooking the onions)
2–3 large yellow onions — peeled, halved and thinly sliced
1 teaspoon honey
1 teaspoon fresh thyme leaves
Coarse sea salt and pepper
1/3 cup olive oil
2 tablespoons fig balsamic vinegar
8 oz fresh arugula
1/2 bunch cilantro — finely chopped
4 oz Pecorino — use a cheese slicer to make thin shavings
1 Pour a little olive oil into a medium-sized skillet placed over medium-high heat. Add the sliced onions, honey and thyme leaves. Cook, stirring frequently, for 8–10 minutes. Reduce the heat, add some coarse sea salt and pepper and let the onions soften until golden brown. Set aside.
2 Pour the olive oil and vinegar into the bottom of a large salad bowl and whisk together. Place salad utensils over the vinaigrette and place the arugula and cilantro over the utensils. When you are ready to serve the salad, toss it gently so that the ingredients are well combined.
3 Divide the salad equally between eight plates. Spoon an equal amount of the caramelized onions on top of the arugula and cilantro mixture. Place some of the shaved Pecorino on top of the onions.