As I walked down the aisles during this past week's farmers market, I spied some delicate grapes cascading over a wooden crate. They looked sweet and delicate. The vendor offered some to taste. They were indeed sweet and delicious. Roasting grapes is a wonderful way to showcase this fruit and it pairs amazingly well with all types of poultry and duck and certain types of fish, such as salmon.
I promptly bought some grapes to add to my basket, Sunday lunch taking shape as I walked along. I also found some marvelous, multi-colored carrots whose varied flavors and color serve as a pretty and very tasty accompaniment to the chicken dish I was going to prepare.
Time to go home and cook!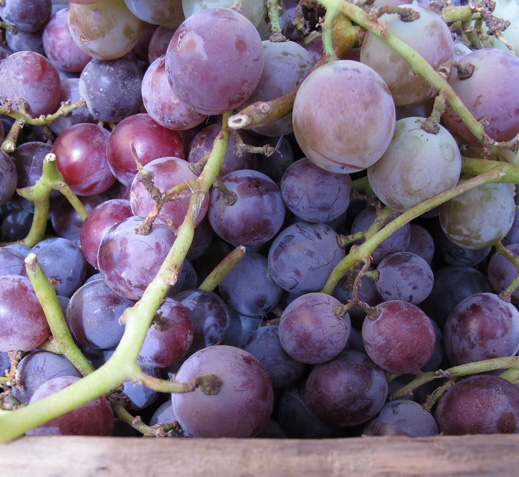 CITRUS ROASTED CHICKEN WITH GRAPES
Serves 8 people
4 large sprigs rosemary – leaves removed
4 sprigs thyme – leaves removed
Zest and juice of 2 lemons – keep the squeezed out fruit
Zest and juice of 2 oranges - keep the squeezed out fruit
1 tablespoon olive oil
Salt and pepper
2 organic chickens
1 ½ lbs grapes – de-stemmed
Preheat the oven to 400 degrees.
Combine all the ingredients (except for the chickens) in a small bowl and mix well.
Place the chickens in a large roasting pan and rub the outside with the citrus/herb mixture. Place the grapes all around the chickens. Roast in the middle of the oven for 15 minutes and then lower the temperature to 350 degrees and roast for a further 1hr 15 minutes, turning the chickens once or twice so that all sides are evenly browned. When the chickens are cooked, remove them from the roasting pan and set aside to rest before carving, loosely covered with foil.