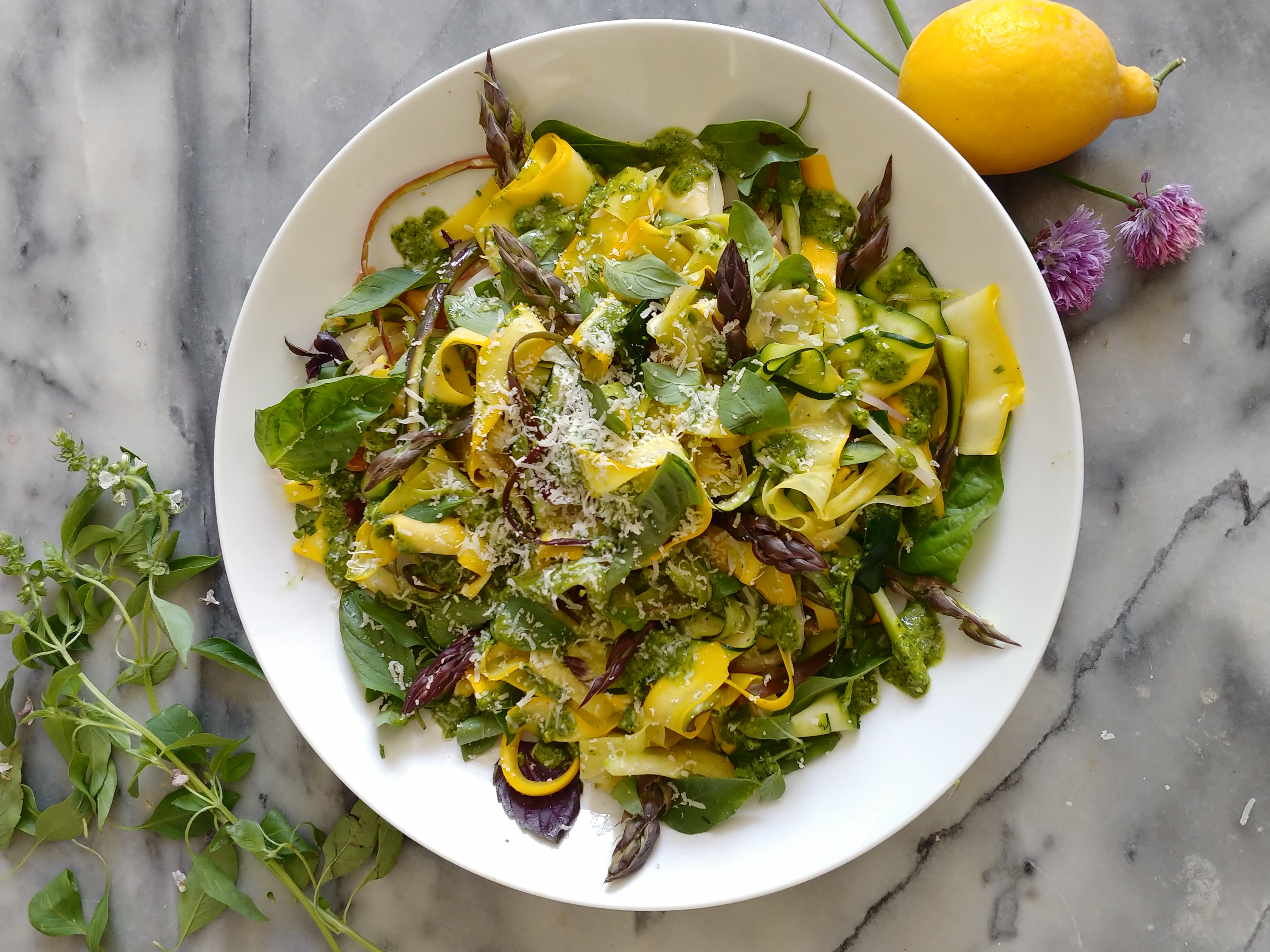 To see Pascale make this dish watch Pascale's Kitchen IGTV Channel
This is a quick, light and easy 'pasta' to prepare. It looks elaborate, but the lovely zucchini curls are simply created by continuously peeling the zucchini.
Serves 4 people
For the pasta:
4 yellow squash - ends trimmed, then using a vegetable peeler, peeled entirely into long ribbons, divided
2 carrots (I used yellow) - ends trimmed, then using a vegetable peeler, peeled entirely into long ribbons
1 large shallot - peeled and thinly sliced
1/4 cup raw peanuts or another nut of your choice
1 tablespoon olive oil
Juice of 1/2 lemon
1 tablespoon finely chopped chives
Coarse sea salt
Black pepper
2 zucchini - ends trimmed, then using a vegetable peeler, peeled entirely into long ribbons
4-6 asparagus stalks ends trimmed, then using a vegetable peeler, peeled entirely into long ribbons
Small handful of fresh basil leaves - use lemon basil if you can find it
Grated Parmesan (optional)
For the pesto sauce:
1 tablespoon of your favorite pesto
Zest and juice of 1/2 lemon
1 tablespoon olive oil
1. Preheat the oven to 375 degrees (convection), or 400 degrees (regular). Line a baking pan with parchment paper.
2. In a large bowl combine half the yellow squash ribbons, the carrots, shallot, peanuts, olive oil and lemon juice. Toss well to combine so that the strips are evenly coated. Spread the vegetables out over the parchment lined pan. Season with salt and pepper and scatter the chives over the top. Roast for 5-7 minutes until 'al dente', the vegetables should still have some bite to them.
3. In a small bowl combine the pesto sauce ingredients and whisk together well.
4. In a large serving bowl, combine the remaining squash, zucchini and asparagus with the roasted vegetables. Toss gently to combine. Drizzle the pesto over the 'pasta' and scatter the basil leaves over the top. If using, freshly grate parmesan over the vegetables.
To see Pascale make this dish, watch the Pascale's Kitchen IGTV Channel
I readily admit that these tarts are a labor of love. Yes, it does take some time to roll up all those zucchini rosettes and yes, it's worth it. All of this because of a photograph I saw in a magazine in France. The photo showed one giant zucchini "rose" that covered an entire tart. I made a version of that dish for my Les Fruits cookbook in which I added tomatoes to the rosettes to add another layer of flavor and some juiciness. I had only rolled two zucchini ribbons and added some tomatoes around the outside when I realized that it looked like a rose and so made dozens more resembling an edible bouquet. Turns out it was a delicious one, too.
This mini version is just made with zucchini.
Makes 4 individual tartlettes:
For the tart shell (you will have some dough remaining, refrigerate the rest for later use):
9 oz unbleached all-purpose flour
5 ½ oz butter — cut into small pieces
Zest of 1 lemon
1 large egg
Pinch of salt
Preheat oven to 400 degrees.
Lightly butter four, 4-inch tart pans.
Place all the ingredients in the bowl of the food processor fitted with the metal blade. Pulse until the mixture resembles coarse breadcrumbs. Use longer pulses until the dough forms a ball.
Wrap the dough in plastic wrap and refrigerate for 20 minutes. (You can make the dough ahead of time and remove it from the fridge approximately 20 minutes before using.)
On a lightly floured board, roll out the dough to a 14-inch circle. Line the four tart pans with the dough. Trim the edges with a sharp knife and then prick the dough with a fork.
For the zucchini :
4-6 yellow squash/zucchini (if they are small you may need a couple more)
1 tablespoon olive oil
1 teaspoon champagne vinegar
Salt
5-6 grinds black pepper
Remove the ends of the zucchini. Using a vegetable peeler, shave the zucchini lengthwise into thin slices. To make a rosette, tightly roll one strip. Repeat with the remaining strips. Place the rosettes upright on a board until you are ready to assemble the tart.
In a small bowl, combine the olive oil, vinegar, a pinch of salt and 5-6 grinds of pepper and 1 tablespoon of chives. Reserve.

For the cheese filling and to assemble the tart:
1/4 cup goat cheese — crumbled
1/4 cup ricotta
2 tablespoons finely chopped chives
1 tablespoon olive oil
5 grinds black pepper
In a small bowl, mix all the ingredients together to form a smooth paste. Spread the mixture evenly over the prepared tart bases.
Starting with the outside edge of the tart, tightly pack the zucchini rosettes standing them next to one another.
Bake for 20-25 minutes in the center of the oven, until the crust is a pale golden brown.

For the Herb Salad:
2 handfuls pea sprouts
20 purple basil leaves
20 Thai or lemon basil leaves
20 cilantro leaves
For the vinaigrette:
3 tablespoons olive oil
1 tablespoon champagne vinegar
1 tablespoon chopped chives
Pinch of salt
3-4 grinds pepper

Arrange the pea sprouts in a circle of four dinner plates. Intersperse the basil and cilantro leaves in and around the pea sprouts.
In a small bowl whisk together all the vinaigrette ingredients. When the tarts are ready, carefully place the in the center of each dinner plate, then lightly drizzle the vinaigrette over the herbs. Serve while the tarts are still warm.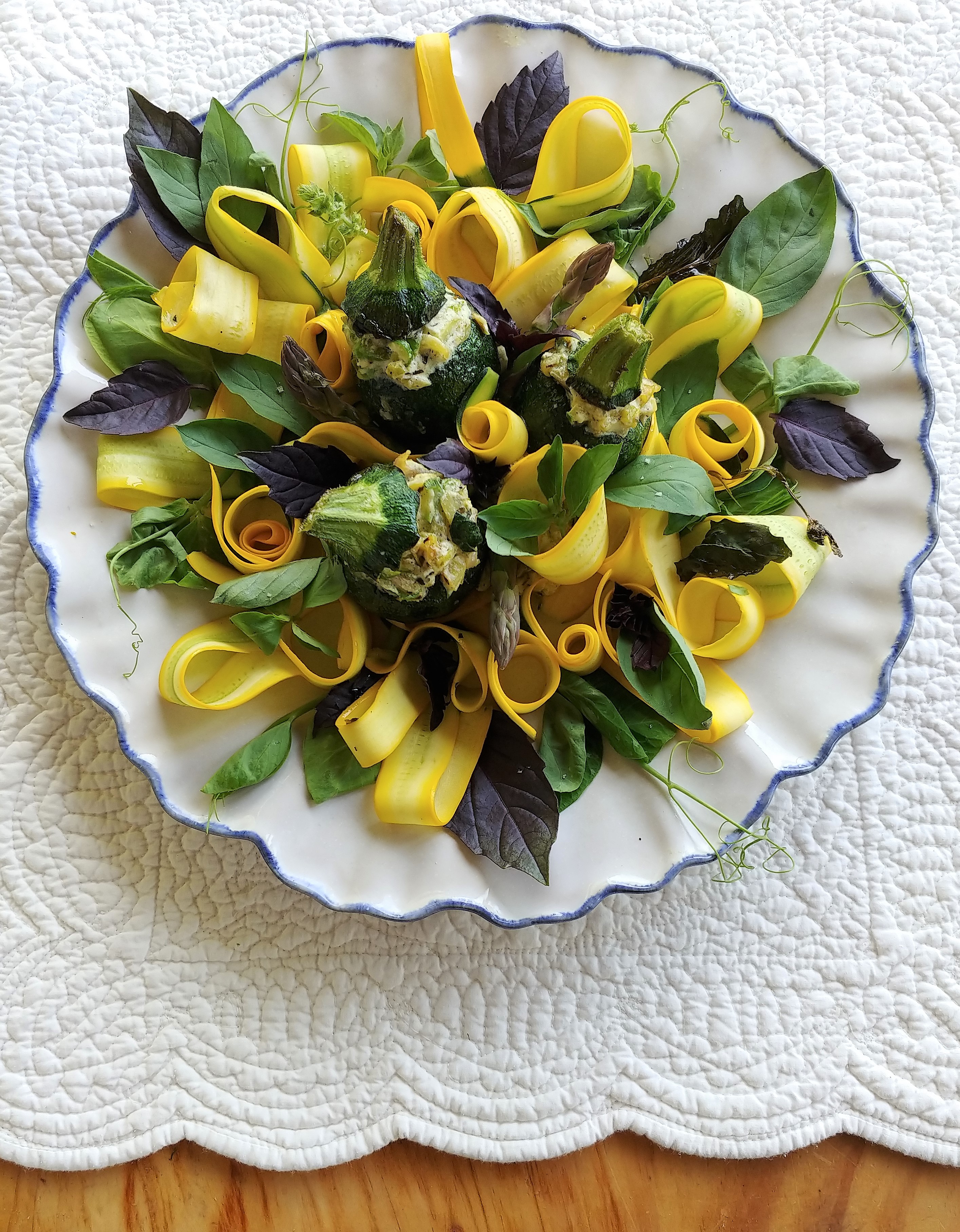 To see Pascale make this dish, watch the Pascale's Kitchen IGTV Channel

Serves 4 people
12 small globe zucchini - stem cut off (reserved)
Olive oil
1/2 lemon
Salt
Pepper
2 large shallots - finely diced
8 asparagus stalks - tips cut off and saved, stalks finely sliced
1 teaspoon Herbes de Provence or Mediterranean Herb Mix
1/3 cup ricotta
Zest of 1 lemon, plus 1 tablespoon lemon juice
8 small yellow squash - entirely peeled into thin strips, then roll up half the strips to form little rosettes
1 bunch pea sprouts
Small handful basil leaves

1. Preheat the oven to 400 degrees.
2. Using a small spoon or melon baler, scoop out most of the flesh inside each globe zucchini, leaving a 1/8th inch thick shell. Place the hollowed out shells, and the reserved stems into a small baking dish. Drizzle with a little olive oil, a squeeze of lemon juice, a pinch of salt and pepper. Roast for 20 minutes.
3. While the zucchini are roasting, prepare the stuffing. Pour two tablespoons of olive oil into a skillet placed over medium heat. Add the zucchini flesh, shallot and chopped asparagus, Herbes de Provence (or Mediterranean Herb Mix), a pinch of salt and 4-5 grinds of pepper. Cook for 3-4 minutes stirring frequently.
4. In a bowl combine the ricotta, lemon zest, lemon juice and the cooked vegetable mix.
5. Spoon the stuffing into the cooked zucchini shells, reserve any left over stuffing. Return the zucchini to the oven and roast for a further 10 minutes.
6. On a large platter spread out the pea sprouts. Scatter the yellow squash strips across the sprouts, and insert the squash rosettes in amongst the strips. If you had any stuffing left over, mound it in the center of the platter.
7. Once the zucchini are cooked, place them in the center of the platter. Scatter basil leaves over the dish. Drizzle with a little olive oil and another squeeze of fresh lemon juice.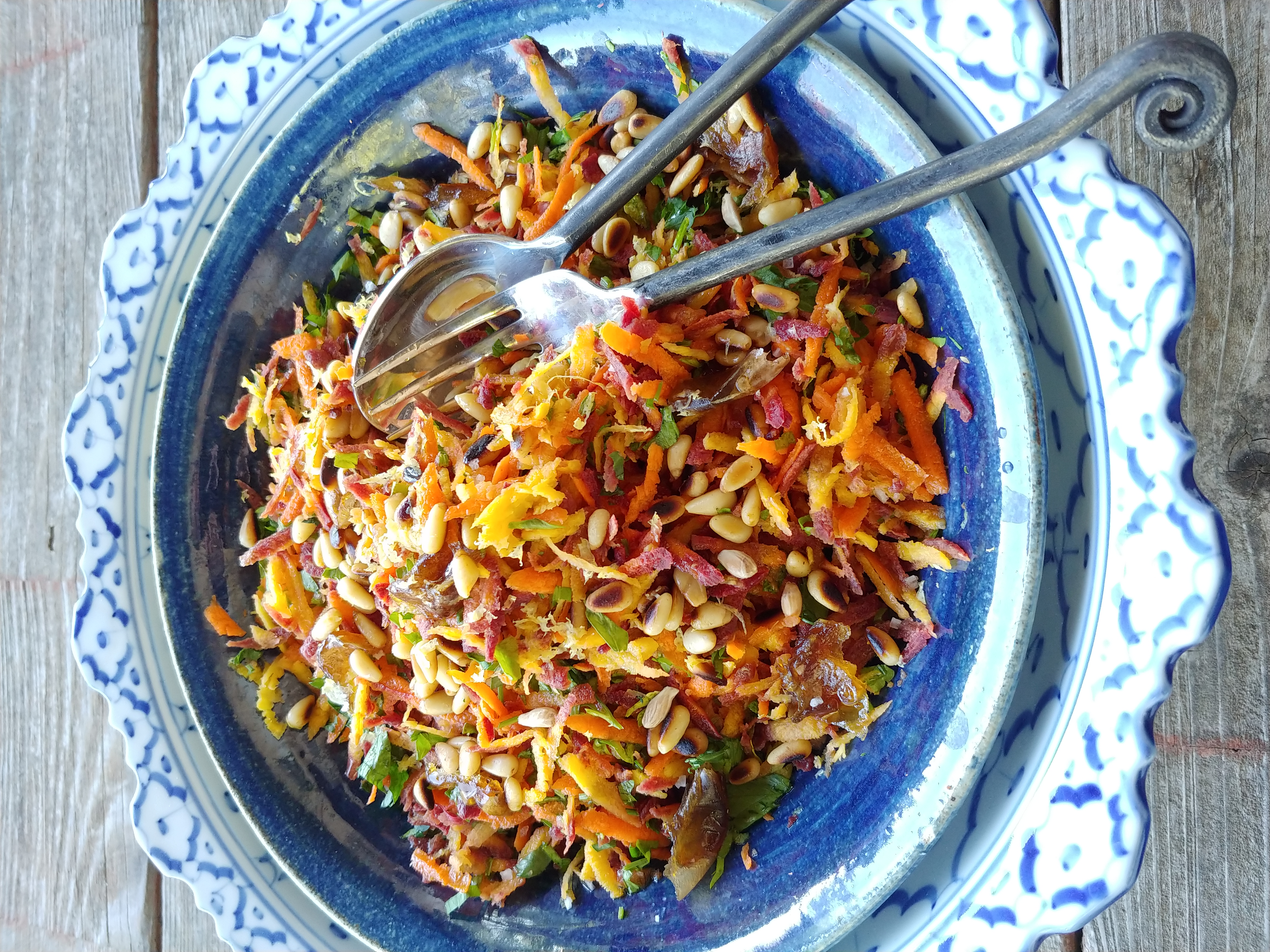 This is a jazzed-up version of the simplest of salads, one I used to eat in France as a small child. Salade de carottes râpées. Basically, grated carrots, lemon juice and olive oil. My grandmother made this salad for my brother and me all the time. It's also ubiquitous bistro fare, a simple national dish that anyone growing up in France knows well. American Food writer and Parisian transplant, David Lebowitz, wrote a blog post about this salad stating that one should refrain from messing about with the original. However, when I spied these rather extraordinary, elegantly tampered, multi-colored carrots at the market, I couldn't resist a little tinkering with the recipe. I like to think my lovely grandmother would have approved.
Serves 8 people

2 lbs fresh, assorted multi-colored carrots – peeled and grated (use a box grater)
¼ cup olive oil
Juice and zest of 2-3 lemons
2 tablespoons parsley – finely chopped
1/3 cup toasted pine nuts
8 dates (Barhi or Medjool if possible) — pitted and chopped
Sea salt
Black pepper
Place the carrots in a large salad bowl. Drizzle the olive oil, lemon juice and zest over the carrots. Sprinkle the parsley, pine nuts and dates over the carrots and add a large pinch of salt and 7-8 grinds of pepper. Toss well to combine at least 10 minutes before serving.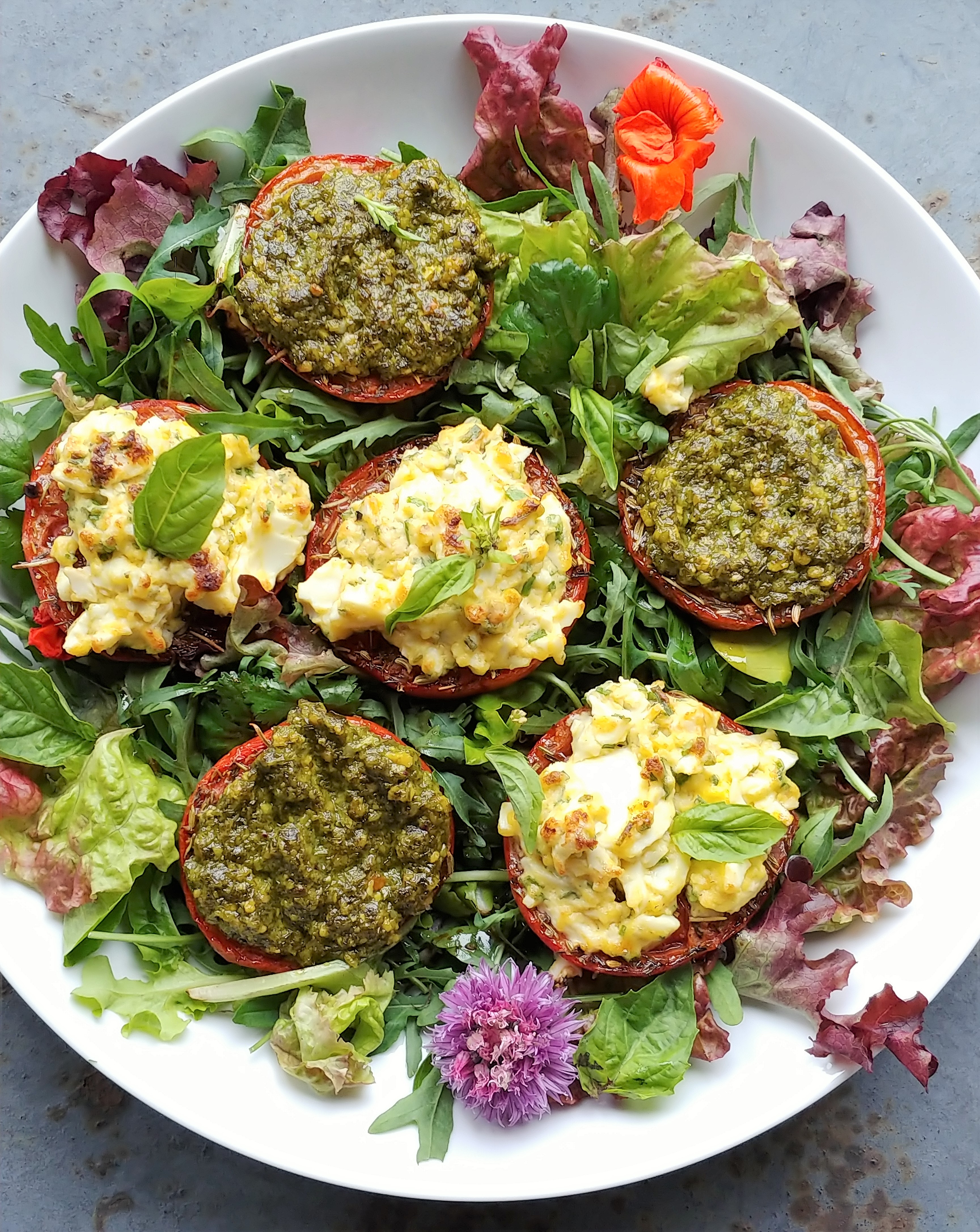 Genevieve Fay was my wonderful French grandmother. Cooking with her as I grew up was a special treat. This is one of the first things I learnt to make with her as a little girl and was always enchanted by its origins. The tomatoes are covered with a mixture which, she said, resembled mimosa. The lady who had given her the recipe told her that she was reminded of the mimosa she had seen in Japan and in fact called them 'Tomates Japonaise' or Japanese Tomatoes. We always called them tomates mimosas at home. They are excellent served with a green salad, roast chicken or with the racks of lamb.
Serves 8
16 small or 8 medium-sized, ripe yet firm tomatoes, each cut in half.
Olive oil
Salt and pepper
1 tablespoon Herbes de Provence
3 eggs – hardboiled
4 – 5 tablespoons Crème Fraiche
2 tablespoons finely chopped chives
1 tablespoon finely chopped parsley
5-6 basil leaves – very finely sliced
Preheat the oven to 375 degrees.

Pour a little olive oil into a heavy-bottomed oven-proof pan and place the tomato halves face side up. Drizzle with a little more olive oil, sprinkle the Herbes de Provence and some salt and pepper over the top. Roast for 1 hour.

Whilst the tomatoes are cooking, prepare the eggs. In a medium-sized bowl, mash the eggs with a fork or potato masher. Stir in the crème fraiche, the chives, parsley and basil. The mixture should look quite green. Add some black pepper, a pinch of salt and set aside.

Just before serving, spoon a heaped teaspoon (in the case of the small tomatoes) or a tablespoon (in the case of the medium tomatoes) of the egg mixture on top of each tomato. Place the baking dish under the grill (broiler) until the egg mixture is golden brown. Serve these hot.