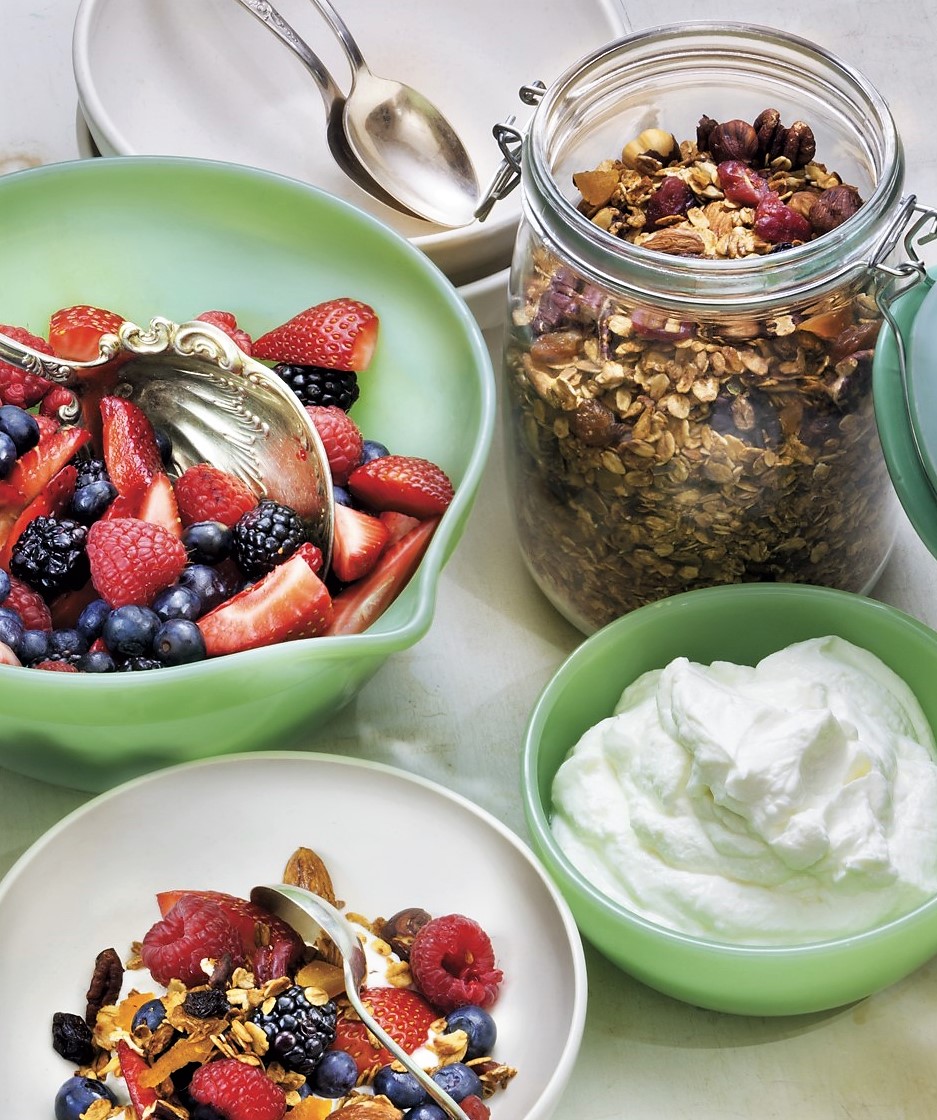 On my last visit to my father's house in France, he handed me an old biscuit tin, smiled and said "try this!" Given the age of the tin, I assumed there was something else in there — not aging biscuits. Inside was a golden, nut-filled granola. It was his creation. I was very impressed and had the best intentions to make my own when I returned to California. More than a year later, whilst visiting friends Harley and Ute in the Bay Area, I once again sampled some excellent homemade granola. It dawned on me that I had procrastinated too long. It was time to make my own! This combines my father's recipe and my friends' recipe with my penchant for dried fruit and lots of almonds.
This is one of my favorite breakfasts, however, I've been known to have it for lunch too!
Makes (9 cups) 2¾ lbs Granola
4 cups rolled oats
1 cup raw almonds
1 cup flax seed
1/3 cup packed brown sugar
½ cup organic vegetable oil such as sunflower
¼ cup honey
2/3 cup hazelnuts — roughly chopped
2/3 cup pecans — roughly chopped
½ cup dried cherries and/or cranberries
2/3 cup dried apricots — chopped
¼ cup golden raisins

Preheat the oven to 325 degrees.

Combine the oats, almonds, flax seed and brown sugar in a large bowl.

Mix the oil and honey in a small bowl. Pour it over the oat mixture and stir well to combine.

Spread the oat mixture in an even layer onto a rimmed baking sheet. Bake in the center of the oven for 30 minutes.

Add the hazelnuts and pecans to the oat mixture, stir to combine and spread in an even layer once more. Continue to bake for 20 minutes. The oats and nuts should be golden brown.

Let the granola cool completely before adding the chopped fruit. Mix well and store in an airtight container.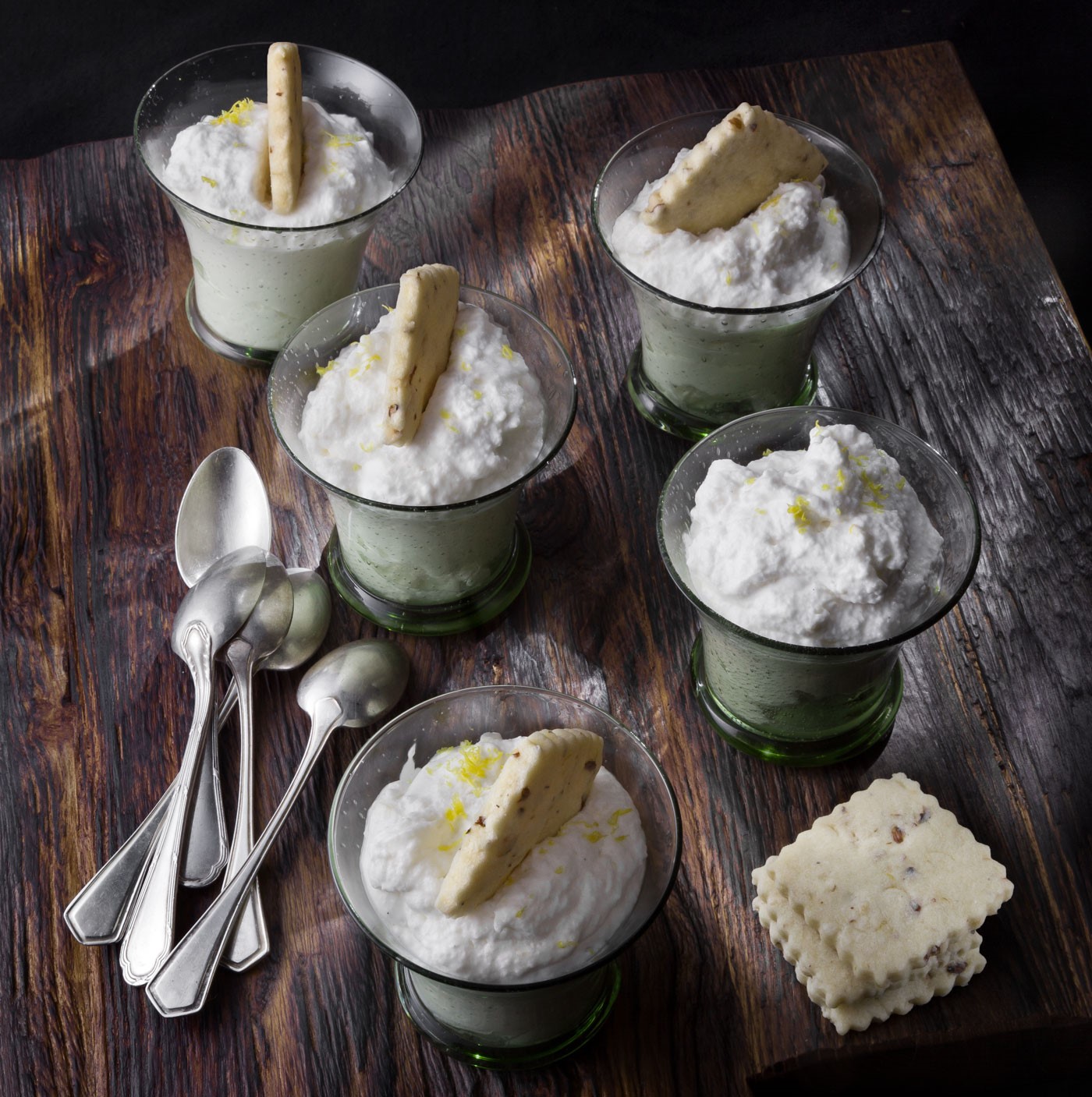 Lightly whipped cream + crème fraîche + whipped egg whites, vanilla and a touch of sugar + lemon juice = a little bit of heaven in a bowl.
Serves 8 people
12 oz whipping cream
3 oz (1/3 cup plus 1½ tablespoons) sugar
Zest and juice of 2 lemons
6 oz crème fraîche
½ teaspoon vanilla paste or pure vanilla extract
3 large egg whites
In the bowl of a standing mixer, whisk the cream until it begins to thicken. With the machine running, gradually add the sugar, lemon zest and juice, until the cream is nice and thick. Use a rubber spatula to gently fold in the crème fraîche and vanilla.
In a separate bowl, whisk the egg whites until they form soft peaks. Gently fold the egg whites into the cream base. Spoon the mixture into eight glasses or bowls and refrigerate for 2 hours. Serve with salted shortbread biscuits.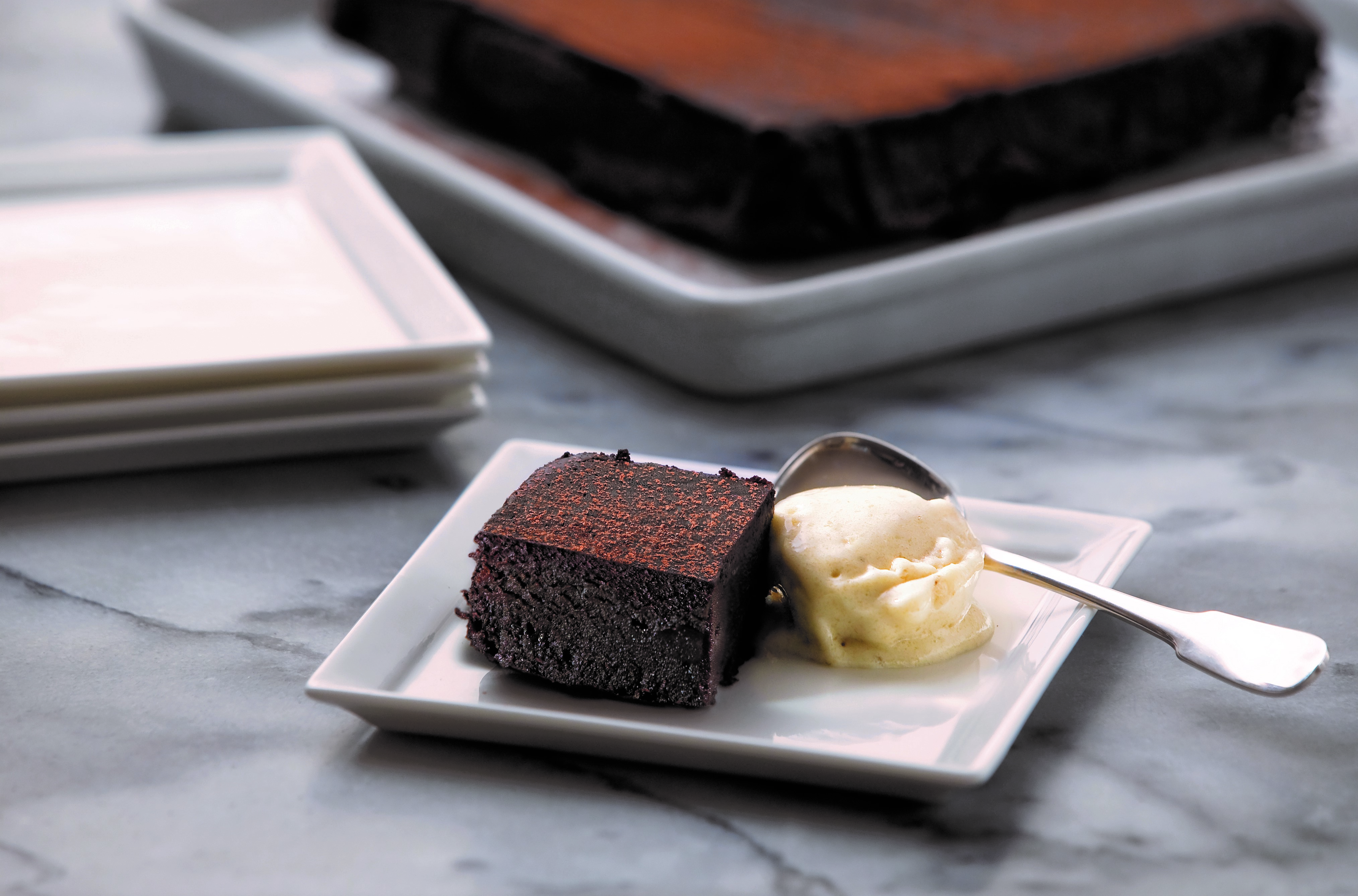 All the men in my family are chocolate obsessed. They must have a genetic predisposition to it. This extremely moist cake is for them, and for all chocolate lovers.
Serves 10-12 people
12 oz dark chocolate – chopped into small pieces
12 oz unsalted butter
9 oz sugar
6 eggs – lightly beaten
Cocoa Powder
1. Preheat the oven to 325 degrees.
2. In a medium sized saucepan over low heat, melt the sugar and butter until completely melted and smooth.
3. Add the chocolate and melt until completely incorporated and smooth once more.
4. Remove from the heat, let the mixture cool down for 5 minutes and stir in the beaten eggs.
5. Pour the cake mixture into a parchment lined cake tin. Place the cake in the center of the oven. Bake for 25-30 minutes.
6. Remove the cake from the oven and invert it onto a cake plate. Remove the cake tin and parchment paper. Let cool for 20 minutes before dusting with cocoa powder. Serve with crème fraiche or vanilla ice cream, or both.
Note: It will still be very moist so that a knife inserted will not come out clean.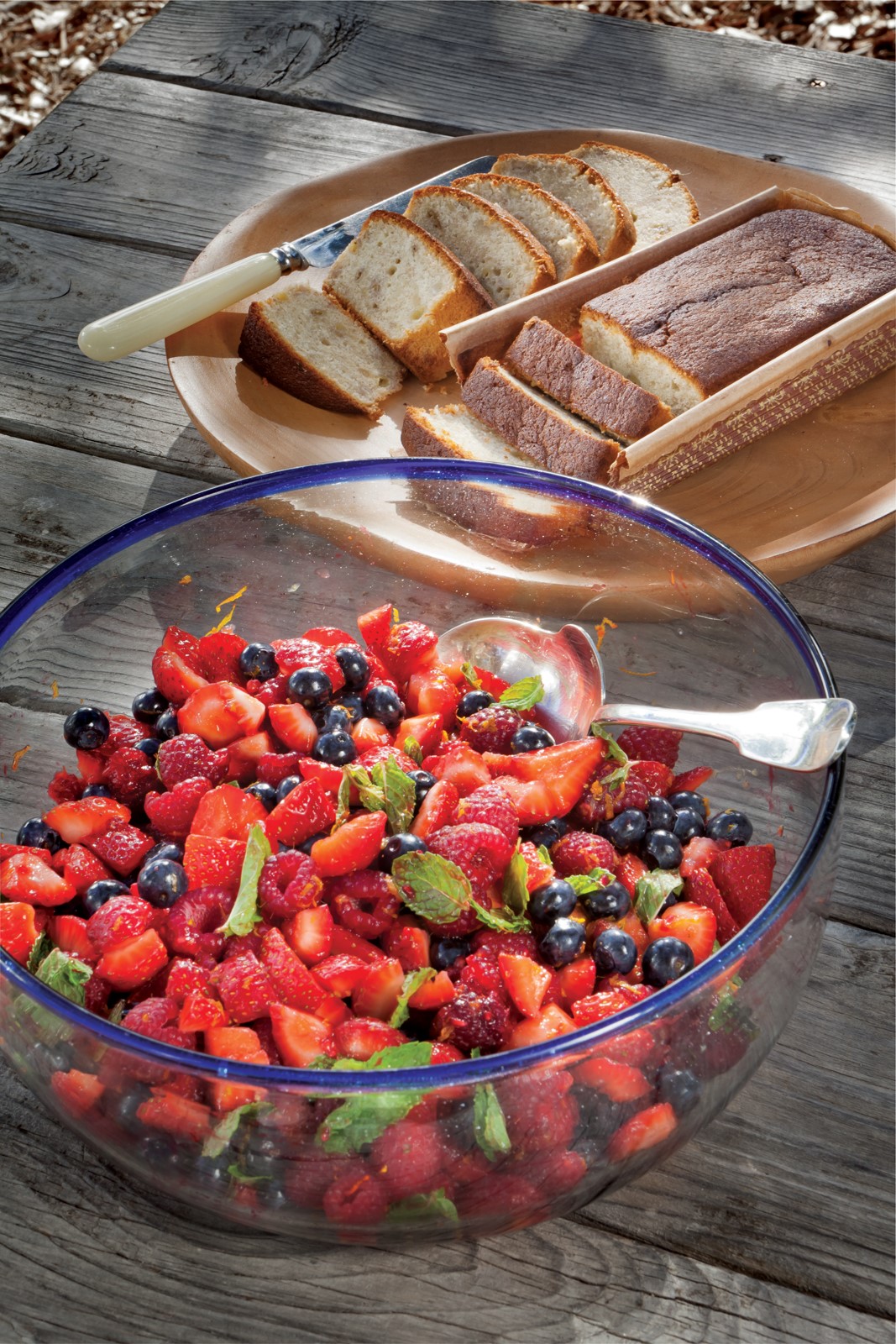 Banana Date Pound Cake
Serves 8-10 people
8 oz butter
8 oz sugar
3 -4 bananas – peeled and mashed with a fork on a plate
10 dates – cut up into little pieces
8 oz flour
4 eggs – separated
1. Preheat the oven to 400 degrees.
2. Melt the butter in a saucepan placed over medium heat. Once the butter has melted add the sugar and stir until melted. Add in the bananas and dates and stir to combine. Add the flour and stir until completely absorbed by the mixture and then remove from the heat.
3. When the cake mix has cooled to the touch, add in the egg yolks and stir together.
4. Whisk the egg whites in a separate bowl, and then gently fold the whisked egg whites into the cake batter.
5. Line a 9-inch cake tin or loaf pan with parchment paper. Pour the cake mixture into the cake tin and cook for 30 minutes or until a knife inserted into the center of the cake comes out clean.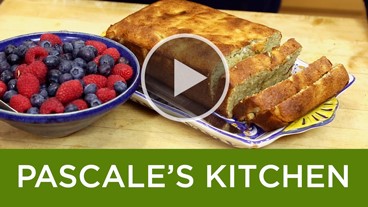 See Pascale make the cake in this episode from Pascale's Kitchen.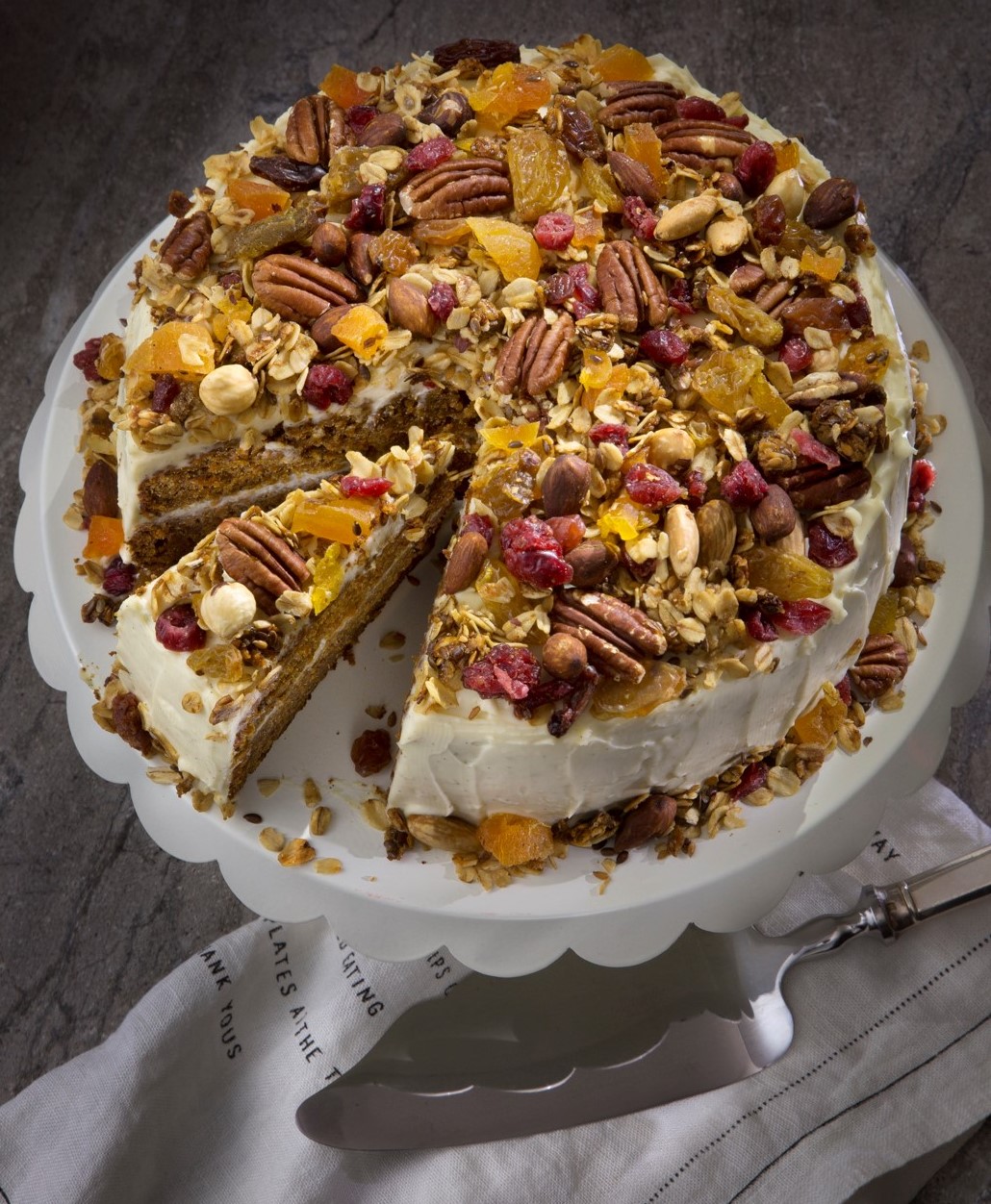 This recipe was inspired by and adapted from a carrot cake recipe I saw being made by Australian cook book author Donna Hay.
Serves 10-12 people
For the cake:
1 lb (450 grams) carrots — peeled and chopped
1 ¼ cups (140 grams) pecans
3 oz dates — pitted and chopped
1 cup packed (200g) brown sugar
1/3 cup (75g) sugar
1/3 cup vegetable oil
1/3 cup plain Greek yogurt
3 eggs
2 teaspoons vanilla bean paste (or pure vanilla extract)
2 teaspoons ground cinnamon
½ teaspoon ground allspice
1 ¾ cups (225g) unbleached all-purpose flour
1 teaspoon baking powder
1 teaspoon baking soda
For the frosting:
8 oz (250 grams) cream cheese — softened
4 oz (125 grams) mascarpone
1/3 cup confectioner's sugar
Zest and juice of 1 lemon
1 teaspoon vanilla bean paste
4 oz granola (for topping)
1. Preheat oven to 325°F. Lightly oil an 8-inch spring form pan, and then line the bottom of the pan with parchment paper.
2. Place the carrots and pecans into a food processor fitted with a metal blade and process until finely chopped. Add the dates and sugars and process again until just combined. Scrape down the sides of the mixing bowl.
3. Add the oil, yogurt, eggs and vanilla paste and process until just combined. It will look very wet at this stage – don't panic!
4. Add the spices, flour, bicarbonate of soda and baking powder and process for just a few seconds until the mixture has just come together.
5. Pour/ scrape the cake batter into the prepared 8-inch round spring form pan. Bake for 50–55 minutes. When tested with a skewer it should come out just clean. Allow to cool in the tin. Once cooled, slice the cake in half, horizontally. Place the bottom half of the cake on a cake plate or cake stand.
6. To make the mascarpone frosting, place the cream cheese, mascarpone lemon juice and zest, confectioner's sugar and vanilla in a food processor and process until smooth. This can be made ahead of time.
7. Spread one quarter of the frosting over the bottom layer of the cake. Place the second layer on top. Cover the entire cake with the remaining frosting and then top the cake with the granola.