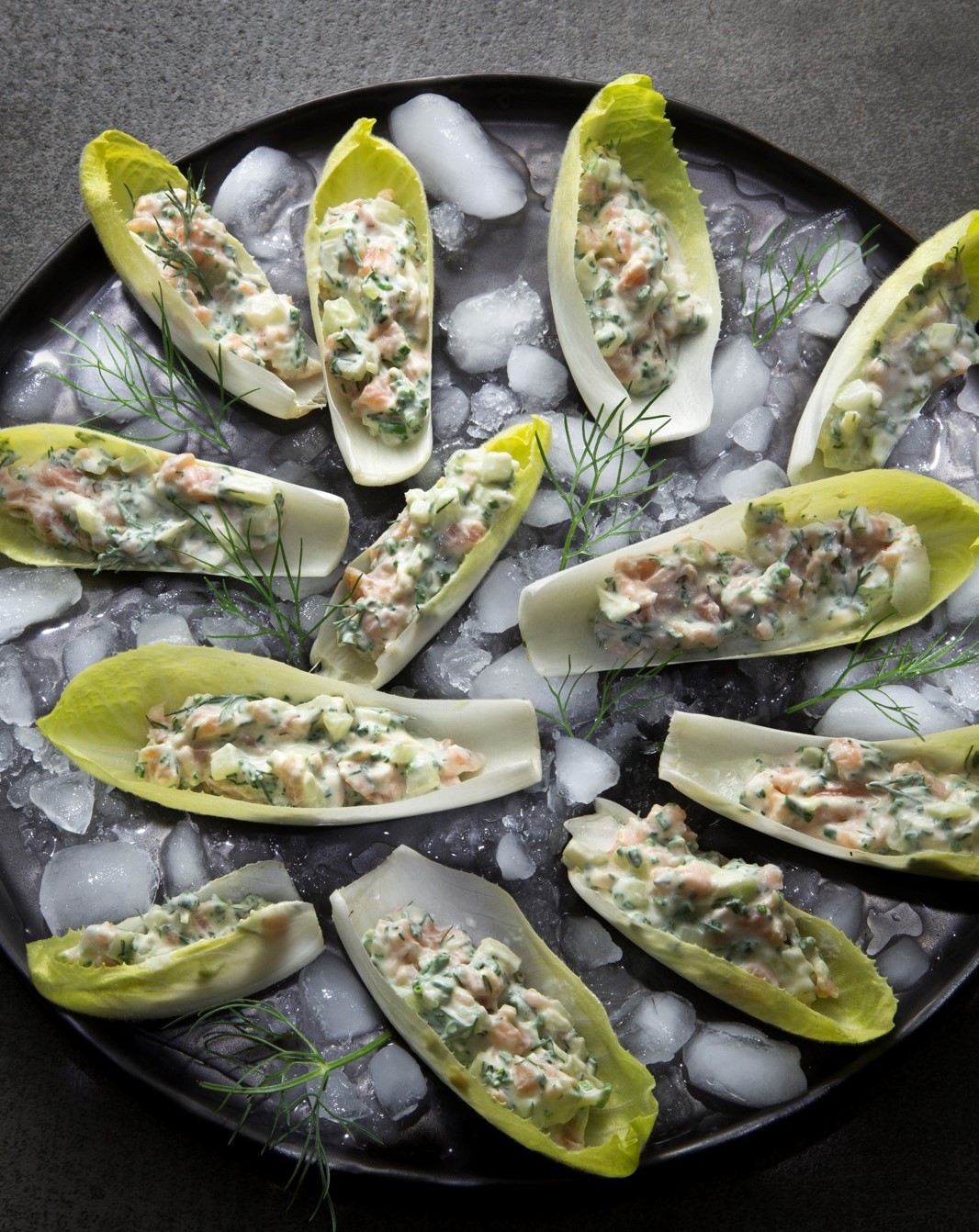 Radishes with Salt, Butter and Baguettes
Serves 8 people
1 or 2 bunches breakfast radishes — thoroughly rinsed, ends trimmed
Butter
1 baguette — sliced
Coarse sea salt
To serve this as an appetizer, place the radishes in a small bowl or arrange on a serving board with the sliced baguette, fresh butter and a small bowl of salt for dipping the radishes.
Smoked Salmon Wrapped Asparagus
Serves 8 people
2 ½ lbs asparagus (choose stalks that are not too thick, about 9 spears per person —ends trimmed
½ lb smoked salmon — thinly sliced
1 tablespoon Dijon mustard
¼ cup olive oil
1 tablespoon white wine or Champagne vinegar
1 tablespoon chives — finely chopped
Large pinch of flake salt (Murray River or Malden work well)
Black pepper
1. Cook the asparagus in a steamer until they are al dente. This should take about 5 minutes. Remove from the steamer and place them in a shallow dish filled with iced water to stop the cooking and keep the asparagus bright green.
2. Remove the asparagus from the ice water and pat dry.
3. Assemble bundles of asparagus by wrapping ½ slice of smoked salmon around 3 spears. Arrange 3 bundles on each salad plate.
4. To make the vinaigrette, combine the mustard, olive oil and vinegar in a small bowl and whisk together to create a homogenous sauce. Drizzle the vinaigrette over the salmon-wrapped asparagus and then sprinkle some chives over each serving. Add a pinch of salt and some black pepper.
Endives and Salmon "Boats"
Serves 8 -10 people
1 tablespoon olive oil
2 oz crème fraiche
1 heaped tablespoon Greek yogurt
2 tablespoons lemon juice
4 oz smoked salmon — cut into ¼-inch pieces
4 tablespoons finely diced fennel
2 tablespoons chopped dill
2 tablespoons finely chopped chives
2 large Belgian endive — ends trimmed
1. Chill a large serving platter for 30 minutes.
2. In a small bowl, whisk together the crème fraîche, yogurt, olive oil and lemon juice. Add the salmon, fennel, dill and chives, and mix well.
3. Fill the platter with ice.
4. Spoon the mixture into the endive leaves and arrange on the platter.
The salmon mixture can be made 2 hours in advance. Keep refrigerated.