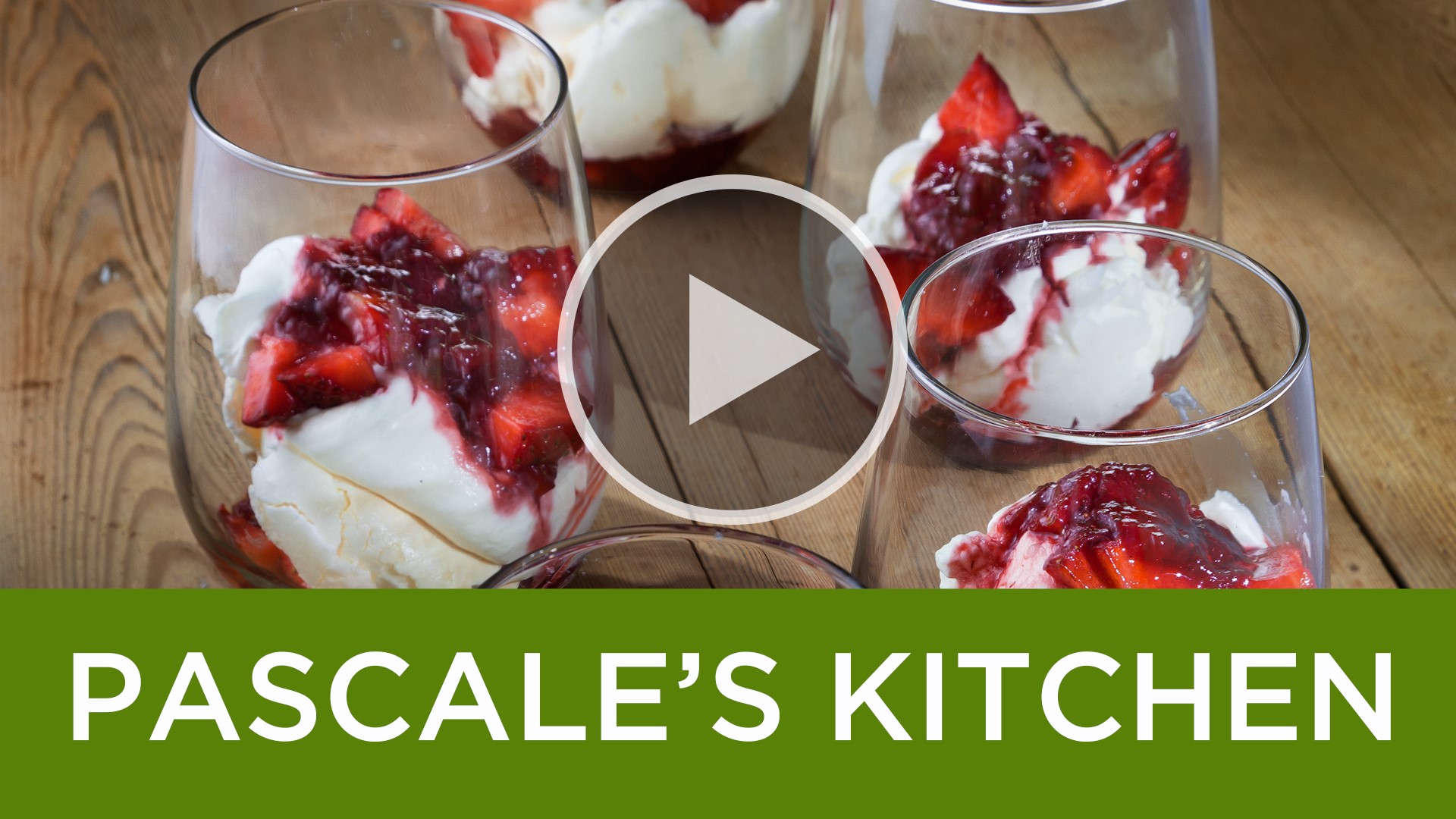 This is my version of the old English school pudding. It originated at Eton College. It's called a mess because there is no perfect way to assemble this and, well frankly, it can look a mess. However, as it is oh so delicious, no one will mind!
Serves 8 people
For the meringues:
Makes 15–18 large meringues
3 egg whites
7 oz (1 cup) sugar
For the simple strawberry-pomegranate jam:
2 pints strawberries — hulled and halved
5 oz (3/4 cup) sugar
2 teaspoons pomegranate molasses
8–10 grinds black pepper
1 Meyer lemon — halved and juiced, rinds reserved
To assemble an Eton Mess:
2 pints strawberries — hulled and halved
1 pint (2 cups) heavy cream
2 tablespoons sugar
1 teaspoon vanilla paste or pure vanilla extract
Preheat the oven to 250 degrees.
To make the meringues, whisk the egg whites in the bowl of an electric mixer until they form soft peaks. Gradually add the sugar, a tablespoon at a time and continue whisking until the whites are stiff and glossy.
Drop large tablespoonfuls of the mixture onto a parchment lined baking sheet. Bake for 30–40 minutes or until dry and just crisp. The meringues should be a pale cream color when finished. Do not overcook. Start checking them after 30 minutes. They are ready as soon as you can peel them off the parchment paper.
Place all of the ingredients for the jam, including the lemon rinds, in a large saucepan over medium heat. As the strawberries begin to render some juice, mash them using a large fork or potato masher. It's okay if there are some larger pieces. The jam is supposed to be chunky.
Cook for 10–13 minutes, skimming off any foam that forms. The jam is ready when it thickens enough to coat the back of a wooden spoon.
Whip the cream with the sugar and vanilla until it forms soft peaks. Do not overwhip the cream.
Spoon a little of the strawberry jam into eight glass dessert bowls or pretty glasses. Cover the jam with a few berries and a meringue. Spoon some of the whipped cream on top of the meringue. Top this with more strawberries, a spoonful of the jam and another meringue.