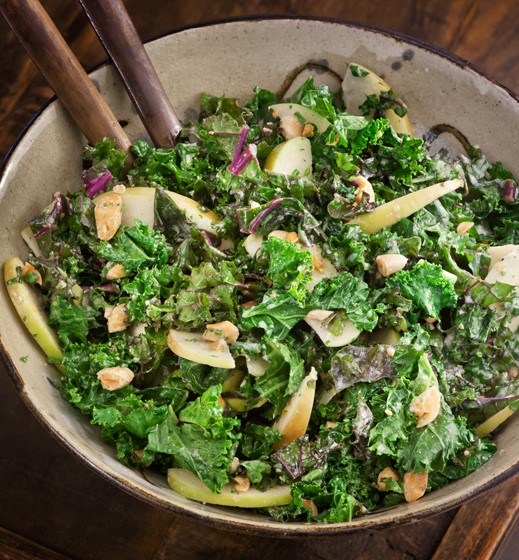 Kale salads are all the rage right now (well kale in general). It's become the HOT green if that's possible. I think that spinach had its glory days some years ago and then it was arugulas turn. The thing is I LOVE kale. It's a veggie I discovered relatively recently. We did not eat kale in London where I grew up. Spinach: yes, chard: check, arugula: absolutely. Kale: not a mouthful until I came to California. Now I add it to everything. It has become another one of my fads, although I think that this one will never fade. I have made tons of kale dishes. Roasted kale, crispy kale chips, raw kale salad — well you get the general idea. Here's one of my favorites.
Serves 8 people
For the vinaigrette:
4 tablespoons olive oil
Juice of ½ lemon
1 ½ tablespoons chives – finely chopped
1 tablespoon parsley – finely chopped
1 heaped tablespoon Greek yogurt
Salt and pepper
1. Place all the vinaigrette ingredients in a large salad bowl and whisk together well. Place salad utensils over the vinaigrette.
For the salad:
2 bunches kale – rinsed and chopped
Olive oil
Juice from 1 lemon
4-5 apples – cored, quartered and thinly sliced
¼ lb almonds – roughly chopped
1. Preheat the oven to 350 degrees.
2. Place the chopped kale on a baking sheet or in a roasting pan and drizzle with olive oil. Sprinkle some coarse salt over the kale and grind some fresh black pepper over the top. Roast for 7-8 minutes. The kale will be just wilted and bits of it will be slightly crunchy. As soon as you take it out of the oven, pour the lemon juice over it.
3. Add the cooked kale and the remaining salad ingredients to the bowl and toss well. This is one salad that actually benefits from being tossed a good 10 minutes before you serve it.